Lemony Fennel Radish + Kale Salad + a giveaway!
A bright, vibrant, lemony fennel and kale salad.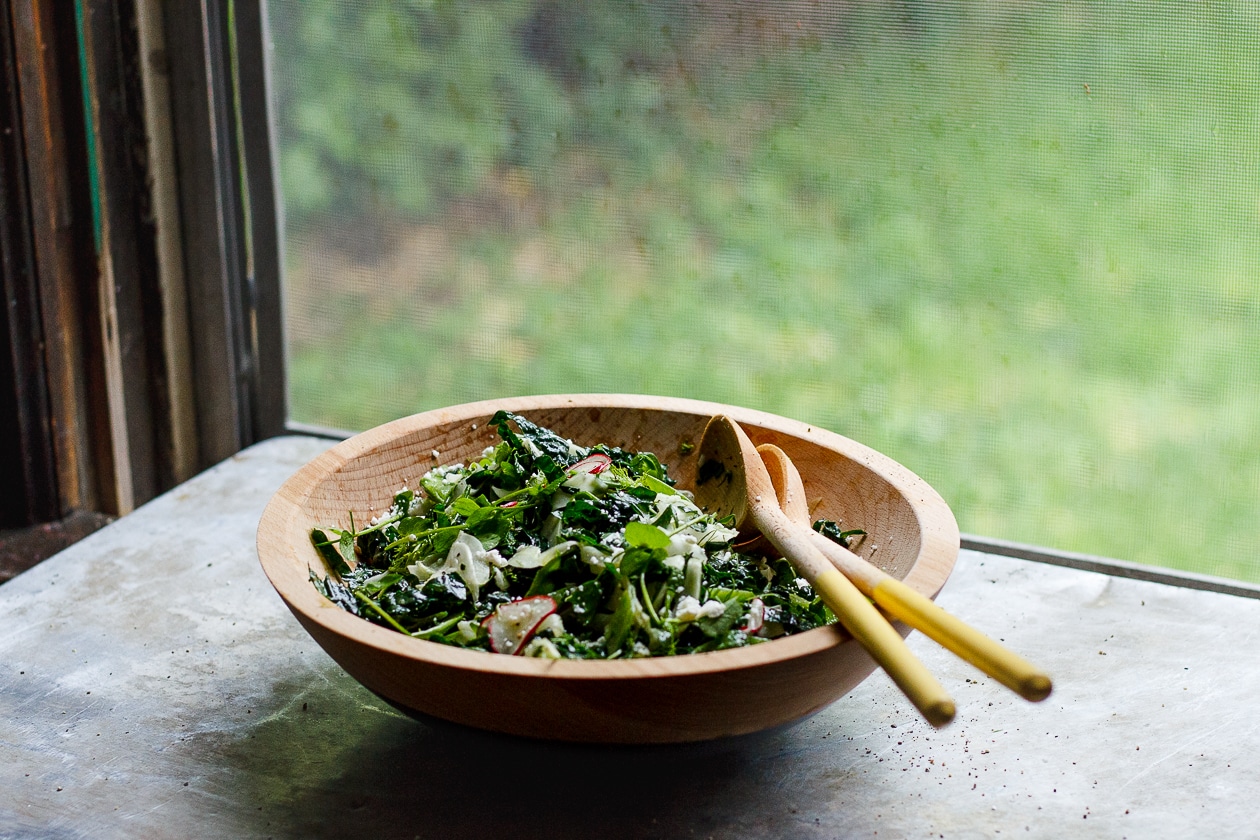 The past almost two weeks have been a blur of layovers and airplanes and airports. Palm trees, cappuccini, pasta, wine, gelato and pizza. My mind is relaxed. My body, just the right kind of tired. And my heart fuller than full. I am blissfully unaware of the day of the week.
I think it's May now? Do I have this right?
I am nourished by family and good fortune. Full from the ocean and Emilia-Romagna cuisine. Drunk off of jasmine-lined streets and amari-fueled Roman nights. I returned home just hours ago. Happy as can be and craving greens as deep as the bright blue sea.
Specifically this herbaceous kale salad with lemony fennel, radishes, snap peas and feta from my dear friend Lily's new book Kale & Caramel: Recipes for Body, Heart, and Table. I made this the night before I left, and took it with me to the airport the next morning. It was the best travel food. Crunchy and satisfying and nourishing. It gave me life and awakened my senses. And it is what I came home wanting.
Lily's book is neatly organized into twelve parts. Eight of which are dedicated to herbs, and four to flowers. This lemony fennel salad of course, came from the fennel section. Perhaps my favorite. Although it's really hard to choose favorites. The beautifully bound pages are more than just a cookbook. It is an extension of Lily's soul. Her words are intentional. Wildly creative, empathic, deeply healing – tangible. You can feel her spirit on every page.
Kale & Caramel: Recipes for Body, Heart, and Table is now available for purchase anywhere books are sold. And to celebrate I'm giving away a copy to one of you! To enter tell me what your favorite herb is by leaving me a comment below. I'll choose a winner at random on May 17 at noon Central, and notify the winner by email. Contest is open to readers in the United States.
"What makes fennel such a legend to me, though, is the ability to use every part of the plant. The dense root can be roasted, sautéed, caramelized, juiced, or eaten raw, the stalk can be crunched on in salads or any way you might eat celery, and the frond makes a fragrant contribution to soups and garnishes. Finally, dried fennel seeds provide exquisite bursts of flavor in roasted veggies, breads, and soups, effortlessly straddling the line between Asian spices and Mediterranean flavors."
– Lily Diamond, Kale & Caramel: Recipes for Body, Heart, and Table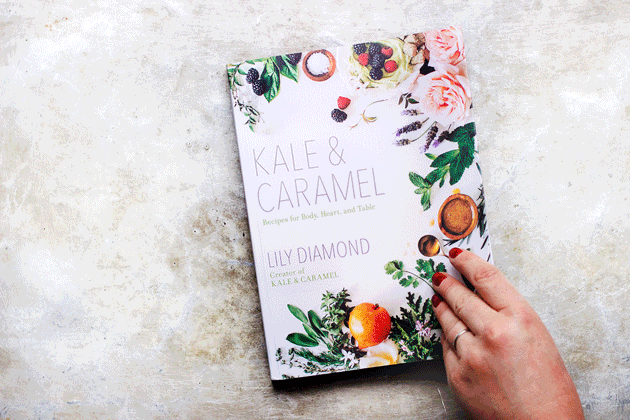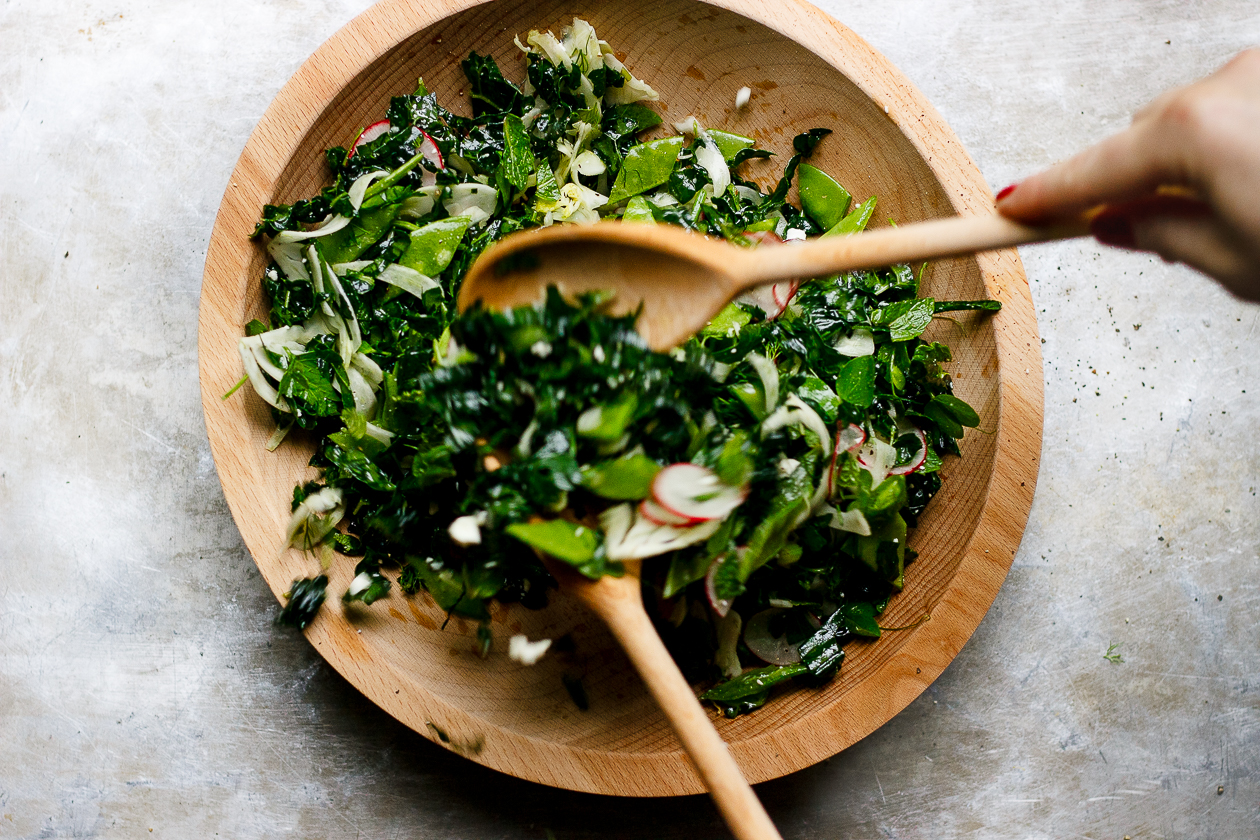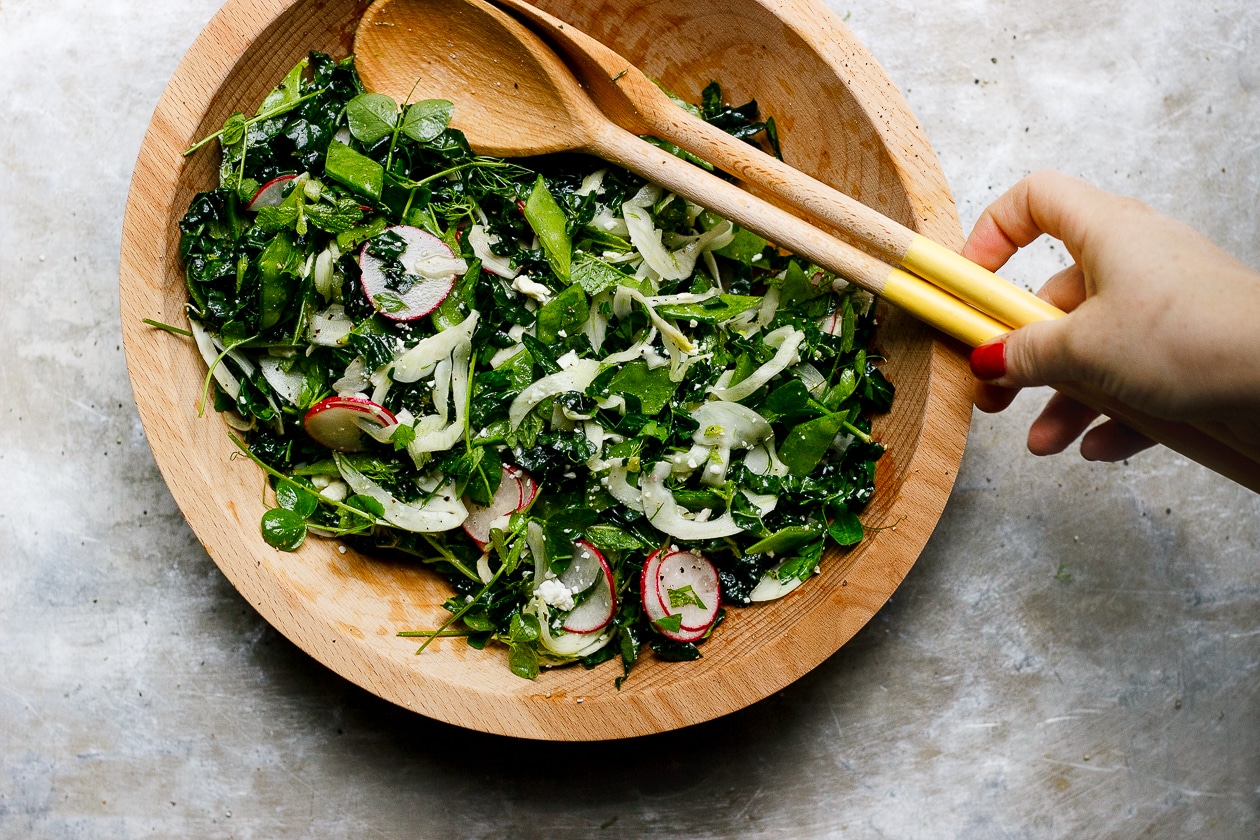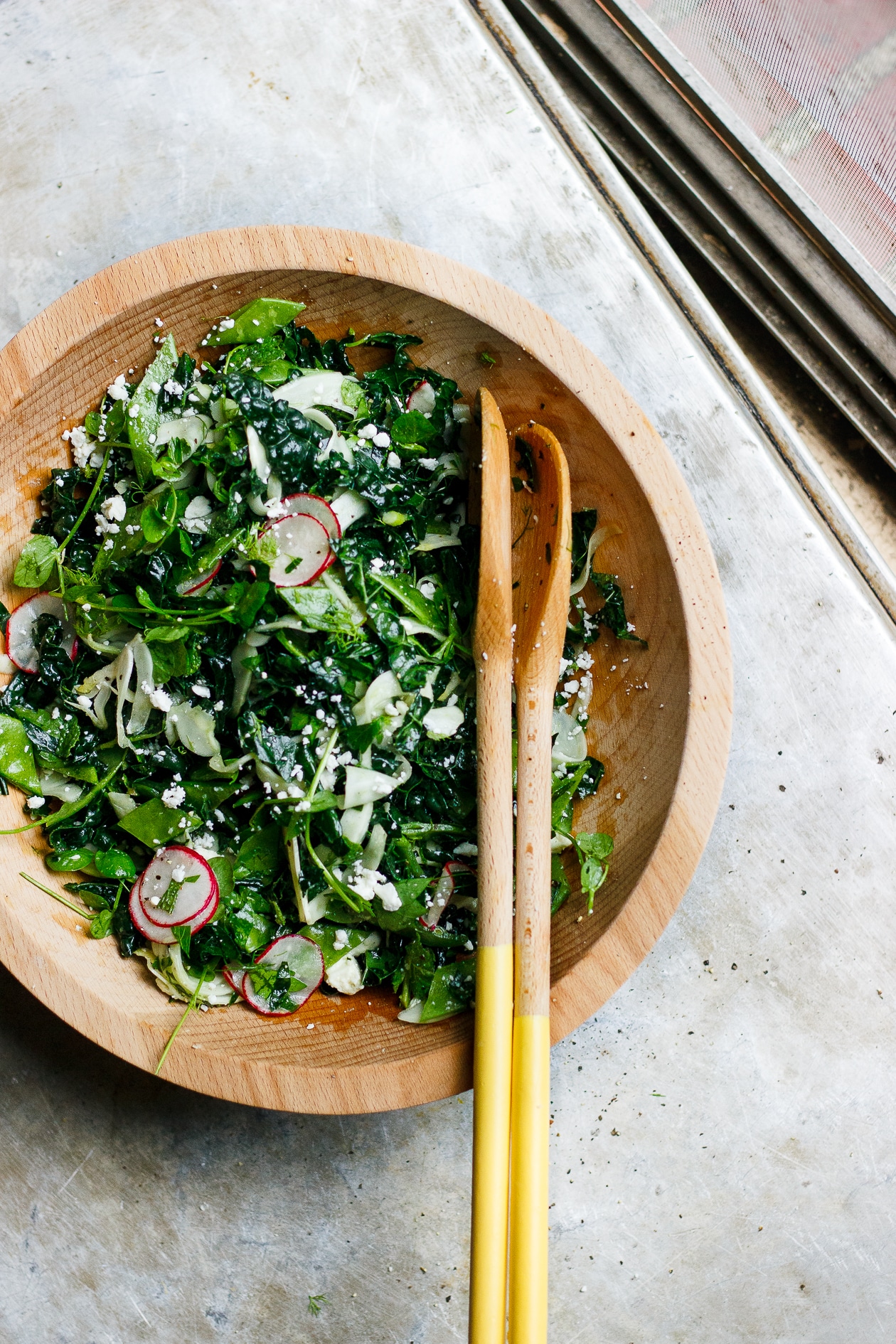 Lemony Fennel Radish + Kale Salad with Herbs + Feta
By: Sherrie Castellano | With Food + Love
Makes: 4 small servings
Ingredients
8 large leaves lacinato kale
1 tablespoon extra virgin olive oil
2 cups sugar snap peas, washed and ends trimmed
3 cups fennel, very thinly sliced with fronds reserved
5 red radishes, very thinly sliced
⅓ cup loosely packed parsley leaves
⅓ cup loosely packed mint leaves
2 tablespoons lemon juice
sea salt, to taste
black pepper, to taste
Instructions
Remove the stems from the kale and chop the leaves into thin strips. Place the strips in a large bowl and using your hands massage with the oil, about 30 seconds, until the leaves grow deep green, reduce in volume and take on a mellow sheen.
Slice each sugar snap pea in half diagonally across its midsection to reveal some of the peas. Add the sliced peas, fennel and radishes to the bowl of massaged kale.
Give the reserved fennel fronds, parsley and mint a rough chop, and add that to the bowl. Add the lemon juice, salt and pepper and toss vigorously to combine. Add the feta and toss gently to integrate. Taste and adjust with more salt or pepper if needed.
---
Thanks to the folks at Atria Books for gifting me an advance copy of Kale & Caramel: Recipes for Body, Heart, and Table! Recipe copyrighted © 2017 by Lily Diamond, published by Atria Books, a division of Simon & Schuster, Inc.