Salty Strawberry Sauce with Pink Peppercorns
Refined sugar-free, salty strawberry sauce.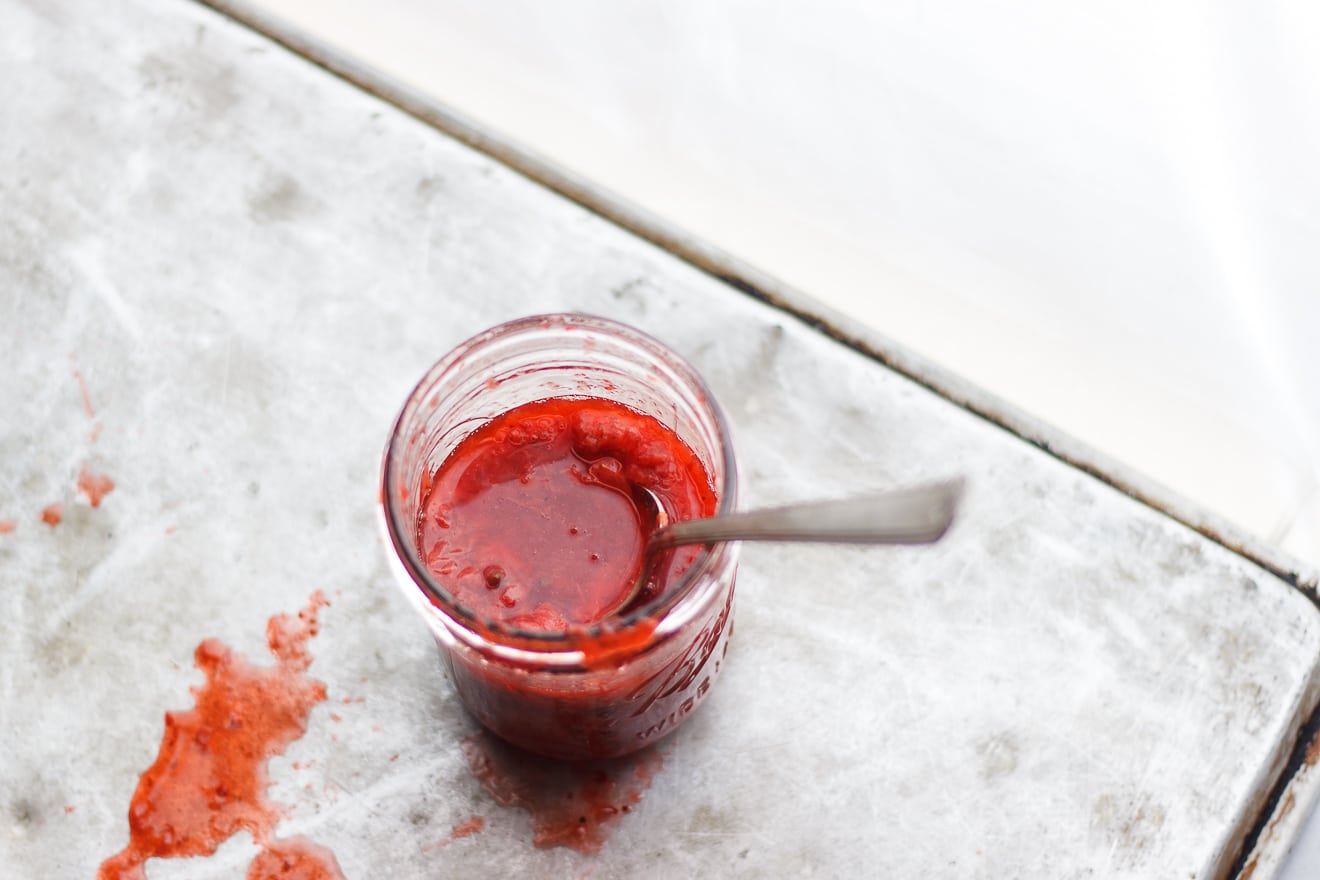 The world is becoming more and more health-conscious.
And that's a really good thing.
We care about what we put into our bodies. And where it comes from. We care so much, that we are acting on it. We grow our own herbs and vegetables. We shop at our local farmers' markets, and we shop organic whenever we can. We recognize the value of good food – preventive medicine at its core.
We care about what we put on our skin. Many of us have cleaned out and greened-up our beauty cabinets and make-up bags. We care about the chemicals that go on our counter-tops and in our laundry machines. We are now trying to do our best, wherever we can.
And the vessels in which we cook our food in shouldn't be treated any differently. If you're familiar with my blog, you know I like to cook in stainless steel pans, mostly because I've never really loved a cast iron pan, and I never found a non-stick pan that I could feel good about. You may or may not know but traditional non-stick coatings are made from pretty gross chemical compounds that release toxic fumes at high heats.
Now though! I'm cooking with non-stick, and I'm really, really excited about it.
Introducing, GreenPan.
GreenPan prides themselves in pioneering the industry as the very first cookware company to bring ceramic non-stick cookware to the market. They are passionate about bringing the very best, affordable, healthy ceramic cookware options to your home. And one of the reasons why I've fallen in love with ceramic is that these pans will never blister, peel or flake off into your food.
AND! You can purchase the set I've been using, the Paris Ceramic Non-Stick 11-piece now until June 1st for 20% off using the code: WITHFOODANDLOVE20
This salty strawberry sauce can be made in under ten minutes. It's made intentionally low in sugar and rounded out with salt and pink peppercorns for a well-balanced sweet but not too sweet experience. It's a really versatile sauce that works with pretty much everything. Like in cocktails, and on top of ice cream, yogurt, tarts, panna cotta, oats and/or toast. And because of GreenPan's non-stick cookware, clean-up is in seconds. Really. I rinsed the pan once I was done with hot water and barely needed to use any soap at all. The sticky sauce slides right off.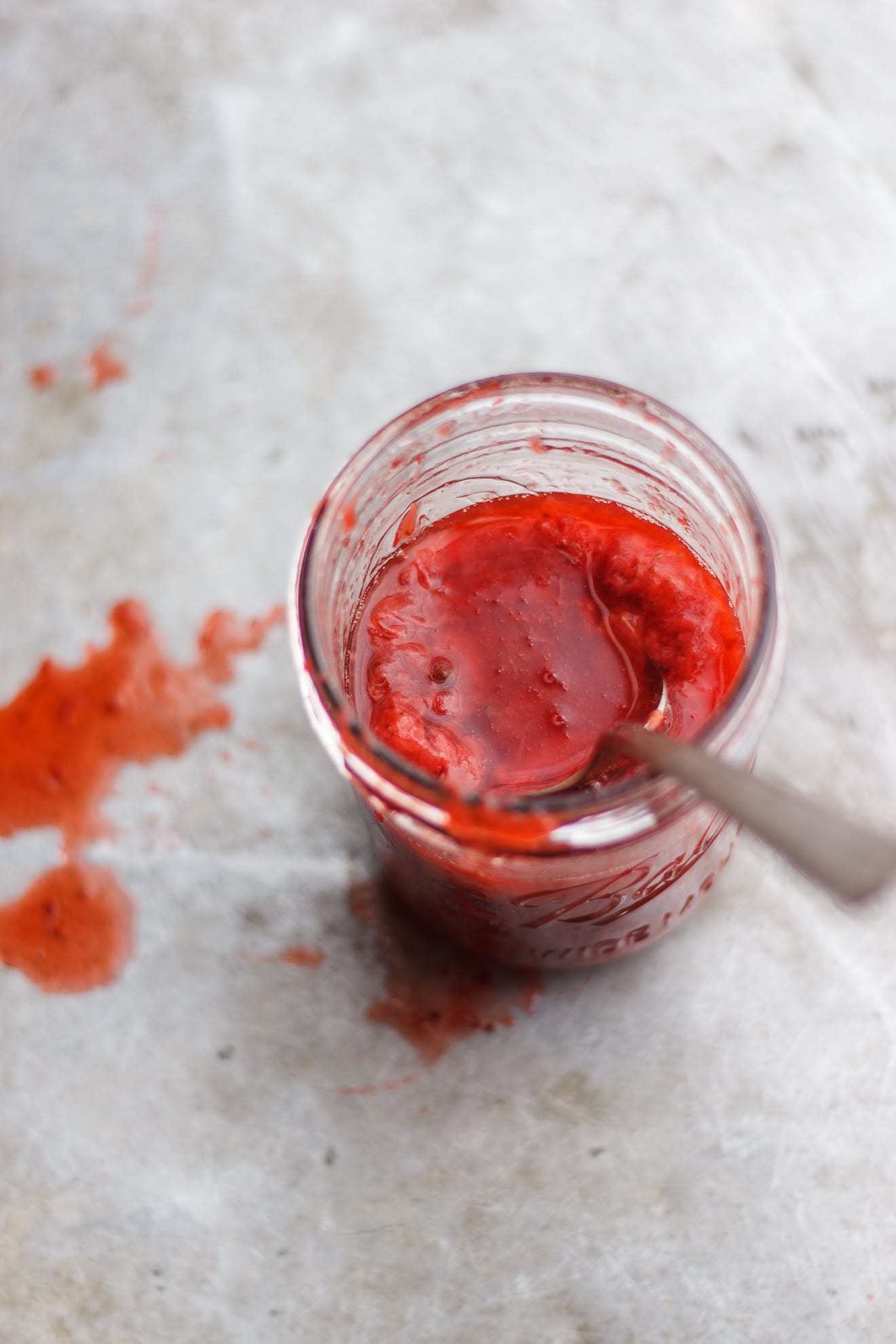 Salty Strawberry Sauce with Pink Peppercorns
This salty strawberry sauce is versatile and can go on top of ice cream, yogurt, cheesecake, other cakes and/or toast. Store any extra sauce in an airtight container for up to 5 days.
Directions
In a medium sized sauce pot bring the strawberries, water, salt and pepper to a rapid boil.
Reduce to a simmer and cook until most of the water has evaporated and the berries have become soft. Stir and smash the berries with a spoon occasionally. This will take about 10 minutes.
Turn the heat off and add in the honey. Stir to combine.
The sauce can be served hot or cold.
Recipe Notes
Depending on the sweetness of your berries, you can use more or less honey. Or you can use maple syrup, cane sugar and/or stevia in place of honey if that's your thing.
---
This post is sponsored by GreenPan; all opinions are my own.