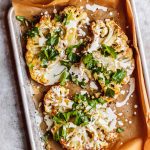 Print
Cauliflower Steaks
Lightly adapted from Gena Hamshaw's Power Plates. This recipe is naturally gluten-free, vegan, low-carb and keto-friendly. 
1

large head cauliflower

3

tablespoons

olive oil

divided

1/4

cup

parsley

chopped

1/4

cup

raw pumpkin seeds

chopped

pink Himalayan salt

to taste

black pepper

to taste
Preheat the oven to 400 and line a baking sheet with parchment paper.

Trim the stem of the cauliflower so it can rest on a flat surface. Cut the cauliflower into 1-inch steaks. The amount of steaks will depend on the size and condition of the cauliflower.

Place the cauliflower on the lined baking sheet and drizzle with 2 tablespoons olive oil. Sprinkle the steaks with a pinch of salt and pepper. Bake for 30 minutes or until the cauliflower is golden brown and fork-tender, flipping once halfway through the baking time.

While the cauliflower is baking, combine the remaining tablespoon olive oil with the parsley and pumpkin seeds, and season with salt and pepper. When the cauliflower is done baking, spoon on a hearty amount of lemon tahini dressing and top with the herb mixture.