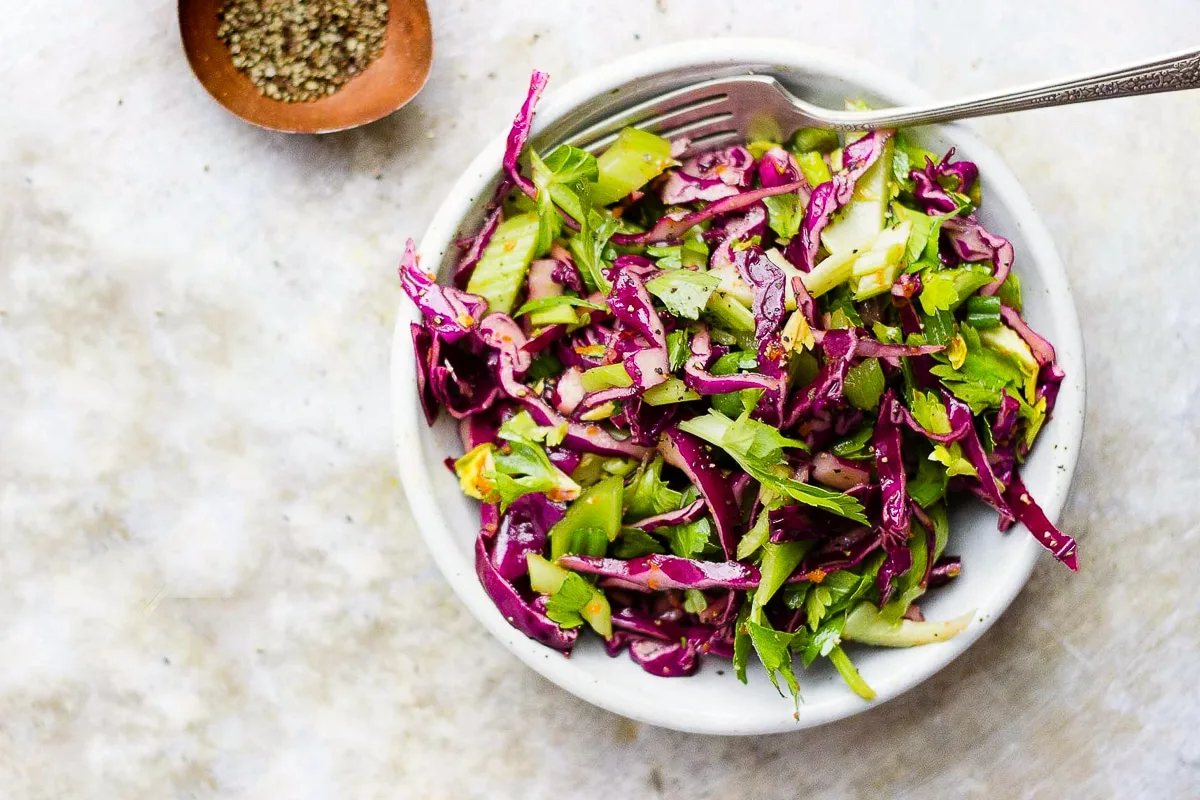 In my humble opinion both red cabbage and celery are under appreciated vegetables. They often are not the star. But when you make them one, they shine. I promise. When you make them both the star, they sing. This red cabbage celery salad is one of my favorites.
I love it for a few reasons. The first is the texture. Crispy, crunchy and full of bite. And the second is for its versatility. You can eat it on its own for a refreshingly light meal. Or you can serve it on the side along with a heavier meal as a way to break it up.
This cabbage celery salad is abundantly good for your health. Starting with red cabbage, also known as purple cabbage, a member of the Brassica genus which contains phytonutrients – compounds that may help to lower inflammation and reduce the risk of developing cancer. And celery, which is rich in vitamins like A, K and C, and minerals like, potassium and folate.
The vinaigrette has extra virgin olive oil, an essential healthy fat. Apple cider vinegar, which has been used for centuries as a remedy for dozens of health ailments. And black pepper and turmeric which when eaten together have powerful anti-inflammatory effects.
How to make this red cabbage celery salad.
This salad couldn't be any simpler. The base is equal parts red cabbage and celery. And the finer you shred it and slice it – the better. Think slaw like cuts. You also want to utilize those celery leaves. They bring a great herbal balance to the salad.
This vinaigrette has a hearty dose of olive oil and equal parts apple cider vinegar and lemon juice. Then a touch of salt and pepper, and honey to sweeten the deal. Using fresh turmeric is great if you can find it. But using ground turmeric is also totally okay.
So, first shred and dice the produce. Then whisk the vinaigrette ingredients. And then toss them altogether. Red cabbage and celery salad – voila! Enjoy.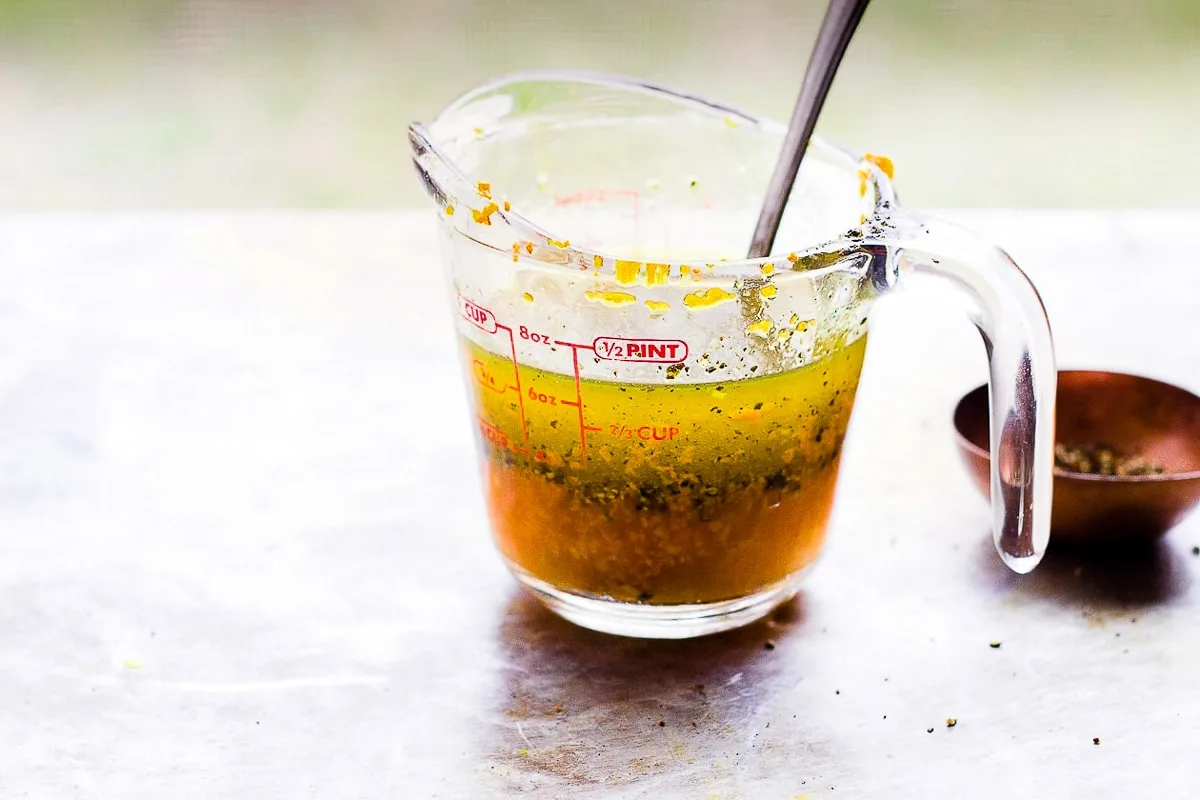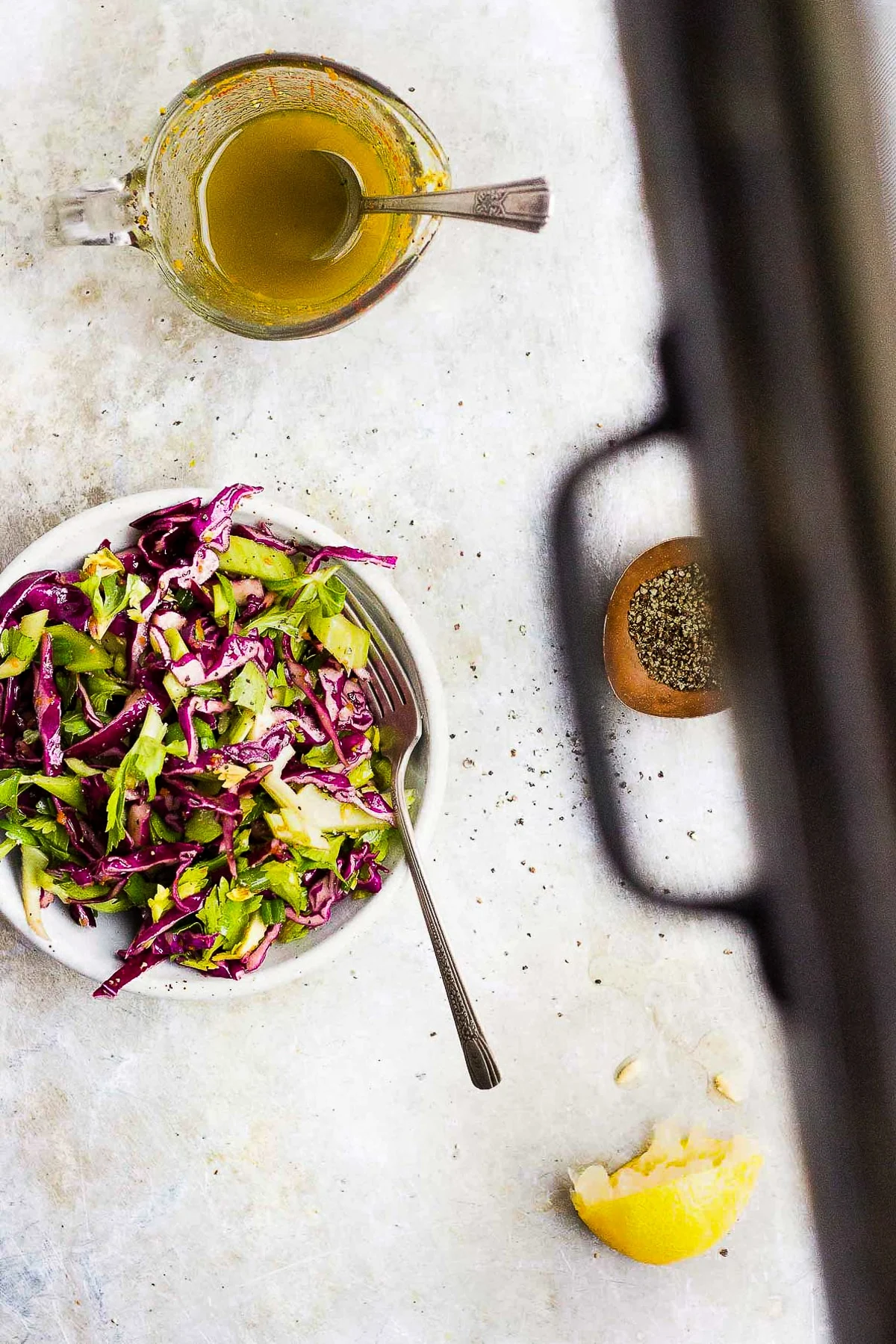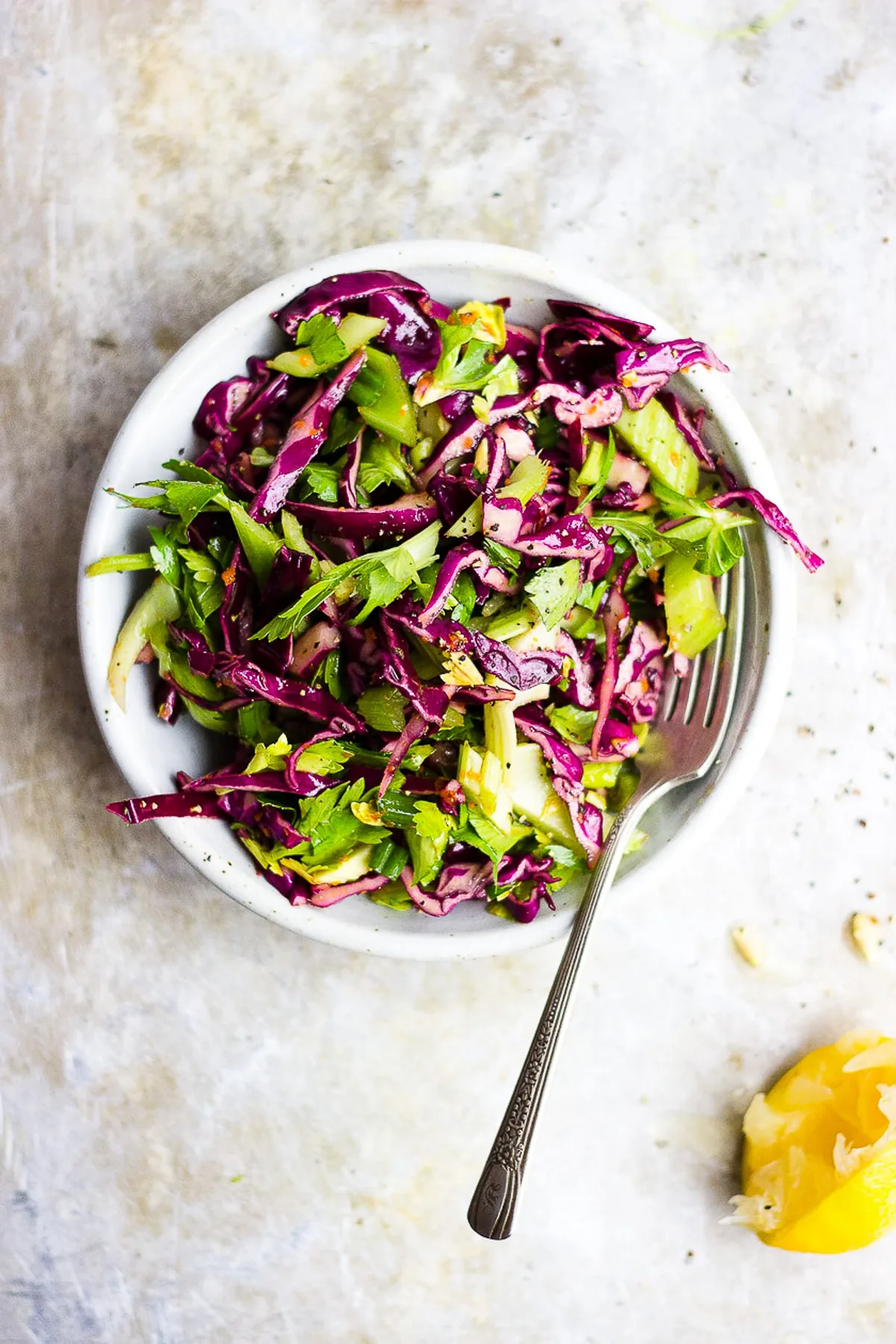 Yield: 4 salads
Cabbage Celery Salad with Turmeric Vinaigrette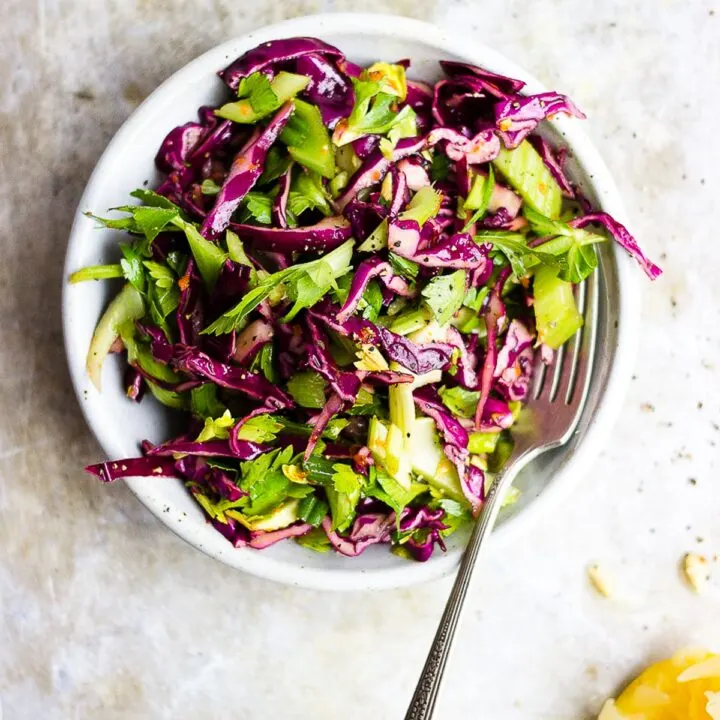 A red cabbage celery salad tossed in a vinaigrette made with black pepper, lemon, apple cider vinegar and turmeric.
Ingredients
4 cup red cabbage, finely shredded
4 cups celery, thinly sliced
1/4 cup extra virgin olive oil
1 tablespoon lemon juice
1 tablespoon apple cider vinegar
2 teaspoons honey
1 inch fresh turmeric, grated (see notes)
1 clove garlic, grated
1/2 teaspoon fine sea salt
1/2 teaspoon black pepper
Instructions
In a large mixing bowl toss together the red cabbage and celery.
In a small mixing bowl whisk together the olive oil, lemon juice, apple cider vinegar, honey, turmeric, garlic, salt and pepper until smooth.
Pour the vinaigrette over the cabbage and celery and toss until well-combined.
Enjoy or store refrigerated in an airtight container for up to 3 days.
Notes
If you do not have access to fresh turmeric, simply use 1 teaspoon of dried turmeric instead. This is the Microplane I use to grate aromatics in the kitchen.