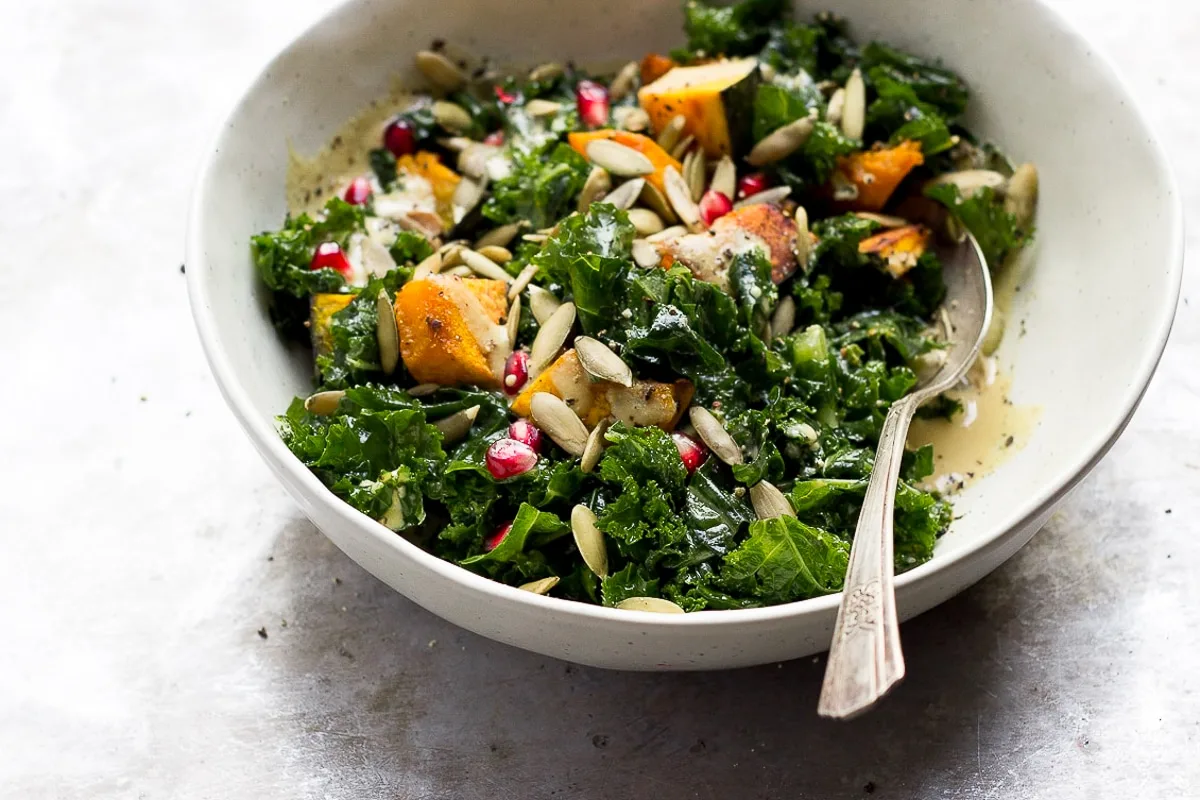 I'm honored to bring you a sneak peak into my friend Gena's new collaborative book, Food52 Vegan. As she writes, kale salads can be so popular these days they're easy to overlook. It's also pretty easy to not do them well. But when they're done well, with a generous amount of massaging for optimum taste, texture and digestibility – they can be showstopping. This kale salad with kabocha squash is a recipe I'll keep making over and over again.
The pomegranate seeds and the maple dijon dressing give this salad the right amount of brightness. And the creamy and colorful kabocha, similar to acorn squash but less sweet, gives it substance so you can serve it as a side or a lighter meal.
Food52 Vegan is the perfect book for vegans and omnivores alike. It's challenging for the advanced home cook, yet straight-forward and enticing enough for those of you who just want to eat more vegetables. And kale salad.
How to make this kale salad with kabocha squash.
Prep the squash for the salad by cutting it into bite-sized pieces and then roast. While the squash is roasting, you can prepare the kale. And massaging kale is absolutely key for a delicious kale salad. To massage your kale, simply use your hands to rub it gently. The plant cells start to breakdown and it becomes easier to digest and more delightful to eat.
The touches of pomegranate and pumpkin seeds in this kale salad with kabocha squash adds a touch of sweetness and a little bit of crunch. If you like pops of pomegranate in savory dishes like I do, then this hummus with pomegranate and persimmon salad is right up your alley.
Thanks to the folks at Ten Speed Press for gifting me an advance copy of Food52 Vegan. Recipe adapted and reprinted with permission from Food52 Vegan by Gena Hamshaw, copyright © 2015, published by Ten Speed Press, an imprint of Penguin Random House LLC.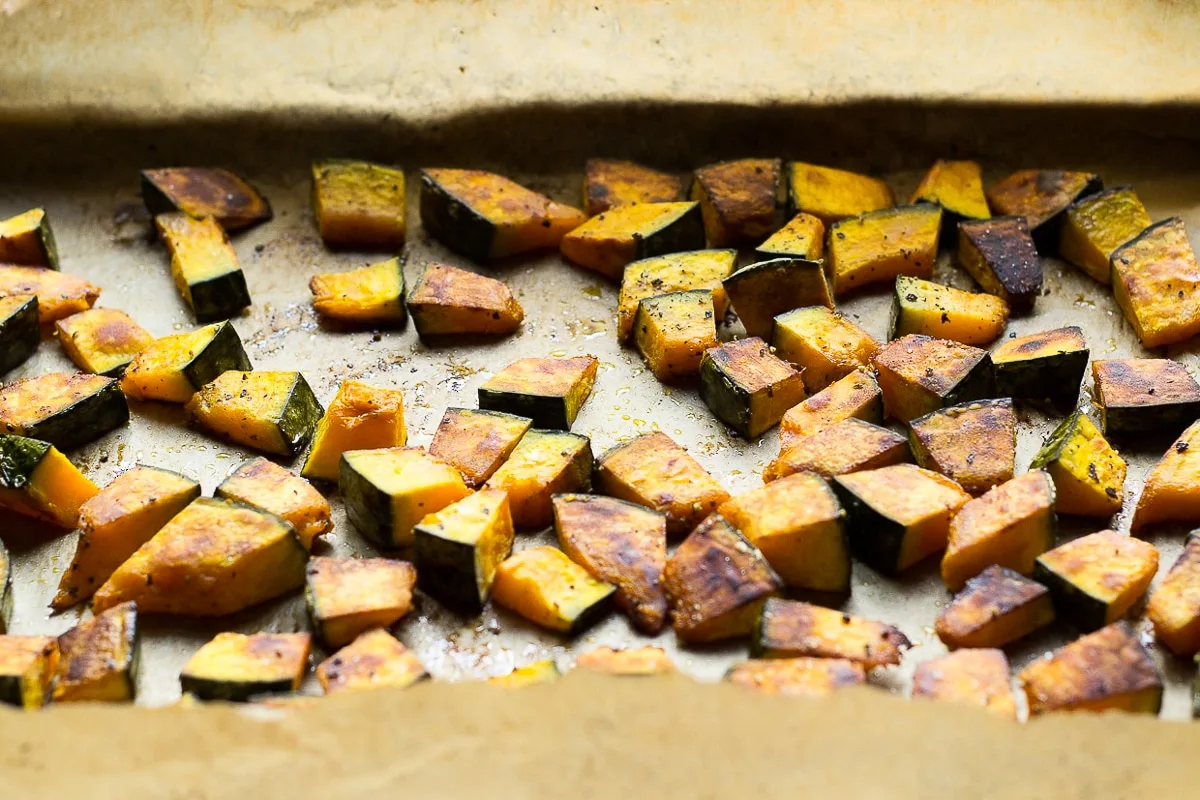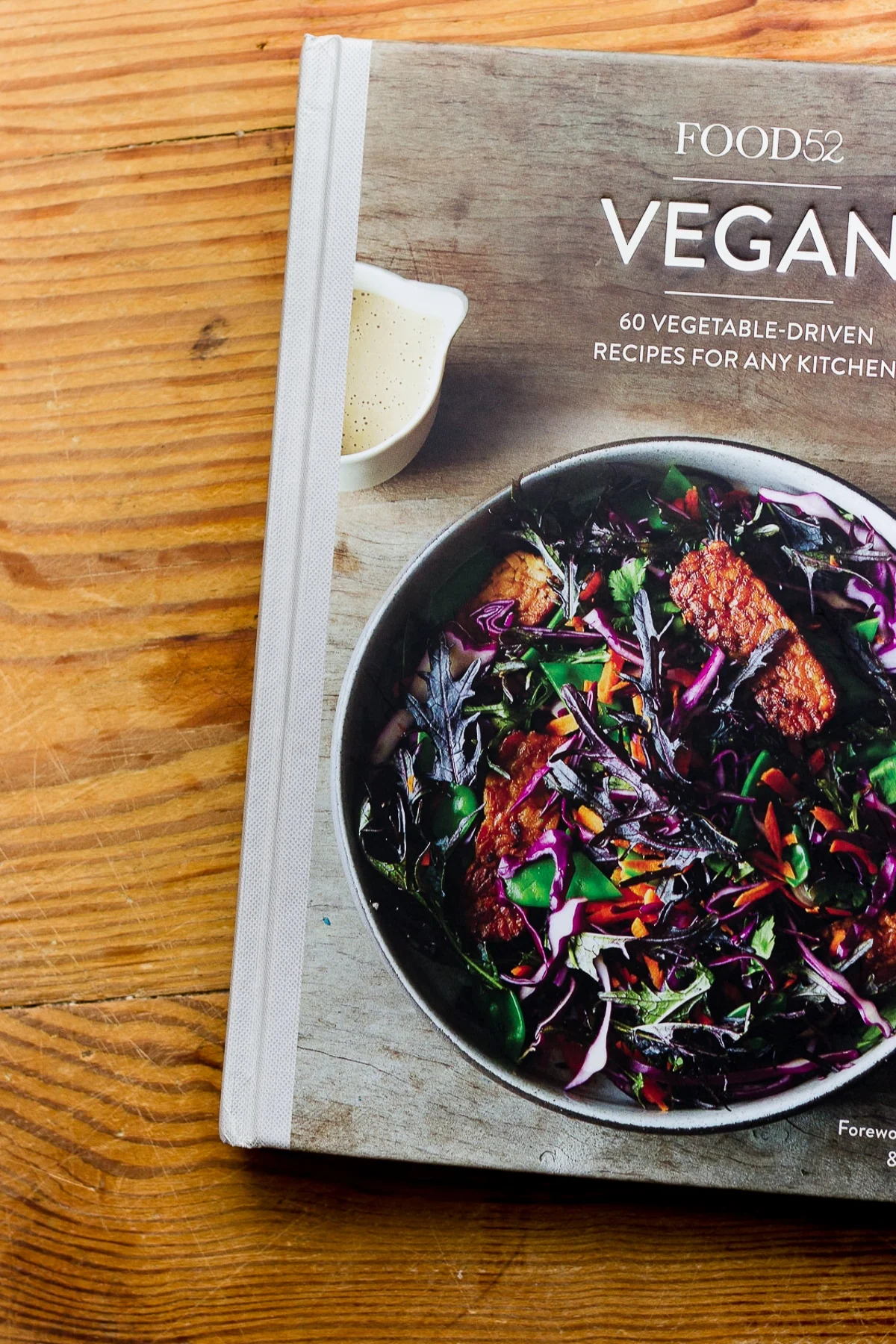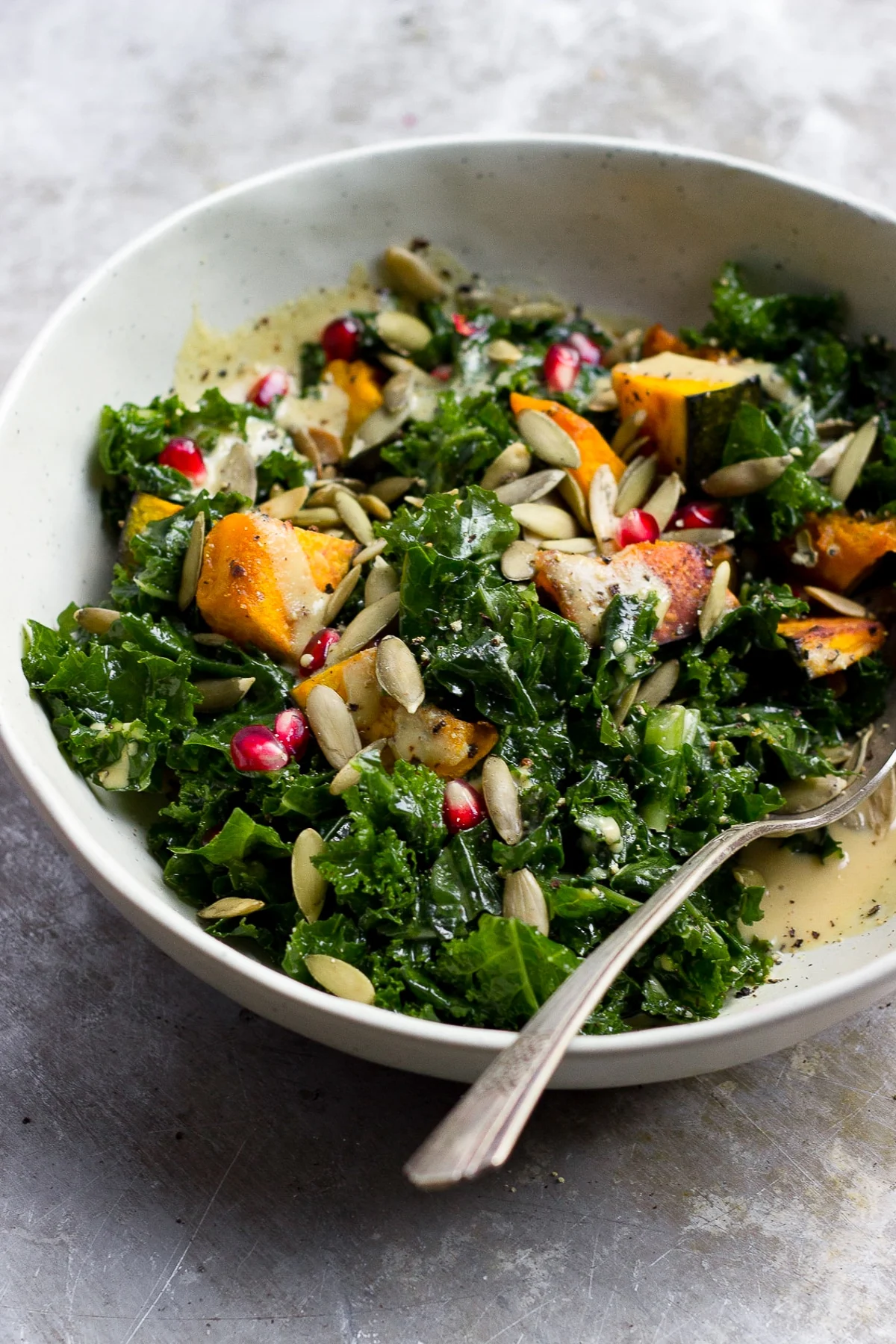 Yield: 4 servings
Kale Salad with Kabocha Squash with Maple Dijon Dressing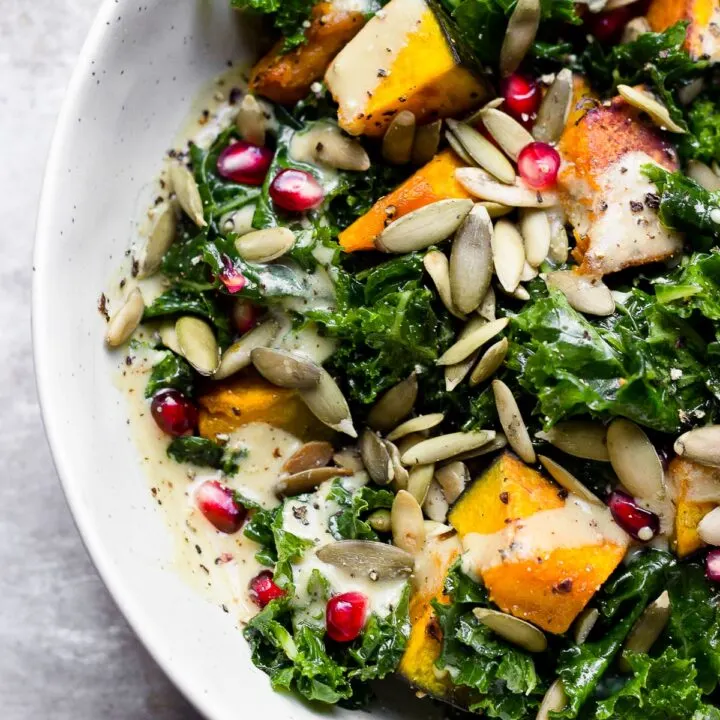 Massaged kale salad with kabocha squash and a lightly sweetened maple dijon dressing.
Ingredients
1 small kabocha squash, diced small
2 tablespoons olive oil (divided)
1/2 teaspoon fine sea salt (divided)
1/2 teaspoon ground black pepper (divided)
1 large bunch curly kale
1 tablespoon lemon juice
1 tablespoon dijon mustard
1 tablespoon unsweetened almond milk
1/2 tablespoon maple syrup
1/4 cup pomegranate seeds
1/4 cup shelled pumpkin seeds
Instructions
Preheat the oven to 450 degrees and line a sheet pan with parchment paper.
Drizzle 1 tablespoon olive oil, and sprinkle 1/4 teaspoon salt and 1/4 teaspoon pepper over the squash and toss to coat. Roast for 20 minutes (or until golden brown) flipping halfway.
While the squash is roasting prepare your kale. Strip the kale from its rib and cut into bite-sized pieces. Add the kale, remaining 1 tablespoon olive oil, 1/4 teaspoon salt, 1/4 teaspoon pepper and lemon juice to a large mixing bowl and massage with your hands for a few minutes. The leaves will turn bright green and begin to wilt. Then set aside.
Whisk together the dijon mustard, almond milk and maple syrup in a small mixing bowl and set aside.
When the squash is done roasting toss it with the kale. Then add in the dressing, pomegranate seeds and pumpkin seeds. Toss to combine well and enjoy.