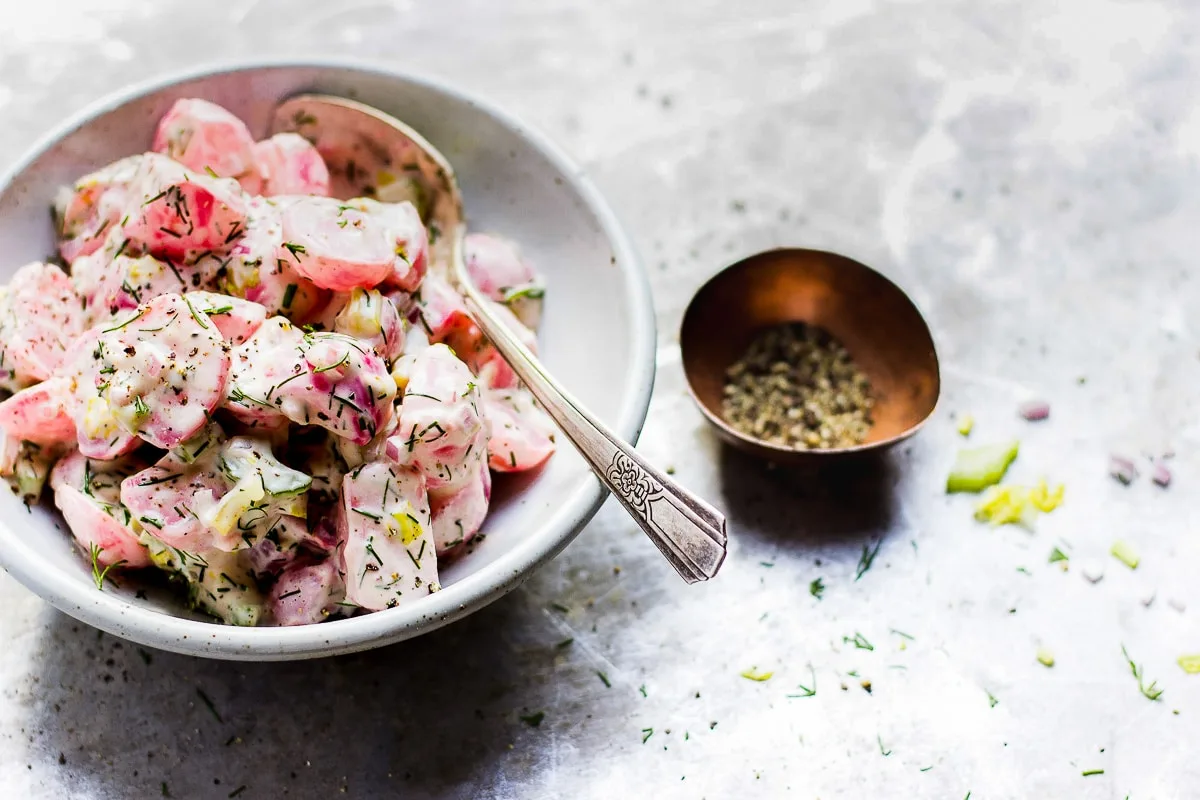 I know what you're thinking – a potato-less potato salad? A radish potato salad? You're judging me aren't you? Okay I get it. But please keep reading because, I promise it works out. This "potato" salad is actually made of magic even though it doesn't contain any potatoes. And I get that you might be really mad about that. Which, is understandable.
Agreeably, the best part of potato salad are the potatoes. Those starchy, carb-heavy, comforting good feels are the reasons why you turn to them. And as a self-proclaimed potato salad lover, (this kale and potato salad is a favorite recipe of mine), I really appreciate the potato.
However often I want to eat potato salads (like every day), and I really shouldn't. And although I still eat potato-full potato salads, I wanted to come up with a potato-less potato salad, or this radish potato salad that I could feel better about eating more often.
Radishes, although not quite as comforting as potatoes, become transformative when cooked. They're a cruciferous vegetable loaded with disease-fighting phytonutrients, and you want more of these in your diet. Using either the poaching method below or roasting them makes them transform from a root vegetable into a soft and tender potato-like tuber.
How to make a radish potato salad.
Radish potato salad is an inexpensive, evergreen, low in calories and high in nutrients dish. Some people don't prefer radishes, because they're very spicy when eaten raw, but when cooked their flavor profile changes significantly. They become mellow, less spicy, soft and potato-like.
This radish potato salad has all the components of a traditional potato salad. And with all the right textures. The radishes are soft. The dressing is rich and creamy and infused with dill and mustard. And the celery and shallots bring the right crunch. It also comes together in less than fifteen minutes. Even if you aren't on board with this being a potato salad, I hope this inspires you to do more with your radishes. Or, with your food in general.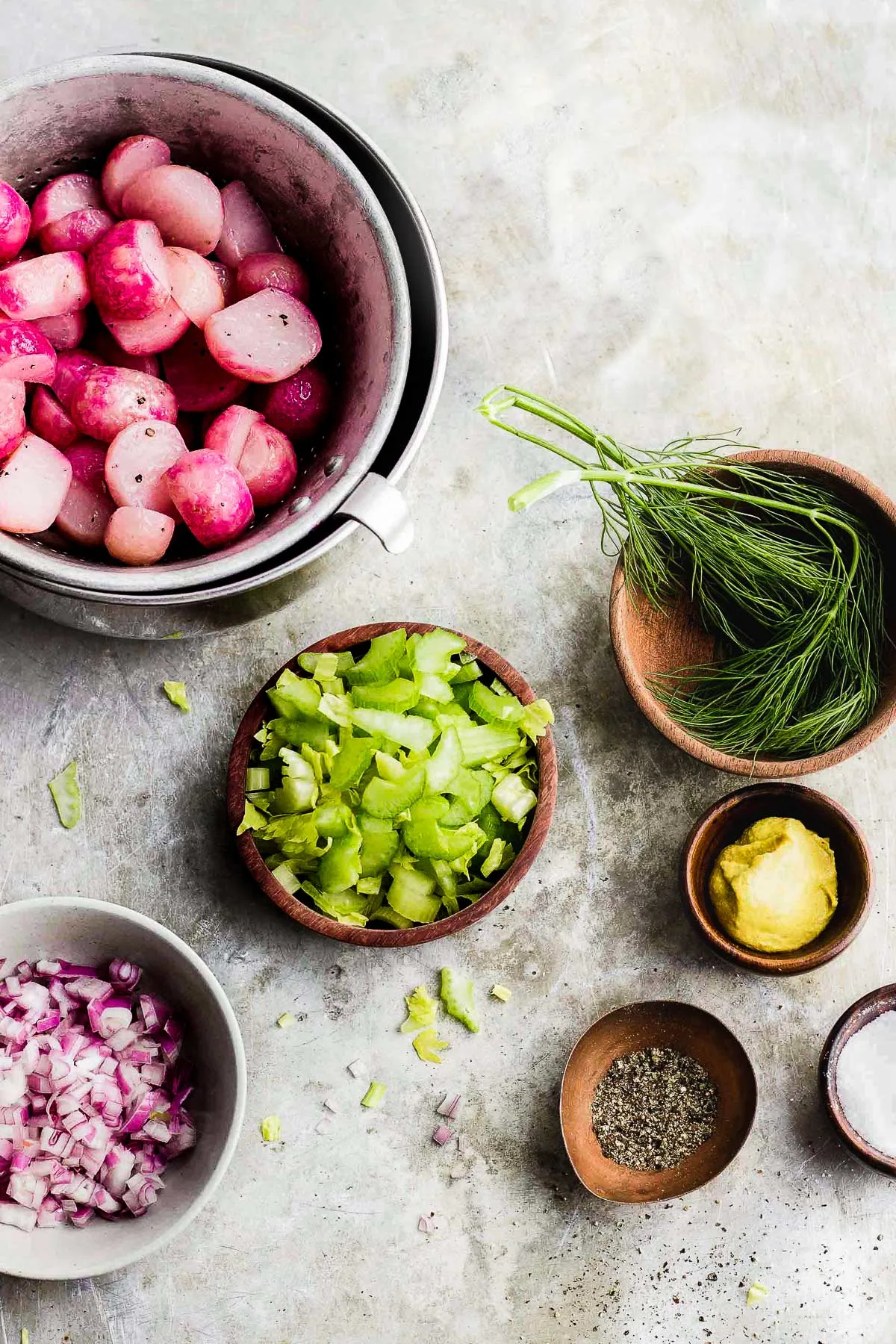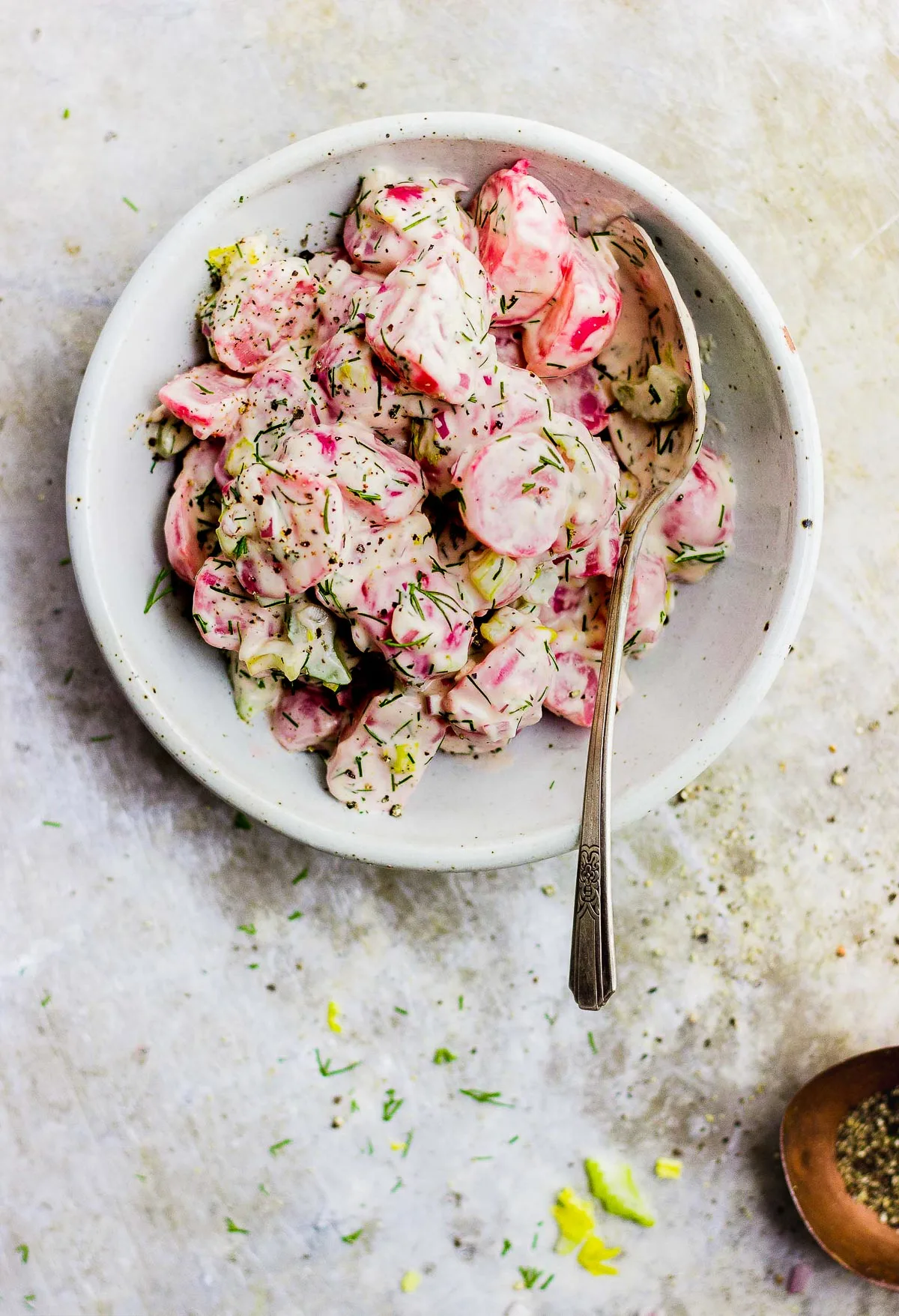 Yield: 4
Radish Potato Salad with Creamy Dill Dressing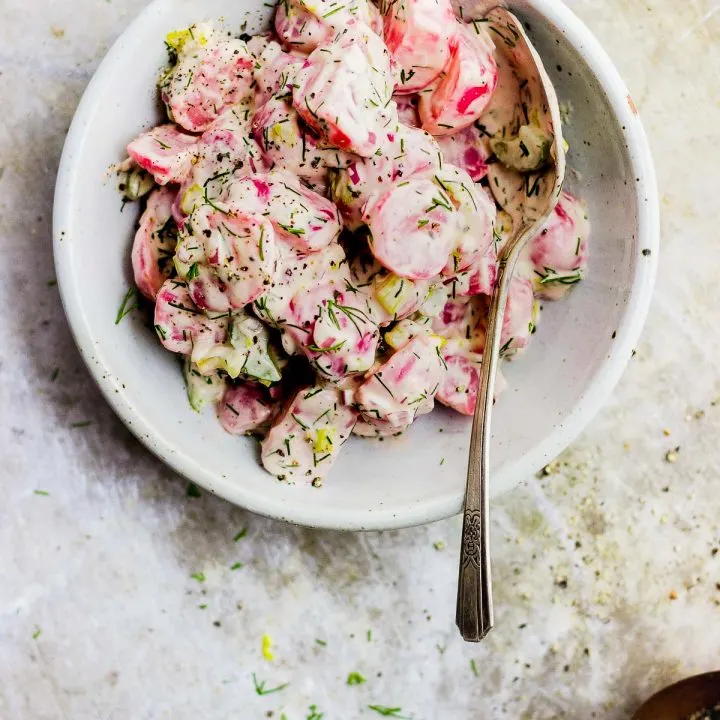 A radish potato salad but made low-carb with poached radishes. It's a keto-friendly, vegan, tangy, creamy, potato-less potato salad.
Ingredients
4 cups red radishes
1 cup filtered water
1/3 cup mayonnaise (see notes)
1/2 cup celery, thinly sliced
1/4 cup shallots, minced
2 tablespoons fresh dill, chopped
1 tablespoon dijon mustard
1 teaspoon lemon juice
1/4 teaspoon fine sea salt
1/2 teaspoon black pepper
Instructions
Wash the radishes, trim the tops and cut them in half. Place the cut radishes in a shallow pan with the water and bring it to a boil over high heat. Then reduce the heat to low, cover and simmer for 5 minutes.
Drain the radishes and set them on a tea towel to pat dry and cool while making the dressing.
In a small bowl mix together the mayonnaise, celery, shallots, dill, mustard, lemon juice, salt and pepper. Add in the radishes and stir to combine well.
Serve warm, or refrigerate to chill until you are ready to serve.
Notes
Any mayonnaise will work, non-dairy, vegan, regular or the like.
Recommended Products
As an Amazon Associate and member of other affiliate programs, I may earn a small percentage from qualifying purchases.