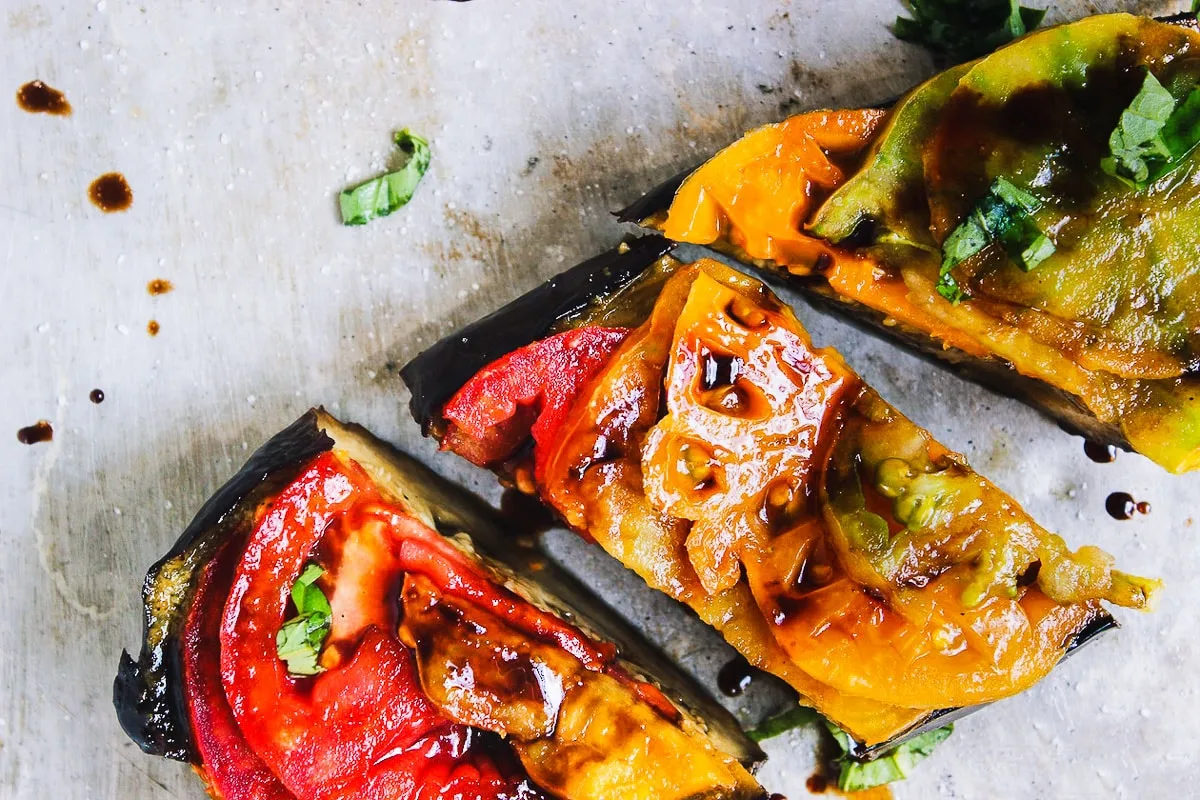 For me, this basil roasted eggplant is the epitome of summer. It is infused with every ounce of summer that I could muster. It's the very definition of July, and all of the things I love about this time of year.
You eat this basil roasted eggplant kind of like it's toast or a flatbread. Hang in there with me. I promise it makes sense. As the eggplant roasts, it becomes soft and tender but still substantial like a soft loaf of bread. I lie to cut it up and eat it whole as a main. Or you can serve it up sliced as the perfect summer party appetizer.
How to make basil roasted eggplant.
The most important part of roasting eggplant is allowing it to sweat in a dry salt bath beforehand. The salt extracts the bitterness and excess water of the vegetable. Once it's prepped and ready for roasting. It's slathered in a liberal layer of tangy basil sauce. And lastly its topped with an abundance of fresh heirloom tomatoes, a light drizzle of balsamic vinegar and a sprinkle of flake salt.
I like to eat it warm fresh out of the oven. But you could also prepare the basil roasted eggplant ahead of time, keep it refrigerated until you're ready and serve it cold. You can enjoy it with a fork and knife. Or eat it with your hands and let all of its juiciness drip down your arms and chin. Because, it's summer folks and you deserve to relish in its wonder.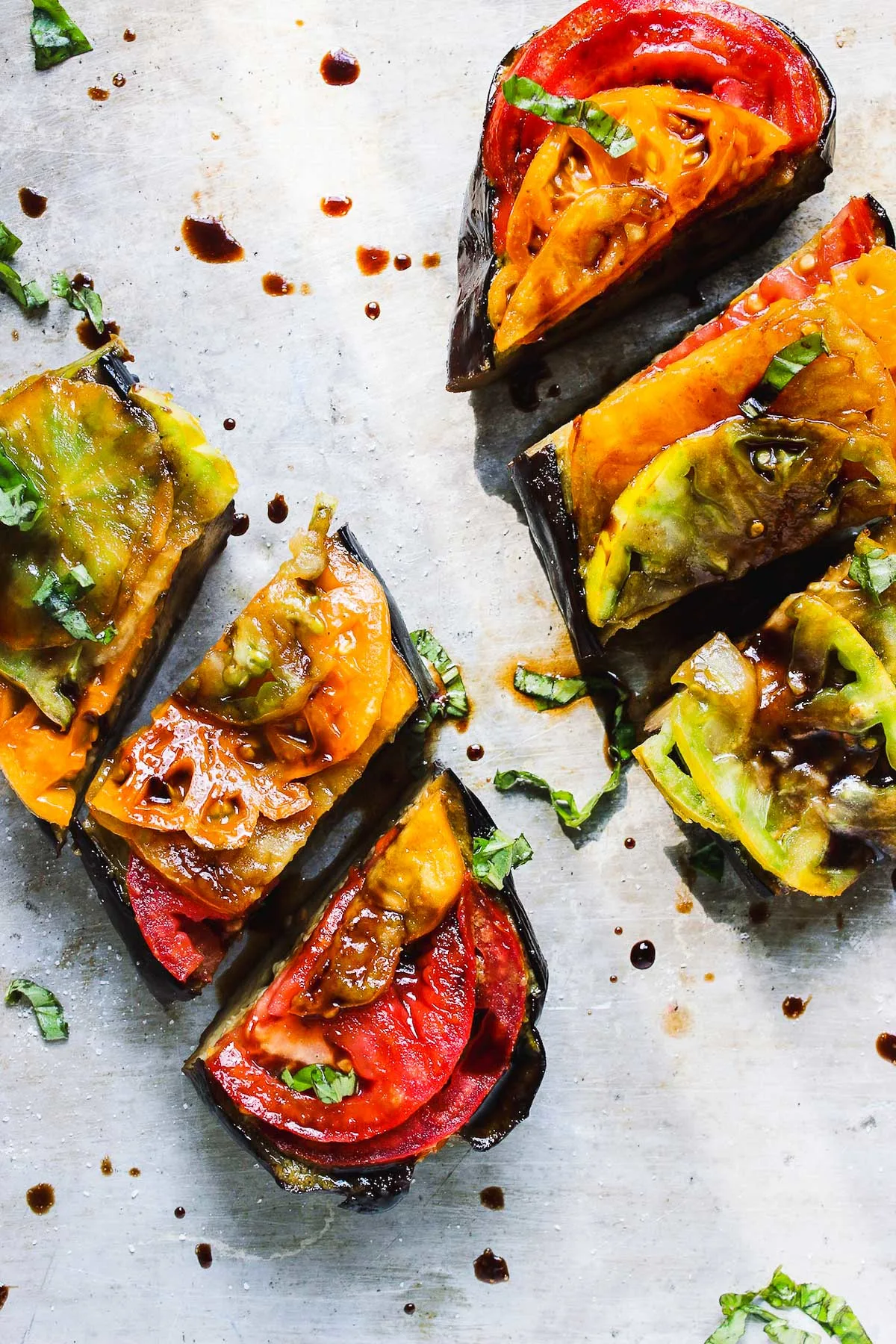 Yield: 4 servings
Basil Roasted Eggplant with Heirloom Tomatoes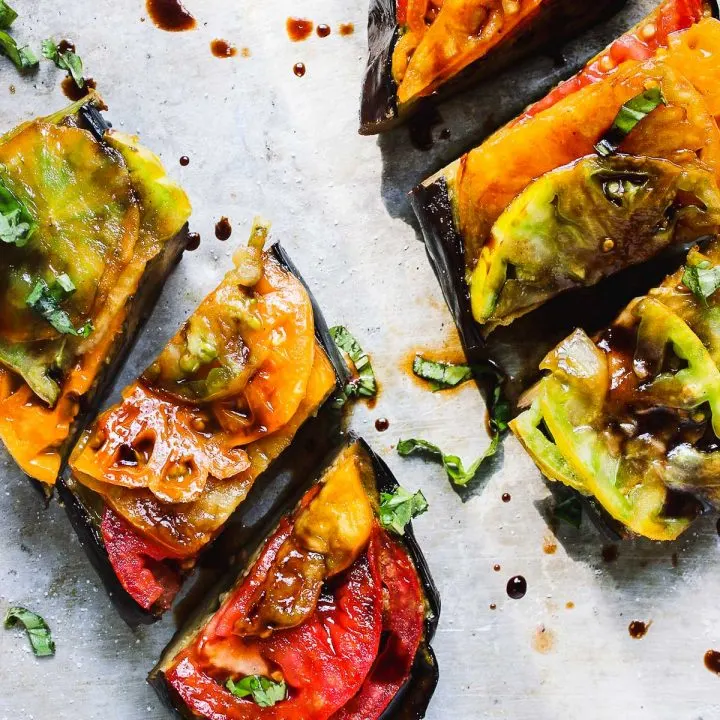 Basil roasted eggplant topped with fresh heirloom tomatoes and a drizzle of balsamic vinegar. It's a vegan, low-carb and gluten-free summer recipe.
Ingredients
Eggplant Ingredients
2 medium eggplants (see notes)
1 teaspoon fine sea salt
3 medium heirloom tomatoes, thinly sliced
5-10 basil leaves, julienned
1 teaspoon balsamic vinegar
flake salt (optional garnish)
Basil Sauce Ingredients
1/4 cup olive oil
1 tablespoon lemon juice
1/4 teaspoon fine sea salt
1/4 teaspoon black pepper
1 packed cup basil leaves
1 garlic clove
Instructions
Preheat the oven to 400 degrees and line a sheet pan with parchment paper.
Wash and dry the eggplant, cut the ends off and slice lengthwise. Sprinkle the cut side of the eggplant with the salt and rest for 10 minutes.
Pat the eggplant dry and remove any remaining visible salt. Place the eggplant cut side down on the baking sheet and roast for 10 minutes.
While the eggplant is roasting make the basil sauce. Combine the olive oil, lemon juice, salt, pepper, basil and garlic in a blender and process until completely smooth.
Take the eggplant out of the oven and flip over. Brush the basil sauce liberally over cut side of the eggplant and return it to the oven. Roast for 20 minutes or until cooked throughout.
Remove it from the oven and rest undisturbed for 5 minutes.
Transfer the eggplant to a cutting board and top it with the tomatoes, julienned basil leaves, balsamic vinegar and flake salt if desired.
Slice and serve as is, or chill and serve cold.
Notes
Medium sized eggplants not exceeding 5 inches in diameter work best.
Recommended Products
As an Amazon Associate and member of other affiliate programs, I may earn a small percentage from qualifying purchases.