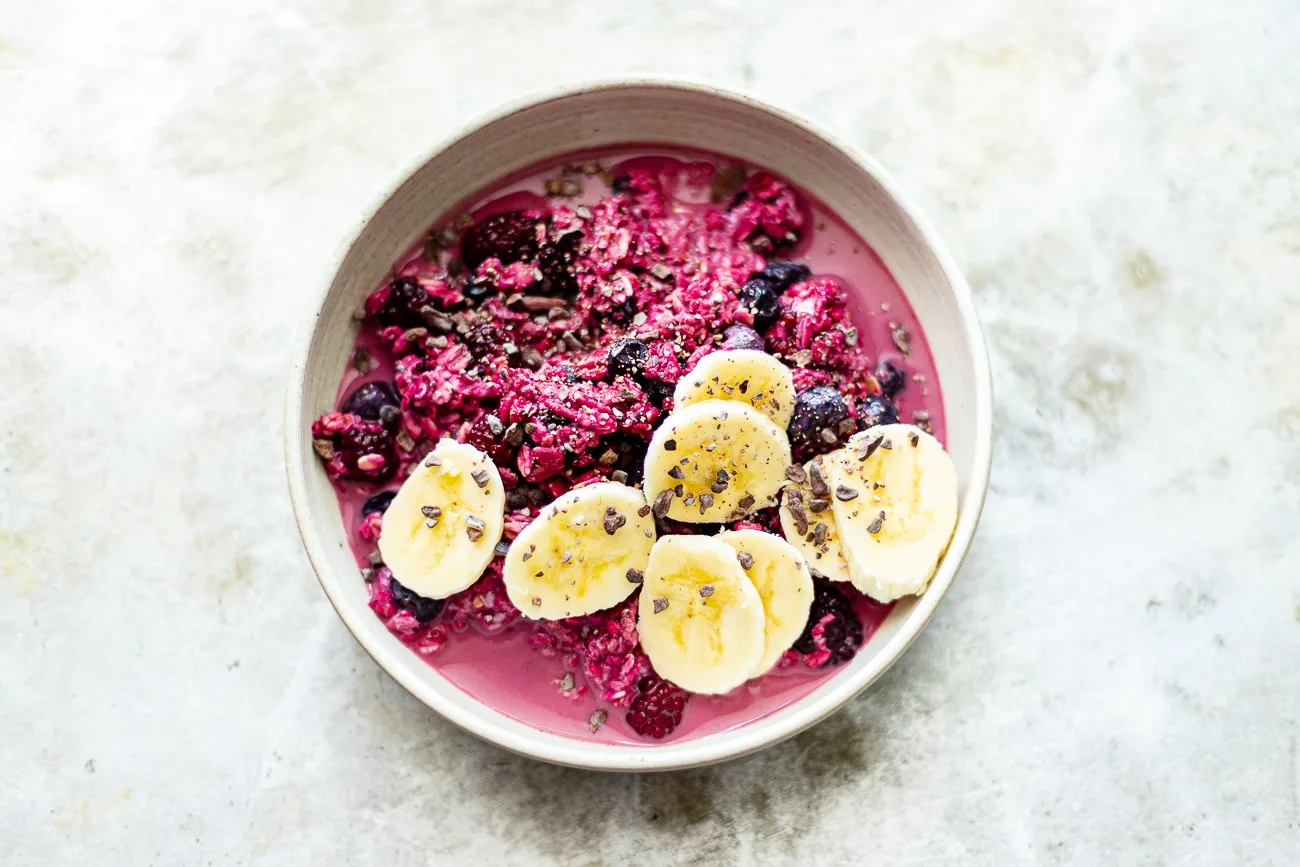 I've been making overnight oats (also commonly called soaked oats) for a long time. And I've cycled through a lot of different recipes using a few different techniques. Some were great and some were not so great. But I finally settled on my favorite which is this, berry overnight oats recipe.
Overnight oats are super simple. They are simply oats soaked in liquid overnight, or for an eight to twelve hour time period. One of the reasons I love to make overnight oats is because they are super versatile. Oats are like a blank canvas and adding in different flavors brings them to life. Using frozen berries, not fresh berries in this recipe allows for a super concentrated berry flavor. Not to mention an irresistible color.
Soaking oats have a few health benefits too. Soaking helps the natural starches in oats break down while reducing the phytic acid levels. This reduction in phytic acid may help your body utilize the nutrients in oats more efficiently. And this may make oats easier to digest compared to oats that have only been cooked on the stovetop.
How to make overnight oats with frozen berries.
Using mixed frozen berries (as opposed to fresh berries) is key. Frozen berries, when thawed, have a different moisture level than fresh berries do. My favorite bag of frozen berries to use is from Trader Joe's. I really love their Fancy Berry Medley, a combination of blueberries, blackberries and raspberries. This particular bag of berries is strawberry free and I think that makes for a sweeter combination.
Frozen berries are picked at prime ripeness which tends to make them super sweet. And that allows this recipe to stay sugar-free. But you can of course, add sugar to this recipe to make it sweeter if so desired. That is totally up to you.
To make these berry overnight oats, simply mix all of the ingredients in a jar or container and let them rest in the refrigerator overnight. And that's it. You can eat them cold or you can warm them on the stovetop with more liquid to enjoy them hot.
These oats would be great dosed in CBD. My favorite tasteless and odorless CBD is the Inner Peace from Mowellens. For another berry breakfast idea that you can add CBD to, try this berry superfood smoothie recipe. It's packed with loads of flavor, it's anti-inflammatory and it's great for on the go.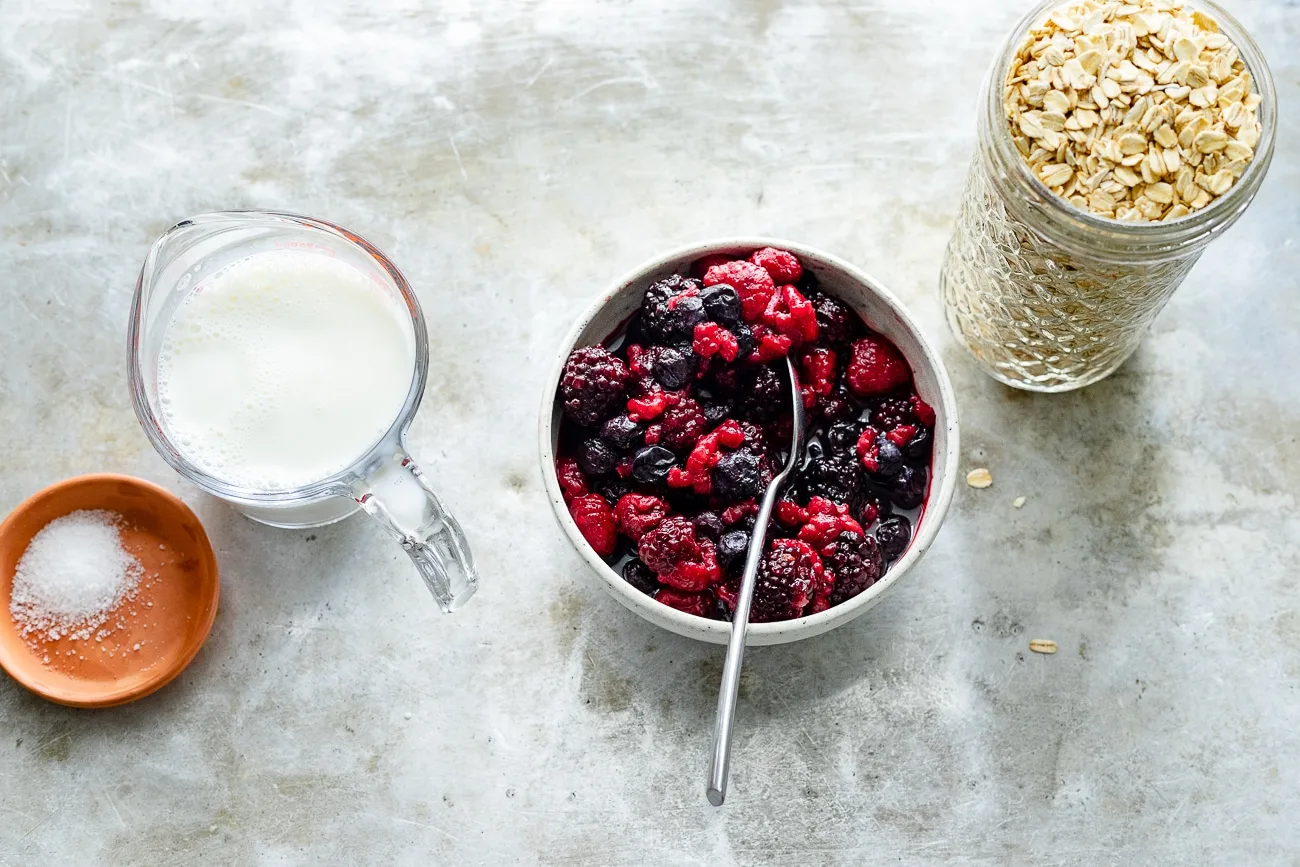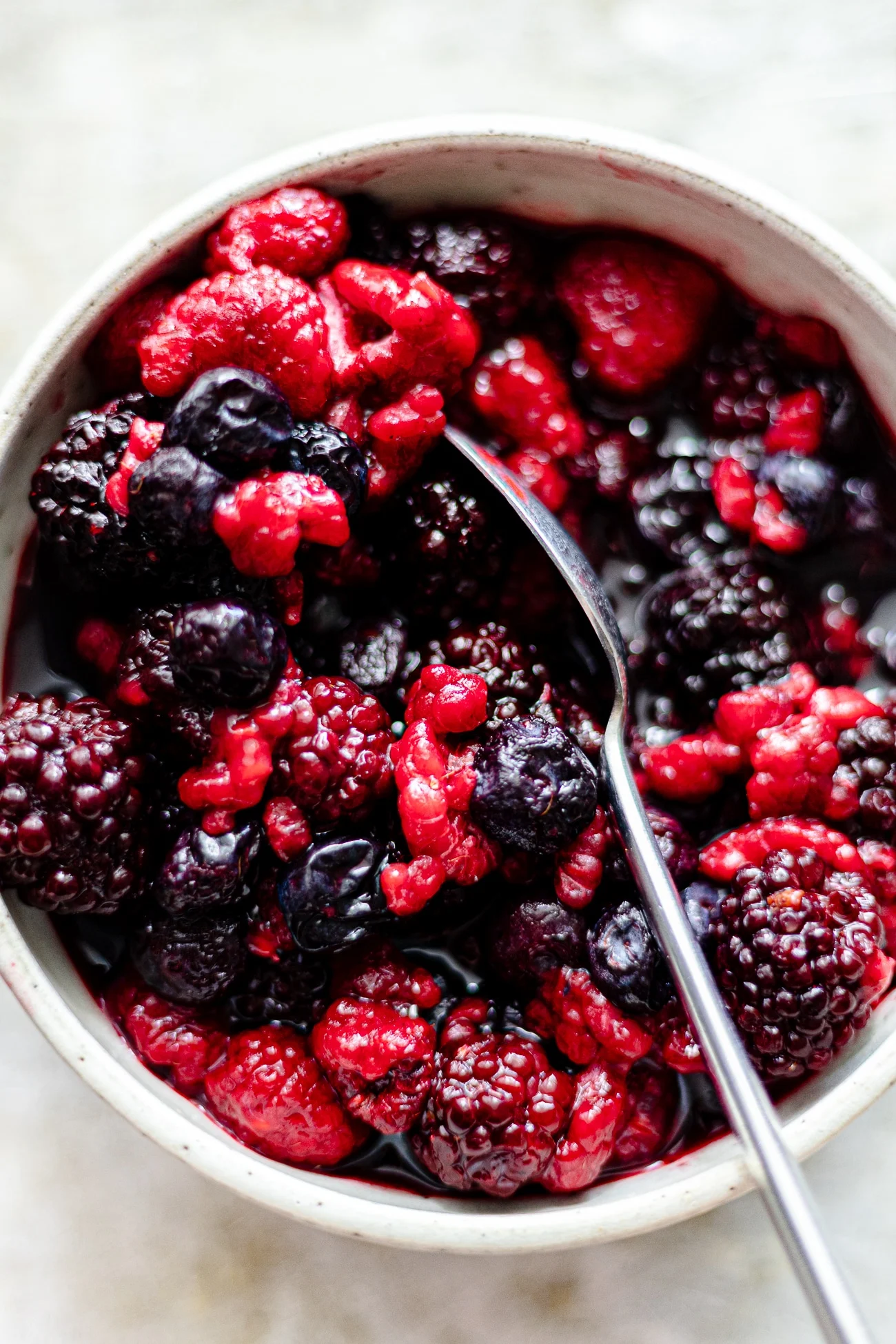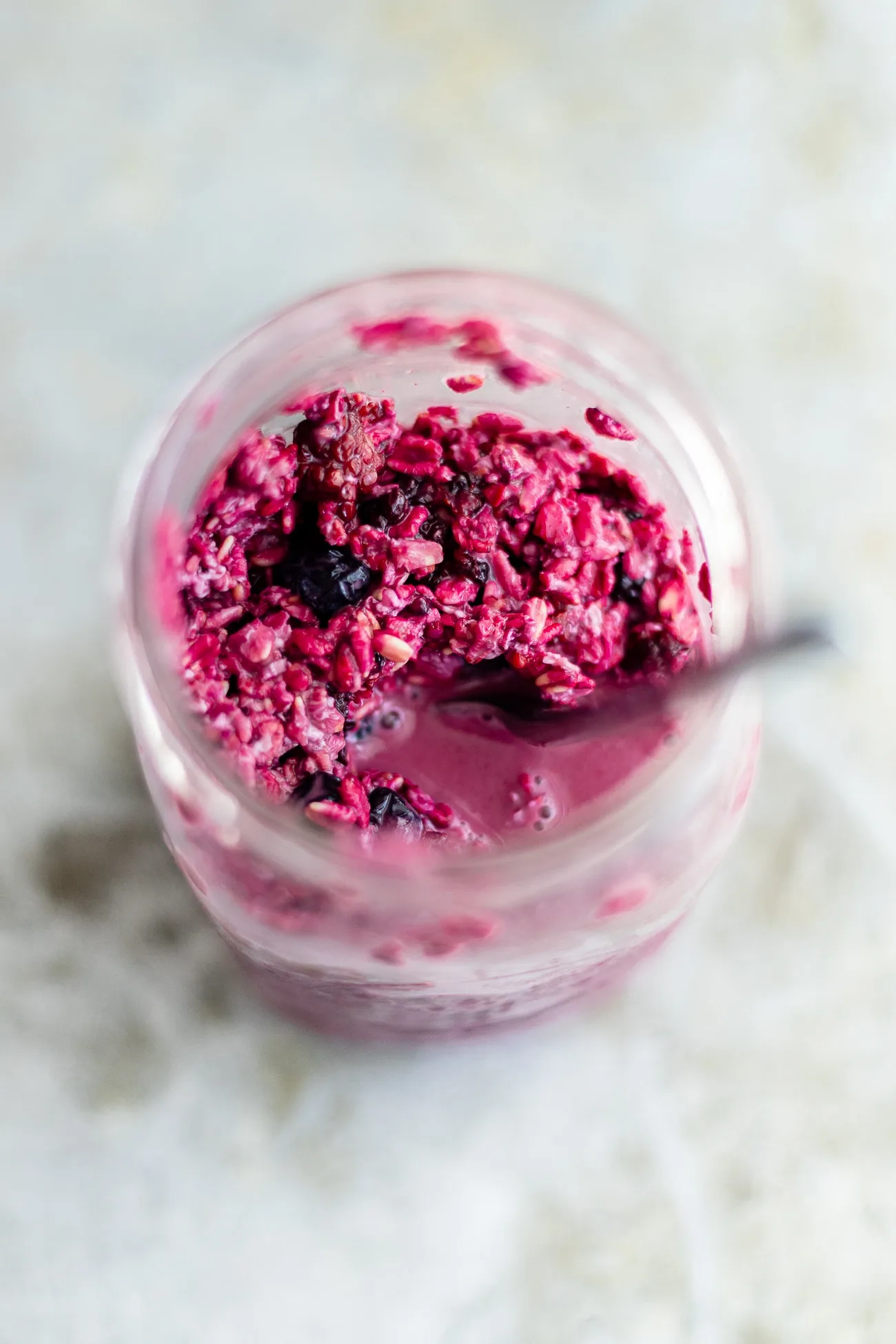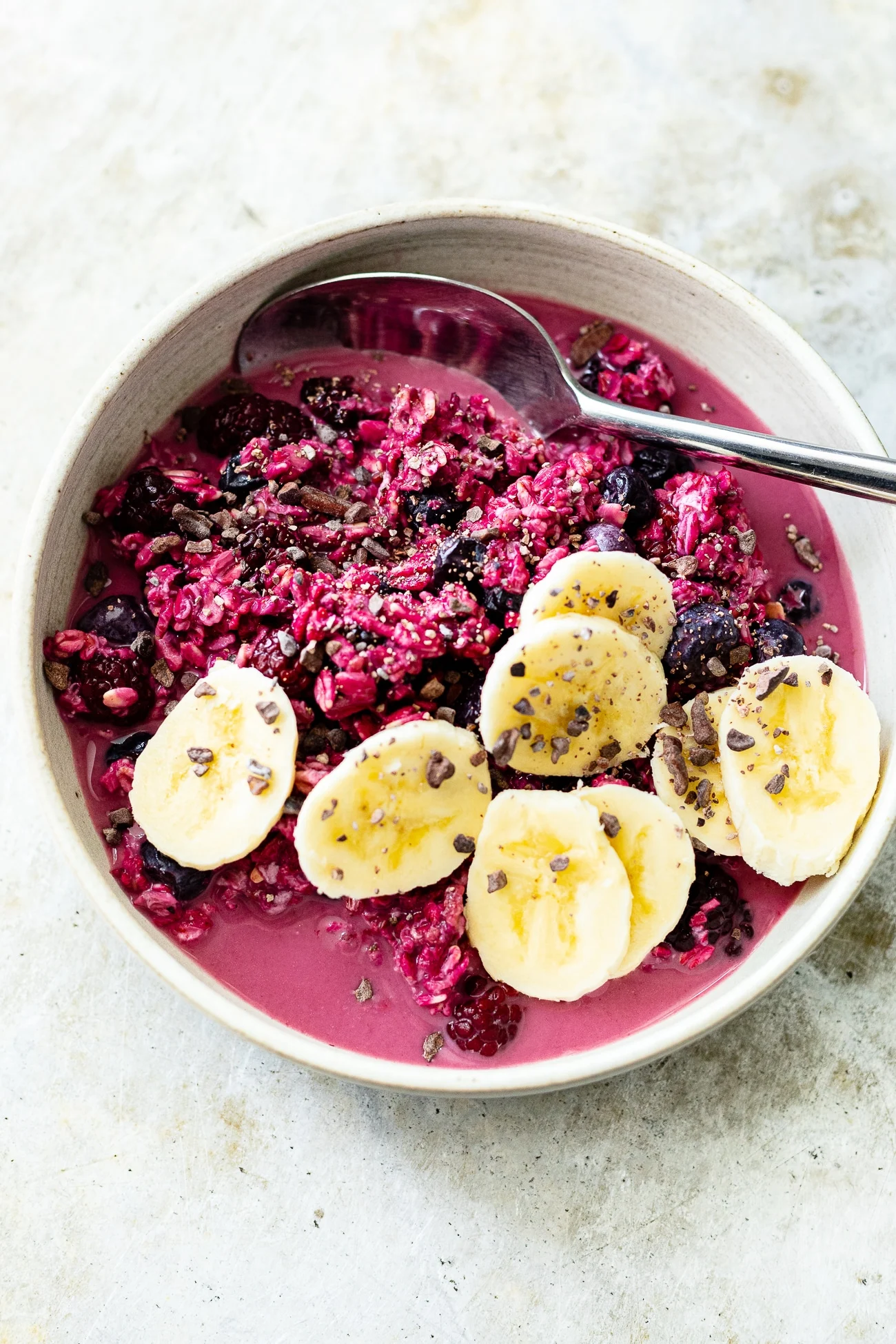 Yield: 4 servings
Berry Overnight Oats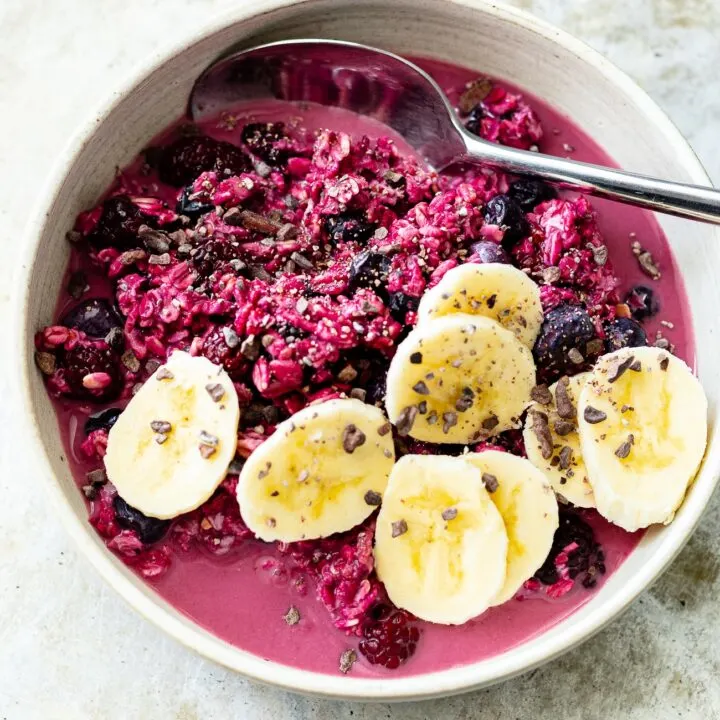 Soaked berry overnight oats are a simple and naturally gluten-free, sugar-free, vegan breakfast.
Total Time
8 hours
5 minutes
Ingredients
16 ounces frozen mixed berries, thawed (see notes)
1 1/2 cups rolled oats
1 cup plant-based milk or water
1/4 teaspoon fine sea salt
Instructions
In a large jar or airtight container, combine the thawed berries, oats, milk and salt and mix well.
Refrigerate overnight or for 8 hours.
Enjoy cold or warmed as is, or with bananas, cacao nibs and a splash of milk.
Notes
I let the frozen berries dethaw by letting them sit in room temperature for a few hours. Alternatively, you can thaw them in the microwave or on the stove.