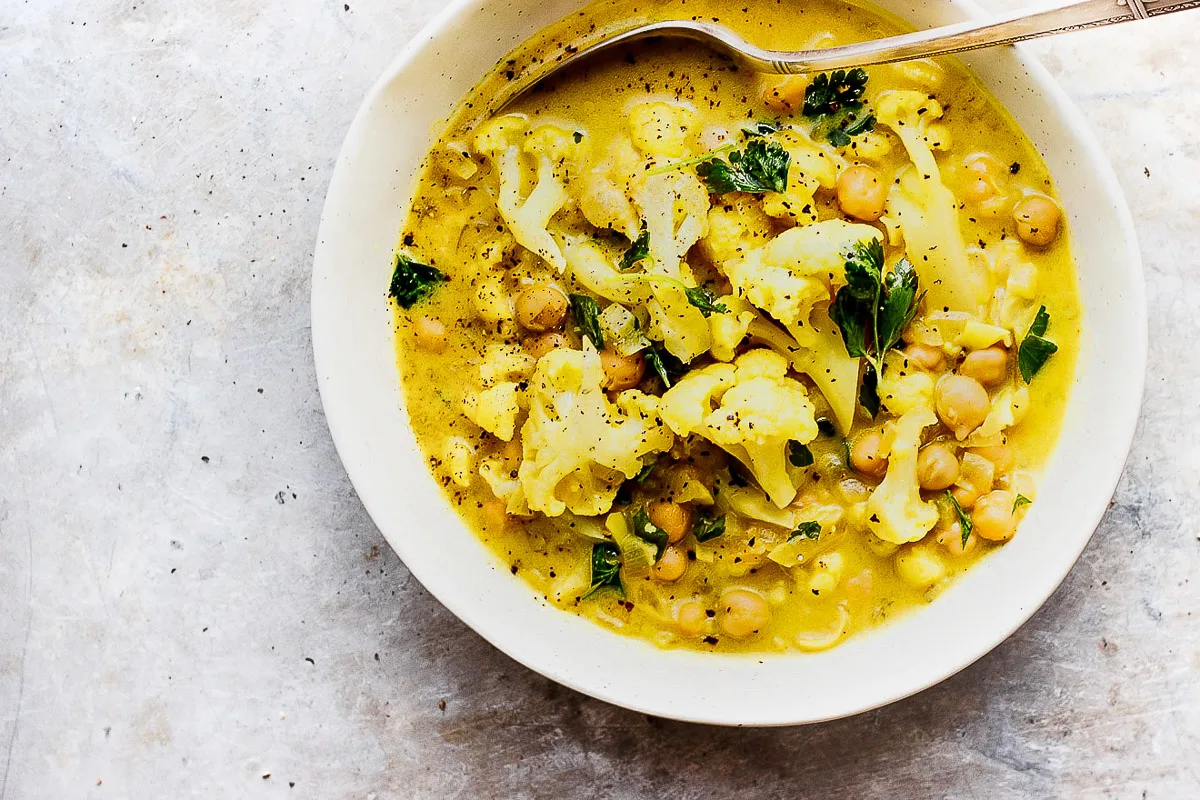 You guys.
I made thing.
And I love it.
Actually, I'm obsessed with it.
A turmeric rich.
Golden stew.
With cauliflower.
And chickpeas.
And herbs for brightness.
It's full of flavor.
And vibrant.
And colorful.
I cannot stop eating it.
I want to tell you more about it.
But first. I want to talk about some pop-up news. Local friends! And friends and readers who aren't local but would want to travel to St. Louis to eat good food with even better company – tickets for next dinner, Forever Spring have been released. The tickets went out to my newsletter subscribers last night.
Tickets get released to the folks on my newsletter list first for twenty-four hours. And then to the general public. But the good news is – anyone can be a subscriber. And, it's free. If you want to get your tickets before anyone else, and before the sell out, add your name to this list.
Forever Spring is slated to sell out. And I'm really excited about this menu. To work with all of the spring greens and goodness after a long winter. So make sure purchase your tickets before it's too late. They are on sale now. I'll see you there! Okay so now, let's talk about this golden stew.
A turmeric rich golden stew that is chock full of plant-based protein with chickpeas and cauliflower. And loads of anti-inflammatory properties and stomach soothing ginger. And coconut milk for a super dreamy, creamy, savory broth. It's peppery and fiery, and warming and comforting. It promises to excite your flavor receptors while it also stimulates your digestion and improves your immune system.
It tastes good.
It's good for you.
It comes together in under twenty minutes.
You can't lose.
Turmeric golden stew with chickpeas and cauliflower everybody.
Make this your go-to fall and winter weeknight meal.
I have.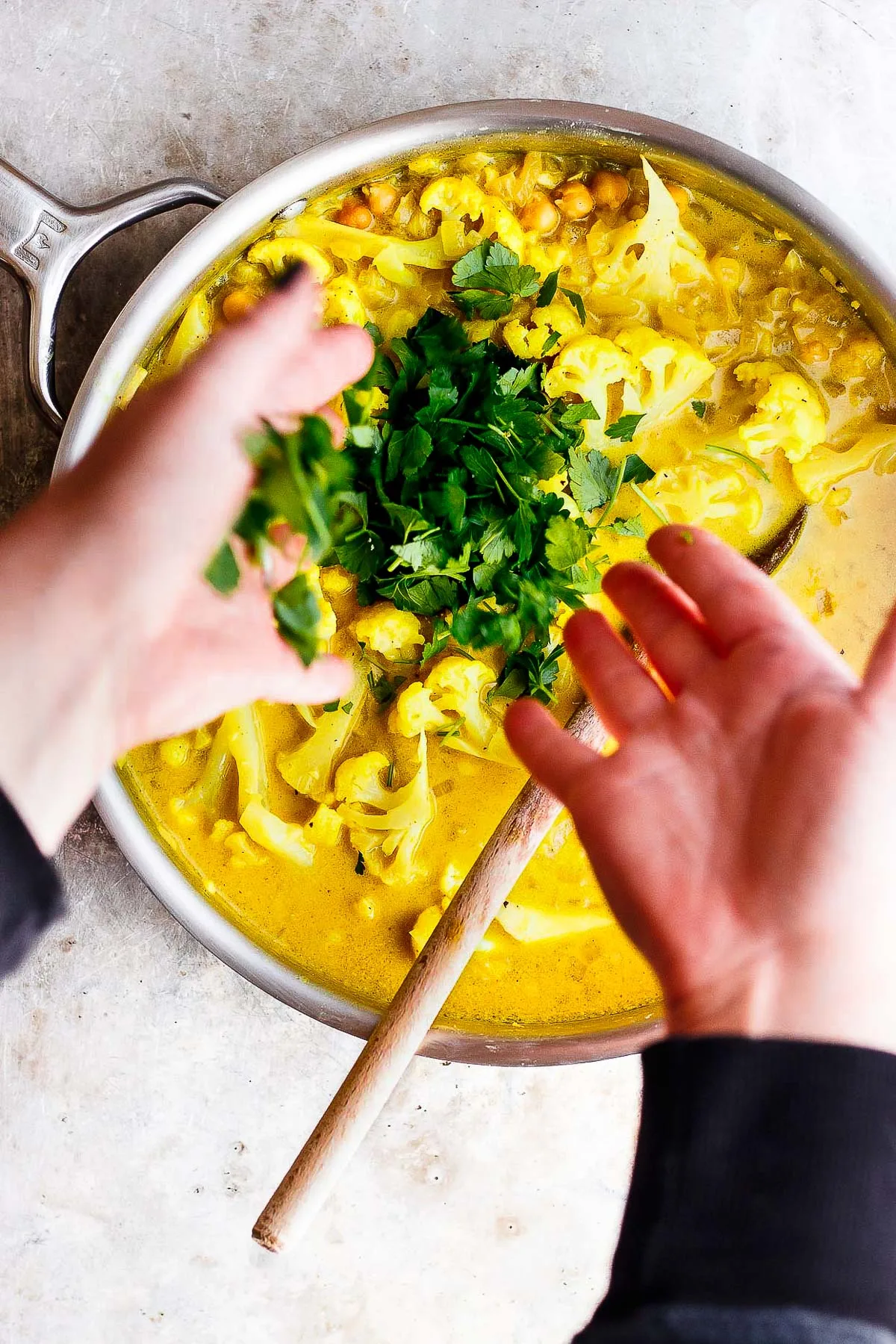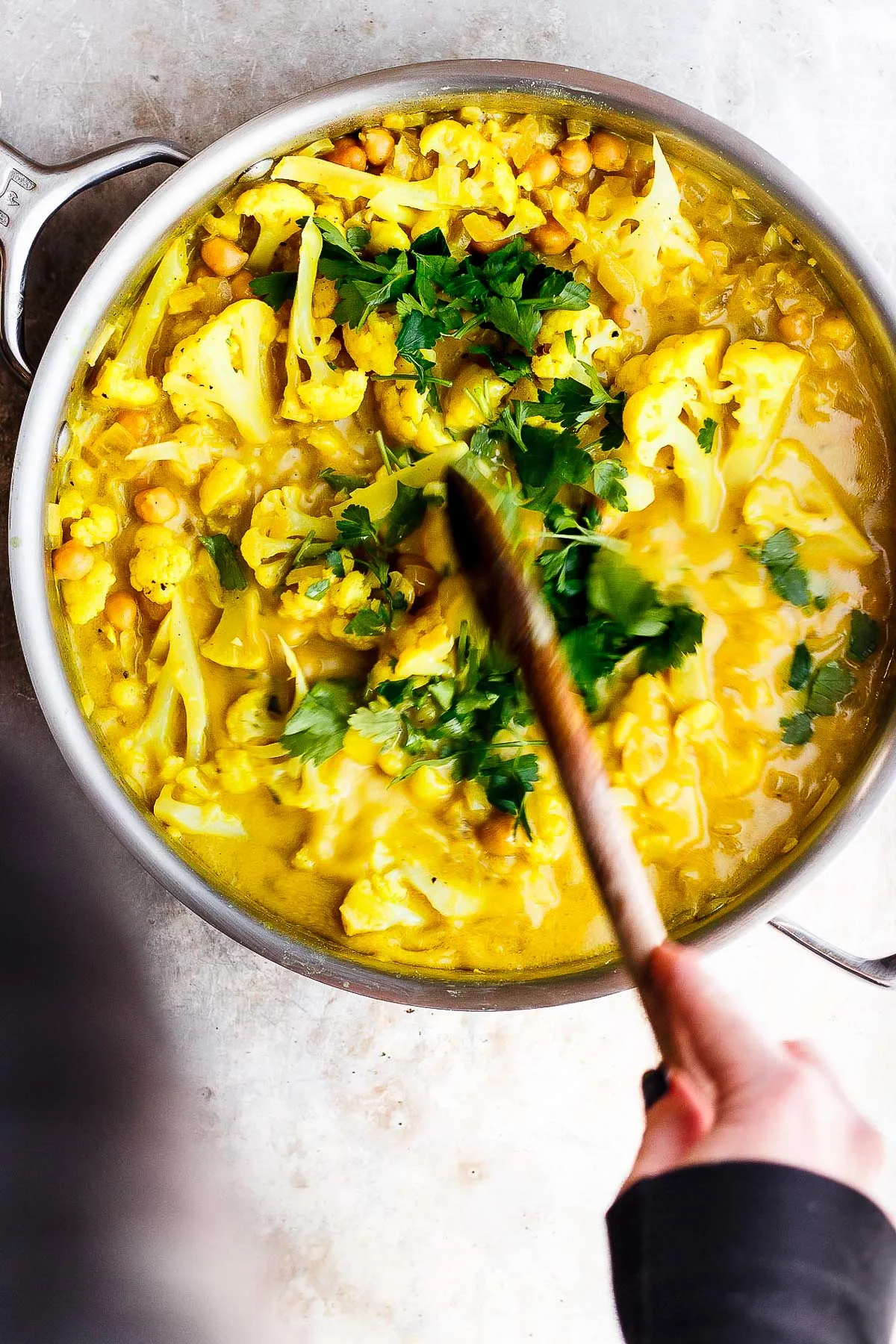 Yield: 4 bowls
Golden Cauliflower Stew with Chickpeas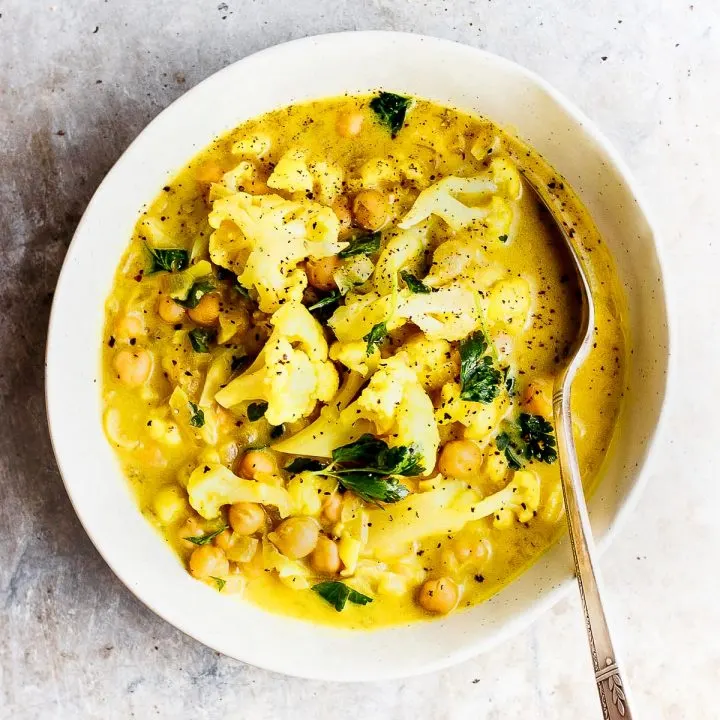 A turmeric cauliflower stew with chickpeas and a rich coconut broth. A naturally vegan stew that's also gluten-free and rich with antioxidants.
Ingredients
3 tablespoons coconut oil
1 cup yellow onion, minced
4 cloves garlic, minced
1 tablespoon lemon juice
2 teaspoons ground turmeric
2 teaspoons ground ginger
(2) 15 oz. cans full-fat coconut milk
3 cups cauliflower florets
1/4 cup fresh parsley, chopped
1 1/2 cups cooked chickpeas
1/2 teaspoon fine sea salt
1/2 teaspoon black pepper
Instructions
In a large sauté pan heat the oil over low heat. Add in the onions and sweat for 5 minutes.
Then add in the garlic and cook for 1 minute more.
Then add in the lemon juice and stir to scrape any brown bits from the bottom of the pan.
Add in the turmeric and ginger and stir.
Next add in the coconut milk and season generously with salt and pepper. Stir and bring to a simmer.
Add in the cauliflower and cover with a lid. Simmer for 5 - 7 minutes or until the florets are tender.
Add in the chickpeas and simmer for a minute more or until the chickpeas are warmed throughout.
Remove from the heat, and add in the parsley.
Serve warm in a bowl as a stew or over rice.