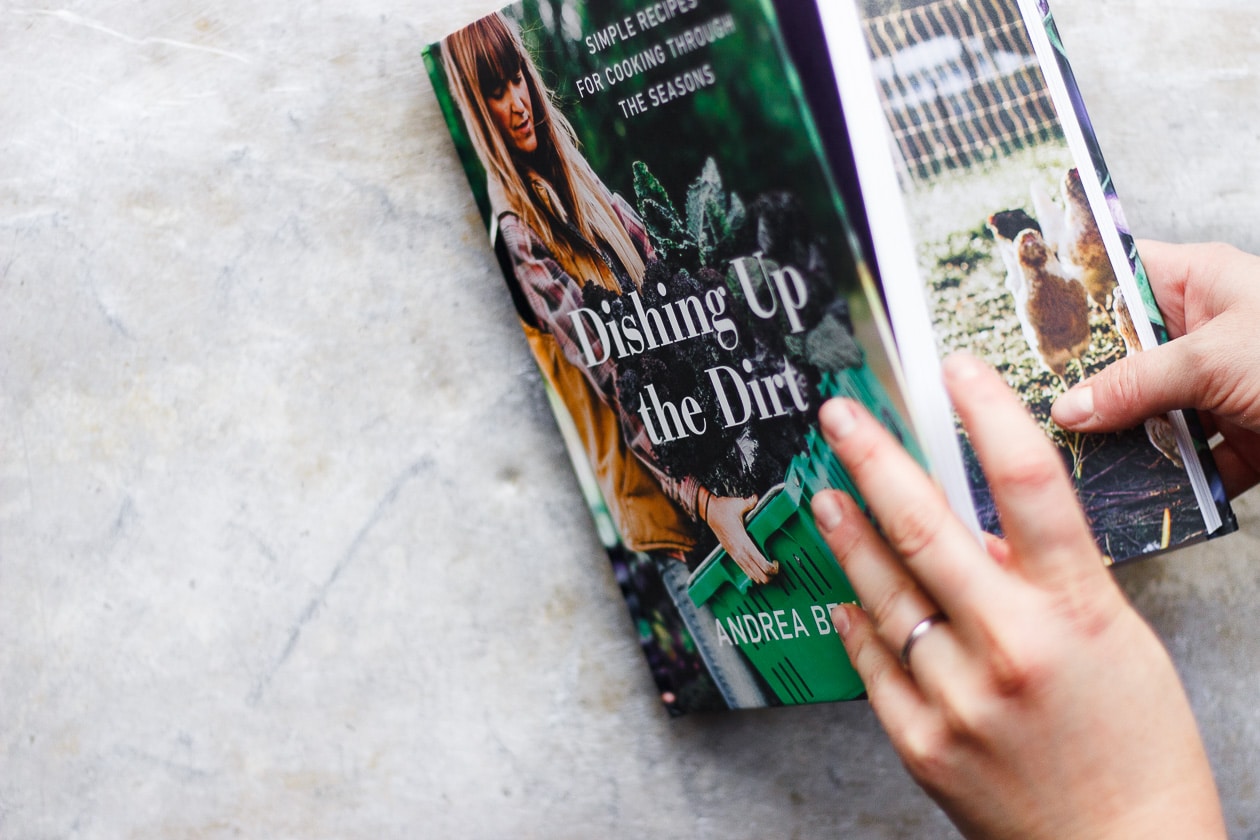 My heart exploded the first time I saw a watermelon radish. My goodness mother nature is responsible for some pretty incredible things. Watermelon radishes are one of the most beautiful vegetables, but watermelon radishes can also be harsh and spicy. Beyond those groovy colors it often lacks a certain amount of chill.
But you can transform a watermelon radish when you roast it. Roasted watermelon radishes, or any radish variety for that matter, totally mellow in the oven. Their texture becomes soft and juicy, and their spiciness relaxes while their neutral cruciferous undertones rise. Roasted watermelon radishes are a staple in my home, and especially in the spring when they're abundant.
My friend Andrea Bemis, a badass farmer and food blogger from the Pacific Northwest wrote a cookbook. Dishing Up the Dirt: Simple Recipes for Cooking Through The Seasons, a book I've been anticipating for some time now, and it is finally here.
One of things I love so much about Andrea's work is the loving energy she puts into everything she does. With every story, image and recipe, she leaves a little piece of her heart with you. Her work is this perfect mix of vibrant romanticism, and grueling hard labor. I am immensely in awe of all that she does to contribute to this world.
When I think of Andrea I think of radishes, because she makes humble food come alive. And as I comb through her book, I notice radishes popping up everywhere. From the introduction image of her smiling holding a freshly picked bundle, to the delicate garnishes sprinkled in the dishes throughout each chapter. Like Andrea, radishes are to be loved.
Roasted watermelon radishes are transformative.
I served the roasted watermelon radishes with a generous dose of Andrea's herbed tahini sauce. This sauce is one of those recipes that goes with everything. A recipe you should have on hand at all times.
I'm giving away a copy of Dishing Up the Dirt to one of you lucky readers. To enter make sure you are following me and Andrea on Instagram, and then leave me a comment below. Tell us what vegetables you are most looking forward to eating this spring. I'll choose a winner at random on March 31st at noon Central, and notify the winner by email. Contest is open to readers in the United States and Canada.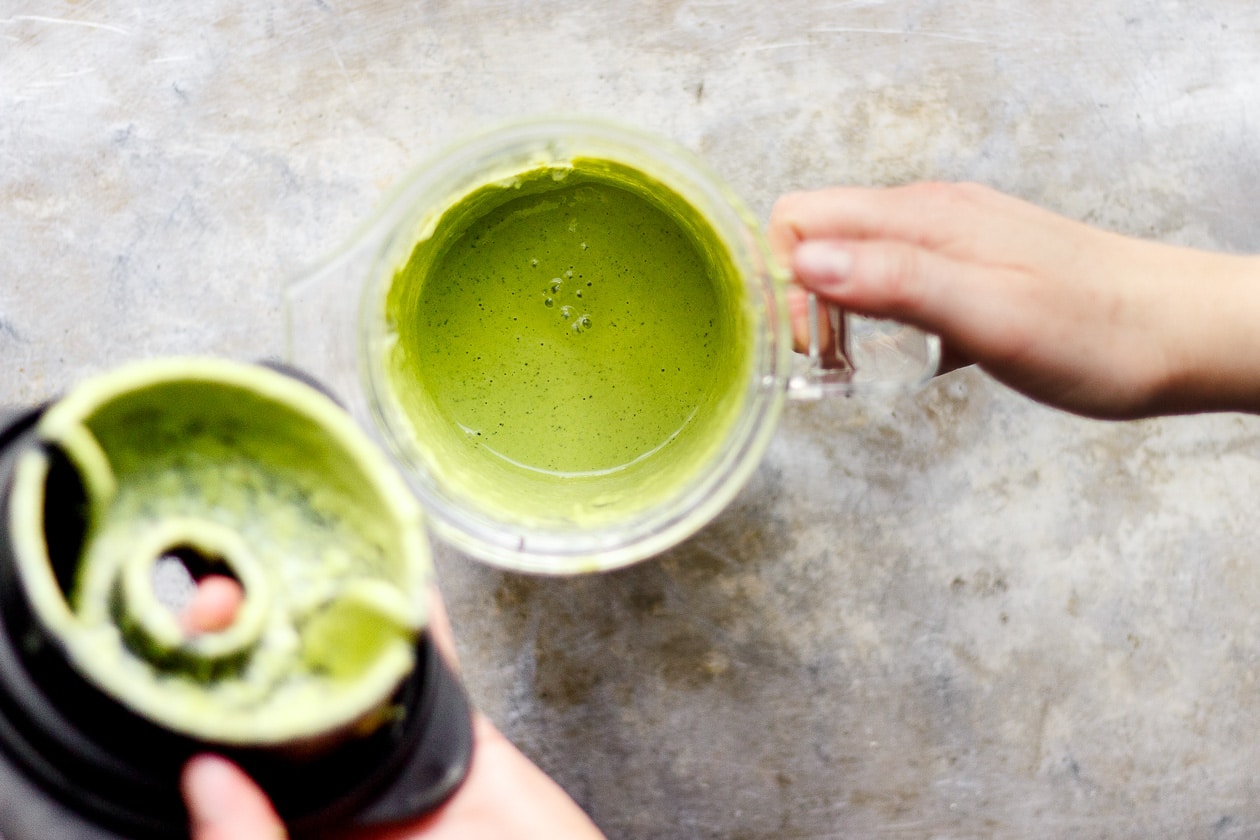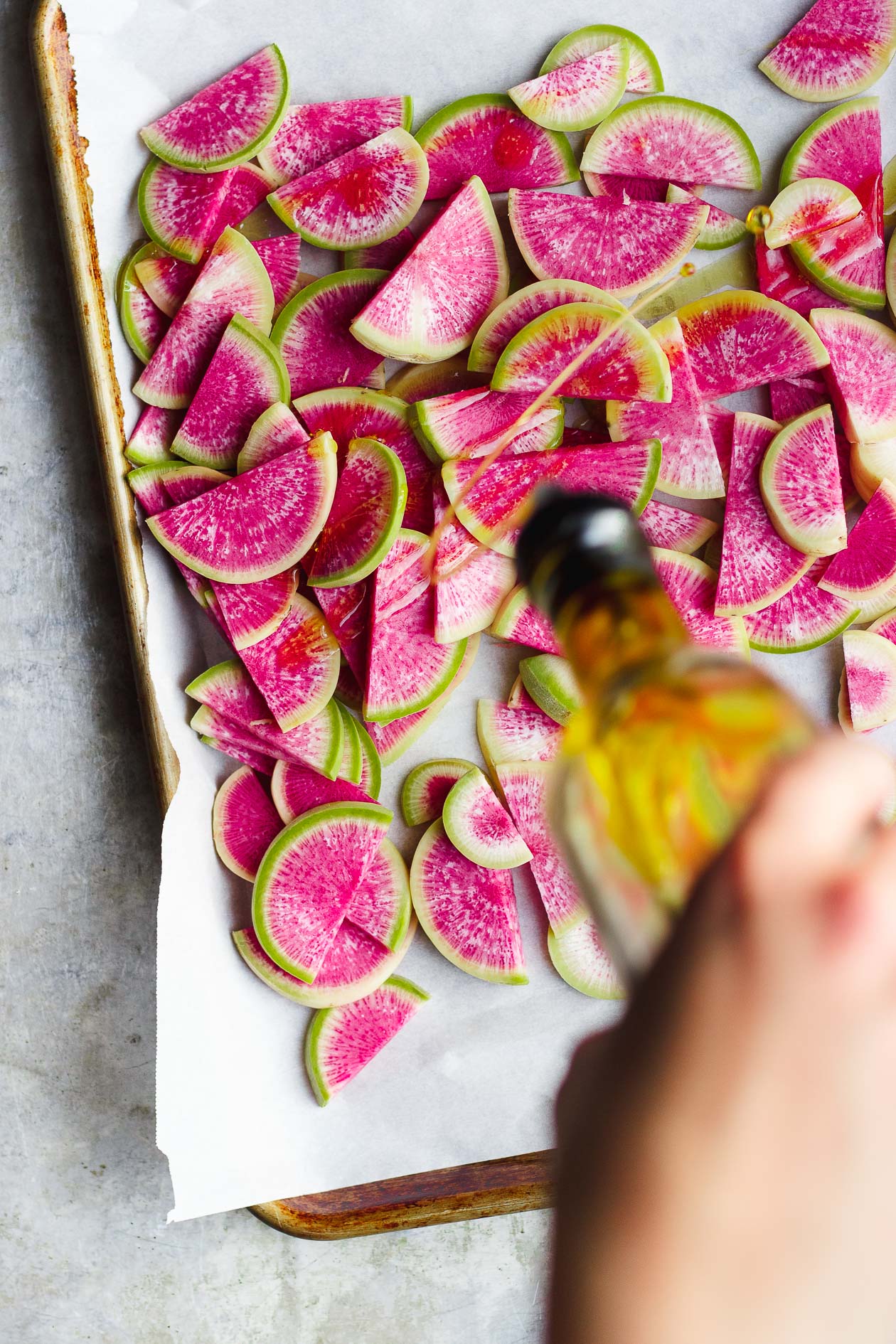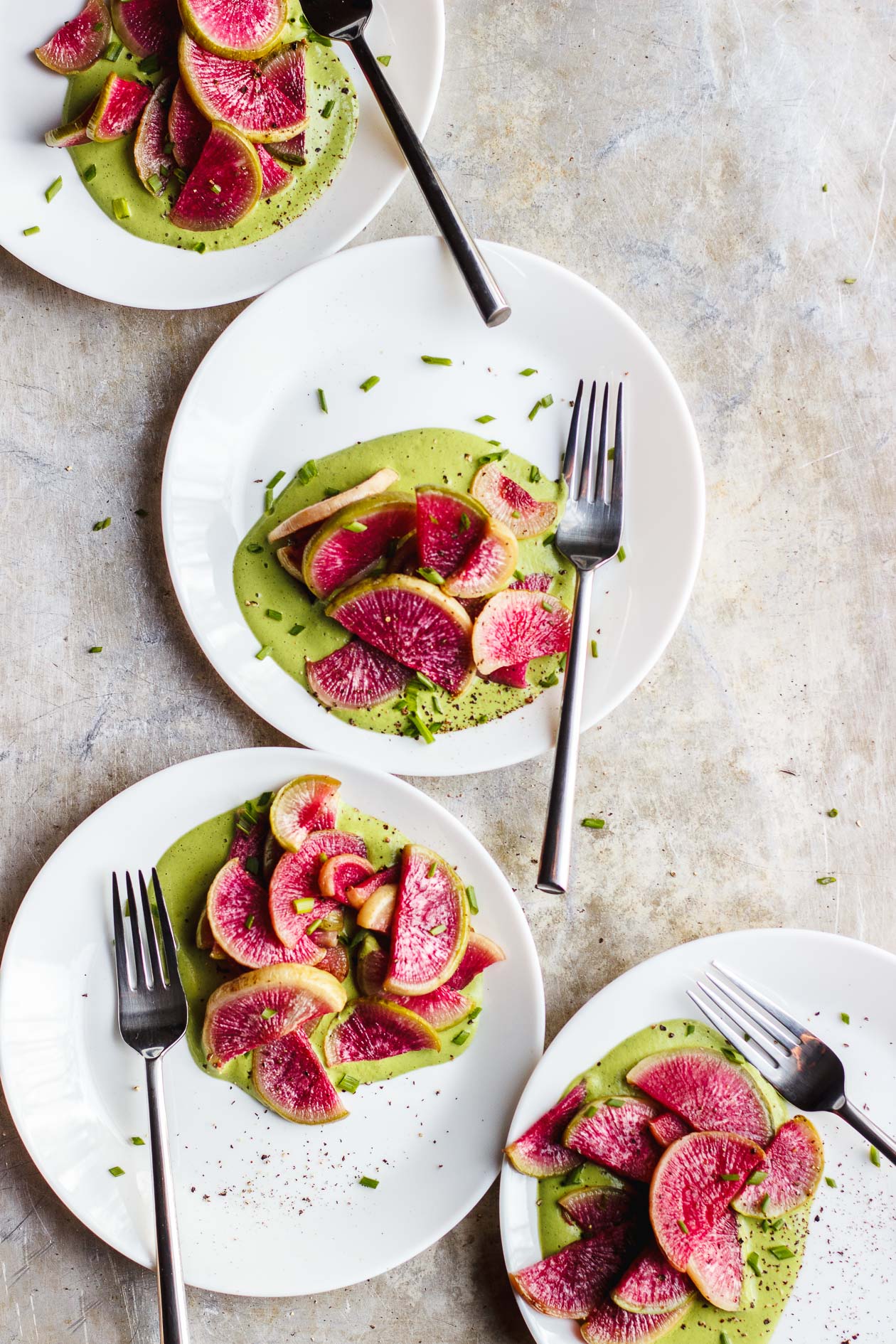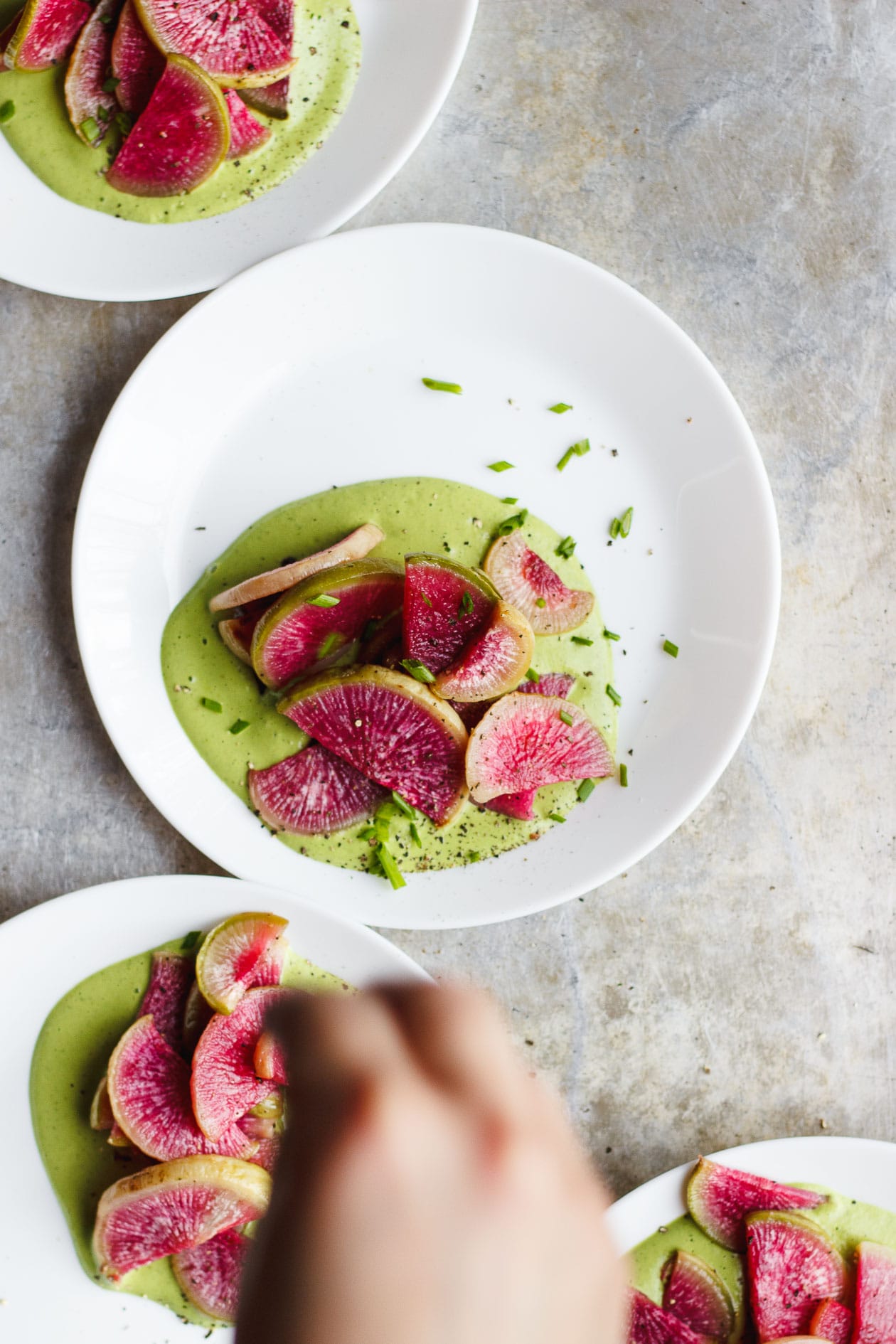 Yield: 4 servings
Watermelon Radish with Herbed Tahini Sauce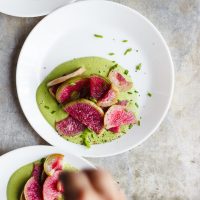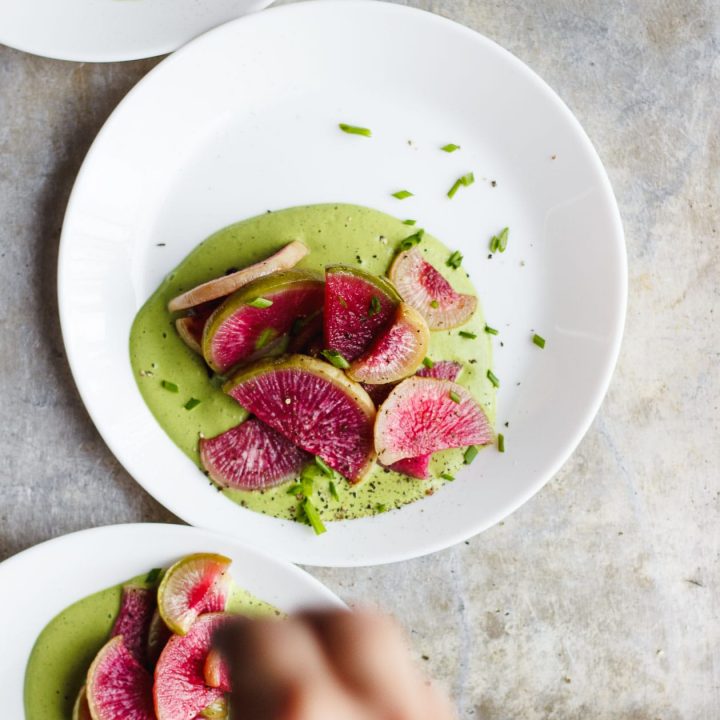 Watermelon radish served with herbed tahini sauce. Roasted watermelon radishes magically transform in the oven as an easy, vegan, low-carb side dish.

Prep Time 5 minutes

Cook Time 20 minutes

Total Time 25 minutes
Ingredients
4 cups watermelon radishes, 1/4-inch cuts (see notes)
1/4 cup olive oil (divided)
1/2 teaspoon fine sea salt (divided)
1/2 teaspoon black pepper (divided)
1 clove garlic, minced
1 scallion, diced small
1/4 cup tahini
2 tablespoons lemon juice
1/4 cup mint
1/4 cup dill
1/4 cup parsley
1/2 cup filtered water
1/4 cup chives, minced (to garnish)
Instructions
Preheat the oven to 400 degrees and line a sheet pan with parchment paper.
In a bowl toss the watermelon radishes with your hands in 2 tablespoons of olive oil, 1/4 teaspoon salt and 1/4 teaspoon pepper. Lay them in an even layer on the lined sheet pan and roast for 10 minutes. Remove from the oven, flip the radishes and continue to roast for 10 minutes more. 
Meanwhile prepared the sauce by combining the remaining 2 tablespoons olive oil, garlic, scallion, tahini, lemon juice, mint, dill, parsley, water and the remaining salt and pepper in a blender or food processor and pulse until smooth. Add more water if needed to reach your desired thickness.
Spread a thin layer of sauce on each plate and top with the roasted radishes, chives and more salt and pepper if desired.
Notes
If you cannot source watermelon radishes, any variety of radishes can be used.
Recommended Products
As an Amazon Associate and member of other affiliate programs, I may earn a small percentage from qualifying purchases.

MORE RADISH RECIPES YOU'LL LOVE.
Endive Radish Salad with Lemony Vinaigrette
Potato-less Potato Salad with Poached Radishes
Creamy Risotto with Sautéed Spring Vegetables

---
This giveaway is closed. Thank you Harper Wave for gifting me an advance copy of Dishing Up the Dirt.