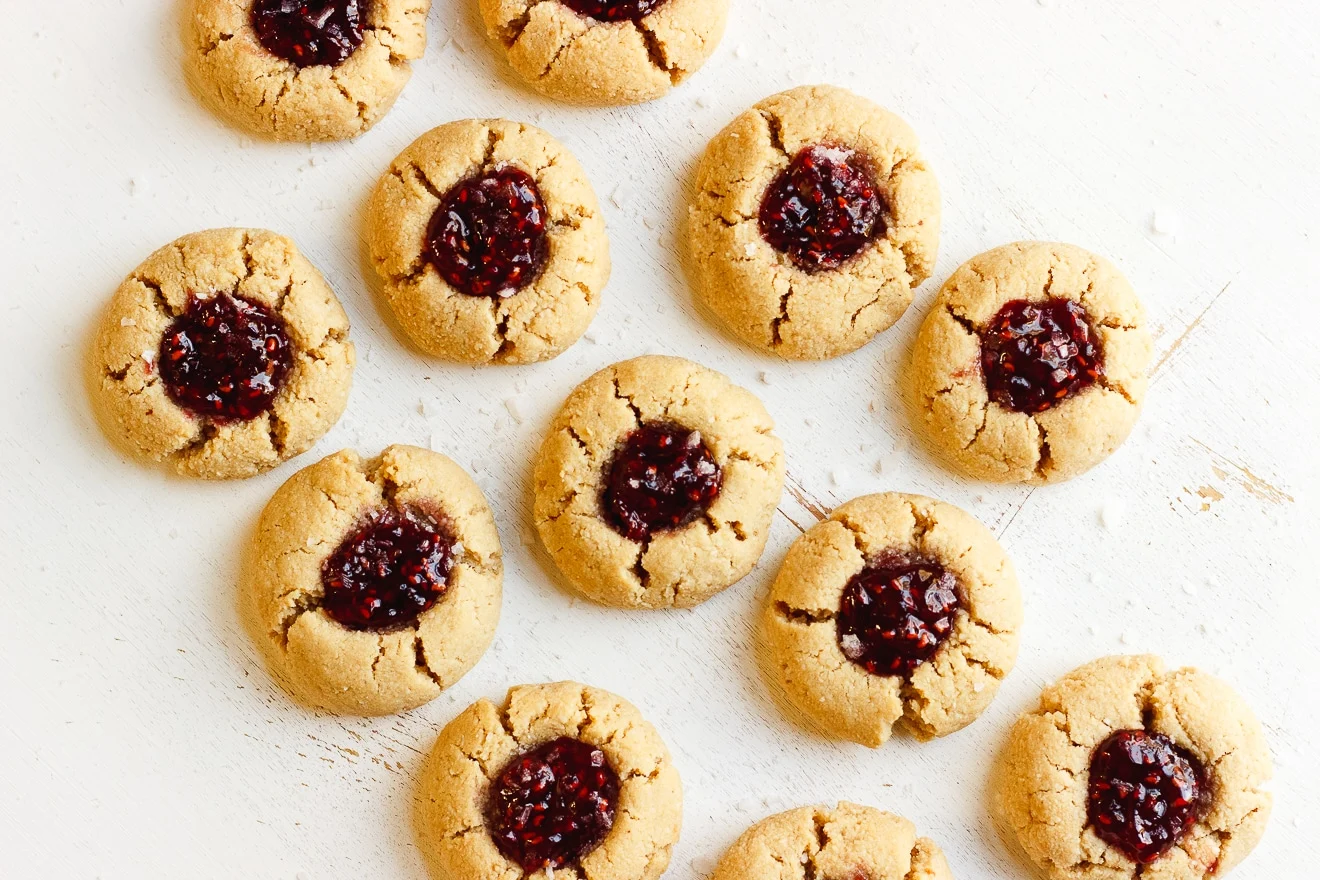 When I was a little girl I would get so excited to bake cookies at Christmas time with my mom and my sister. I would roll up my sleeves, put on my little apron, get covered in flour and in sugar and have the best time. For me, these vegan thumbprint cookies with raspberry jam embody those memories.
We would blast my mom's Amy Grant A Christmas Album cassette as loud as we could. We would dance and laugh and sing around the house like no one else in the world was watching. These are truly some of my fondest childhood memories.
We'd also make what seemed like hundreds of cookies. Rum balls and snowballs, and sugar cookies and gingerbread men were amongst the lineup. We would also make my favorite, raspberry jam thumbprint cookies. So this recipe is really near and dear to my heart.
Even though I loved making Christmas cookies as a child, I really don't enjoy baking much now as an adult. All of the measuring and preciseness really stresses me out. But I do look forward to baking a batch of these simplified, vegan thumbprint cookies with just seven ingredients.
How to make the best vegan thumbprint cookies.
This vegan thumbprint cookie recipe is simple and easy. It calls for just seven ingredients. The first, blanched almond flour, which makes them naturally grain and gluten-free. And six more ingredients. Baking soda, salt, vanilla, oil, maple syrup and raspberry jam.
It requires twenty minutes of time, and one bowl, a sifter, a whisk, a tablespoon and a baking sheet lined with parchment paper. First you will sift the dry ingredients, then you will add in the liquid ingredients and then you roll them into tiny balls with jam on top and bake.
Both maple syrup and honey work well in this recipe, so you can use whichever one you prefer. I prefer to use maple syrup because it is a slightly less sweet than honey. And both olive oil and coconut oil work really well in this recipe, so you can use whichever one you prefer. I prefer to use olive oil because I like the flavor better.
Though whichever you choose, these chewy vegan thumbprint cookies are tried and true and a total hit every time. And they're entirely free of grains, gluten, coconut, soy, dairy, eggs and refined sugar.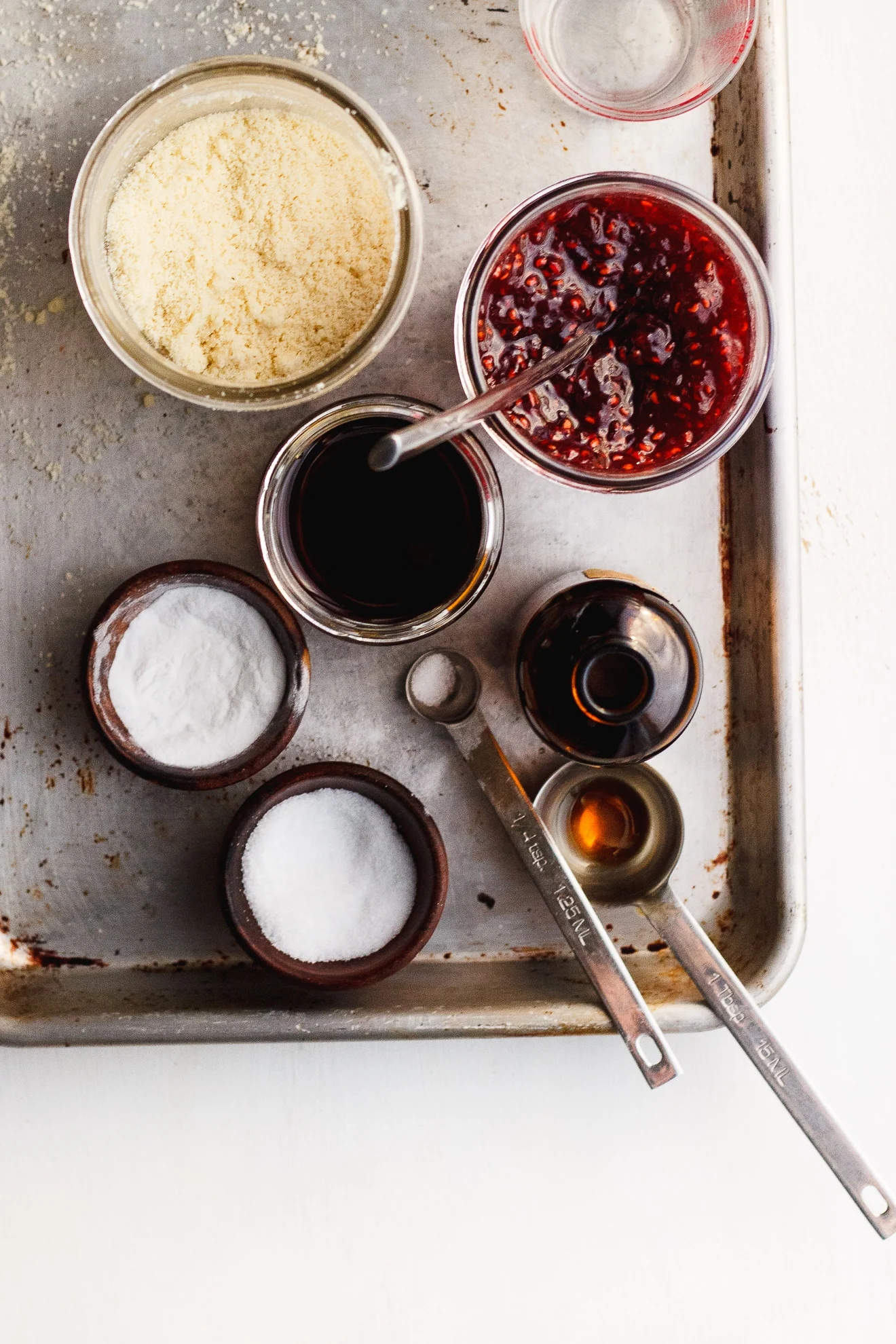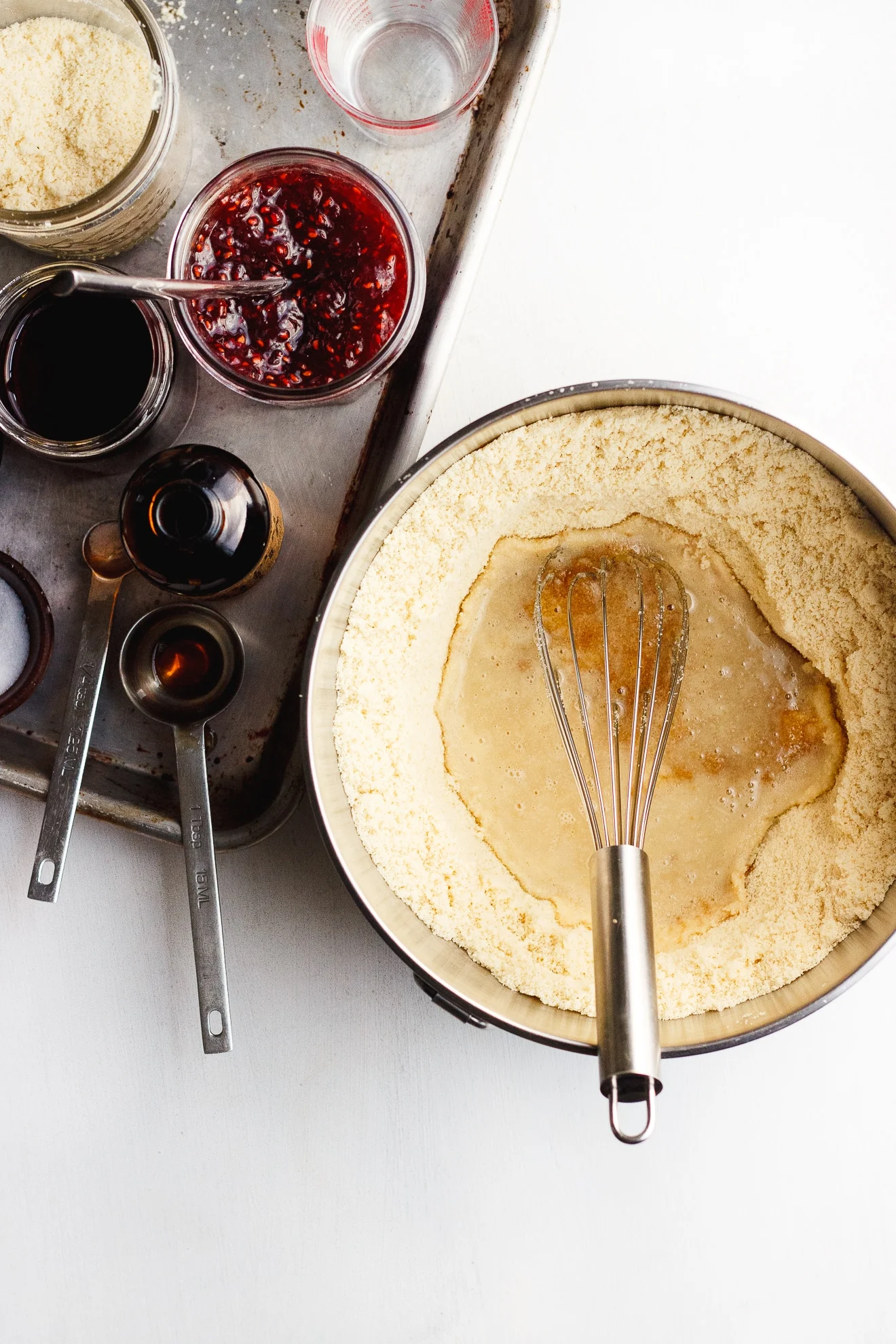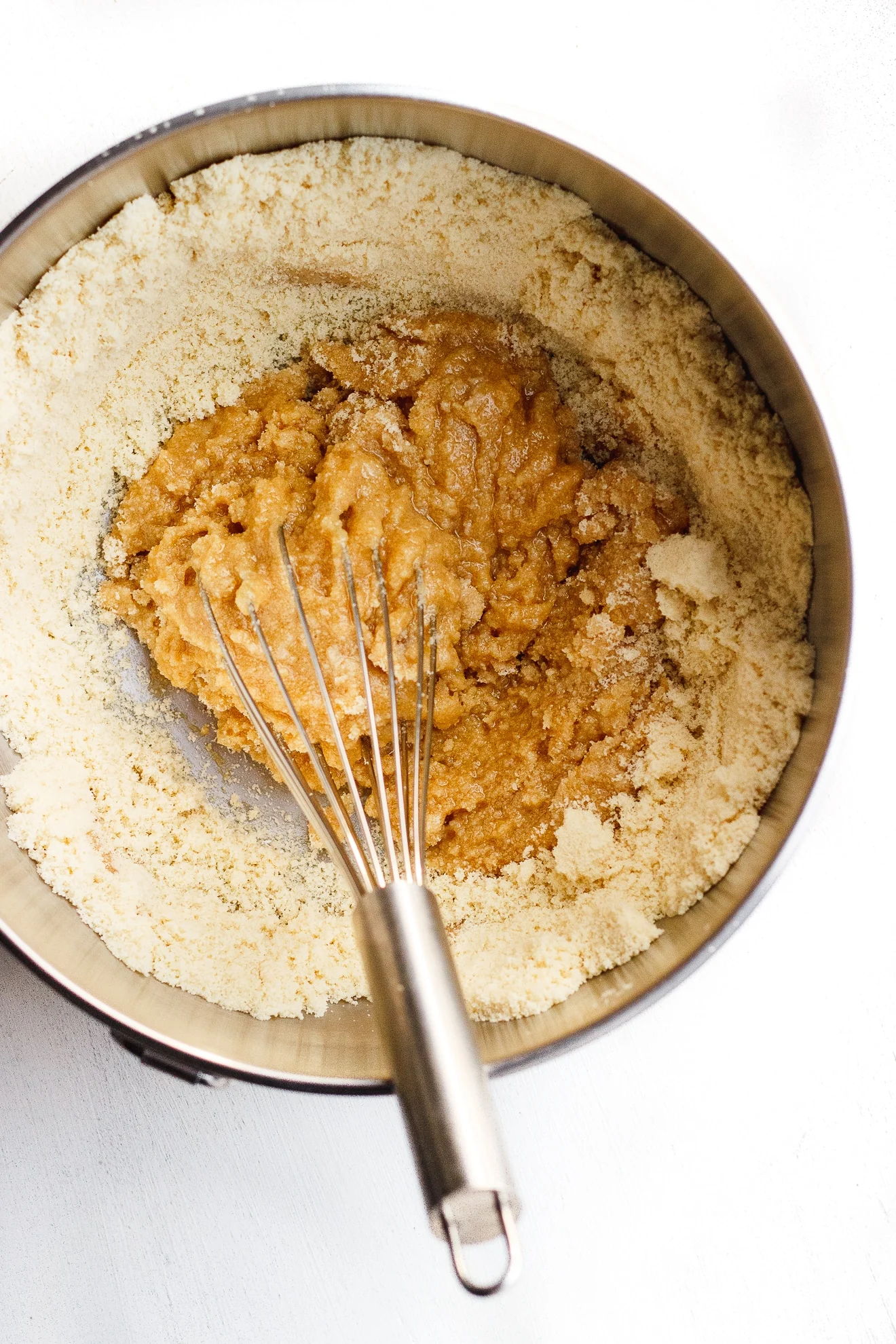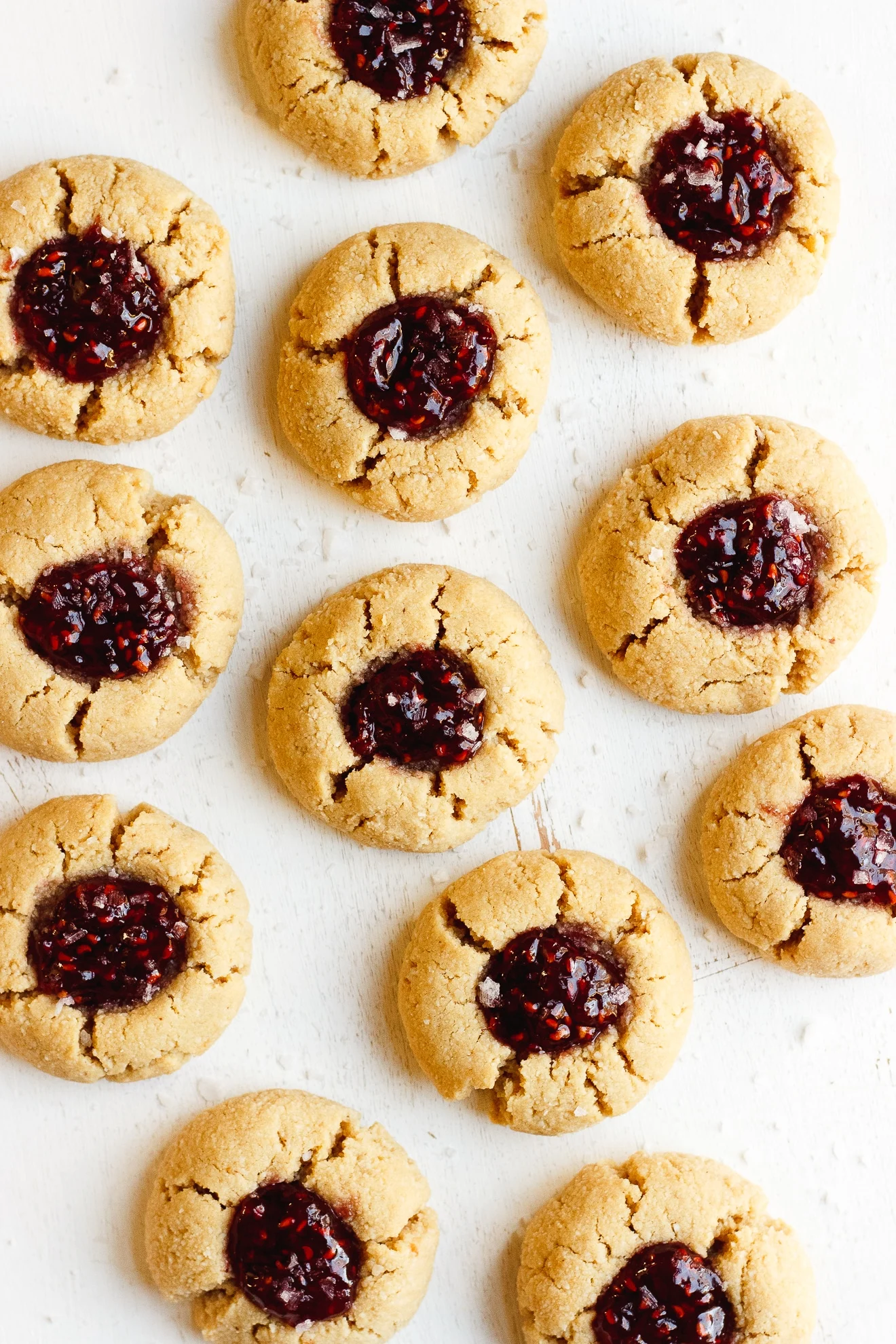 Yield: 15 cookies
Raspberry Jam Thumbprint Cookies with Flake Salt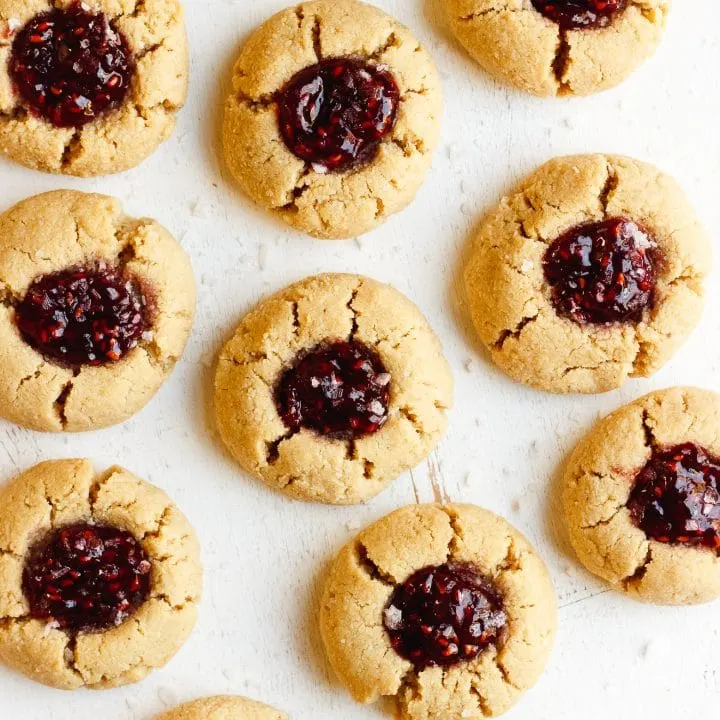 Naturally grain and gluten-free, vegan thumbprint cookies made with a touch of maple syrup, flake salt and almond flour.
Ingredients
2 cups almond flour
1/4 teaspoon baking soda
1/4 teaspoon fine sea salt
1/4 cup olive oil or coconut oil (melted)
1/4 cup maple syrup or honey
2 teaspoons vanilla extract
2 tablespoons raspberry jam
flake salt (optional garnish)
Instructions
Preheat the oven to 350 degrees, and line a sheet pan with parchment paper.
Sift the almond flour, baking soda and salt in a medium sized bowl. Then stir in the olive oil (or coconut) oil, maple syrup (or honey) and vanilla until it forms into a thick batter.
Roll tablespoon sized portions into balls. Tip: if the batter is sticking on your hands, lightly grease your palms with a few drops of oil.
Place the balls on the lined sheet pan and with your finger lightly press the middle to leave a small indentation in the center of the cookie. Distribute the jam into the cavities of the cookies.
Bake for 13 minutes. The cookies will be soft when you remove the pan from the oven. Leave them on the tray undisturbed and they can take form as they cool.
Garnish with a sprinkle of flake salt if desired.
Notes
Store at room temperature for up to three days. They can also be made ahead of time and frozen. Remove them from the freezer an hour before you would like to serve them.