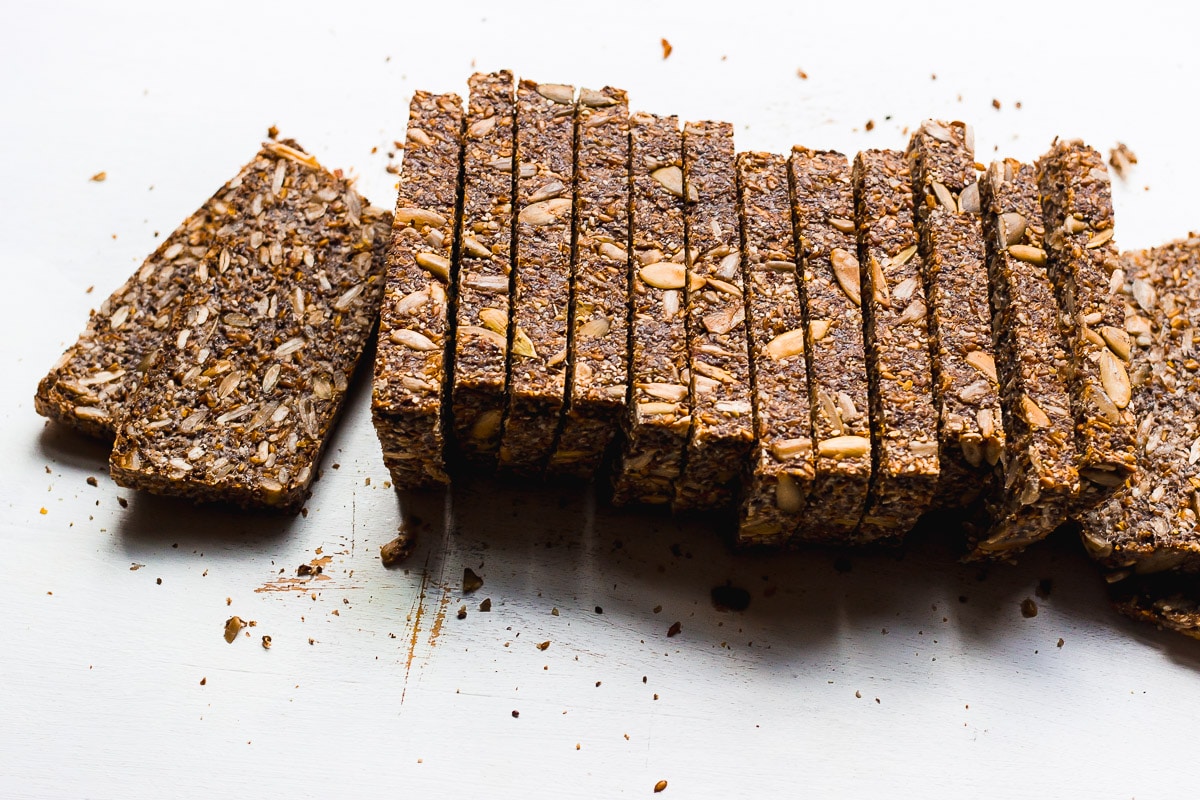 Before we talk about this super hearty seeded keto bread. Simply known as, the best seeded bread there ever was. We should talk about the what and the why. Like what is keto? And why would anyone want to eat a keto diet?
What is the keto diet?
The ketogenic diet, or keto for short, uses fat to burn fat. When you eat a high fat and low carbohydrate diet your body works through the elimination of glucose. Typical diets convert carbs (sugars) into glucose and if these levels become too high, extra calories are much more easily stored as body fat which results in unwanted weight gain.
However, when glucose levels are cut off due to low-carb eating, the body starts to burn fat instead and produces ketones that can be measured in the blood. When your body begins to produce enough ketones, you will be in a state of ketosis.
Why should I eat a keto diet?
You may have your own reasons to eat a keto diet, but I experimented with it for three reasons. Weight loss, blood sugar stability and inflammation. Weight loss is what initially drew me to the keto diet. But my improved mood, consistent energy and stable appetite captured my attention.
In the past food ruled me. I used to graze all day, never feeling full, even after balanced meals. I used to get massive dips in energy and mood. But eating high amounts of healthy fat is satiating and stabilizing. And this new way of eating has saved me from a lifetime of hanger.
It isn't a secret that I love vegetables. I've based my entire blog around them. For the past many years and especially my years working as a health coach, I've touted the benefits of a plant-based diet. But vegetables, and especially fruits, are high in carbs, so those two foods on a keto diet must be eaten in moderation.
Which is why eating a keto diet for me isn't sustainable. I love eating unlimited amounts of vegetables, and fruit. Additionally, keto is takes a considerable amount of planning and trial and error to see what works for you. But if you find results with it, and feel healthier and stronger this keto bread will be a lifesaver.
The best keto bread on the internet.
It is true. I promise you this is the best vegan, keto bread on the internet. And for many reasons, it is also the best seeded bread on the internet. I'll get to that. Most keto bread recipes on the internet are nutritionally void, full of dairy and tastes eggy. They are not great.
So, I had to create my own keto bread where the nutrients are the stars. This seeded bread is based off of Sarah's hearty life-changing loaf. The structure and density are the same, but the main structural ingredients differ greatly.
This keto bread is made entirely from seeds. It is free of gluten, grains, nuts, dairy, eggs, soy and sugar. And it is loaded with selenium, magnesium, phosphorus, folate, zinc, and vitamins B1, B2, B3 and B6. The macros per slice, for those of you counting are: 2 grams net carbs, 6 grams fat, 8 grams fiber and 7 grams protein.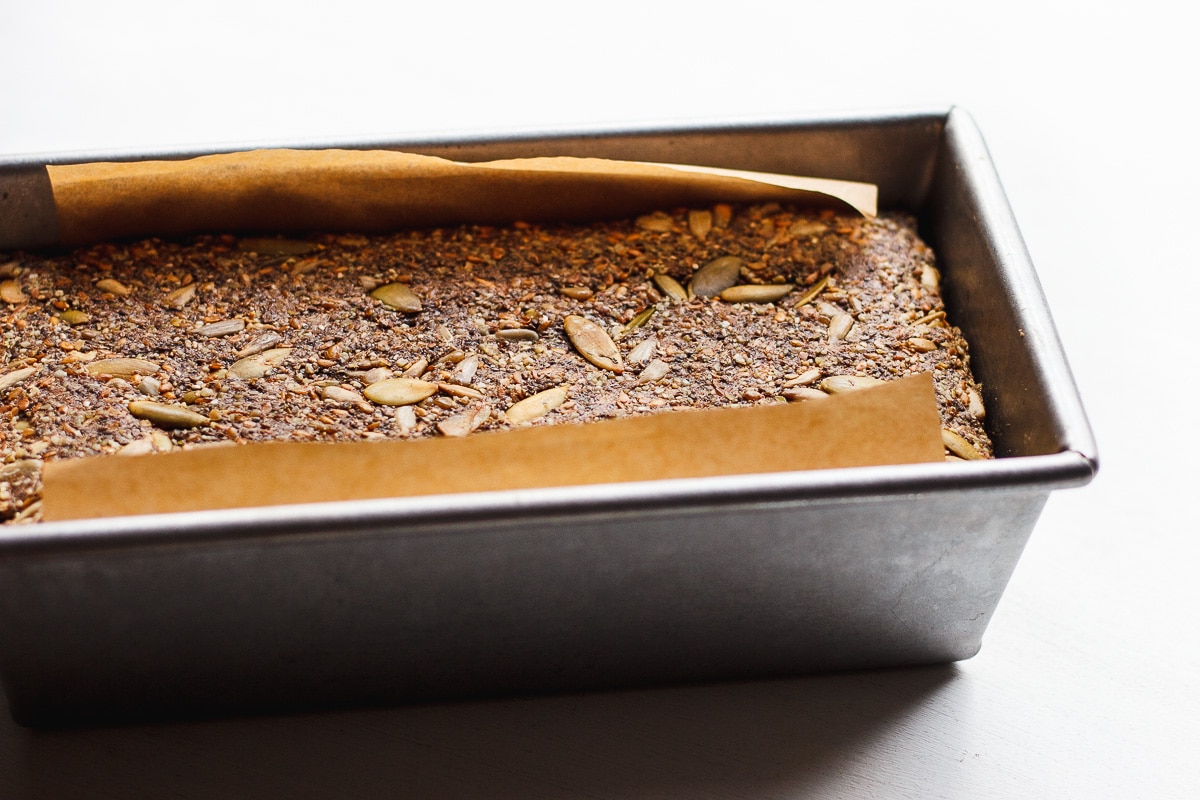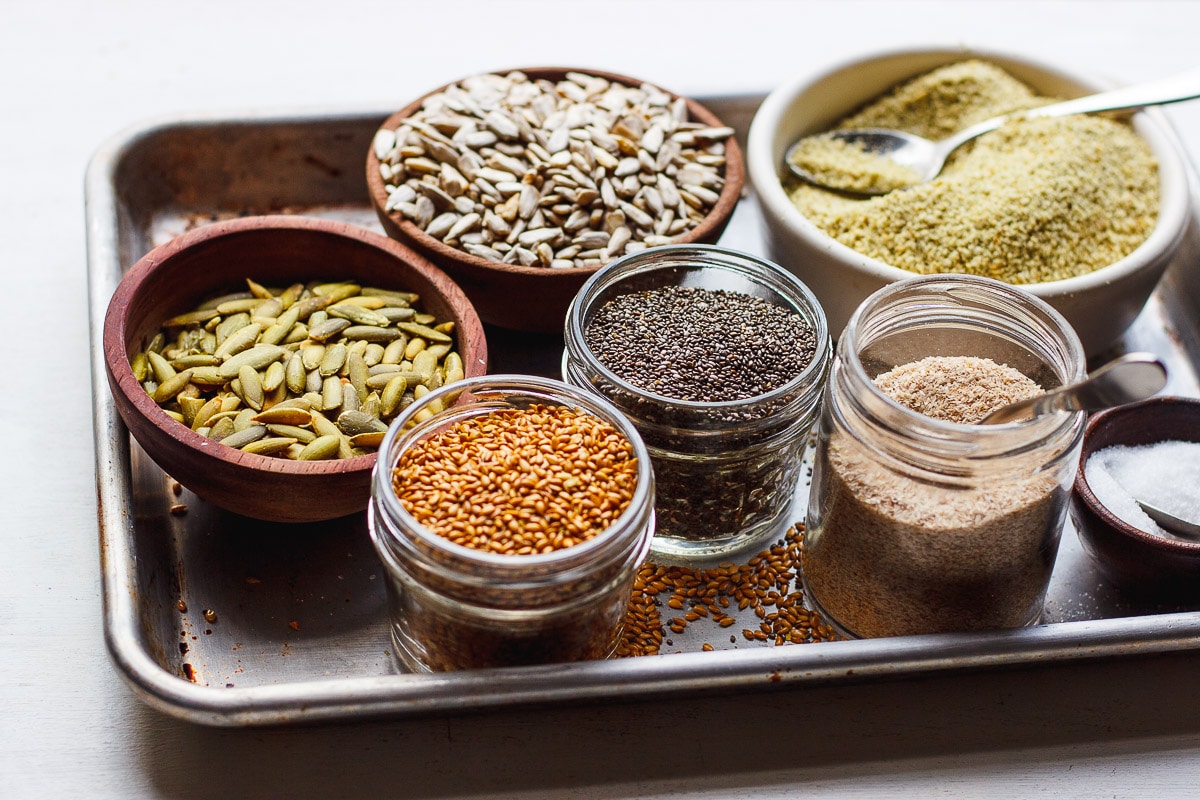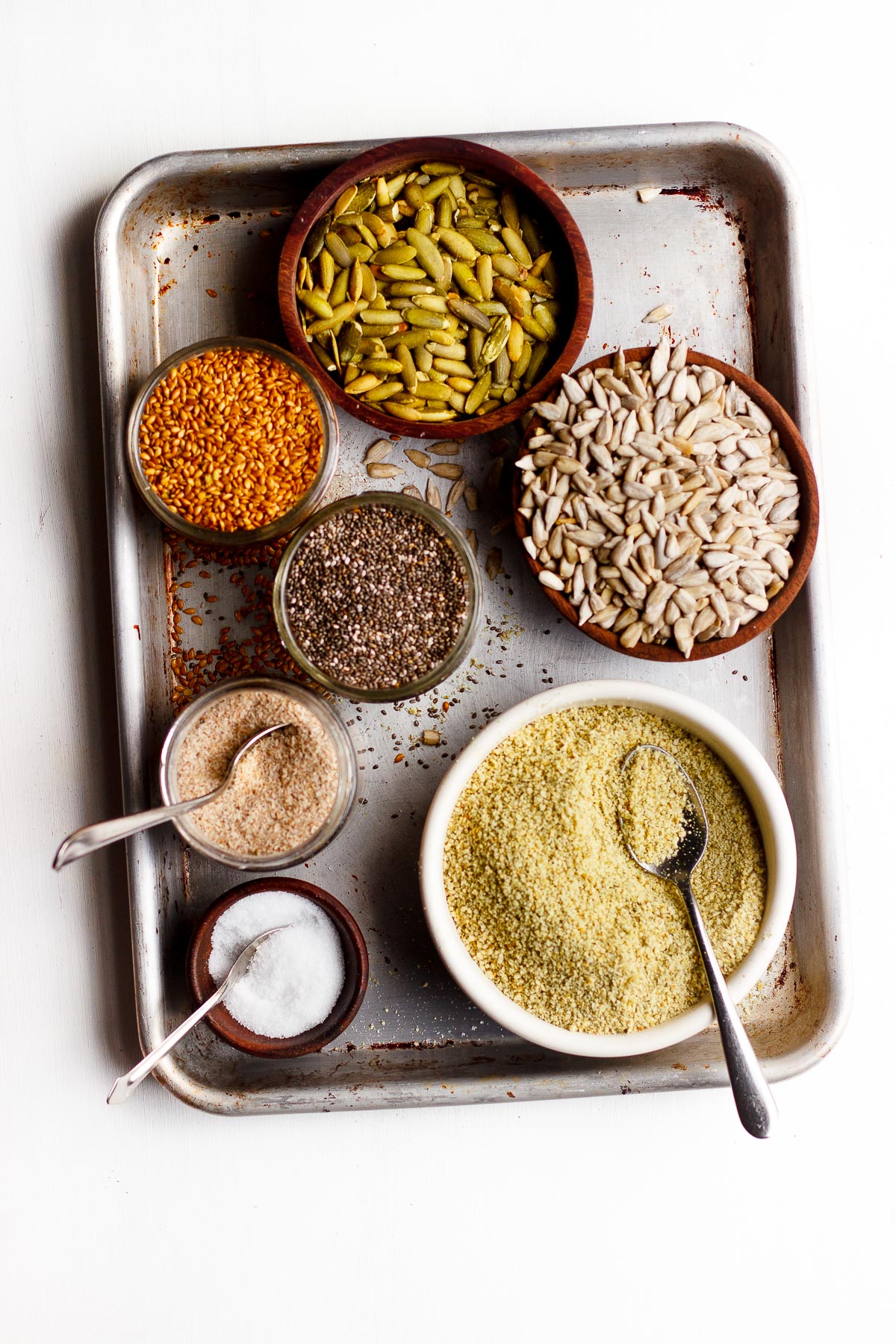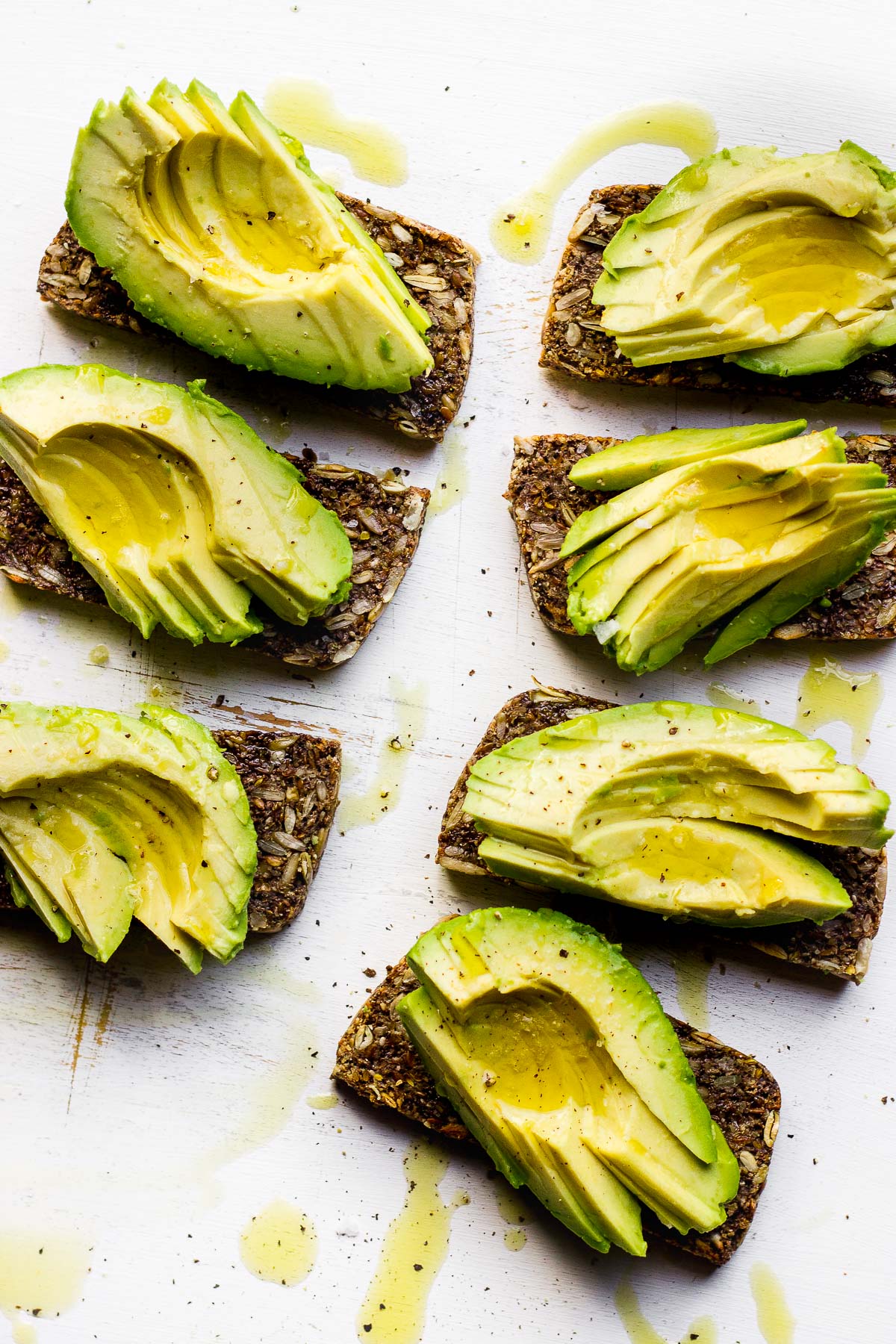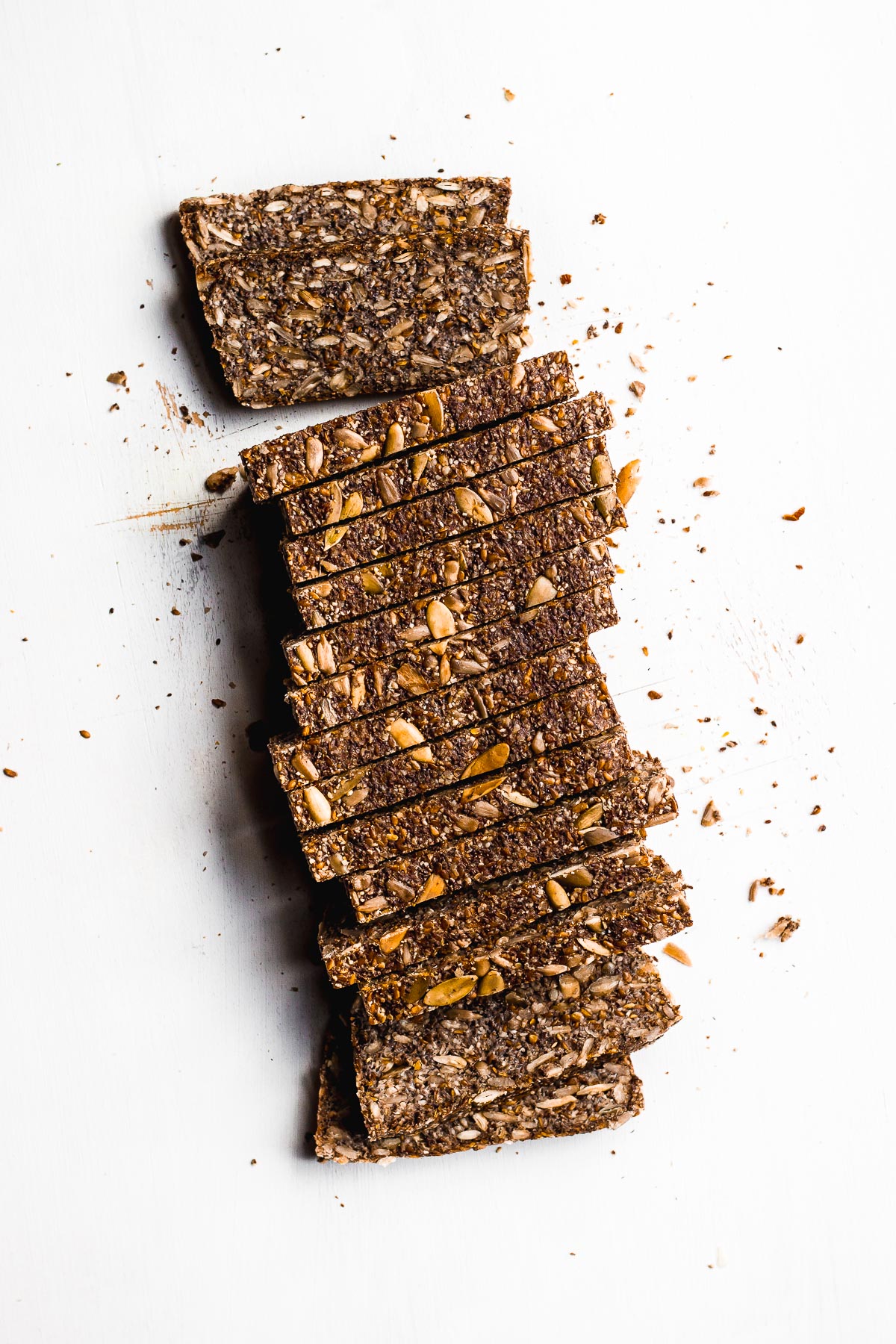 Hearty Seed Bread with Healthy Fats
Total Time
1
hour
10
minutes
Ingredients
1 1/2

cups

raw pumpkin seeds (divided)

1

cup

raw sunflower seeds

1/2

cup

flax seeds

1/2

cup

chia seeds

1/2

cup

psyllium husks (whole)

1

teaspoon

pink Himalayan salt

1/16

teaspoon

powder stevia (see notes)

3

tablespoons

olive oil (see notes)

1 1/2

cups

warm filtered water
Instructions
Preheat the oven to 350 degrees and line a

1-pound loaf pan

with parchment paper and set it aside.

Pulse 1 cup pumpkin seeds in a food processor or blender until finely chopped. It should be medium-coarse flour consistency (as shown in the images).

In a large mixing bowl combine the pumpkin seed flour with the remaining pumpkin seeds, sunflower seeds, flax seeds, chia seeds,

psyllium husks

, salt and

stevia

.

Add in the warm water and oil and stir until the batter is well-combined and thick. With your hands press and pack the batter into the loaf pan, and bake for 45 minutes.

Take the loaf out of the oven and flip it onto a baking sheet so the top is down. Remove the loaf pan and return it to the oven to bake for the remaining 15 minutes.

The bread will be done when you tap on it and it sounds hollow. Cool completely and slice into 16 pieces.

Serve toasted with avocado or other delicious topping of your choice.
Notes
STORAGE: If you will  consume this loaf within a week, store it in the refrigerator. For longer store it in the freezer. For the best texture and taste, toast each slice before enjoying (either from the refrigerator or from frozen). TIPS: This bread requires no proofing. Maple syrup or honey (1 tablespoon) can be subbed in place of stevia. Melted coconut oil can be subbed in place of olive oil.
MACROS (per slice): 2g
 net carbs, 6g fat, 8g fiber, 7g protein
More keto recipes you will love.