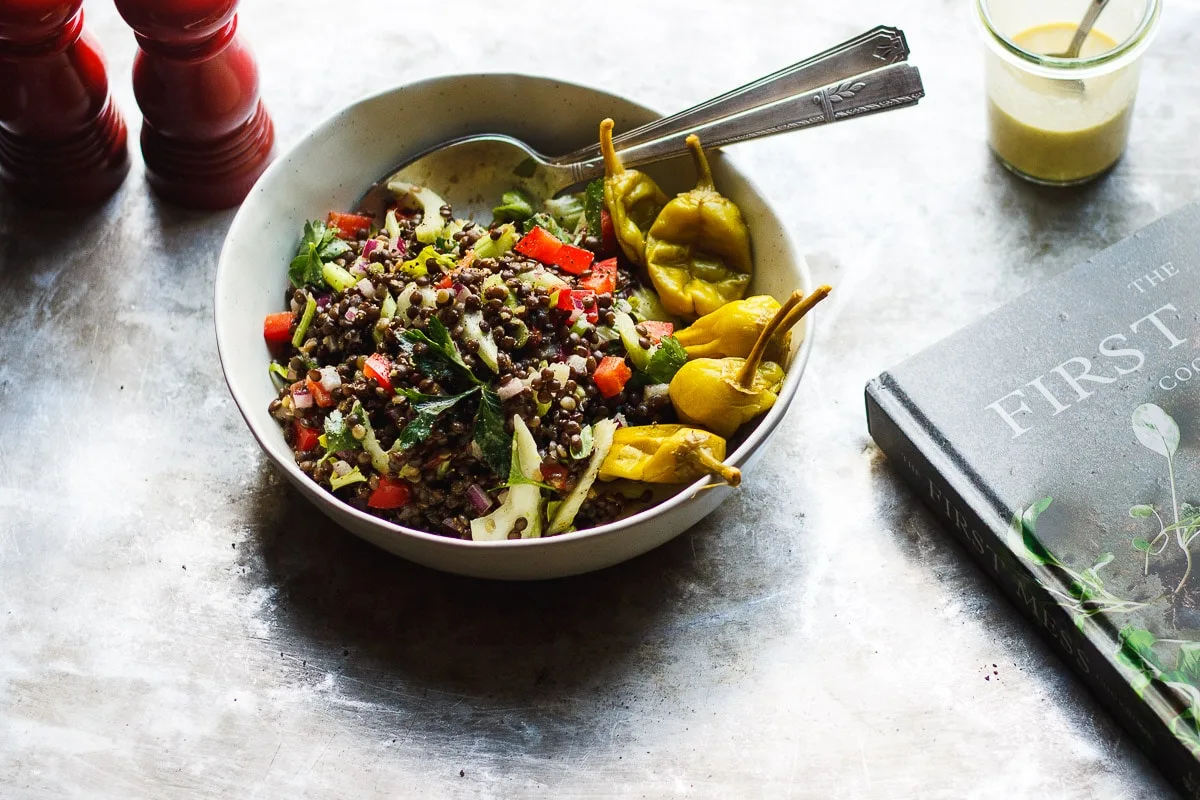 When I was a kid I used to have pepperoncini eating contests with my brother. You know like, who could eat the most without getting sick to their stomach? I guess thinking about it now, it was a little weird. But we loved pepperoncini so much.
We still do. Our little Italian American antipasto-eating hearts couldn't be denied of pepperoncini peppers. But now I'm all about this pepperoncini salad dressing. It's full of tang and zest and umami – it really has it all.
Eating pepperoncini sends me back to a carefree, familiar place. A comfortable, and childlike zone. Food is crazy like that, you know? And my friend, Laura's new book gives me similar feels. The First Mess Cookbook is a beautiful extension of her blog which was one of the very first blogs I followed.
I started reading The First Mess in 2012 when I was studying to become a health coach while embracing a strictly vegan diet. It provided great inspiration and motivation to eat vibrant, seasonal foods in a way that was both nourishing and approachable. And it remains a favorite of mine still.
Plant-based or not, The First Mess Cookbook should belong in everyone's cookbook collection. It is and will forever be a mainstay in mine. To celebrate Laura's cookbook release I'm giving away a copy to one of you. Check out the book here and then leave me a comment below. I'll choose a winner at random on March 10th at noon Central, and notify the winner by email. Contest is open to readers in the United States and Canada.
How to make this pepperoncini salad dressing.
First let's start with the crunchy lentil part. It's made with black lentils which are super study and provide a substantial texture. This salad is great for cold months because it is comforting and hearty. And it's also great for warmer months because it's also very refreshing.
But the pepperoncini salad dressing is what pulls it all together. It's loaded with lots of tang and a little bit of heat, and it's everything I want and more. Simply combine the pepperoncini with some acid, aromatics, salt, fat and a little bit of maple syrup in a blender. You should probably double the batch and drizzle it on everything. It'd be especially delicious on this roasted vegetable salad too.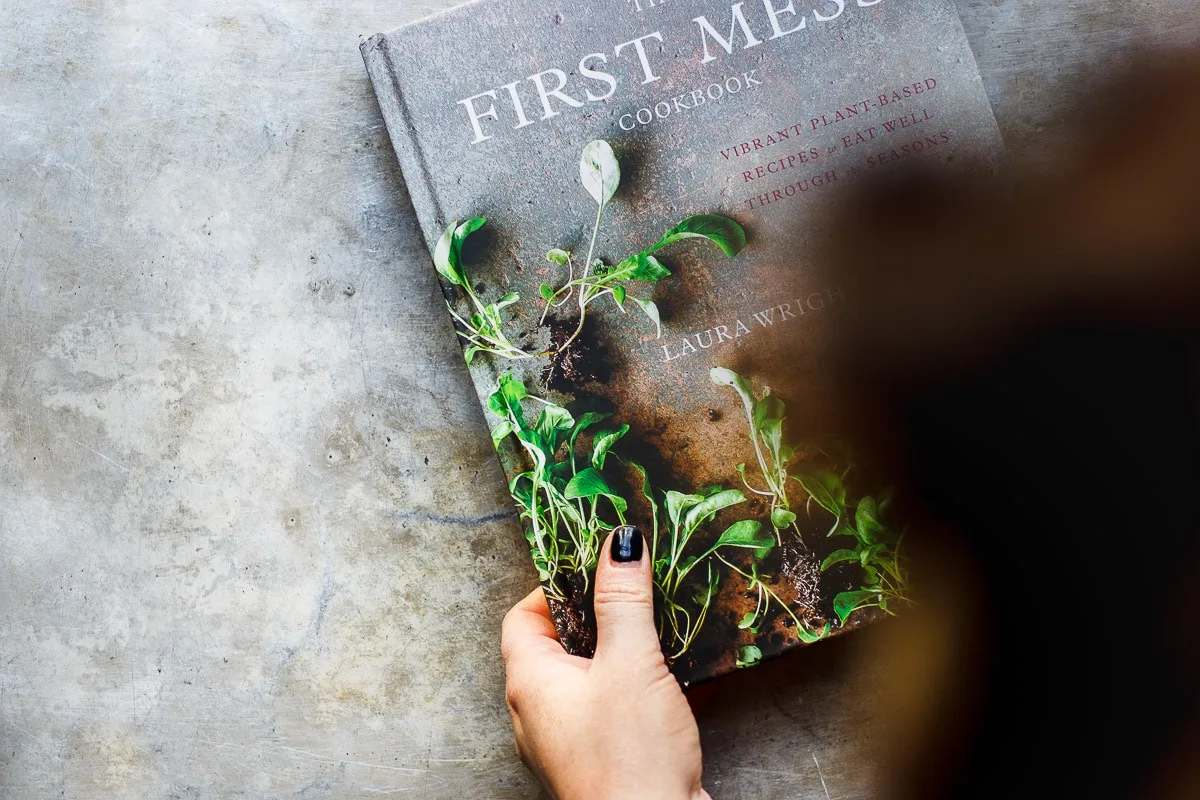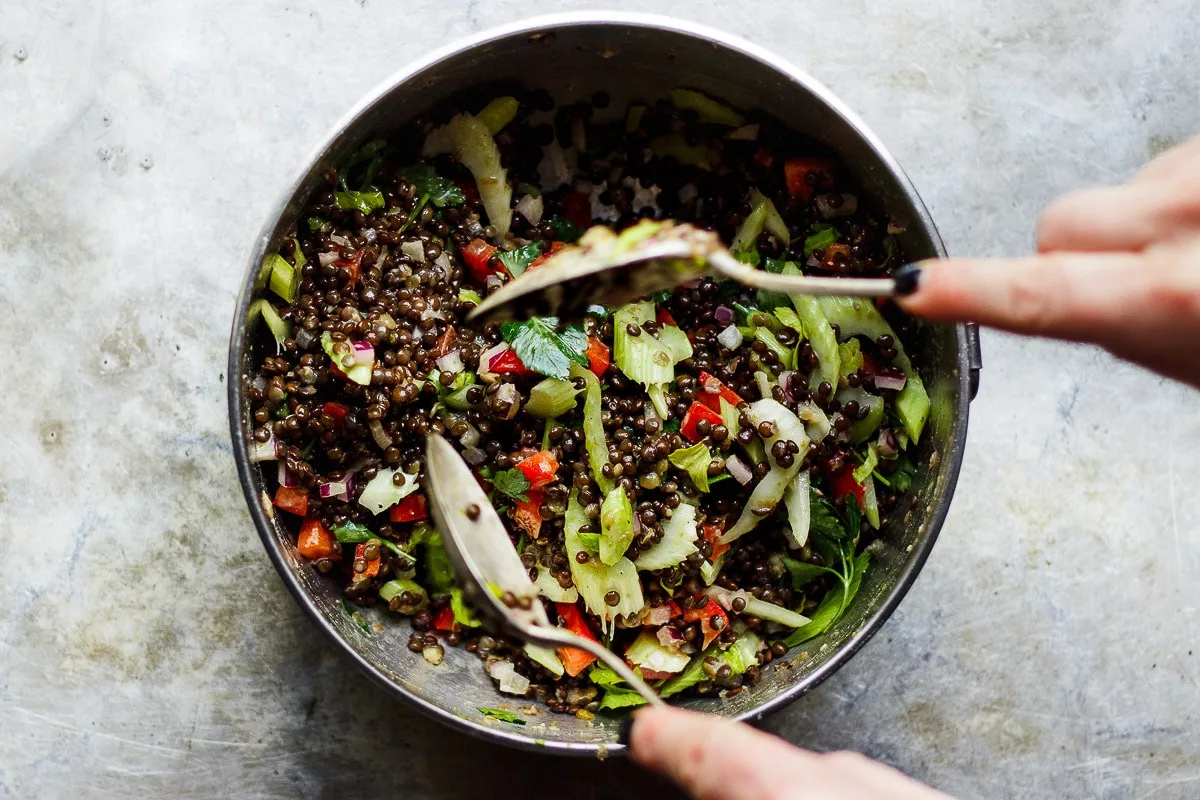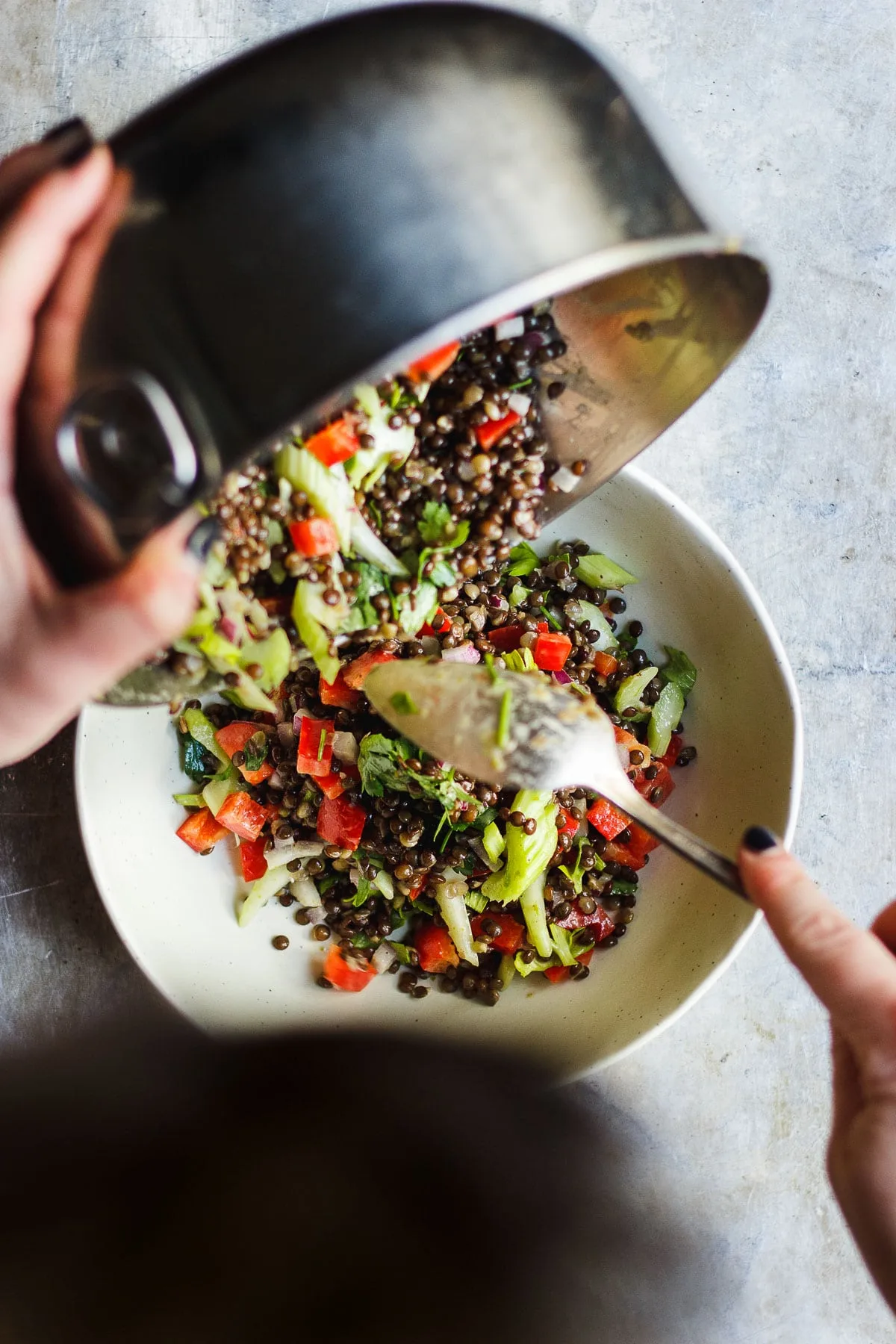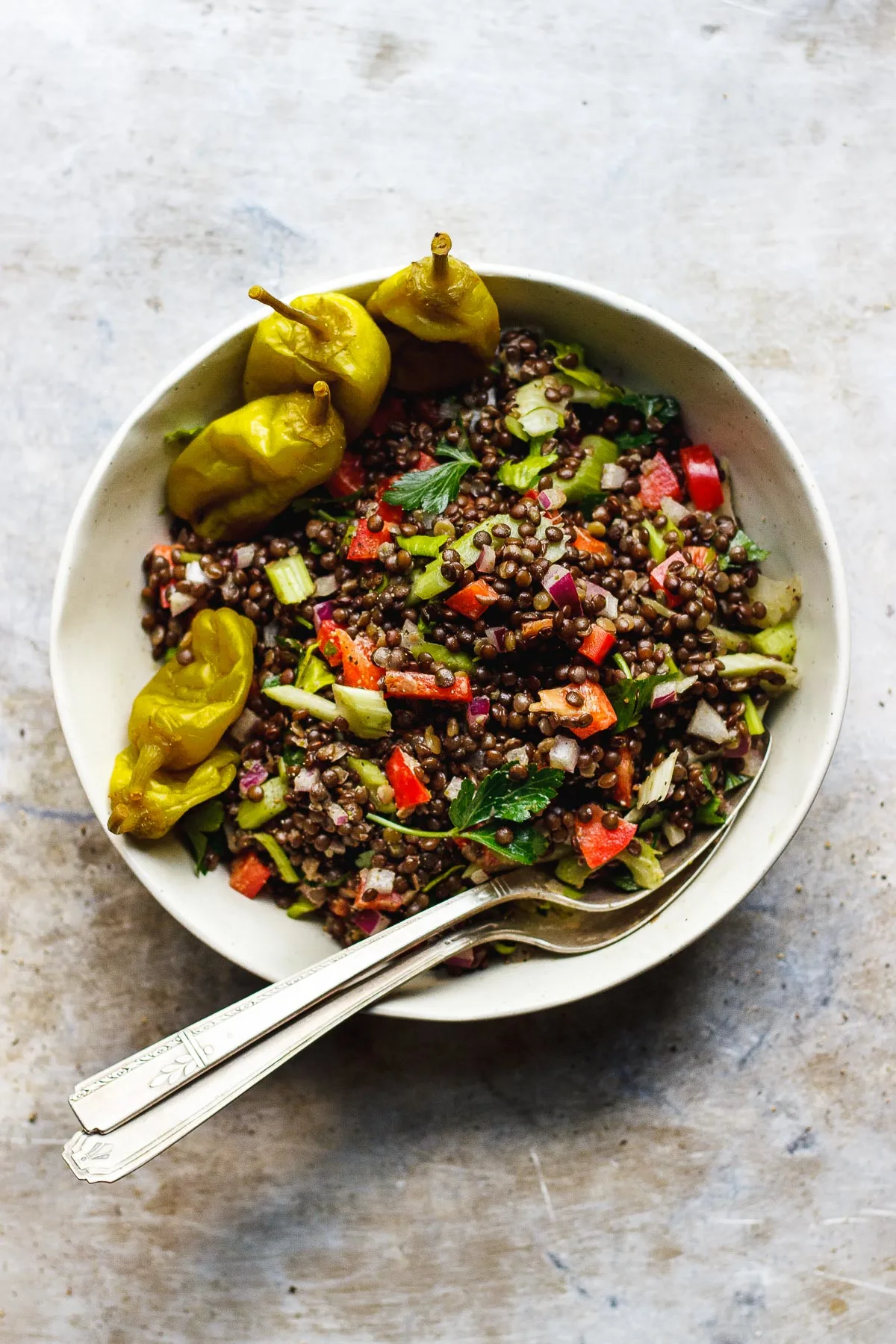 Yield: 4 servings
Crunchy Lentil Salad with Pepperoncini Dressing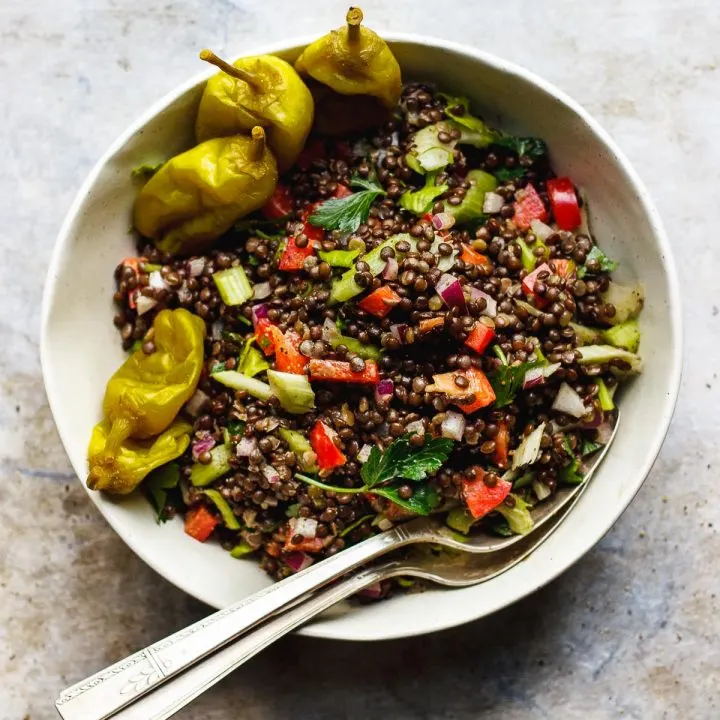 Crunchy lentils with vegetables tossed in a tangy, pepperoncini salad dressing. A hearty, vegan and gluten-free lentil salad for anytime of the year.

Prep Time 5 minutes

Cook Time 20 minutes

Total Time 25 minutes
Ingredients
Salad Ingredients
4 cups filtered water
2 cups black lentils
1 bay leaf
1/4 teaspoon fine sea salt
1 red bell pepper, diced medium
1/2 cup red onion, diced small
3 stalks celery, thinly sliced
1/2 cup parsley leaves, chopped
pepperoncini peppers (to garnish)
Dressing Ingredients
1/4 cup pepperoncini peppers, stems and seeds removed
2 tablespoons pepperoncini pickling liquid
1 tablespoon white wine vinegar
1 clove garlic, minced
1/2 teaspoon maple syrup
1/4 cup extra virgin olive oil
1/2 teaspoon ground cumin
1/4 teaspoon fine sea salt
1/4 teaspoon black pepper
Instructions
Fill a saucepan with the water and bring it to a boil over high heat. Reduce the heat to medium and add in the lentils, bay leaf and salt. Cook until just tender, about 20 minutes. Drain, rinse the lentils with cold water and transfer them to a mixing bowl.
Add in the bell pepper, onion, celery and parsley, toss to combine and then set aside.
To make the pepperonicini dressing combine the pepperoncini peppers, pickling liquid, garlic, maple syrup, olive oil, cumin, salt and pepper in a blender and process until smooth.
Pour the dressing over the lentils and toss to combine once more.
Serve the salad with extra pepperoncini on the side.
Recommended Products
As an Amazon Associate and member of other affiliate programs, I may earn a small percentage from qualifying purchases.

[hr]
This giveaway is closed. Thank you Avery Books for gifting me an advance copy of The First Mess Cookbook.