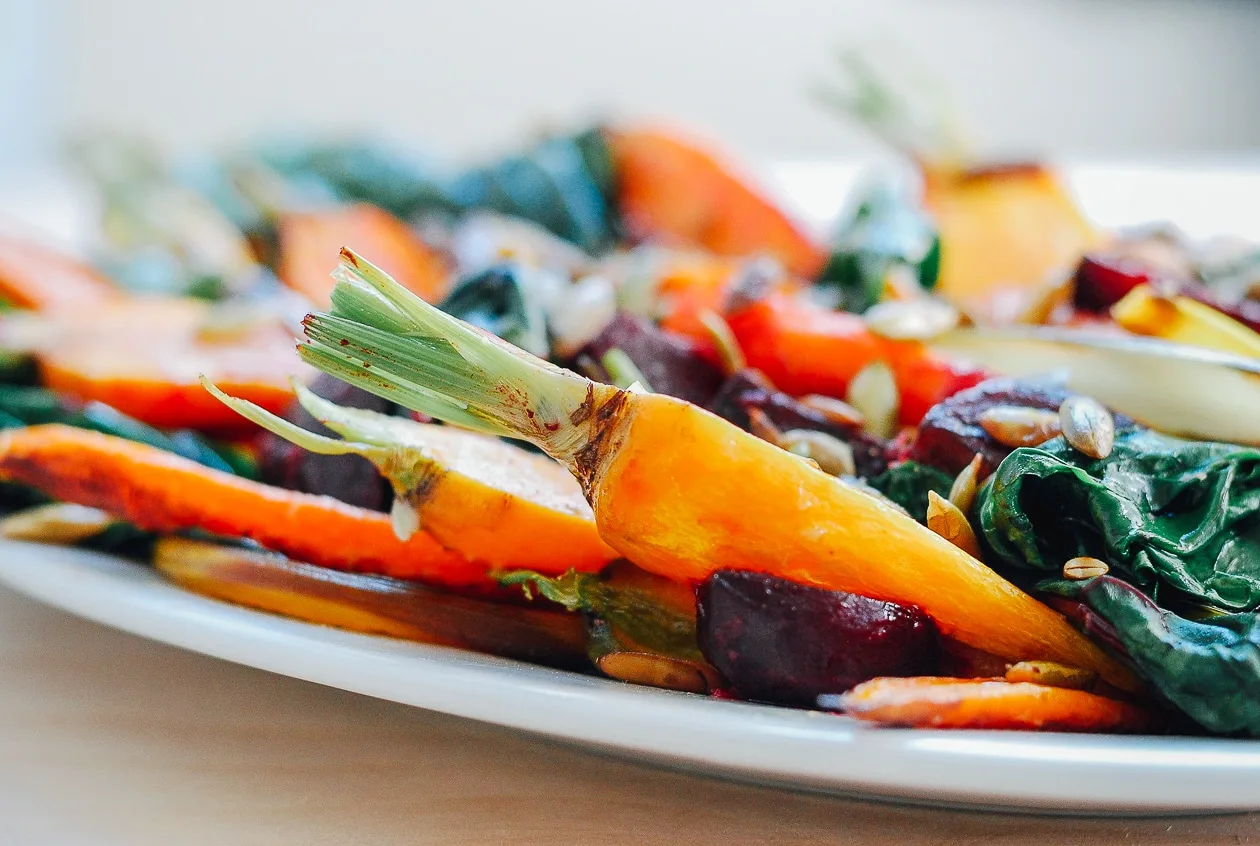 Today, I'm honored to introduce Elizabeth of Brooklyn Supper.
She totally gets everything I love about eating and celebrating food.
And she has the most fantastic style doing so.
This summer I fell deeply in love with her vibrant salads.
And creative cocktails.
This grilled watermelon peach salad completely stole my heart. And this tomato water cocktail is just perfect on every level. I can't think of a better way to welcome in fall than with a beautiful roasted vegetable salad from Elizabeth.
So, here she is.
—–
Well, hello!
It's rather exciting to be here.
I'm a big fan of the beautiful space Sherrie has created, though I feel a little like I'm hosting a party in someone else's home. Introductions are in order, I think.
But not the regular kind. Let's talk about food. My greatest food love is eating in the moment. In the summer months, that's meant lots of fast salads paired with simple proteins. Now that fall is in the air, I'm craving more layered flavors—something smoky and sweet, crisp and tender.
This roasted vegetable salad is just what I've been waiting for.
Few things bring me as much solace as a hot oven full of vegetables. The carrots came straight from my garden, and may be my biggest gardening triumph yet. The beets and garlic and chard all arrived in my CSA share last week.
The smoky roasted garlic dressing suffuses everything with flavor, while the carrots and beets are sweet and faintly salty. Underneath it all is a mess of just-wilted chard, roasted in the hot oven for a quick stint to add smokiness and soften things up.
Appropriately autumnal, toasted pepitas round things out.
This recipe has a few steps, but they're easy ones, so bear with it.
With earthy vegetables, I like to layer the salt as I go along, so you'll notice several pinches of salt here and there. Use tiny pinches as you cook, since you can always add more right at the end.
Roasted Vegetable Salad with Garlic Dressing
Ingredients
1

head garlic

5

tablespoons

olive oil

divided

1

bunch carrots

scrubbed and peeled

1

bunch beets

scrubbed and trimmed

1

bunch rainbow chard

1

tablespoon

lemon juice

1/4

cup

raw pepitas

sea salt

to taste

black pepper

to taste
Instructions
Preheat the oven to 350 degrees.

Cut the top quarter off the head of garlic and drizzle with ½ tablespoon olive oil. Wrap it in foil and set it in a small oven-proof dish. Bake it for 20 minutes. Remove it from the oven and keep it wrapped to cool. It will continue to cook as it cools.

Turn the oven up to 425 degrees.

While the garlic roasts bring a pot of water to a boil. Blanch the carrots in the boiling water for 2 minutes. Then add the beets and boil for 8 to 10 minutes. Remove them with a slotted spoon and run under cold water. At this point, the skins should easily peel off the beets by using your finger. Use a peeler if needed for tougher skins.

Halve the carrots and quarter the beets. Arrange them on a baking sheet. Drizzle with 1 tablespoon olive oil and sprinkle with salt. Roast for 20 minutes, flipping vegetables halfway through.

Arrange the chard on another baking sheet. Drizzle with ½ tablespoon oil and pinch of salt, and rub it all over the leaves. Roast for 5 minutes, or just until the leaves have softened and become slightly browned.

Next make the dressing. Squeeze the roasted garlic out of its papery skin and into a small mixing bowl. Mix in lemon juice and add a pinch of salt. Next, whisk in the remaining 3 tablespoons olive oil and combine until smooth.

Lastly, toast the pepitas in a small skillet over medium heat. Cook, while flipping almost constantly for 2 minutes or until they start to pop. Sprinkle with salt.

To serve, toss the carrots and beets with the garlic dressing. On a large platter, layer roasted chard on the bottom, then the carrots and beets, a drizzle more of garlic dressing then sprinkle on the pepitas, black pepper and more salt if desired.
More fall salad recipes you'll love: