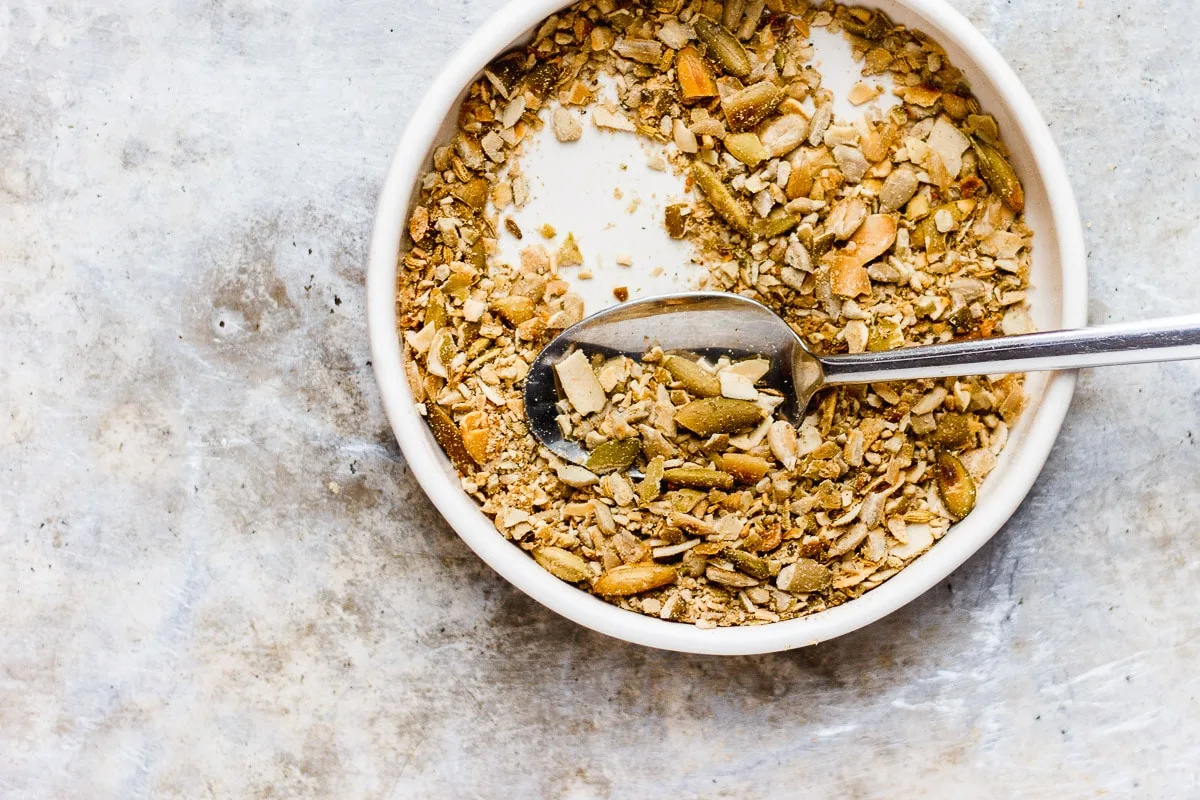 Last week I cooked for thirty-five beautiful humans at my fall pop-up, The Great Big Harvest. It was an awesome feast thanks to my amazing farmer friends at Bohlen Family Farms. This dinner was a celebration of fall. And I made many pumpkin infused dishes, and this pumpkin seed dukkah was the icing on the savory cake.
The menu (shared below) was an over-the-top autumnal celebration. The Fall Greens course was my personal favorite of the night. A mixed greens salad topped with a bright vinaigrette and heavy sprinkling of crunch, salty, slightly smoky pumpkin seed dukkah.
It is a light and hearty, layered with flavor and the perfect salad that I want to share with you. This salty pumpkin seed dukkah is also a perfect topping for soup, like this caramelized onion pumpkin soup. And roasted vegetables, like this roasted acorn squash.
THE GREAT BIG HARVEST – November 6, 2016
The Golden Hour.
turmeric tea, sweet potato syrup, pinckney bend corn whiskey
Soup + Toast.
root vegetables, garlicky yogurt, seed loaf, sage butter
Fall Greens.
petite greens, edamame, flory's truckle, pumpkin seed dukkah, lemon thyme dressing
The Main Thing.
pumpkin, mofu tofu, poached garlic, turmeric broth
The Last Hour.
sweet fennel + black pepper syrup, beet, big o liqueur, pickney bend gin
Final, and sweet!
braggadocio rice, black tea soaked raisins, nutmeg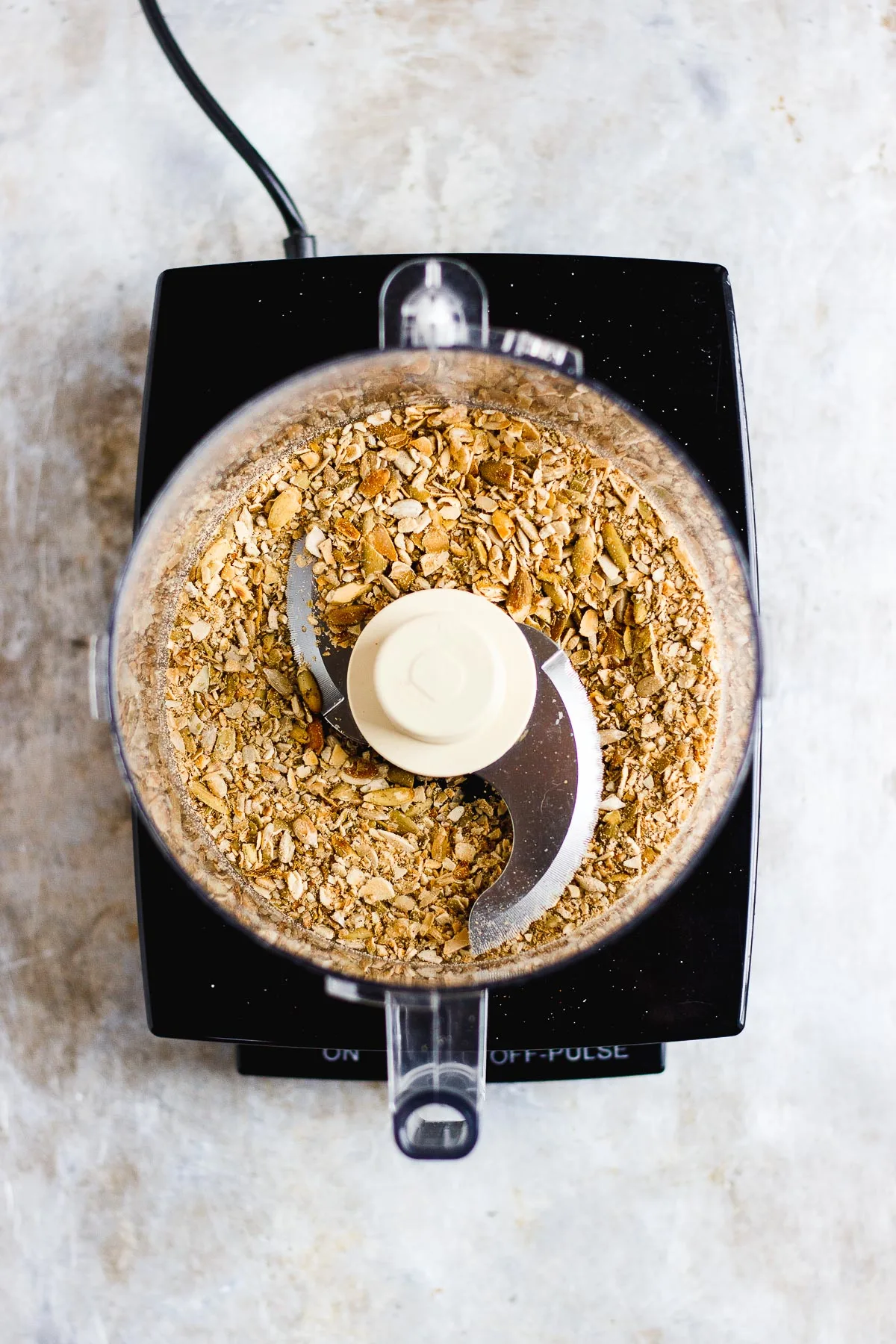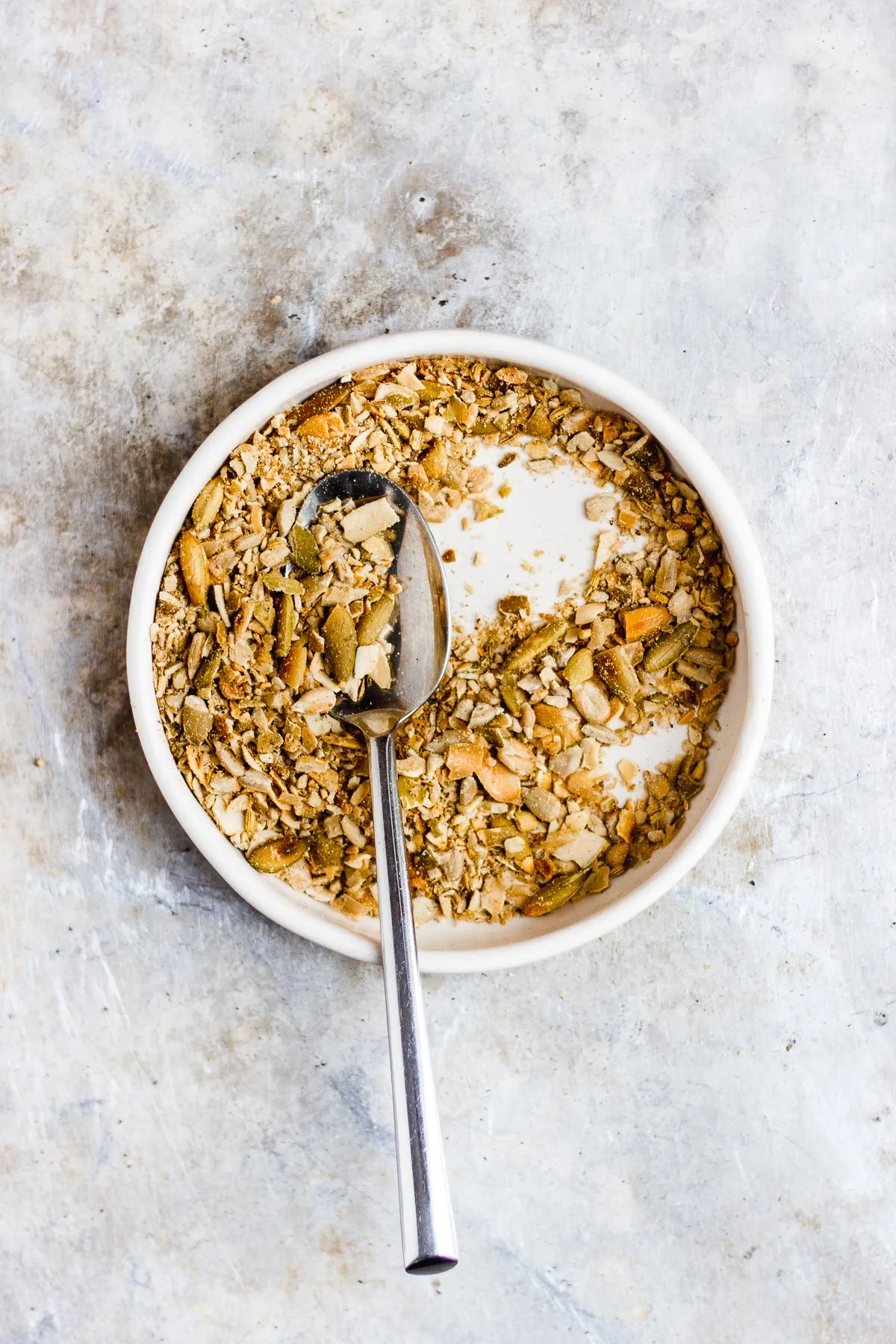 Yield: 1 cup
Toasted Pumpkin Seed Dukkah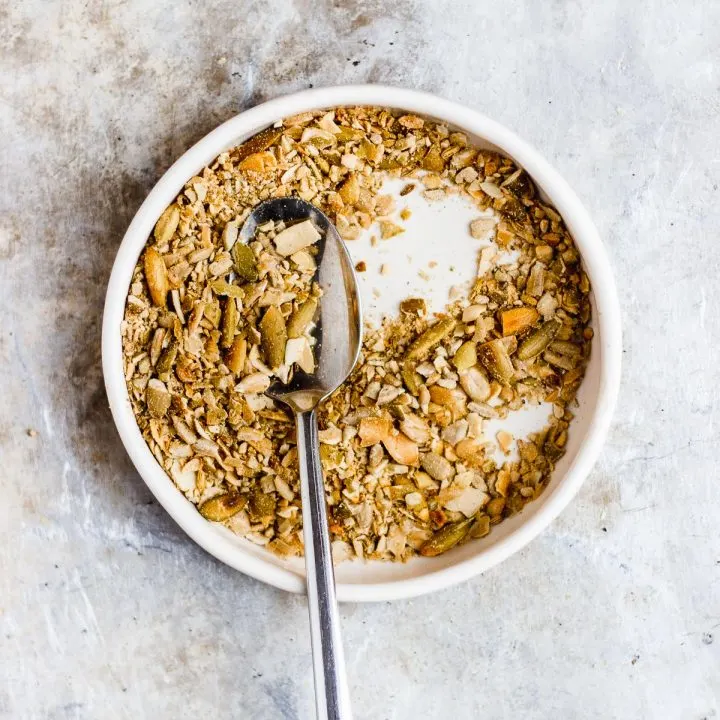 Salty, slightly smoky, toasted pumpkin seed dukkah. A vegan, grain-free, keto, crunchy topping for salads, soups, roasted vegetables, pastas and more.
Ingredients
1/2 cup raw pumpkin seeds
1/4 cup raw sunflower seeds
1 teaspoon fennel seeds
1/8 teaspoon smoked paprika
1/4 teaspoon garlic powder
1 teaspoon sea salt
1/2 teaspoon black pepper
Instructions
Heat a small sauté pan over medium heat. Add in the pumpkin, sunflower and fennel seeds and toast until golden brown (about 2 minutes).
In a food process, combine the toasted seeds with the smoked paprika, garlic powder, salt and pepper. Pulse until coarsely chopped, and you have a combination of large and small seeds.
Serve or store in an airtight container at room temperature for up to 5 days.
Recommended Products
As an Amazon Associate and member of other affiliate programs, I may earn a small percentage from qualifying purchases.