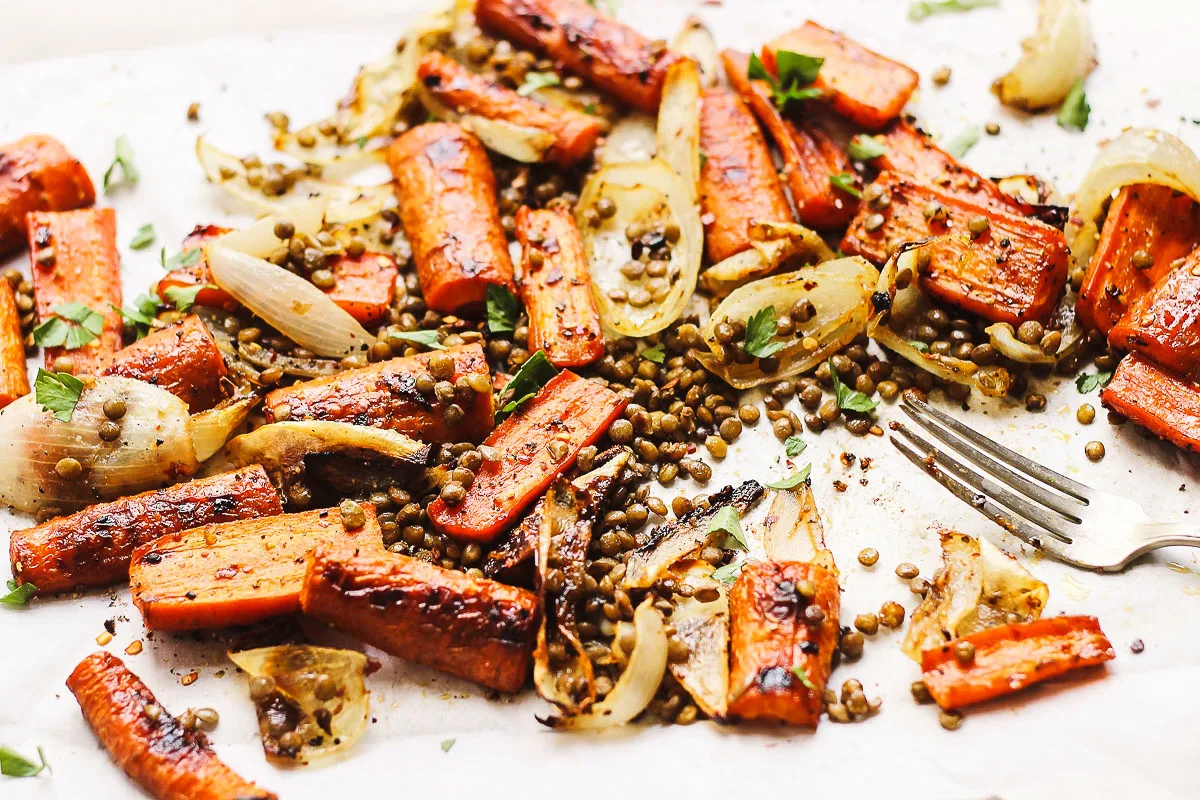 These maple roasted carrots have roots – childhood roots. I grew up along the Canadian border. Way, way upstate New York. They call it the, North Country. It's where I spent most of my school-aged and teenage years. And even though I haven't lived there since I graduated high school, and none of my family lives there any longer, my childhood memories of this place are fond. They're calm and happy and remarkable.
During the few months out of the year when the ground wasn't covered in snow the North Country was a pretty magical place. My days were spent swimming, boating and hiking through the St. Lawrence River Valley. And my teenage nights were filled with bonfires, underaged Labatt Blue drinking and hanging out in a field in the middle of nowhere.
As soon as the summer buttoned up, the cold came quickly and the snow came even quicker. We ice skated on homemade ice rinks and sledded down the hills that guarded the riverbank. Hockey and poutine were life. And trips to Ottawa and Montreal (both an hour away) were often. My childhood pastimes felt more Canadian than American. And I'm honored to have been raised with these experiences. I feel a rich connection to Canada still.
Since Canada produces seventy-one percent of the world's pure maple syrup, I feel a deep affinity for it. It's a staple in my life. And so are maple roasted carrots. Maple syrup is rich in maganese, riboflavin, zinc, magnesium, calcium and potassium. And did you know that the darker the syrup grade, the higher the antioxidant levels? Pretty neat, eh.
How to make these maple roasted carrots.
Roasting carrots in a touch of maple syrup is magical. Topping them with crispy lentils and touch of herbs, pushes it over the top. This maple roasted carrots recipe is super hearty and would make a great sheet pan meal, or serve as a side to accompany a meal.
First you roast the carrots and onions together. Then you add the lentils to the tray and get them nice and toasty. And lastly you add some herbs, because the earthiness ties it altogether. This is also a wonderful meal to make ahead of time.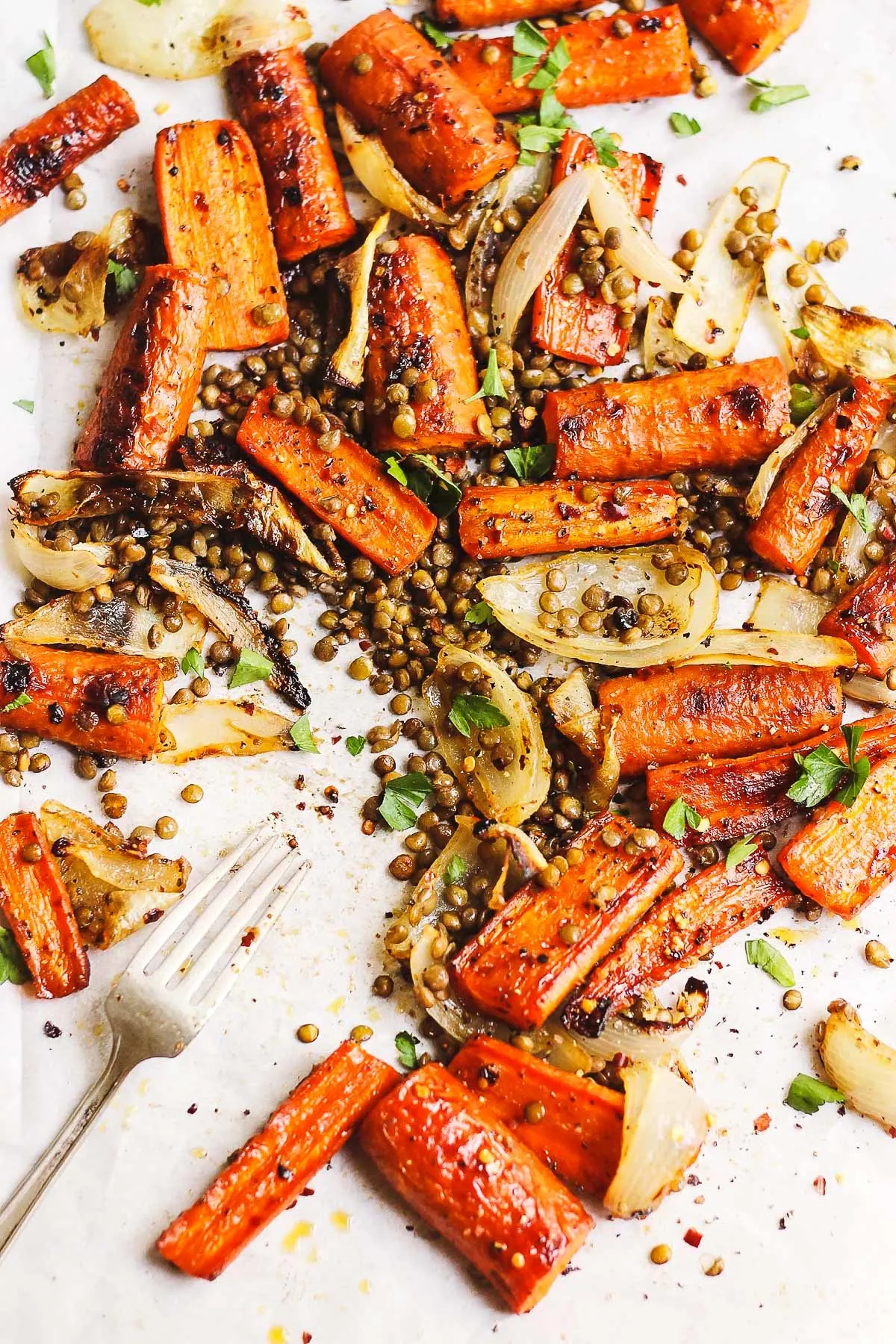 Yield: 4 servings
Maple Roasted Carrots with Crispy Lentils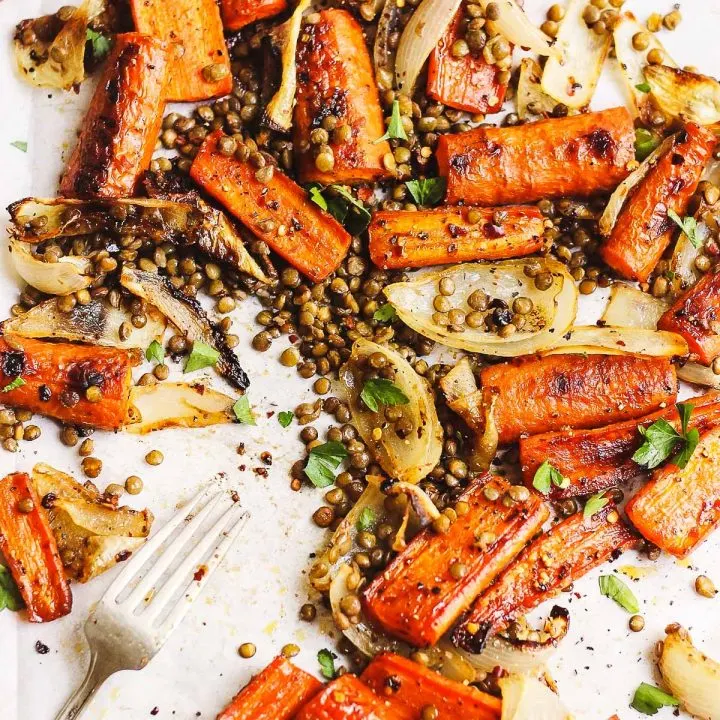 A little bit sweet, and a little bit spicy, maple roasted carrots with crispy lentils and herbs. A naturally vegan and gluten-free sheet pan meal.
Ingredients
1 pound carrots
1 large onion
2 tablespoons olive oil
2 tablespoons maple syrup
1/4 teaspoon crushed red pepper
1/4 teaspoon fine sea salt
1/4 teaspoons black pepper
1 tablespoon fresh parsley, chopped
1 cup green lentils (cooked)
Instructions
Preheat the oven to 450 degrees, and line a sheet pan with parchment paper.
Peel the carrots, half them lengthwise and then cut them into 2 inch pieces.
In a medium mixing bowl toss the carrots with the olive oil, maple syrup, crushed red pepper, salt and pepper. Pour the carrots onto the sheet pan, spread them out and set aside briefly.
Quarter the onion and snuggle those pieces in with the carrots on the pan.
Roast for 30 minutes, flipping halfway through.
Remove the pan from the oven and turn the oven to broil on high.
Sprinkle the cooked lentils on top. Spread into a thin layer with a spoon and pop the pan back into the oven for 5 more minutes.
Remove from the oven and serve warm with a garnish of chopped parsley and more crushed red pepper if desired.