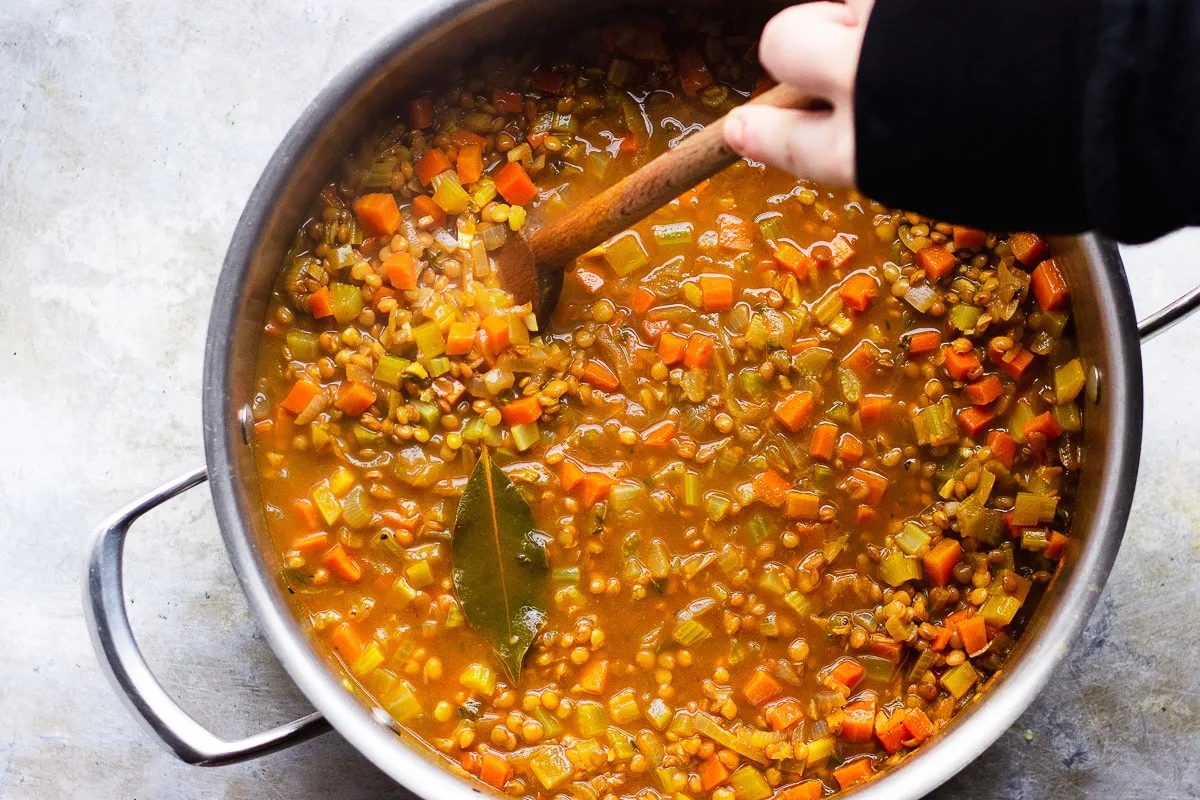 How you feeling? Are you hanging in there? I'm feeling a little taxed myself. Physically and emotionally. A lot is swirling around in the universe right now. When this happens I crave two things. Carbs and wine, and couch time. And also, all the nourishing, detoxifying, vibrant, filling plant-based foods. Like, a bowl of vegan lentil soup doused with parsley sauce.
Insert, The Perfect Blend by Tess Master. A plant-forward, pro-blender, cookbook for health and vitality. The pages are filled with balanced, easy to tackle recipes aimed to energize and revitalize. Tess's Gentle Lentils called my name loud and clear.
In the book they are topped with a Basil-Is-The-Bomb Sauce. And while that's something I'll be making plenty of May – October, I thought this lemony, detoxifying parsley sauce made a little more sense for right now.
Parsley contains all the vitamins and minerals essential for detox. Vitamin C, beta-carotene, chlorophyll, vitamin K, and folate. It helps eliminate salt build-up in the kidneys. And allows the body to purge accumulated poisons like mercury, cadmium, and lead. Besides this parsley sauce, I enjoy this parsley oil and parsley in my green smoothie. I actually find it to be a highly underused and rated herb.
Go buy Tess's book. Eat yourself happy!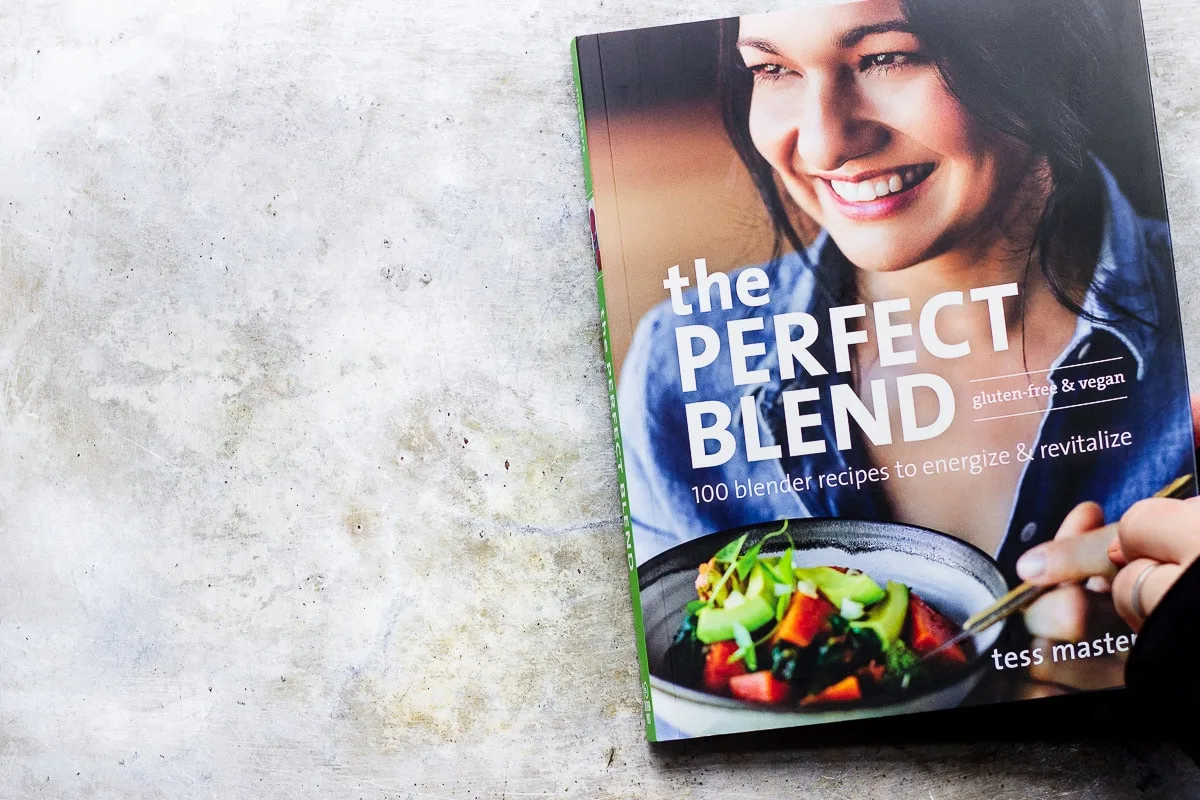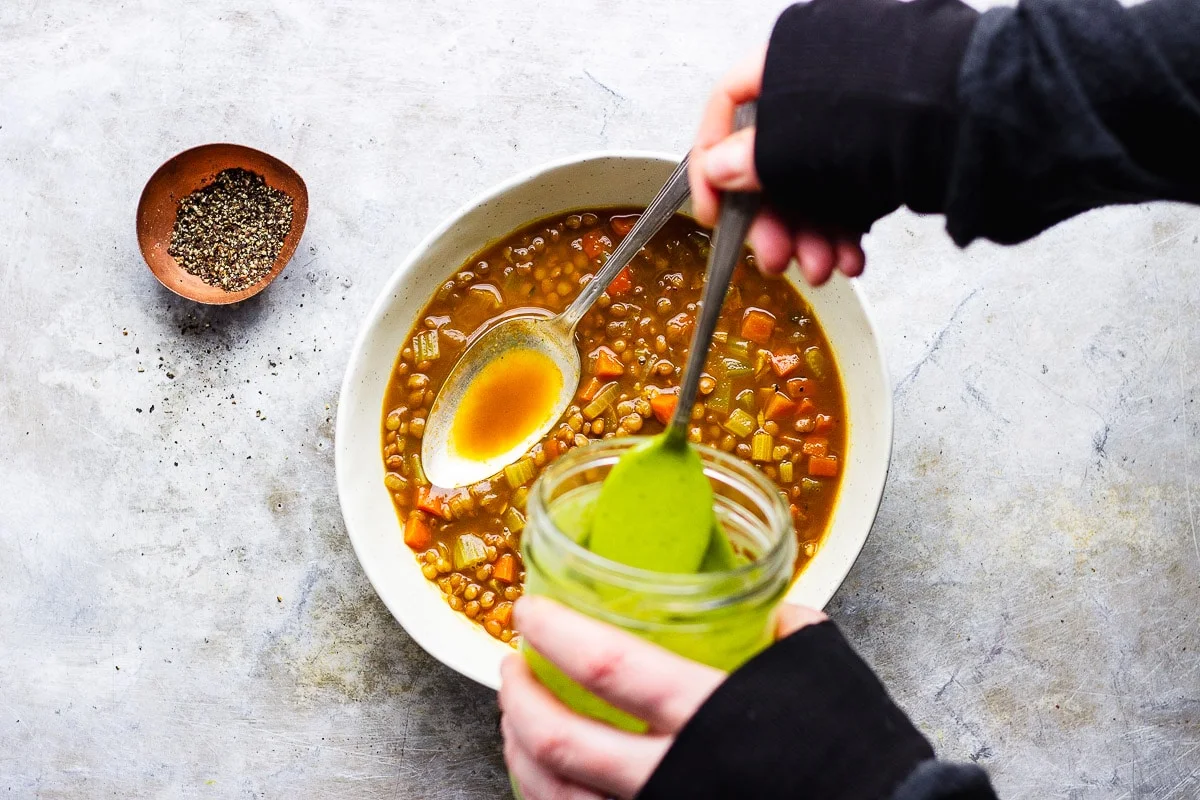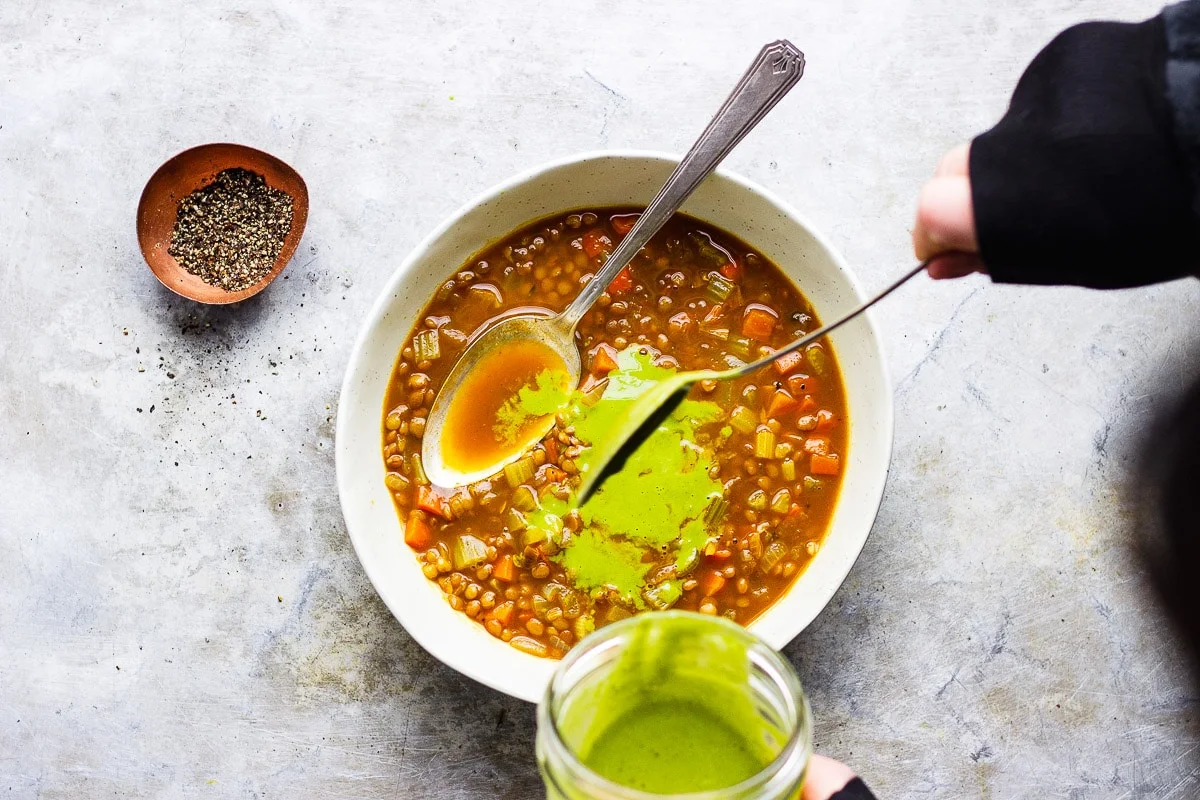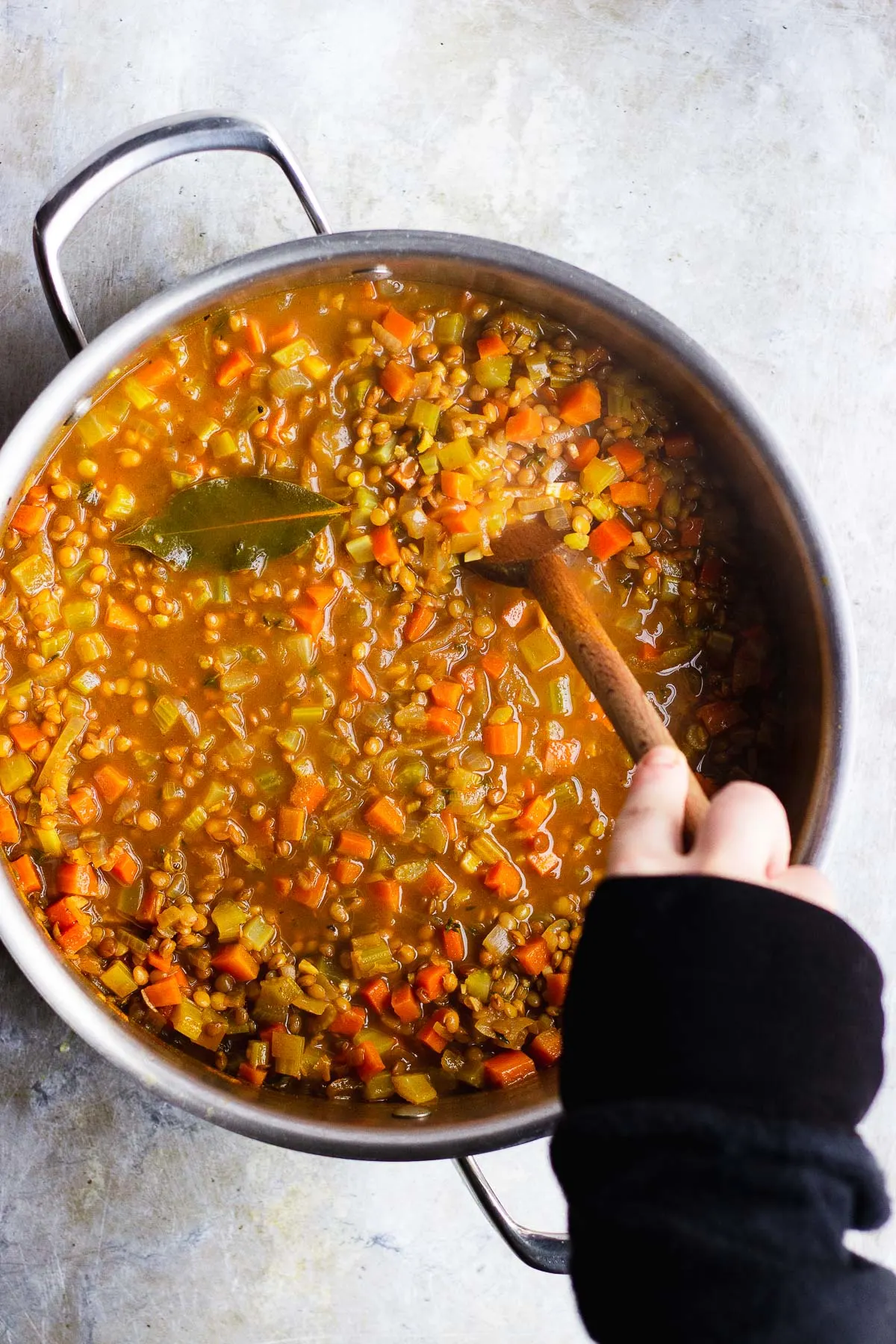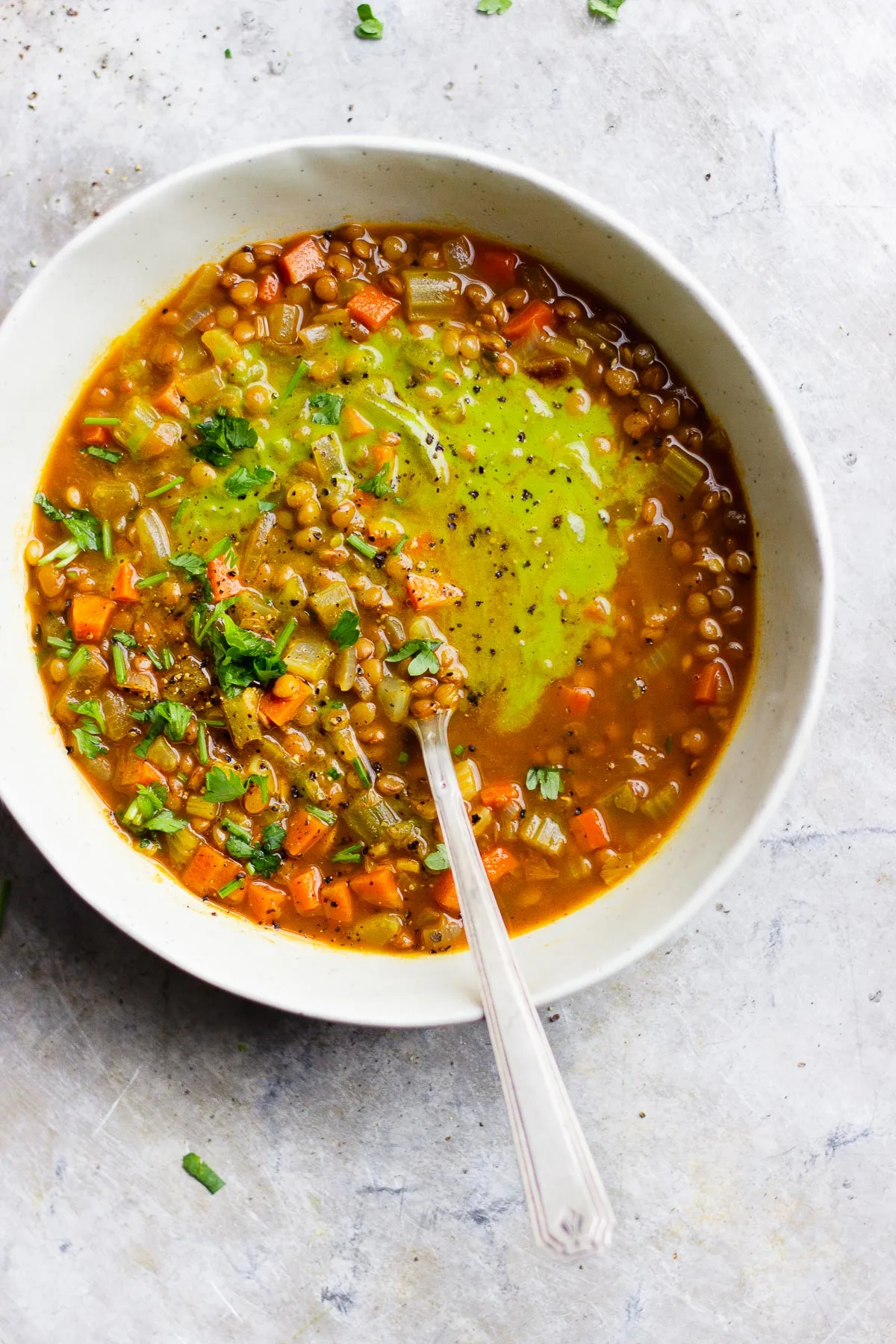 Yield: 4 - 6 bowls
Nourishing Lentils with Detoxifying Parsley Sauce
Prep Time 5 minutes

Cook Time 25 minutes

Total Time 30 minutes
Ingredients
Lentil Ingredients
2 tablespoons olive oil
1 cup yellow onion, diced small
4 garlic cloves
1 cup celery, diced small
1 cup carrots, diced small
2 cups dry green lentils
2 bay leaves
1 tablespoon fresh thyme leaves,
1 teaspoon fine sea salt
1/2 teaspoon black pepper
8 cups low-sodium vegetable broth
Sauce Ingredients
1 cup fresh parsley
1/2 cup extra virgin olive oil
1/4 cup lemon juice
1 garlic clove, minced
1 tablespoon apple cider vinegar
1 teaspoon fine sea salt
1/2 teaspoon black pepper
Instructions
Heat a large sauce pan over low heat and then add in the olive oil, onion and garlic and sweat for 3 minutes.
Turn the heat up to medium and then add in the celery and carrots. Sauté for 5 minutes.
Stir in the lentils, bay leaves, thyme, salt, pepper and broth. Increase the heat to medium-high, and bring the mixture to a lively simmer and cook for 5 minutes.
Lower the heat to medium-low, cover and simmer for 20 minutes. Or until the lentils and vegetables are tender, but not mushy.
Meanwhile combine the sauce ingredients in a small blender or food processor and process until smooth.
Serve the lentils warm with a spoonful of parsley sauce, and more pepper if desired.

[hr]
Thanks to the folks at Ten Speed Press for gifting me an advance copy of Alternative Baker! Reprinted with permission from The Perfect Blend, copyright 2016 Tess Masters. Published by Ten Speed Press, an imprint of Penguin Random House LLC.