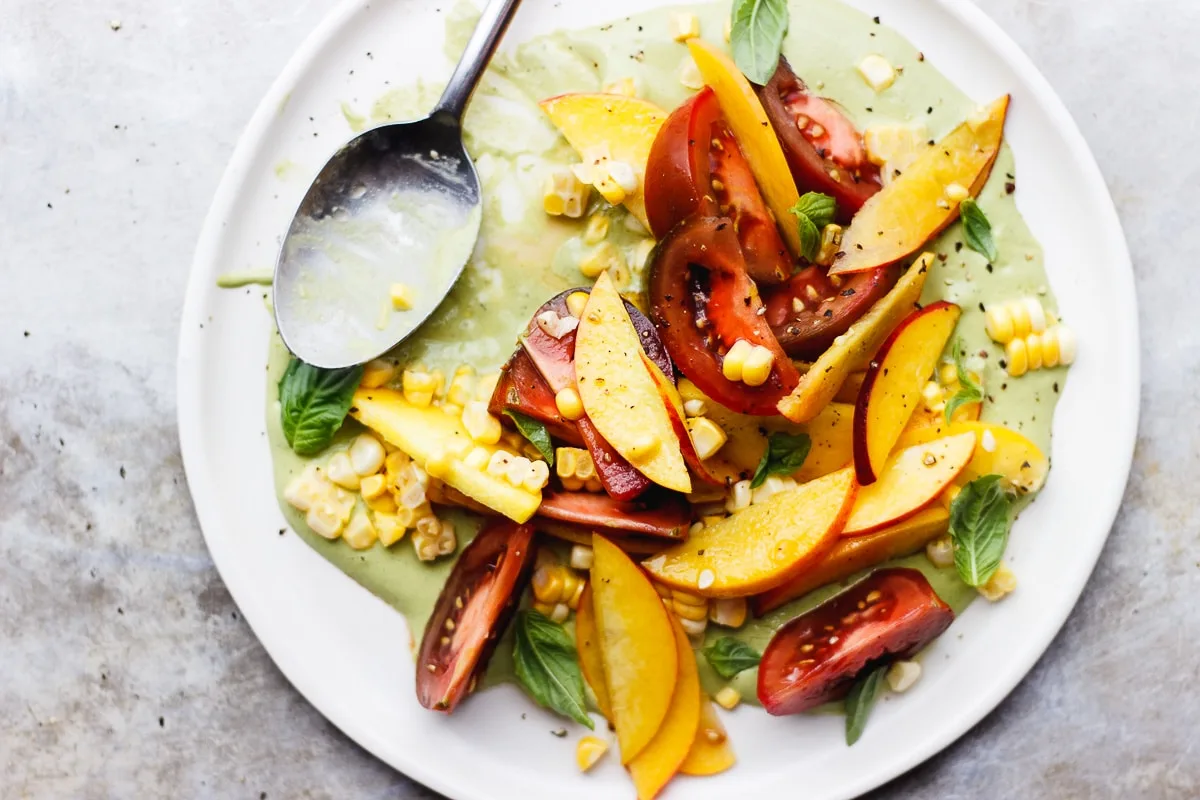 Every July I fall deeply in love with this tomato peach salad. Because it is literally summer on a plate. It's rich with heirloom tomatoes, tree-ripened peaches, sweet corn and garden-picked herbs. And it is everything I want to eat, all of the time.
How is your summer going? My summer is going great, albeit very hot. Well, it's actually very humid which makes the heat practically unbearable. I have lived all over the country and there isn't a more humid (and miserable) place than Missouri in the summertime. I'm sorry St. Louis, but not sorry.
However, the produce in the Midwest is quite lovely and abundant this time of year. And that makes me really happy. So, I'm doing my best to embrace all the upsides in this situation with this tomato peach salad.
Nearly all of the beautiful ingredients in this salad are sourced locally. I got them either from my farmer friends at my farmers' market or I picked them from my garden. The only things that aren't sourced locally, are the pantry staples. But you can't be one-hundred percent local, one-hundred percent of the time. You know what I mean?
How to make this tomato peach salad.
I really enjoy salads that don't involve lettuce, especially when produce is at its peak. This tomato peach salad combines the sweetness of summer with a tangy, herby, cool creamy basil sauce. The ingredients are entirely raw, so it's a blend, dice and then ensemble situation.
The creamy basil sauce is vegan and uses raw cashews as its base. Most raw cashew recipes require soaking prior to blending them, but this recipe does not. If you don't have a high-powered blender, just make sure you blend the sauce long enough so all of the cashews breakdown and get creamy. You can also try running the sauce through a fine mesh sieve to ensure no cashew bits are left behind.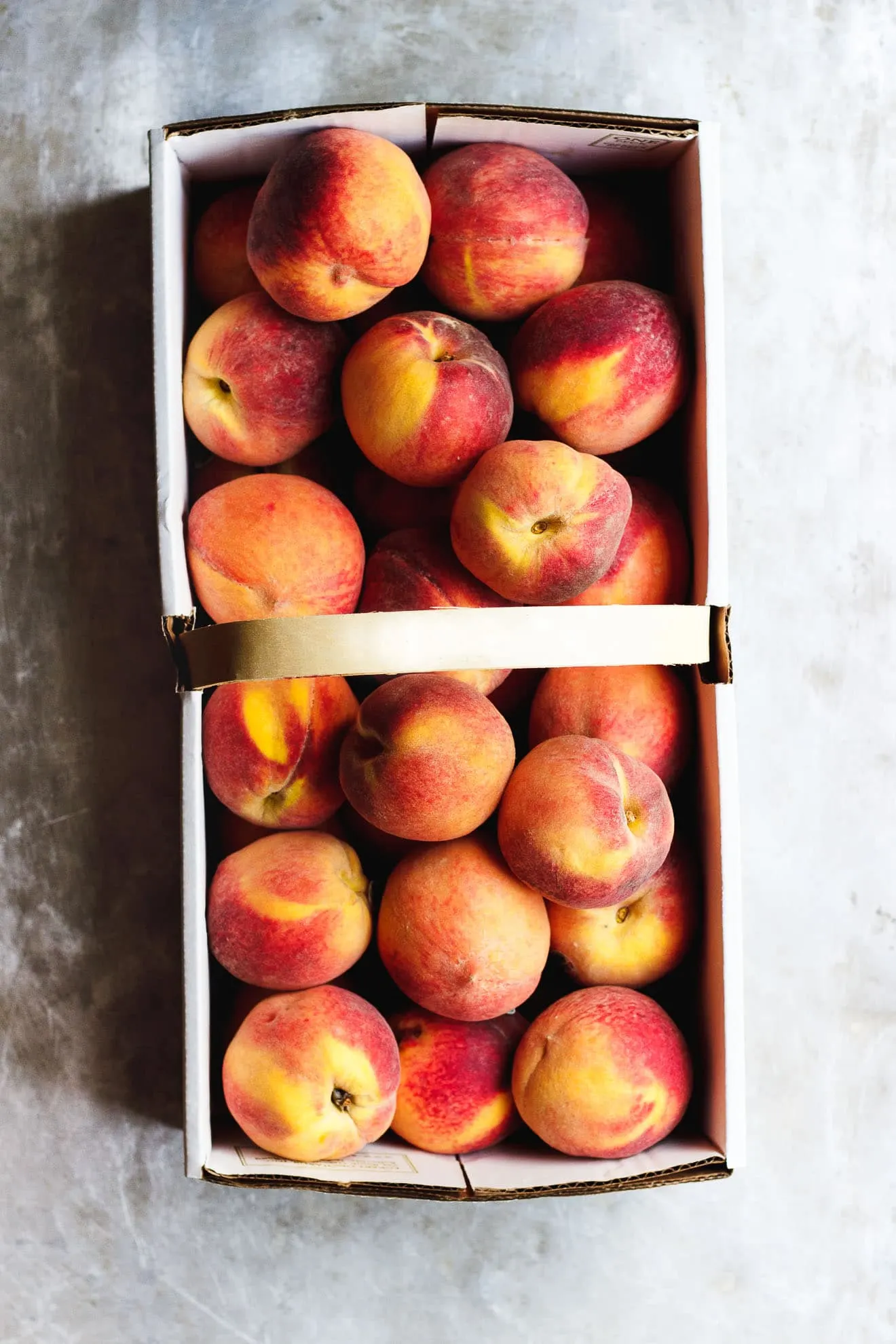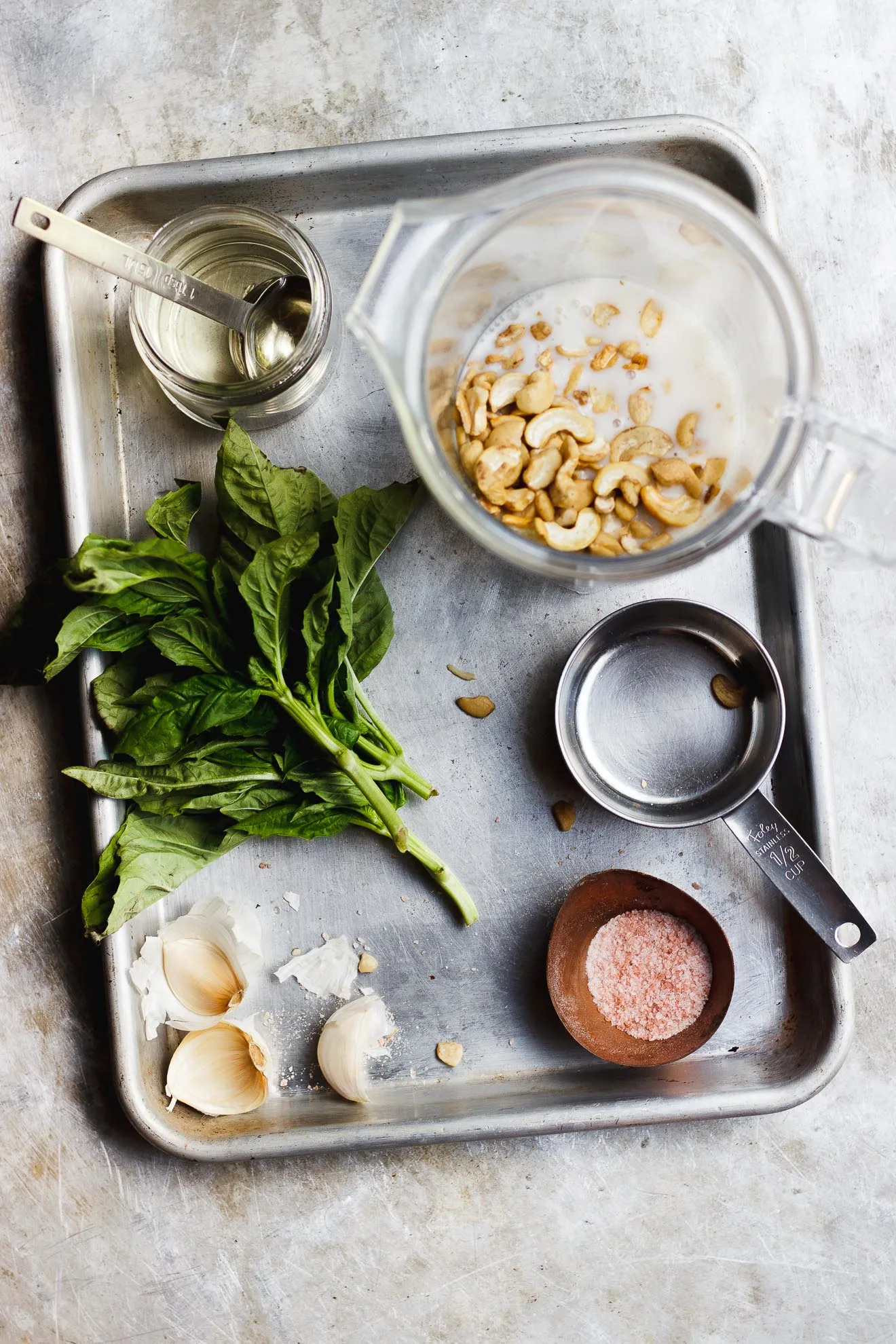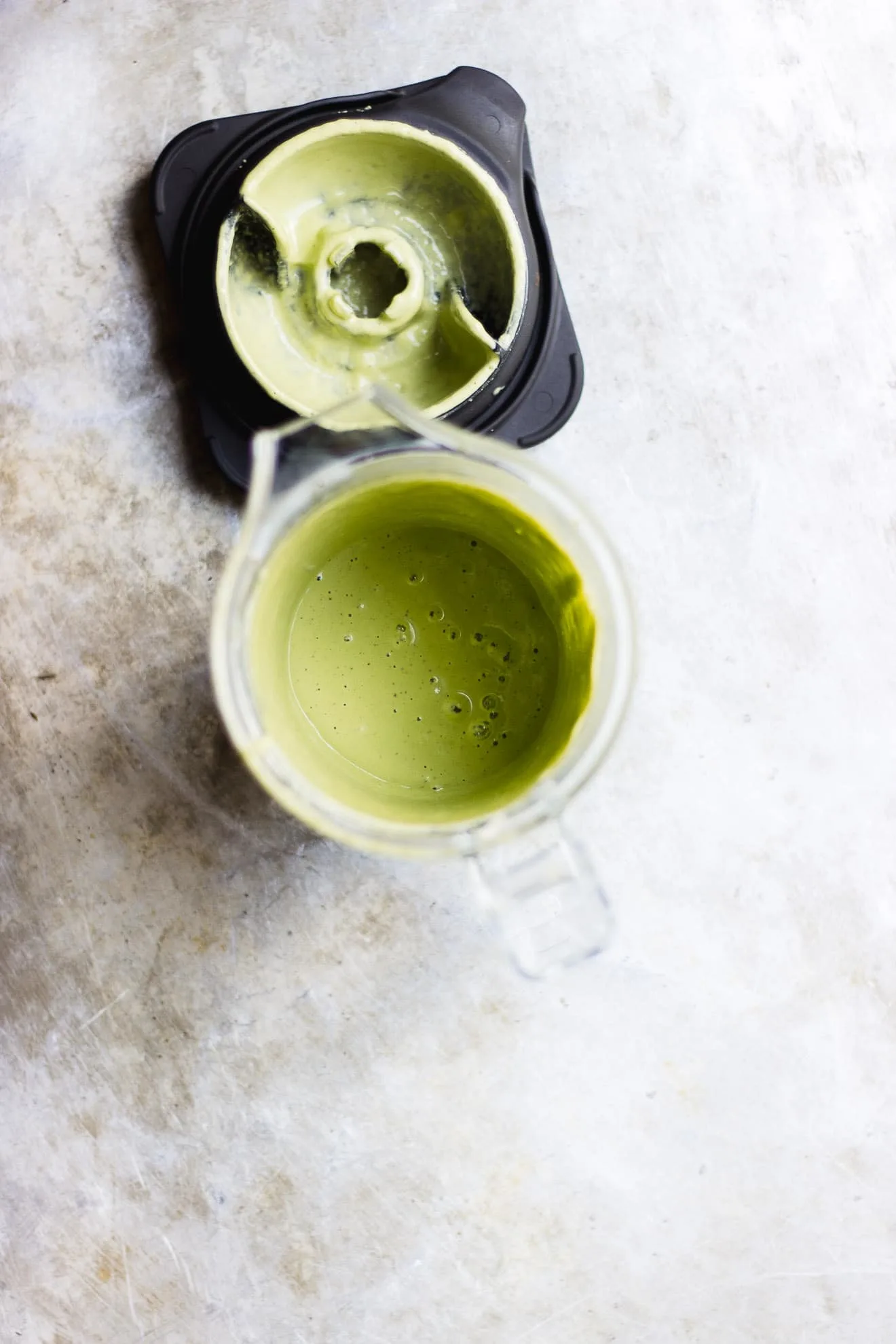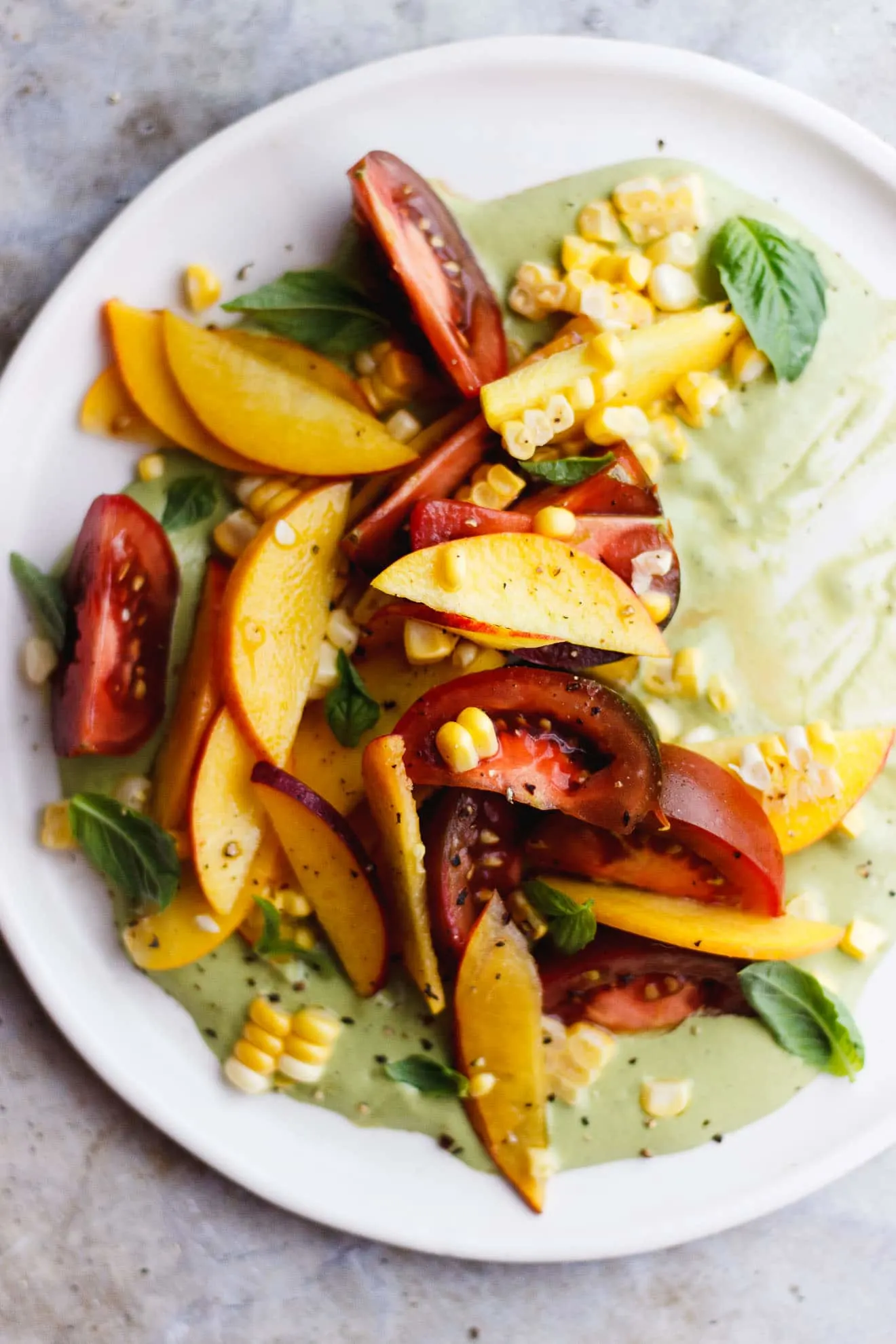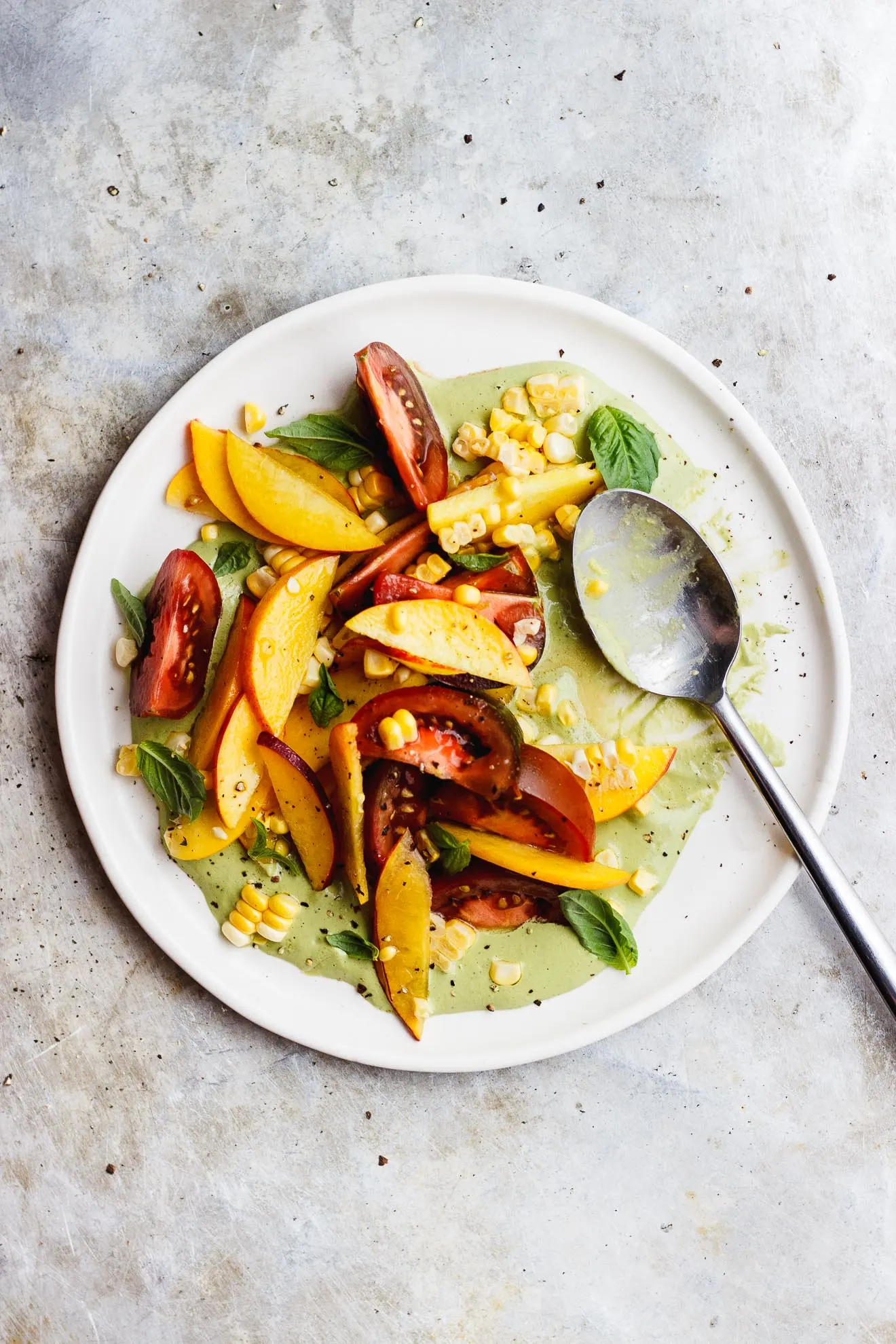 Yield: 2 servings
Tomato Peach Salad with Creamy Basil Sauce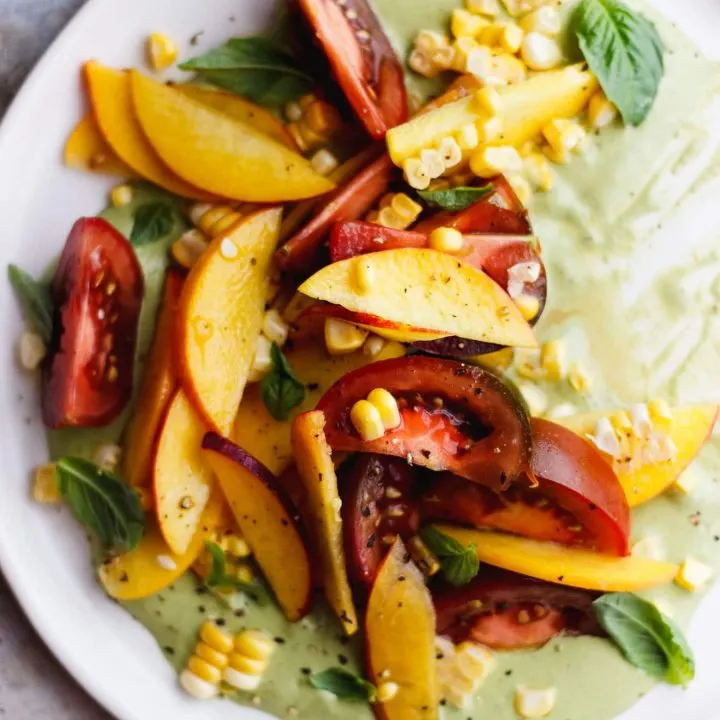 A tomato peach salad with corn on a base of vegan, creamy basil sauce. The best summer has to offer on a plate. The perfect summer salad.
Ingredients
Salad Ingredients
2 medium heirloom tomatoes
1 cup peaches, sliced thin
1 cup raw corn kernels
1 tablespoon olive oil
1/4 teaspoon fine sea salt
1/4 teaspoon black pepper
1/4 cup basil leaves
Sauce Ingredients
1/2 cup raw cashews
1/2 cup unsweetened almond milk
1/2 cup basil leaves (packed)
1 garlic clove
2 tablespoons white wine vinegar
1/2 teaspoon fine sea salt
1/4 teaspoon black pepper
Instructions
Slice the tomatoes into wedges.
In a mixing bowl combine the tomato wedges, peach slices, corn, olive oil, salt and pepper, and toss lightly. Set this bowl to the side while you blend the basil sauce.
Combine all of the sauce ingredients in a blender, and process until completely smooth.
Spread a generous amount of basil sauce onto a serving plate. Then top the sauce with the salad, and garnish with fresh basil leaves.
Recommended Products
As an Amazon Associate and member of other affiliate programs, I may earn a small percentage from qualifying purchases.