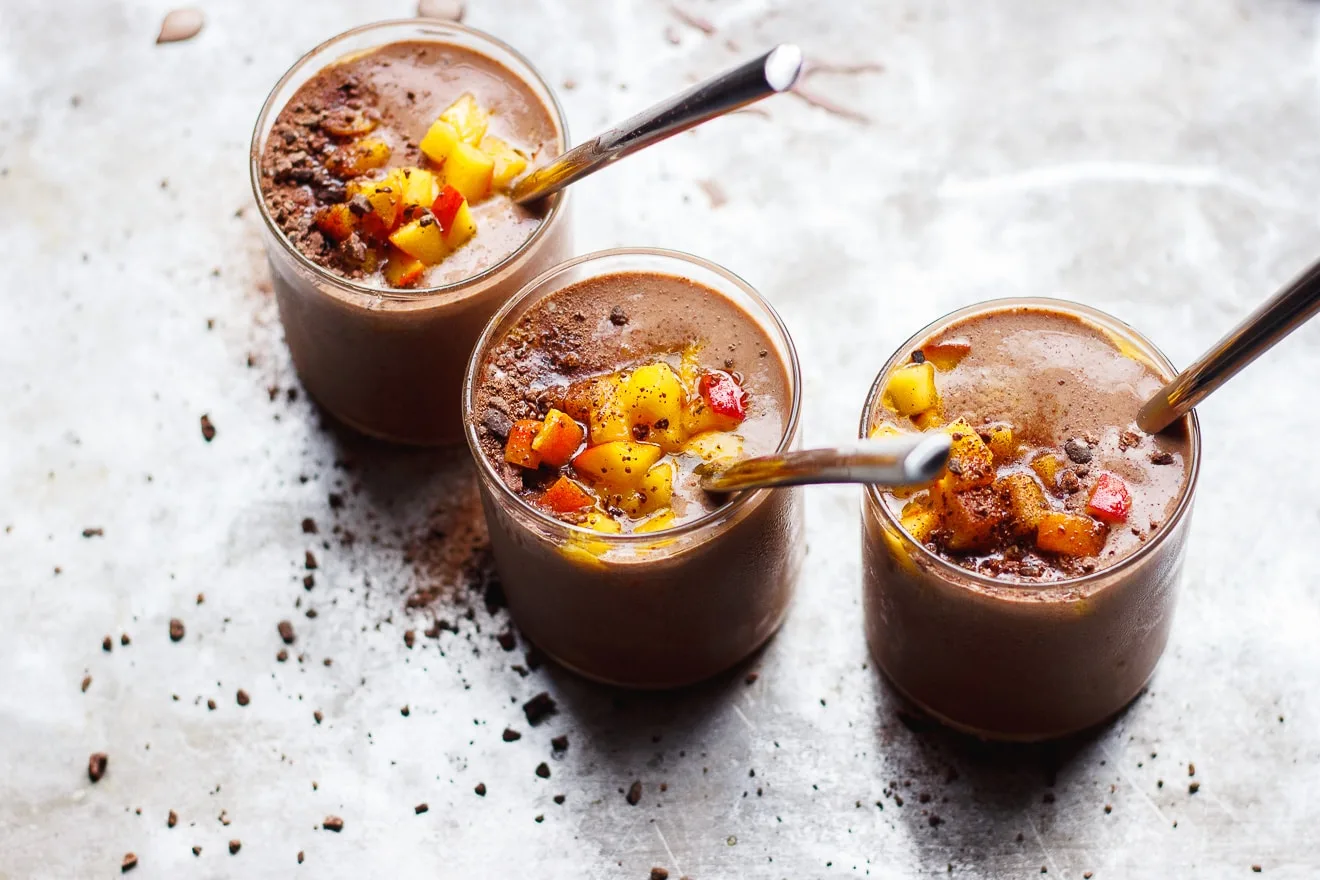 There's not too many things better than a vegan chocolate milkshake on a hot summer day. Except maybe for a vegan chocolate peach milkshake on a hot summer day. Chocolate and peaches may sound like an unlikely combination, but to me it feels really natural.
The salty, but perfectly ripe peaches on top add just the right amount of summery flavor. And the touch of crunch from the cacao nibs is just perfect. As you know from my body of work, I'm a big fan of not-too-sugary, desserts. Like this vegan chocolate mousse pudding. I also really love desserts with a light salty finish as it tones down the sugar and balances your tastebuds. And this milkshake encompasses all of that.
How to make a vegan milkshake.
All you need are a few ingredients to make this vegan milkshake. Firstly, choose your favorite dairy-free chocolate ice cream. Then make sure your peaches are really ripe and juicy. Then you need a few pantry staples like a good quality salt and olive oil to make the peach topping.
This milkshake comes together in just a few minutes. And if you want to use a rich, full-dairy ice cream – you totally can. The recipe will not change, and it's totally up to you to do what feels best for your tastebuds and body. I support your decision to do either one.
I'm not really into national food days. But, I am definitely into national food months. And, July is National Ice Cream month – so let's celebrate! I'm gonna be treating myself and cooling off from this heat with this vegan chocolate milkshake more than once or twice. It's good enough for a simple dessert when you have friends over and balanced enough for an afternoon snack.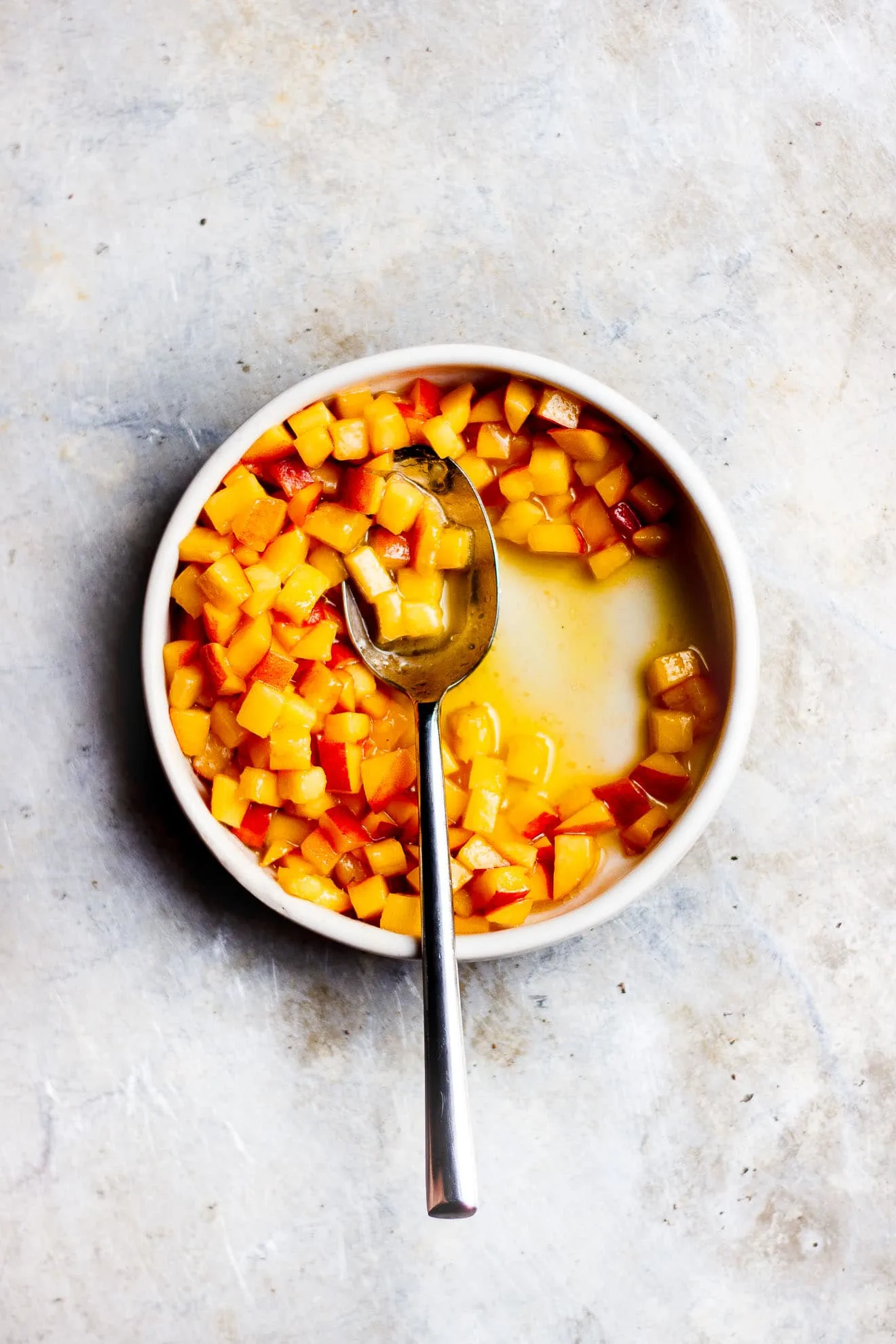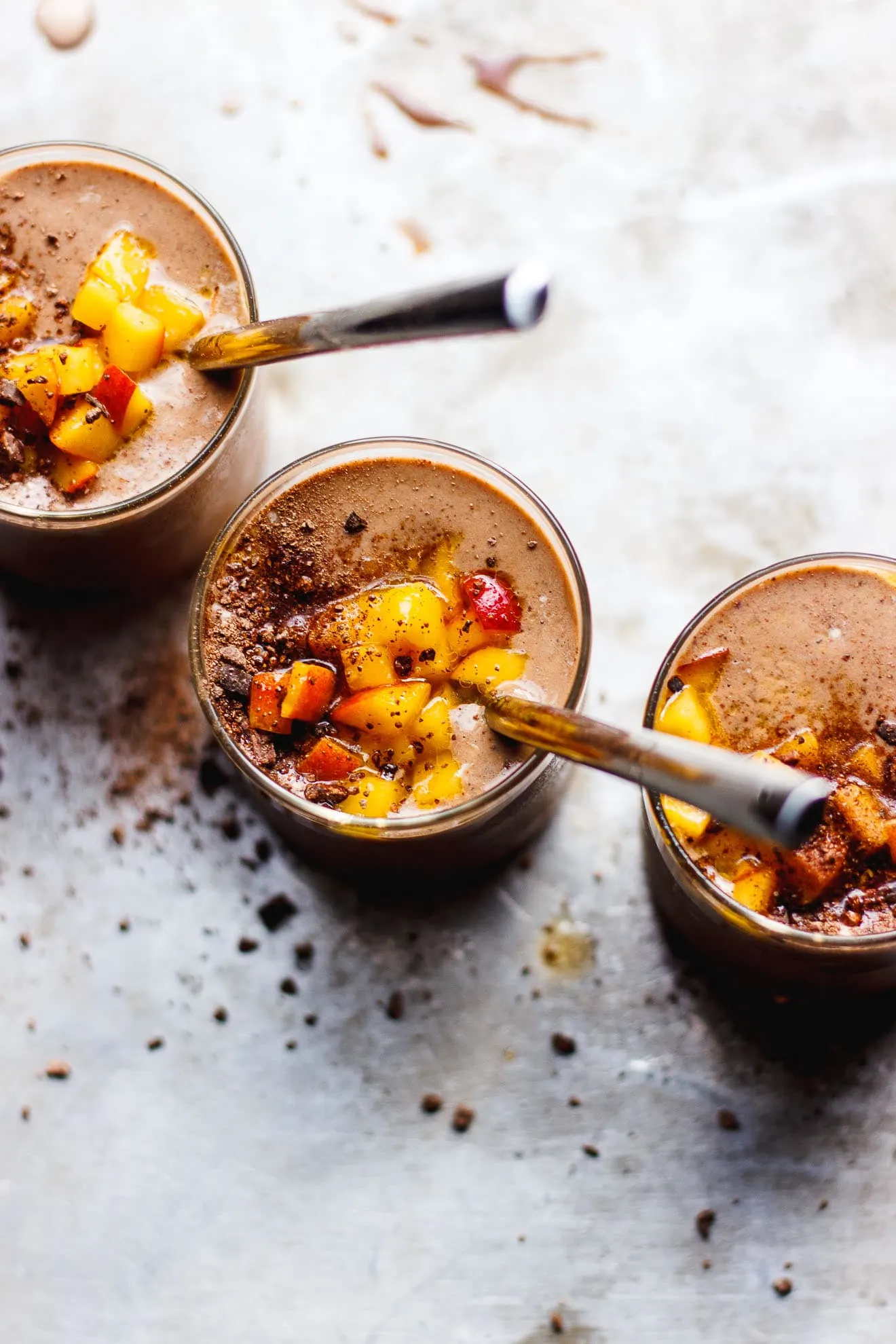 Yield: 2 milkshakes
Vegan Chocolate Milkshake with Salty Peaches
A vegan chocolate milkshake topped with salty peaches and cacao nibs. A summer, three-ingredient, dairy-free vegan milkshake.
Ingredients
Milkshake Ingredients
1 pint vegan chocolate ice cream (see notes)
1 medium ripe peach, cubed
1 tablespoon cacao nibs
Salty Peach Ingredients
1 medium peach, diced small
1 tablespoons olive oil
1/2 teaspoon pink Himalayan salt
Instructions
To make the milkshake, combine the ice cream and peach in a blender and pulse until well-combined. You can leave it a little chunky or process it until very smooth.
To make the salty peaches combine the diced peaches, olive oil and salt in a mixing bowl.
Divide the milkshake into glasses, top with the salty peaches and cacao nibs.
Notes
Any chocolate ice cream works in this recipe, vegan or not.
Recommended Products
As an Amazon Associate and member of other affiliate programs, I may earn a small percentage from qualifying purchases.