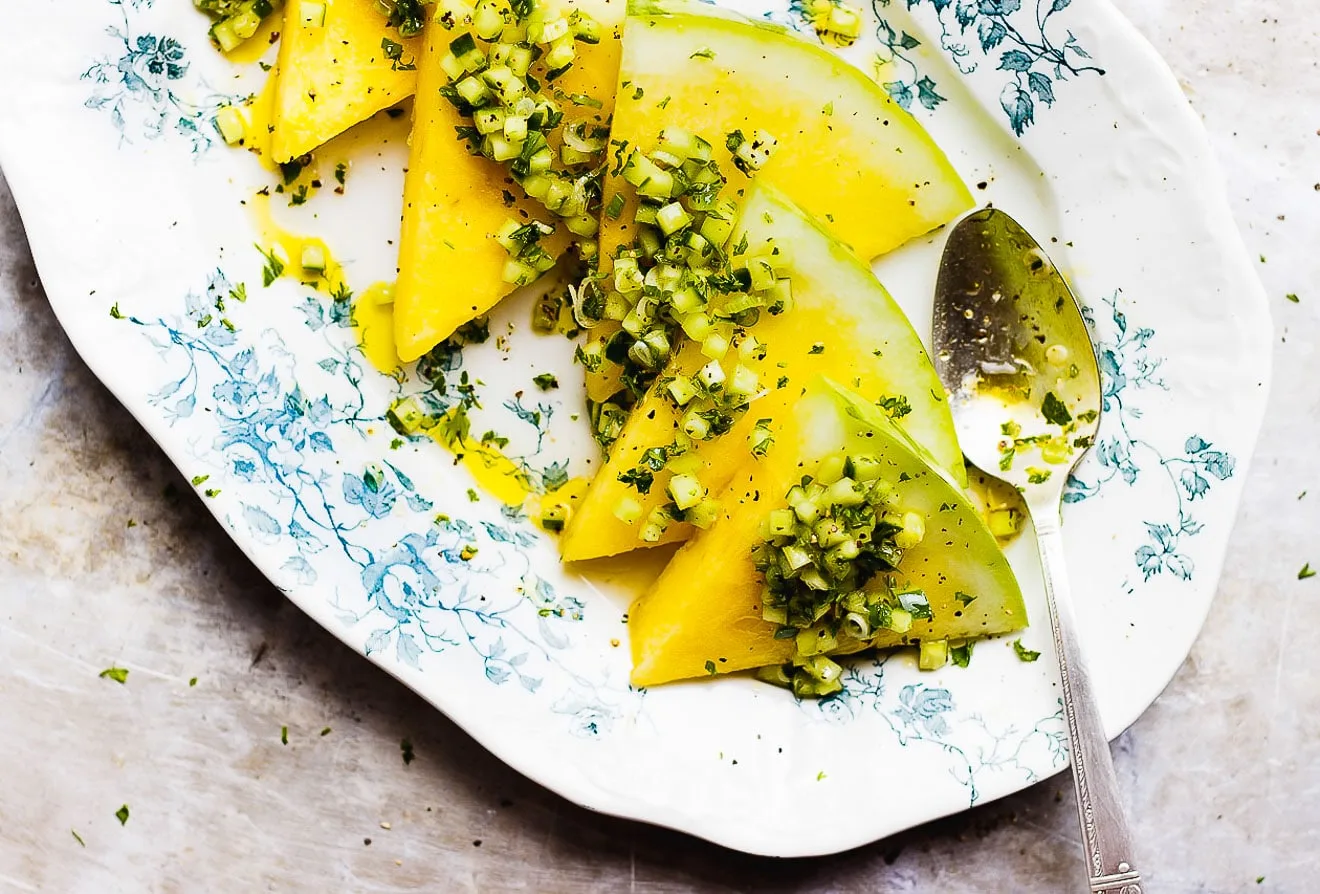 The first time I saw a yellow watermelon, it wasn't in real life, but on the internet. And I thought for sure it wasn't real. However, it is quite real. And, it's totally natural. Watermelons, which originate from Africa, were originally yellow-white.
Watermelon's flesh became pink-red as we bred the fruit to become sweeter. So even though yellow watermelon seems to be just recently popping up at your local markets and grocers, they've actually been this color all along.
The yellow fruit is mellow, and has a more honey-like flavor when compared to the super sweet pink-red melons. But, both varieties have many of the same nutritional benefits like vitamins C, A, magnesium and potassium, while also providing plenty of hydration for your body.
This yellow watermelon recipe is the brainchild of me and my friend, Amanda. She came down to visit me in St. Louis last weekend and we played around in the kitchen to make two versions of this recipe. You can find her version on her website Heartbeet Kitchen, here.
How to make this yellow watermelon recipe.
This salad is super easy to make and uses just a few ingredients. All you need is watermelon, cucumber, parsley and few kitchen staples like olive oil, apple cider vinegar, sea salt and black pepper. And if you can't source a yellow watermelon, you can definitely use any pink-red variety.
This recipe is great as a side to accompany any summer meal. And adding some beans or legumes would make this even better if you wanted to eat it as a meal. You could also add some poached salmon. It's a super easy recipe that would stun at any party, and I think a lot of guests would be kind of shocked to see a yellow watermelon on the table – as it's still not a widely available option.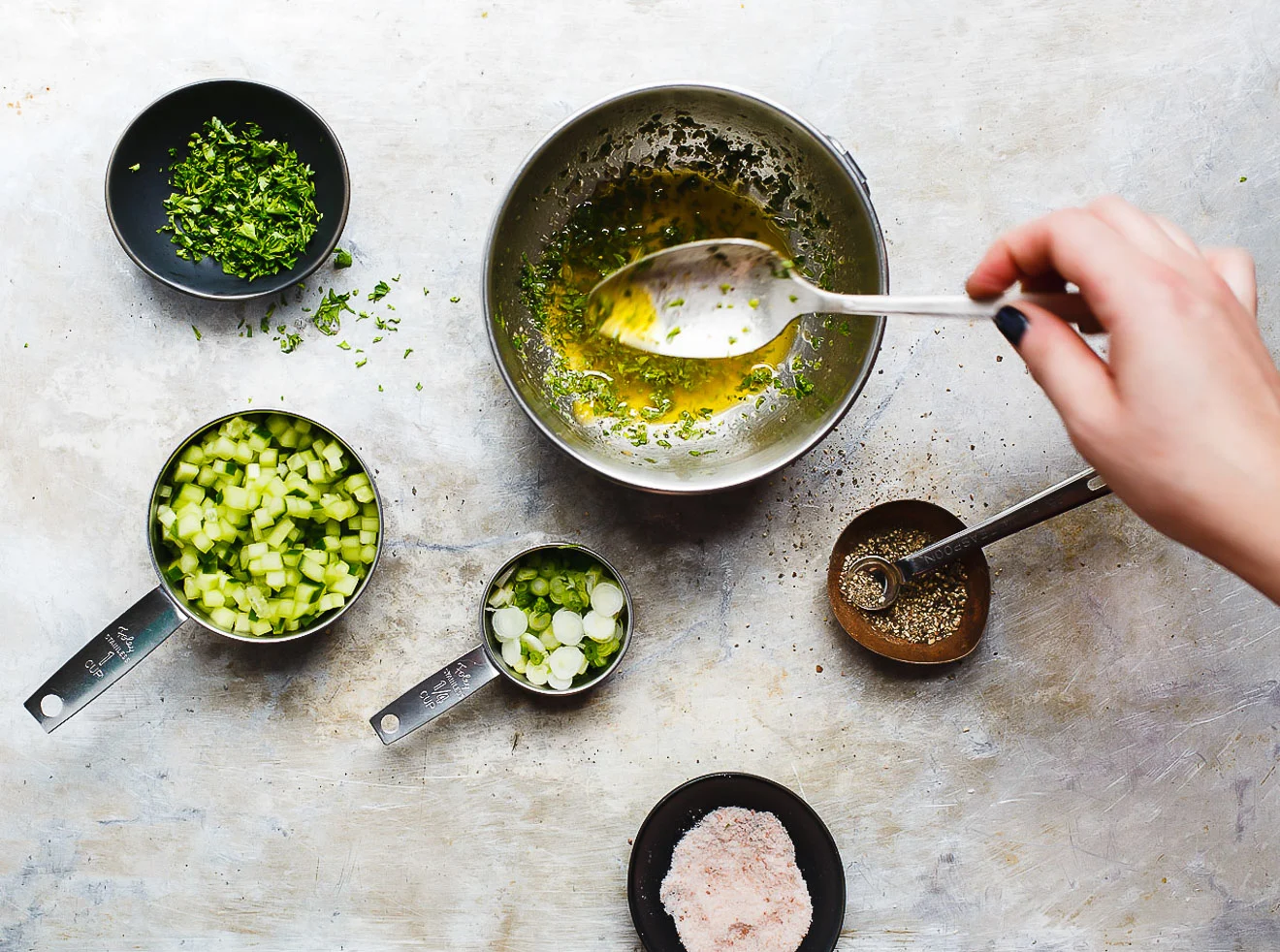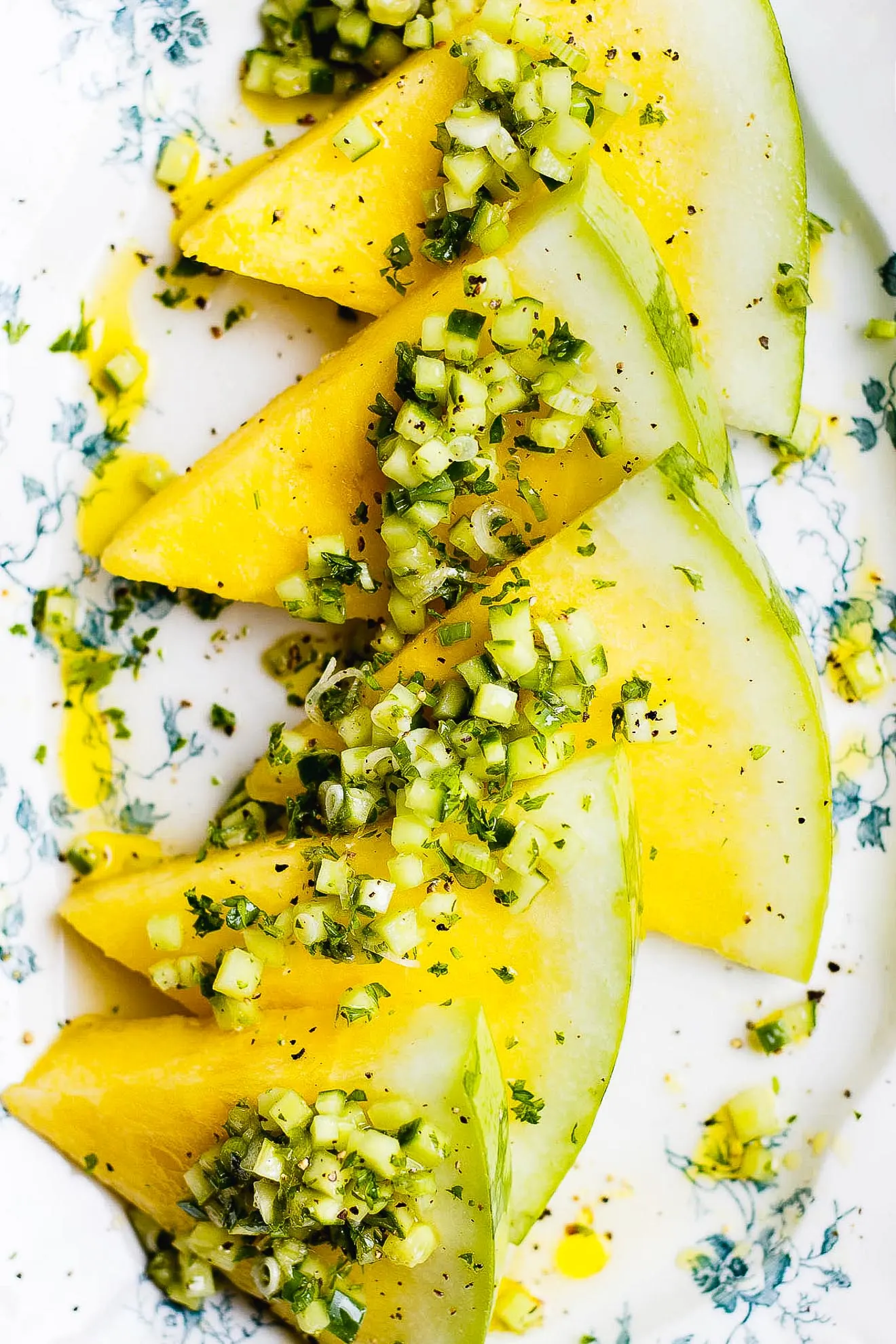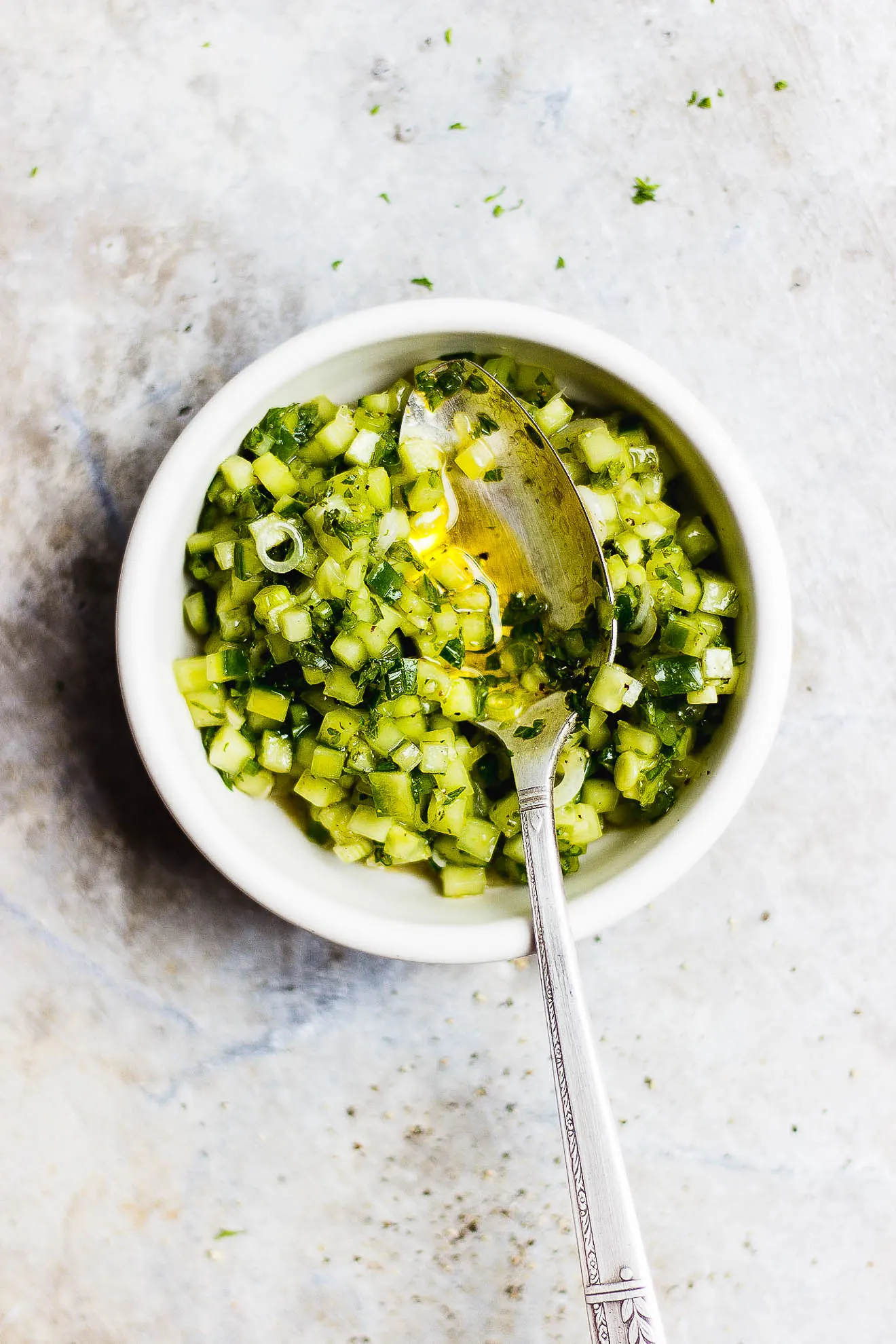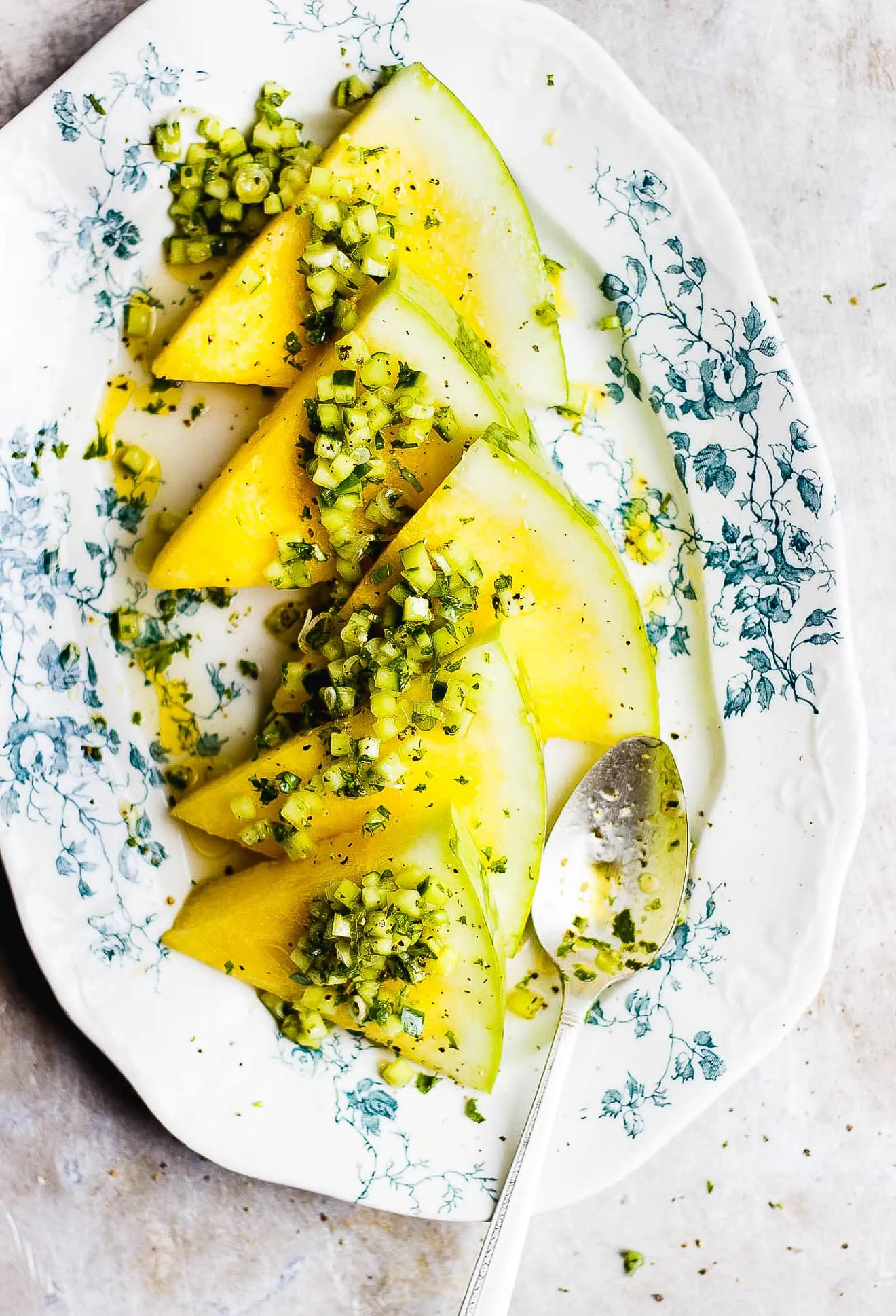 Yield: 4 servings
Yellow Watermelon Salad with Herbed Cucumbers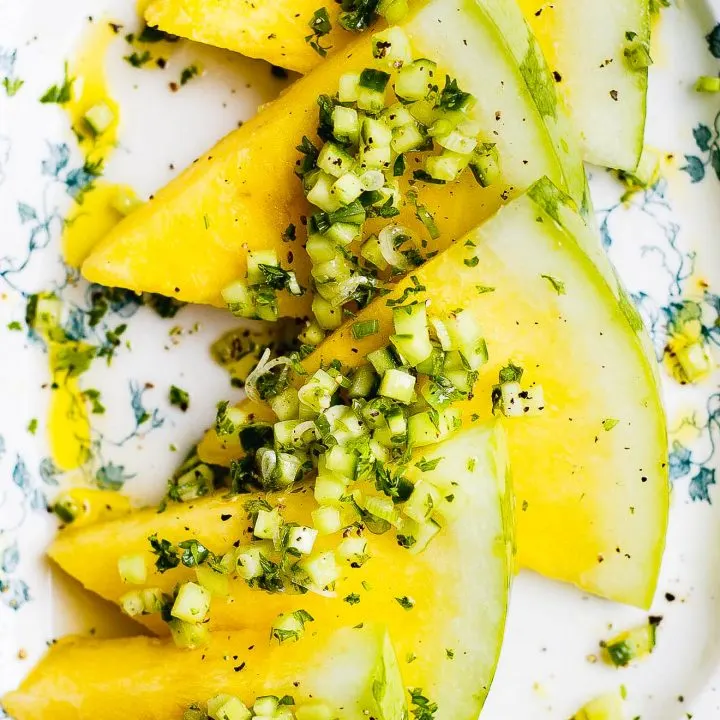 A yellow watermelon recipe served with diced, herbed cucumbers. A vibrant summer salad with lots of herbs, olive oil and pops of acid.
Ingredients
8 yellow watermelon wedges (see notes)
1 cup cucumber, diced small
2 tablespoons fresh parsley, minced
1/4 cup green onion, diced small
3 tablespoons extra virgin olive oil
2 tablespoons apple cider vinegar
1/4 teaspoon fine sea salt
1/4 teaspoon black pepper
Instructions
Arrange watermelon wedges on a serving platter.
In a small bowl combine the cucumber, parsley, green onion, olive oil, apple cider vinegar, salt and pepper and mix well.
Spoon the cucumbers on top of the melon, drizzle with more olive oil and a sprinkle of salt and pepper if desired.
Serve family style at room temperature.
Notes
If you cannot source yellow watermelon, any pink-red variety will work.
Recommended Products
As an Amazon Associate and member of other affiliate programs, I may earn a small percentage from qualifying purchases.