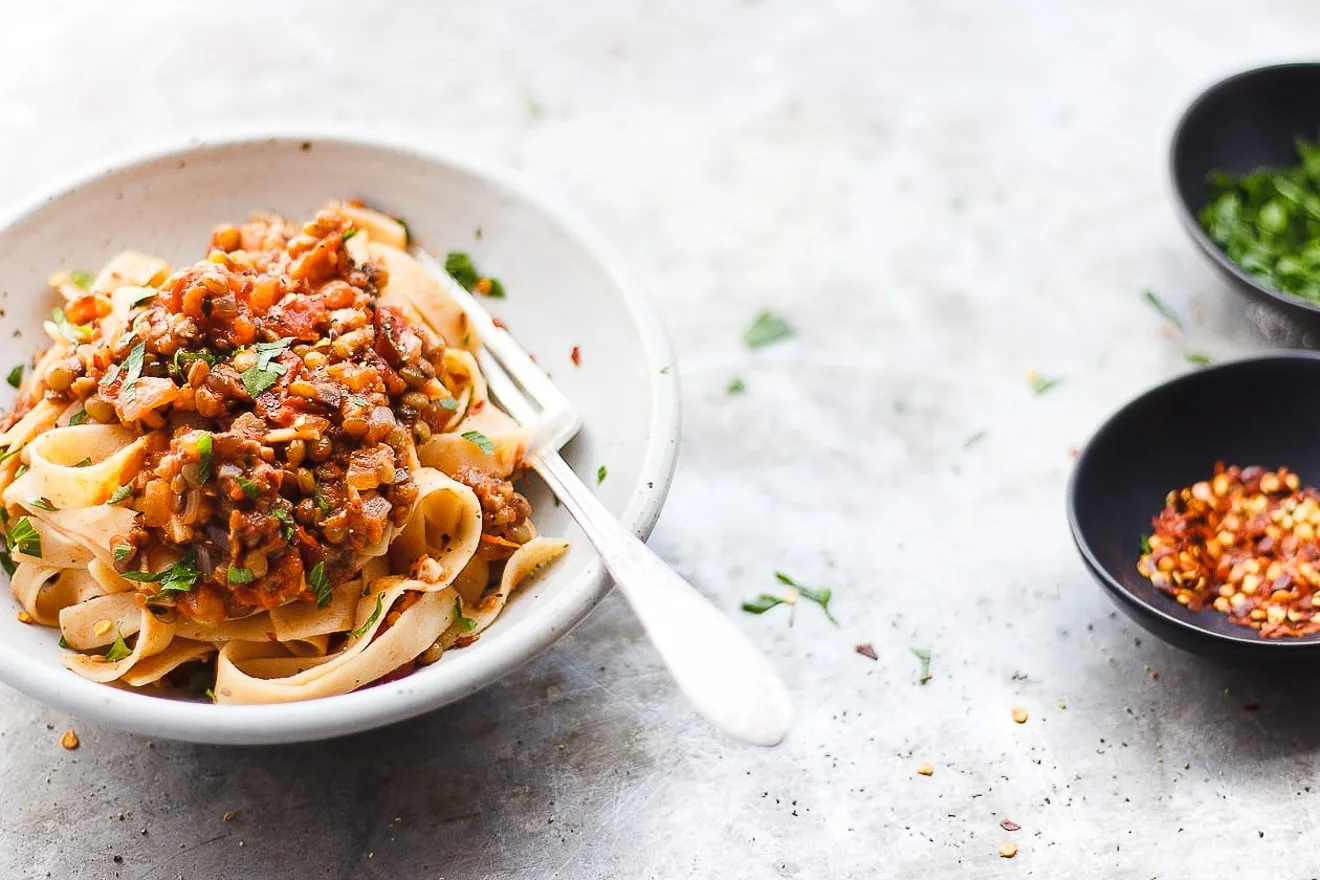 Lentil Bolognese sauce.
My family may disown me for this one.
My husband is Bolognese.
And my mother-in-law lives in Bologna.
And when I visit (despite my mostly plant-based lifestyle) I manage to eat my fair share of ragù. Typically, Americans call ragù, meat sauce. The two are meant to be the same thing, but they aren't.
Traditional ragù is mainly meat, with just a tiny touch of tomato. The Bolognese sauce most people are familiar with is generally characterized as being a red sauce with meat in it. This mushroom lentil Bolognese sauce doesn't actually contain either of the defining characteristics of a traditional ragù, but it does have a wonderful texture consistent with the meat sauce most of us know. And that counts for a lot.
I've been wanting to put a vegan Bolognese sauce on my blog for years. But I've always been too nervous to know what my Bolognese family might think. They're quite judgmental. And by that I mean they're very particular about their food and Italian culture. As they should be.
When Angela's new book, Oh She Glows Every Day arrived on my doorstep containing a hearty vegan Bolognese recipe inside, I was like, yeah now is the time. Because I can count on Angela. She is the queen of plant-based blogging, after all.
A few things about the tagliatelle bolognese recipe! It contains mushrooms. A secret about me, I really dislike mushrooms. You won't find a single recipe on my website that uses them, until now. I'm sorry, mushroom lovers. I've tried and tried but I just can't get into them, until now. They make this lentil Bolognese sauce texture just right.
Plant-based protein like lentils (used here) gives it a good base layer, but it needs another component to build the right mouth feel. And minced mushrooms does just that. And although Angela's recipe has a twist of tahini in it, which sounds like it'd provide some wonderful nutty undertones, I chose to forgo it keeping the sauce as authentic as possible.
A few things about this book. It is new, and it is fantastic. Oh She Glows Every Day is a hearty collection of simple, straight-forward staples for any anyone living a plant-based life. And I'm giving one away to one of you. Leave me a comment below—what vegetable is hard for you to get behind? Or do you love them all? I will choose a winner at random on September 19 at noon Central, and notify them by email. Sorry folks, the book will be sent to a United States shipping address only.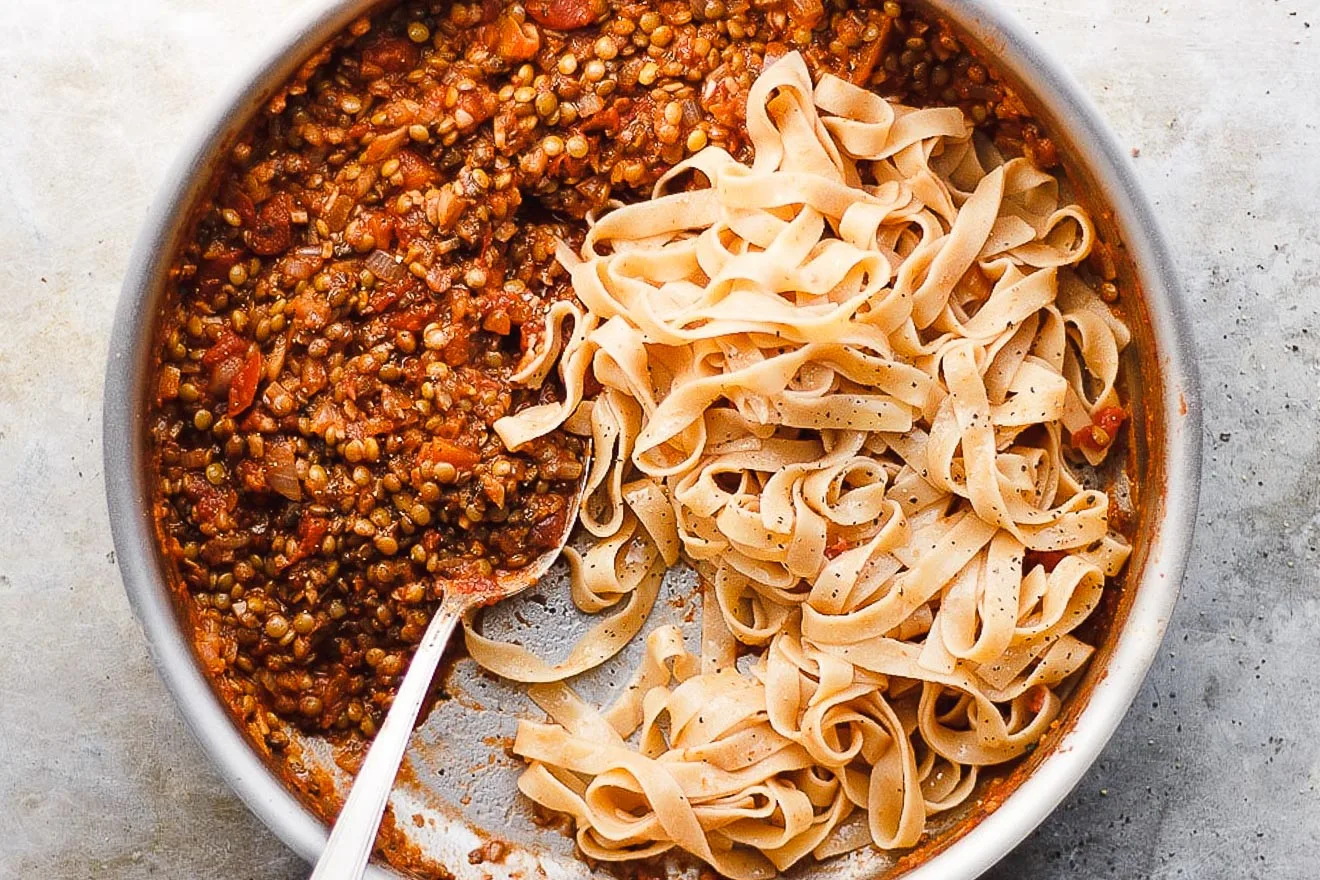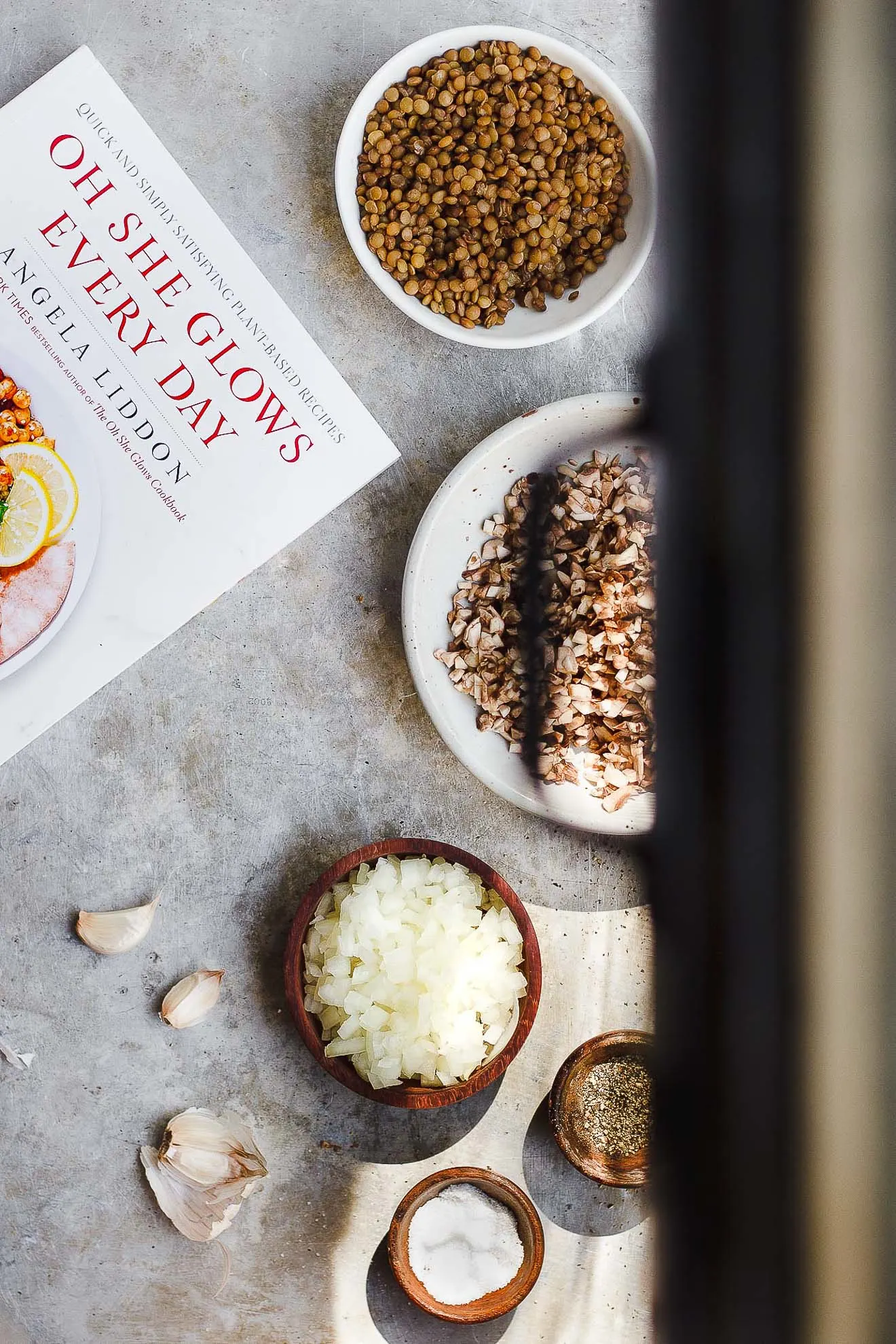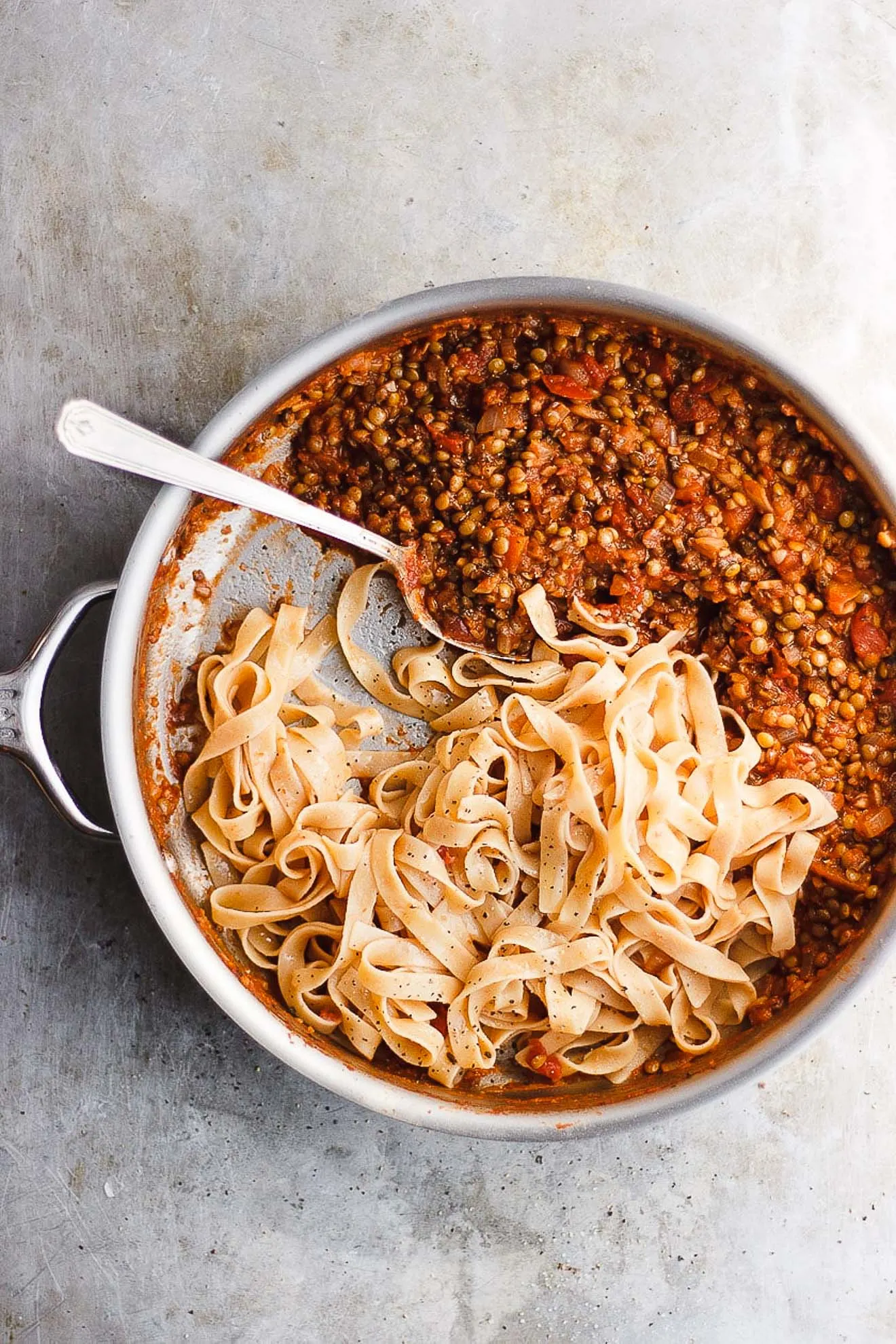 Lentil Bolognese Sauce with Mushrooms
Lightly adapted from
Oh She Glows Every Day
. I am using crushed tomatoes from a can that are unsalted and unseasoned. I chose
gluten-free tagliatelle
for the pasta, but you can use any kind of pasta you'd like, gluten-free or not.
Servings
4
bowls of pasta
Ingredients
2

tablespoons

olive oil

1

medium onion

diced small

3 - 4

cloves

garlic

minced

1

cup

mushrooms

minced

1

cup

crushed tomatoes

unsalted + unseasoned

1/2

teaspoon

dried basil

1/4

teaspoon

dried oregano

1

cup

cooked lentils

sea salt

to taste

black pepper

to taste

1

pound

[url]tagliatelle∞http://amzn.to/2xTJ6LP[/url]

crushed red pepper flakes

optional

fresh parsley

optional

[url]herby oregano 'parm'∞http://withfoodandlove.com/oil-cured-black-olive-smashed-garlic-pizza-vegan-parm/[/url]

optional
Instructions
Bring a large pot of water to a boil for the pasta. Cook pasta according to the box instructions, drain and set aside until the sauce is ready.

In a large sauce pot heat the olive oil over low heat and add in the onion and garlic. Cook for 5 minutes, stirring occasionally. Add in the mushrooms, season with a pinch of salt and pepper and cook for another 3 minutes.

Add the spices and crushed tomatoes and stir. Bring the mixture to a simmer and add in the lentils. Simmer for another minute or two and remove from the heat and portion over pasta.

Serve hot with a sprinkle of crushed red pepper, parsley and parm if you desire.
(This giveaway is closed.)
Thanks to the folks at Avery Publishing for gifting me an advance copy of Oh She Glows Every Day!
More easy Italian recipes you'll love: