Green Smoothie Bowls with Mango + Hemp Seeds
Vegan, gluten-free, green smoothie bowls.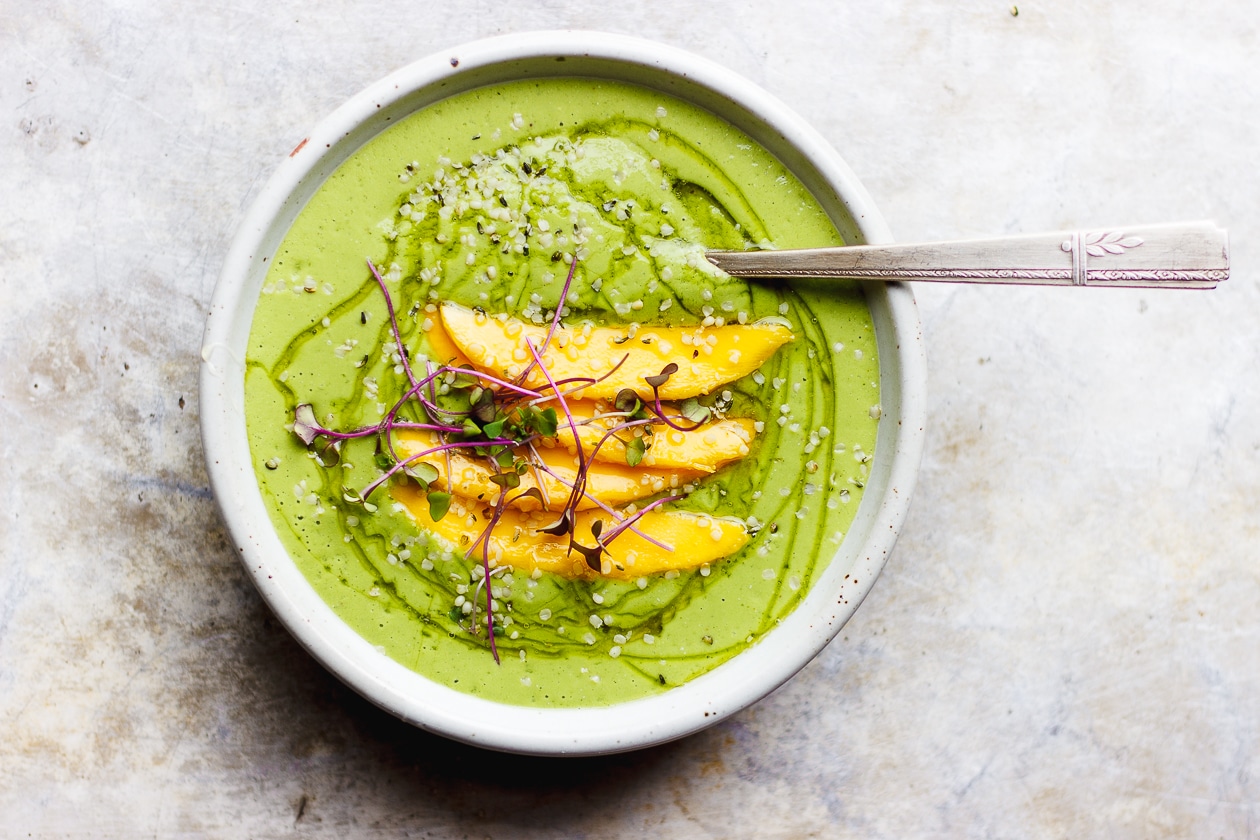 I feel like there are two types of people in this world.
Those who like green smoothie bowls.
And those who don't.
But first let's talk about smoothies.
When balanced correctly, with the right amount of fat and protein and carbohydrates, they can be the perfect meal replacement or midday snack. I make a seasonal version of this classic green smoothie a few times a week. The original version of this recipe contains fall flavors like apples or pears and hearty greens, cinnamon and flax seed. But you can make it fit any time of year by swapping out the apples and pears for seasonal fruit choices and the cinnamon for corresponding flavors.
I usually eat a smoothie as a snack or when I'm heading out the door to a meeting as a portable breakfast. I drink smoothies mainly for health reasons. They're a great way to load up on nutrients. And they support a balanced lifestyle. But for me, smoothies aren't always super satisfying. Especially as a meal. Smoothie bowls though, that's a totally different story. And there's actually some science behind this. Yes you guys – really – science!
If you feel weird about dumping your smoothie into a bowl, topping it with really pretty garnishes and sitting down and digging in, maybe this information will help you ease into it. I doubt the smoothie bowl trend started as a means to provide better digestion and meal satisfaction, but they're certainly subsequent benefits.
The science lies in a few basic principles.
Digestion.
And, absorption.
Satisfaction.
And, enjoyment.
Digestion begins in your mouth. When you chew your food this releases digestive enzymes and so the process begins. Drinking a smoothie basically delivers your food straight from straw to esophagus. Skipping this first digestive stage and chewing altogether. But when we make a smoothie bowl with delicious toppings when are forced to chew. And this kicks off the first stage of digestion. Additionally the more we chew, the more nutrients we release in our food and the more we absorb them into our bodies.
Satisfaction is a big part of what and how much we consume. And according to science, bowls make food taste better, really. Research suggests that the vessel in which we eat our food matters. Eating from a bowl suggests a cozier, more substantial and satiating experience. Which provides a healthier relationship with food, a fuller belly and reduction in overeating.
These green smoothie bowls were originally published in April 2014. Like it, love it or leave it, this post has remained one of my most popular. The images and content have been updated and improved. The recipe has stayed the same. Well, I added a pinch of pink salt because it needed it.
Here are two more of my favorite smoothie bowls:
Beet Berry Smoothie Bowls with Hemp Seeds
Chocolate Hazelnut Smoothie Bowl with Banana + Cacao Nibs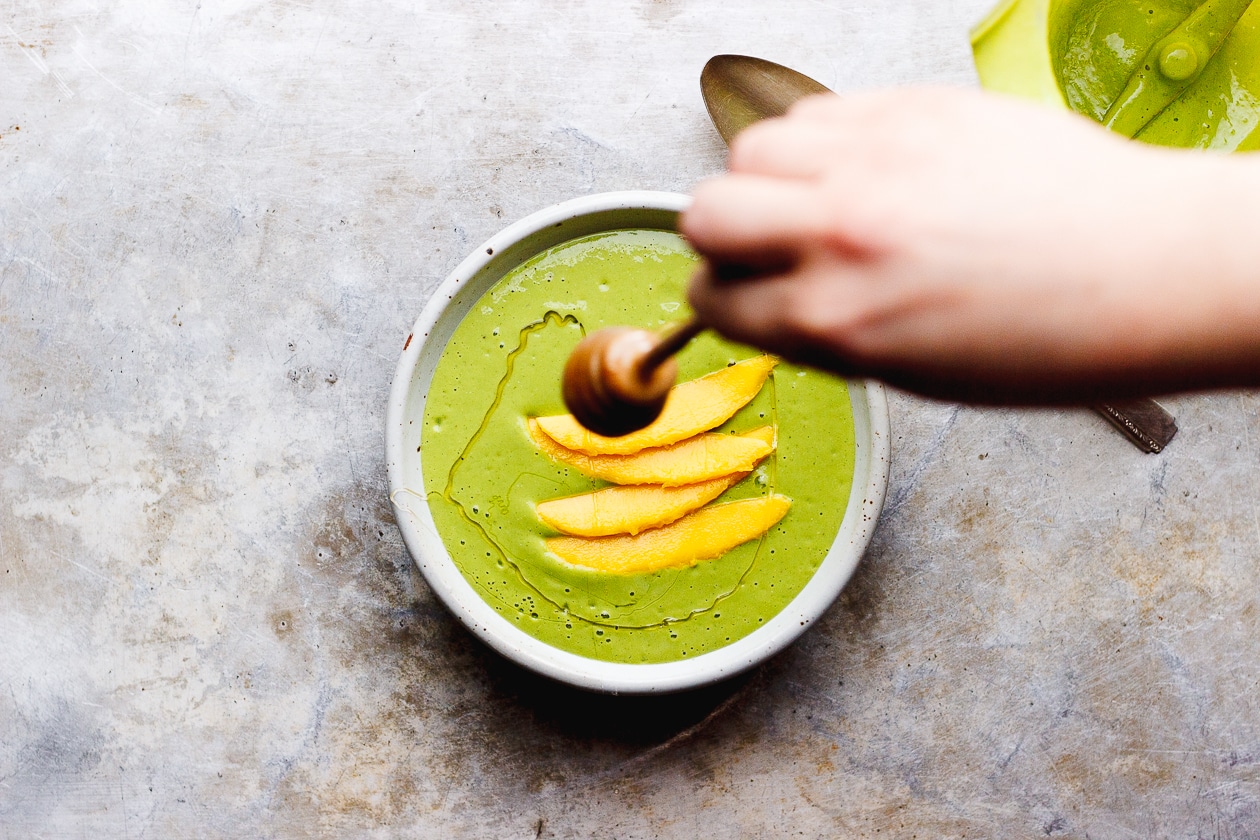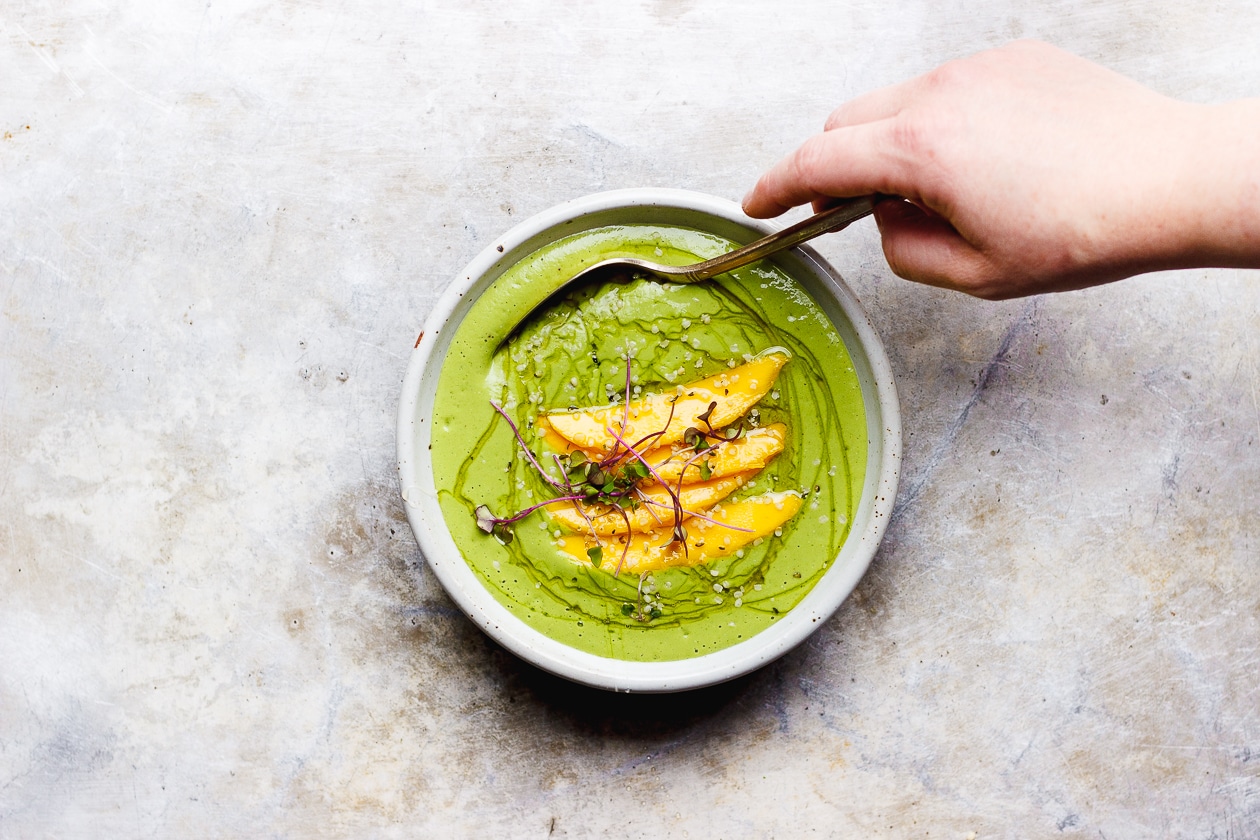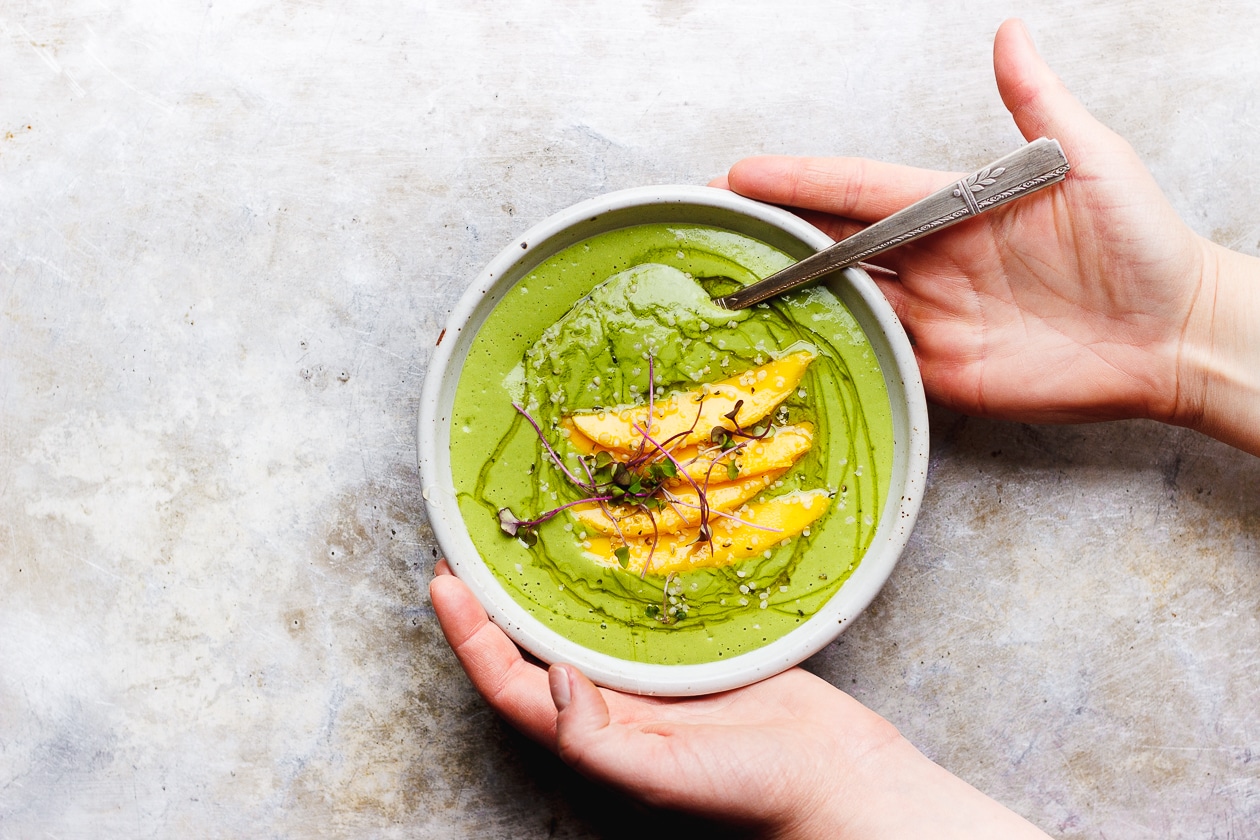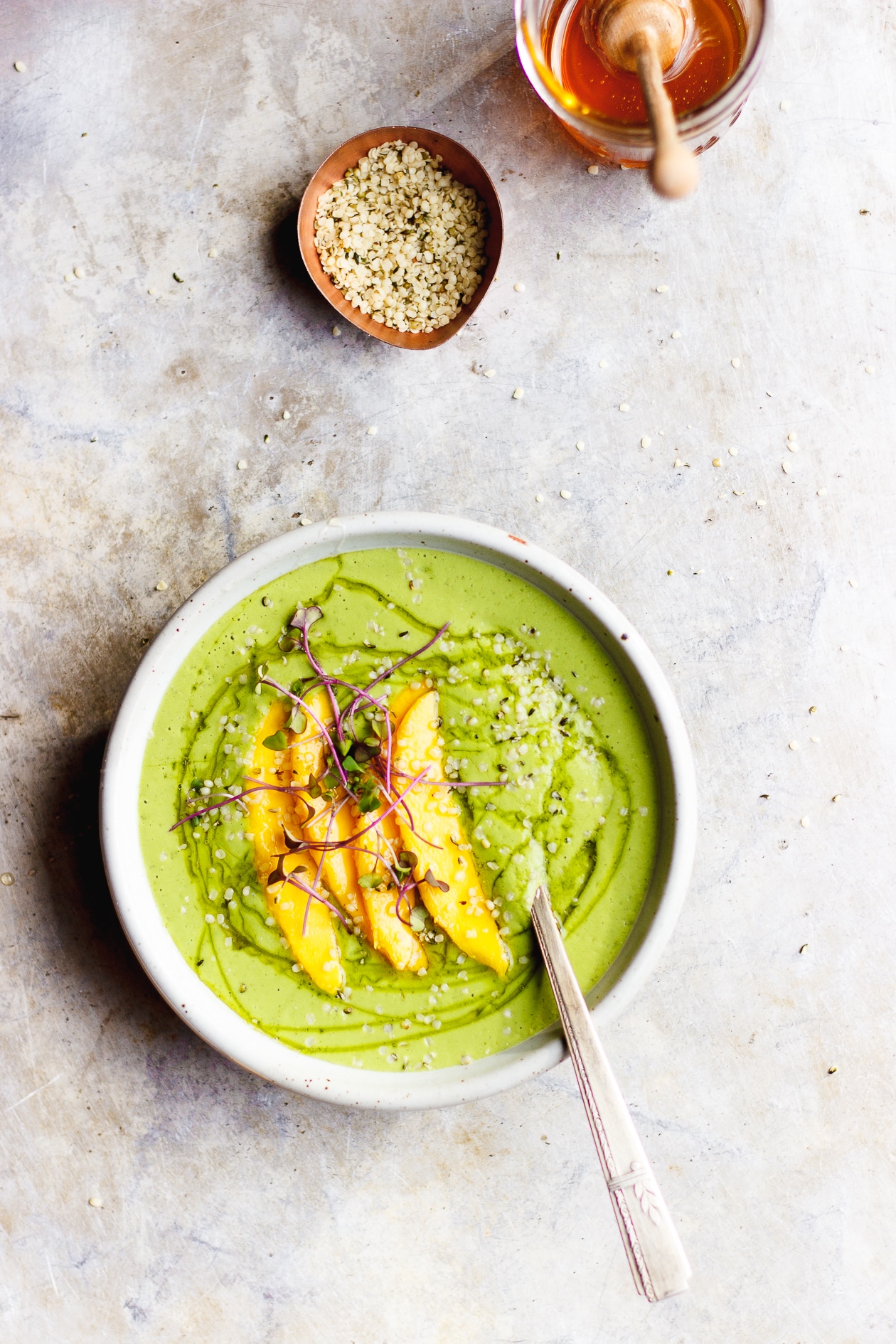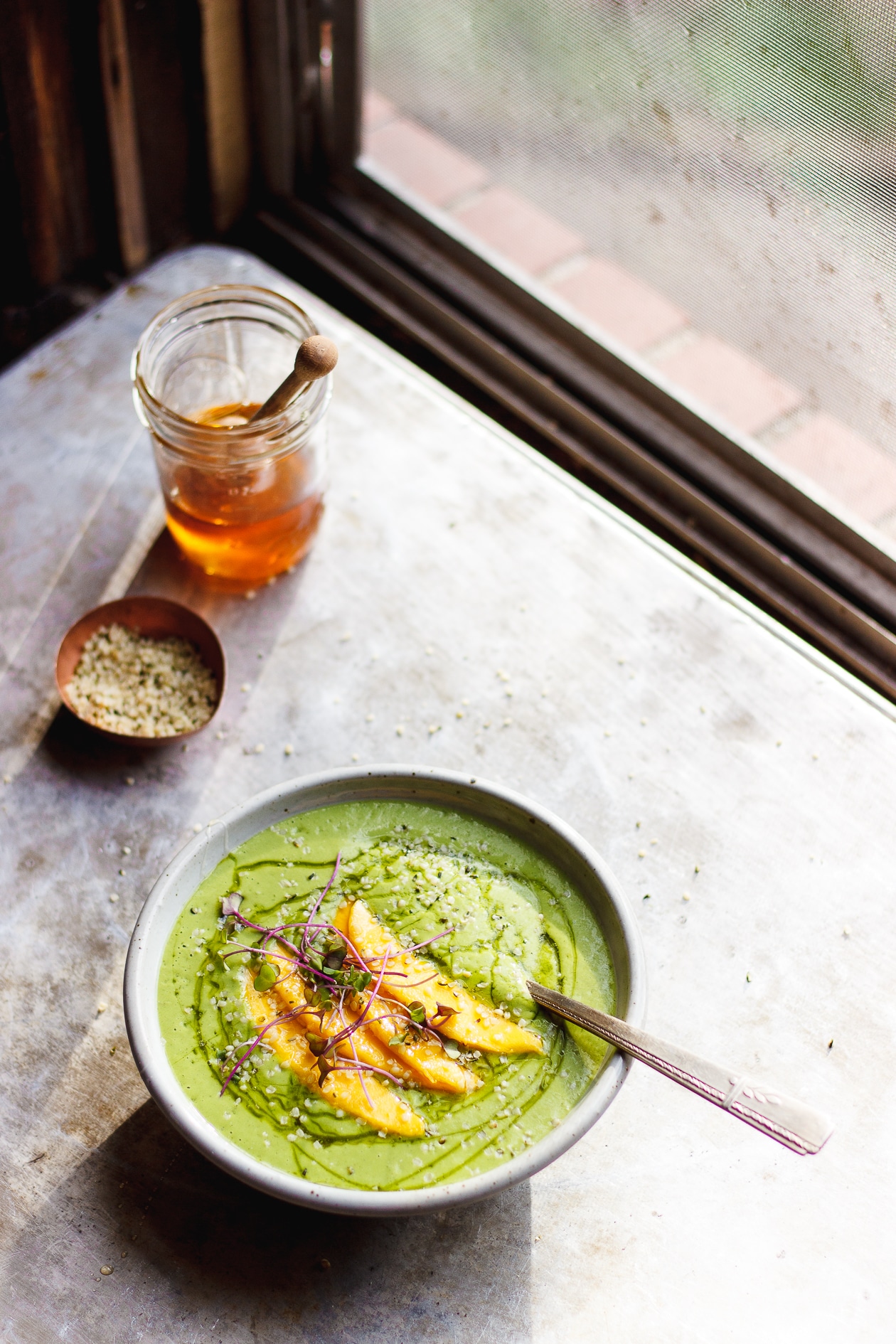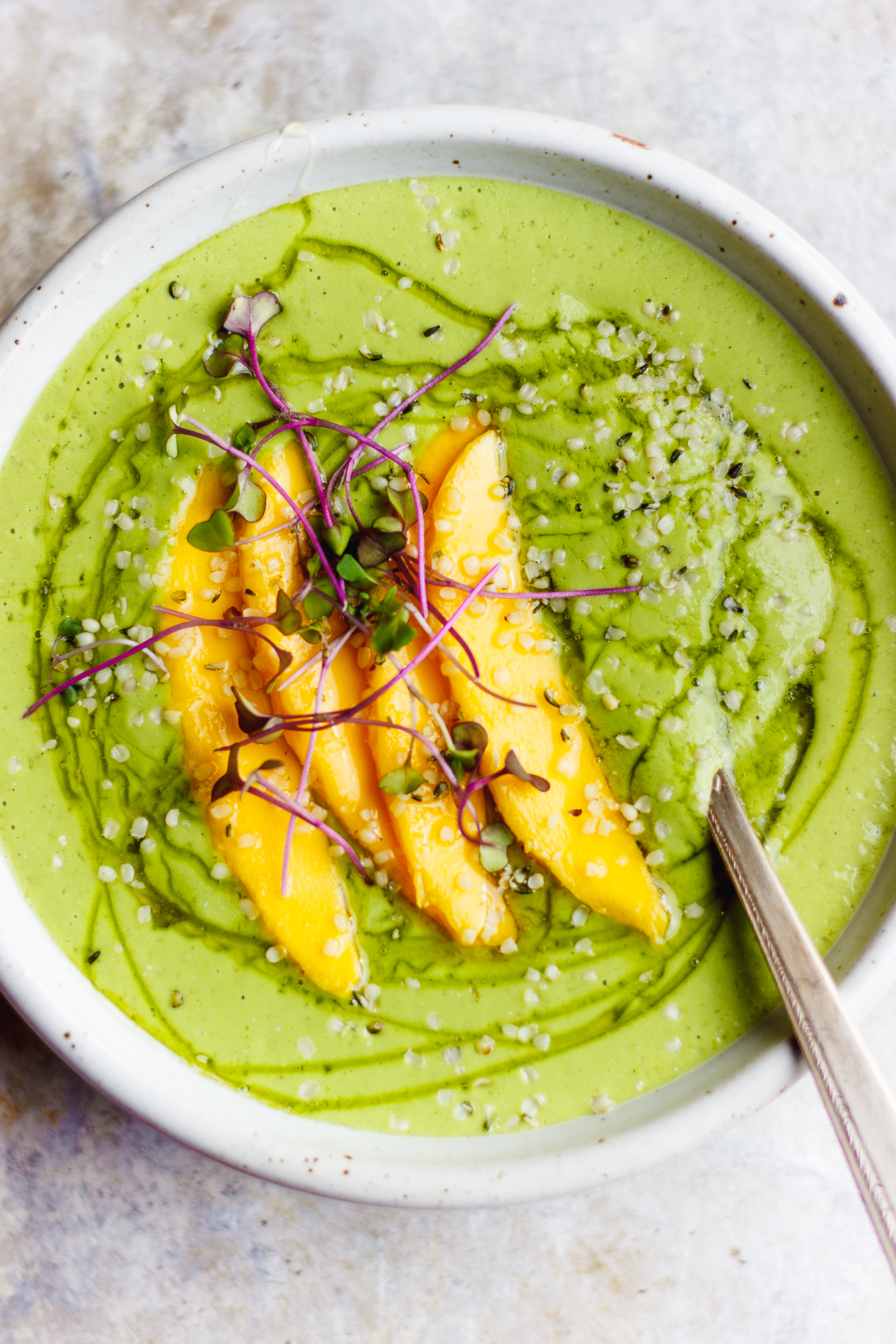 Green Smoothie Bowl with Mango + Hemp Seeds
If you don't have hemp seeds you can substitute in flax seeds. The best part about smoothie bowls are the toppings. See notes below for additional topping options. This recipe makes 1 bowl, and it can easily be double or tripled.
Directions
Combine all of the ingredients in a blender and process until totally smooth.
Pour the smoothie into a bowl and layer on whatever toppings you desire.
Here I used sliced mango, a drizzle of honey, hemp seeds and kale sprouts.
Recipe Notes
Topping options:
fresh fruit
hemp seeds
chia seeds
honey
sprouts or micro-greens
shredded coconut
bee pollen
buckwheat groats
goji berries