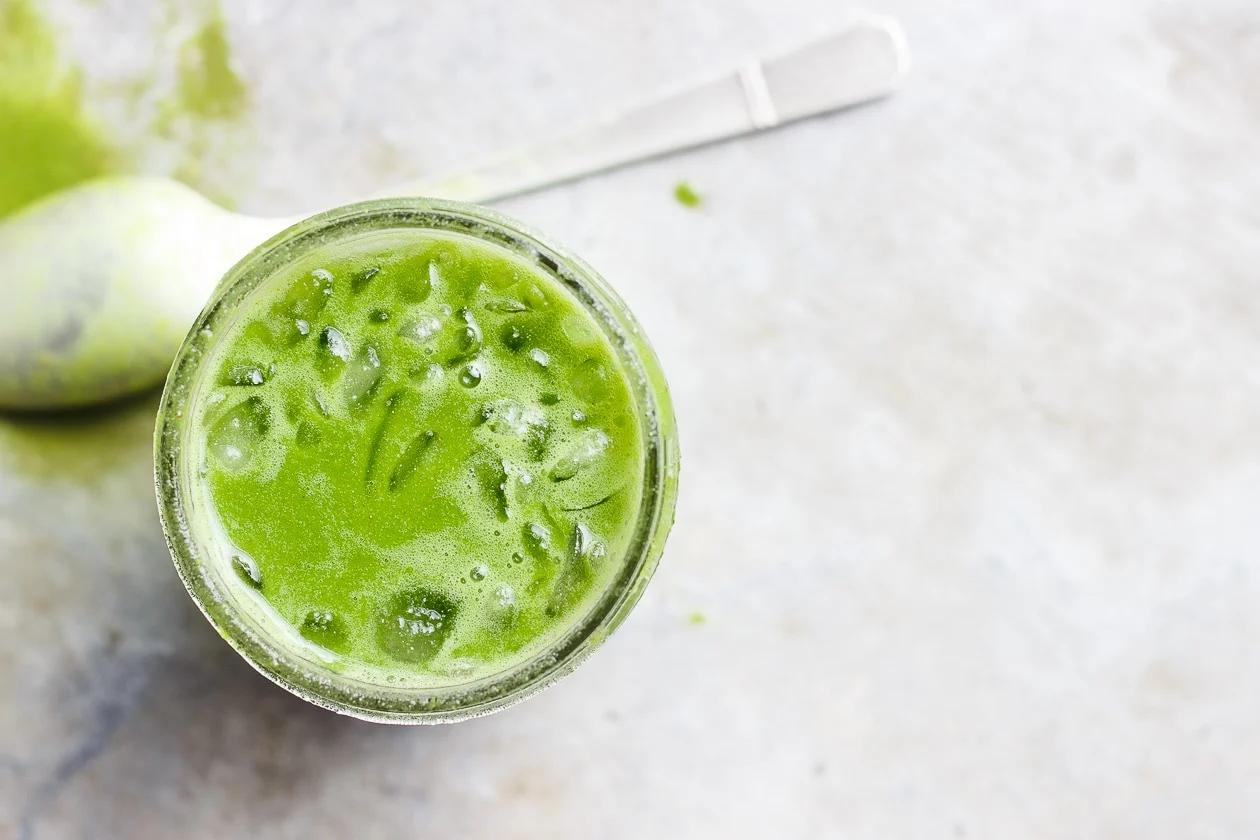 Honest question – do people still drink green smoothies? In some form or another, I used to have a green drink every single day. Sometimes it was a juice, and sometimes it was a smoothie. But over the past few months I haven't been too into them. Now all of a sudden, and probably because of the change of seasons, I'm back on my green drink routine. Especially with this, perfect fall green smoothie.
Dark, leafy greens are in season in the autumn. As well, pears (or apples). And this particular fall smoothie pairs greens with subtle autumnal flavors that are easing me into the cooler weather.
I generally like green drinks, like smoothies to be a little thin – rather than on the thicker side. Somewhere between a smoothie and a juice. And, I also like to add ice after it's blended, not during. But you can adjust both of these depending on your own textural preferences. If you prefer them thicker, feel free to add less liquid than what this recipe calls for. Don't like ice? Simply, don't add it.
This fall green smoothie uses a secret ingredient, and even if you don't think you're into it I urge you to try it. Because raw, unfiltered apple cider vinegar is my best friend. A few tablespoons of this and your tastebuds, digestive system and brain will thank you. I know it might sounds weird and it's a bit of an acquired taste, but it adds just the right boost of tart and natural sweetness. Especially when paired with pears and cinnamon. I love apple cider vinegar in my berry smoothie too.
How to make this fall green smoothie.
Well, it's very simple. Combine all of the ingredients (sans ice) in a blender and process until smooth and creamy. Pour it over ice, if you're into it – and enjoy. Or store in an airtight container for up to 24 hours.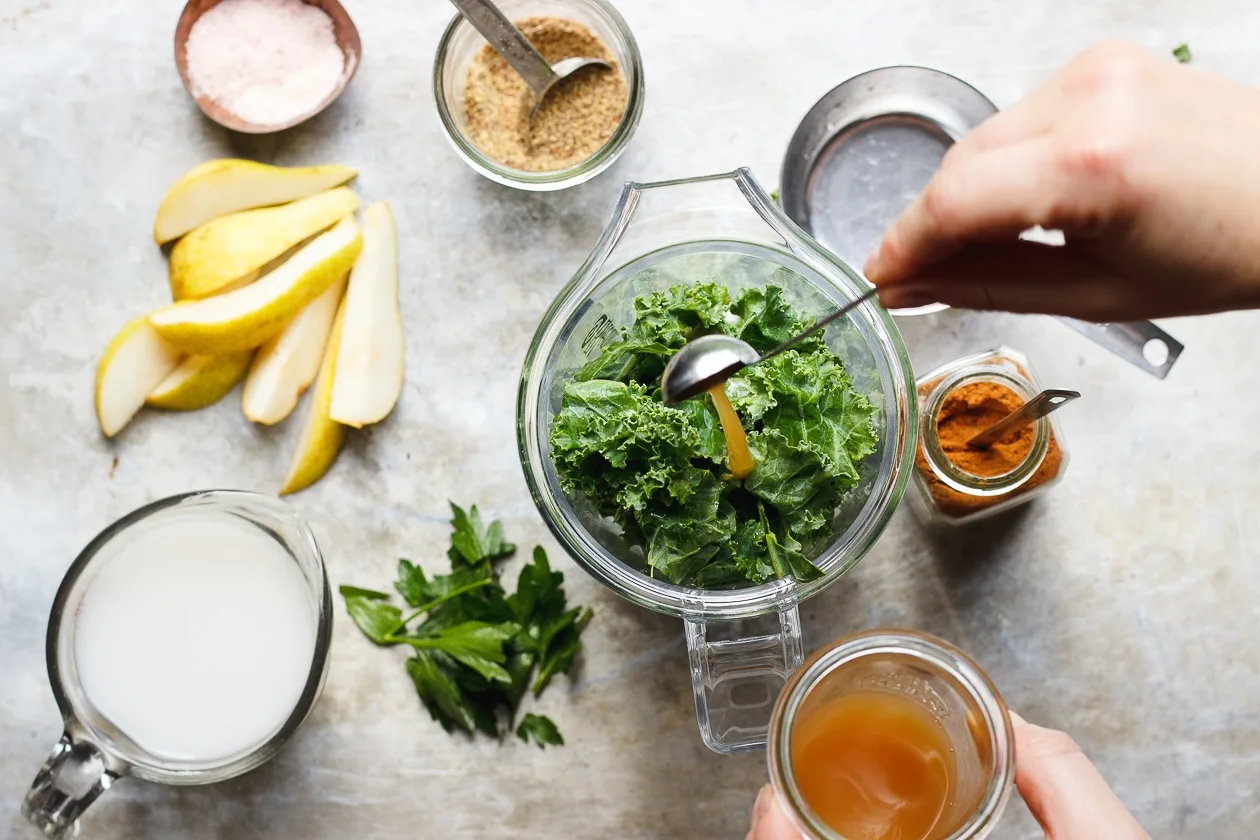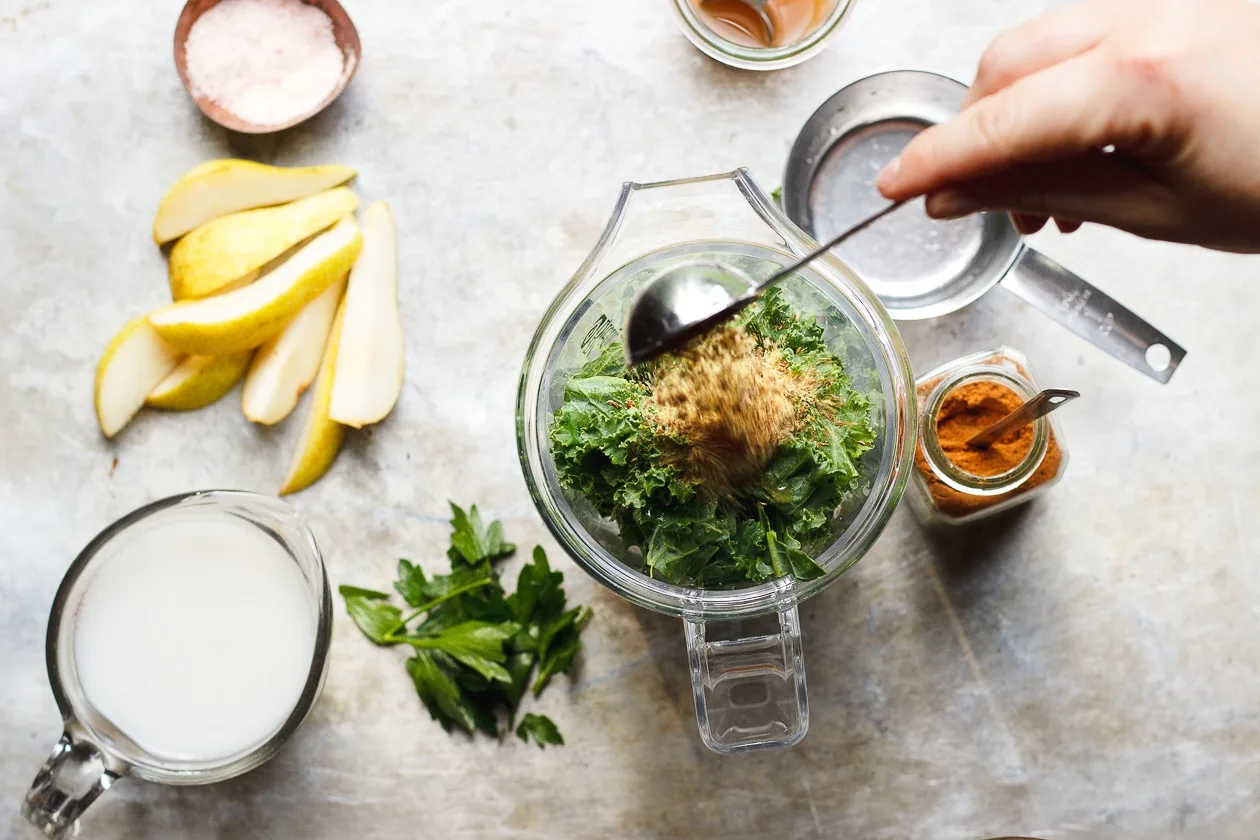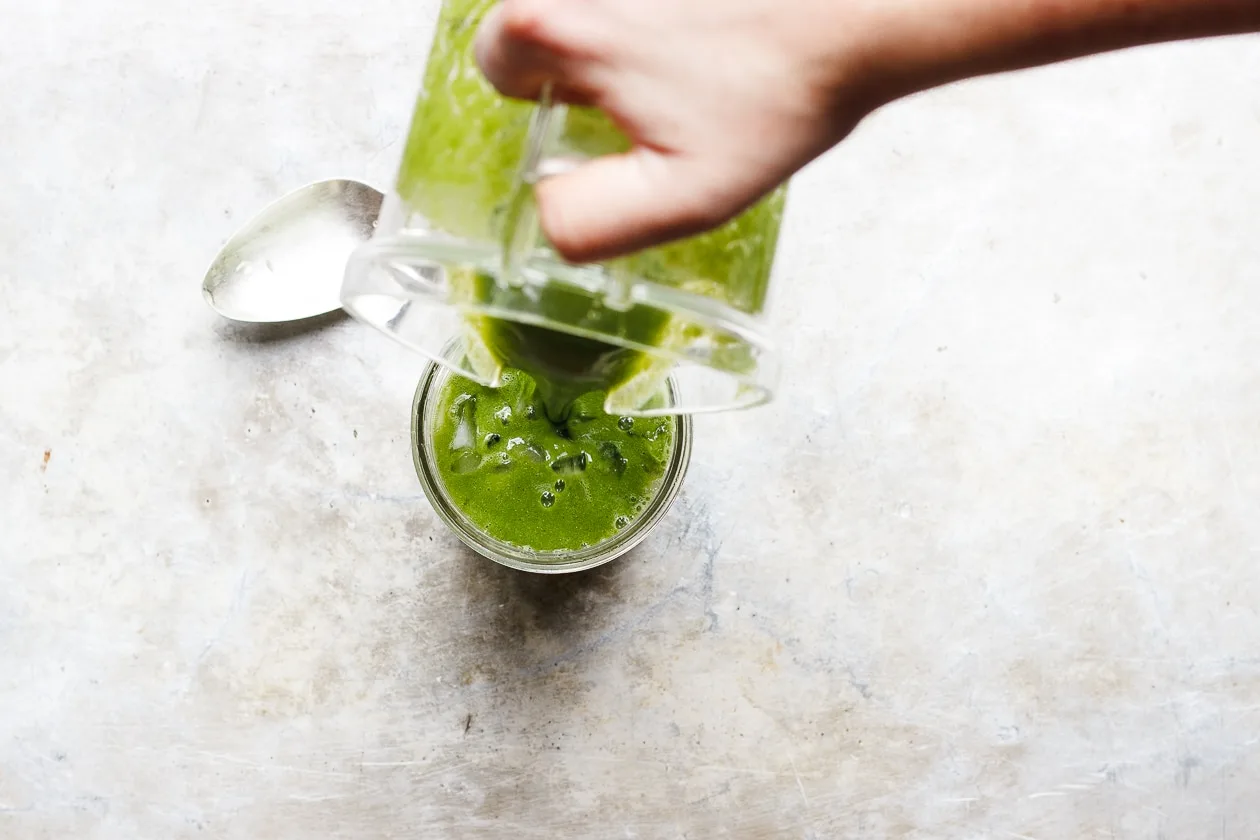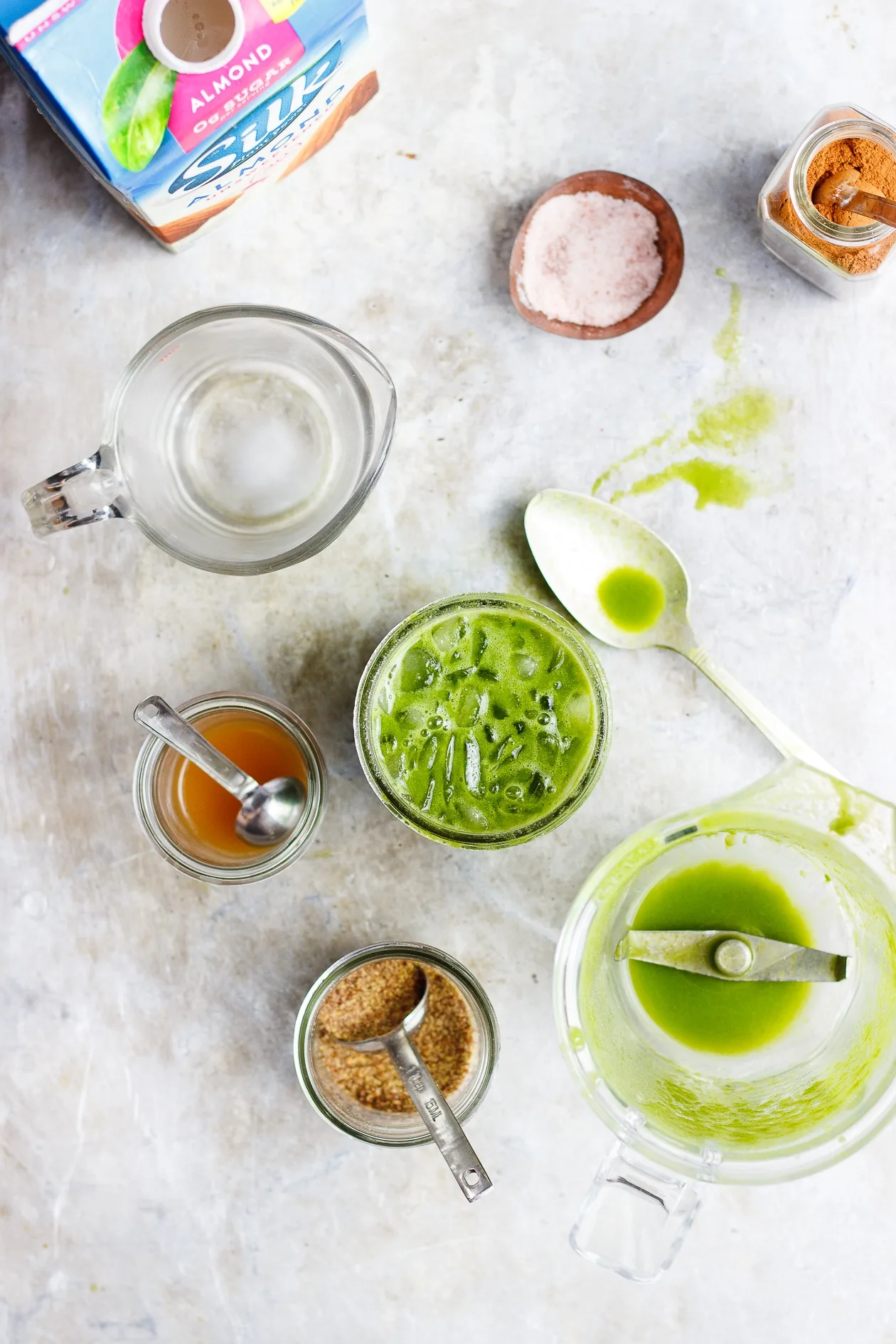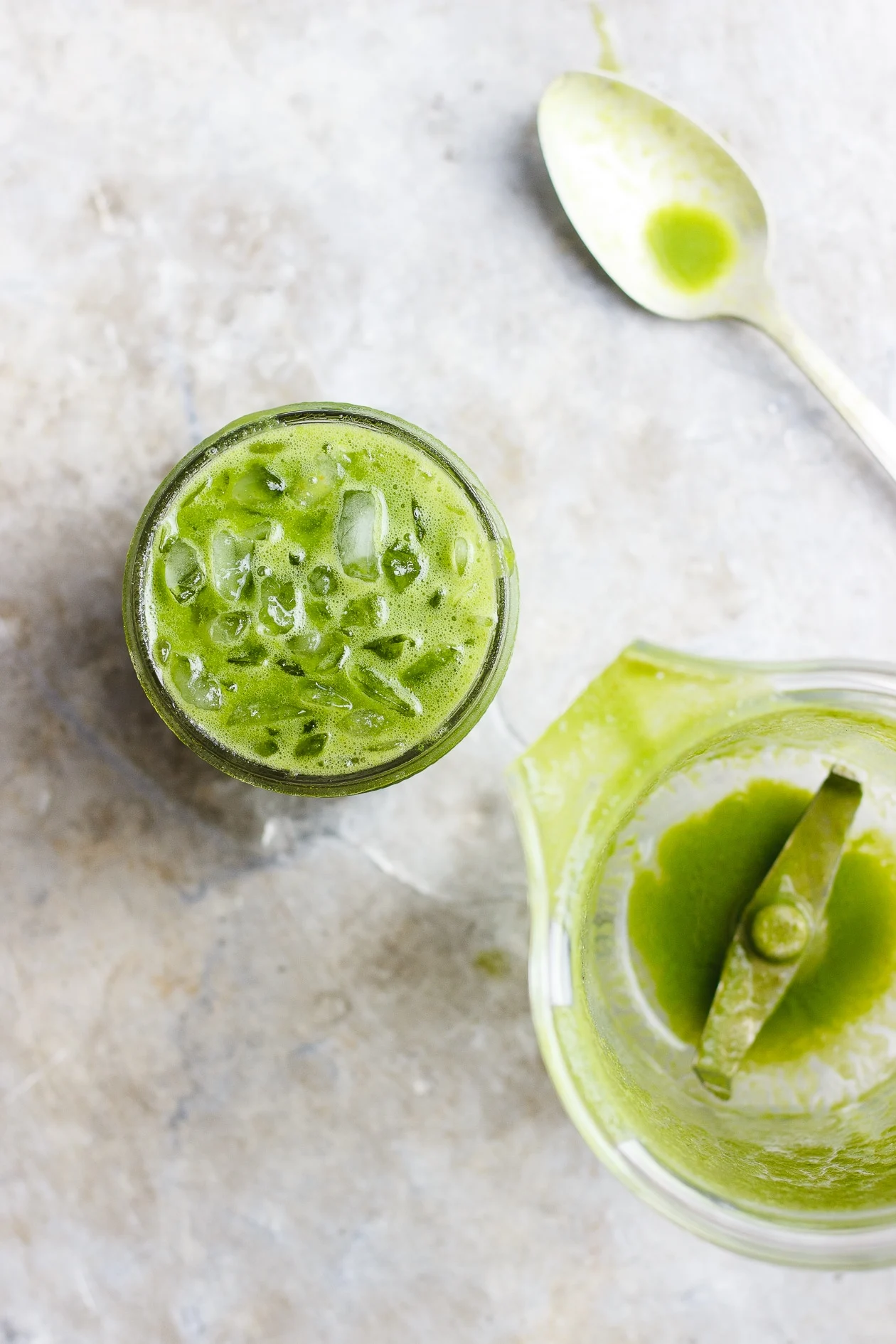 Yield: 1 smoothie
The Perfect Fall Green Smoothie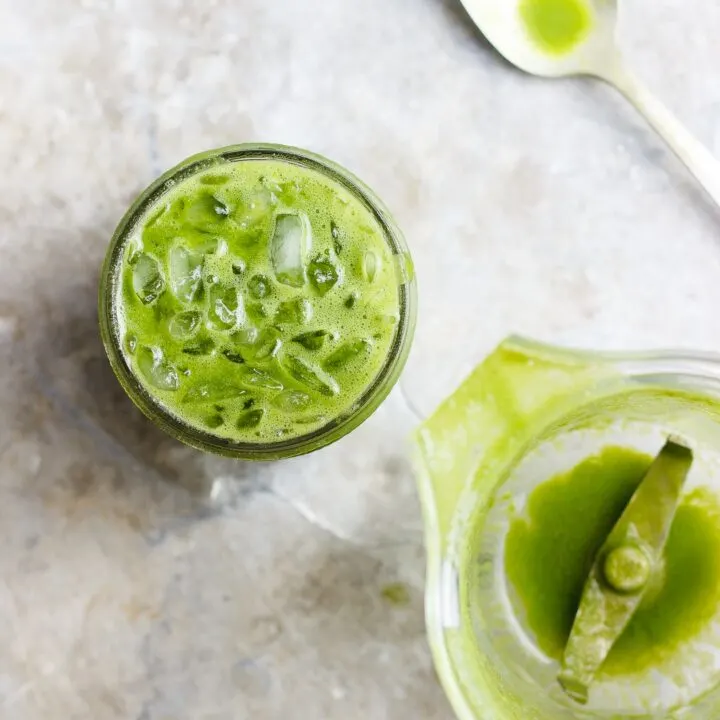 This green smoothie is packed with nutrients, healthy fats and autumnal flavors like pears and cinnamon.
Ingredients
1 cup unsweetened almond milk (or preferred milk)
2 tablespoons raw unfiltered apple cider vinegar
2 cups kale
¼ cup fresh parsley
1 medium pear or apple, sliced
2 tablespoons ground flax seed
¼ teaspoon ground cinnamon
⅛ pink Himalayan or fine sea salt
ice (optional)
Instructions
1. Add the milk, apple cider vinegar, kale, parlsey, pear, flax seed, cinnamon and salt in a blender and process until smooth.
2. If using, fill a glass with ice, pour in the smoothie, and enjoy.