Maple Baked Pears with Chocolate Crumble + Coconut Cream
Vegan, gluten-free, maple baked pears with a chocolaty crumble.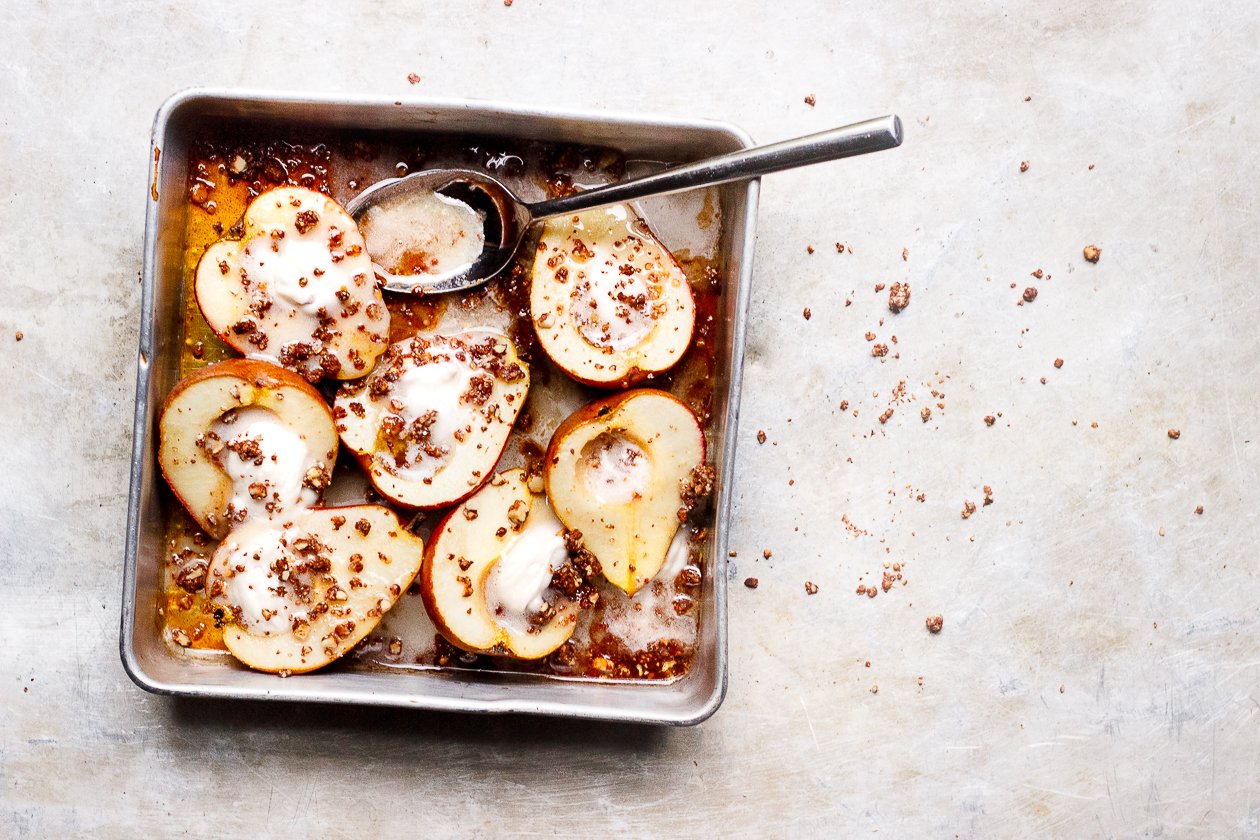 I love pears more than apples.
Sorry apples.
Pear desserts are tops in my book.
And maple baked pears paired with chocolate is the tops tops.
This post is in partnership with Pure Organic. They use the highest quality ingredients in all of their snack products. Pure Organic is certified organic, gluten free, non-GMO, vegan and kosher. No soy, or dairy ingredients are used. Pure Organic is simple and clean.
Last month I highlighted their Fruit & Veggie Strips and Layered Fruit Bars in these breakfast cookies. Which are the perfect back-to-school/back-to-work grab and go situation. I've been making them and freezing them in big batches every week.
This month I'm working with Pure Organic's Ancient Grain Bars. And true to Pure Organic standards these bars are certified organic, non GMO, vegan, gluten-free, soy free, kosher and made with their exclusive Pure Ancient Grains blend to deliver balanced nutrition using whole food ingredients. And I love them.
I love them whole as a snack and I love them chopped up in recipes for an awesome crunch without any fuss. Thanks to Pure Organic, these maple baked pears don't need a food processor or a bunch of mixing bowls and measuring cups. Just pears, maple syrup, oil, a little salt and Chocolate Chunk Nut Ancient Grain Bars.
Oh, an coconut cream. My favorite recipes for this are vanilla ginger coconut cream and earl grey coconut cream. You could also use regular whipped cream or vanilla ice cream in its place. Anything rich and creamy will do just fine.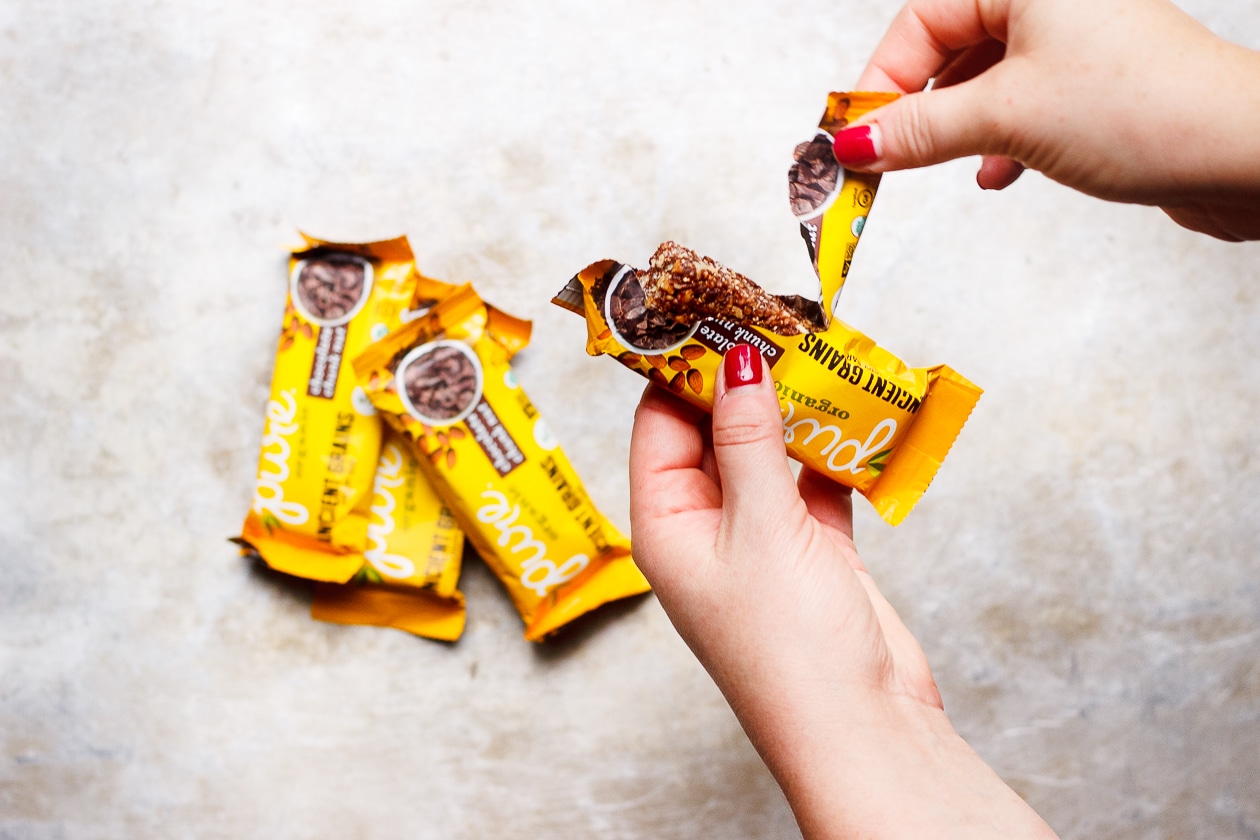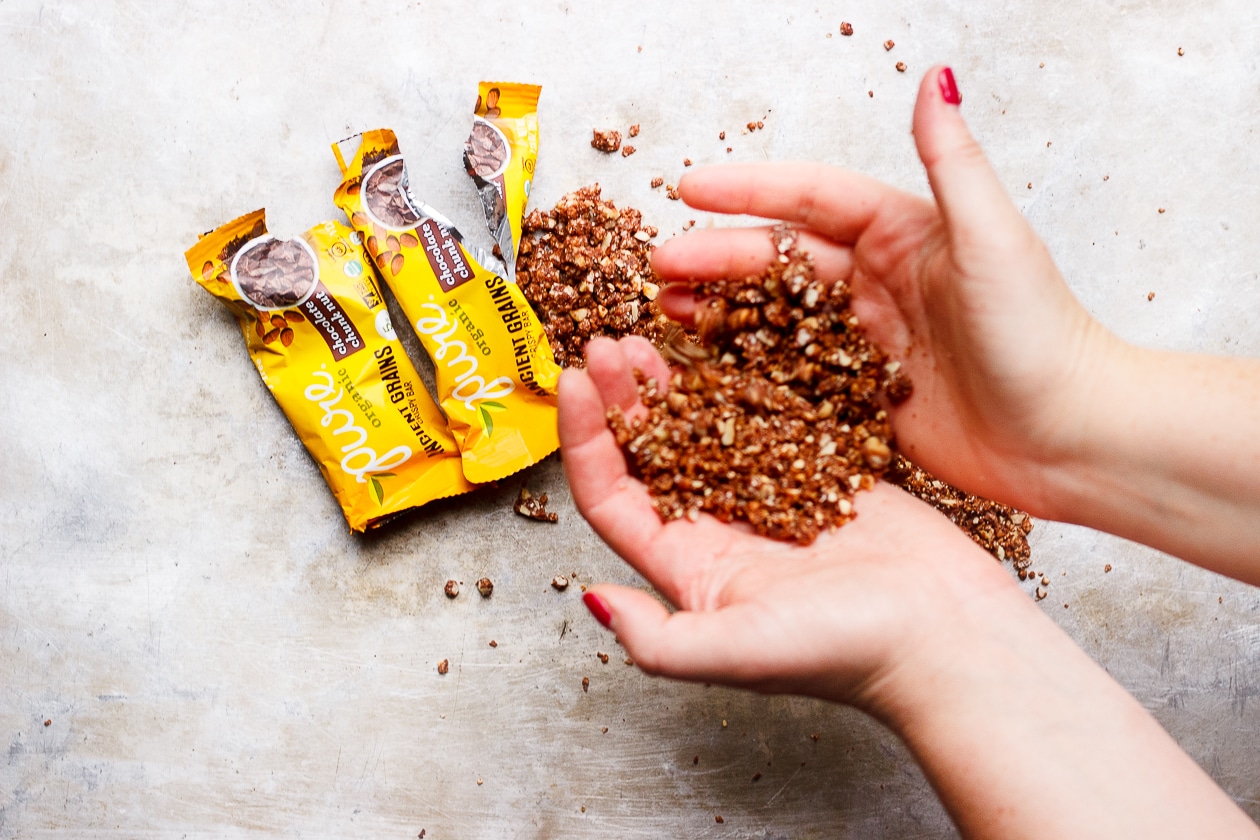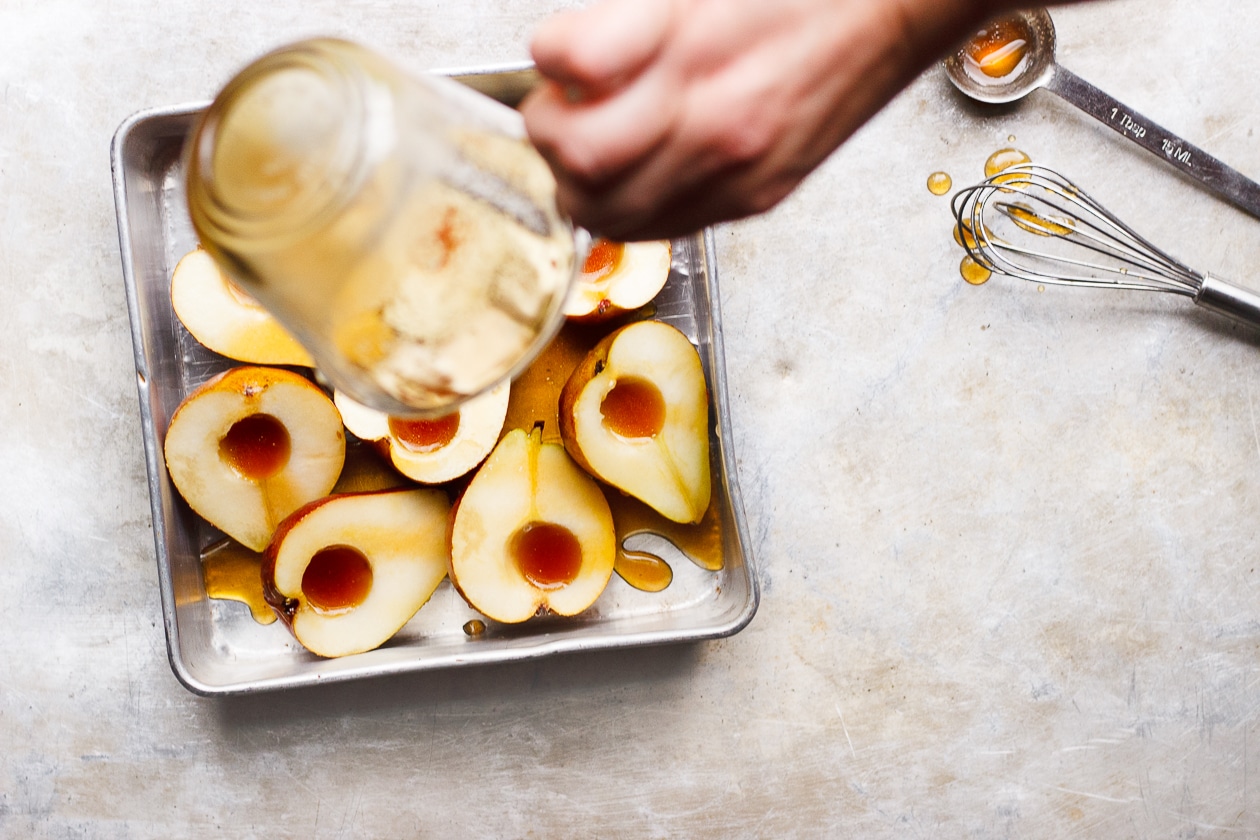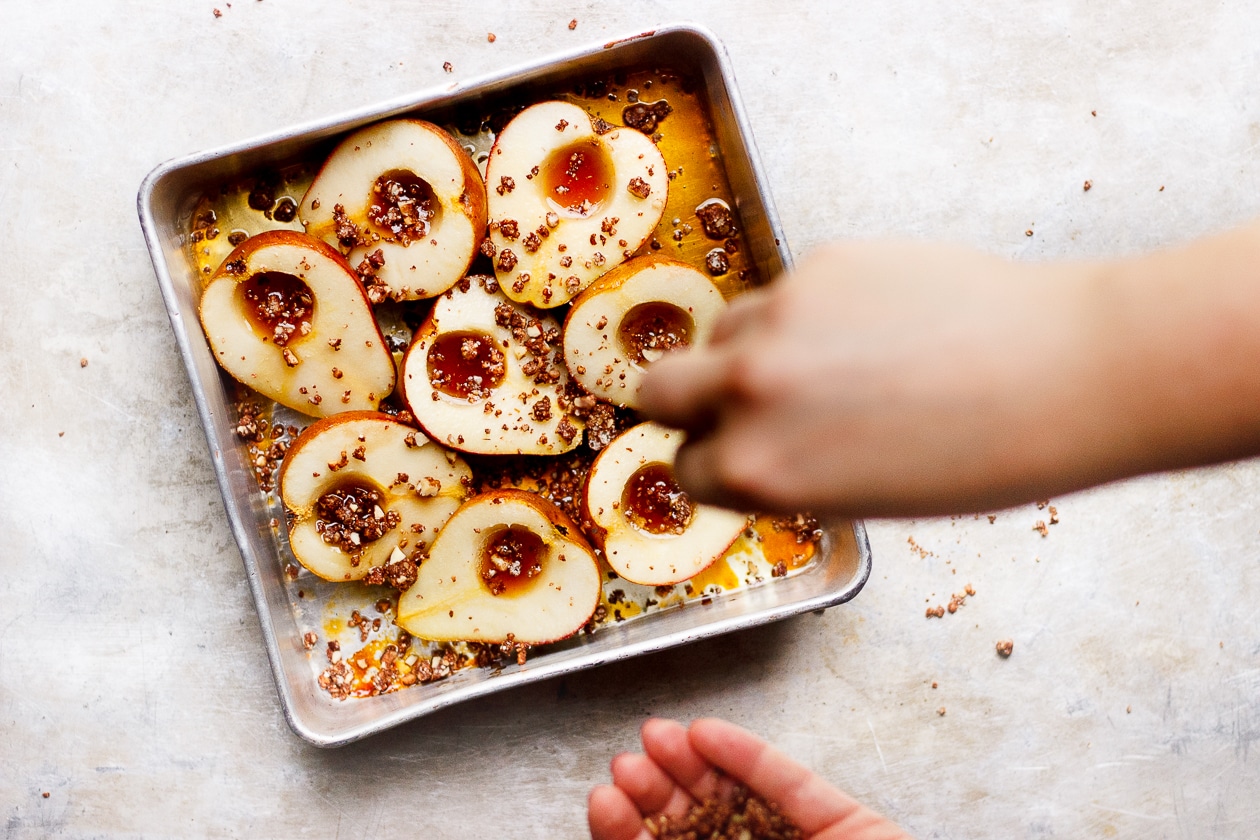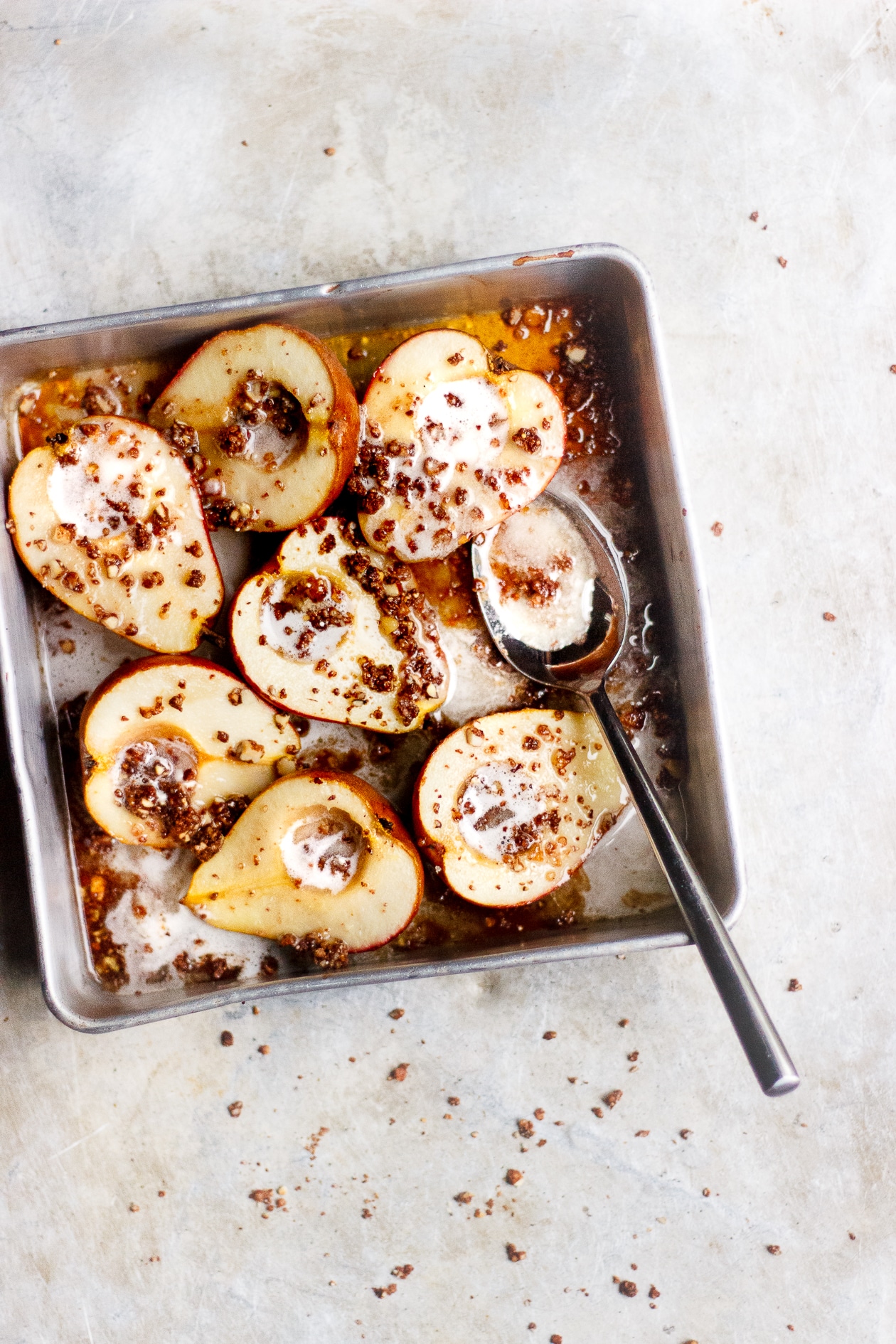 Maple Baked Pears with a Chocolaty Crumble + Coconut Cream
Any pear variety will work. As long as they are very ripe. The riper the better as they'll roast quicker and more tenderly. My favorite coconut creams are this Vanilla Gingerand this Earl Grey, both would be delicious in this recipe.
Directions
Preheat the oven to 400 degrees.
Wash, pat dry and sliced the pear in half. Squeeze the lemon juice on their insides and scoop out their core. Place them in a baking pan and set aside.
In a small mixing bowl whisk together the oil, maple syrup, vanilla and salt. Pour the mixture over the pears and place the pears in the oven for 15 minutes, or until the pears or tender and the juices are bubbling.
Meanwhile chop the Ancient Grain Bars up into tiny pieces. This will be the crumble.
Pull the pears out of the oven and sprinkle half the crumble over the top and bake for 5 minutes more.
Top each pear with some coconut cream and sprinkle the remaining crumble on top. Serve right away and warm.
---
This post is sponsored by Pure Organic; all opinions are my own.
SaveSave
SaveSave