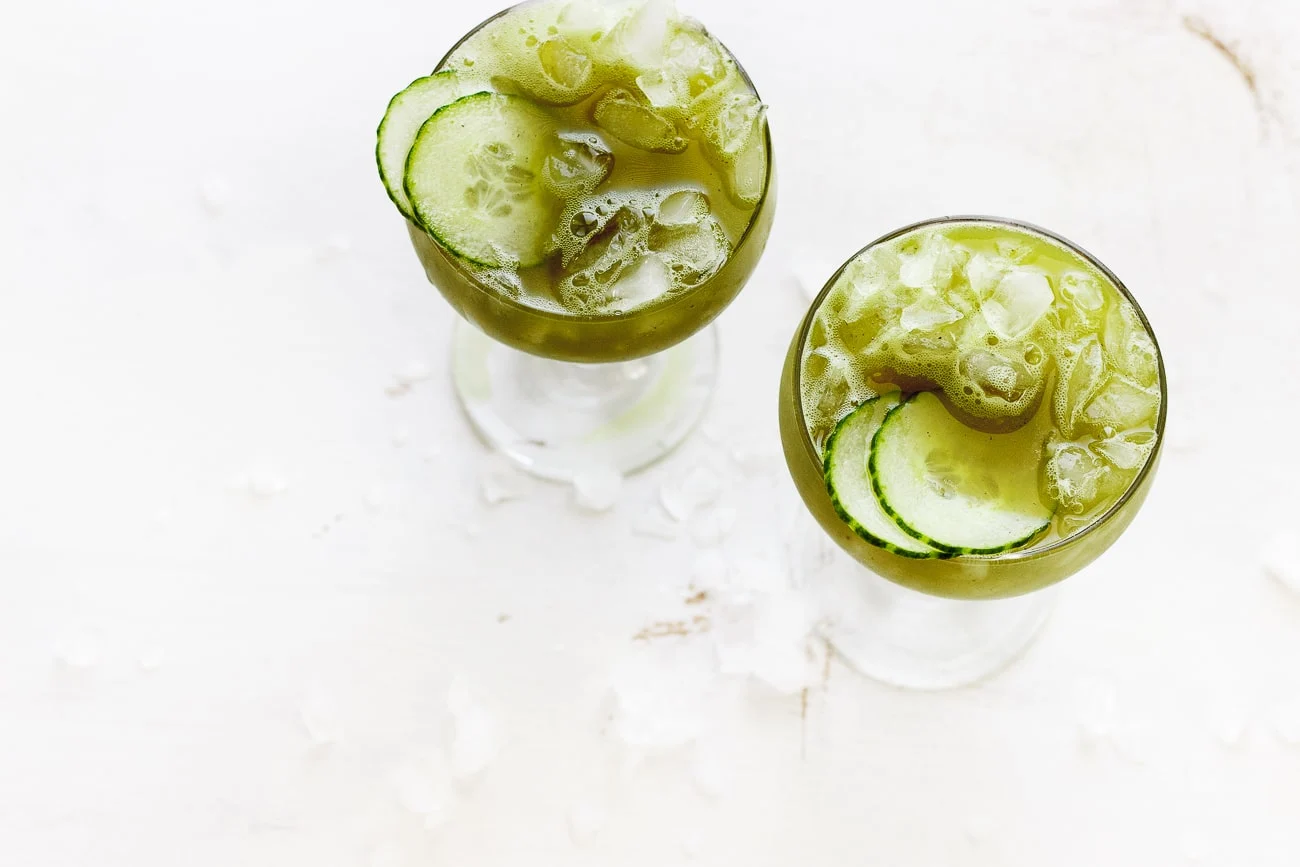 Agua frescas are light, non-alcoholic beverages made from fruits, flowers and seeds. They're super easy to make, and super refreshing to drink – especially in the warmer months. Texas summers are hot. Like, really, really hot. And one of my favorite ways to keep hydrated is with a batch of cucumber agua fresca.
Lately, I've been adding New Chapter's Fermented Aloe Booster Powder to my cucumber agua fresca recipe for added nutritional benefits. Aloe has been used as an aid to digestion for thousands of years. And New Chapter's Fermented Aloe Booster Powder is a gentle, soothing and nourishing dietary supplement powder.
This post is in partnership with New Chapter. I use New Chapter vitamins and supplements because of their commitment to quality products and sustainable sourcing. They proudly use organic and non-GMO ingredients, while they lead the way in the supplement industry as a Certified B Corporation. B Corps are businesses that meet the highest standards of social and environmental performance, as well as public transparency. New Chapter is a brand I trust for my body, and for yours.
It's blended with aloe, peppermint and coriander. As well as, cardamom, artichoke and turmeric. It's subtle, earthy and made easily digestible in its fermented form with clinical strains of probiotics. As a powder it can be added nearly everything. I think it would be especially good in a green juice or smoothie, or in a creamy plant-based dressing for roasted vegetables or salads.
New Chapter fermented booster powders come in four varieties. Click here to see them all.
How to make a cucumber agua fresca.
Making cucumber agua frescas are incredibly simple. It's blending one part cucumber with two parts water, a pinch of stevia and a pinch of salt. Strain through a fine sieve or cheesecloth and stir in two servings (one teaspoon) of New Chapter's Fermented Aloe Booster Powder. Serve over ice and garnish with cucumber slices. You can also double the recipe, and make it as a large batch. It can stay refrigerated for up to five days.
Traditionally agua frescas are sweeter than I prefer. So, I like to make mine with just a pinch of stevia or touch of honey instead of a heavy ratio of granulated sugar. If you like yours on the sweeter side, feel free to adjust the sweetener content accordingly.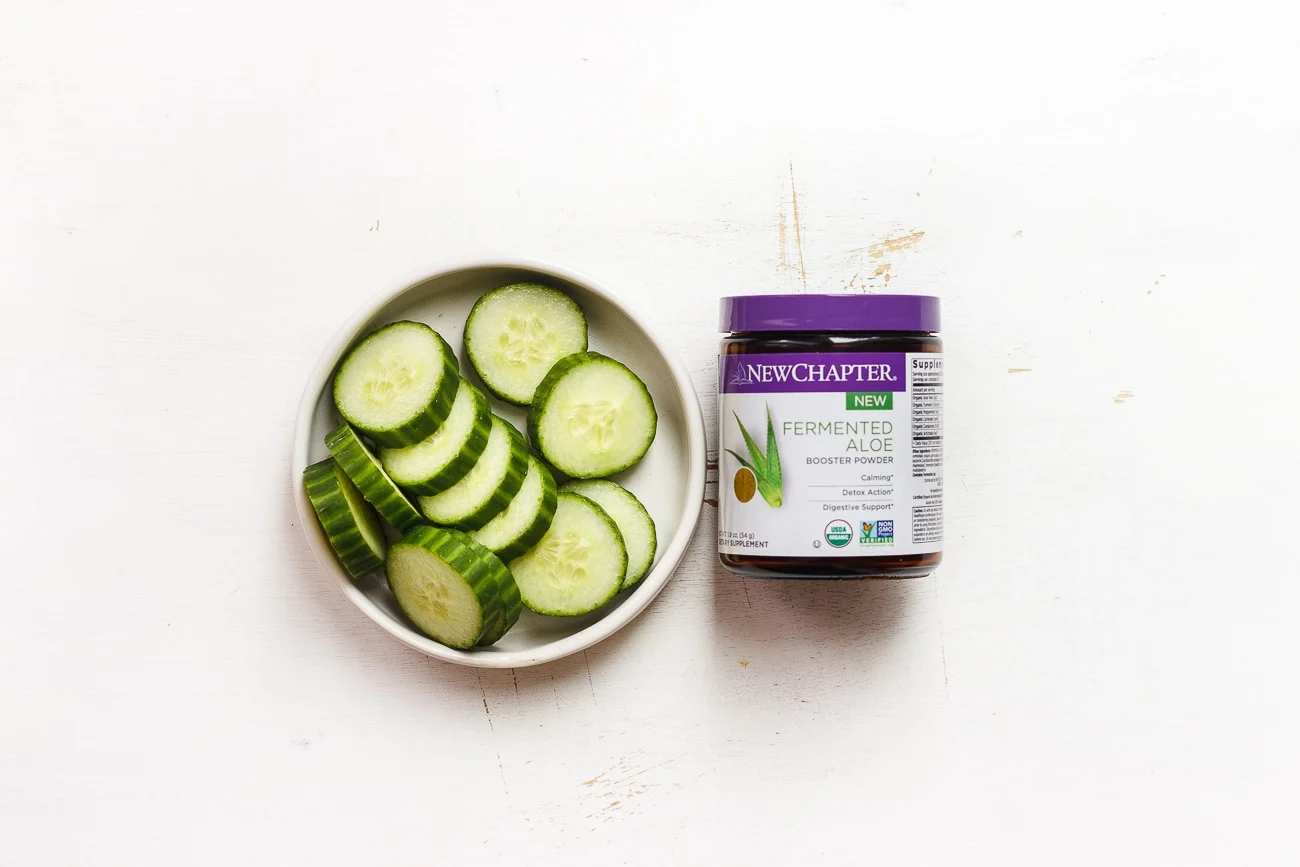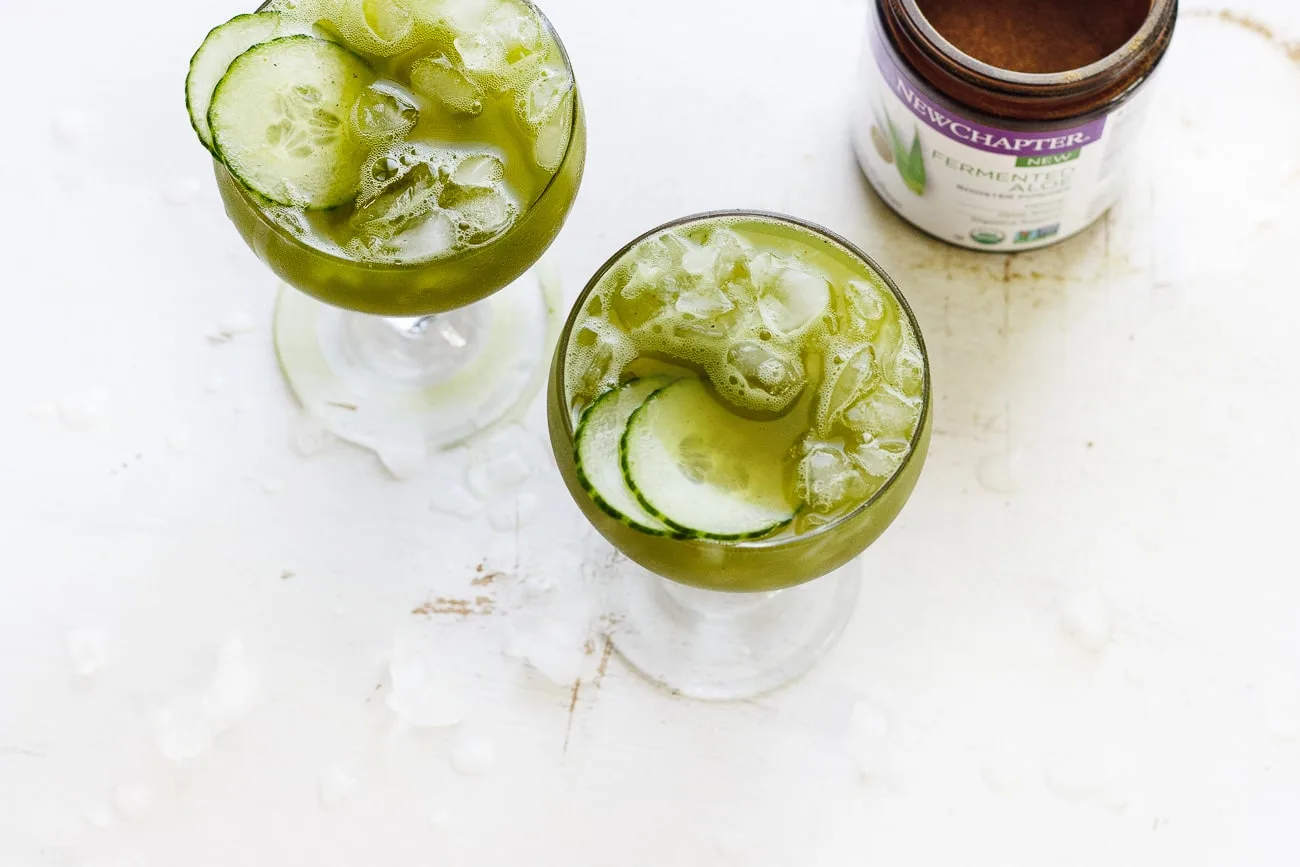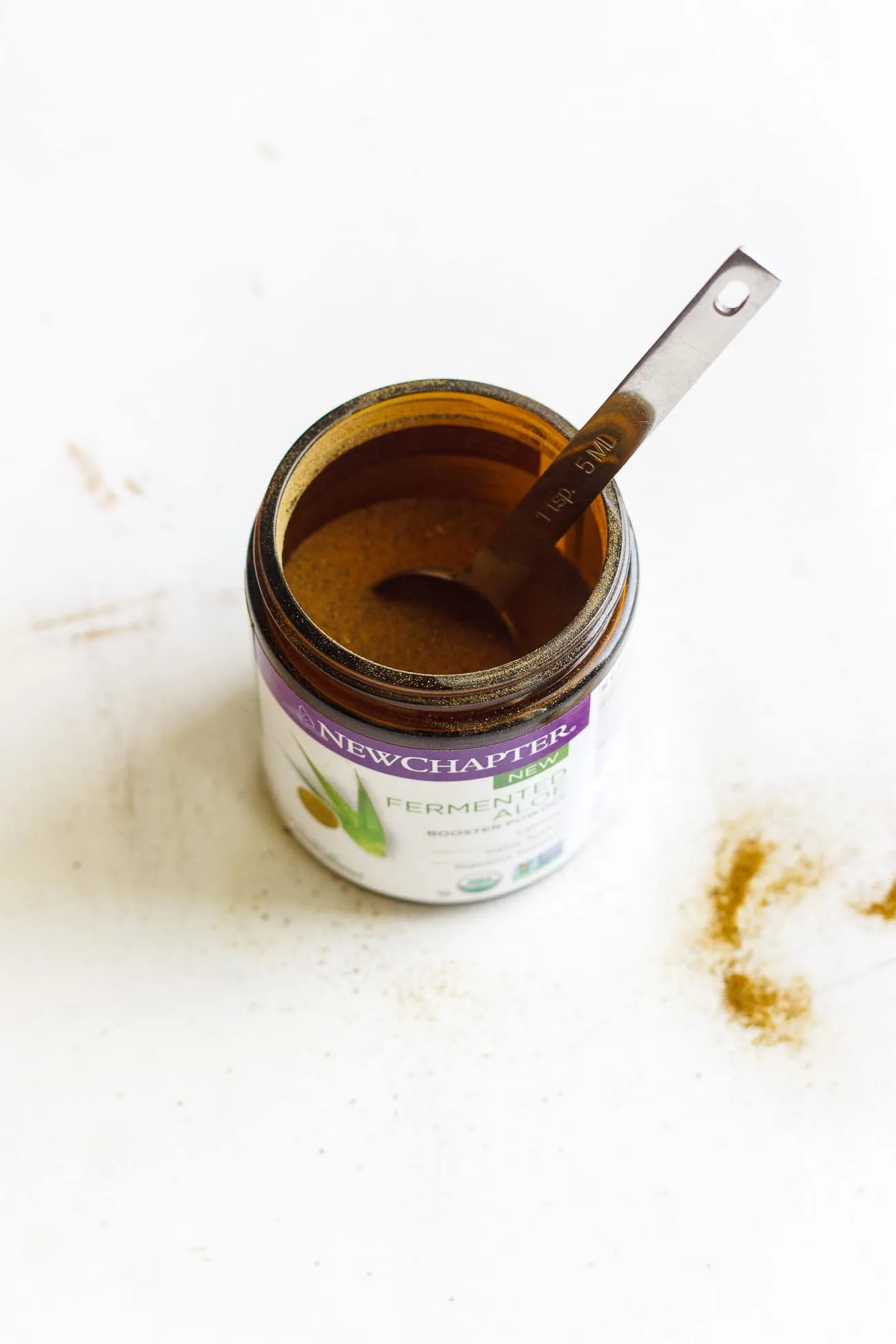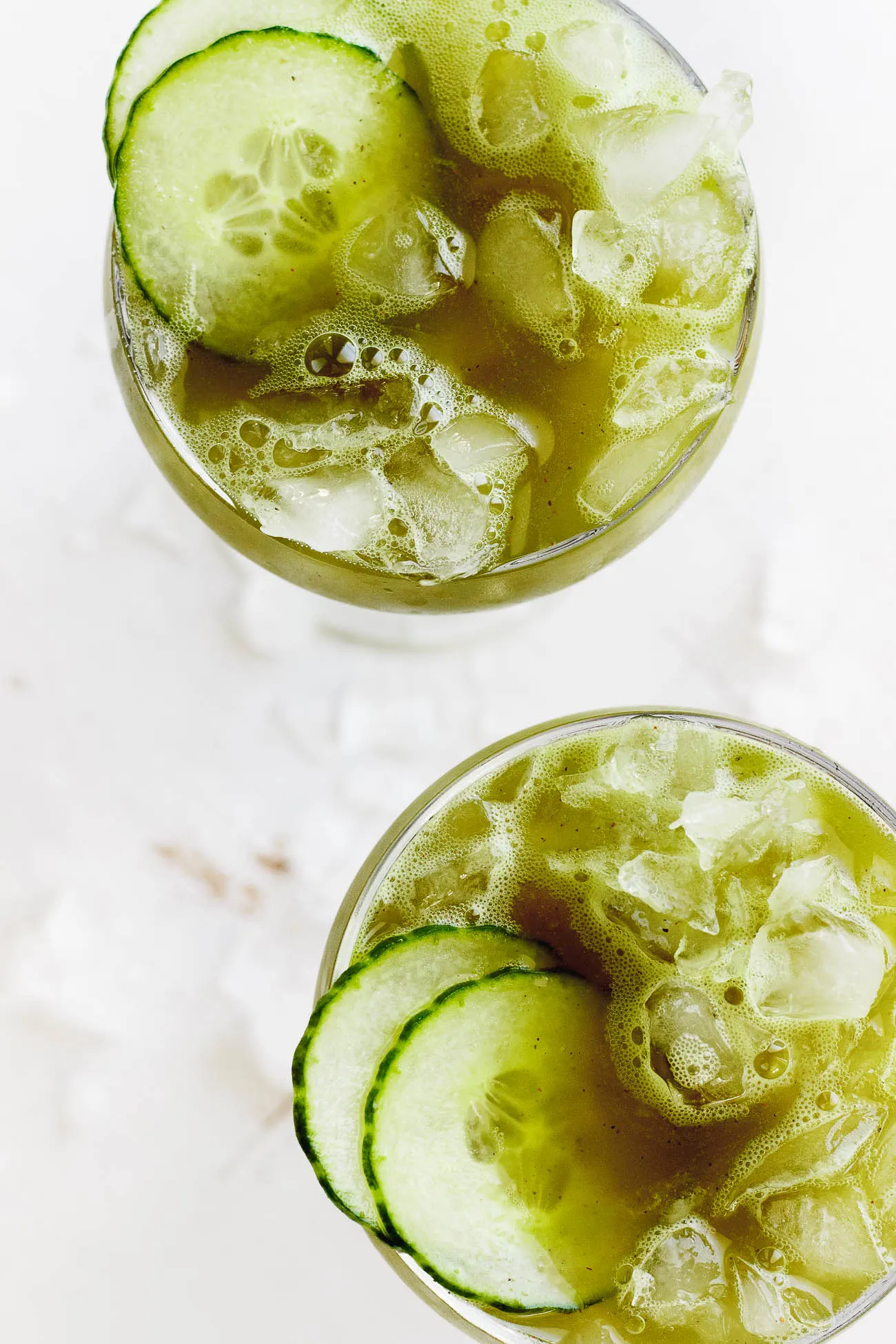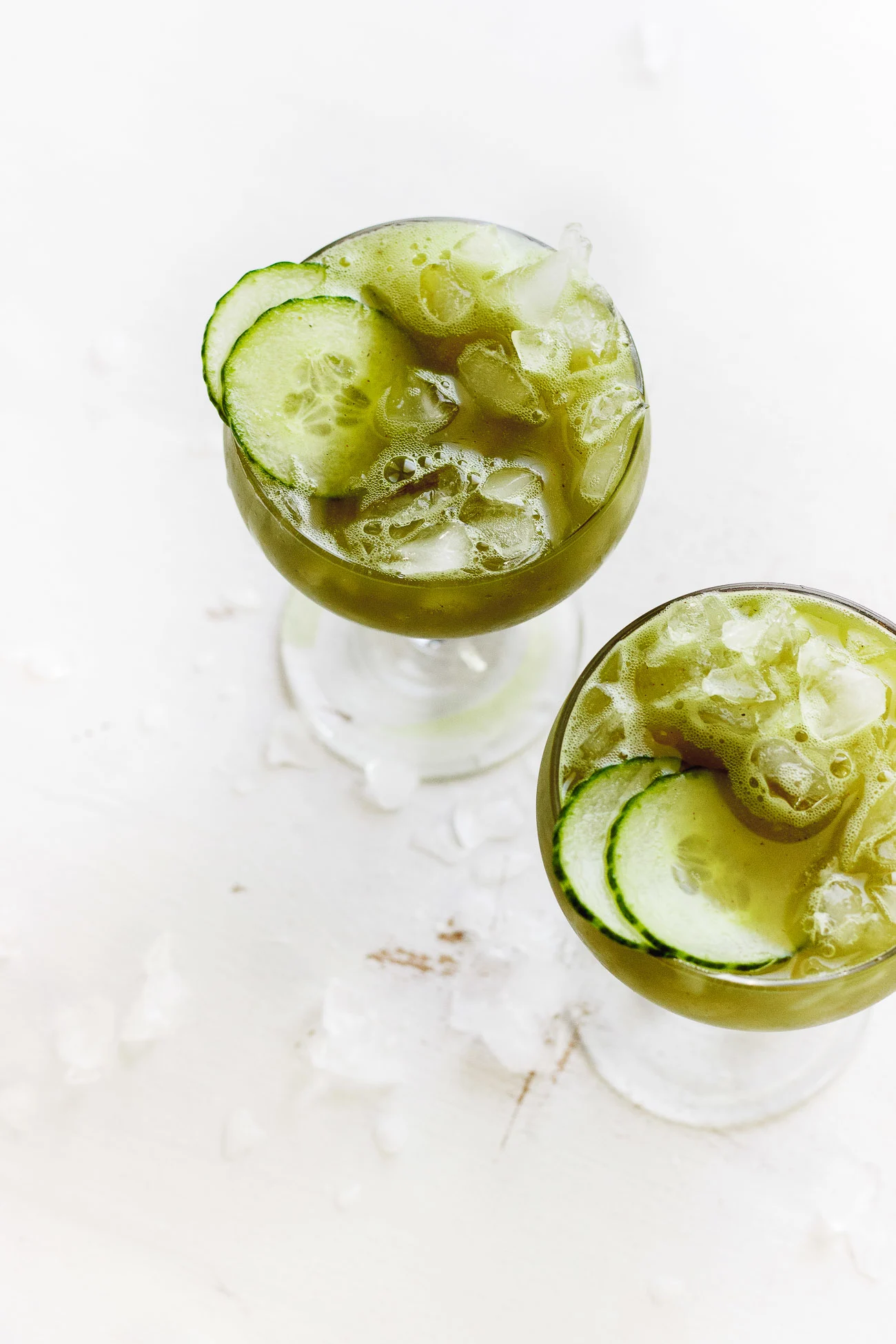 Yield: 2
Soothing Aloe Cucumber Agua Fresca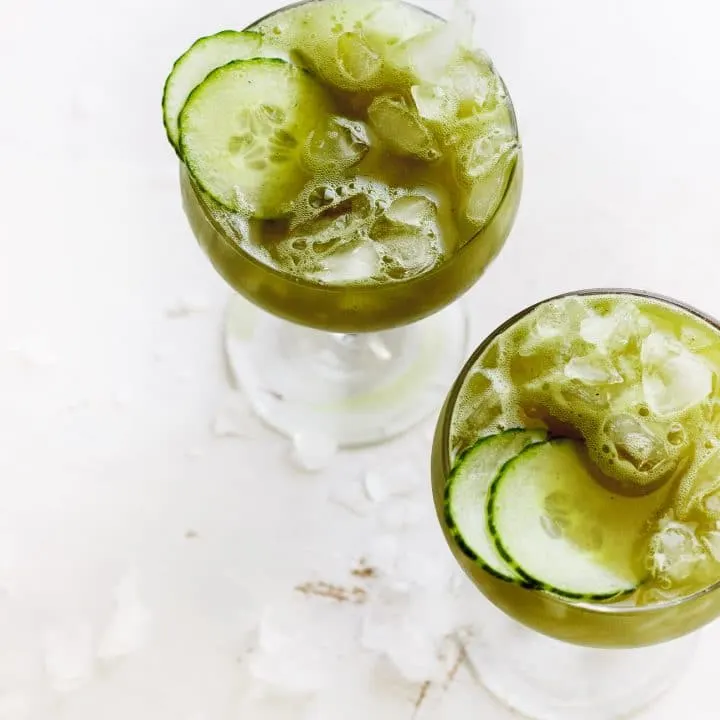 A simple and refreshing aloe cucumber agua fresca. A lightly sweetened hydrating ands soothing drink made with fermented aloe and cucumber.

Prep Time 5 minutes

Cook Time 1 minute

Total Time 6 minutes
Ingredients
1 cup cucumber, sliced (more to garnish)
2 cups filtered water
1/8 teaspoon powered stevia (see notes)
1/8 teaspoon pink Himalayan salt
1 teaspoon New Chapter's Fermented Aloe Booster Powder
Instructions
Combine the cucumber, water, stevia and salt in a blender and process until smooth.
Run the mixture through a fine sieve and discard the pulp. Return the mixture to the blender and add in the Fermented Aloe Booster Powder. Pulse a few second to combine well.
Serve over ice with cucumber slices as garnish.
Notes
In place of stevia, use whatever sweetened you prefer.
Recommended Products
As an Amazon Associate and member of other affiliate programs, I may earn a small percentage from qualifying purchases.

MORE DRINK RECIPES YOU'LL LOVE.
Super Basic Berry Superfood Smoothie
Golden Mango Smoothie
[hr]
This post is sponsored by New Chapter; all opinions are my own.