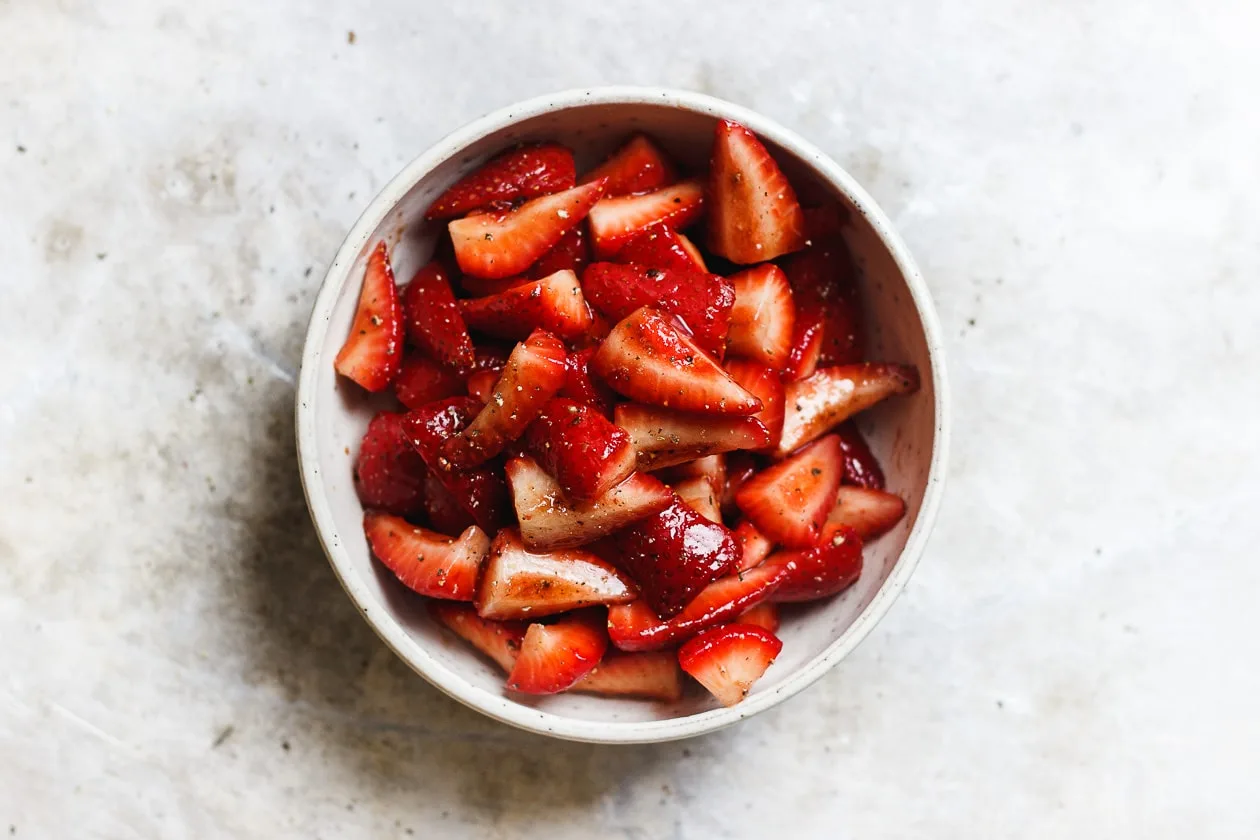 Macerated strawberries with balsamic vinegar, in my humble opinion, is the very best way to make the most of strawberry season. Maceration means to soak raw, dried or preserved fruit or vegetables in acid, sugar, salt or a combination of all to soften and make juicy. It's sort of like a marinade process, but with a little more effort of occasional stirring.
I love macerating fruit because the process effortlessly brings out its natural flavors. You can macerate not quite ripe strawberries to make them sweeter and softer. And you can macerate super ripe strawberries to make them even sweeter, softer and juicy before they turn bad. It's a great way to preserve a bounty. And you can of course macerate perfectly ripe strawberries because who doesn't love an already perfect berry that becomes even more perfect.
Balsamic vinegar was made for strawberries. And black pepper was made for macerated strawberries with balsamic. The honey and sea salt make it just the right amount of rich. It's sweet, but not too sweet. It's a tad savory, but in all the best ways possible. And they're exceptionally well-balanced.
How to make balsamic macerated strawberries.
It's super easy to macerate strawberries. Simply combine fresh strawberries with balsamic, honey (or your preferred sweetener – see notes), sea salt and black pepper in a bowl. Stir for a minute and set aside at room temperature.
Over the next thirty minutes, return to the bowl every ten minutes or so to stir for a minute again. And, then you're done. You can store these macerated strawberries in an airtight container in the refrigerator for up to the three days.
You can eat them straight out of the bowl. Or you can eat them over shortcakes, ice cream, yogurt or oats. You can even shake them with ice and alcohol for a really delicious cocktail. You can really enjoy them anywhere strawberries should be enjoyed. For another delicious strawberry and pepper recipe, try my strawberry sauce with pink peppercorns.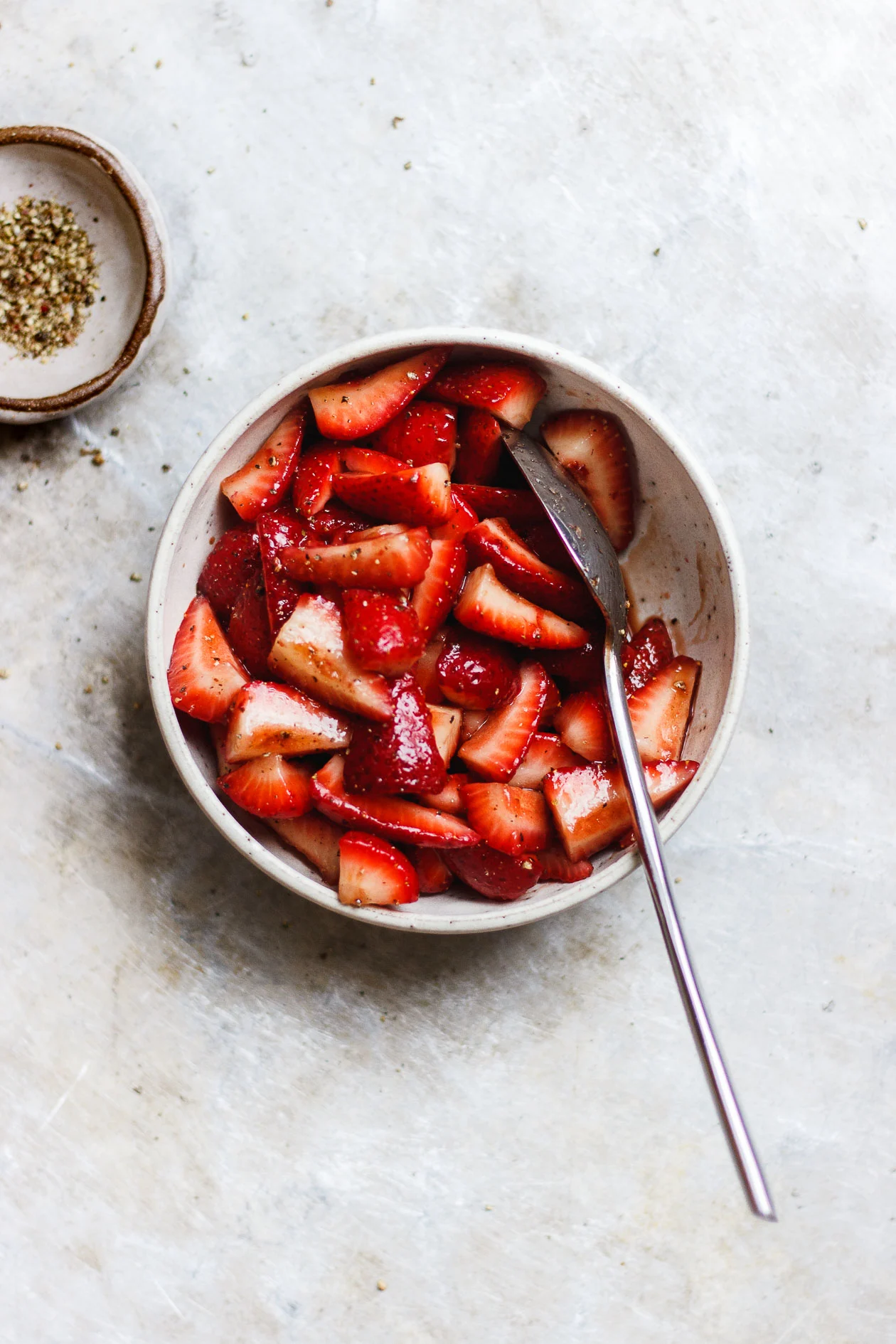 Yield: 2 cups
Macerated Strawberries with Balsamic and Black Pepper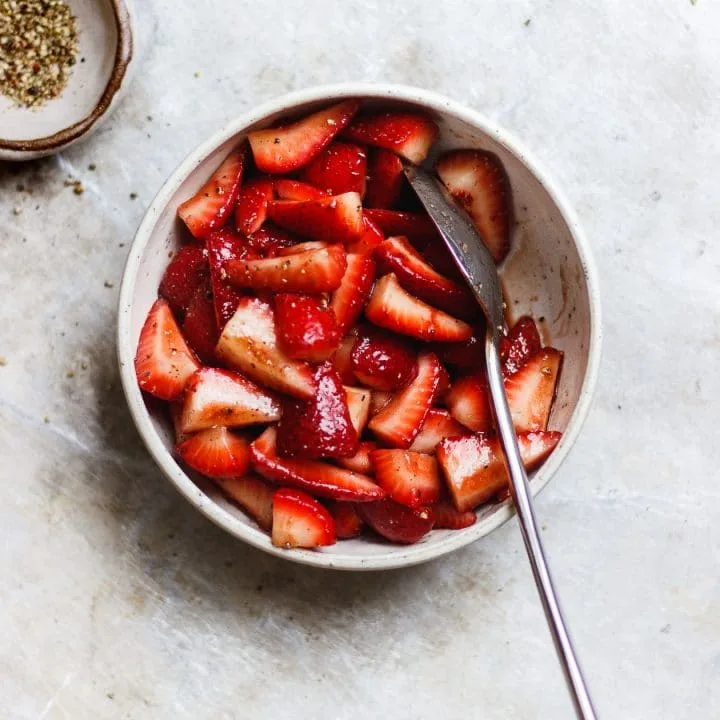 Macerated strawberries with balsamic vinegar, lightly seasoned with black pepper and honey.
Ingredients
2 cups strawberries, quartered or sliced
1 teaspoon balsamic vinegar
1 tablespoon honey (see notes)
1/4 teaspoon black pepper
1/8 teaspoon fine sea salt
Instructions
Combine all of the ingredients together in a bowl and stir for 1 minute.
Cover the bowl with a clean kitchen towel and rest at room temperature for 30 minutes while stirring for 1 minute every ten minutes.
Serve at room temperature or refrigerate for up to 3 days.
Notes
You can use cane sugar, maple syrup or stevia in place of the honey. Whatever you prefer will work beautifully.