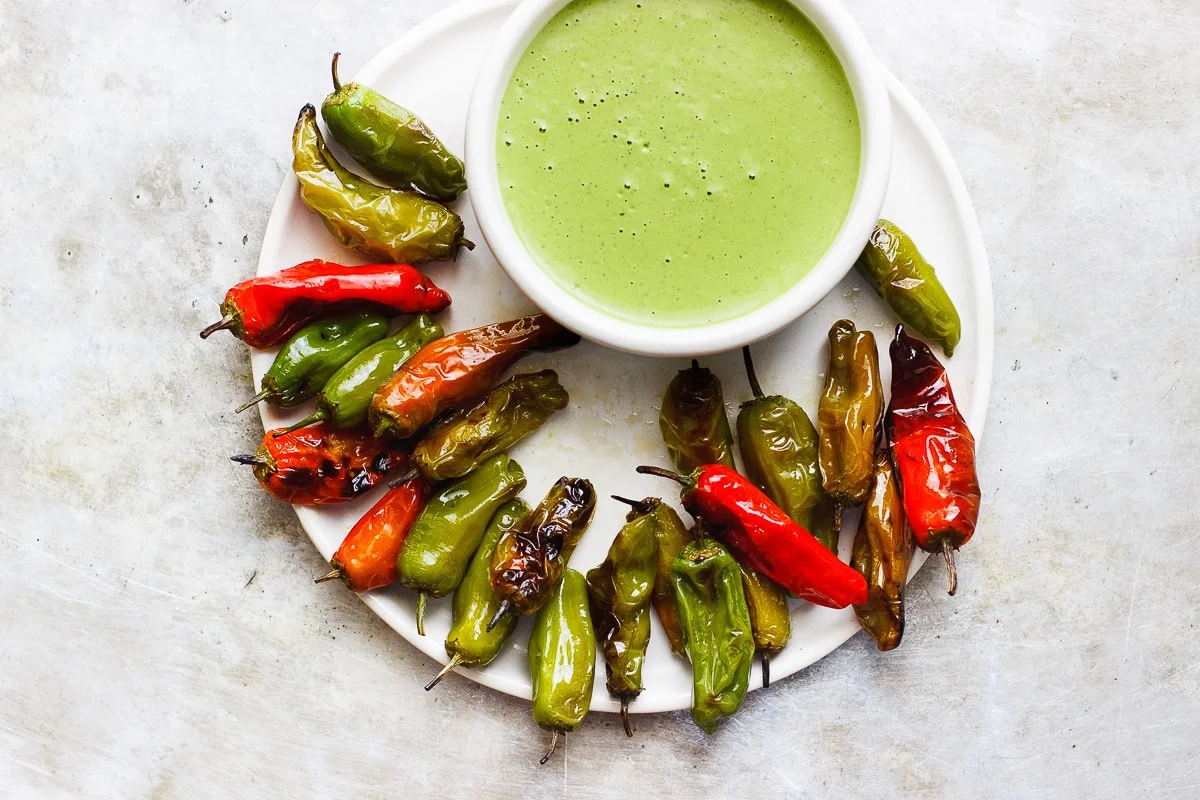 Shishito peppers are one of my favorite summertime foods. They're so easy to make, you can practically make them without a recipe, but I'm here to walk you through the steps. Shishitos can be blistered in a sauté pan, in the oven or on the grill. I like to grill them because it adds that special kind of grilled flavor. However, you could easily adapt this blistered shishito peppers recipe for the stove and oven.
The shishito is an Asian variety pepper. They're often paired with Asian flavors like soy, sesame, miso and the like. But they also pair well with citrus, herbs and cream. So this cilantro lime dipping sauce is a natural fit.
Shishito peppers are naturally sweet, although one in ten may be spicy due to environmental factors and growing conditions. Generally shishito peppers are picked green. And as they ripen, they'll turn shades of yellow, orange and red.
The changing colors do not indicate a spicier pepper as peppers get their spice from a compound called capsaicin which is found in the membrane that holds the seeds. If anything, the longer the shishito ripens the sweeter it gets. Making the red ones on this plate my favorite.
How to make blistered shishito peppers.
As I mentioned previously, making blistered shishito peppers is super easy. The first step is to poke a hole in the pepper prior to cooking to allow the steam inside to escape as it cooks. Using a skewer on the grill does this for you. If you were going to pan or oven blister the peppers, you would want to create a hole with a pairing knife or fork beforehand.
After you skewer the shishito peppers, then cook them on super hot grill. The skins will get charred and perfectly golden, and the insides will be soft and sweet. Serve blistered shishito peppers as is with some flake salt, or serve them with this vegan, super creamy, cilantro lime dipping sauce. If you make a batch of the sauce and you have some leftover, it'd be great served on top of these vegetarian sheet pan fajitas.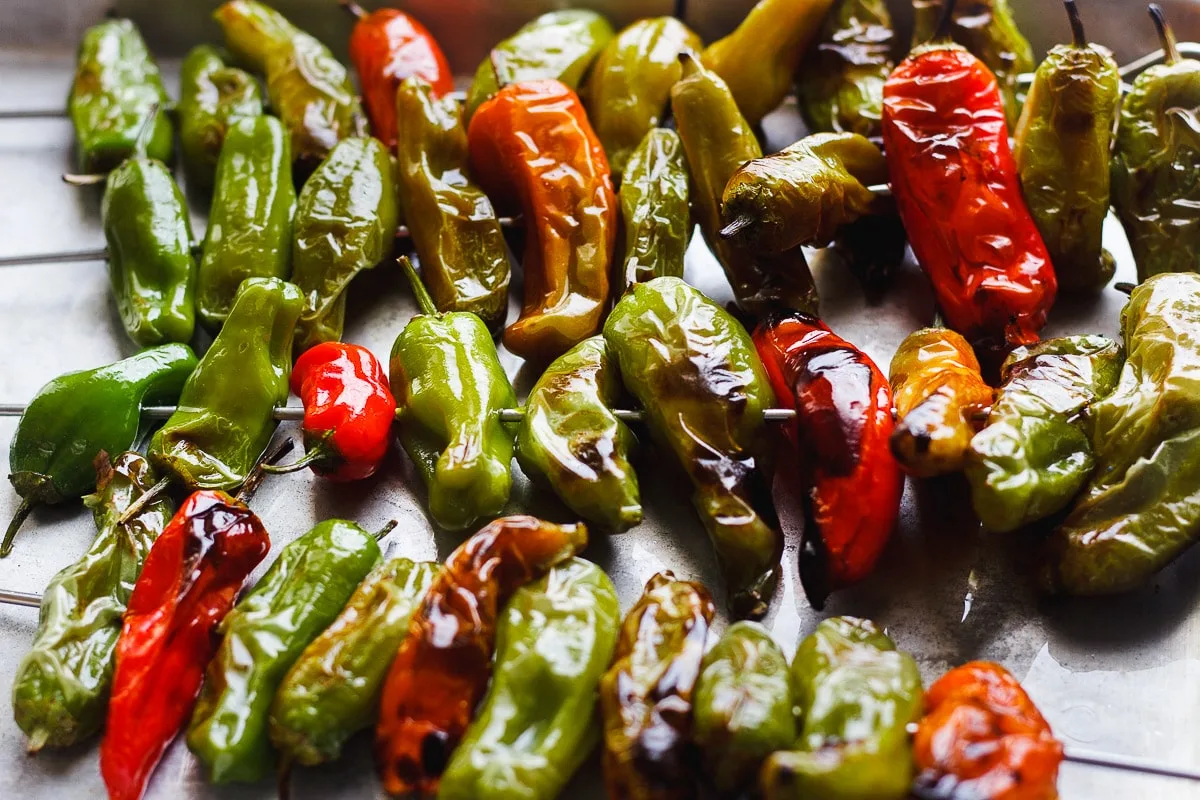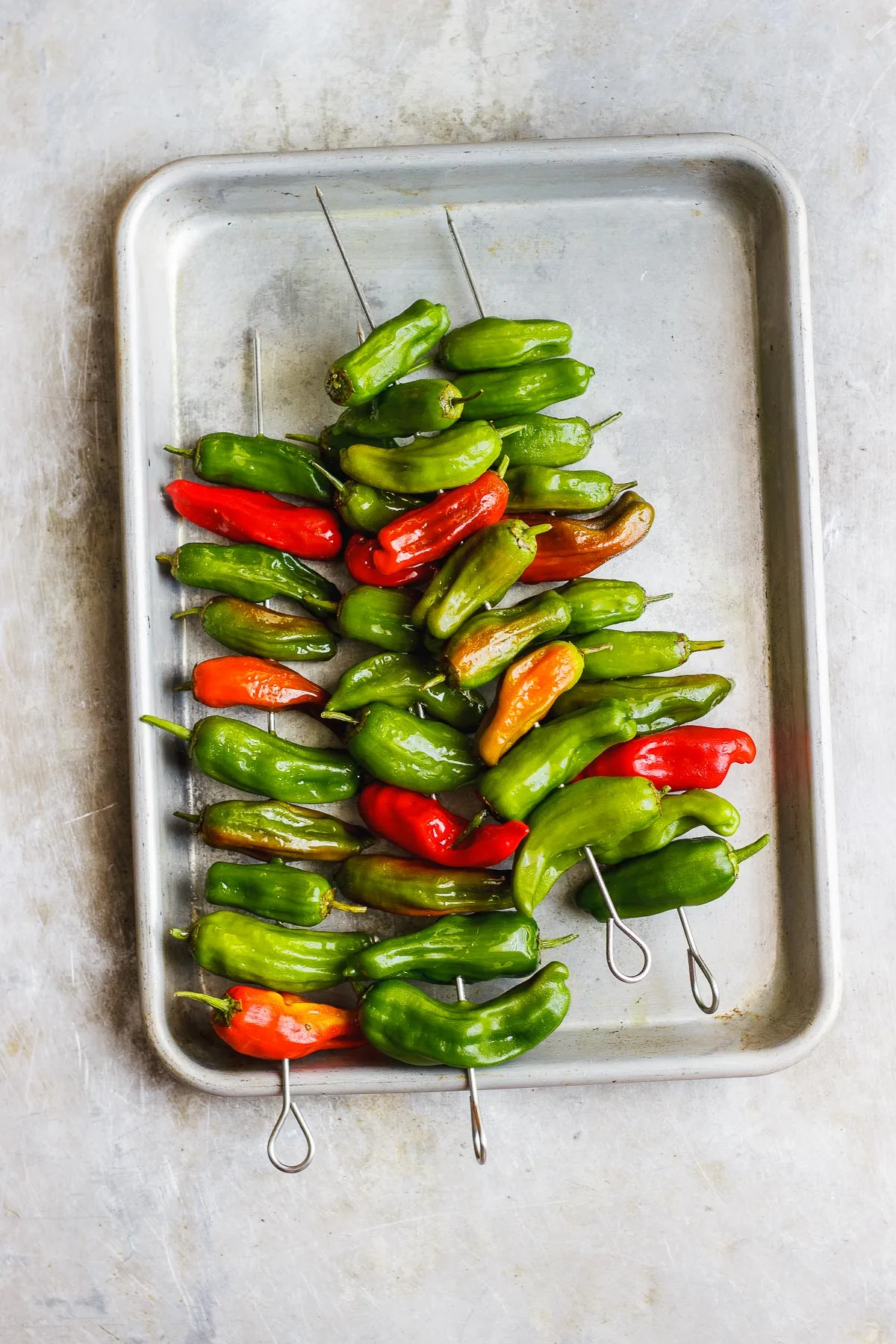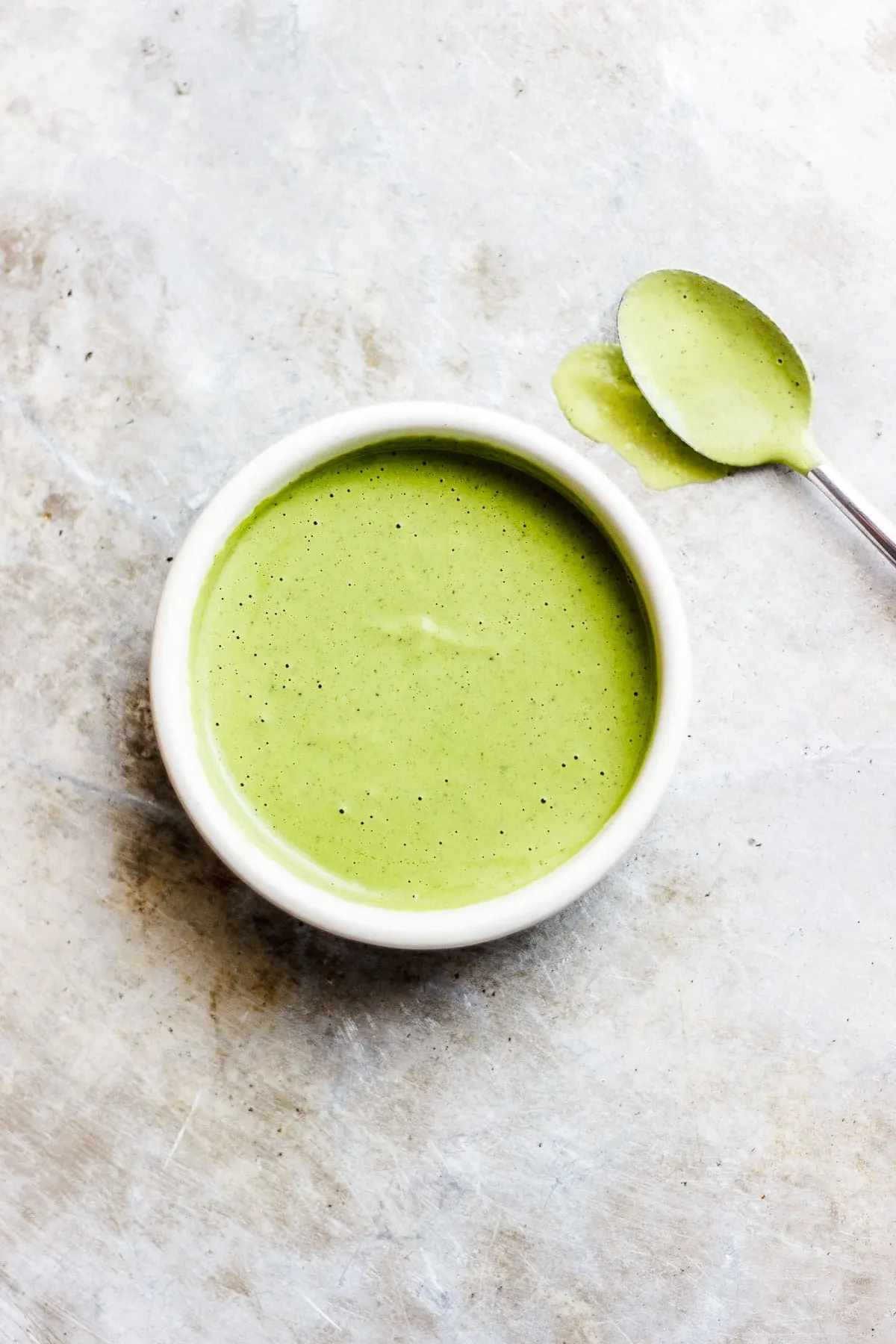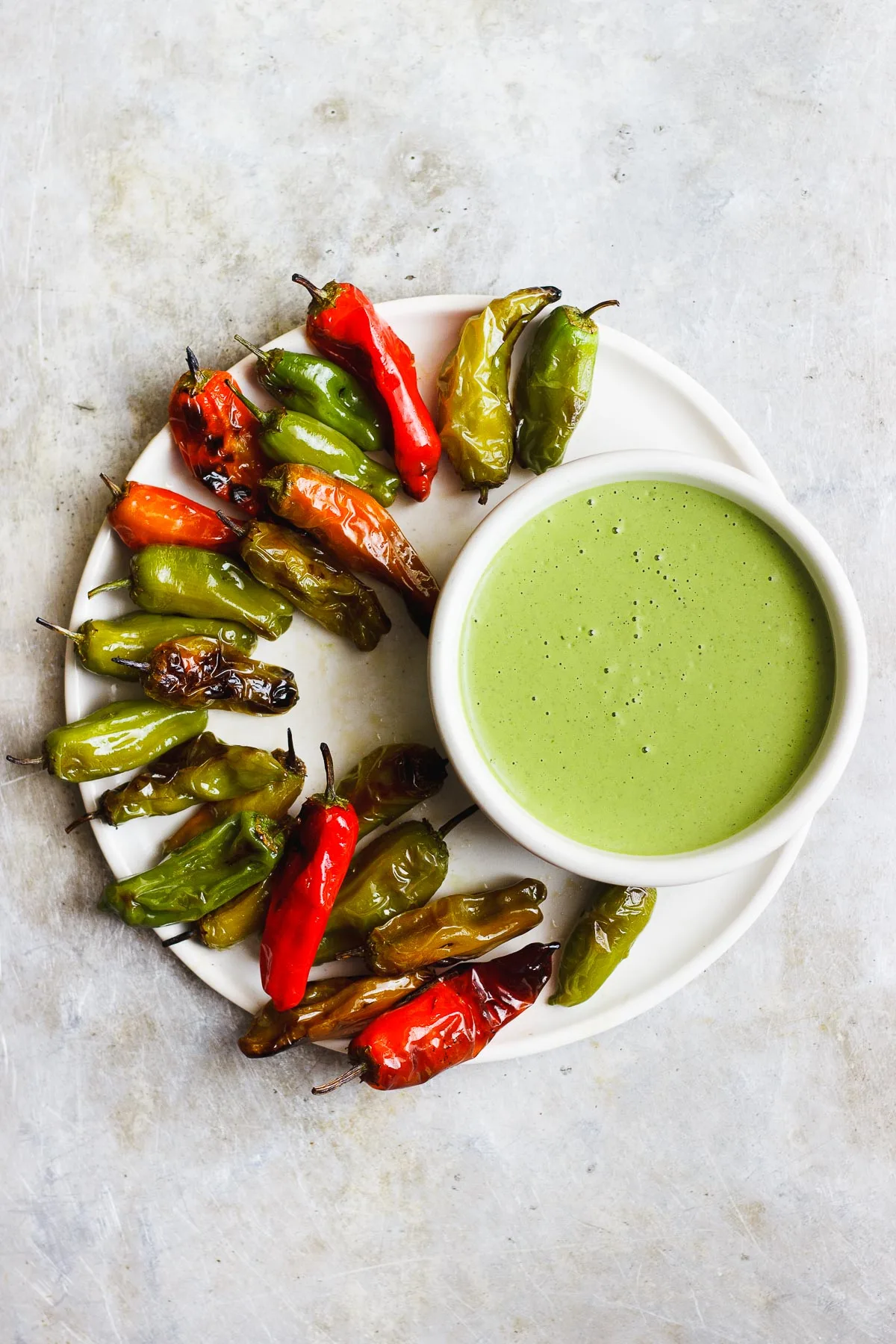 Yield: 2 servings
Blistered Shishito Peppers with Cilantro Lime Dipping Sauce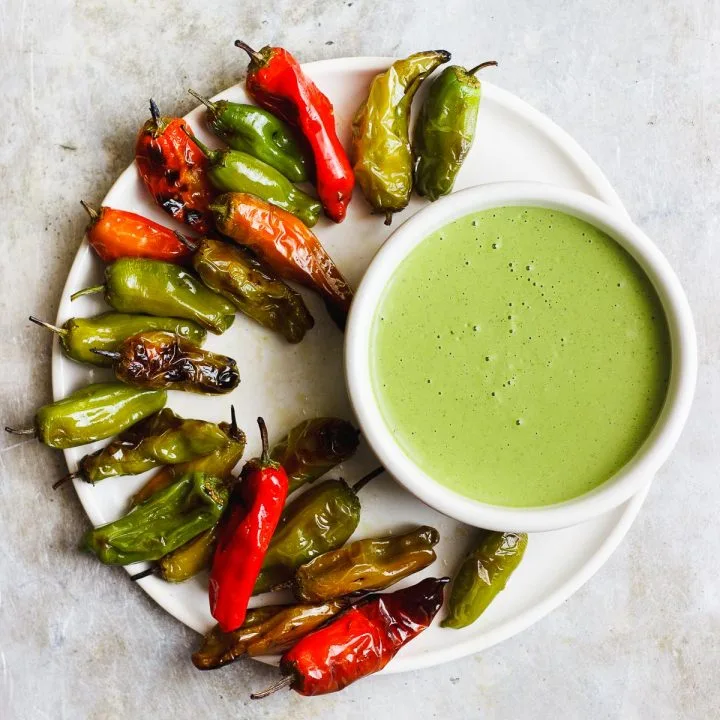 Blistered shishito peppers on the grill served with a creamy, vegan cilantro lime dipping sauce. An easy and flavorful way to prepare shishito peppers.
Ingredients
Pepper Ingredients
12 ounces shishito peppers
olive oil spray
Sauce Ingredients
1 cup freshcilantro
1/2 cup unsweetened almond milk
1/2 cup raw cashews
1 medium lime (zest and juice)
1 teaspoon fine sea salt
1/2 teaspoon black pepper
Instructions
Heat a grill to medium-high heat.
Skewer the peppers, spray them with olive oil and place them directly on the grill. Cook on one side for 5 minutes or until charred and blistered. Then flip the skewer, and repeat to cook the other side. Remove them from the grill and set aside.
Combine the sauce ingredients in a blender and process until completely smooth (this may take up to a few minutes).
Serve the peppers on a plate with the dipping sauce on the side.
Recommended Products
As an Amazon Associate and member of other affiliate programs, I may earn a small percentage from qualifying purchases.