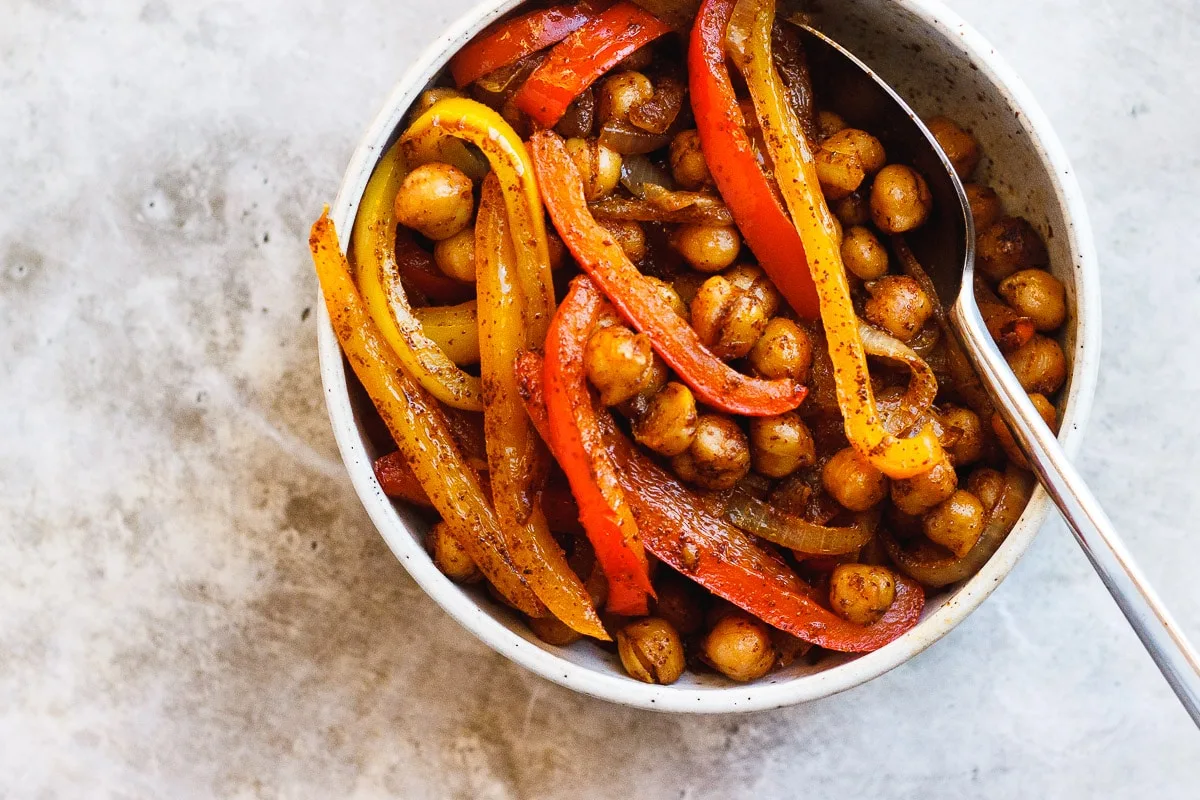 It's been almost four months since we moved to Dallas. And so far my diet consists of forty percent street tacos, forty percent TexMex (specifically these sheet pan fajitas and this bean chili) and nineteen percent coffee. Oh and one percent green juice, because you know balance.
Fajita night was one of my favorites when I was a kid. It was a welcomed break from all the pasta we ate. My mom made a really delicious and simple homemade fajita seasoning with lots of cumin, chili powder and garlic. And these vegetarian sheet pan fajitas are seasoned with that same mixture, or as close to as I remember it tasting.
How to make sheet pan fajitas.
Have you ever made fajitas on a sheet pan before? It's so easy I can barely believe it. First you slice the bell peppers and onion. Next you open up a can of chickpeas (organic, unsalted if you can) and you toss it altogether with olive oil and the fajita seasoning right on the sheet pan. So there's no extra mixing bowls to wash.
Lastly, you roast them flipping halfway through for just twenty minutes. The bell peppers and onions get super caramelized and the chickpeas stay soft on the inside but get crispy on the outside. Basically, it's savory, umami sheet pan perfection.
I serve these sheet pan fajitas on corn tortillas, but you could definitely put them on flour. Then I add fresh cilantro, and if you're feeling more heat you can add whatever hot sauce you prefer. Frank's Red Hot will always be my favorite hot sauce, always. So, that's what I use.
If you aren't crazy about bell peppers, you could easily substitute any vegetable you have on hand. I have made these sheet pan fajitas with shredded brussels sprouts, diced sweet potatoes, julienned carrots and other root vegetables like radishes, turnips and beets. They are wonderfully flexible in nature.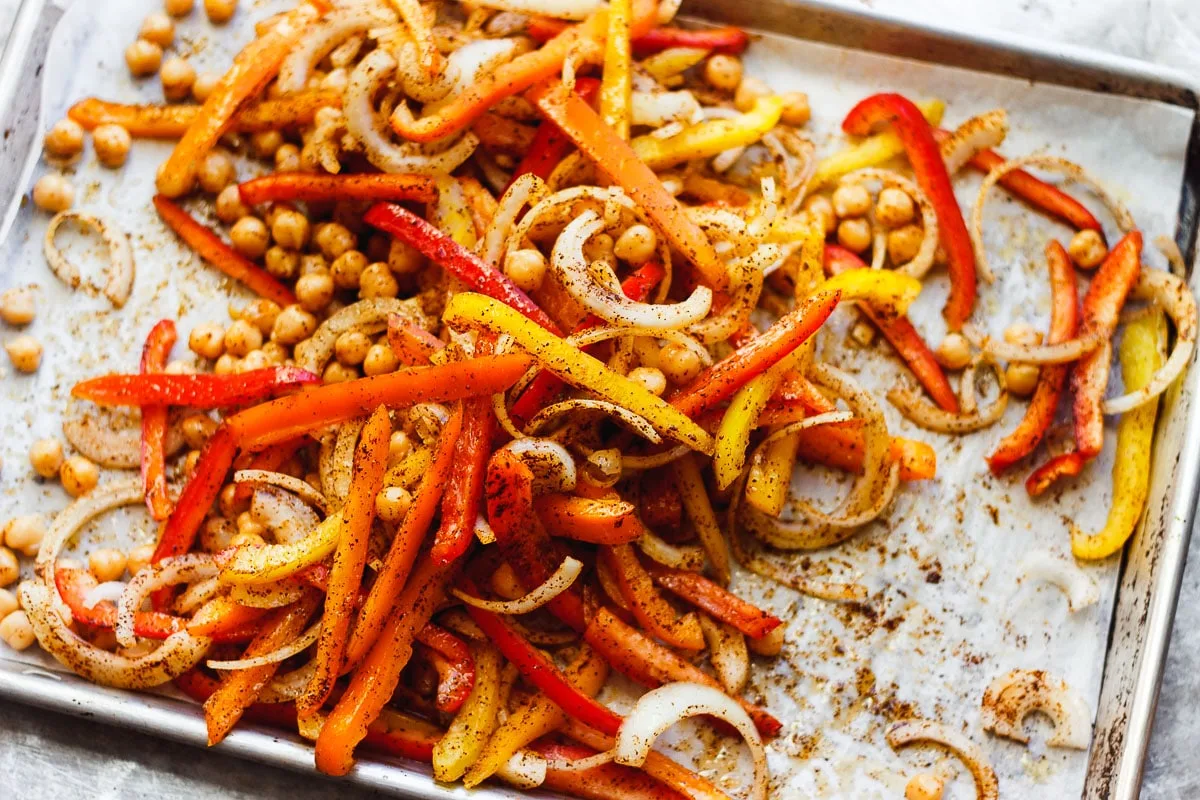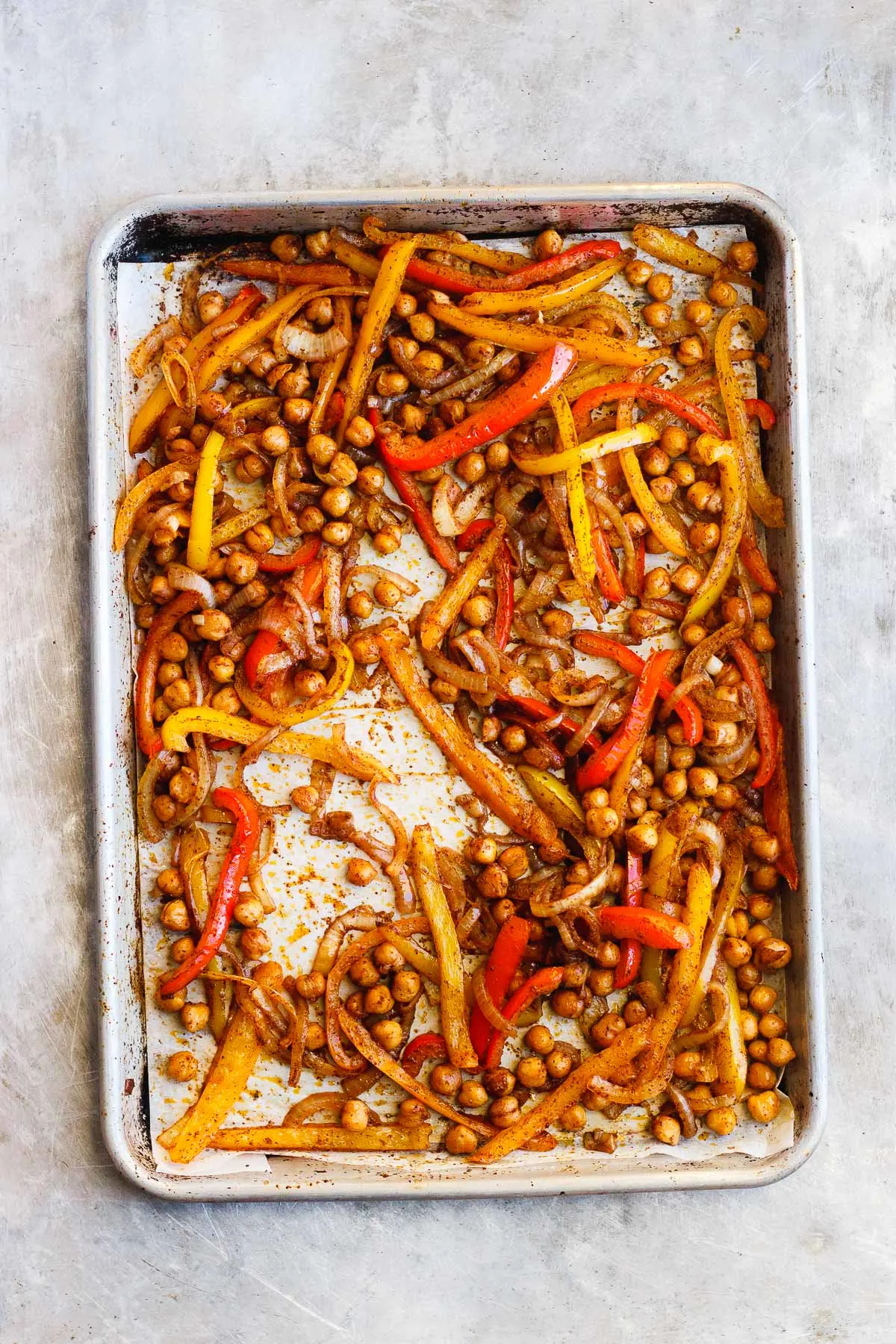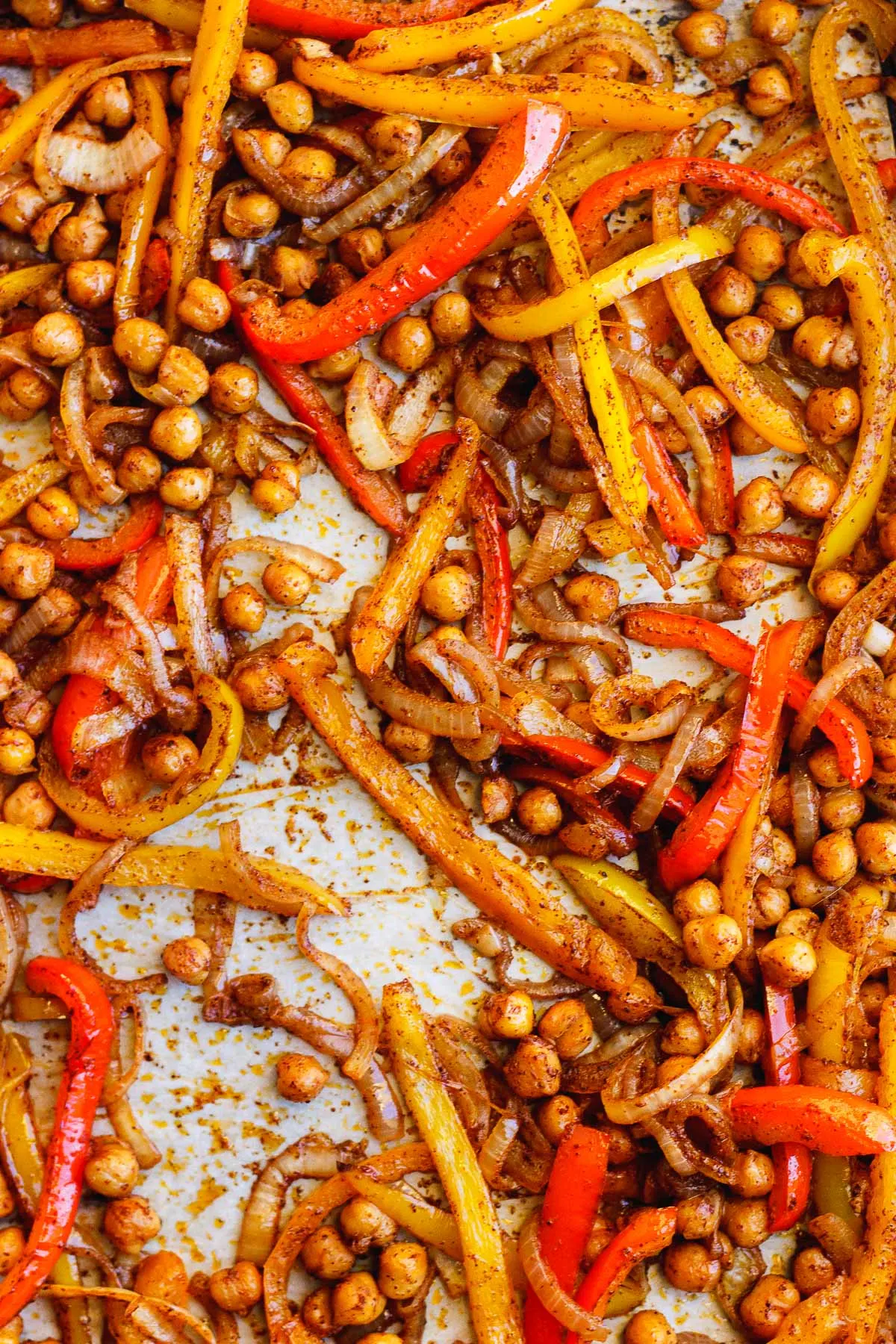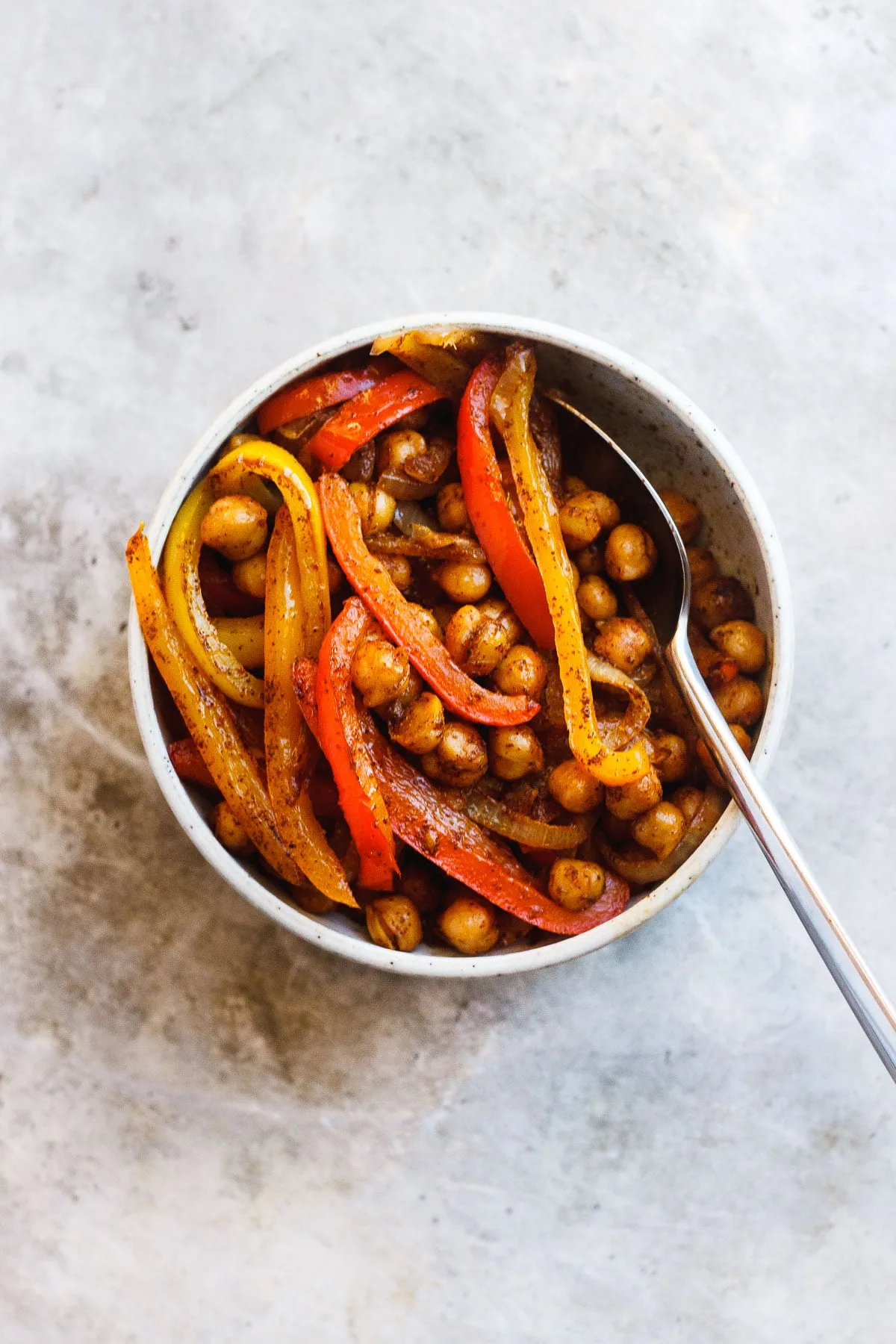 Yield: 4 servings
Sheet Pan Fajitas with Bell Peppers and Chickpeas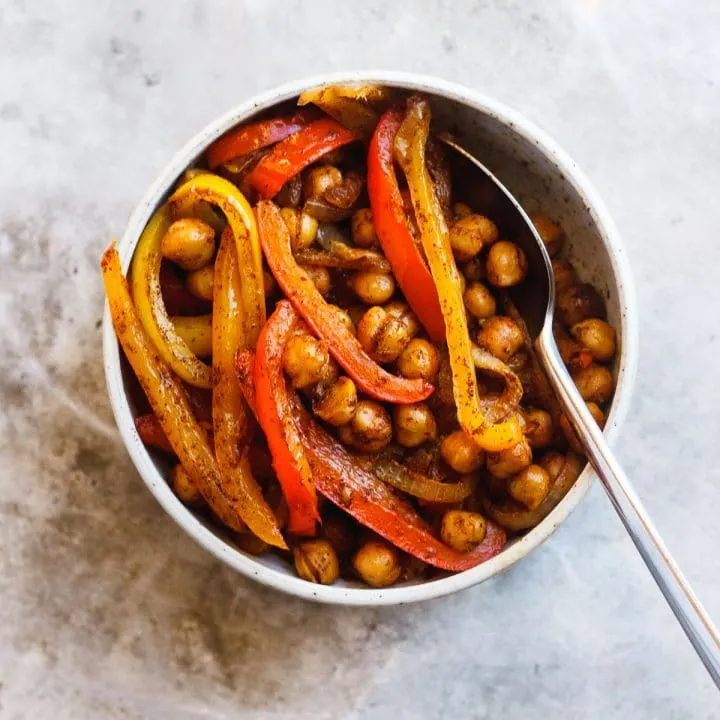 Sheet pan fajitas made vegetarian with onions, bell peppers and chickpeas. A vegan, gluten-free, veggie sheet pan fajita meal ready in thirty minutes.
Ingredients
3 medium bell peppers (any color)
1 medium yellow onion
2 cups cooked chickpeas
3 tablespoons olive oil
1 tablespoon chili powder
1/2 teaspoon garlic powder
1/4 teaspoon cumin
1 teaspoon fine sea salt
8 corn tortillas
fresh cilantro (to garnish)
hot sauce (optional garnish)
Instructions
Preheat the oven to 450 degrees, and line a sheet pan with parchment paper.
Slice the peppers and onion into thin strips and place them onto the baking sheet along with the chickpeas.
Drizzle on the olive oil and then sprinkle on chili powder, garlic powder, cumin and salt. With your hands toss it all together to coat evenly and then spread it out in an even layer.
Put the pan in the oven and roast for 10 minutes. Remove, stir and then roast for another ten minutes.
Serve the fajita vegetables and chickpeas hot out of the oven with corn tortillas, fresh cilantro and hot sauce.
Recommended Products
As an Amazon Associate and member of other affiliate programs, I may earn a small percentage from qualifying purchases.