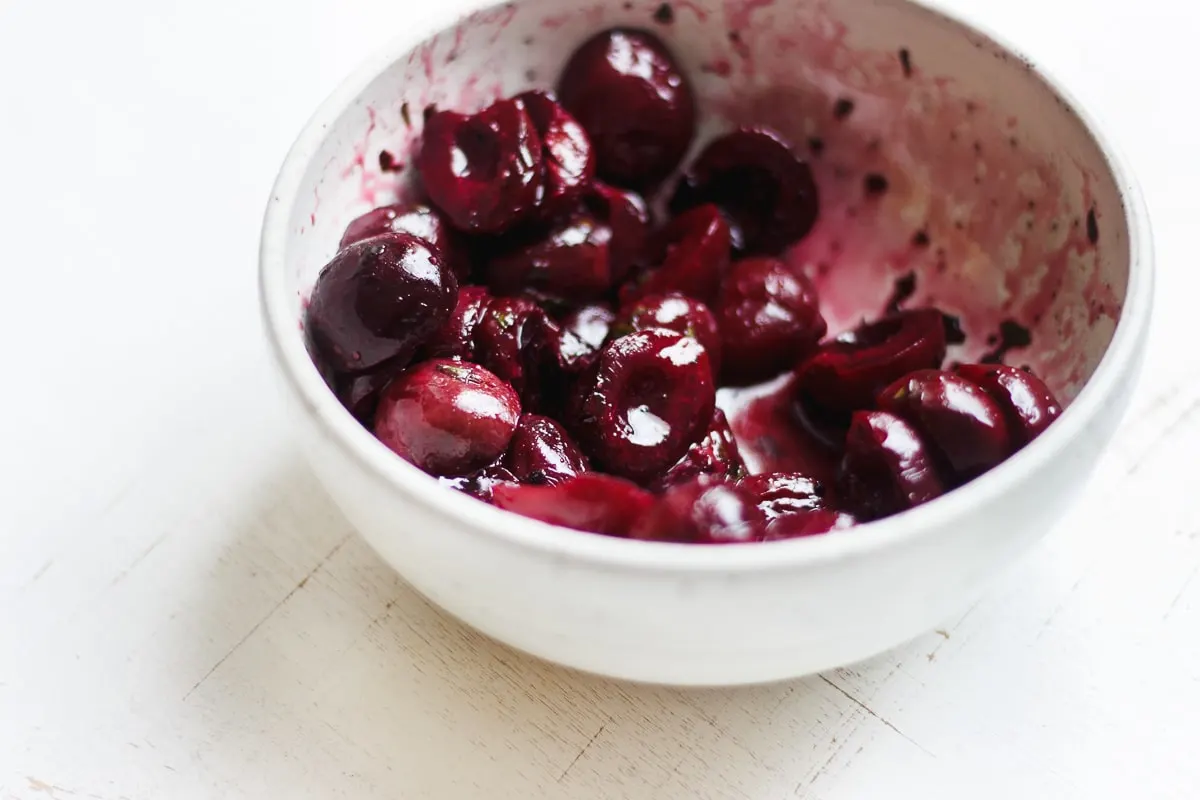 A few summers ago I worked on a freelance project for a client that was a cherry grower. That summer I ate my body weight in cherries, and it was luxurious. I developed dozens of recipes from black tea cherry popsicles to cherry salsa to roasted cherries. But of all the recipes, it was the savory roasted cherries that I continue to keep making over and over again.
Recently a twenty pound box of cherries from the Northwest arrived on my doorstep and I was ecstatic. Again, I found myself eating as many perfectly ripe cherries as I wanted to for days on end. But twenty pounds is actually a lot of cherries for a home of two. Even if you eat as much as you can, they'll start to turn bad before you can get to them all.
So, I needed to start preserving them. These savory roasted cherries were first on my list. I was also thinking I'd make a cherry shrub. And then I asked my readers on Instagram and they had a ton of great recipe and preservation ideas that you can read about here.
How to make savory roasted cherries.
The hardest part about roasting cherries is pitting the cherries. I don't own a cherry pitter, but this is only because I keep a set of pretty minimal kitchen tools. However, if I were to purchase cherry pitter it'd be this one. I use the paperclip technique – see the recipe for the link to see how that's done.
Once the cherries are pitted you toss them in the olive oil, sea salt and black pepper, and then you roast for fifteen minutes. Then after they're done roasting you'll add some fresh minced parsley. This adds some earthy notes to balance the sweet ones.
They flavors teeter between sweet and savory and can be eaten in so many ways. Some of my favorites are warm out of the oven as a side dish, over ice cream, on soft cheese or overnight oats. Or chilled to use on a charcuterie board or in a summer salad.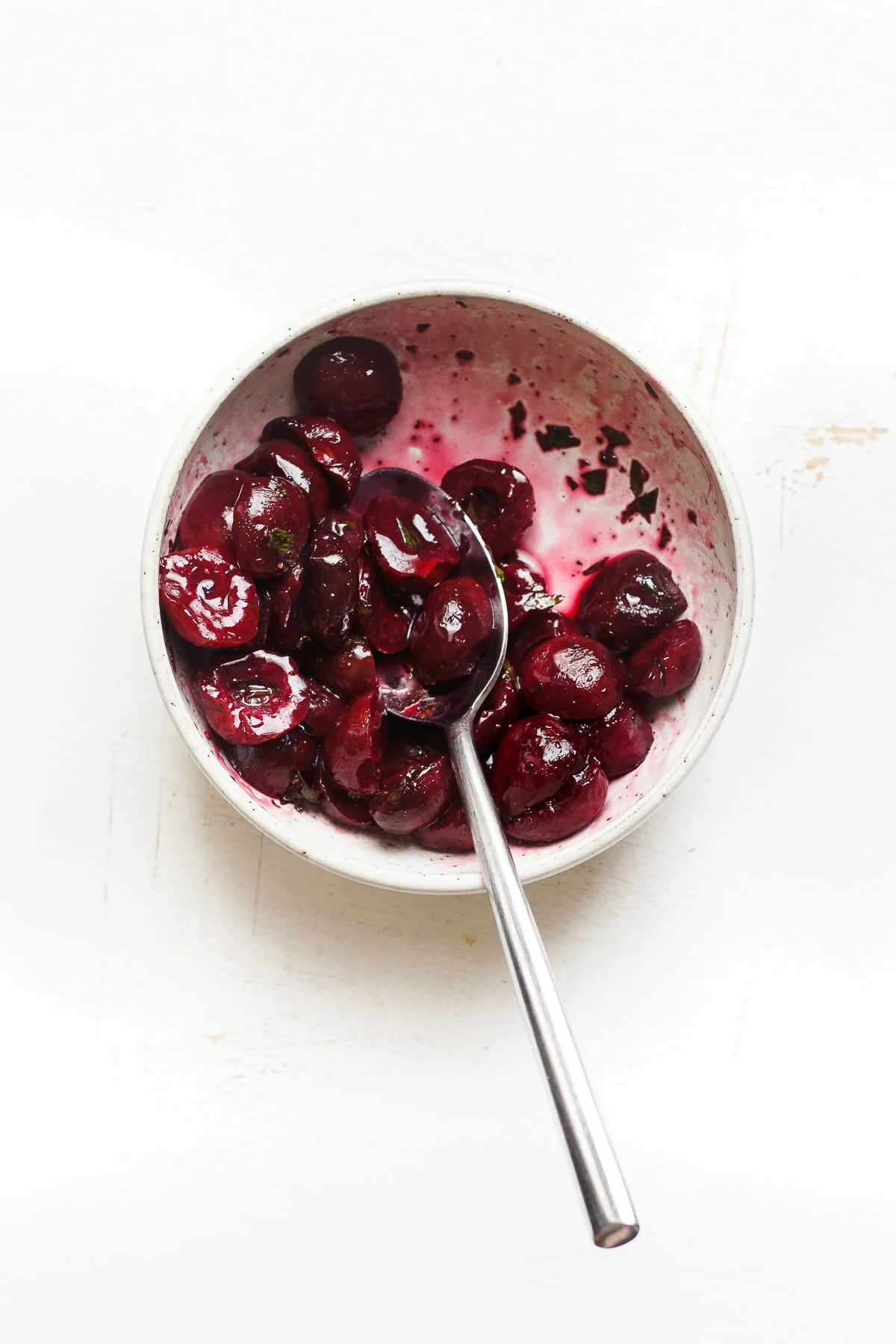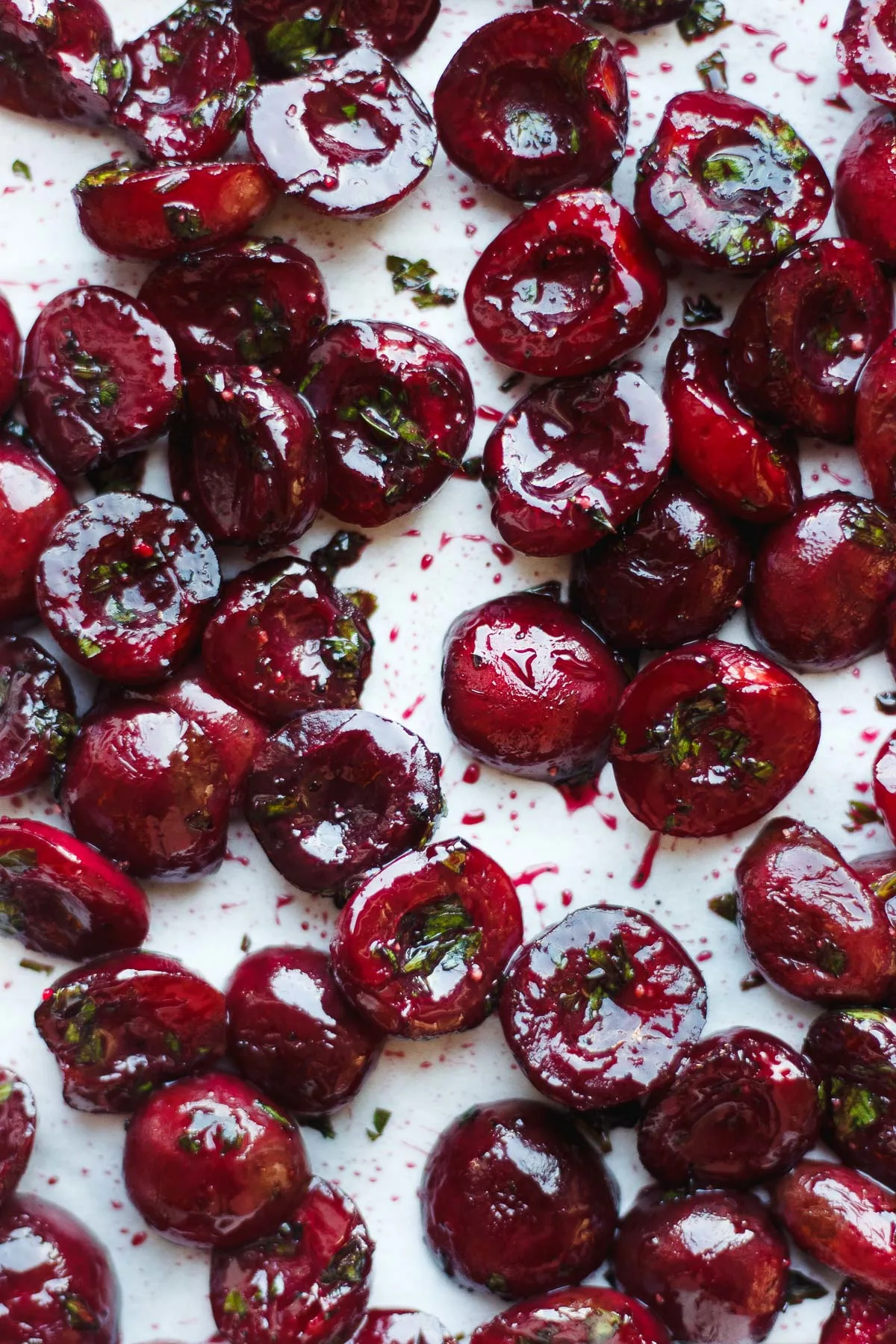 Yield: 3 cups
Savory Roasted Cherries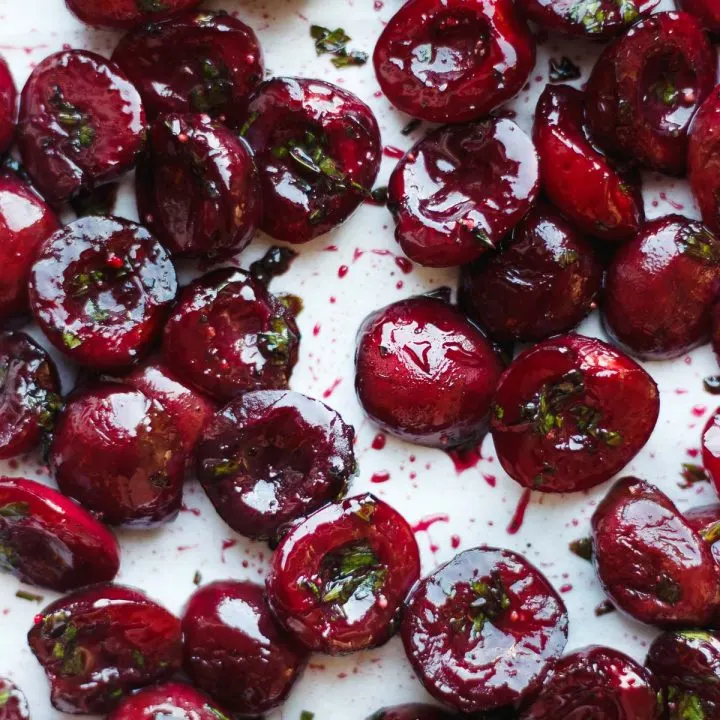 Roasted cherries with a touch of olive oil, sea salt, black pepper and parsley. A sweet and savory cherry recipe for salads, sides and snacks.
Ingredients
4 cups pitted cherries
1 tablespoon olive oil
1/4 teaspoon fine sea salt
1/4 black pepper
3 tablespoons fresh parsley, minced
Instructions
Preheat the oven to 450 degrees and line a sheet pan with parchment paper.
Use a cherry pitter (or one of these techiniques if you don't have one) to pit the cherries.
Toss the cherries in a bowl with the olive oil, salt, pepper. Spread the cherries on the lined sheet pan and roast for 15 minutes.
Remove the cherries from the oven and sprinkle them with the parsley. Toss gently when they're cool enough to handle.
Eat the cherries warm as a side or keep them refrigerated (for up to five days) and use them in salads or eat them as a snack.
Recommended Products
As an Amazon Associate and member of other affiliate programs, I may earn a small percentage from qualifying purchases.