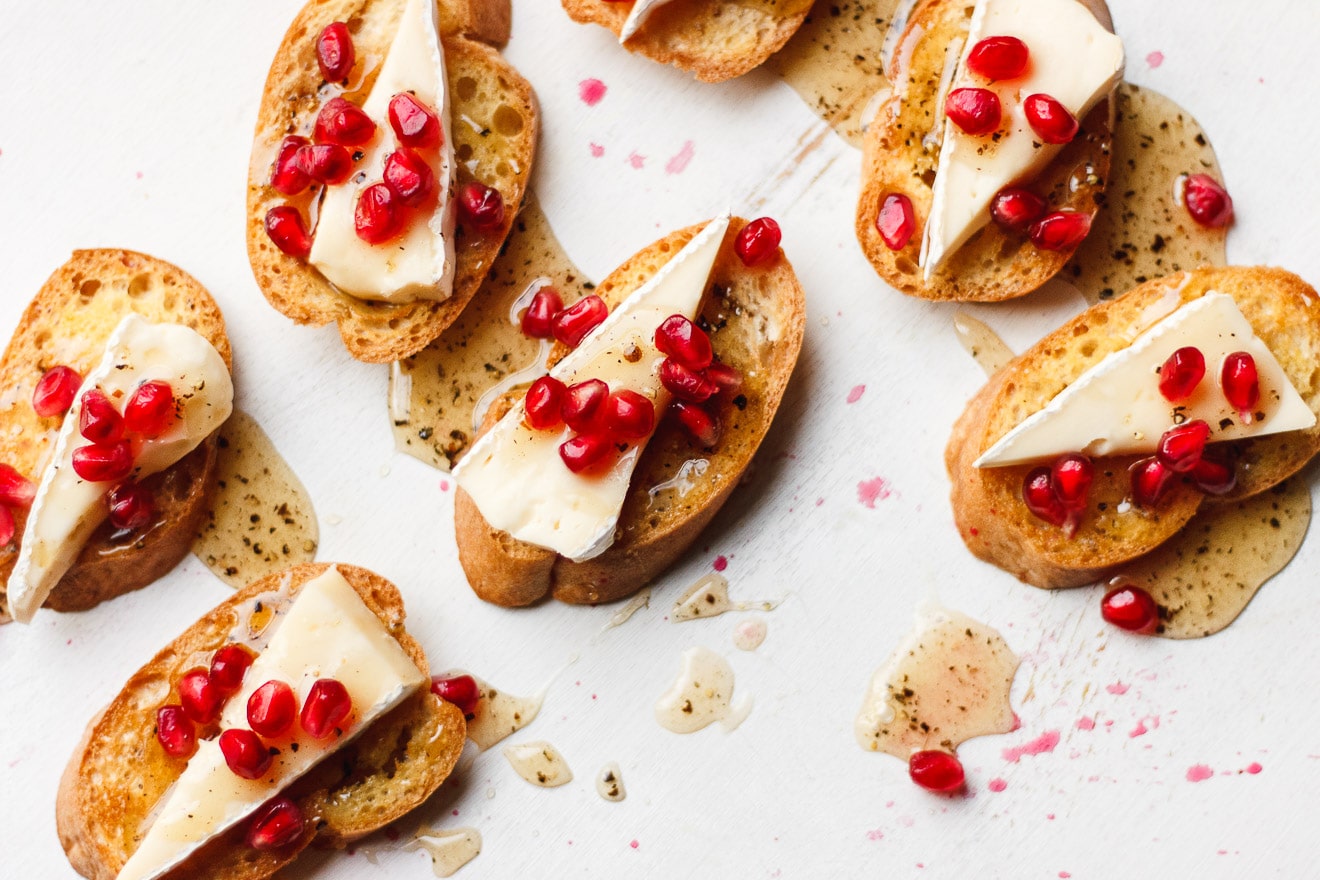 Crostini are some of my favorite appetizers to serve before a big holiday meal. It's the perfect one or two bite snack to keep the hunger at bay while sipping on cocktails. And it's also not too much food that will ruin your appetite. This brie crostini with black pepper honey and pomegranate recipe is a great one to have in your back pocket.
The crostini base of this recipe uses a gluten-free baguette. I linked the one I love in the recipe below. But you could easily use whatever bread or baguette you prefer. It's super flexible in that way. The brie and the black pepper honey are made for one another. And the pomegranate seeds add the perfect pop of both color and tartness.
Here's another great crostini idea that's wonderful for the holidays. A baguette that has a lovely layer of fig jam on the bottom, and then is topped with blue cheese and a sprinkle of fresh rosemary.
How to make these brie crostini.
This brie crostini recipe is very simple. And it has four main components – the baguette, the cheese, the honey and the fruit. Making the honey black pepper is the most involved part, but it's a very straightforward process.
While the baguettes are toasting, warm together the honey, black pepper and salt in a small sauce pan. Be careful not to heat the honey too hot. You do not want it to bubble, but just warm enough to infuse with the pepper and become easy to drizzle.
Take a baguette, top with brie, drizzle with honey and then sprinkle on about six to eight pomegranate seeds. That's the perfect amount of juicy, tartness for each bite. Be sure to enjoy the brie crostini right away, or serve them at room temperature.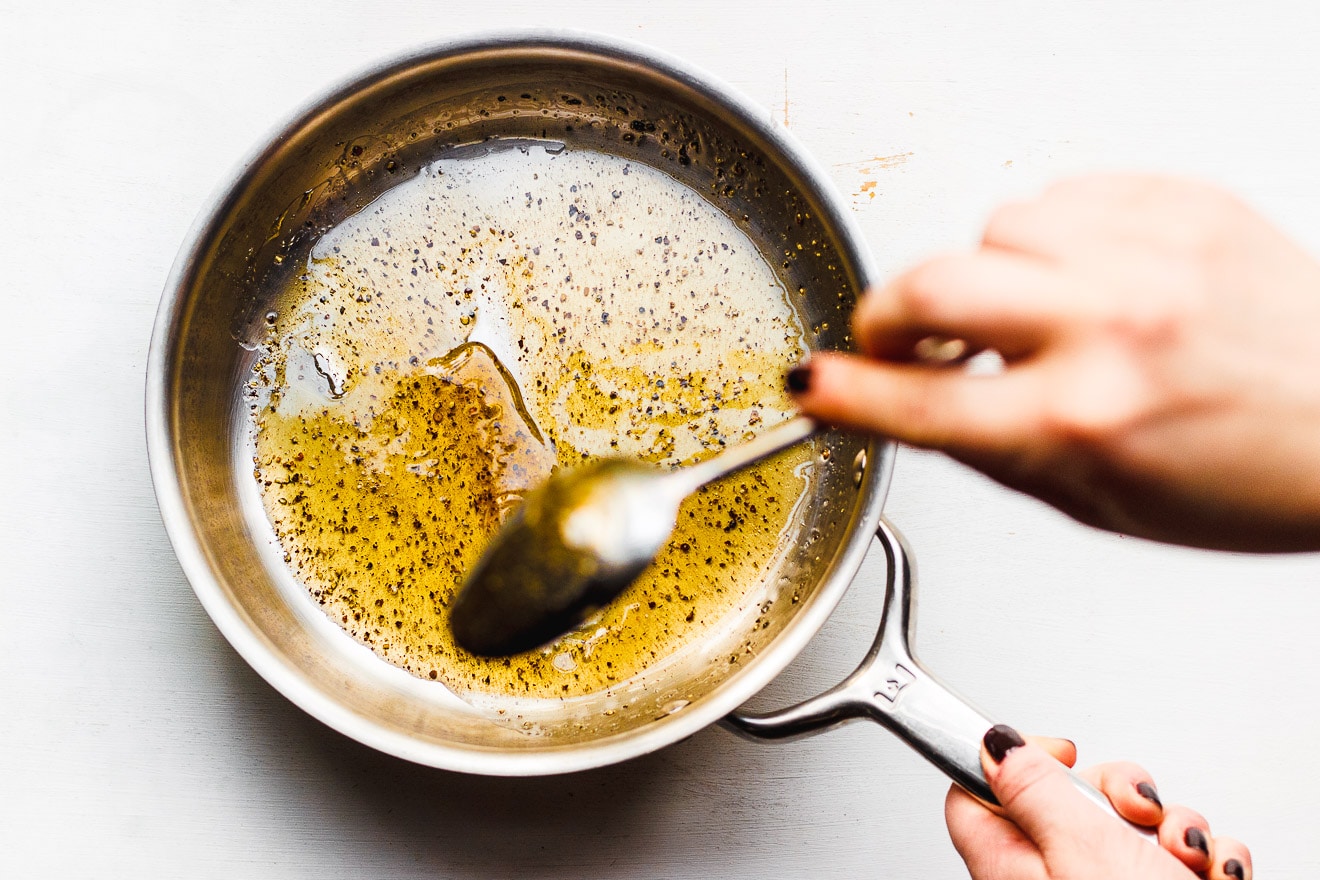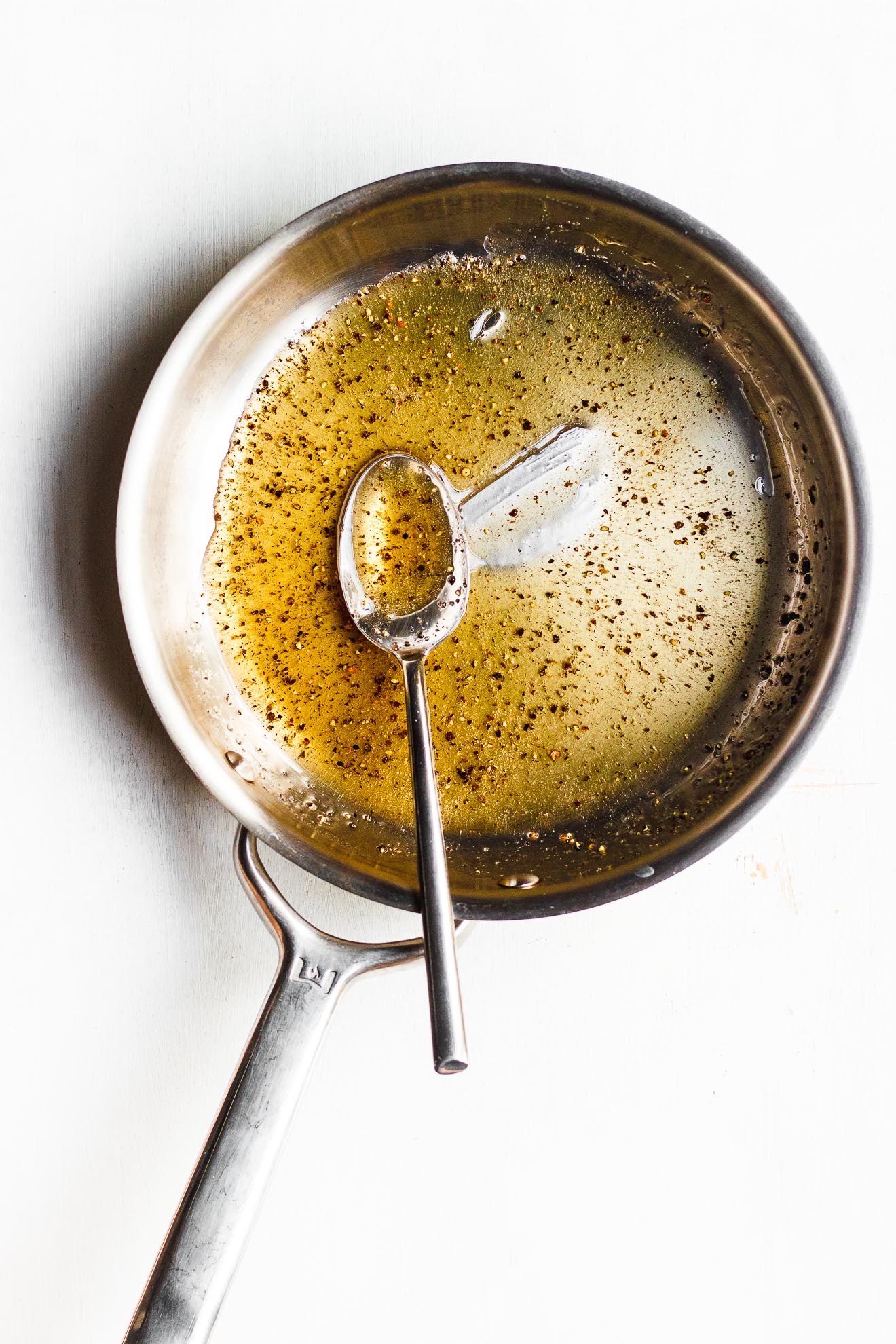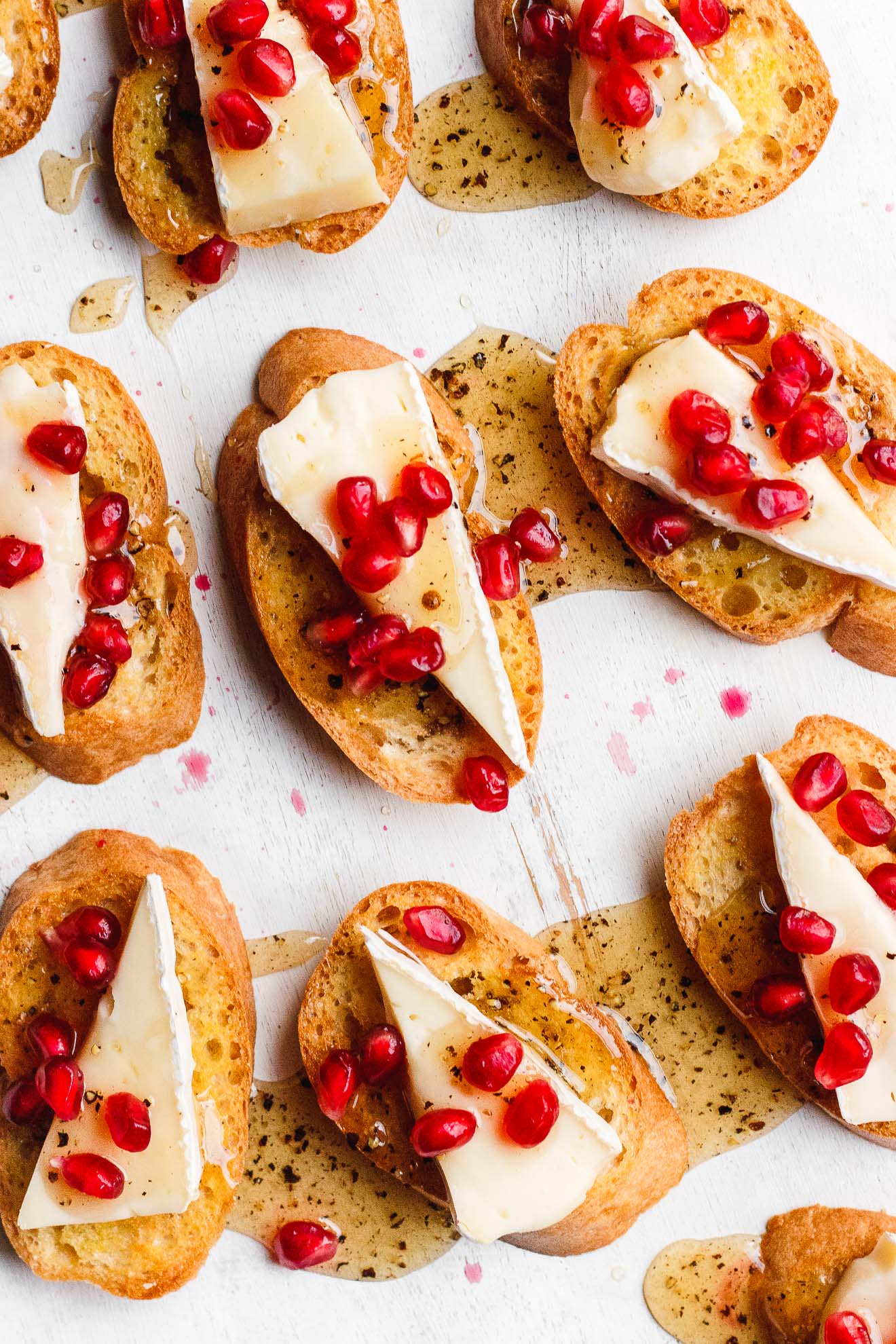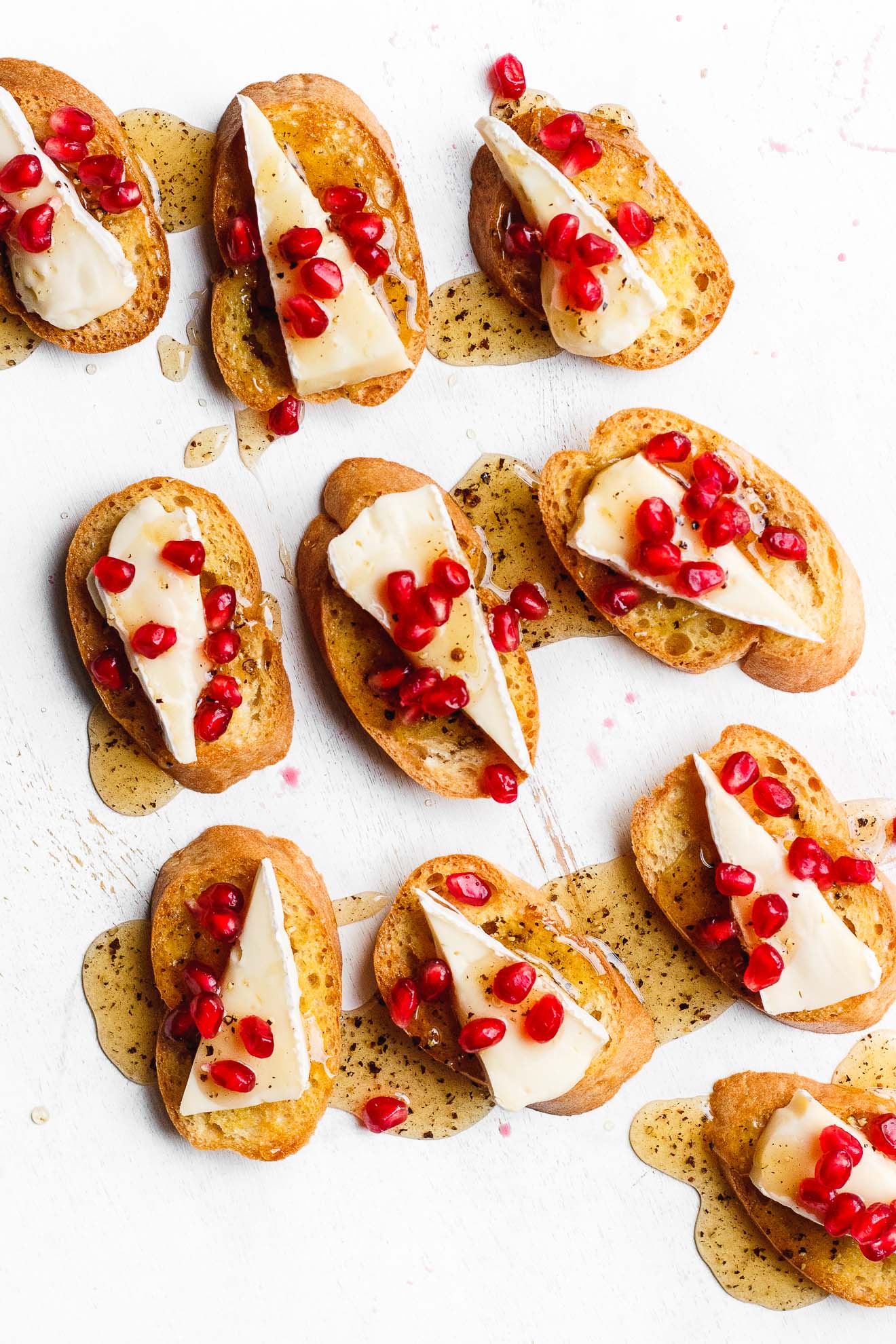 Yield: 20 crostini
Brie Crostini with Black Pepper Honey and Pomegranate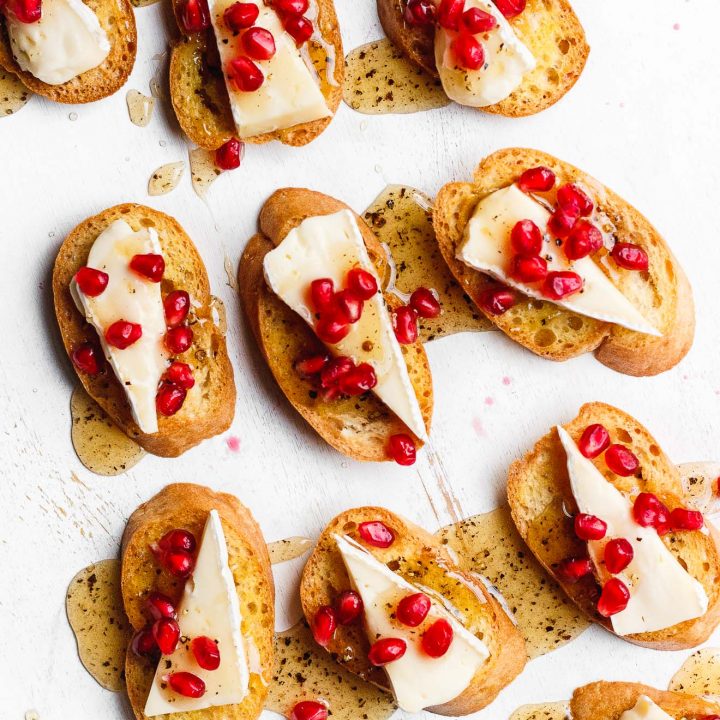 Brie crostini topped with black pepper honey and juicy pomegranate seeds. A beautiful, simple and festive appetizer.
Ingredients
small baguette (see notes)
vegetable oil spray
½ cup honey
½ teaspoon black pepper
¼ teaspoon sea salt
8 ounces brie, sliced ¼-inch thick
½ cup pomegranate seeds
Instructions
1. Preheat the oven to 350 degrees.
2. Slice the baguette into ¼-inch rounds. Lightly mist with vegetable oil spray, spread them out onto a sheet pan and toast until golden browned.
3. In a small pan over low heat stir together the honey, pepper and salt until just warm.
4. Place a slice of brie on each toasted crostini. Then top with a generous drizzle of the black pepper honey and about 8 pomegranate seeds.
5. Enjoy warm or room temperature.