Food that is unfussy and uncomplicated, and rich with flavor and vibrant is the only kind of food I want to eat everyday. And it is the only kind of food I want to make and serve to my friends and family all year round, and especially during the holiday season. These cranberry glazed carrots – embody all of that.
The holidays can be stressful, and exhausting. It's a time of extra errands and shopping. Consumption and indulgence. And for many, complicated family matters and highly emotional times. Despite the overload of thumbprint cookies and champagne cocktails what you consume during this chaotic time can also be nutrient dense and full of good for you stuff.
These cranberry glazed carrots, and dishes like this, add nutrients in an effortless way. That said, no judgment. Eat a cookie. And give yourself plenty of permission and grace to feel good about doing so.
How to make these cranberry glazed carrots.
This cranberry glazed carrot recipe is the most beautiful side dish for your holiday table. First you blanch them. Then you sauté them with a little bit of garlic and olive oil. And lastly, you toss them in a lightly sweetened Florida Crystals® Demerara Sugar cranberry glaze.
Demerara cane sugar is golden and rich with a hint of molasses. It's fantastic in this savory dish which is finished with lots of fresh herbs and scallions. The finished result is a slightly tart but umami-packed dish that stuns for all of your festive gatherings.
I'm proud to partner with Florida Crystals®. America's first and only producer of certified organic sugar, grown and harvested in the United States. They are committed to practicing sustainable agriculture, along with other proactive efforts to protect our natural resources. This is the only sugar I buy. And it feels good.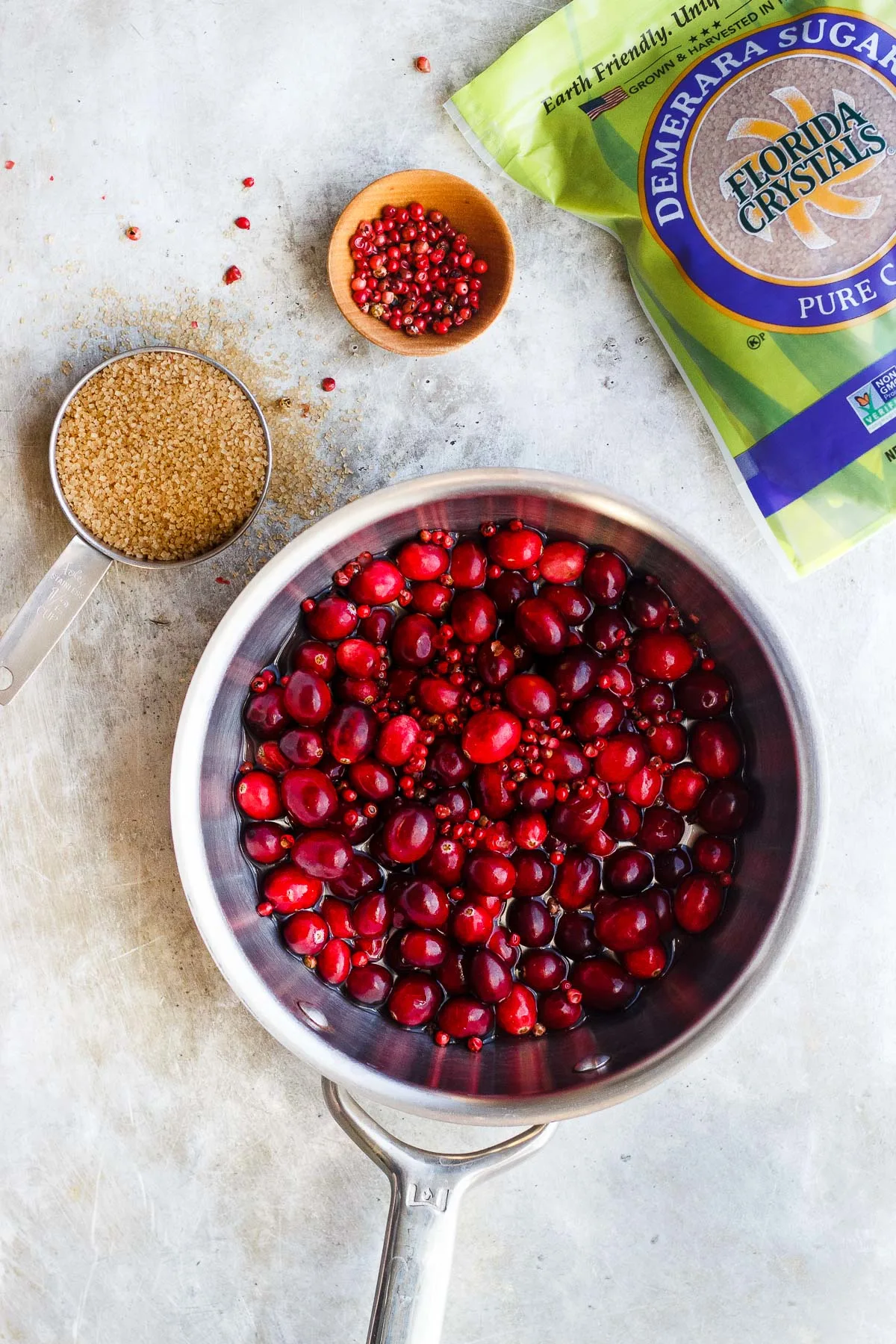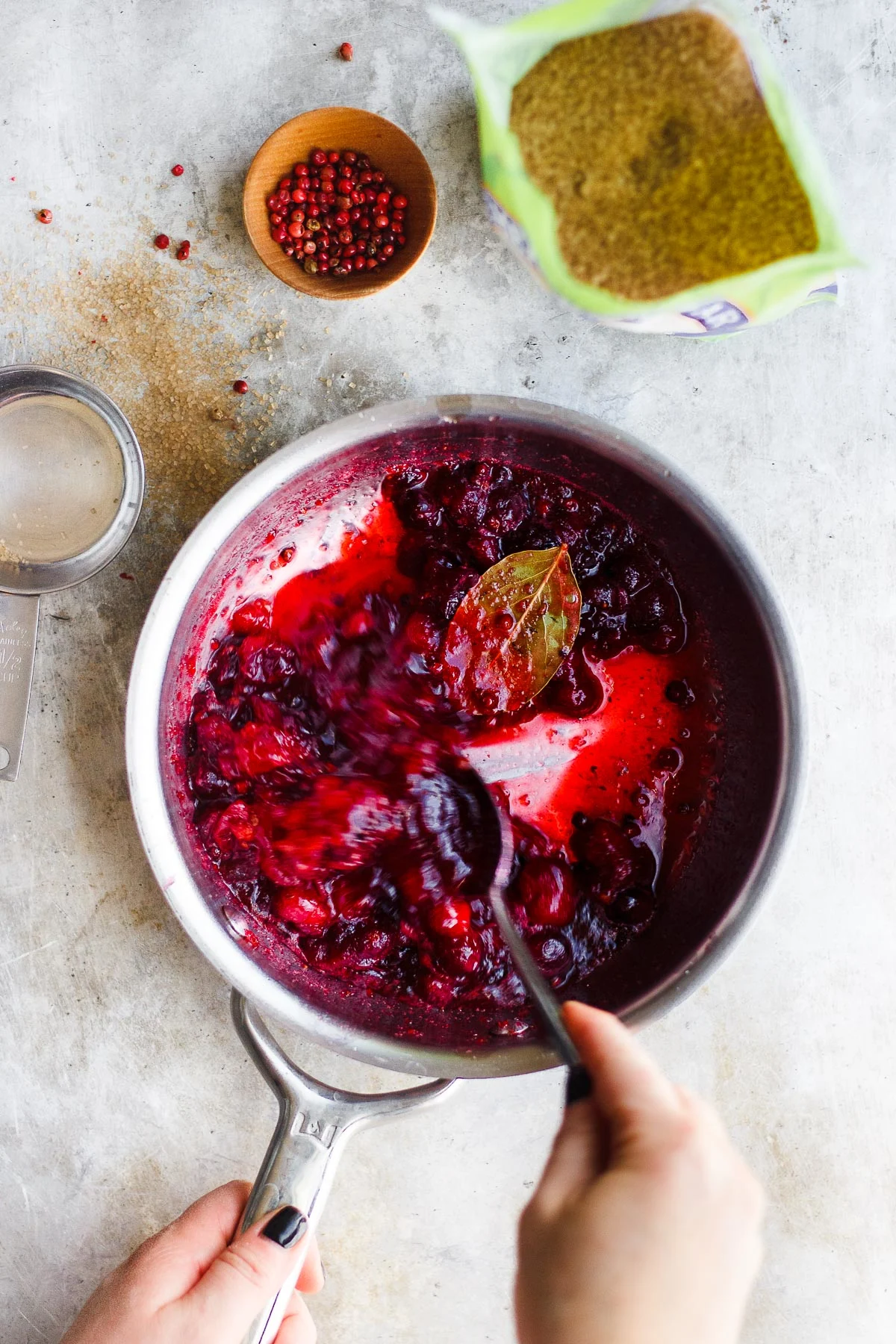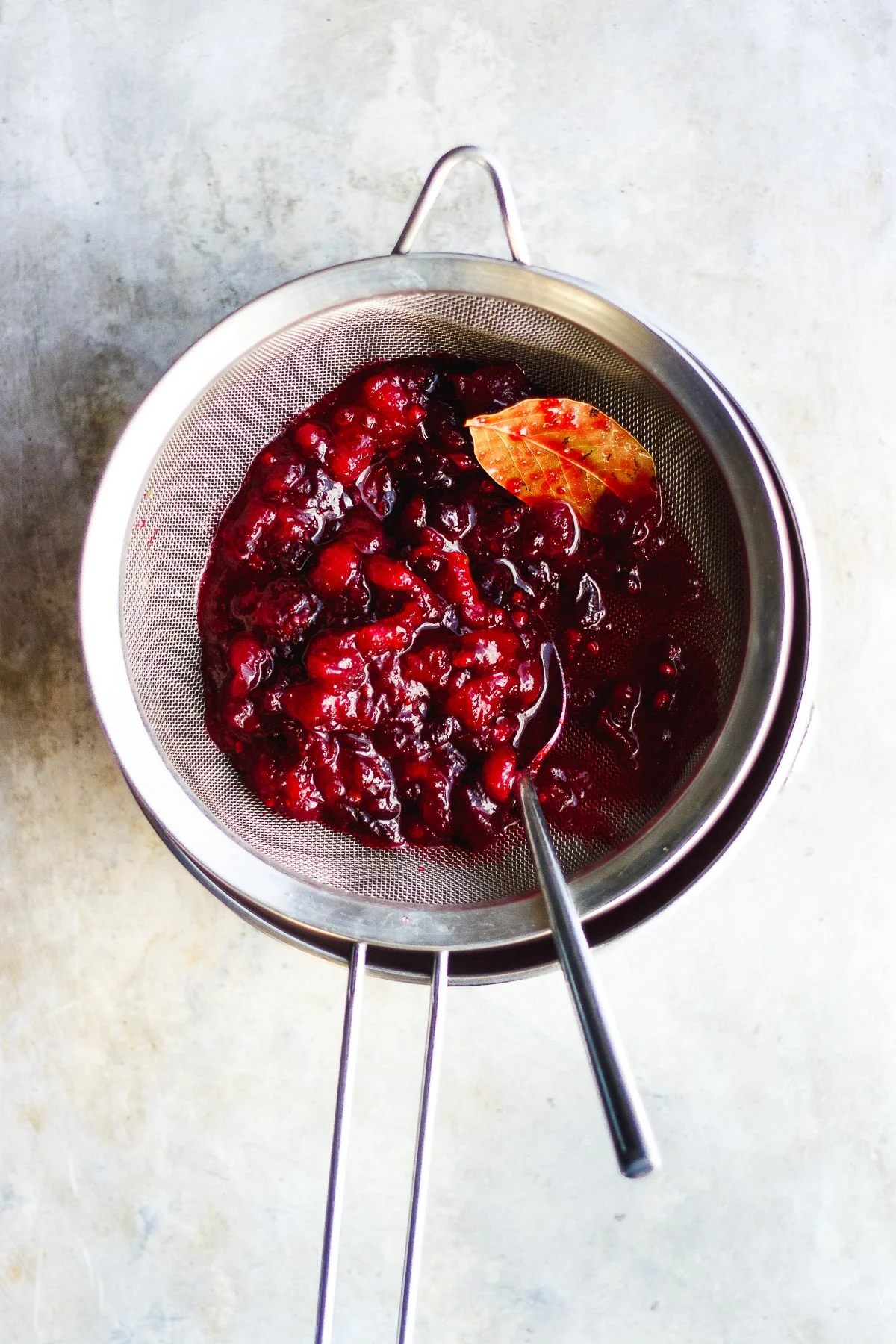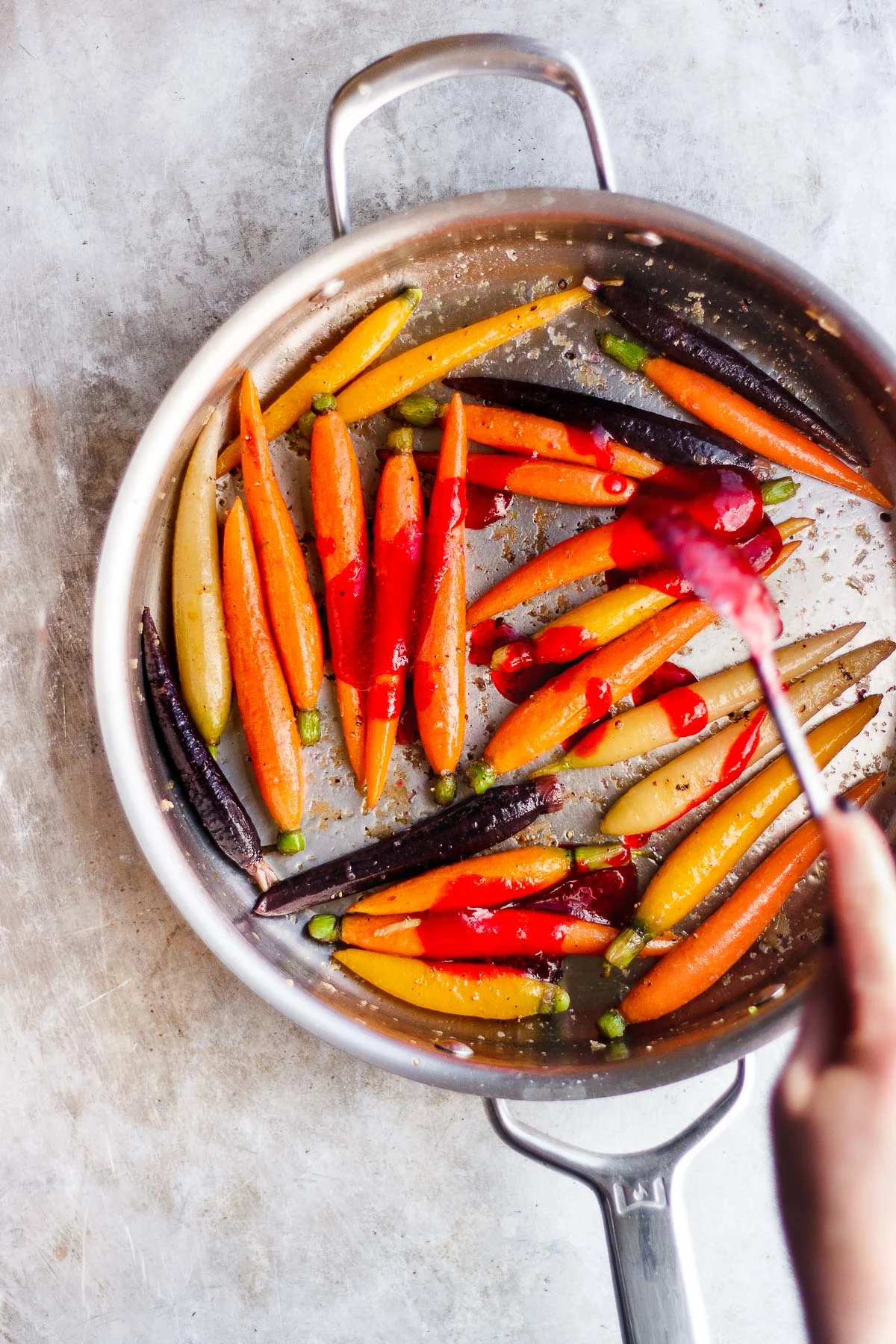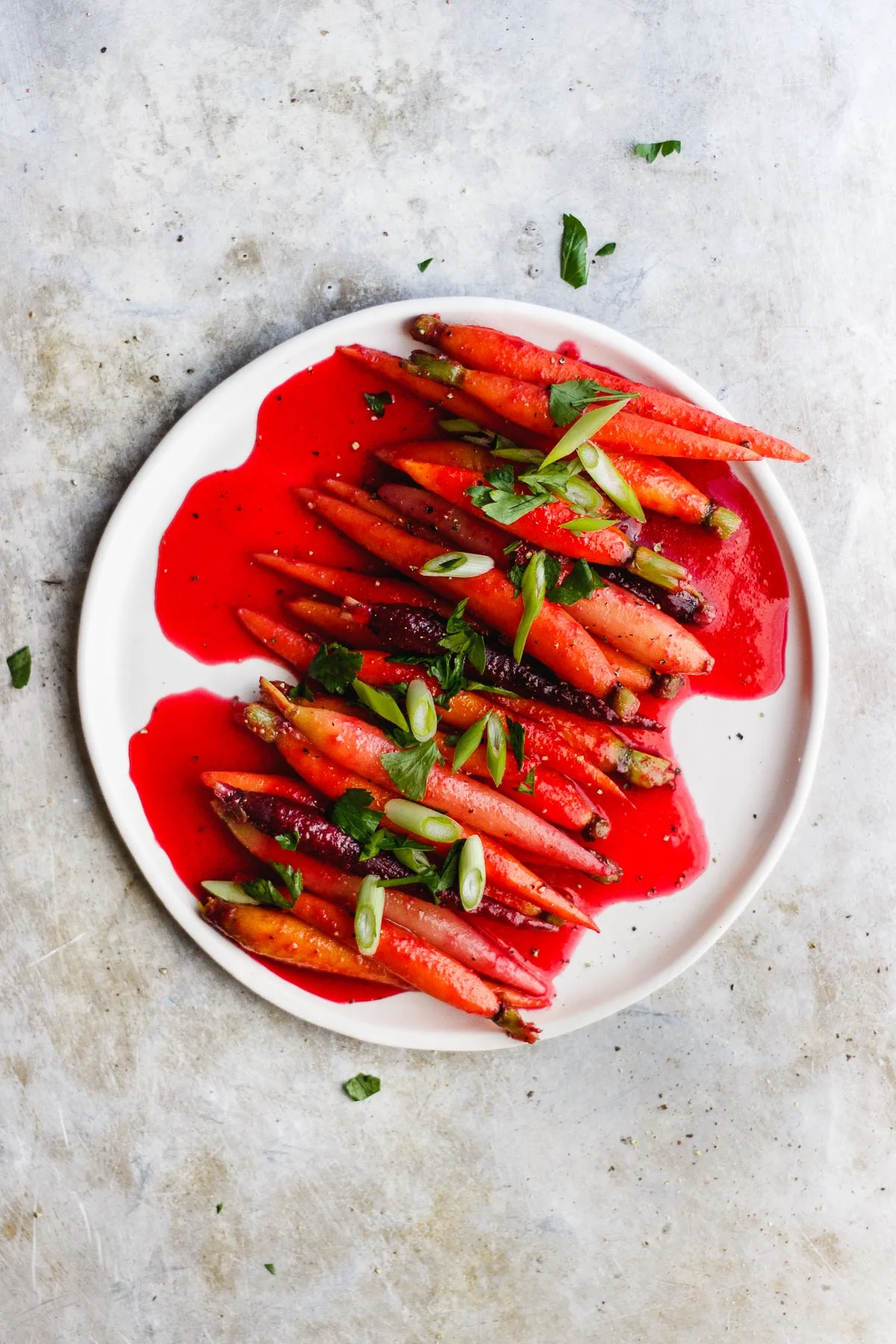 Yield: 4 servings
Cranberry Glazed Carrots with Pink Peppercorns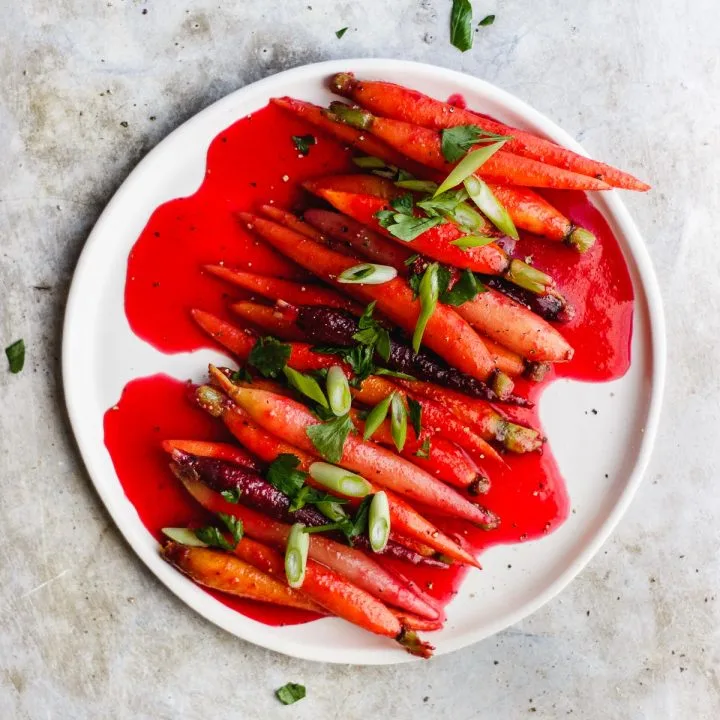 Cranberry glazed carrots are a stunning sweet and savory recipe. Made with a hint of garlic and topped with lots of fresh herbs and scallions.
Ingredients
Glaze Ingredients
1 cup fresh cranberries
1/2 cup filtered water
1/2 cup Florida Crystals® Demerara Sugar (see notes)
1 tablespoon pink peppercorns
1 bay leaf
1/2 teaspoon fine sea salt
1/4 teaspoon black pepper
Carrot Ingredients
1 pound carrots, peeled (see notes)
2 tablespoons olive oil
1 clove garlic, minced
1/4 teaspoon fine sea salt
1/4 cup fresh parsley, chopped (to garnish)
1/4 cup green onions, diced (to garnish)
Instructions
Combine all of the glaze ingredients in a small pan, stir and bring to a boil.
Turn the heat to low and simmer for 10 minutes while stirring occasionally and smashing the cranberries gently.
Remove the pan from the heat and strain the cranberries sauce through a fine mesh sieve and into a bowl. Discard the pulp and set the glaze aside.
In a sauté pan, simmer the carrots in an inch of water for 10 minutes or until tender. Drain the water and return the pan (and carrots) to the stove. Add the olive oil, garlic and salt and sauté for 2 minutes.
Spoon the glaze over the carrots and cook for 1 minute more.
Plate the carrots with parsley and green onions and serve.
Notes
I recommend using demerara sugar for a rich glaze. But you can use equal parts brown sugar and regular cane sugar as a substitute. Any carrot variety will work wonderfully here. If they are large, half or quarter them lengthwise.