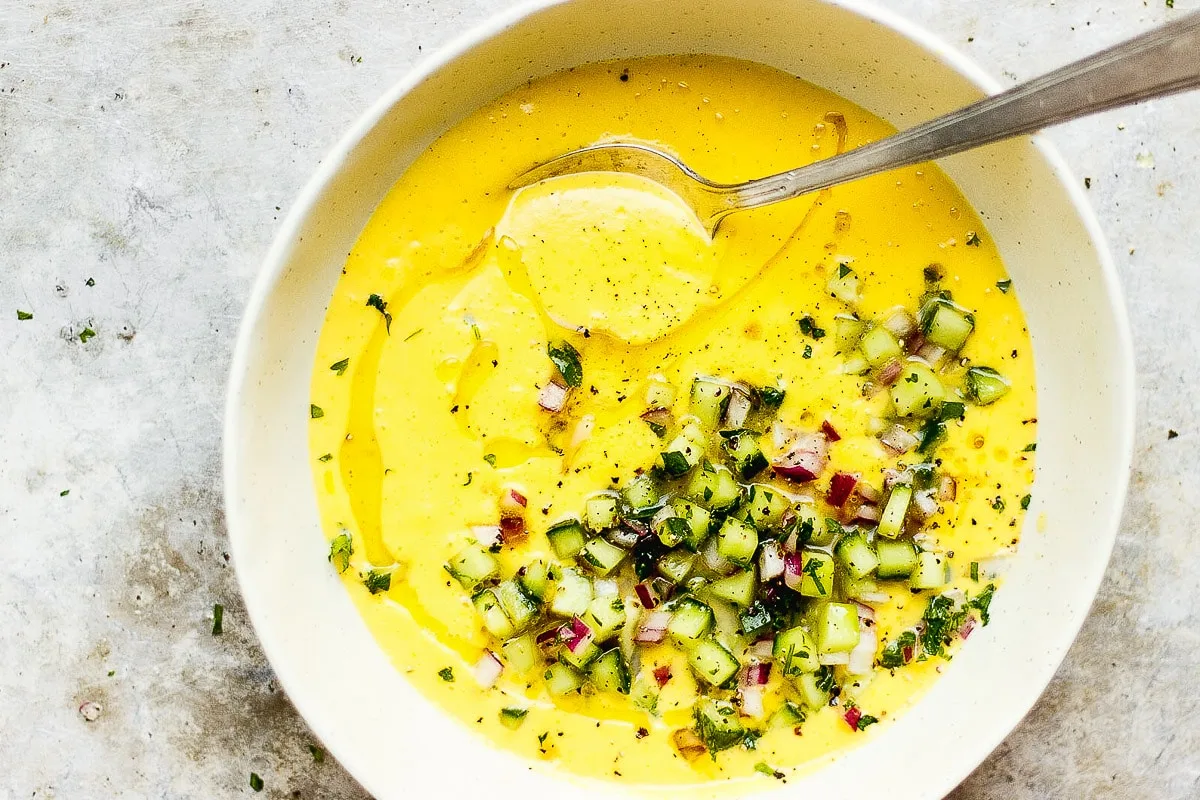 It has been insanely hot this summer. So I've been eating many bowls of this chilled soup. I love it for its bright pop of flavor. And for its beautiful golden color. It just puts me in a good mood looking at it. But I especially love it for its simplicity. This cold summer soup recipe celebrates the very best of the season.
By definition, this chilled soup is a gazpacho. Gazpachos are raw, blended soups made from almost entirely vegetables. This recipe is raw and doesn't require any heat. It relies solely marinating the vegetables in tangy vinaigrette prior to blending.
The marinating process takes just thirty minutes. The acid and salt in the marinade breaks down the cellulose structure of the vegetables. Which lends for better digestion and overall flavor. It's a very similar process to preparing ceviche where the fish is marinated in citrus before consuming.
How to make chilled soup.
If you're making this chilled soup in the summertime, chances are all of the ingredients can be sourced at your local farmers market. It uses sungold tomatoes, which taste like candy. But any ripe, sweet and juicy tomato variety will work in this recipe. Fresh sweet corn cut right off the cob (yes you can eat it raw). And ripe yellow (or orange) bell peppers that bring some earthiness to the bowl.
First you chop the soup vegetables, and then you marinate them in the simple vinaigrette. Next allow that mixture to rest. Then blend and strain until you get a silky smooth texture. Chill the soup for a few hours.
And right before you serve the soup top it off with a fresh, bright, herby cucumber salad. This adds some crunch, and finishes the bite with more acid and umami. Enjoy it with a glass of this basil fig vodka smash because that'd be a complete and total summer celebration.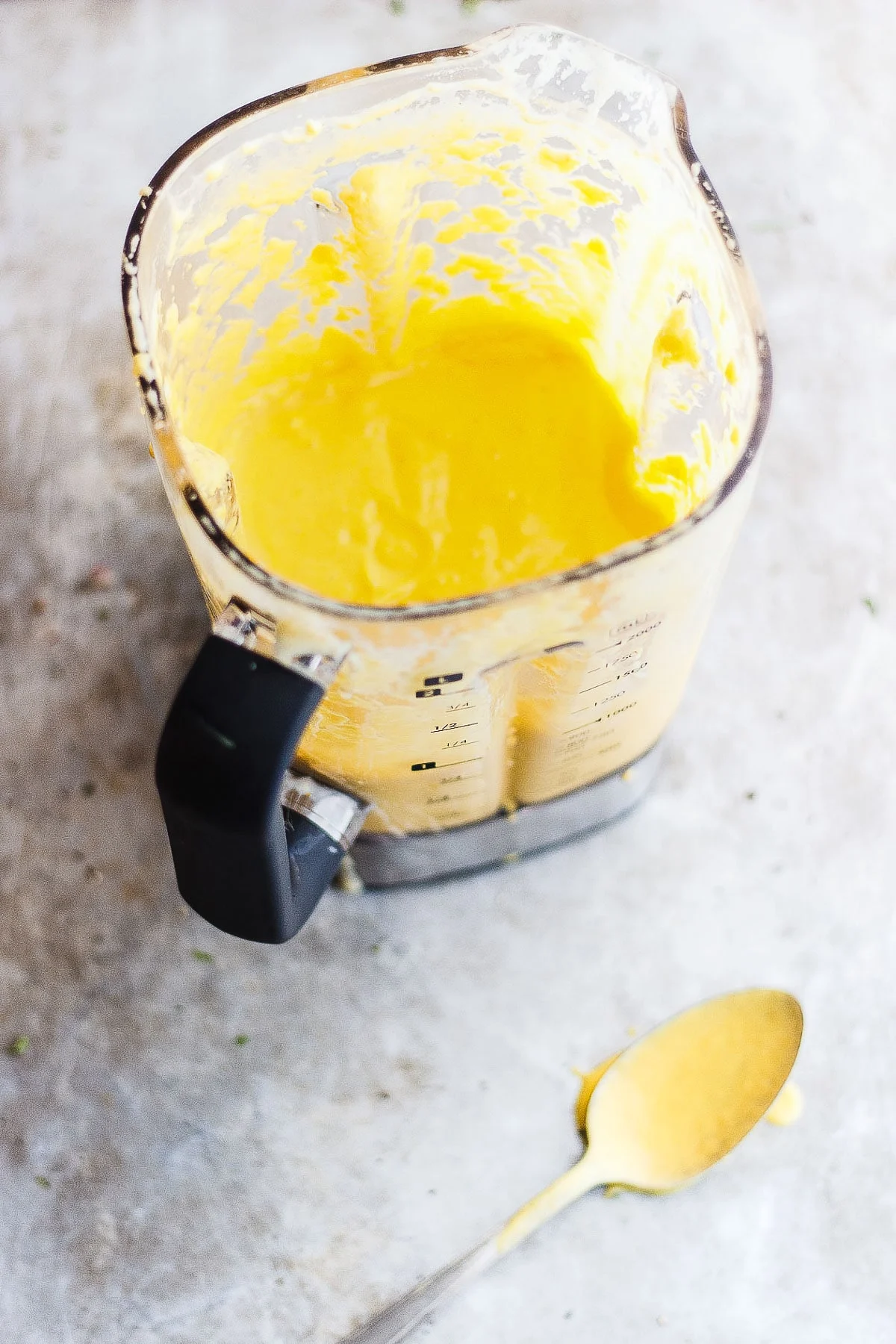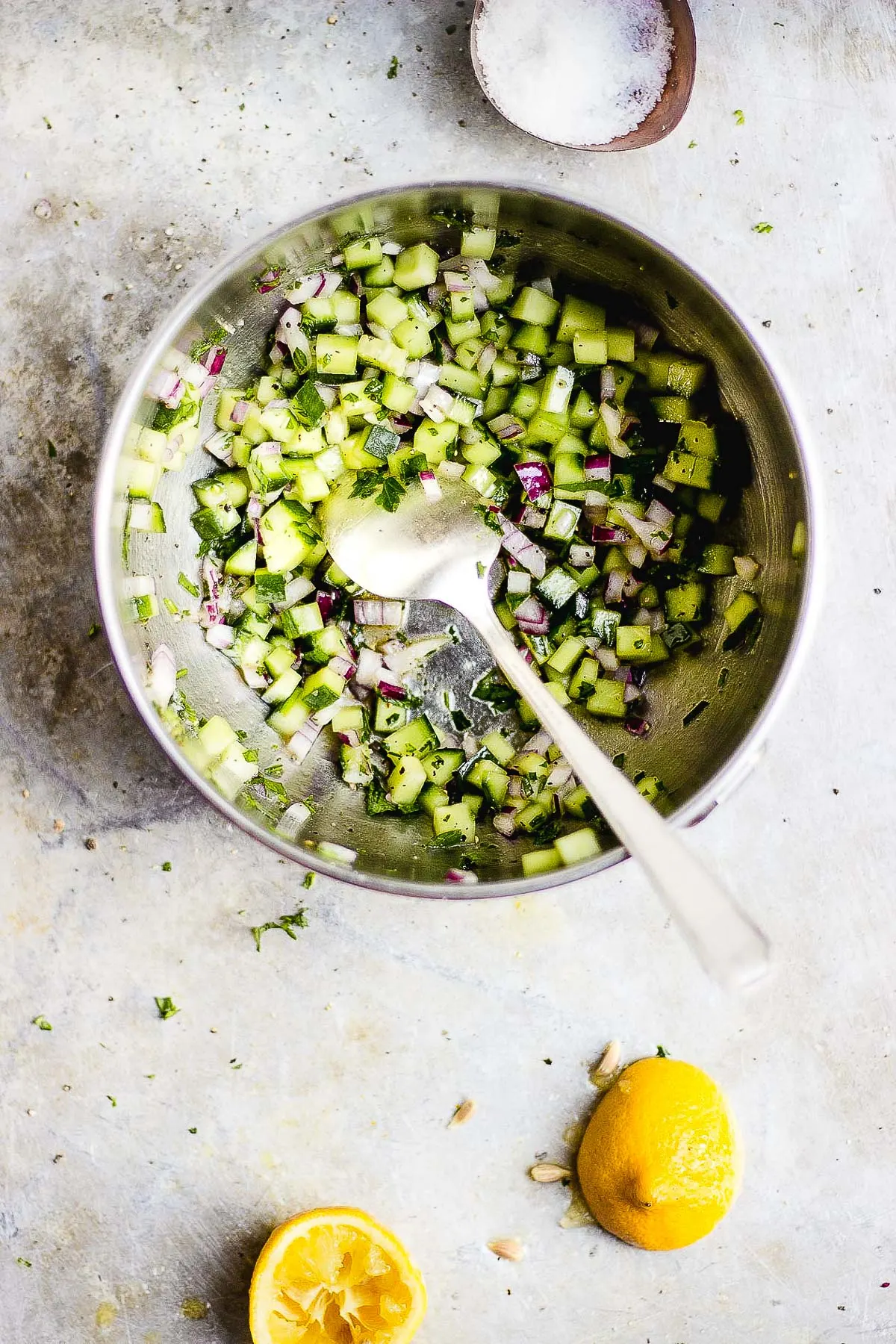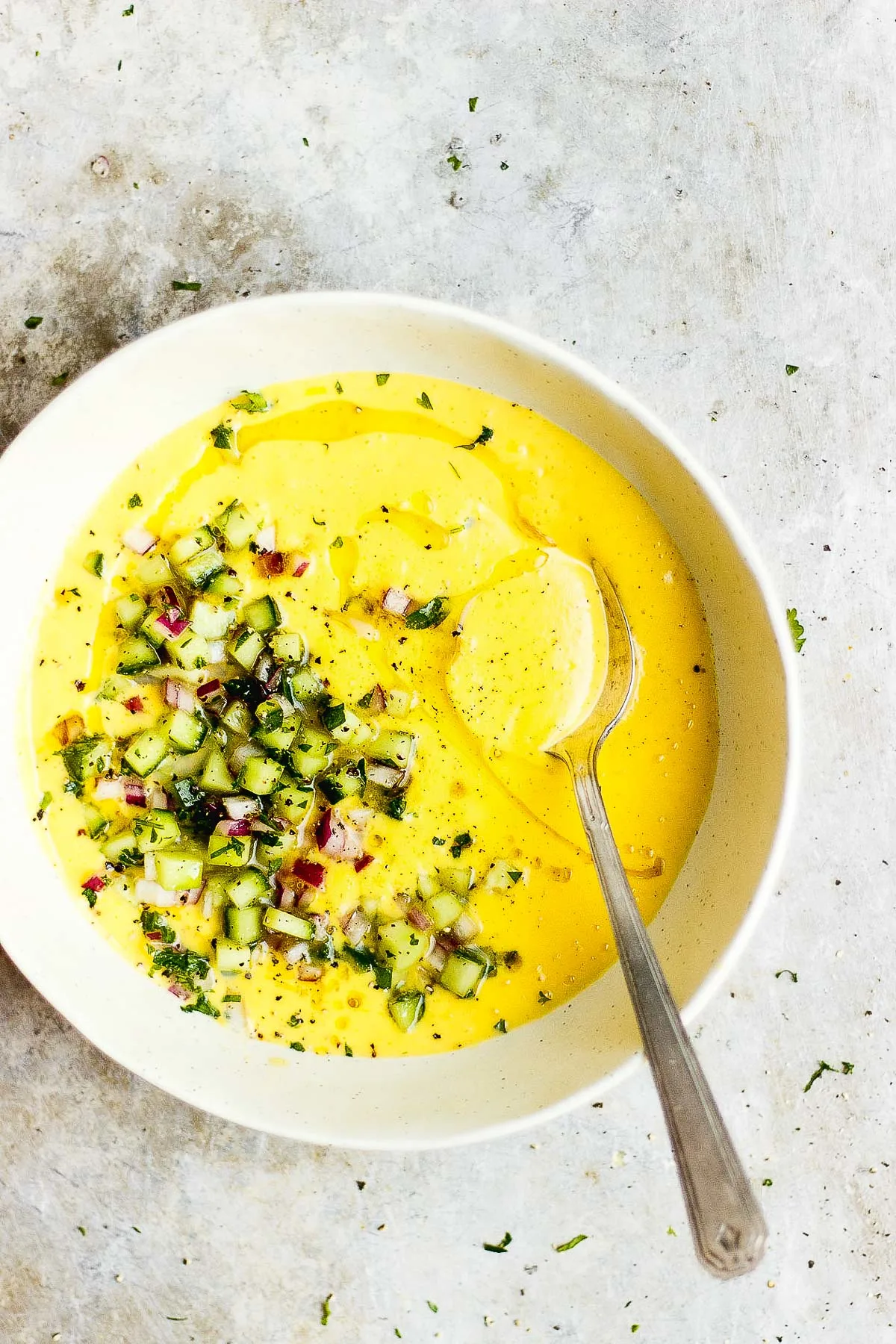 Yield: 4 bowls
Farmers Market Chilled Soup with Cucumber Salad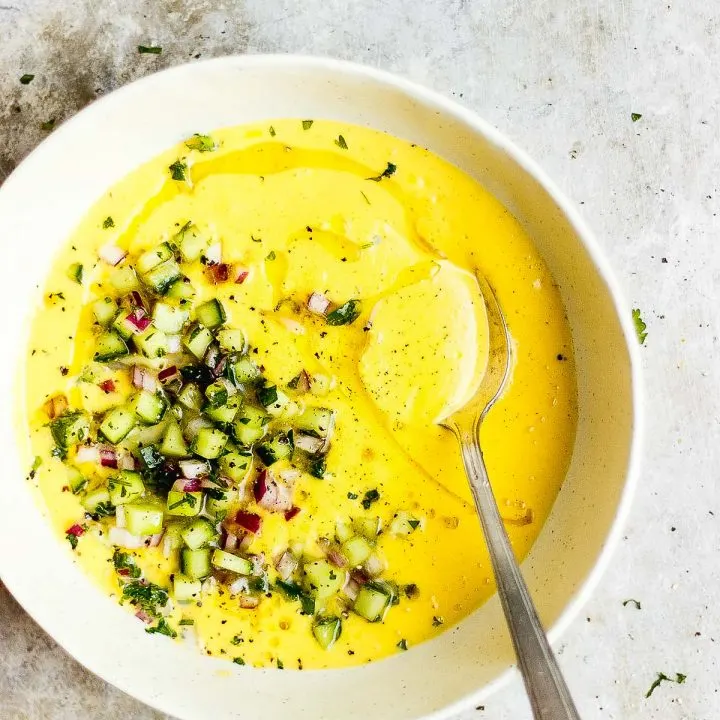 A raw, vegan chilled soup made with your farmers market best like tomatoes, bell peppers and sweet corn, and topped with a bright, herby cucumber salad.
Ingredients
Soup Ingredients
3 ears sweet corn
3 cups sungold tomatoes, halved (see notes)
1 cup yellow bell pepper, diced medium
1/2 cup white onion, diced medium
1/4 cup olive oil
2 tablespoons apple cider vinegar
1/2 teaspoon fine sea salt
1/4 teaspoon black pepper
Salad Ingredients
1 cup cucumber, diced small
1/2 cup red onion, minced
1/4 cup fresh parsley, finely chopped
2 tablespoons olive oil
1 tablespoons lemon juice
1/4 teaspoon fine sea salt
1/4 teaspoon black pepper
Instructions
Shuck the corn, and discard the husks.
Shave off the kernels off the cob into a large mixing bowl. Then milk the cob into the bowl by running the back of your knife down the cob to remove any remaining kernel bits and juice.
Next add the tomatoes, bell pepper, onion, olive oil, apple cider vinegar, salt and pepper and stir to combine. Allow this mixture to sit uncovered and undisturbed for 30 minutes.
While the soup is sitting, make the salad by combining the cucumber, red onion, parsley, olive oil, lemon juice, salt and pepper in a bowl, stir and set aside.
Then blend the soup in soup batches in a blender until smooth. Run the soup through a fine mesh sieve and refrigerate for 4 hours or until chilled.
Divide the soup into bowls and serve chilled with the cucumber salad, a drizzle of olive oil and pinch of black pepper on top.
Notes
Any sweet, ripe tomatoes will work in this recipe. Although if you're using red tomatoes, the yielding soup color may differ than as shown.
Recommended Products
As an Amazon Associate and member of other affiliate programs, I may earn a small percentage from qualifying purchases.