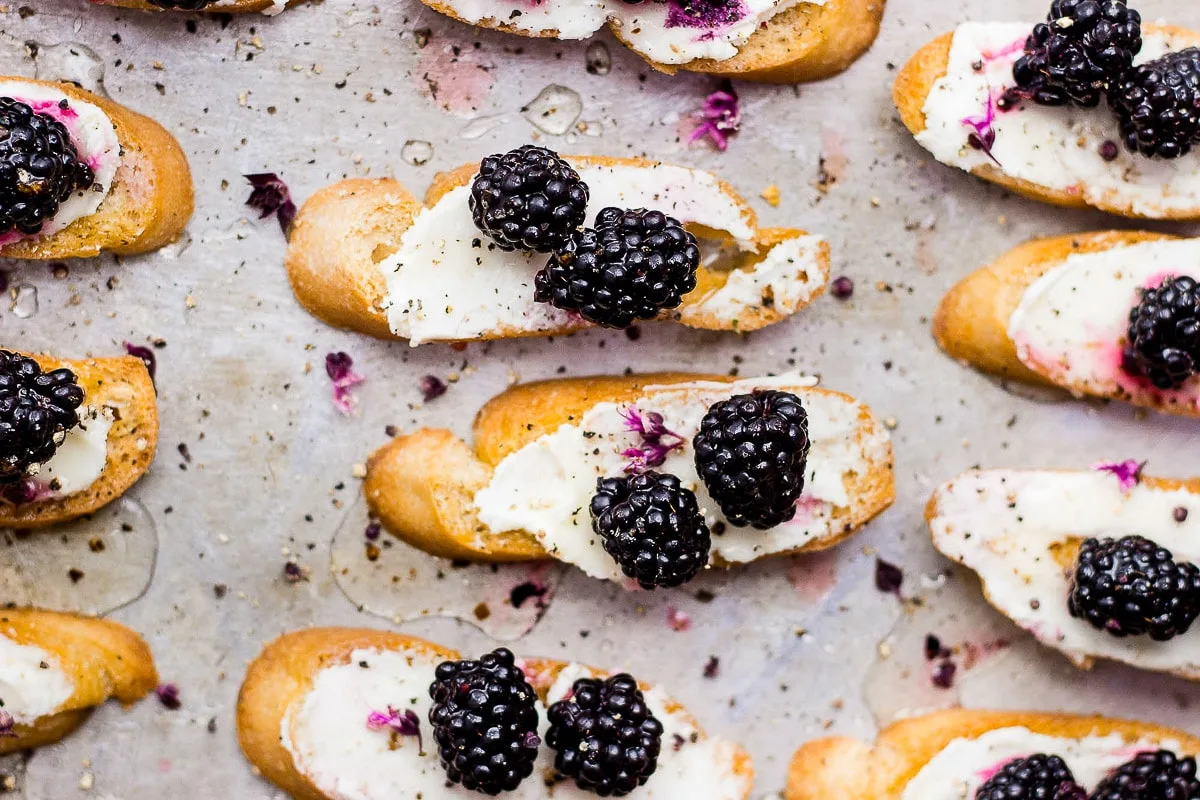 Does the thought of pickling something sweet, like fruit, seem right to you? It does to me. Like so, so right. And as much as I'd love to take full credit for these pickled blackberries, they were inspired by my friend Tessa's Instagram stories. She had a pickled berry of some kind as an accoutrement on a charcuterie board she was eating. Cheese and pickled blackberries? I mean that sounds like heaven on earth.
I wanted to recreate that perfect balance of sweet, salty and savory with these pickled blackberries. And I think I did that in a quick-pickle form. So they are ready to go in just about one hour. They would be wonderful as an ingredient in a seasonal salad or grain bowl. Or in a martini (that's fun!). And of course on a charcuterie board, and in these truffle honey blackberry crostini.
How to make pickled blackberries.
Blackberries are very easy to pickle. Because they are soft and porous, it only takes a small amount of time to infuse them with flavor. First you clean your berries well (they can be pretty dirty little things). Next in a small sauce pot over low heat you make your pickling liquid.
Then you pour that liquid over the blackberries in a jar, cover them with a lid and chill for about one hour. Of course the longer they sit, the more flavorful they become. You can store them in the refrigerator in their pickling liquid for up to one week, but they are ready to go after just one hour.
These truffle honey (or plain honey) blackberry crostini are very easy to put together. The textures and layered flavors are just right. It's a toast, spread, top situation. The crunchy gluten-free baguette, smooth goat cheese (or vegan cream cheese), sweet pickled blackberries, truffle honey, bright basil blossoms and a touch of black pepper is just the right combination.
I'd serve these crostini at any brunch, outdoor summer party or special occasion. They're good enough for a wedding but chill and unfussy enough for anytime. They'd be especially delicious sipped alongside this hibiscus mai tai cocktail.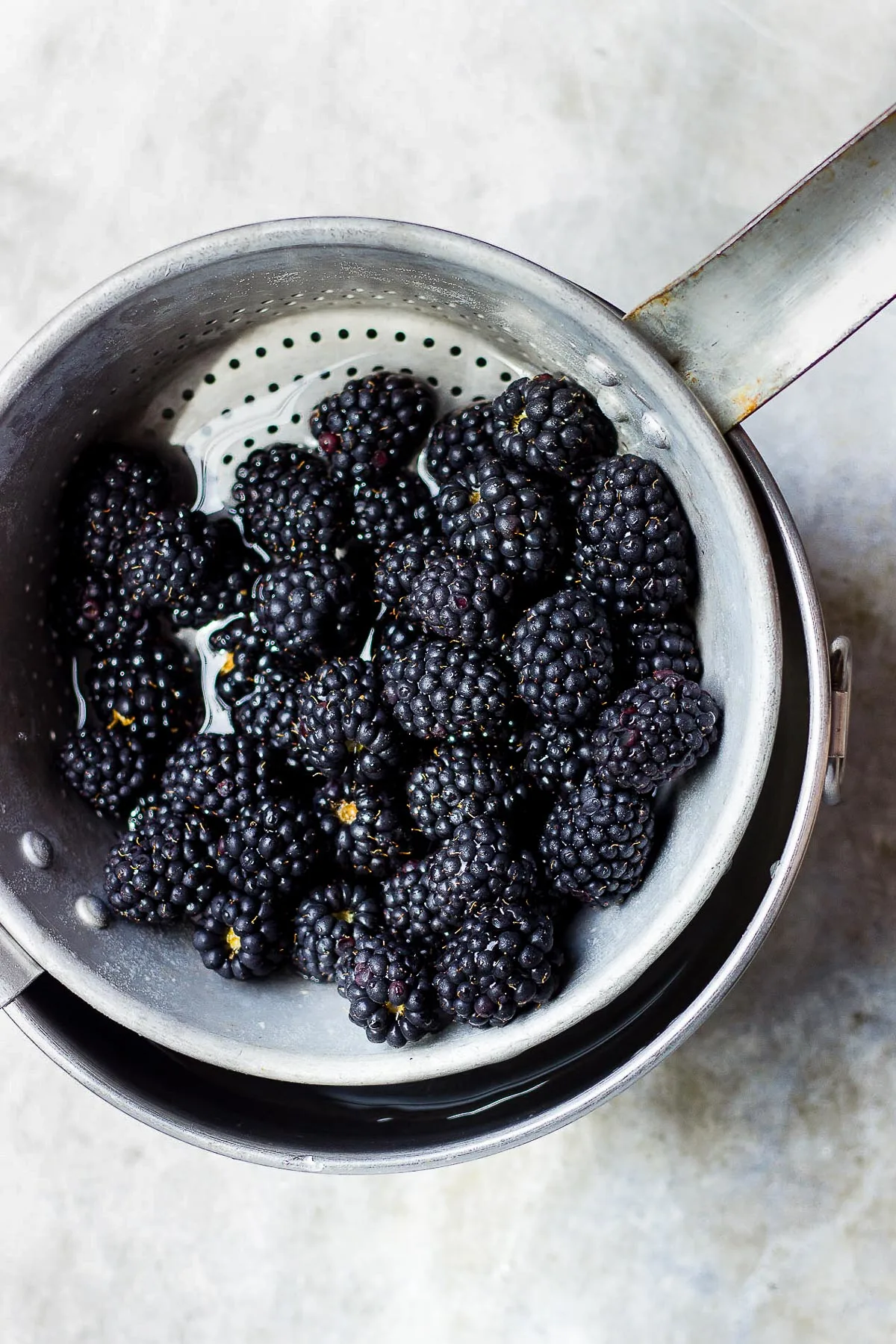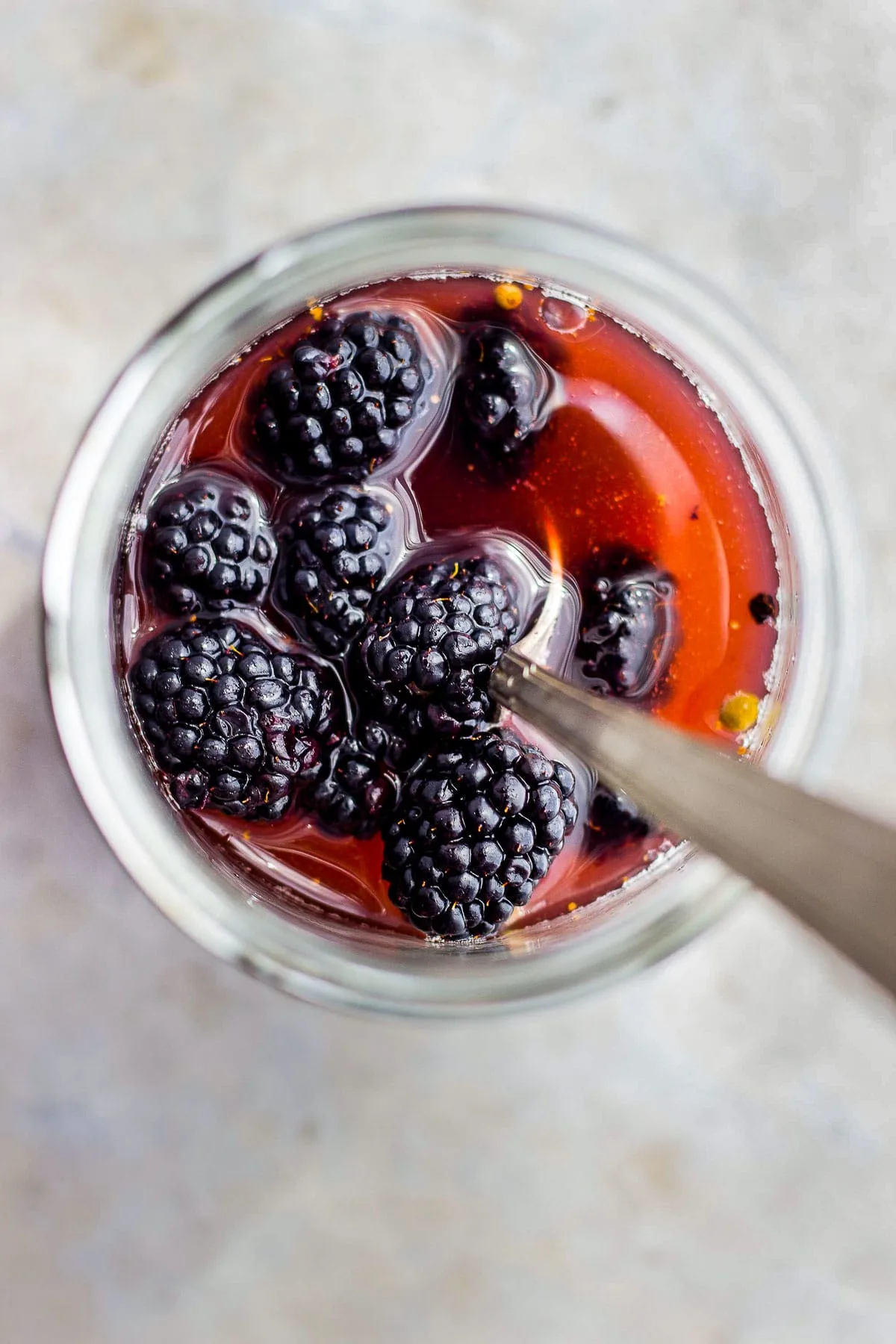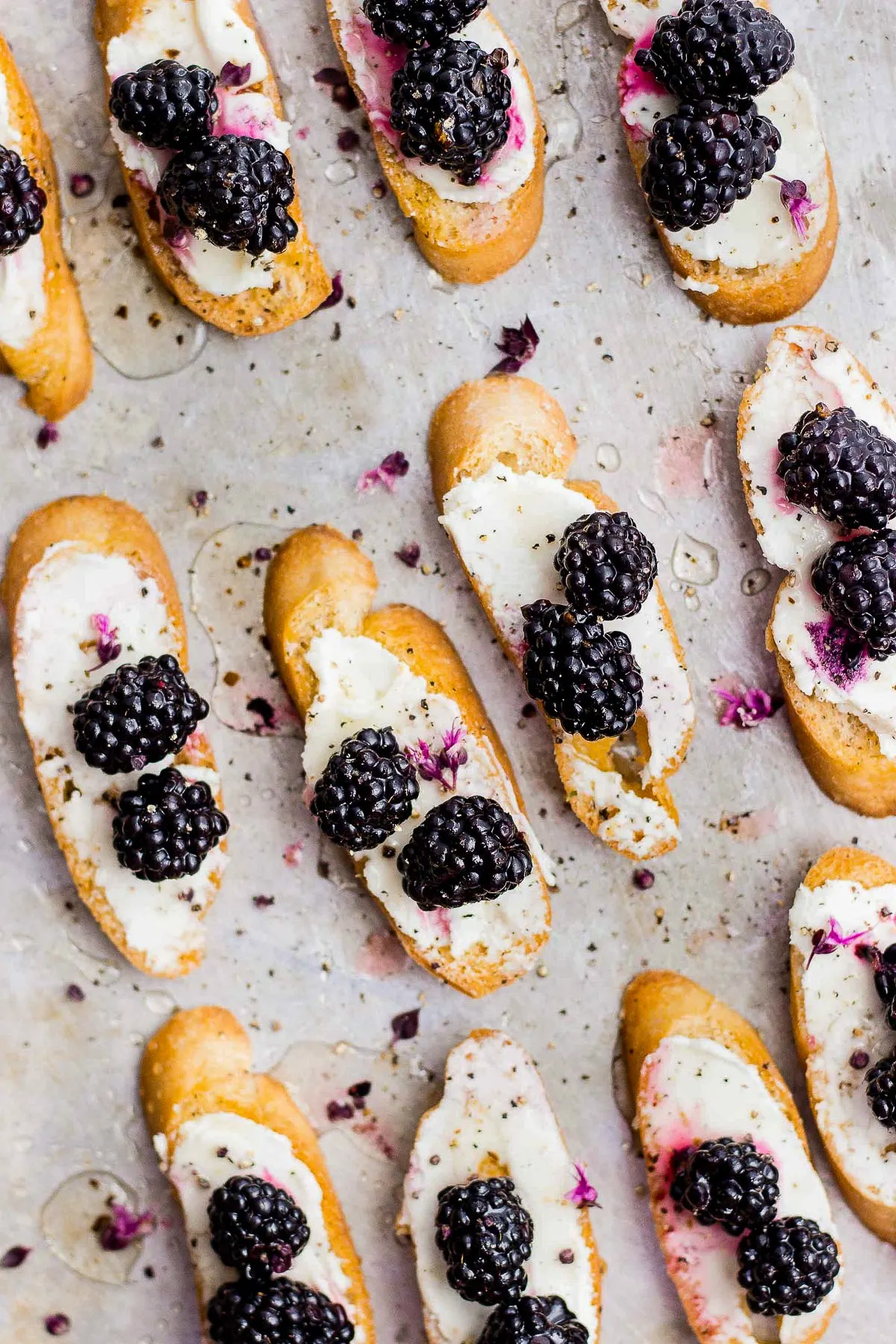 Yield: 20 crostini
Pickled Blackberries and Truffle Honey Blackberry Crostini
Pickled blackberries are sweet, salty and the perfect addition to any salad, grain bowl, charcuterie board or goat cheese crostini.
Total Time
1 hour
5 minutes
Ingredients
Blackberry Ingredients
1 cup blackberries
1/2 cup filtered water
1/2 cup apple cider vinegar
1 teaspoon honey (or sugar)
1/2 teaspoon fine sea salt
1/2 teaspoon black peppercorns
Crostini Ingredients
small baguette (see notes)
5 ounces soft goat cheese
2 tablespoons truffle honey (or plain honey)
1/2 teaspoon black pepper (to garnish)
1/4 cup basil blossoms or fresh basil (to garnish)
Instructions
Wash the blackberries well and set aside.
Combine the water, apple cider vinegar, honey, salt and pepper in a small sauce pot over low-medium heat. Stir and cook until the sugar and salt is dissolved and remove from the heat.
Fill a jar with the blackberries and pour the hot pickling liquid over top of them. Stir and rest for 1 hour. They are ready after one hour, but they can be stored in the refrigerator with a lid for up to one week. The longer they sit, the more infused and flavorful they will become.
To make the crostini, slice the baguette into (20) 1/2-inch thick pieces. Discard any unused bread.
Spread 1 tablespoon goat cheese on each piece. Top with 2 pickled blackberries and a drizzle of honey.
Garnish with basil blossoms (or fresh basil), pepper and serve.
Notes
Any baguette or bread will work. I used a gluten-free baguette to make these. You could also use this seed bread recipe.
Recommended Products
As an Amazon Associate and member of other affiliate programs, I may earn a small percentage from qualifying purchases.