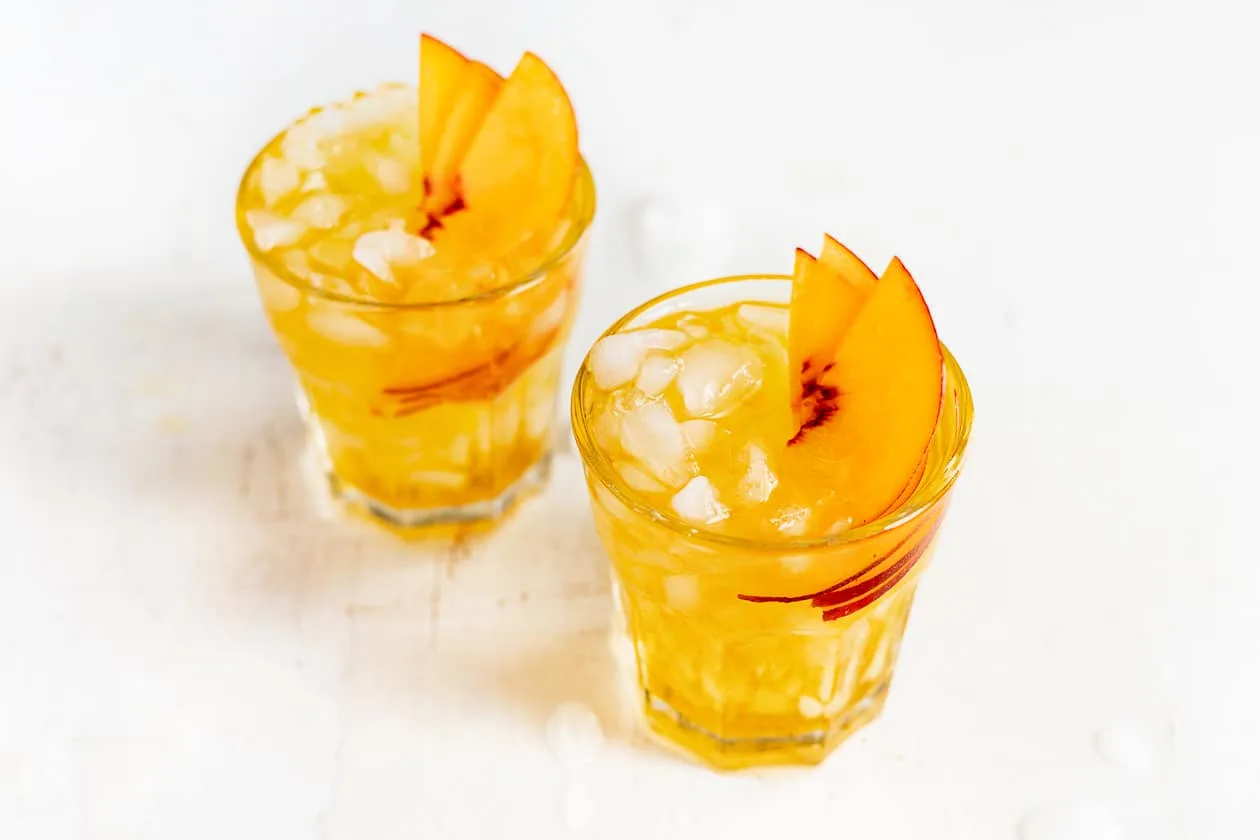 Texas summers are extraordinarily hot. The kind of hot that lingers for months without reprieve. The kind of heat that sticks around when the sun sets and when the moon comes up. It's just there. And you learn to live with it. You find ways to move beyond it. For me, a good tea spritzer is the way.
This peach black tea spritzer is made with a cold brew method. Cold brewing tea (literally the complete opposite of sun brewing tea) is fantastically easy. And hands down my preferred way to brew iced tea for a few reasons.
The first is because the finish product is cold. It is finished the way you intended it. There's no cooling down or chilling period. And there's no ice cubes mixing with warm tea to get in the way of watering the end product down. It's just ready for you, when you're ready to drink it.
The second is because the finished product is the smoothest glass of tea you'll ever enjoy. Cold brewing tea is a gentle process that uses cold water instead of hot water. And when you make this switch you release less tannins.
Tannins, are compounds called polyphenols that give tea its flavor. Black tea tends to have a lot of tannins, and the flavor can turn bitter if steeped too long with hot water. Using cold water to brew tea has the opposite effect as it releases tannins, but avoids turning astringent. Yielding, a smoother, perfect tasting glass of tea.
Tips for making a cold brew tea spritzer.
You can use this method to brew any kind of tea. Here were are brewing peach black, using fresh peaches. But you can use this recipe as a guide to brew anything cold. Other favorite cold brewed tea options are plain jasmine green or earl grey, or a simple English breakfast tea with some lemon rind.
You don't need any fancy equipment to cold brew tea. You can use a french press. But you can also use a simple mason jar and a fine mesh sieve like I have here. If you don't have loose black tea, simply cut open tea bags and measure.
Any cold brewed tea can become a tea spritzer. All you need is the finished cold brew tea product and some sparkling water. I like a two parts tea to one part sparkling water ratio, but feel free to mess around with what your preferences are. There's no wrong way to serve it. If you like this tea spritzer recipe, you might also enjoy this sweet tea sangria.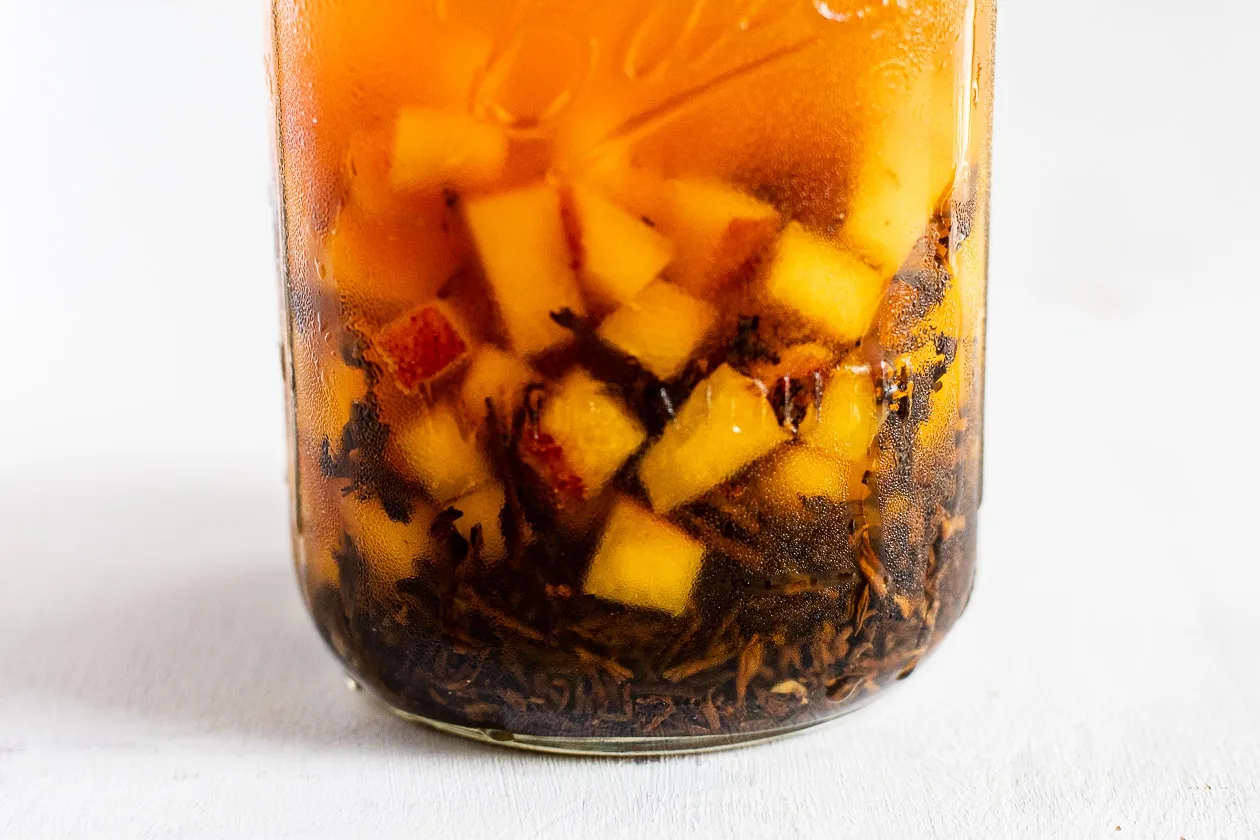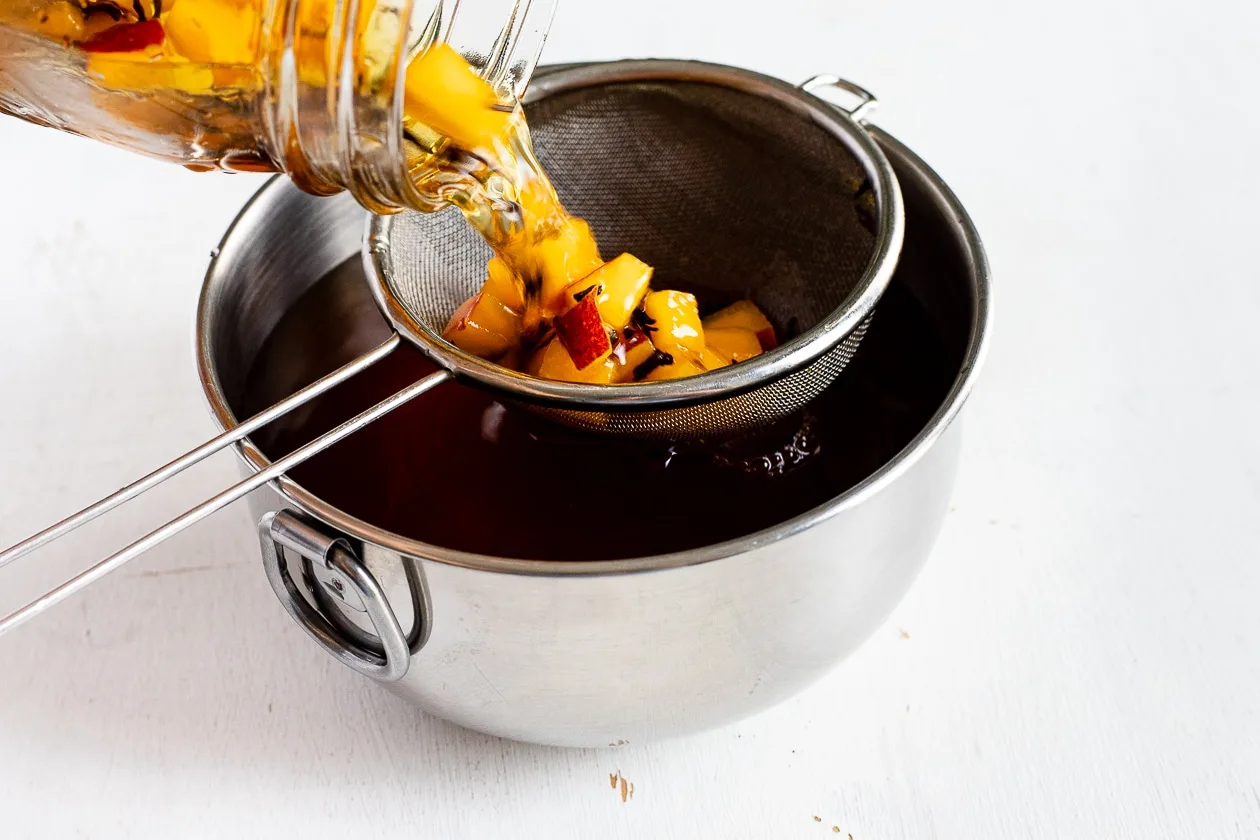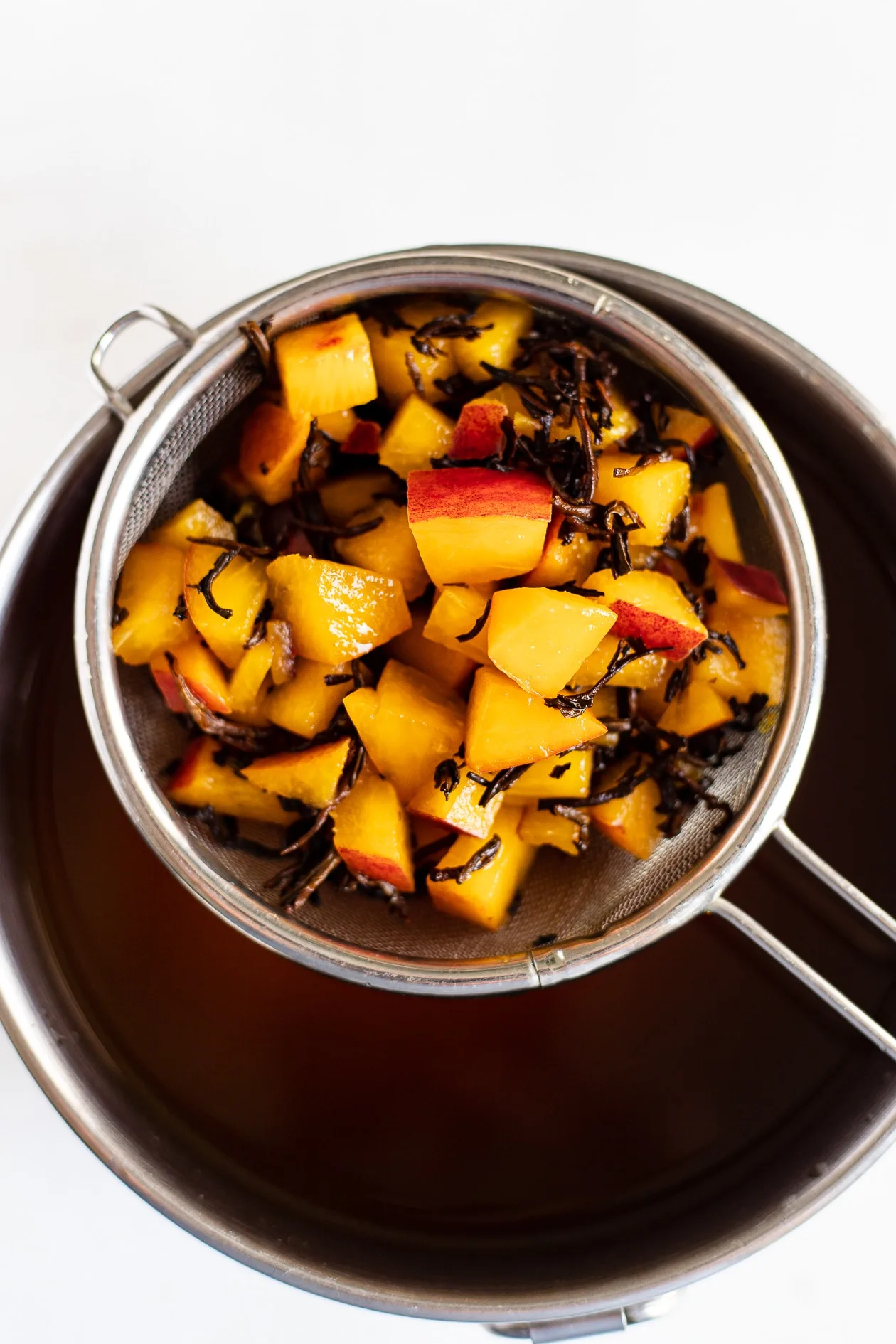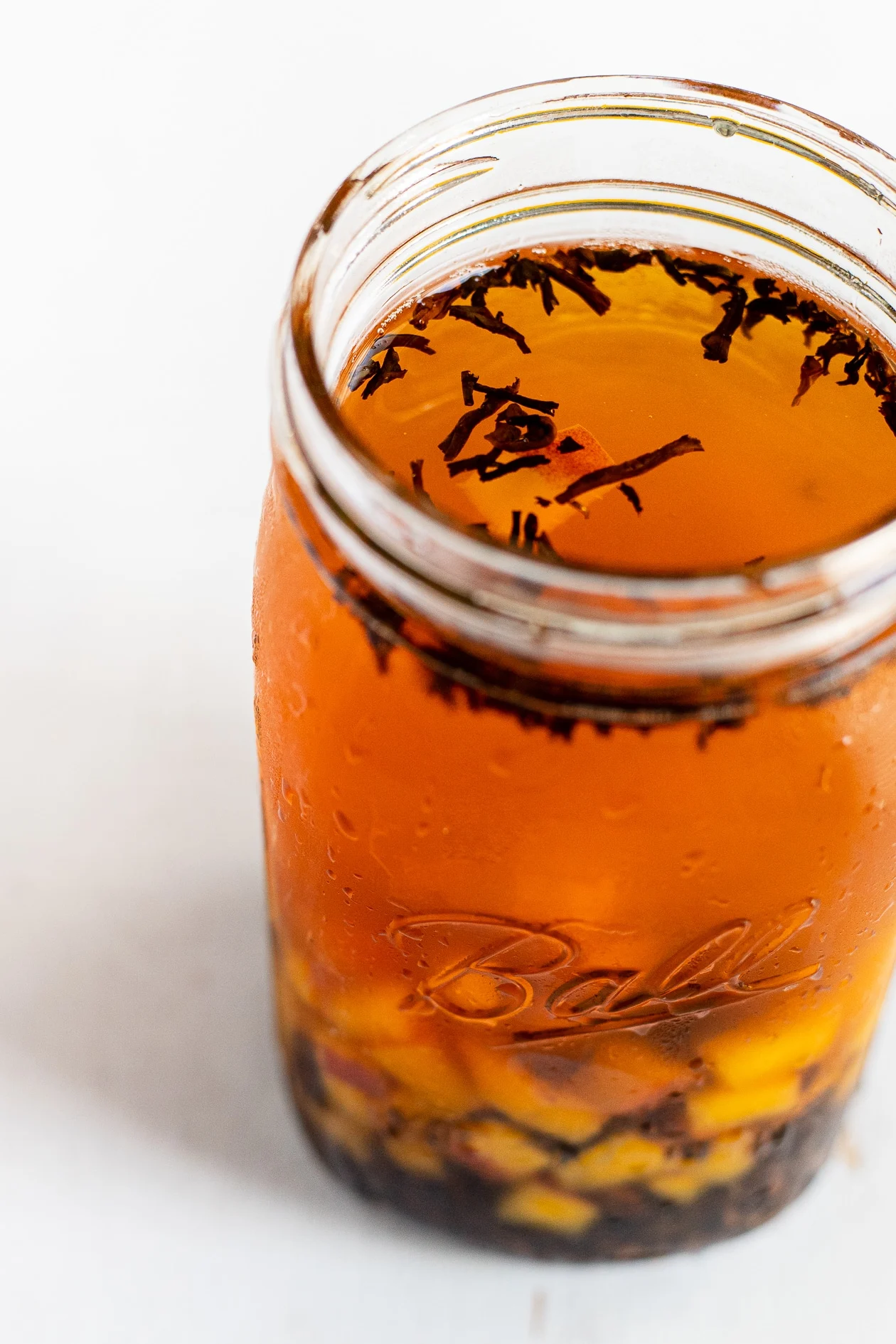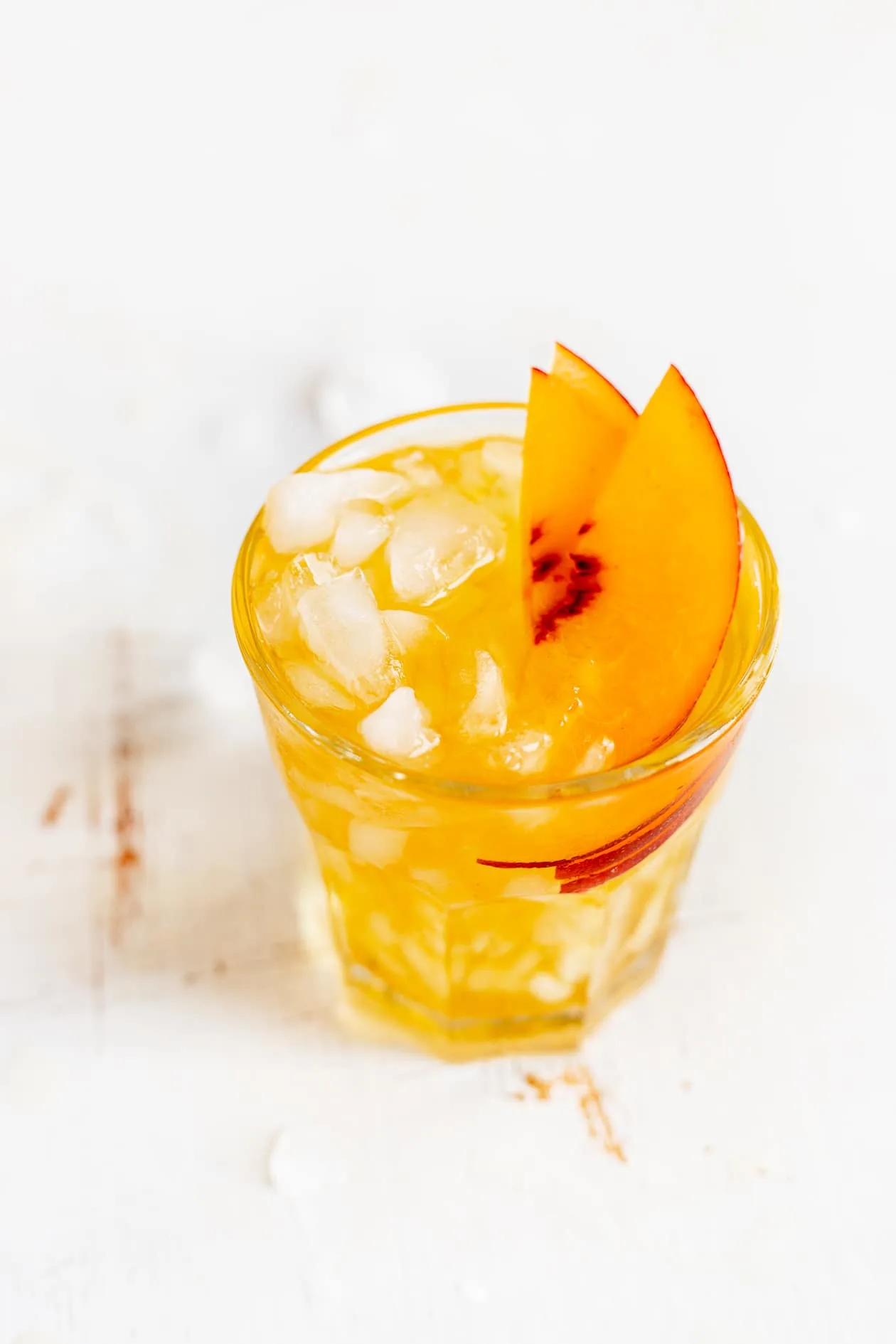 Yield: 24 ounces
Cold Brew Peach Black Tea Spritzer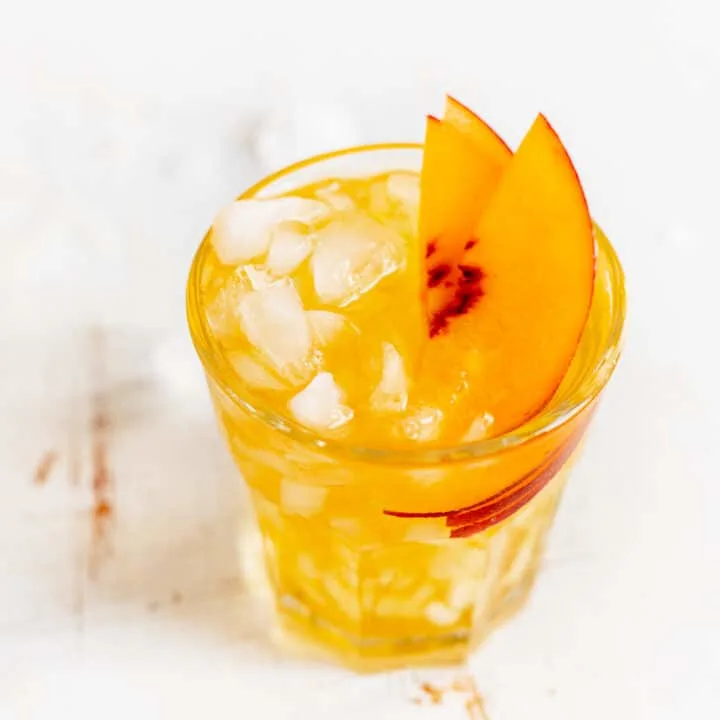 A simple, cold brewed peach and black tea spritzer for the hottest days of summer.
Total Time
8 hours
5 minutes
Ingredients
3 tablespoons loose black tea
24 ounces cold water
1 cup peached, diced
ice
sparkling water
peach slices (to garnish)
Instructions
Combine the tea, water and peaches in a mason jar and cover with a lid. Shake and place in the refrigerator for 8-10 hours, and then strain.
Fill a glass with ice and pour in 2 parts cold brew tea and top with 1 part sparkling water. Garnish with peaches and serve.