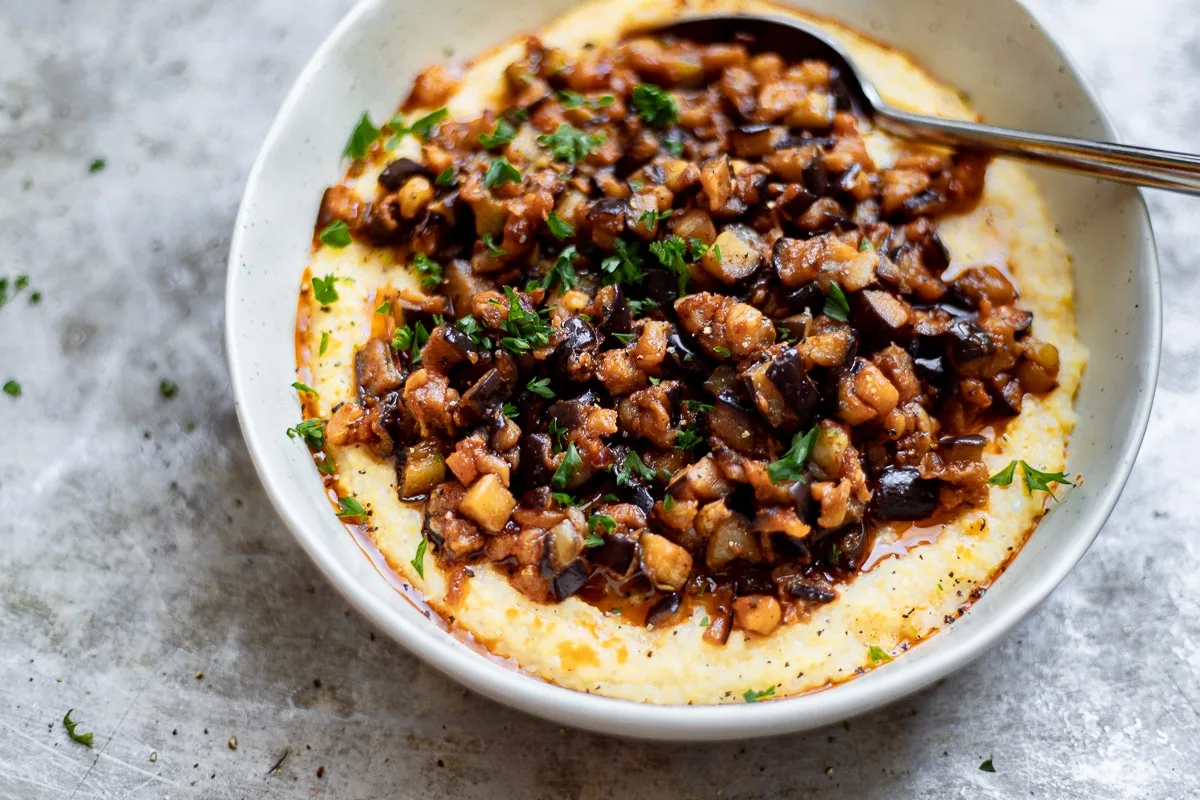 Late summer is my favorite time of year. Breezier days, cooler nights and a selection of seasonal produce that's incomparable. A collision of summer fruits and vegetables with early autumn fruits and vegetables and everything in between. One of my favorite seasonal gems right now is, eggplant. And this fried eggplant ragú with creamy polenta is how I'm eating it.
Fried eggplant ragú is just four ingredients plus one prepared ingredient. Fine sea salt, coarsely ground black pepper, a great quality olive oil, a perfectly ripe eggplant and a half cup of fresh tomato sauce. That is it. That's all you need to make it. If you don't have tomato sauce on hand and prefer to use a jarred variety, I recommend Rao's Fresh Marinara.
This vegetarian eggplant ragú is a hearty option and great alternative to a meat-based sauce because of its surprising amount of umami, depth and texture. You can serve it over a rich, creamy and cheesy polenta (as shown here). But it would also be really delicious appetizer or brunch option served over bread. And of course a classic option would be to serve it over a simple pasta or risotto.
How to make eggplant ragú.
First you slice the eggplant and liberally season it with salt. Allow the eggplant to draw out its moisture and bitterness, rinse and pat it dry. Then dice it into small cubes and fry it in a hot skillet with olive oil. Pour in the tomato sauce and simmer.
Meanwhile make your creamy polenta with an aromatic base of garlic and oil. Then add in the water and polenta, simmer and stir until creamy. Lastly add in the butter and cheese for extra richness (or emit if vegan), and top with the fried eggplant ragú. I like to serve this dish family style. It just feels right and ultra comforting. I hope you enjoy as it much as I do.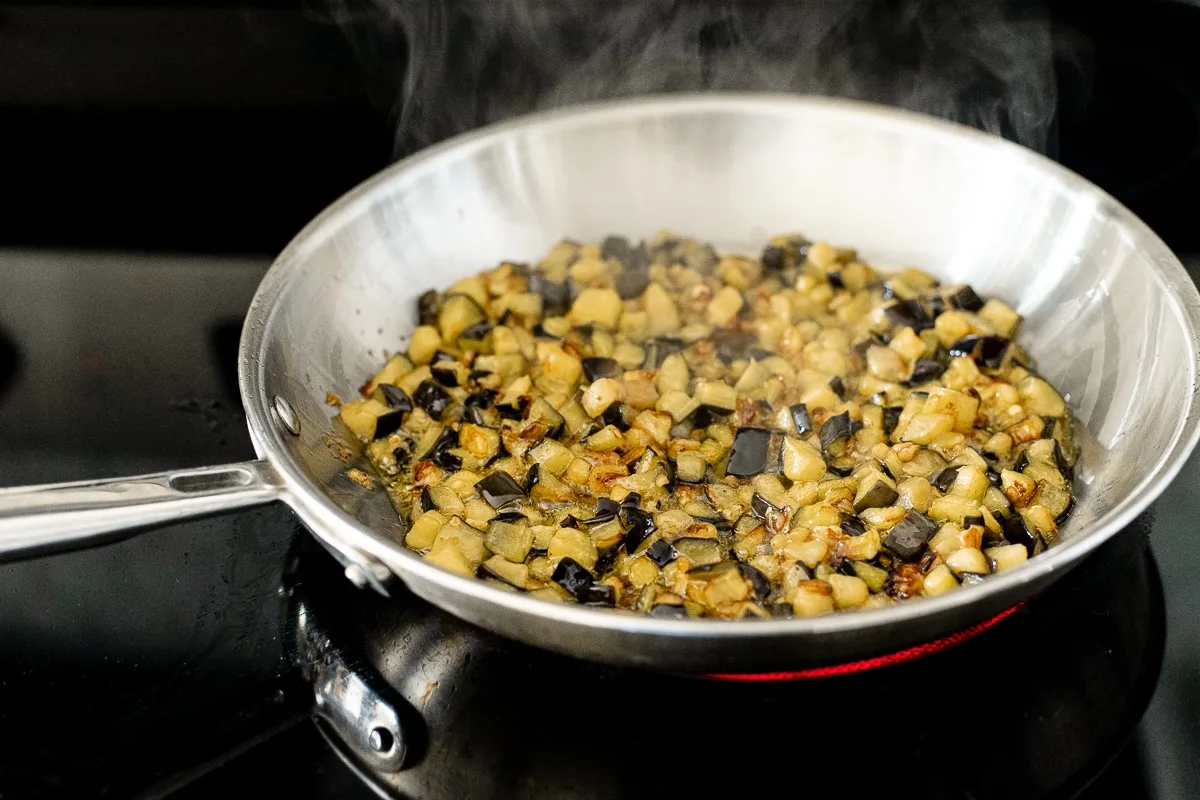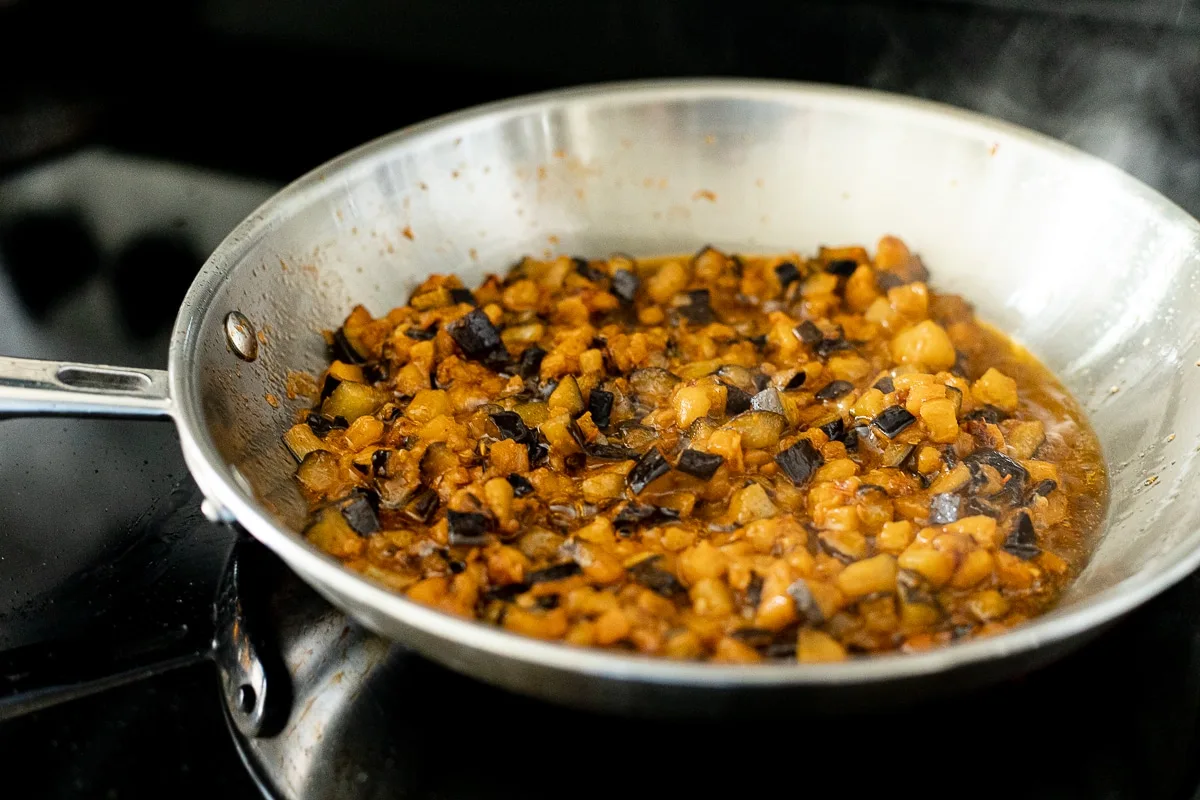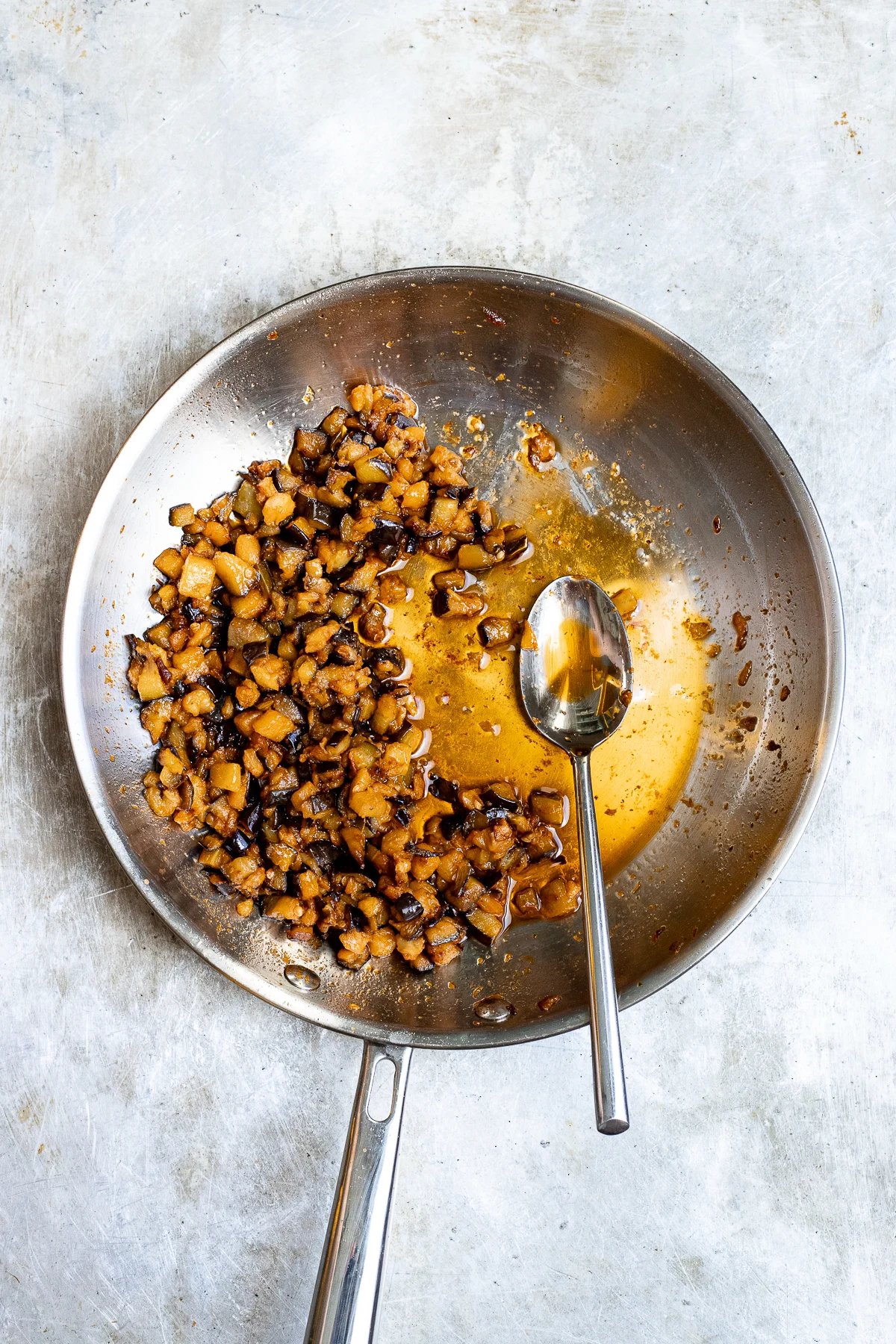 Yield: 4 servings
FRIED EGGPLANT RAGÚ WITH CREAMY POLENTA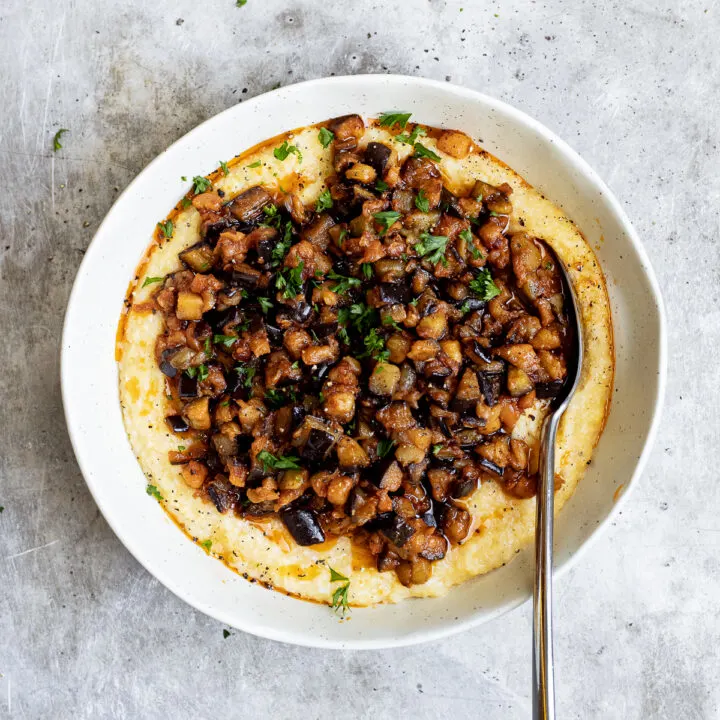 Super savory fried eggplant ragú over creamy polenta. A naturally gluten-free and mega comforting meal.
Ingredients
Ragú Ingredients
1 pound eggplant
1 teaspoon fine sea salt
1/4 cup + 2 tablespoons olive oil
1/4 teaspoon black pepper
1/2 cup fresh tomato sauce (see notes)
Polenta Ingredients
1 teaspoon olive oil
1 clove garlic, minced
4 cups filtered water
1/4 teaspoon fine sea salt
1/4 teaspoon black pepper
1 cup polenta
1 tablespoon unsalted butter
1/2 cup grated Pecorino Romano (more to garnish)
Instructions
Slice the eggplant into 1/2 inch thick medaillions. Lay it out on a tea towel and sprinkle with the salt. Allow it to sit for 15 minutes, then rinse and pat dry.
Then dice it into small 1/4 inch cubes.
Heat a skillet over medium high heat and pour in the olive oil. Add the eggplant and allow it to cook undistrubed for 7 minutes or until golden brown. Flip the eggplant and cook for another 5 minutes or until golden brown.
Sprinkle on the black pepper and stir in the tomato sauce. Reduce the heat to low and simmer uncovered for 5 minutes. Remove the ragú from the heat and set aside.
In a large nonstick frying pan heat the olive oil garlic over low-medium heat and sauté for one minute. Add in the water, salt and pepper and bring to a boil.
Then add in the polenta one-third cup at a time, stirring constantly to avoid clumps. Reduce the heat to a simmer and cook uncovered for about 15 minutes while stirring frequently until the water is absorbed and the polenta is soft. Add in more water occasionally if needed.
Remove from the heat and stir in the butter and cheese. Taste and add more salt and pepper if desired. To serve family style scoop polenta into a serving bowl and top with fried eggplant ragú.