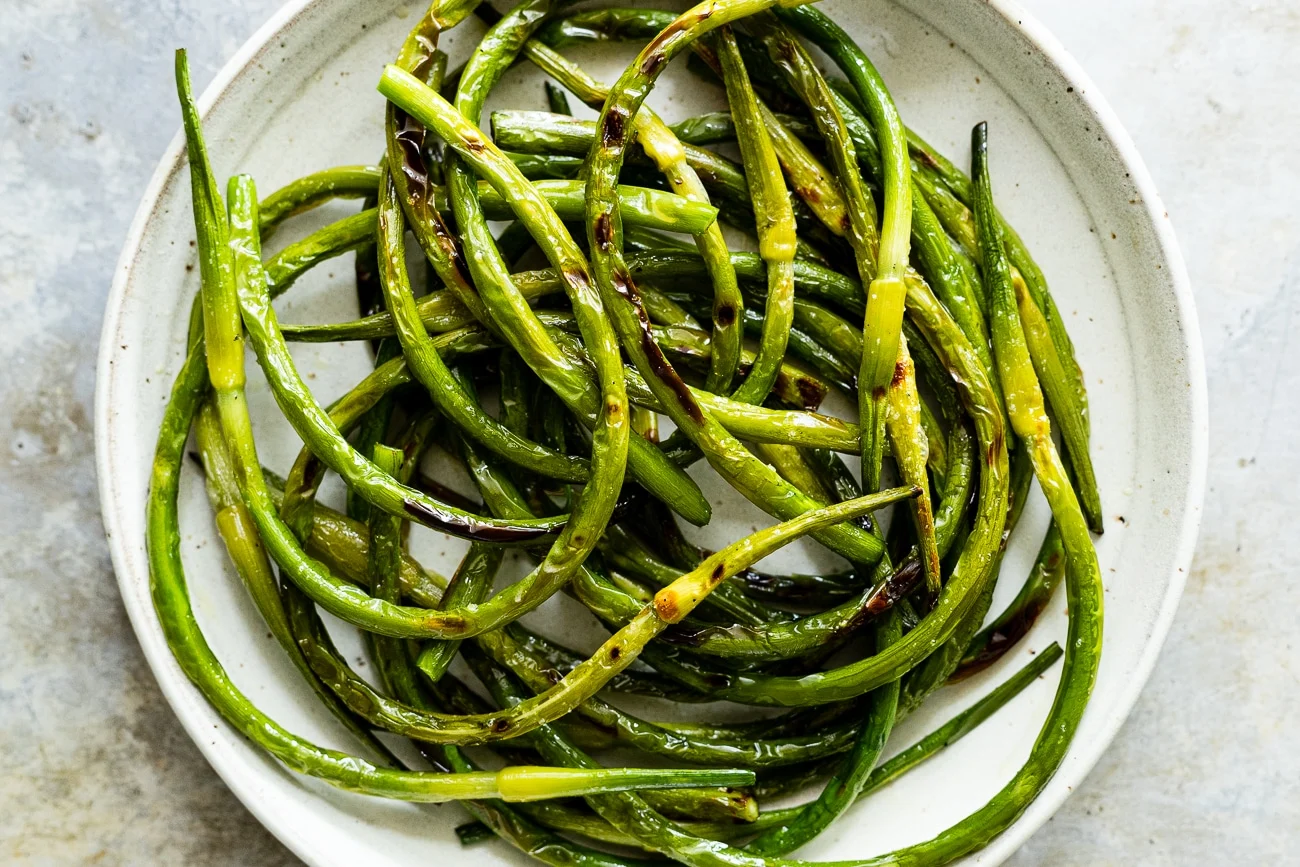 What are your favorite garlic scape recipes? I only have one, grilled garlic scapes. They are incredibly simple to make, and it doesn't matter what kind of grill you have, because nothing fancy is required. When we lived in Philly, our only backyard space was a fire escape five floors up. And our grill was a camping apparatus from the eighties that my dad found when he was cleaning out his attic.
This was the first grill I cooked garlic scapes on, so like I said, nothing fancy. A few moves and cities later and now we're living in Dallas. Garlic scape season is short here since our winters are mild and short, and spring transitions to summer by April. So I love to make the most of them as best I can.
Grilled garlic scapes are my favorite.
If you've never worked with or eaten garlic scapes before, grilled garlic scapes are the best way to enjoy them. I feel pretty strongly that the best garlic scapes recipes are ones that leave the garlic scape whole. In my humble opinion, scapes have no business in pesto, hummus or compound butter. Okay, maybe compound butter.
Garlic scapes have a texture similar to asparagus with a pleasant garlicky flavor. If you love garlic you will love garlic scapes. If you don't love garlic, you will probably still like garlic scapes because their garlic flavor is less pungent and more tolerable to appreciate.
What are garlic scapes?
Garlic scapes are the flowering bud and whiplike stalk that grows out of the the top of the garlic plant. The bud and stalk is removed to encourage the bulbs to thicken up. Garlic scapes aren't usually found at grocery stores, but you can find them at farmers' markets or if you're lucky in your CSA box.
The season for scapes is usually late spring to early summer. If you're having a hard time locating them or if you feel lost in the process you can ask a farmer at your market how to track these babies down. Grilled garlic scapes are fun to cook, and super delicious to eat. I hope you love them as much as I do.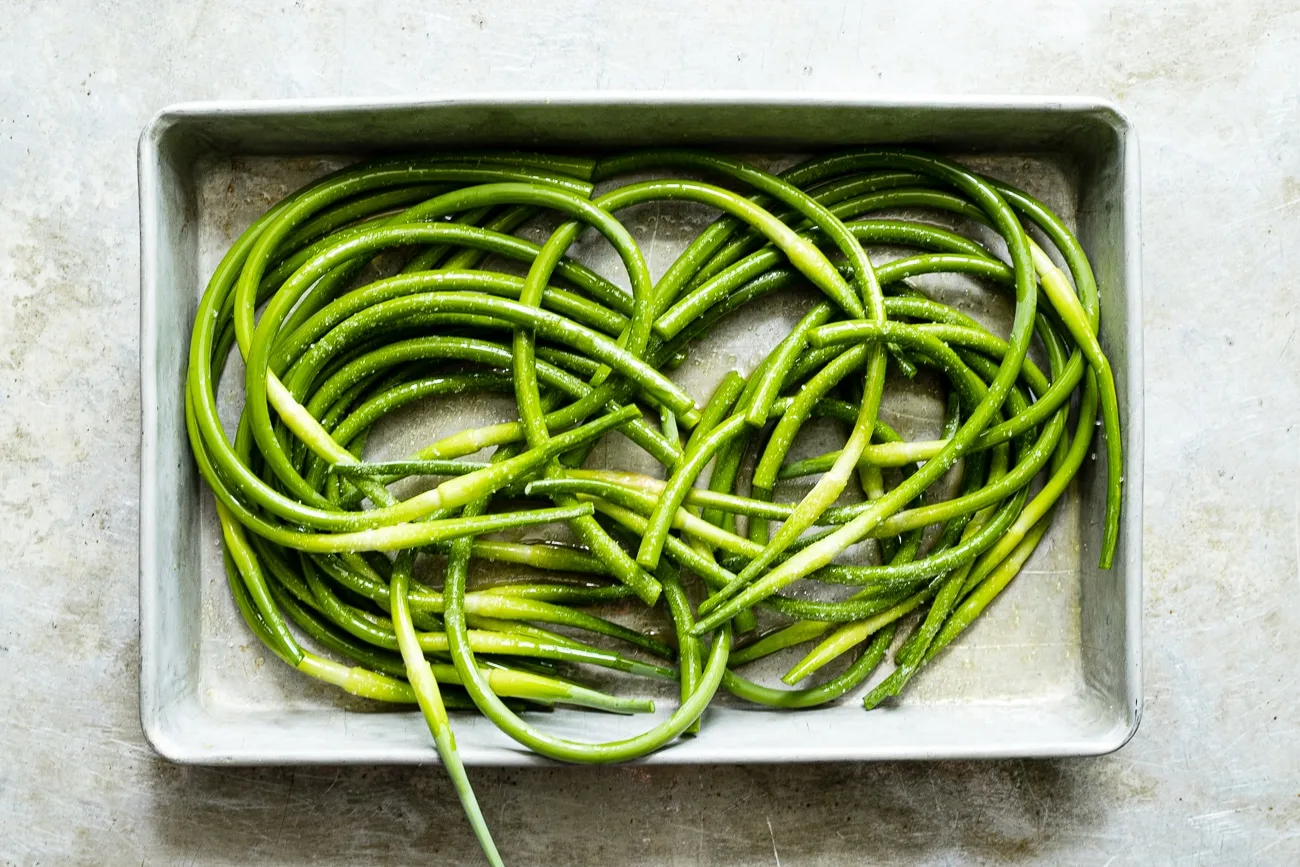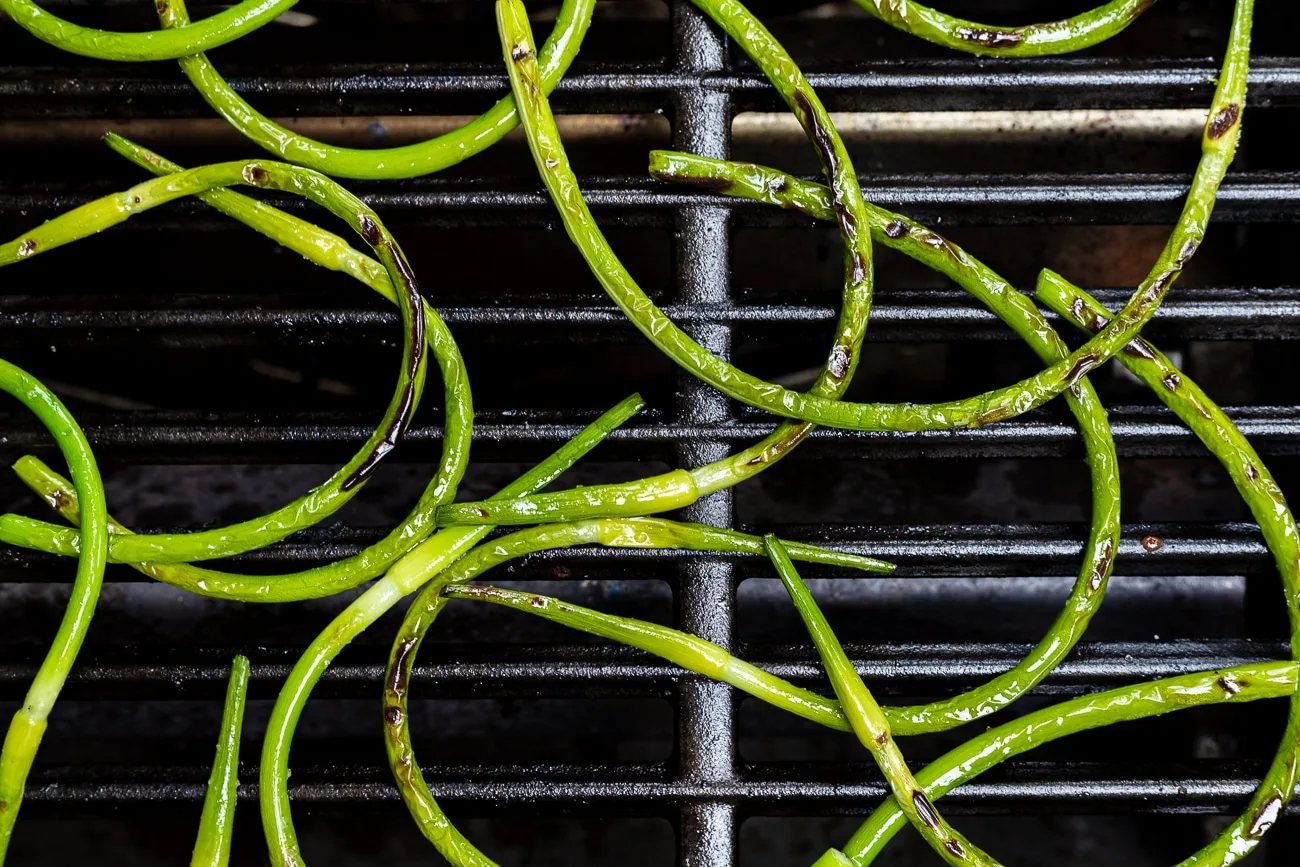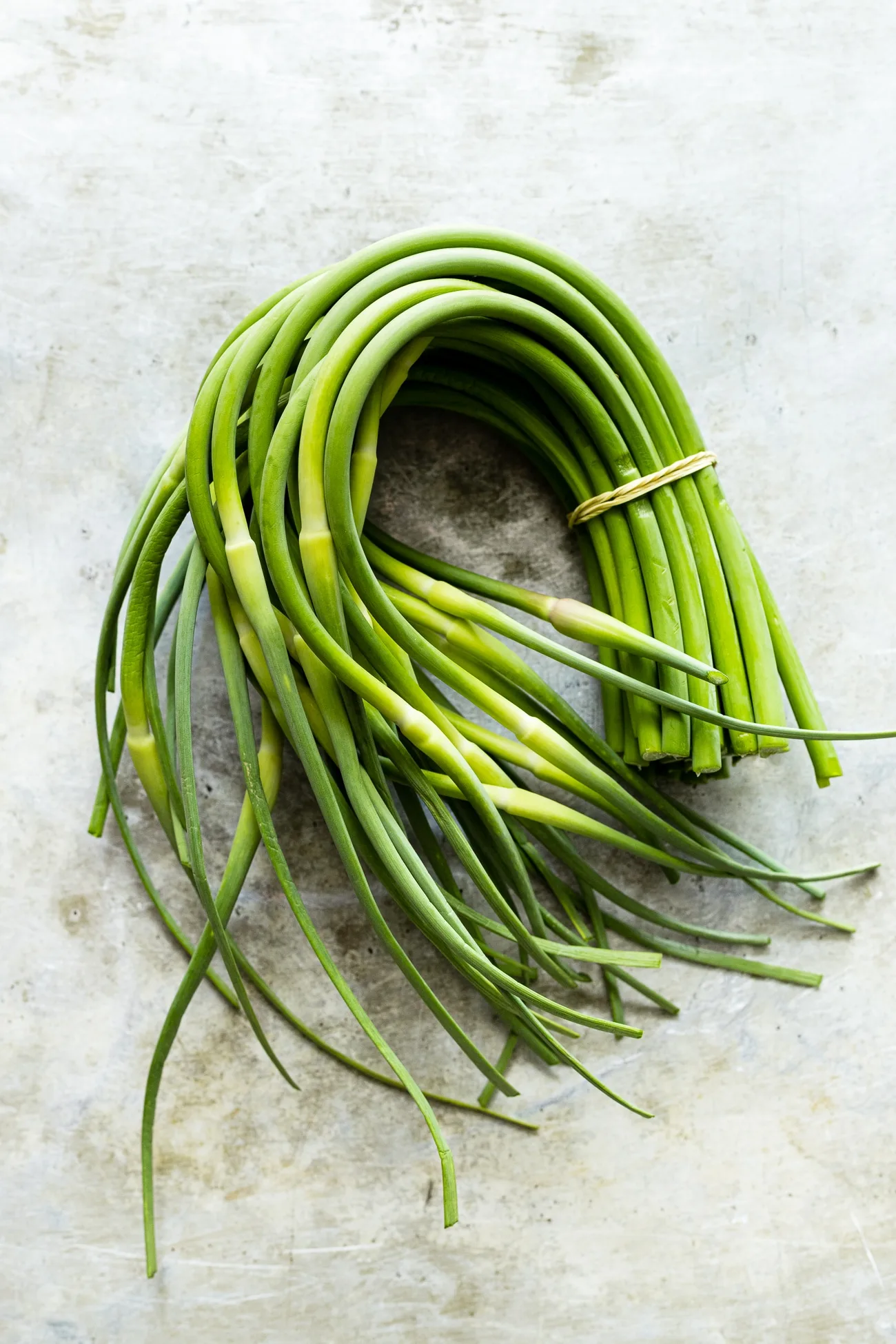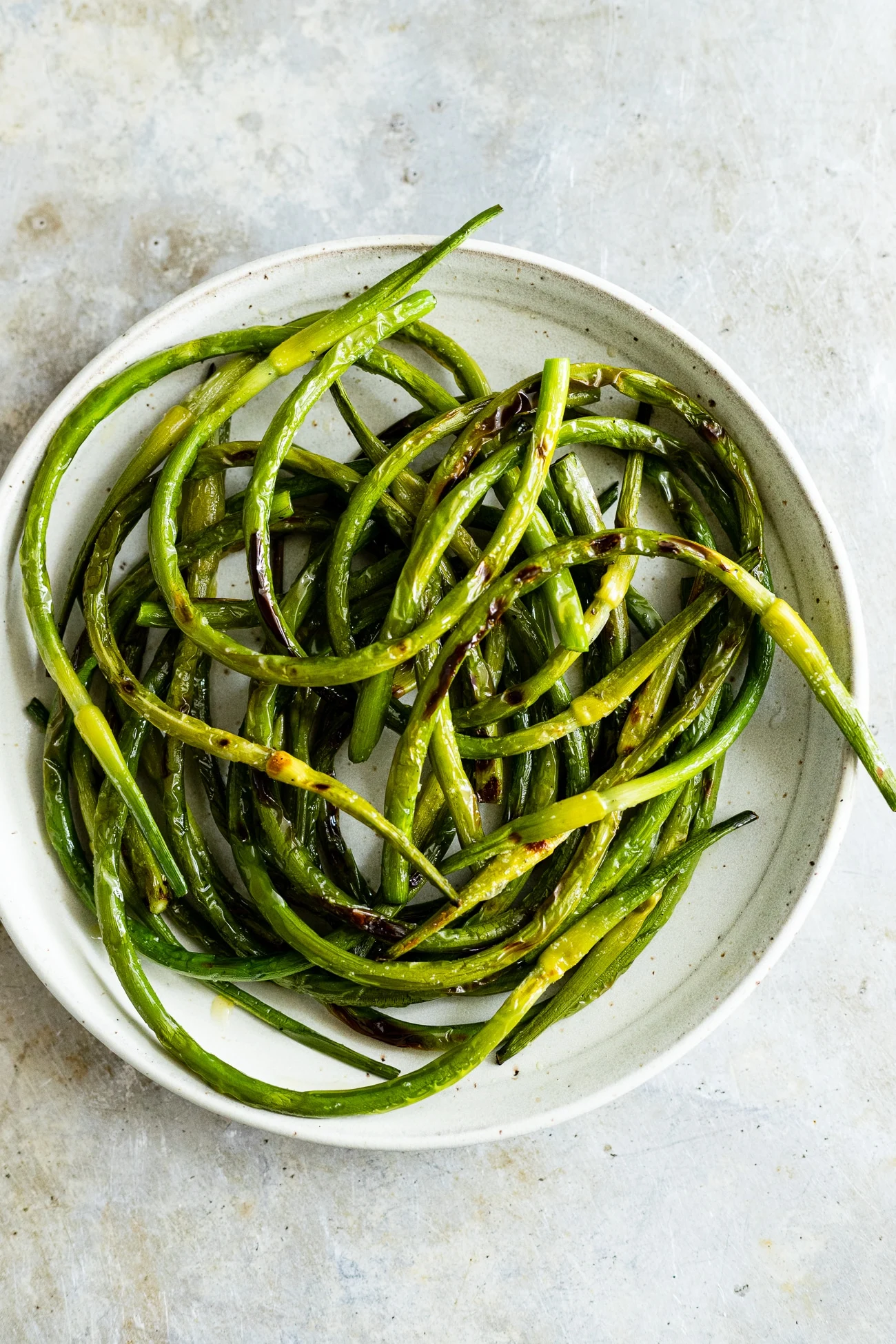 Yield: 2 - 4 servings
Grilled Garlic Scapes with Sea Salt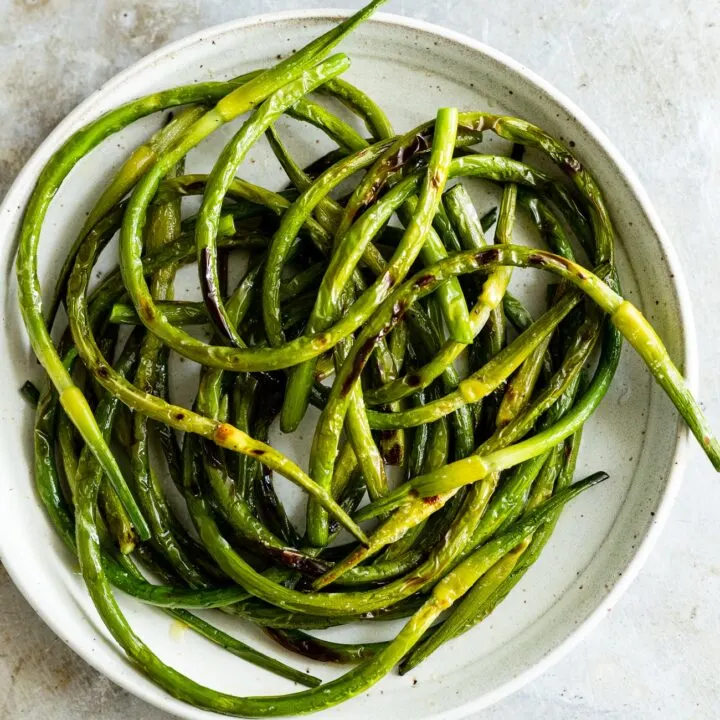 Grilled garlic scapes brushed with olive oil and sprinkled with sea salt. A simple, vegan and gluten-free whole garlic scape recipe.

Prep Time 1 minute

Cook Time 15 minutes

Total Time 16 minutes
Ingredients
1 pound garlic scapes
1 tablespoon olive oil
sea salt, to taste
black pepper, to taste
Instructions
Heat the grill to a medium flame.
Wash and dry the garlic scapes. Trim the ends and leave whole.
Massage the scapes with oil and sprinkle them with salt and pepper.
Toss them on the grill and brown both sides. They're done with they are soft on the inside and golden brown and bright green on the outside.
Serve the garlic scapes hot off the grill with salt if desired.
Recommended Products
As an Amazon Associate and member of other affiliate programs, I may earn a small percentage from qualifying purchases.

MORE GARLIC RECIPES YOU WILL LOVE.
Creamy Risotto with Sautéed Spring Vegetables
Watermelon Radish with Herbed Tahini Sauce
Garlicky Kale Bowls with Red Beans and Cauliflower Rice
Turmeric Golden Stew with Cauliflower and Chickpeas