Grilled garlic scapes seasoned with salt and pepper.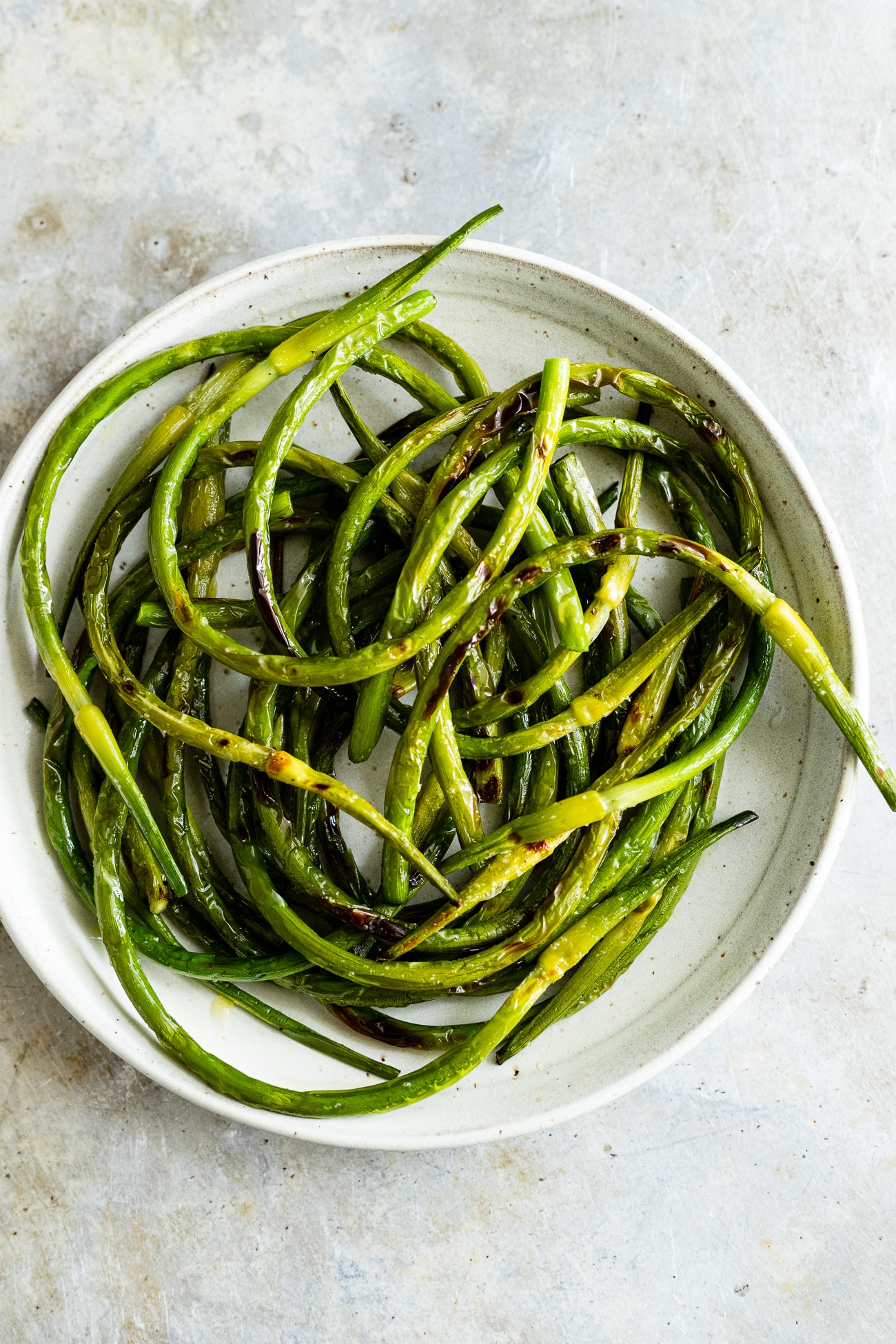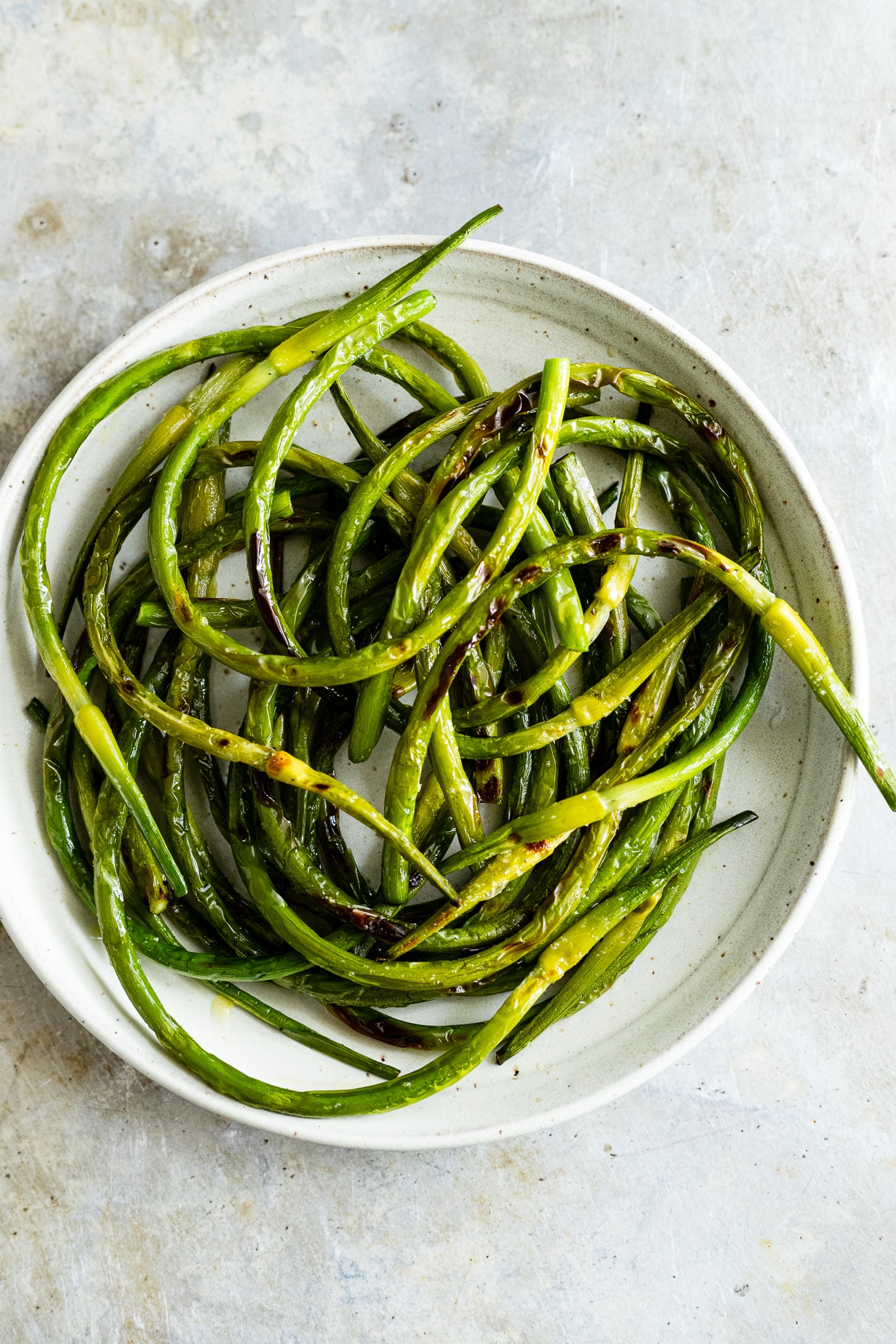 I've talked about it before.
And so you probably already know.
I love living in Philly.
Some days I really love it here.
And some days I only just like it here.
But most days I'm perfectly content in my humble seven-hundred square foot apartment. Even though it is five floors up and with no outdoor space at all. Except a tiny platform out on a fire escape. Which I'm fairly certain I should never even be standing casually on, let alone grilling on. But we're talking about grilled garlic scapes you guys. Which I cannot resist. And so I do it all for them.
My dad gave me this little camping apparatus from like the eighties that he found when he was cleaning out his basement last summer. It's a weird contraption. It's definitely very awkward. And for obvious reasons it's also a little complicated to use. But it fits our space pretty well because it's tiny.
Our fire escape is a a tight squeeze. In the hot sun. Many feet up in the air. We put a wax-covered rickety cardboard box underneath the grill to protect the people below us so burning embers of charcoal don't fall through the cracks of the fire escape. The clean-up process. The holy shit don't look down because you are probably going to fall off this platform. It is all worth it.
If you've never worked with or eaten garlic scapes before. Grilled garlic scapes is a very good place to start. I feel pretty strongly that garlic scapes have no business being in pesto. Or in hummus. Or in compound butter. Okay, maybe compound butter. But basically leave them alone. They don't need to be blended or processed.
I am sure that those recipes can be delicious. But garlic scape stalks eaten on their own are perfection. And we should honor the stalk. They have a texture similar to asparagus. And a slight, but pleasant garlicky flavor. If you love garlic you will surely love garlic scapes. If you don't love garlic, you will probably still love garlic scapes. Because their garlic flavor is less pungent and thus more tolerable to appreciate.
Garlic scapes are the flowering bud and whiplike stalk that grows out of the the top of the garlic plant. The bud and stalk is removed to encourage the bulbs to thicken up. They can be cut up and used in exactly the same way as garlic in any recipe. Or, like me, you can grill them.
Garlic scapes are not typically found at conventional grocery stores. They often come in CSA boxes or you can find them at your local farmers' market. If you are having a hard time locating them or if you feel lost in the process you can ask a farmer at your favorite farm stand how to track these babies down. They will most likely have a really great idea of where to get them.
Garlic scapes are fun to cook.
And super delicious to eat.
I hope they inspire you to try something new.
Grilled Garlic Scapes with Sea Salt + Black Pepper
Alternatively you can also roast garlic scapes. Follow the same preparation instructions but roast at 450 degrees for 20 minutes.
Ingredients
1

pound

garlic scapes

2

tablespoons

olive oil

sea salt

to taste

black pepper

to taste
Instructions
Heat the grill to a low-medium flame.

Wash and dry the garlic scapes. Cut off the ends, as you would asparagus and leave whole.

Massage the scape with oil and sprinkle it with salt and pepper.

Toss them on the grill and brown both sides, they're done with they are soft on the inside and golden brown and bright green on the outside.

Serve the garlic scapes hot with more olive oil, salt and pepper.