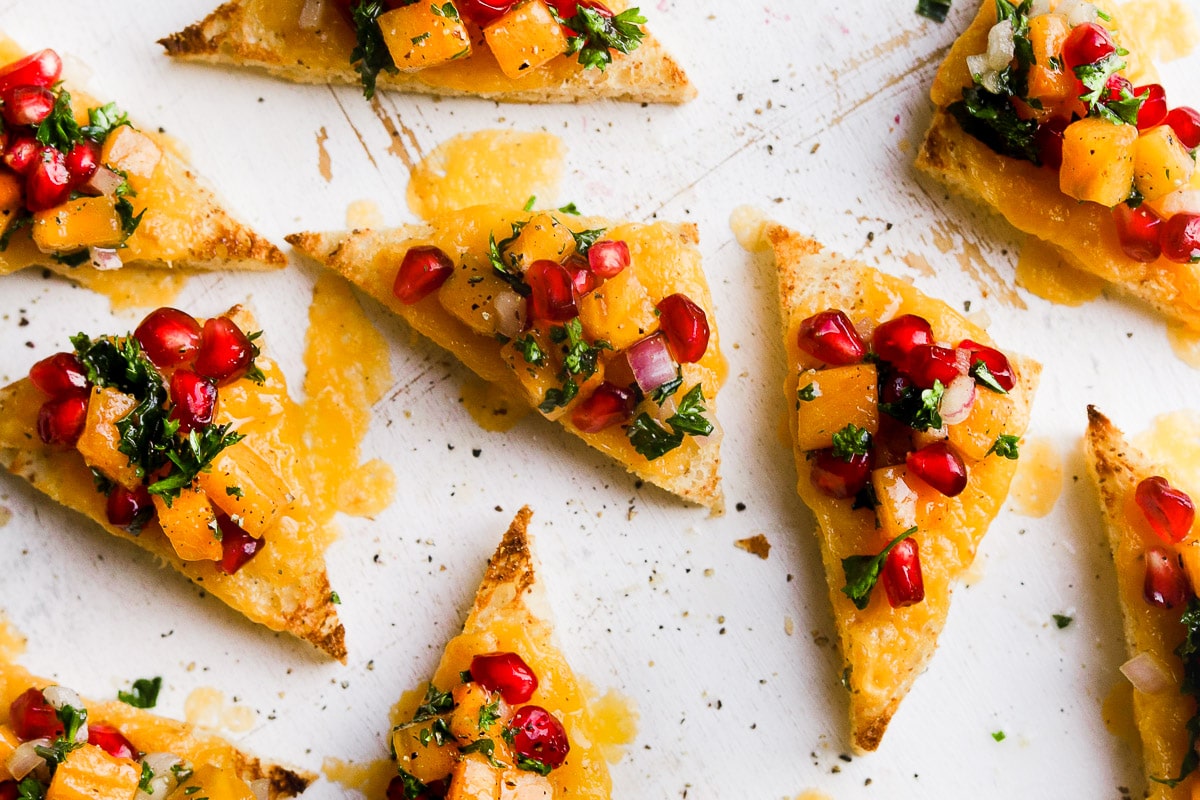 Thank you Tillamook for sponsoring this post. Visit your local Target to buy Tillamook Cheeses today!
My favorite appetizers for the holiday season are the simple ones. But the ones that also come together in minutes. That look beautiful. Pop with flavor. And everyone loves. It's kind of a tall order, but holiday toast fulfills it.
Holiday toast has three main components. The first is bread. Here, I used a gluten-free loaf that I cut into triangle toast points. But you can use any kind of bread you prefer. A baguette (gf or other) cut into rounds would also be nice. Keep the bread simple. Not too many grains or flavors. Just a nice base to work off of.
The second component to holiday toast is cheese. Some may argue this is the most important part. And, I wouldn't disagree. I have used Tillamook Farmstyle Thick Cut Sharp Cheddar Shreds. Which have been aged over nine months to get the sharpness just right. And the shreds are farmstyle, resulting in more cheese and flavor in each bite.
Tillamook cheese is made from the highest quality ingredients. And milk from cows not treated with artificial growth hormones. I love Tillamook cheese, and it's my preferred cheese to use in this holiday toast recipe. You can also now purchase Tillamoook cheese at Target nationwide. Click here to see which Target location is nearest you.
And the third component of holiday toast is the topping. Something that's sweet and salty. And a little bit crispy and crunchy. It's the part that complements the cheese and bread. It's the thing that brings all of the flavors together. It satisfies all of your family and party guests' needs.
Holiday toast is basically foolproof. Especially when you use good quality ingredients like your favorite bread, Tillamook cheese and seasonal fruit (hi, pomegranate and persimmon!). It's an effortless appetizer and a natural upgrade to your family's traditional, holiday table.
This pomegranate and persimmon salad is a recipe I often make during this time of year. It embraces seasonality with stunning and delicious fall fruit. It's tossed with a little shallot, parsley, extra-virgin olive oil, sea salt, black pepper and a touch of unfiltered apple cider vinegar.
How to make holiday toasts.
The first step to making holiday toasts is cutting the bread in your desired shape. Triangles, rectangles, rounds – these all work great. Turn the broiler on your oven or toaster oven to high heat. Line a baking sheet with parchment paper and evenly spread out the toast.
Then sprinkle each piece of toast with a liberal amount of Tillamook Farmstyle Thick Cut Sharp Cheddar Shreds and broil for just a few minutes. The cheese goes from perfect thick shreds to bubbly, browned, melty cheesy goodness quickly. Keep a close eye so the bread and cheese because it can go from perfection to burnt in seconds.
Top the toasts with the pomegranate and persimmon salad. Sprinkle them with some black pepper. And set them on the table. Then, watch them disappear. This recipe can be easily doubled or tripled to meet the demands of your guests. Enjoy!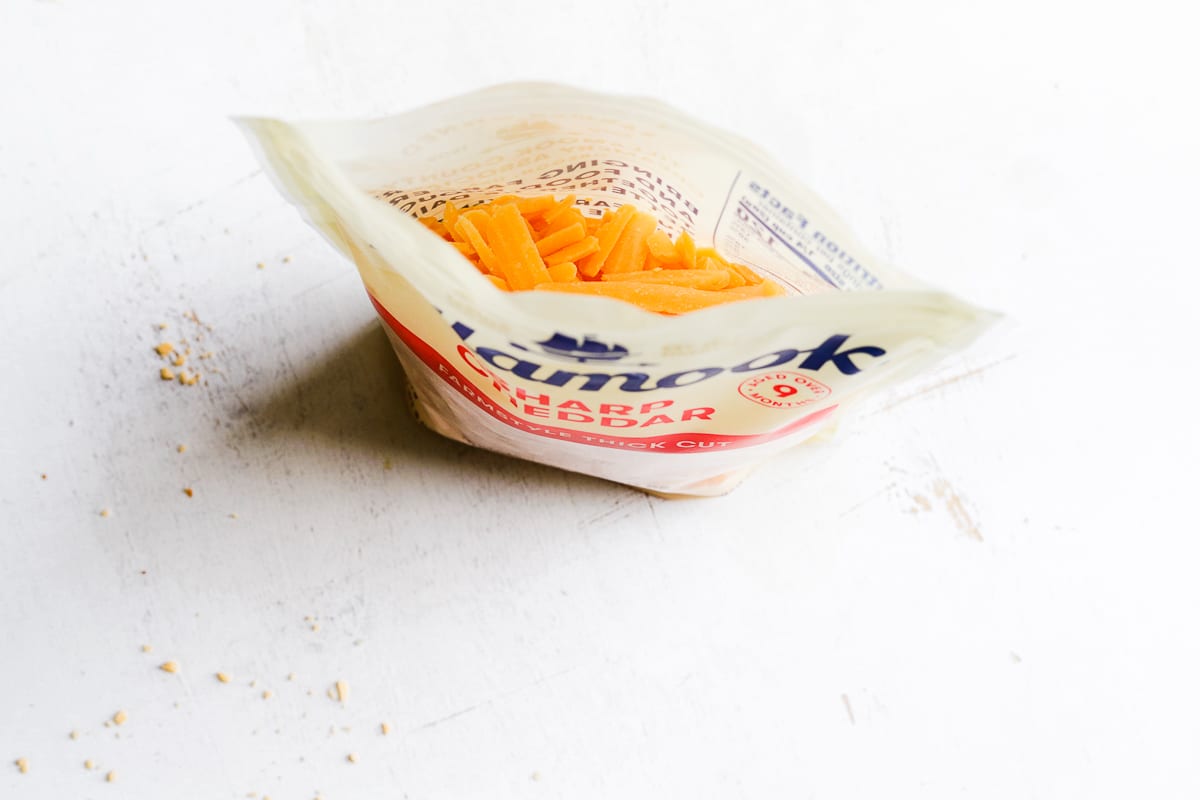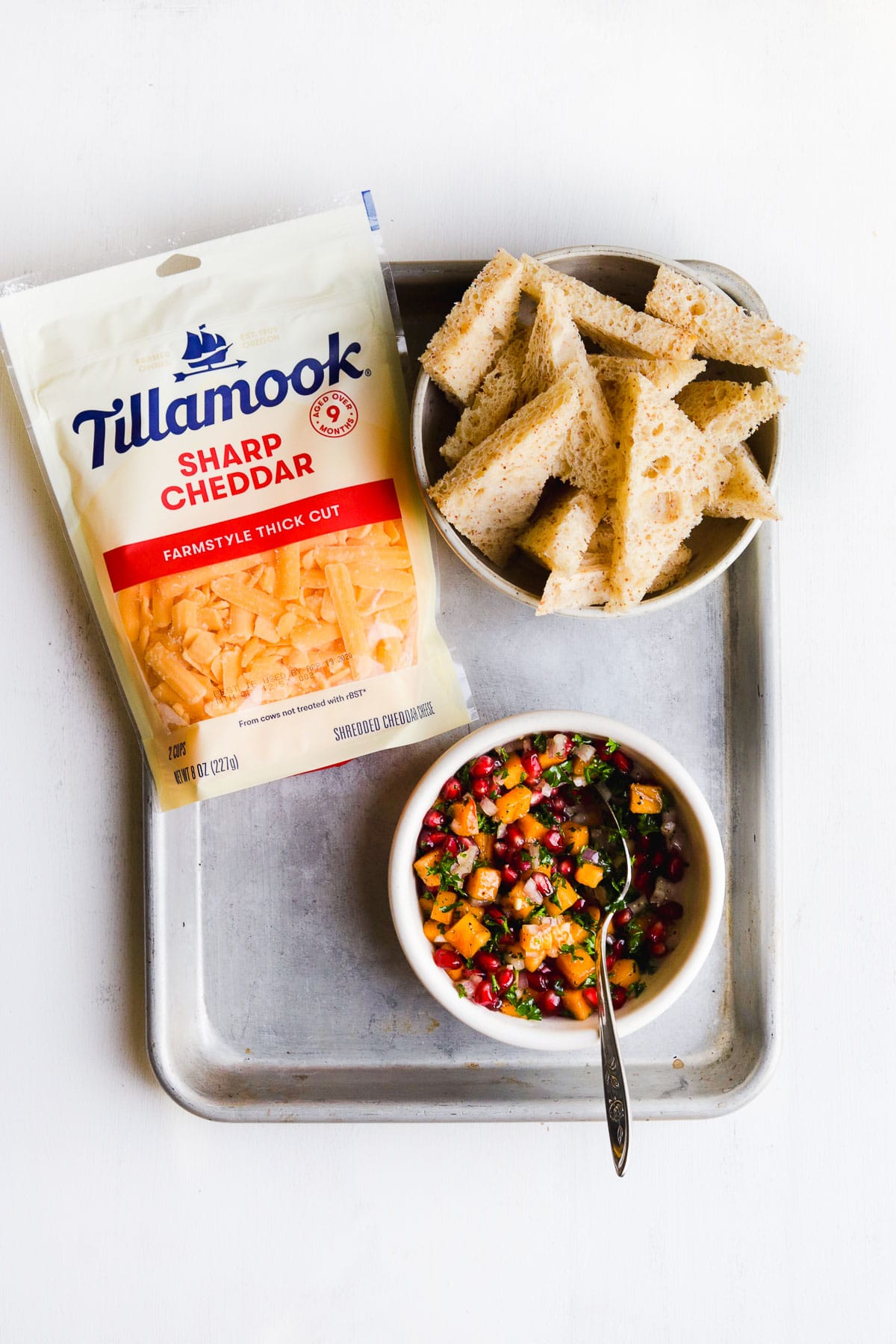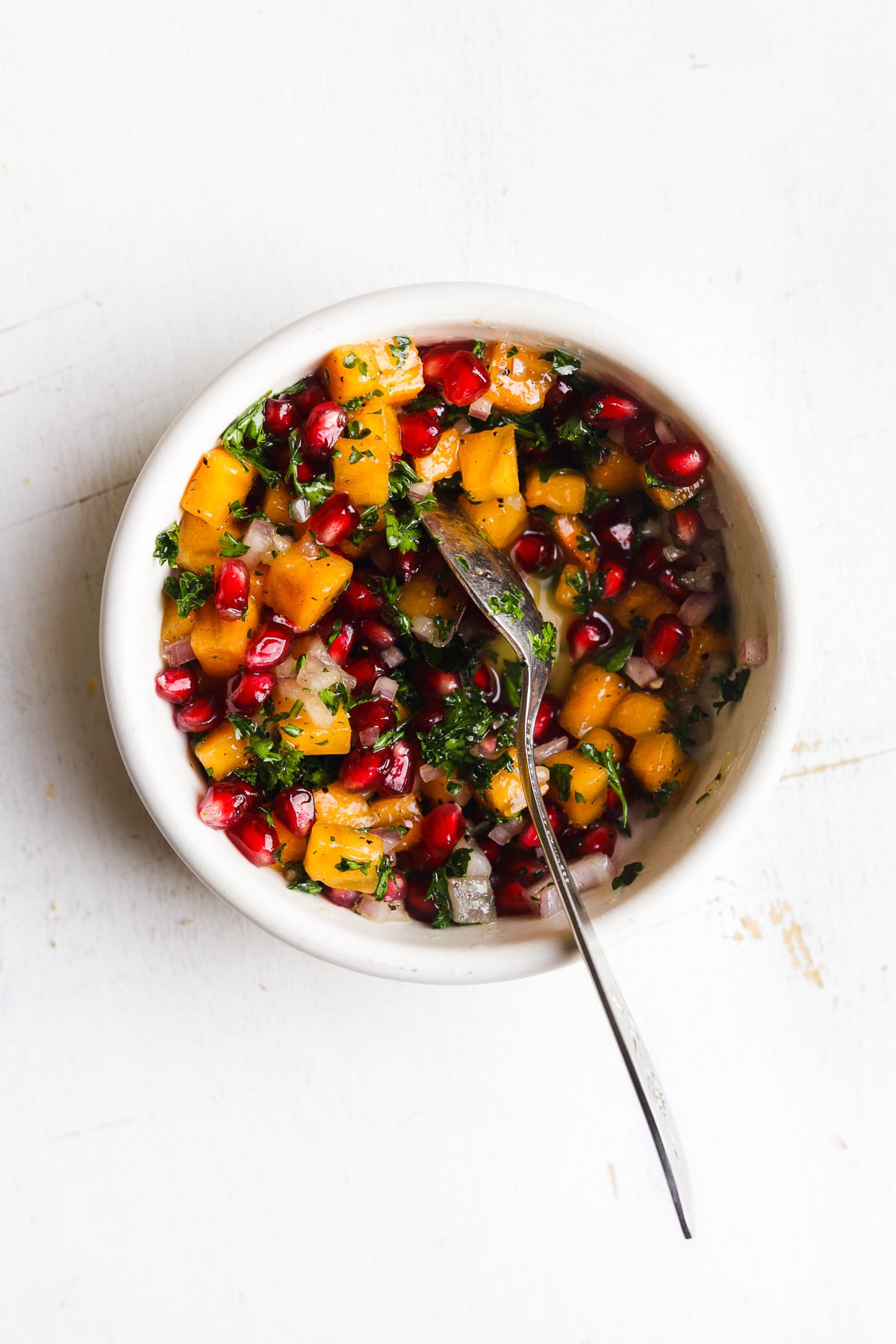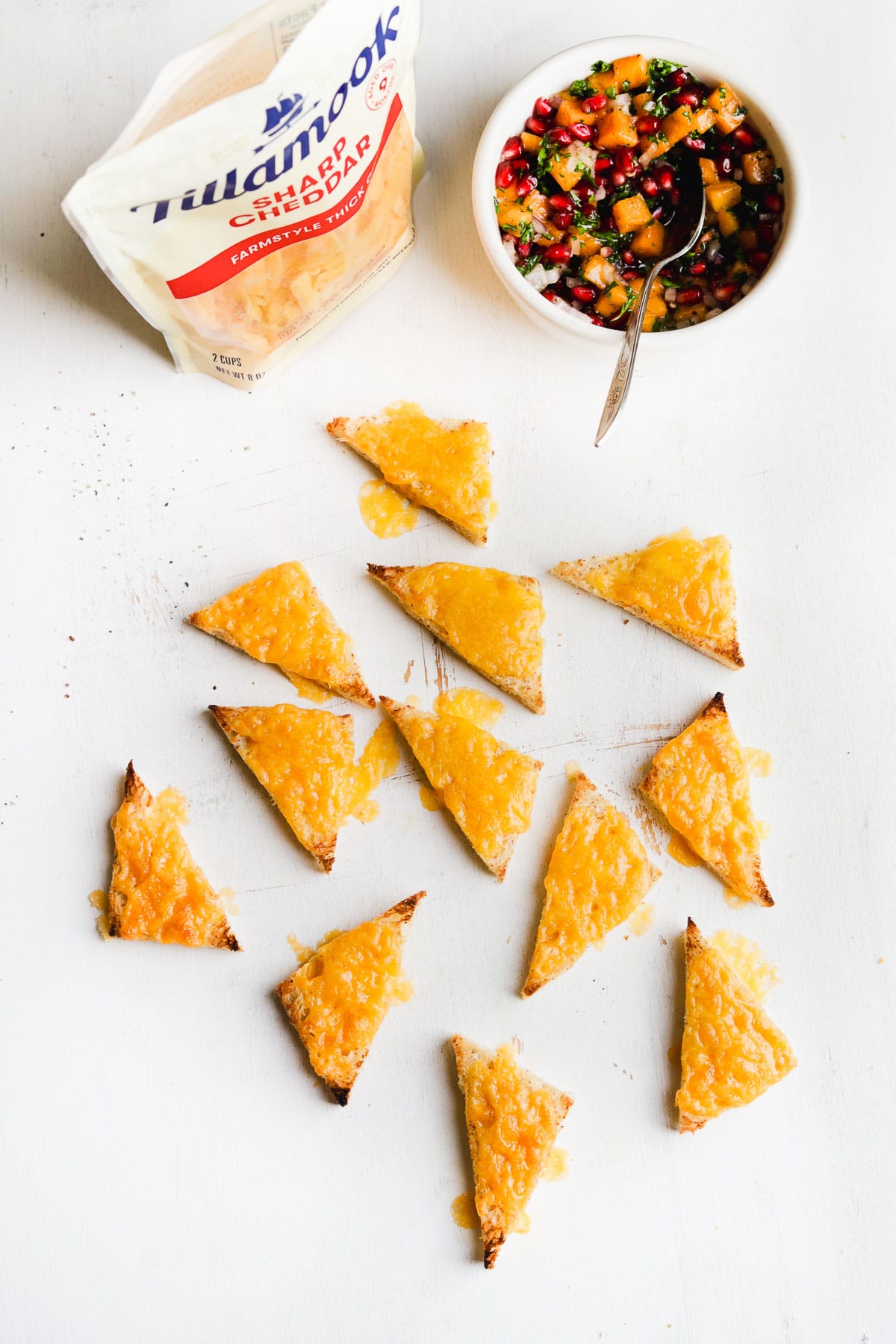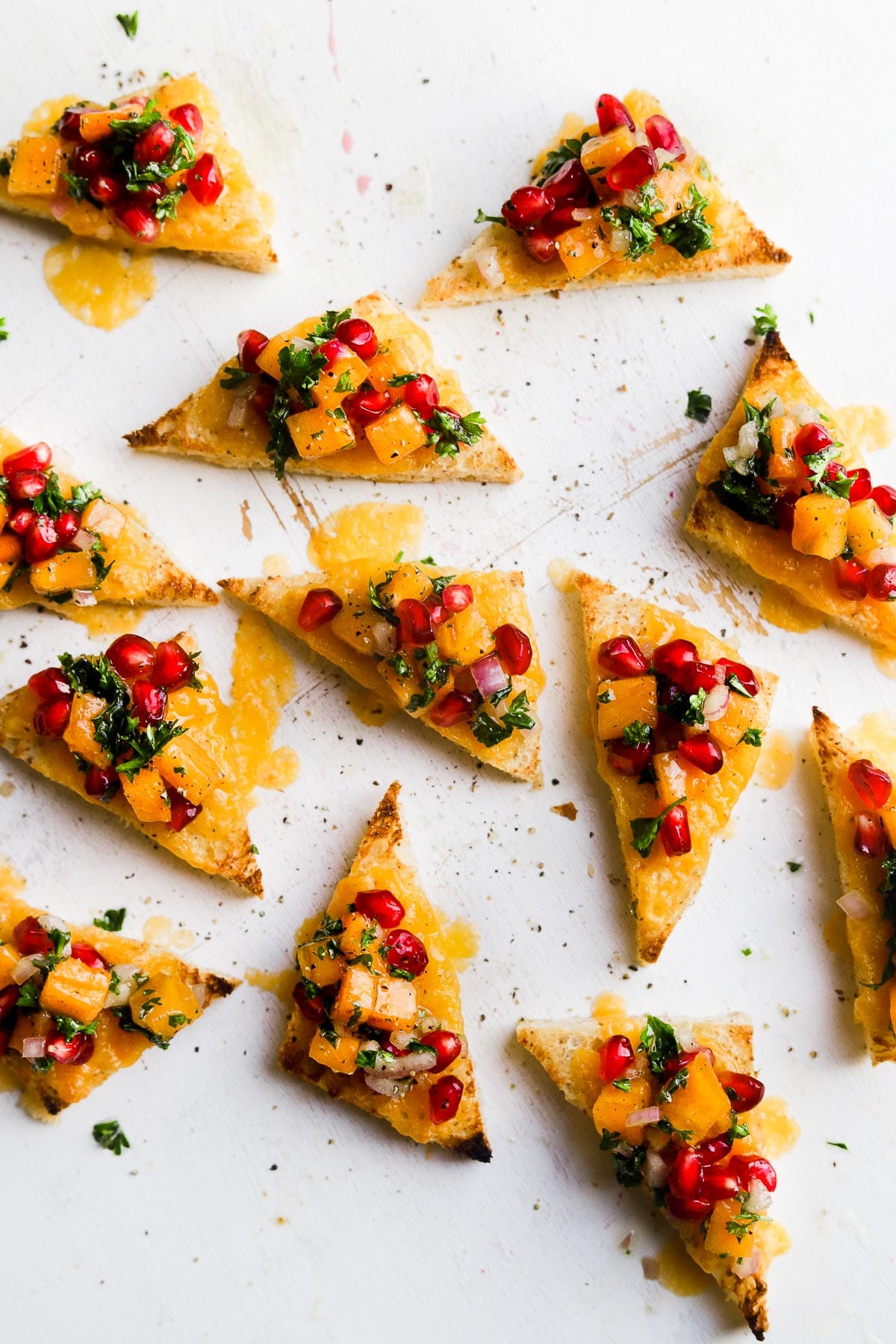 Yield: 12 toasts
Holiday Toast with Cheddar and Pomegranate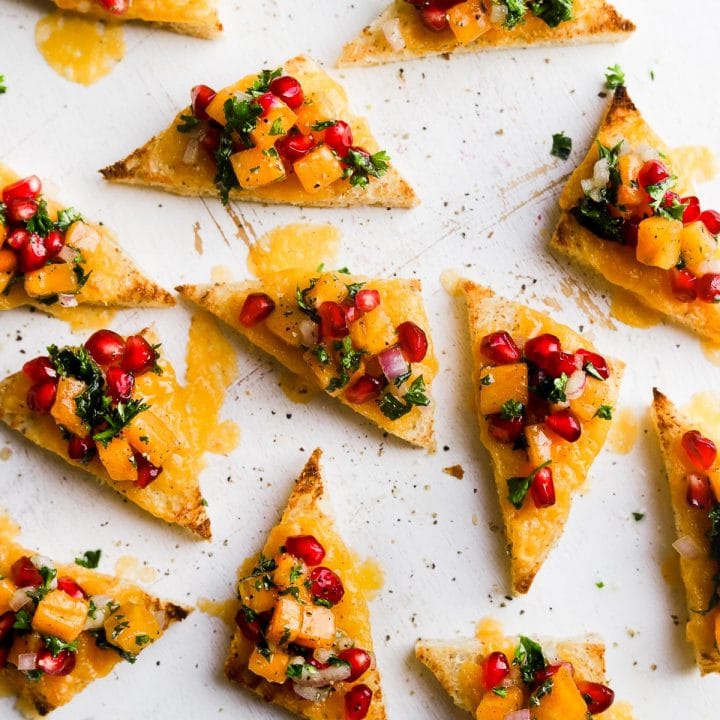 Holiday toast is the perfect appetizer. It's a soft and crunchy, salty and sweet. And it comes together in a matter of minutes.
Ingredients
12 toast points
4 oz. Tillamook Farmstyle Thick Cut Sharp Cheddar Shreds
1/4 cup pomegranate arils
1/4 cup persimmon, diced small
2 tablespoons shallot, minced
2 tablespoons fresh parsley, minced
2 tablespoons extra-virgin olive oil
1/2 teaspoon apple cider vinegar
1/4 teaspoon fine sea salt
1/4 teaspoon black pepper
Instructions
Spread the toast points on a sheet pan lined with parchment paper. Distribute the cheddar cheese shreds on top of the toasts and broil for 2 minutes or until bubbly and melty.
Combine the pomegranate, persimmon, shallot, parsley, olive oil, apple cider vinegar, salt and pepper in a bowl and mix well.
Spoon over the toast points, garnish with black pepper and serve warm.

---
This post is sponsored by Tillamook; all opinions are my own.