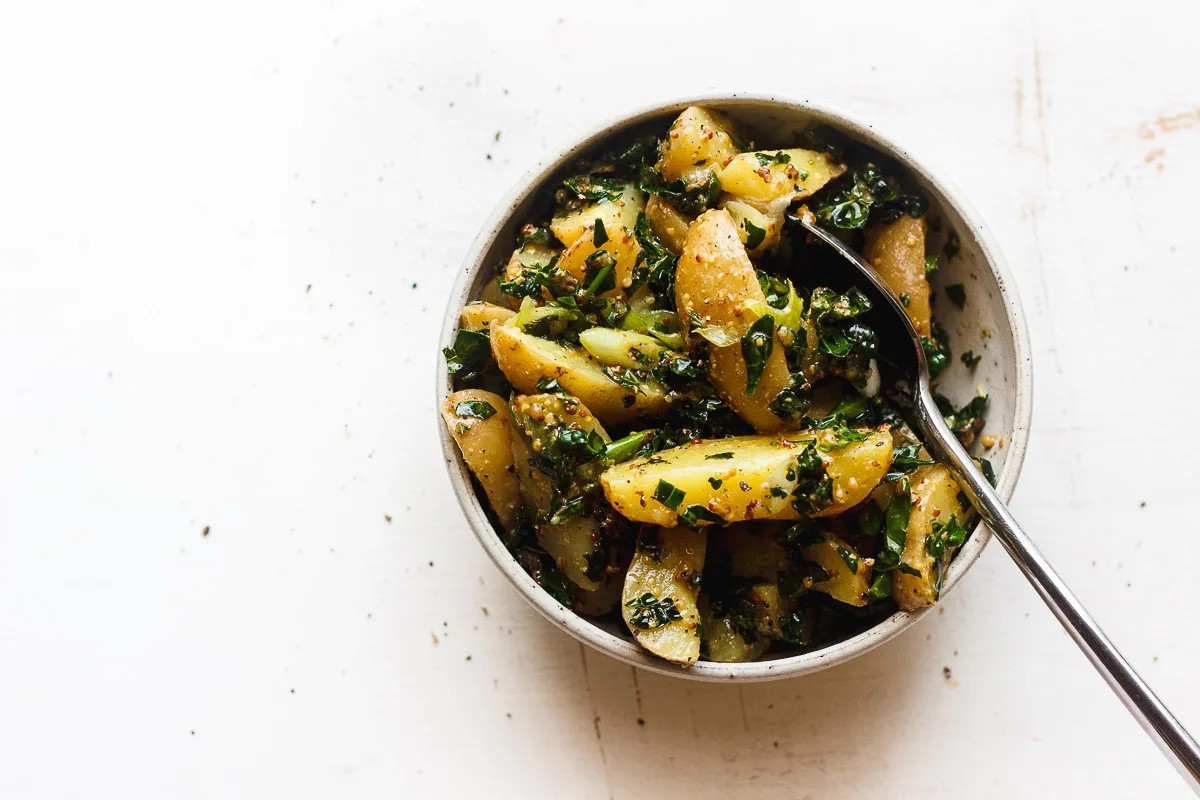 For as long as I can remember I've been in a full blown love affair with potato salad. And when it comes to potato salad preferences, I don't really have one. There is no potato salad discrimination happening over here, as I love them all equally.
I love the ones rich with mayonnaise, and the tangy-vinegary ones too. And I even love the ones that use radishes instead of potatoes (it's amazing – I promise). And I especially love this kale potato salad with grainy mustard dressing too.
Kale and potatoes compliment each other beautifully. And the way they're prepared in this recipe keeps them true to their form. They remain crunch while staying tender, vibrant while mellow, and tangy while smooth. It's my go-to potato salad because it's naturally vegan and gluten-free and pleases the masses.
How to make kale potato salad.
While I'm still very much in a summer mode, this kale potato salad would transition beautifully into fall when hearty greens are abundant. It's great for summer parties and easy enough for weeknight meals.
First you gently massage the kale in lemon juice and salt. Massaging your greens is a vital step as it breaks down the kale's cellulose walls making it more delicious to eat and easier to digest so you can absorb more of its nutrients. Then you boil the potatoes. And lastly you mix it together with a simple grainy mustard dressing. The best part is that this kale potato salad comes together in under fifteen minutes.
If you've never worked with grainy mustard before, it's pretty easy to find and can be purchased at your conventional grocers. It might be labeled as whole grain mustard and sometimes stone ground mustard. I love it because it's textured, naturally sweet and a milder version of yellow, brown and dijon mustard. It ranges in color, but is generally a golden-brown hue. I hope you love this kale potato salad as much I do.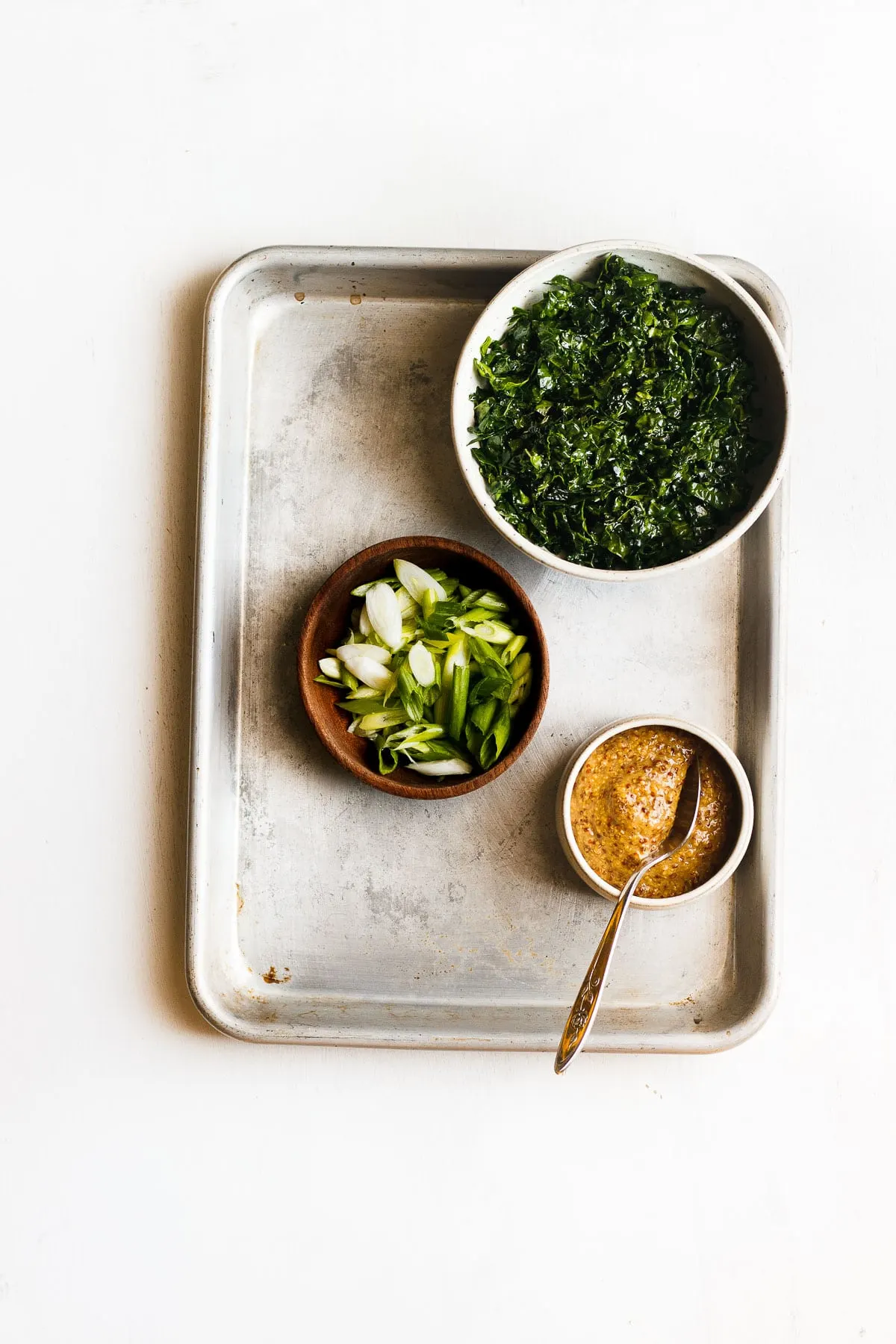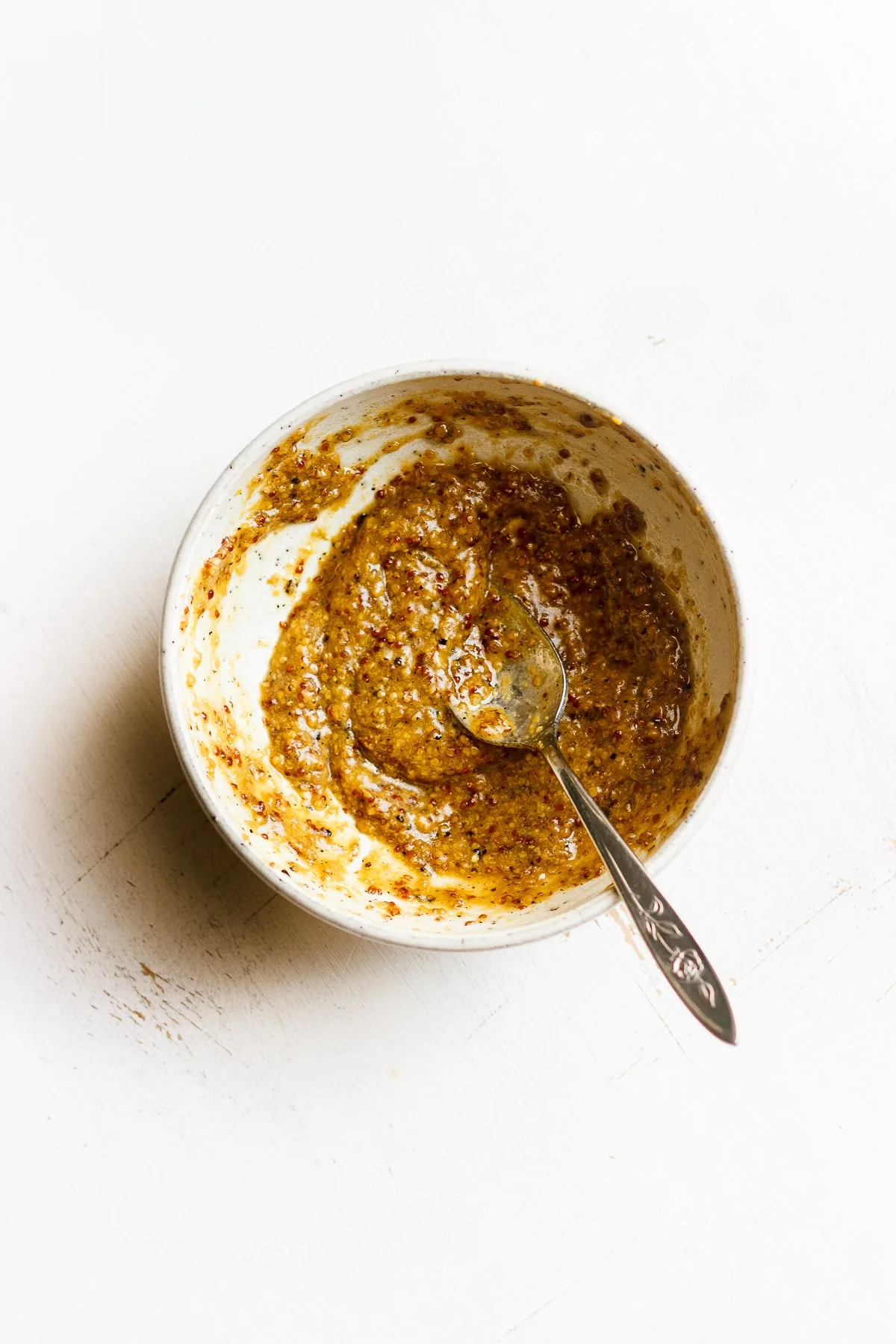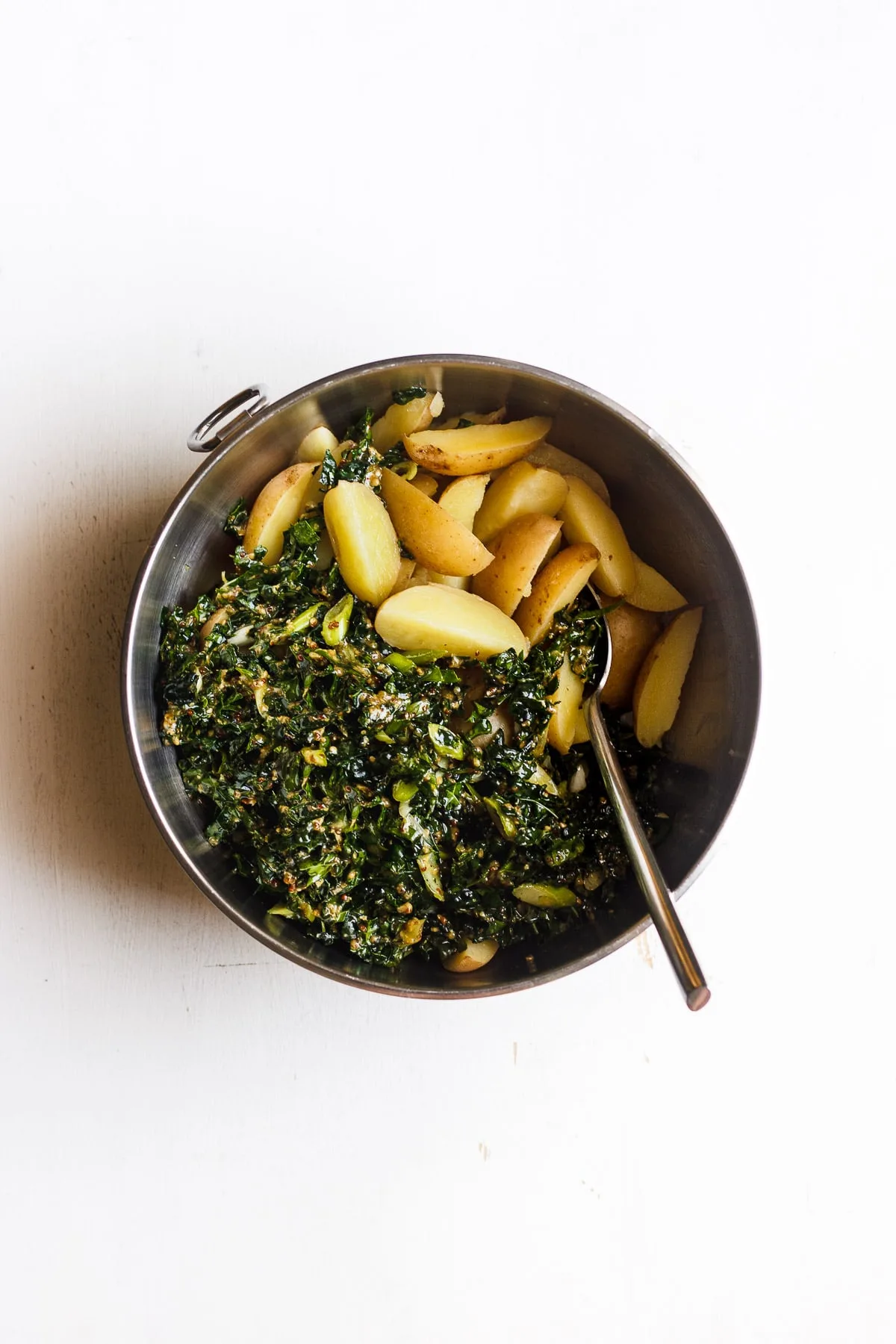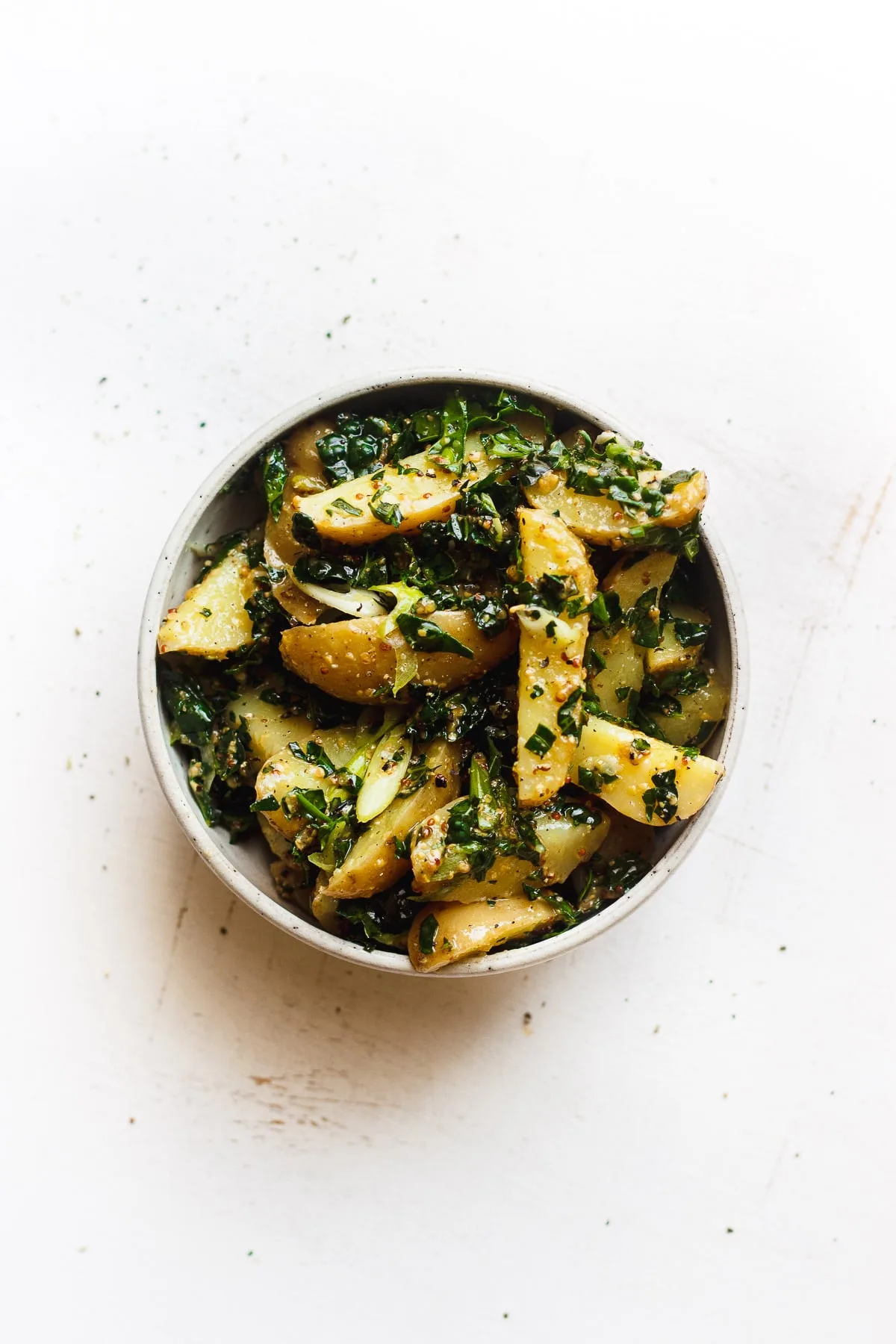 Yield: 4 servings
Kale Potato Salad with Grainy Mustard Dressing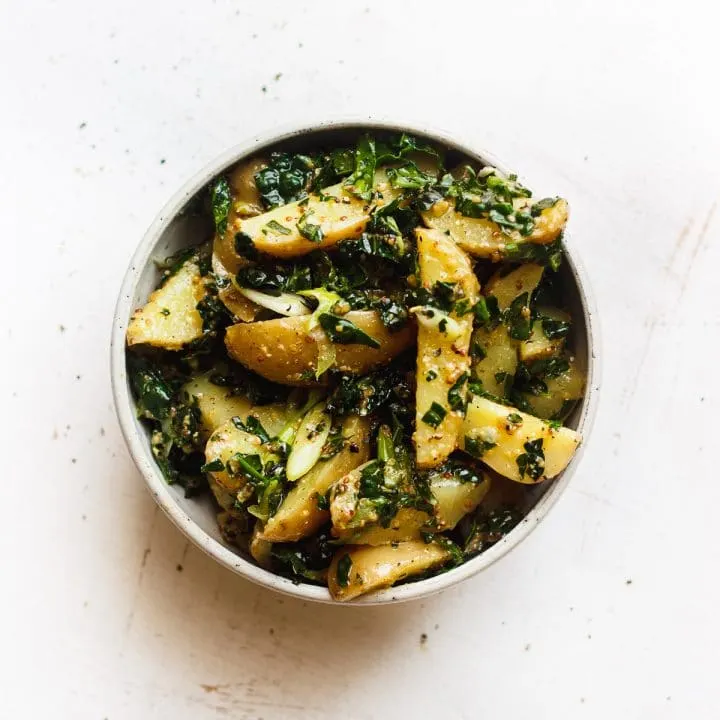 A massaged kale potato salad with a lemony, grainy mustard dressing. A vegan, gluten-free, lighter and tangier version of a traditional potato salad.
Ingredients
Salad Ingredients
1 pound fingerling potatoes
3 cups kale, finely shredded
1/2 cup green onions, diced small
1/2 tablespoon lemon juice
1/4 teaspoon fine sea salt
Dressing Ingredients
1/4 cup grainy mustard
2 tablespoon olive oil
1/2 teaspoon garlic powder
1/4 teaspoon fine sea salt
1/4 teaspoon black pepper
Instructions
Bring a large pot of water (plus 1 teaspoon salt) to a boil.
Wash and slice the potatoes lengthwise into quarters. Cook the potatoes to tender, drain and set aside to cool.
In a large bowl combine the kale with the lemon juice and salt. Using your hands gently massage together for about 1 minute. The kale will begin to wilt and turn bright green. Then add in the green onions and set aside.
In a small bowl, Wwisk together the grainy mustard, olive oil, garlic powder, salt and pepper.
Pout the dressing into the bowl with the kale and green onions. Add the potatoes to that bowl also and mix gently to combine well.
Serve warm or refrigerate until you're ready to eat.
Recommended Products
As an Amazon Associate and member of other affiliate programs, I may earn a small percentage from qualifying purchases.