Roasted fennel is ones of my favorite things. Especially in the winter when fresh vegetables are scarce, and you need to find more ways to enjoy what's available. When you roast fennel it magically transforms in the oven.
And if you've never had it and you aren't a big fan of fennel – I hope this recipe inspires you to try it. When you roast fennel its flavor profile changes. It becomes richer, more complex, and a just touch sweet. And when you pair roasted fennel with white beans it's a beautiful combination. An absolute match made in heaven.
Add some parsley, lemon juice and olive oil and it's a sheet pan dinner of my dreams. This dish would also make a great vegetarian side to pair with any protein. Or you could top it put it over some pasta, and top it with a poached egg for an effortless way to impress your guests.
I can't believe this, but tomorrow will be the two month mark of living in St. Louis. And although all of my boxes are unpacked and my home is starting to feel more and more lived in, my walls are completely bare. And they are in desperate need of some attention.
So, I'm declaring this week, the week I finally get some stuff done around my house. You'll be able to find me thumbing through some cookbooks, eating this hearty and cozy sheet pan of roasted fennel and white beans. And sipping black tea lattes. Lots of tea lattes.
How to make roasted fennel and white beans.
First prepare the fennel by trimming off the tops and fronds. Then slice the bulb in half and then in wedges. Then you toss the fennel in the olive oil. Roast it for fifteen minutes. And then you add in the white beans.
Roast for another ten minutes more or so until you reach roasted fennel perfection. And then toss it all while its warm in the parsley mixture of olive oil, lemon juice, parsley, salt and pepper. The flavors are rich and bright. And vibrant but hearty.
I love fennel and I have a lot of fennel recipes here to inspire you to like it too. Some of my favorites are this fennel slaw. This fennel salad with an orange vinaigrette. A lemony fennel, radish and kale salad. And last but not least, this cream of onion soup with caramelized fennel.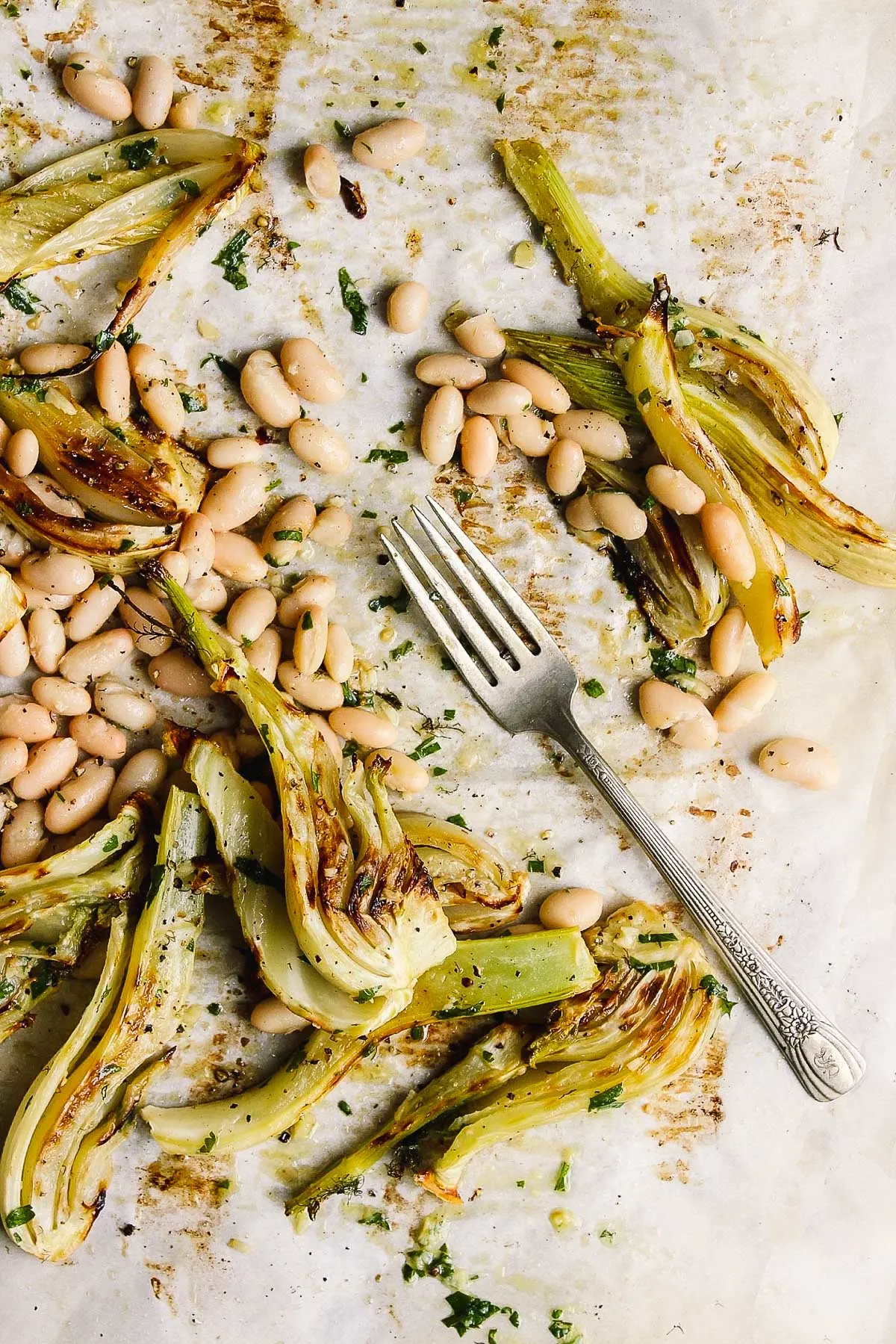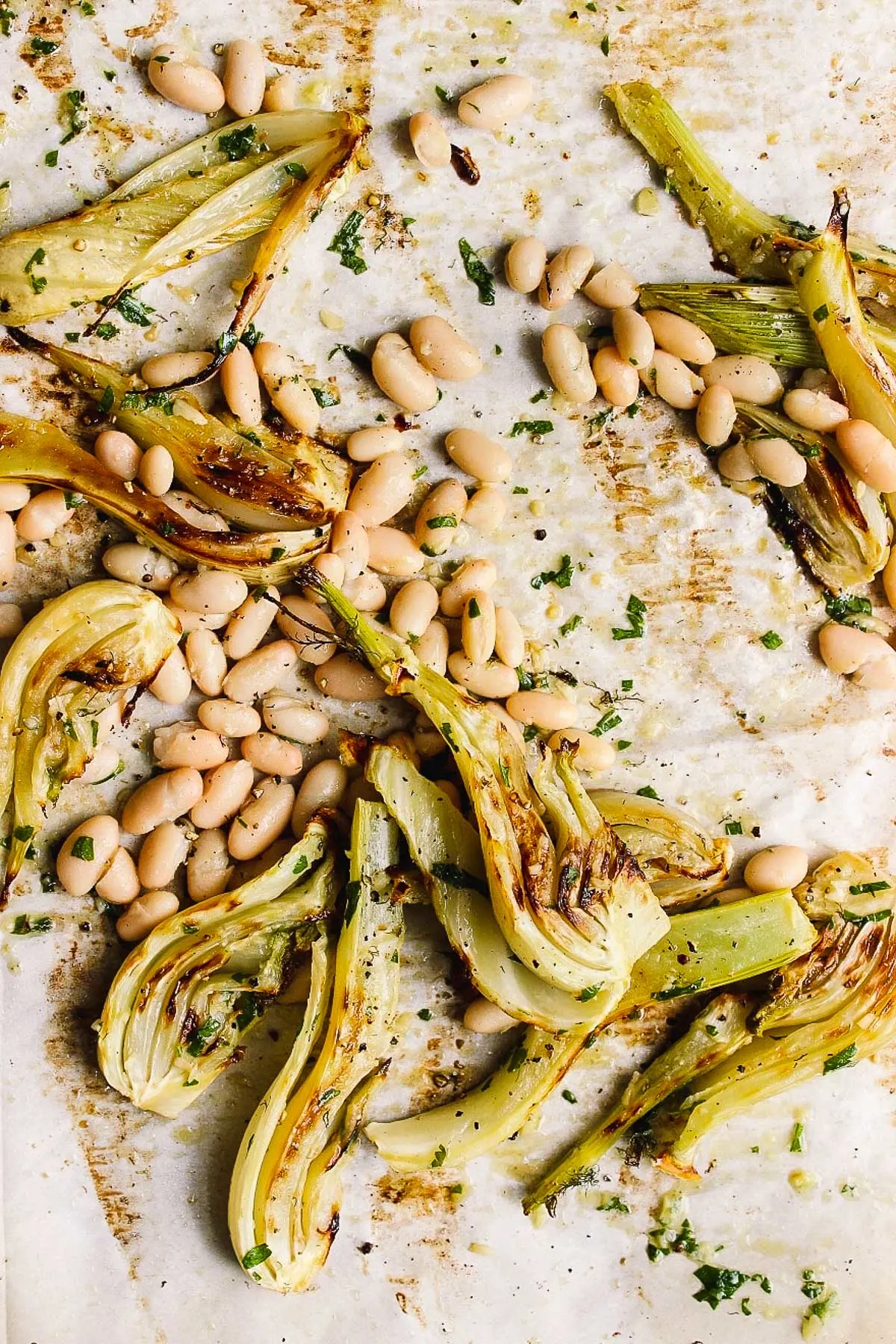 Yield: 2 servings
Roasted Fennel and White Beans with Parsley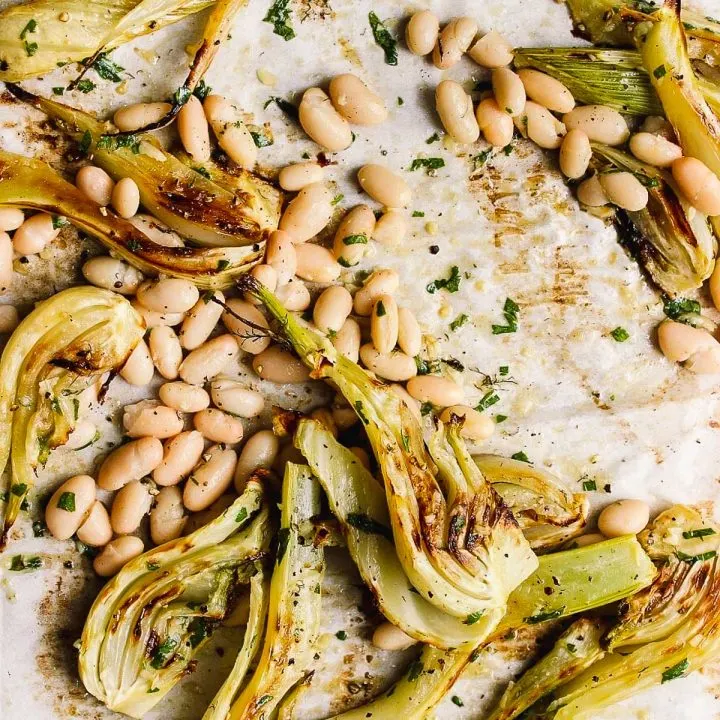 A hearty, vegetarian sheet pan meal of roasted fennel and white beans with finely minced parsley and drizzle with olive oil.
Ingredients
Sheet Pan Ingredients:
2 medium fennel bulbs
1 tablespoon olive oil
1 cup cooked white beans
1/4 teaspoon fine sea salt
1/4 teaspoon black pepper
Parsley Ingredients:
2 tablespoons olive oil
1 tablespoon lemon juice
1/4 cup fresh parsley, finely minced
pinch, fine sea salt
pinch, black pepper
Instructions
Preheat the oven to 450 and line a sheet pan with parchment paper.
Wash and cut the fennel bulbs in half. Then cut into wedges. Spread the fennel onto the sheet pan and drizzle them with the olive oil.
Roast the fennel for 15 minutes and remove the pan from the oven.
Sprinkle the white beans onto the fennel and then sprinkle the whole pan with salt and pepper. Return the pan to the oven and roast for another 10 minutes or until the fennel starts to brown. Remove from the oven and set aside.
Prepare the parsley mixture by combining the olive oil, lemon juice, parsley, salt and pepper in a small bowl until whisk well.
Pour the parsley mixture over the warm fennel and white beans, toss lightly and serve.