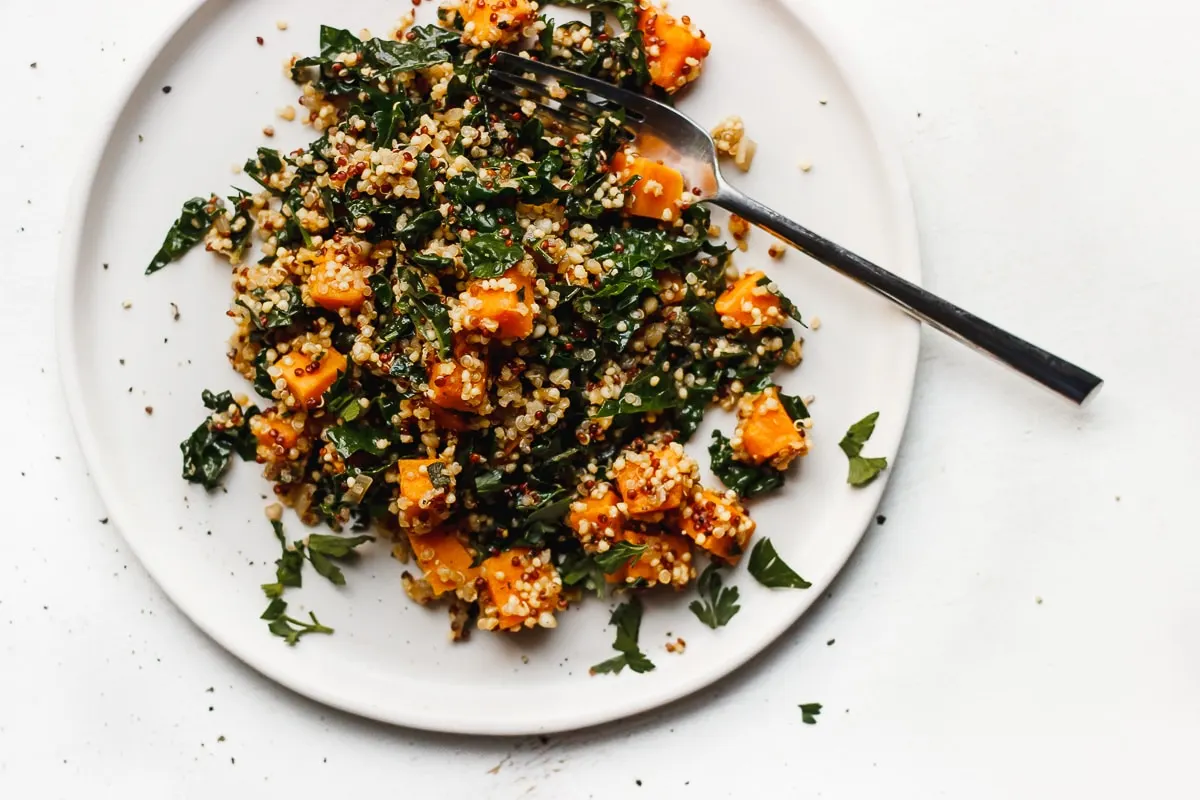 Sweet potato, quinoa and kale should always pal around with one another. Together they bring us sweetness, nuttiness and earthiness. And when we add in some aromatics like shallots and sage, it's a meal made in autumn heaven.
This sweet potato quinoa skillet takes less than thirty minutes to make and it cooks itself in one pot. It's full of hearty, fall flavors and leaves you with more time to spend with your family or prepping for your Thanksgiving Day meal. By the way here are thirty gluten-free and vegetarian Thanksgiving recipes if you need more inspiration,
During the holiday season there is potential for a lot of food waste. Refrigerators are packed for parties, there's tons of leftovers everywhere and there's even more fresh produce that (if not stored properly) will spoil prematurely.
I've partnered with Rubbermaid to try their new FreshWorks Produce Saver. An innovative food storage container that uses a lid with patented FreshVent technology to regulate airflow and create the optimal environment for produce.
Do you feel like you're constantly battling your produce? I like to keep my refrigerator full of fresh fruits and vegetables and there's always a race to consume them before they go bad. The FreshWorks Produce Saver containers keep produce fresh up to eighty percent longer. And they kept my kale super green and crisp and my sage, super fresh and not wilt-y for many more days than what I'm used to. My food storage game has officially been changed. I truly love these containers.
How to make this sweet potato quinoa meal.
This sweet potato quinoa with kale and sage one pot skillet meal is super easy to put together. The trick to getting everything cooked evenly is cutting the sweet potatoes small enough. Anywhere from half-inch to quarter-inch sized cubes is ideal, and anything larger than that could result in unevenly cooked quinoa and vegetables. When in doubt, cut the cubes smaller than larger.
Then it's a sauté, simmer, and simmer again kind of cooking method. First you sweat the shallots and then you sauté the sweet potatoes, garlic, sage, quinoa and a little acid. Then you add in the broth and simmer. And lastly you add in the greens and parsley and cook for a little bit longer. It's sweet potato quinoa magic, you guys.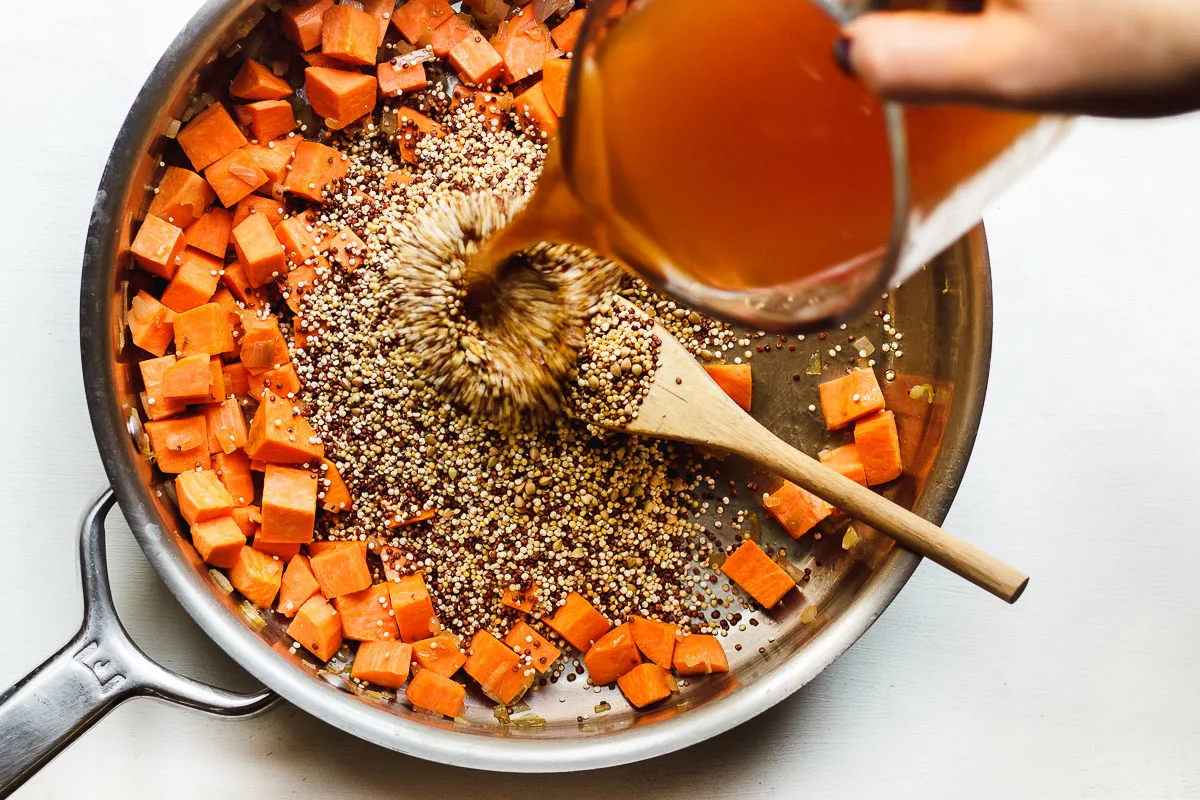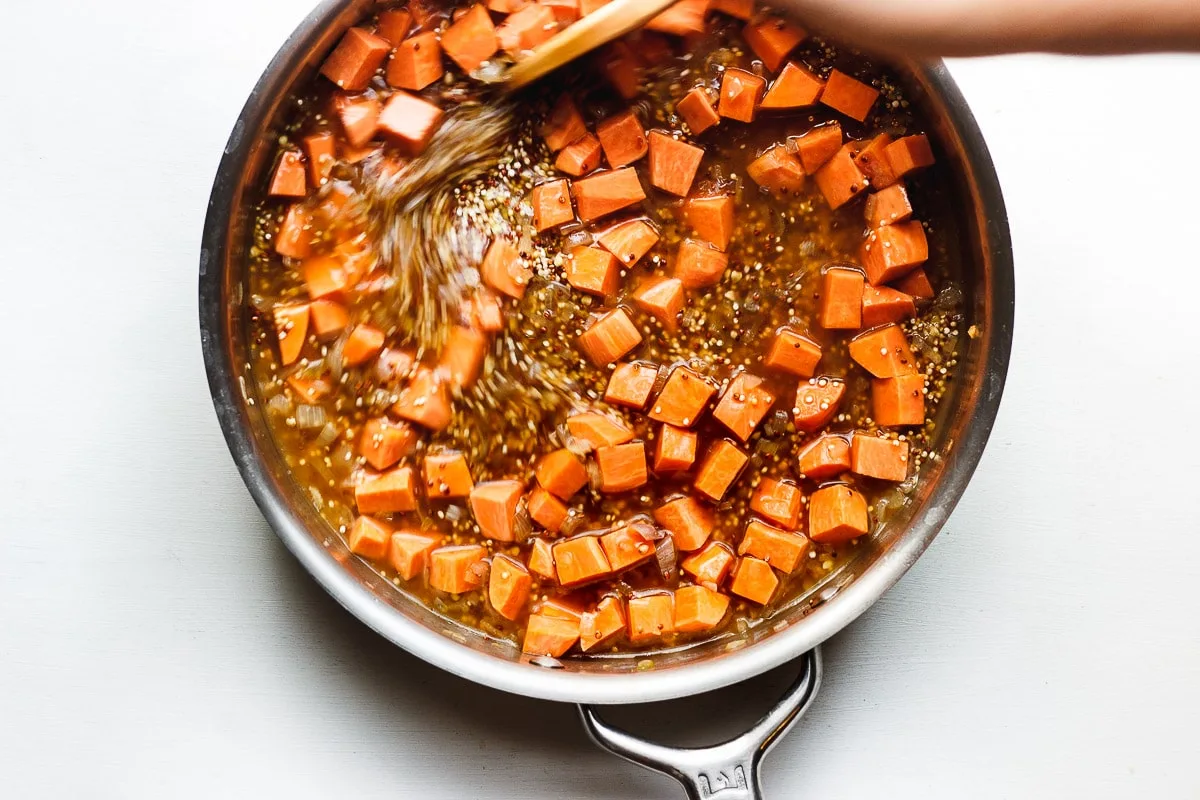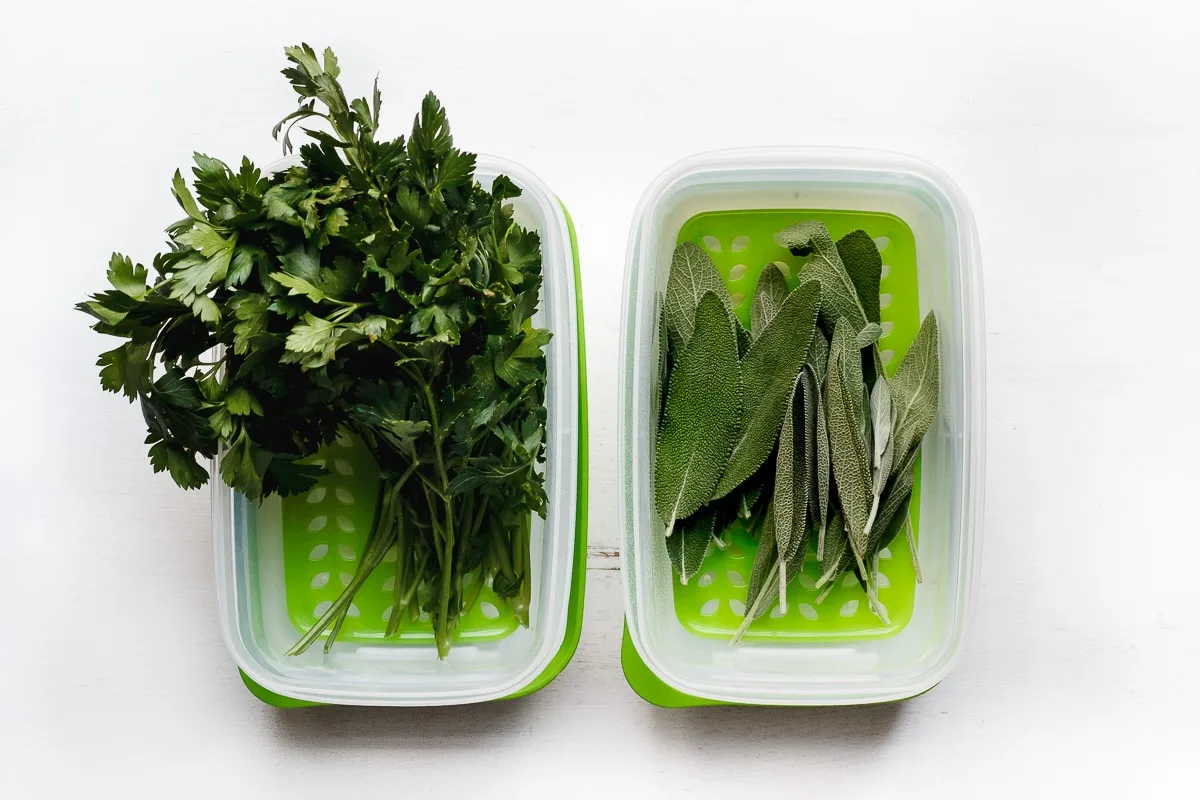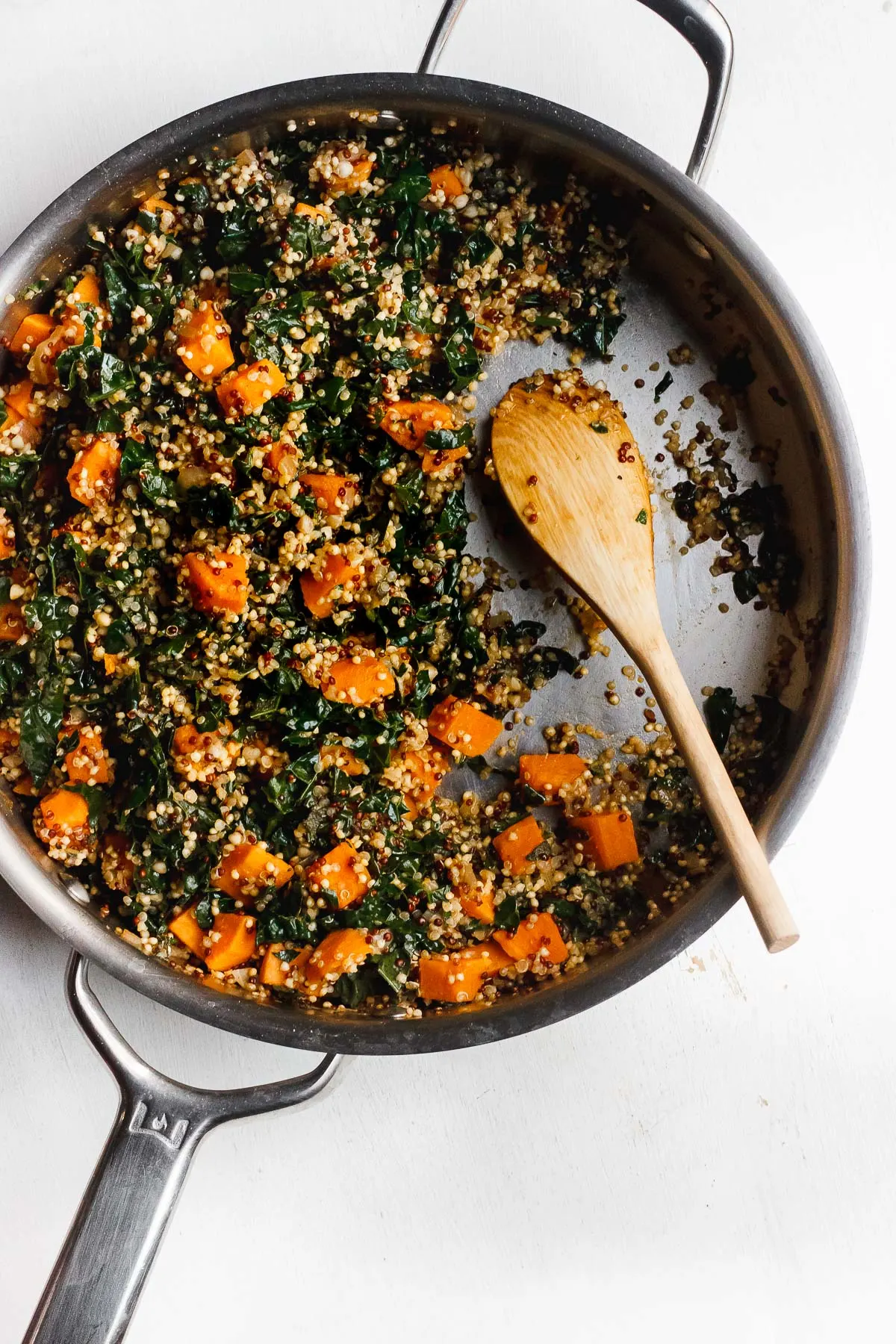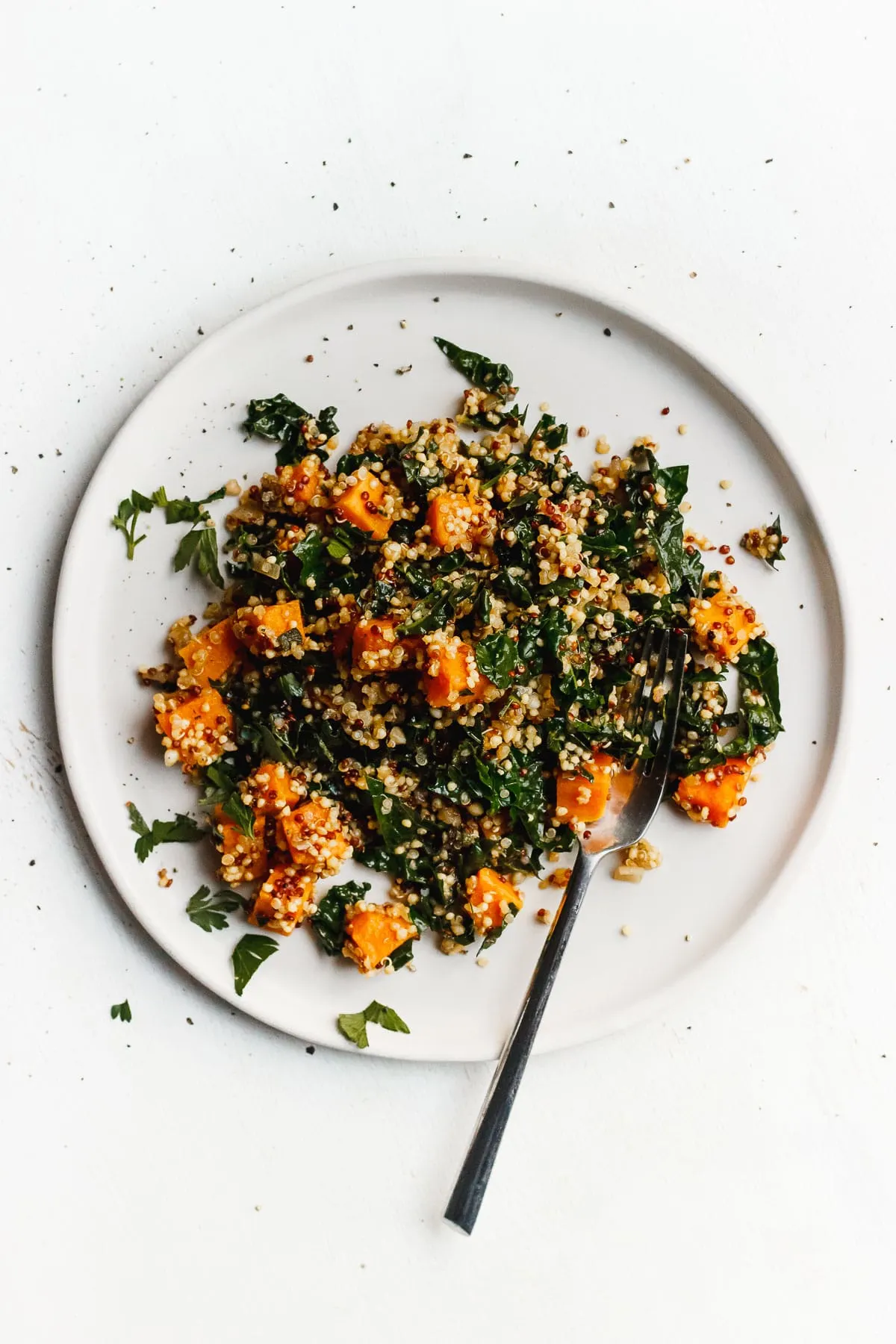 Yield: 4 servings
Sweet Potato Quinoa Skillet with Kale and Sage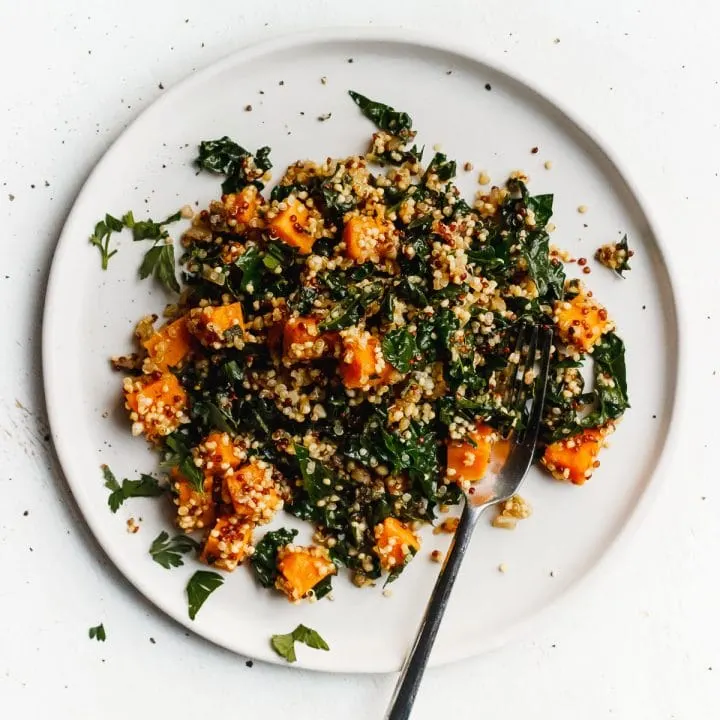 A sweet potato quinoa skillet with kale and sage that's loaded with fall flavors. A vegan, gluten-free, one pot meal ready in under thirty minutes.
Ingredients
2 medium sweet potatoes
2 tablespoons olive oil
1/4 cup shallot, minced
2 cloves garlic, minced
5 medium sage leaves, minced
1 cup uncooked quinoa
1 tablespoon apple cider vinegar
1/4 teaspoon fine sea salt
1/4 teaspoon black pepper
2 cups low-sodium vegetable broth (divided)
3 cups kale, finely shredded
2 tablespoons fresh parsley, chopped
Instructions
Peel and cut the sweet potatoes into 1/4-inch sized pieces and set aside.
Heat a large skillet or sauté pan over low-medium heat and add in the olive oil. Then add in the shallot and sweat for 1 minute.
Turn the heat up to medium-high and add in the diced sweet potatoes and sauté for 2 minutes. Then add in the garlic, sage and quinoa, and sauté for 2 minutes more.
Add in the apple cider vinegar, salt and pepper. Stir and allow the acid to cook off for 1 minute.
Turn the heat down to low and add in 1 1/2 cups vegetable broth. Stir, cover and cook for 12 minutes.
Remove the lid, add in the remaining broth, kale and parsley. Stir and simmer uncovered for 3 minutes or until the kale is bright green, and the sweet potatoes and quinoa are tender.
Taste and season with more salt and pepper if desired and serve warm.
Recommended Products
As an Amazon Associate and member of other affiliate programs, I may earn a small percentage from qualifying purchases.
[hr]
This post is sponsored by Rubbermaid; all opinions are my own