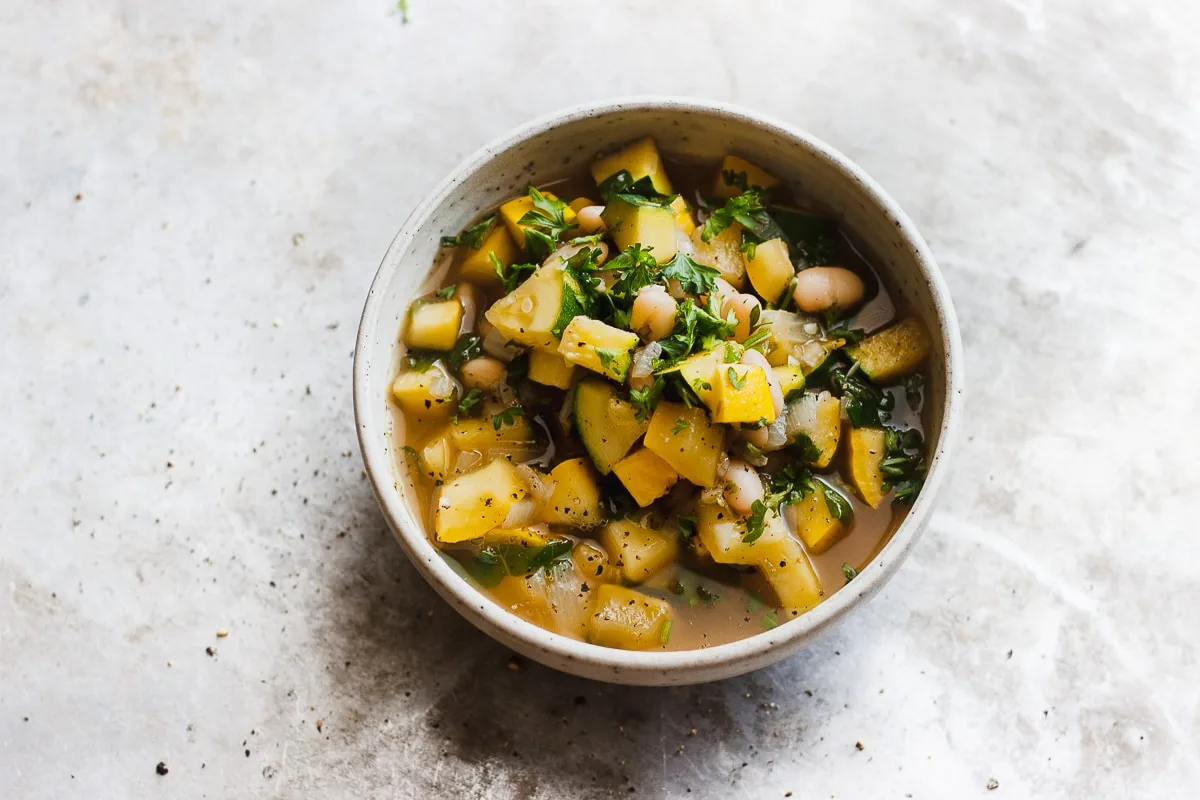 Summer can be equal parts exhausting and relaxing. And through both the tiredness and calm, there's always a sense of hurry. A hurry up and enjoy it or it'll be over soon, kind of hurry. My summer to-do list is always overflowing, and there never seems to be enough time.
However, there is always an abundance of summer squash, and this summer squash soup recipe puts it all to good use. In my world, soup epitomizes the meaning of comfort food. Soup makes me feel good when times are stressful, while feeling light, comforted and energized all at the same time. Albeit cliche, it's like a hug in a bowl.
Although I can eat soup, any day, any season and any time. I know that some people may have their reservations about eating hot soup in the summertime. But this zucchini and summer squash soup recipe is the perfect end of summer meal that transitions seamlessly into fall. But if it is still too hot right now for you to eat a bowl of this summer squash soup, you should freeze your batch and wait to enjoy it when the temperature drops.
How to make this summer squash soup.
This soup is all about the aromatics and flavorful broth. Because summer squash and zucchini can be easily overcooked, you only simmer the vegetables for five minutes. It's the olive oil, alliums, herbs, cheese rind and vegetable broth that you want to build all that flavor on.
Before you start cooking, prep your yellow squash by halving it and scooping out the large seeds. Overgrown green zucchini can have large seeds in it as well. Mine were small and not bothersome so I left them in. But scooping out the squash's seeds yields a more pleasant soup texture.
You start by sautéing the onion, garlic, oregano, salt and pepper. And then add in the broth, rind (if you're using one), vegetables and herbs. This summer squash soup is super easy, ready in under thirty minutes and can be made in large batches to freeze for fall and winter. If you're looking for more zucchini and summer squash recipes – this zucchini stew is another favorite of mine.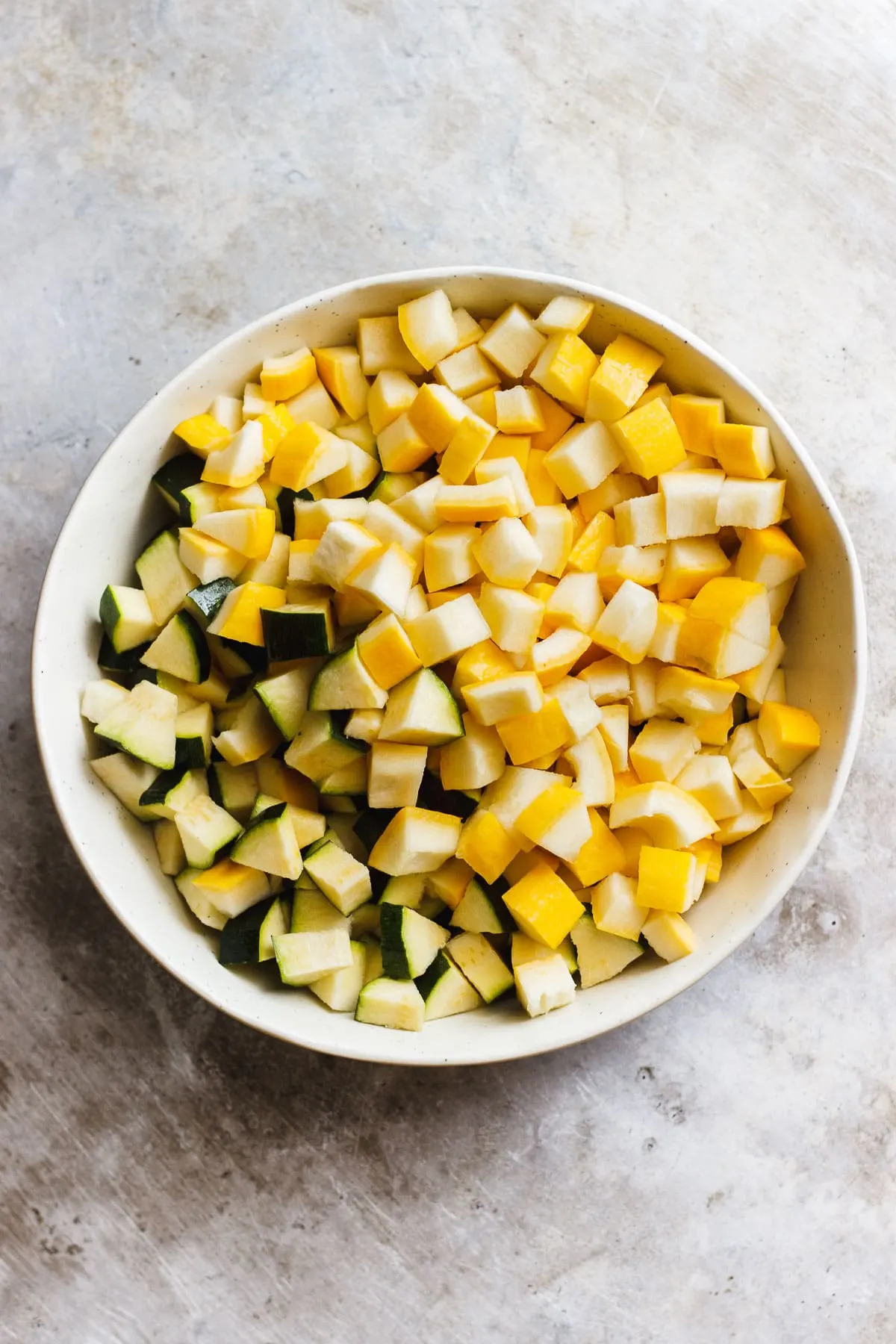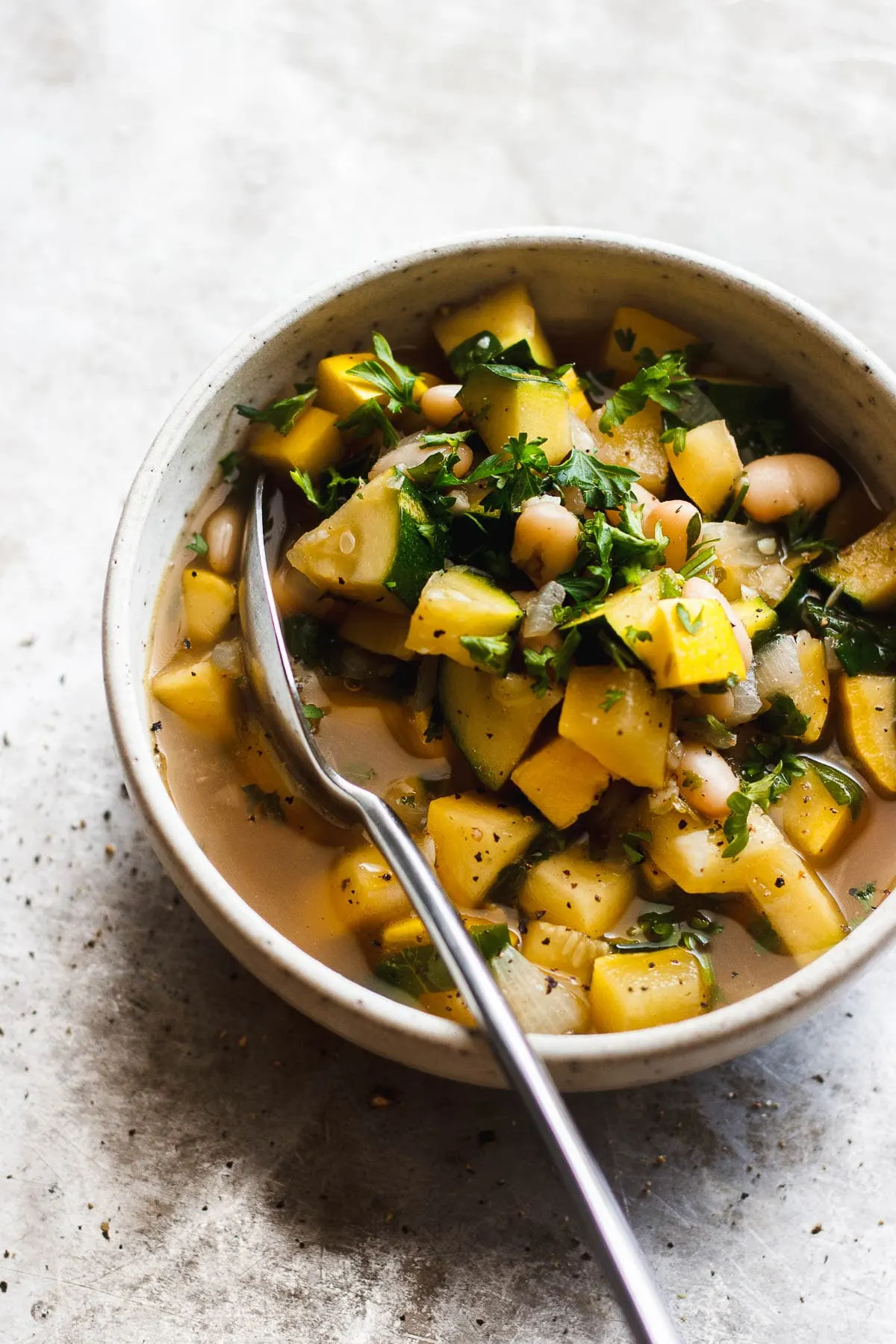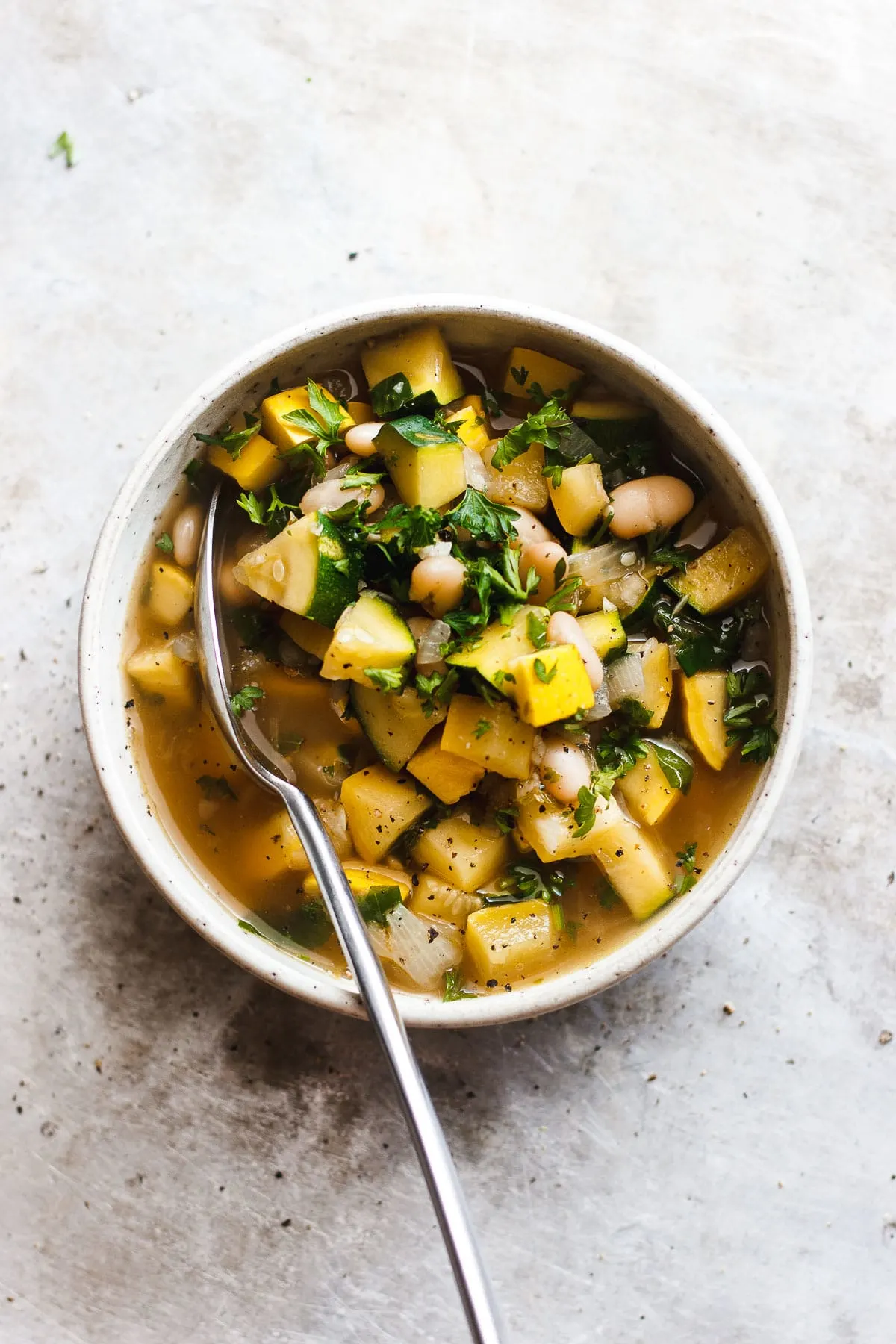 Yield: 4 bowls
Summer Squash Soup with White Beans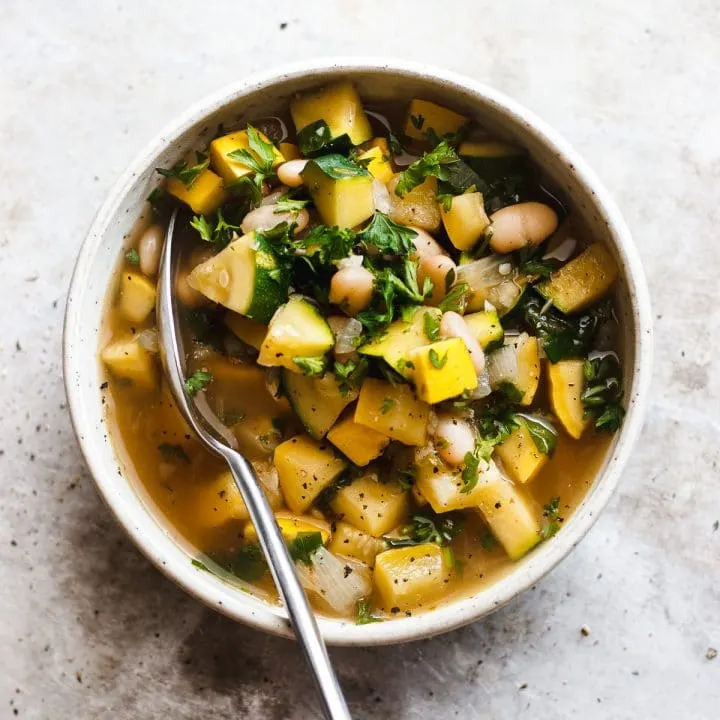 Summer squash soup loaded white beans and fresh summer herbs. A healthy, hearty, vibrant summer squash recipe to put your zucchini to good use.
Ingredients
2 tablespoons olive oil
1 medium yellow onion, diced small
4 garlic cloves, minced
1 tablespoon fresh oregano, minced (or 1/4 teaspoon dried oregano)
1/2 teaspoon fine sea salt
1/4 teaspoon black pepper
4 cups low-sodium vegetable broth
5 inch Parmigiano-Reggiano or Pecorino Romano rind (see notes)
2 cups summer squash, seeded and diced medium
2 cups zucchini, diced medium
1 cup cooked navy or cannellini beans
1/2 cup fresh basil, chopped
1/4 cup fresh parsley, chopped
Instructions
In a large pot heat the olive oil over low-medium heat and sauté the onions for 5 minutes. Then add in the garlic, oregano, salt and pepper and continuing sautéing for 3 more minutes.
Add in the vegetable broth and cheese rind (if you are using one), stir and bring to gentle simmer.
Then add in the summer squash, zucchini, white beans, basil, parsley and simmer for 5 minutes or until the squash is tender (do not to over cook).
Taste and season with more salt and pepper if needed and serve hot.
Notes
Rinds are the outside layer that form on cheese during its aging process. Both Parmigiano-Reggiano and Pecorino Romano rinds are full of flavor and add richness to the broth. Most cheese shops, including the cheese counter at Whole Foods Market, will give you a rind or sell it to you inexpensively. To keep this recipe vegan and dairy-free, simply leave it out altogether.