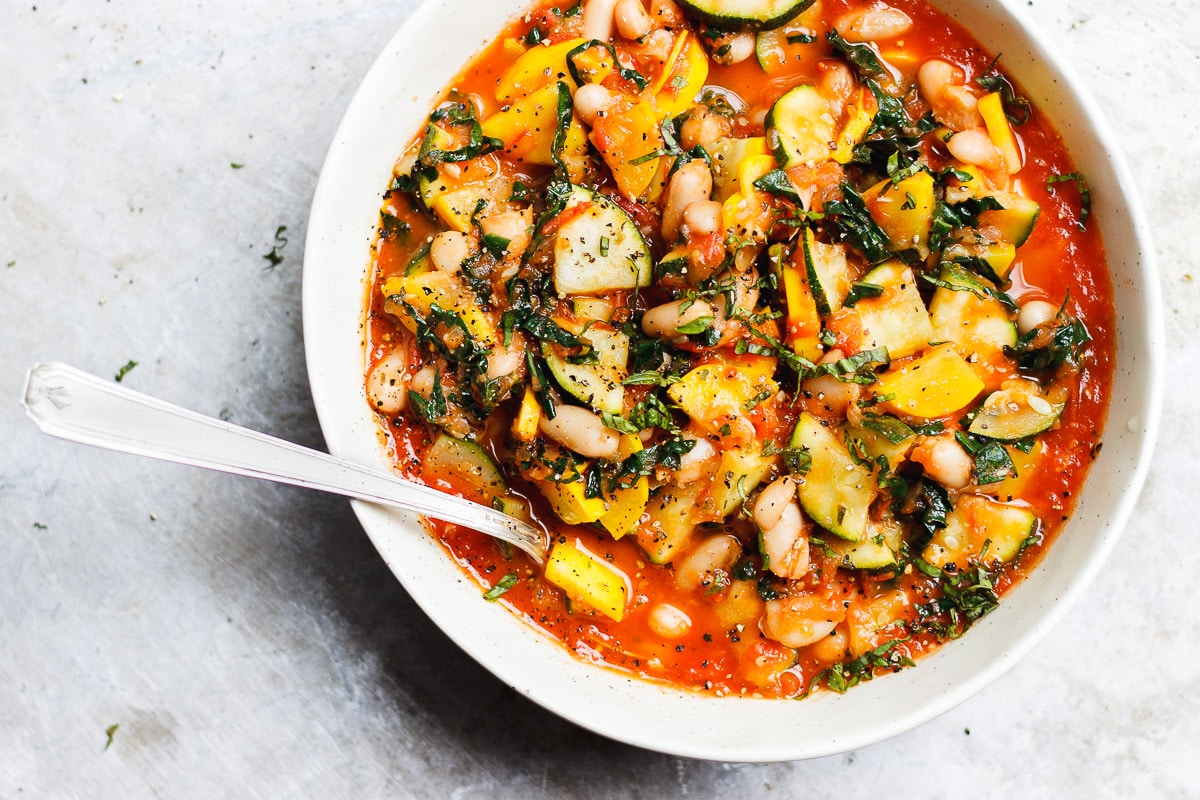 It's the part of the summer when we all get a little overwhelmed by the abundance of produce. Although it's a wonderful problem to have though, it's still a little overwhelming. Our gardens are in full bloom and our markets are bursting at the seams with fruits and vegetables. Especially, zucchini and tomatoes which make for a wonderful zucchini stew.
This zucchini stew is simmered with a fresh tomato sauce, and infused with herbs and hearty white beans. When it comes to tomato sauce made with fresh tomatoes, I like to make this version.
This fresh tomato sauce recipe is my go-to method and comes together in under twenty minutes, but it tastes like it's been simmering on the stove all day. And it doesn't matter what variety of tomatoes you use. Slicing, cherry, grape, heirloom, plum – all varieties, all flavors, all sizes and all shapes work beautifully in this recipe.
And when it comes to the squash in this recipe you can use green zucchini, yellow summer squash or a combination of both. The squash cooks very fast, and you'll want to avoid overcooking it otherwise the zucchini stew will get too soggy.
How to make zucchini stew.
If you already have the tomato sauce made and you have cooked white beans on hand, this zucchini stew comes together in just minutes. If you need to make the tomato sauce, it will only end up taking you thirty minutes. Either way, it's a super easy and satisfying summer meal.
First you sauté the zucchini, and then you simmer it in the sauce. Lastly, you add in the herbs and kale and a little seasoning and that's it. Add some crusty bread on the side or a poached egg or Pecorino Romano cheese on top and it takes this dish over the top. Another great recipe to make with your abundance of zucchini is this summer squash soup.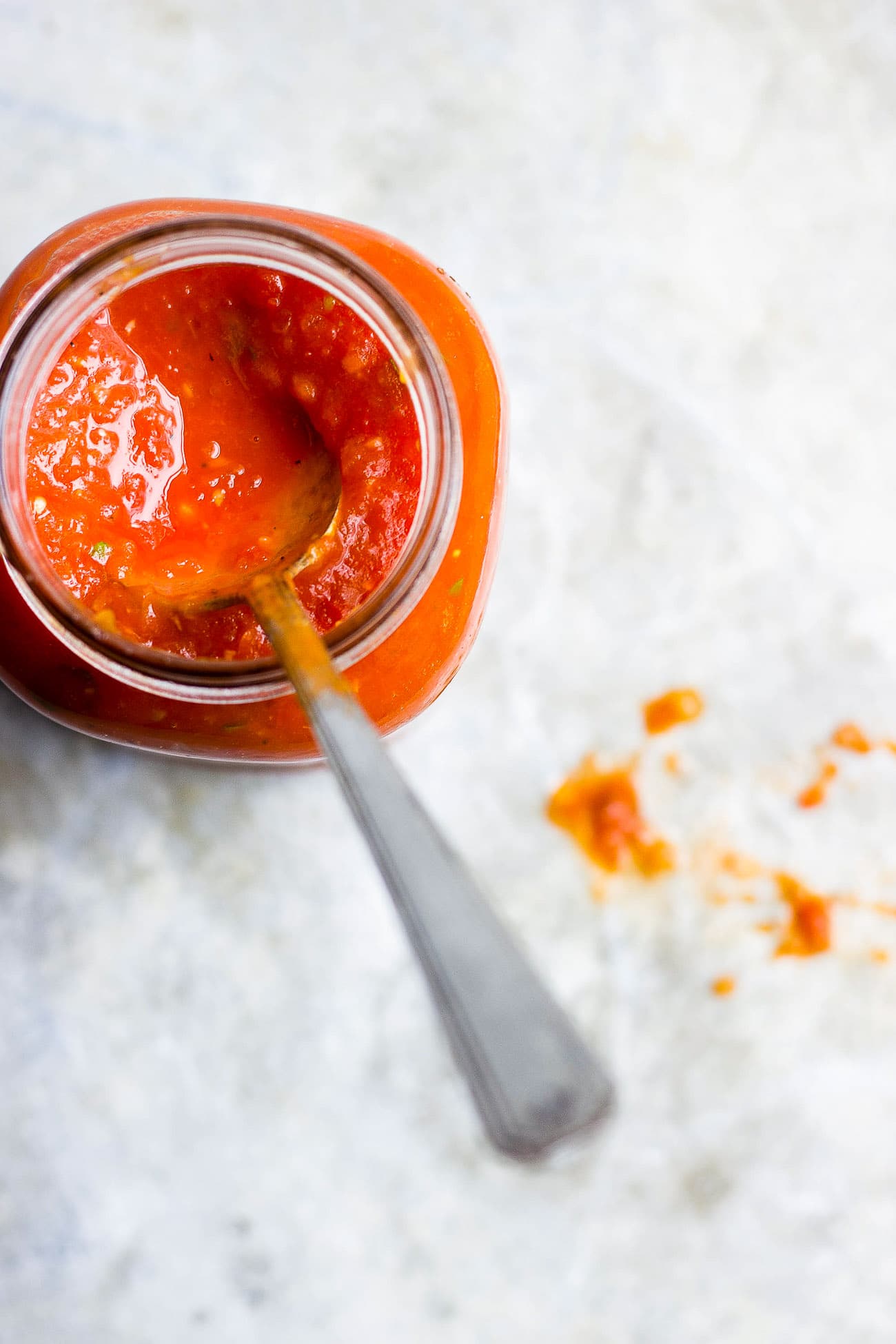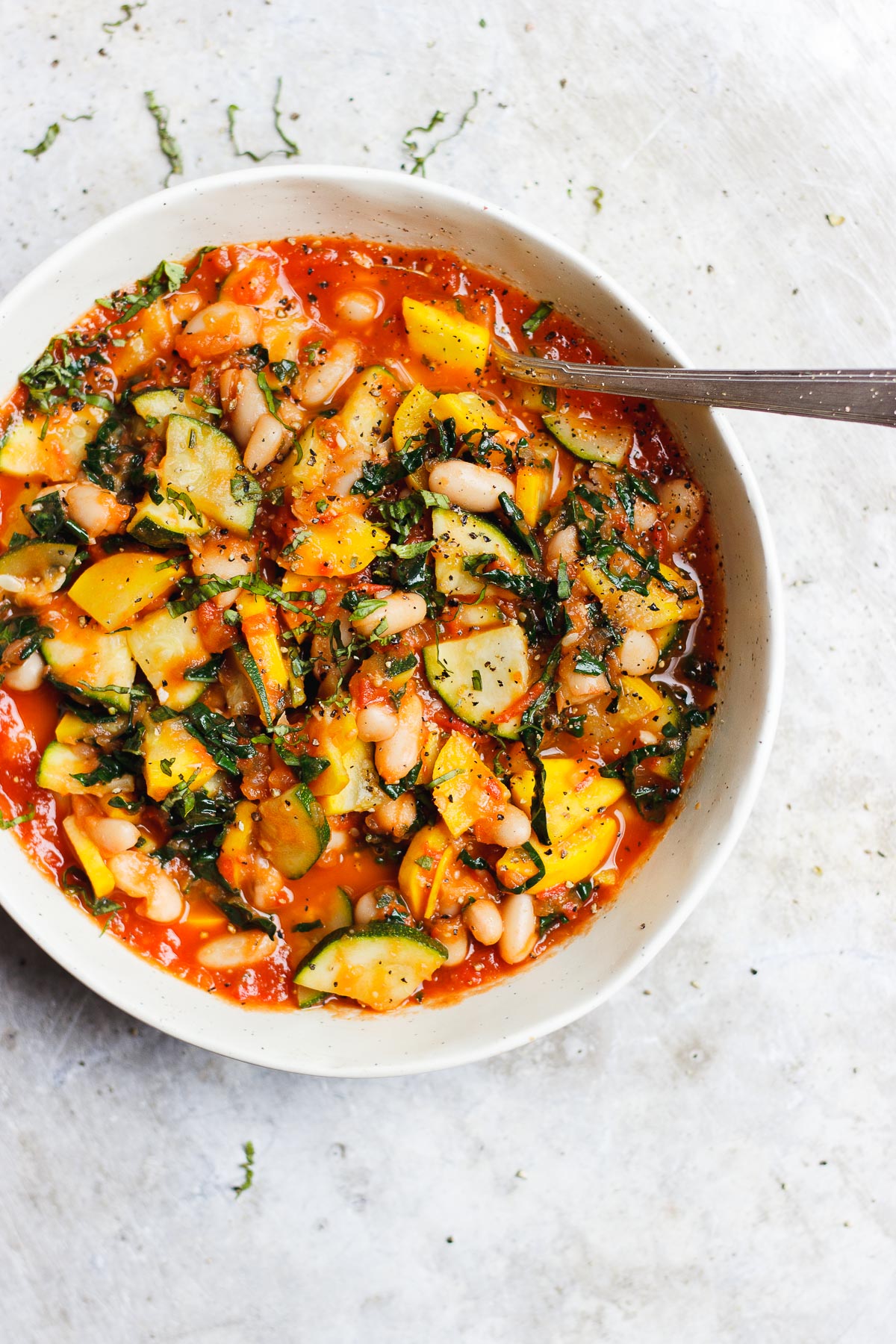 Yield: 4 servings
Zucchini Stew with Tomato Sauce and White Beans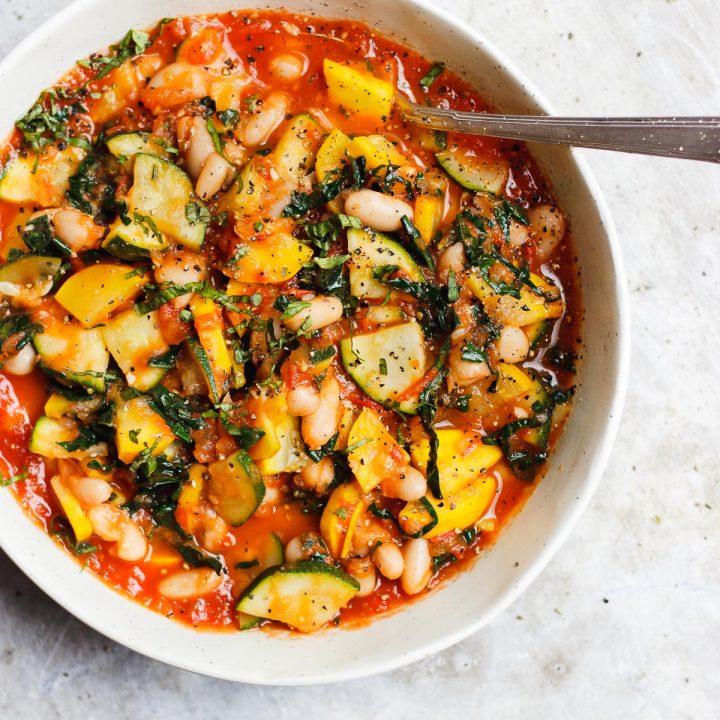 Stewed zucchini in fresh tomato sauce with white beans and kale. A summery zucchini stew that's ready in under fifteen minutes, vegan and gluten-free.
Ingredients
1 tablespoon olive oil
2 cups zucchini, diced medium (see notes)
1 cup cooked white beans
1 1/2 cups tomato sauce (see notes)
1/4 cup fresh basil, julienned  
1 cup kale, finely shredded 
1/4 teaspoon fine sea salt
1/4 teaspoon black pepper
Instructions
Heat the olive oil in a sauce pan over low-medium heat.
Then add in the zucchini and sauté for 2 minutes.
Turn up the heat to medium, add in the white beans and tomato sauce, and then simmer for 5 minutes.
Stir in the basil, kale, salt and pepper, and simmer for 2 more minutes.
Taste and season with salt and pepper if desired and serve warm with more fresh basil sprinkled on top.
Notes
This recipe is very flexible and you can use 2 cups of green zucchini or yellow summer squash or 1 cup of each.
This is the tomato sauce that I use. Your favorite marinara sauce recipe or brand will also work.
Recommended Products
As an Amazon Associate and member of other affiliate programs, I may earn a small percentage from qualifying purchases.