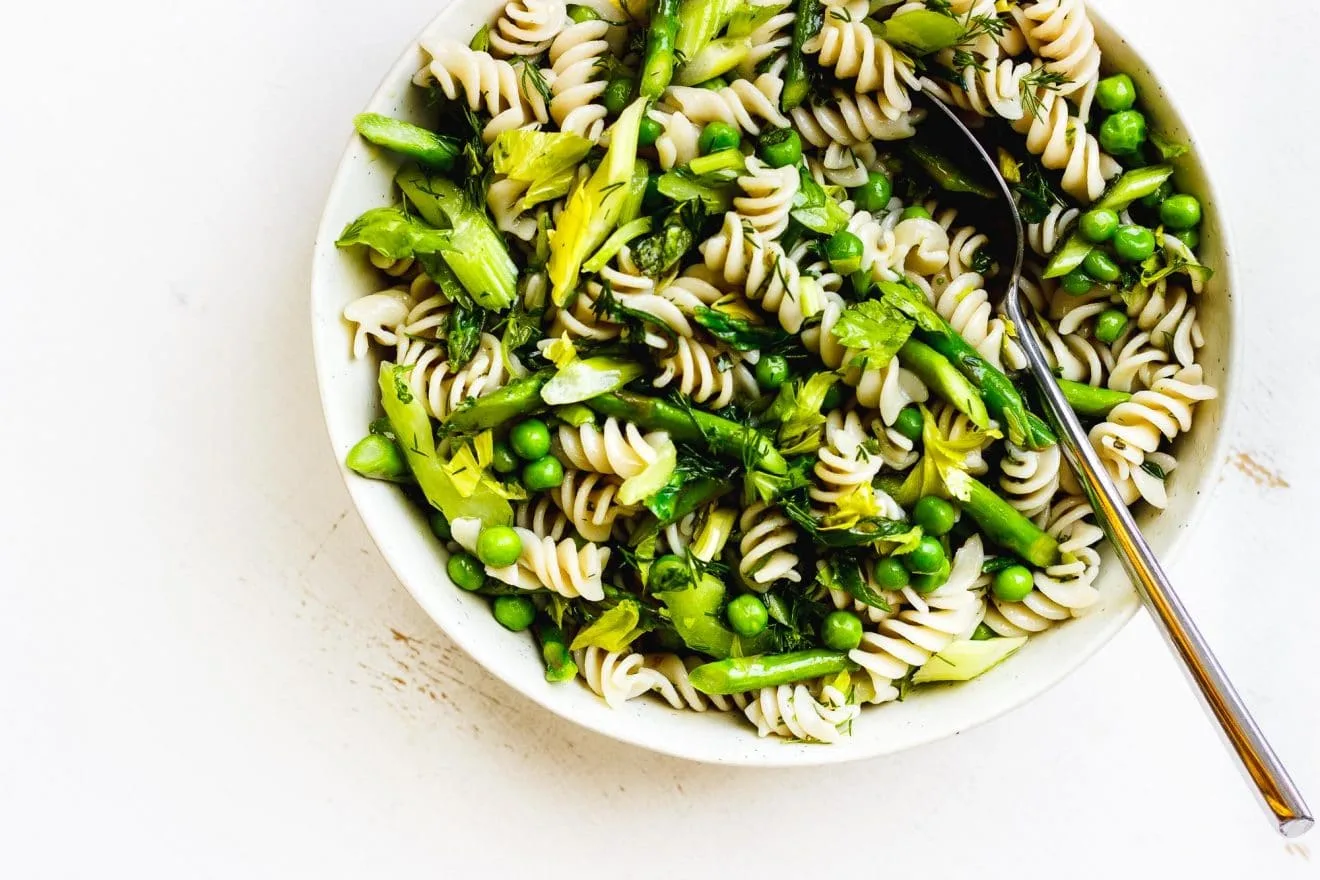 Spring comes early in Texas. The magnolia blossoms and tulips come and go and the leaves on the trees are fully matured by the end of March. Our bluebonnet season is over by the end of April. And you can go strawberry picking before Earth Day. Since spring doesn't fully bloom until nearly May where I'm from (hi New York), this is all very new and refreshing to me. We must celebrate with vegan pasta salad. Right?
This spring pasta salad recipe is one of my favorite ways to welcome in the new season. I think of pasta salad as a timeless beauty. It reminds me of warm weather and eating outside at gatherings full of family and friends. It's a classic dish full of nostalgia, and comfort and all that is familiar. And this springy, vegan pasta salad version celebrates that familiarity along with the freshest of seasonal ingredients.
This is the best spring pasta salad recipe.
It is hearty, but also bright and balanced. The base is made of half pasta and half vegetables. So it's equally as comforting as it is nutritious. It is packed with an abundance of aromatics and tossed in a zesty, lemon vinaigrette that's infused with healthy fat.
A vegan pasta salad that is a total celebration of asparagus, peas, dill and mint. All of which are in season right now. Bookmark this spring pasta salad for now and swap in other seasonal ingredients for later this summer.
Instead of the asparagus and peas, you can try cherry tomatoes and cucumbers. And instead of the dill and mint, you can try basil and parsley. I think you'll find it is quite versatile. And super easy to make in only one pot and one mixing bowl in under twenty minutes.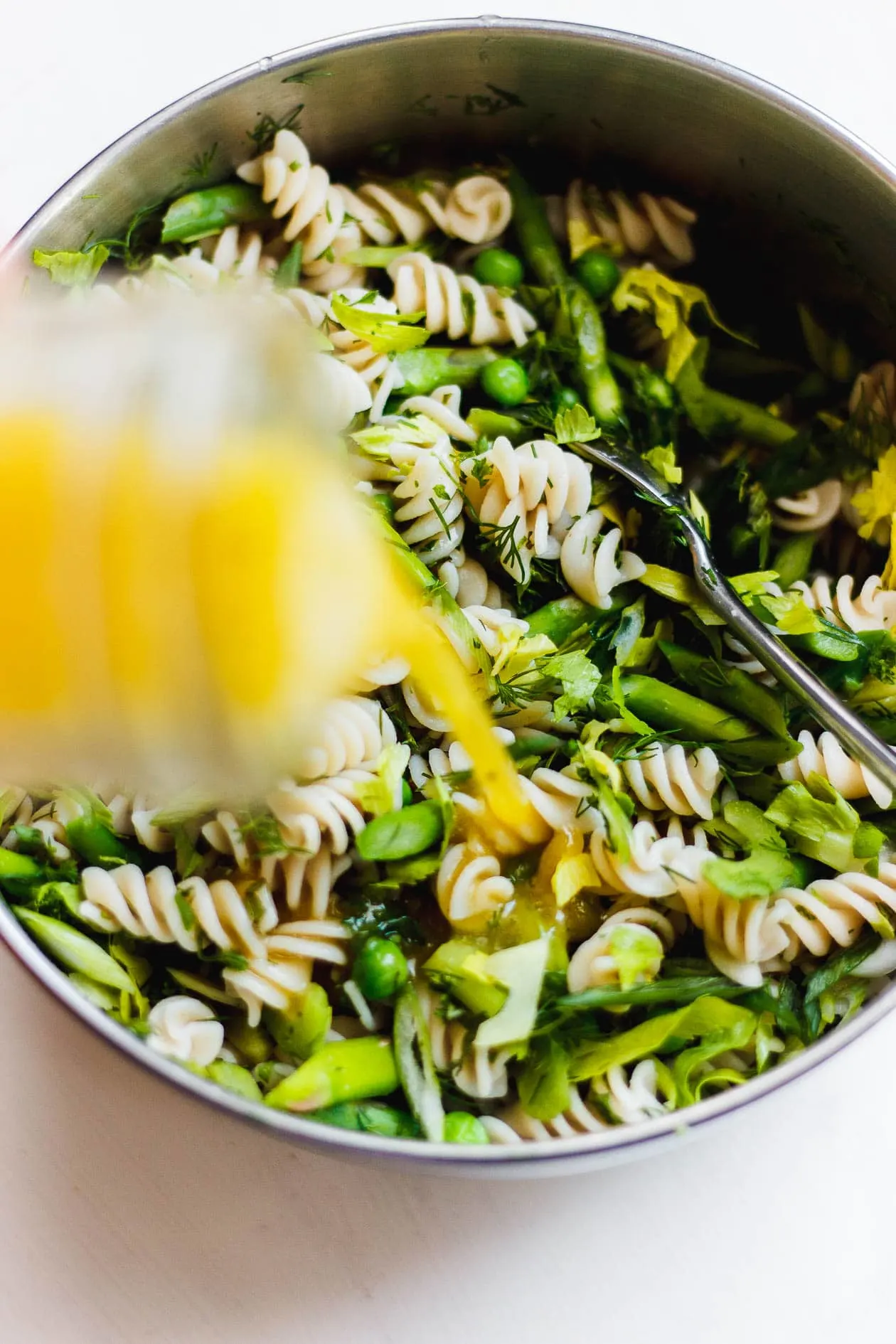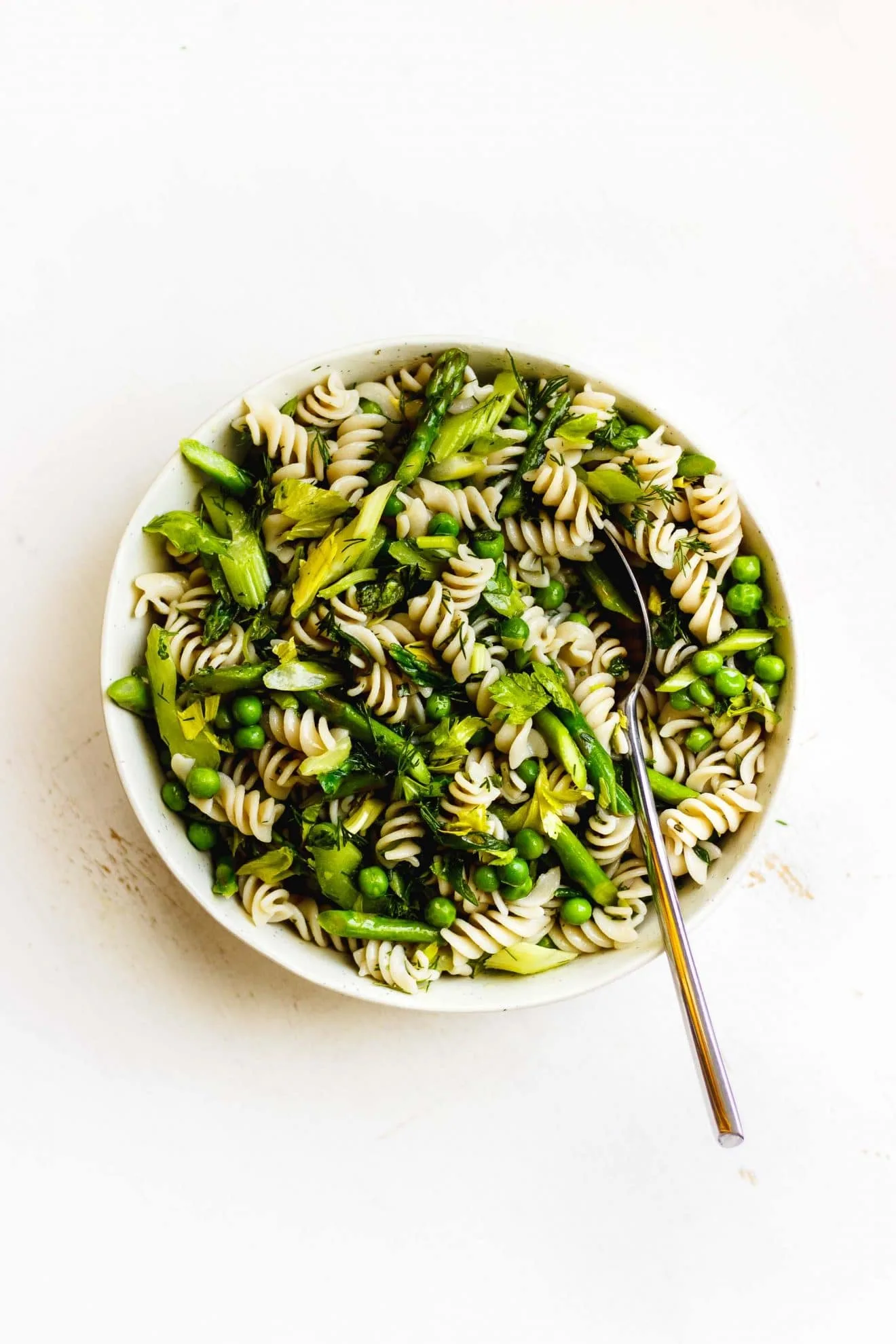 Yield: 4 servings
Herby Spring Pasta Salad with Lemon Vinaigrette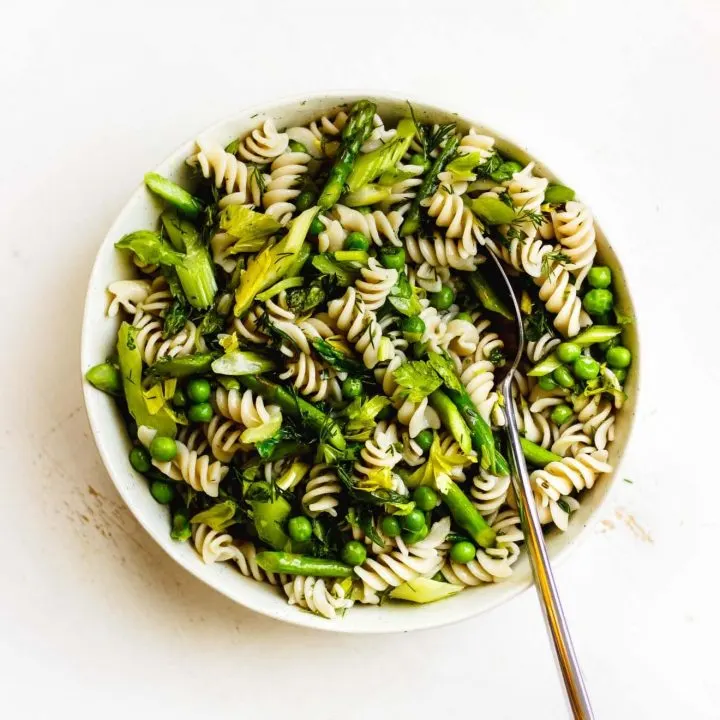 A spring pasta salad made in one pot with spring vegetables and tossed with herbs and a lemon vinaigrette. A gluten-free, vegan pasta salad for all.

Prep Time 5 minutes

Cook Time 10 minutes

Total Time 15 minutes
Ingredients
12 ounces rotini pasta (see notes)
1 1/2 cups asparagus, 1-inch segments
1 cups peas (frozen or fresh)
1/2 cup extra virgin olive oil
2 tablespoons lemon juice
1 tablespoon apple cider vinegar
1 teaspoon fine sea salt
1/2 teaspoon black pepper
1 cup celery, diced small
1/4 cup green onions, diced small
1/4 cup dill, chopped
1/4 cup parsley, minced
1 tablespoon mint, minced
Instructions
Bring a medium sauce pot with water and a heavy pinch of salt to a rapid boil. Cook the pasta to the al dente package instructions (do not overcook). One minute prior to draining add in the asparagus and peas. Drain, rinse with cold water until the pasta is cooled and set aside.
Meanwhile in a small bowl whisk together the olive oil, lemon juice, apple cider vinegar, salt and pepper and set aside.
Add the cooked pasta, asparagus and peas to a large mixing bowl. Then add in the celery, green onions, dill, parsley, mint and lemon vinaigrette and toss gently until the salad is well combined.
Serve or refrigerate (for up to 24 hours) before serving.
Notes
I used a rice-based gluten-free rotini, but any gluten-free or non gluten-free pasta option will work in this recipe. Penne, fusilli and elbow macaroni are all great choices.
Recommended Products
As an Amazon Associate and member of other affiliate programs, I may earn a small percentage from qualifying purchases.

MORE SPRING RECIPES YOU'LL LOVE.
Watermelon Radish with Herbed Tahini Sauce
Chili Lime Roasted Asparagus
Creamy Carrot Ginger Soup with Black Pepper
Strawberry Sauce with Sea Salt and Pink Peppercorns