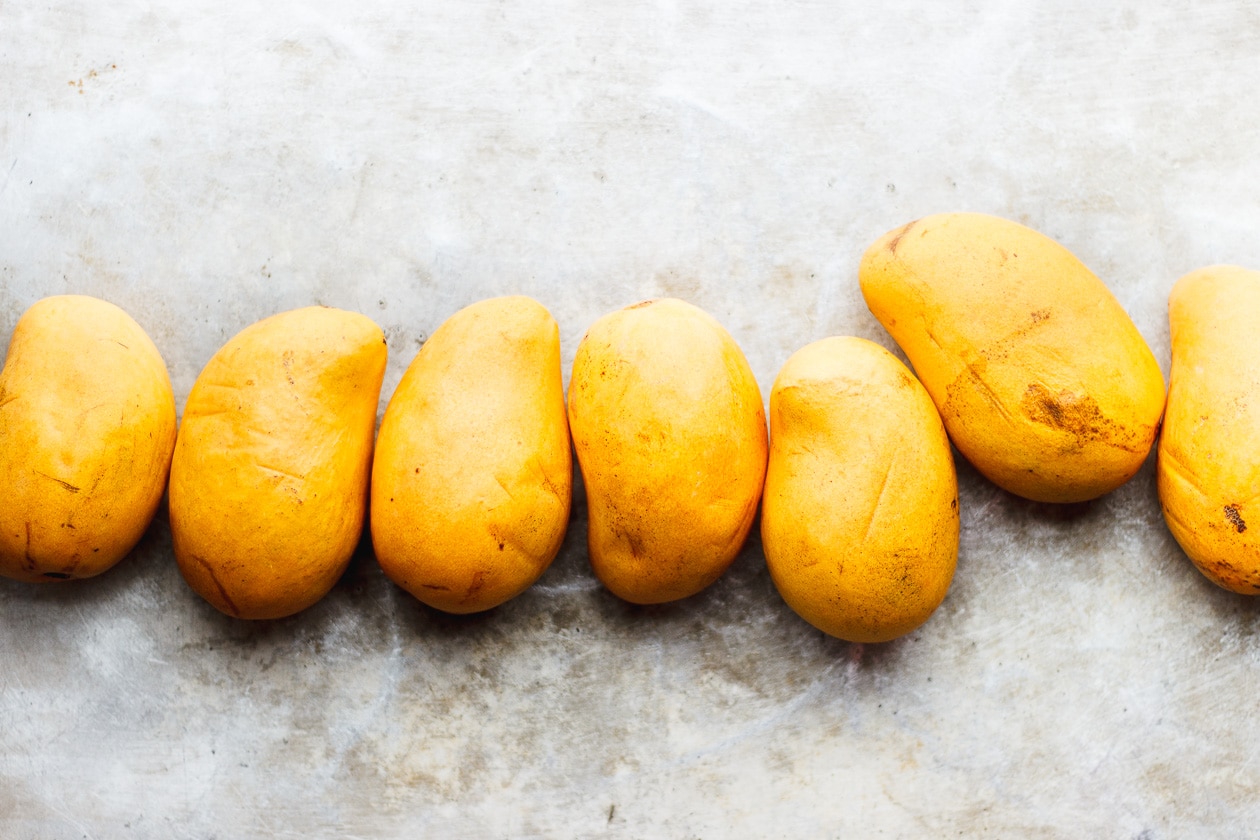 Ataulfo mango season is my absolute favorite. And I look forward to it every year. This mango variety from Mexico is sweet, rich and buttery soft, and especially delicious in this mango pudding.
Ataulfo mangoes also go by the name honey, baby, yellow, or Champagne mangoes. They have beautiful golden-yellow hued skin, they're kidney shaped and are generally smaller than red mangoes weighing between six and ten ounces.
In my opinion, they are the queen bee of mangoes. These beauties are in season between March and August. And I buy an overwhelming amount when they start appearing. I eat at least one a day and freeze as many as I can. Their velvety meat has almost no fibrous texture which makes a super creamy mango pudding. It also makes a super creamy mango smoothie.
How to make this two-ingredient mango pudding.
This pudding recipe is super simple and just two ingredients. And it's the most refreshing mango dessert that you could make. Simply blend the mango with the coconut cream and a pinch of pink Himalayan salt. Then chill and set.
Now, this step is optional but I highly recommend garnishing the pudding with some fresh mint simple syrup. Mint is very abundant when mango is in season. And the mint simple syrup gives this mango dessert some slightly herbal notes which rounds off the sweetness of the mango.
The entire recipe, both the pudding and the syrup, comes together in under twenty minutes (minus the chilling and setting time). And both parts can be prepared ahead of time. This is my go-to dessert for easy spring and summer meals outdoors and special brunches at home.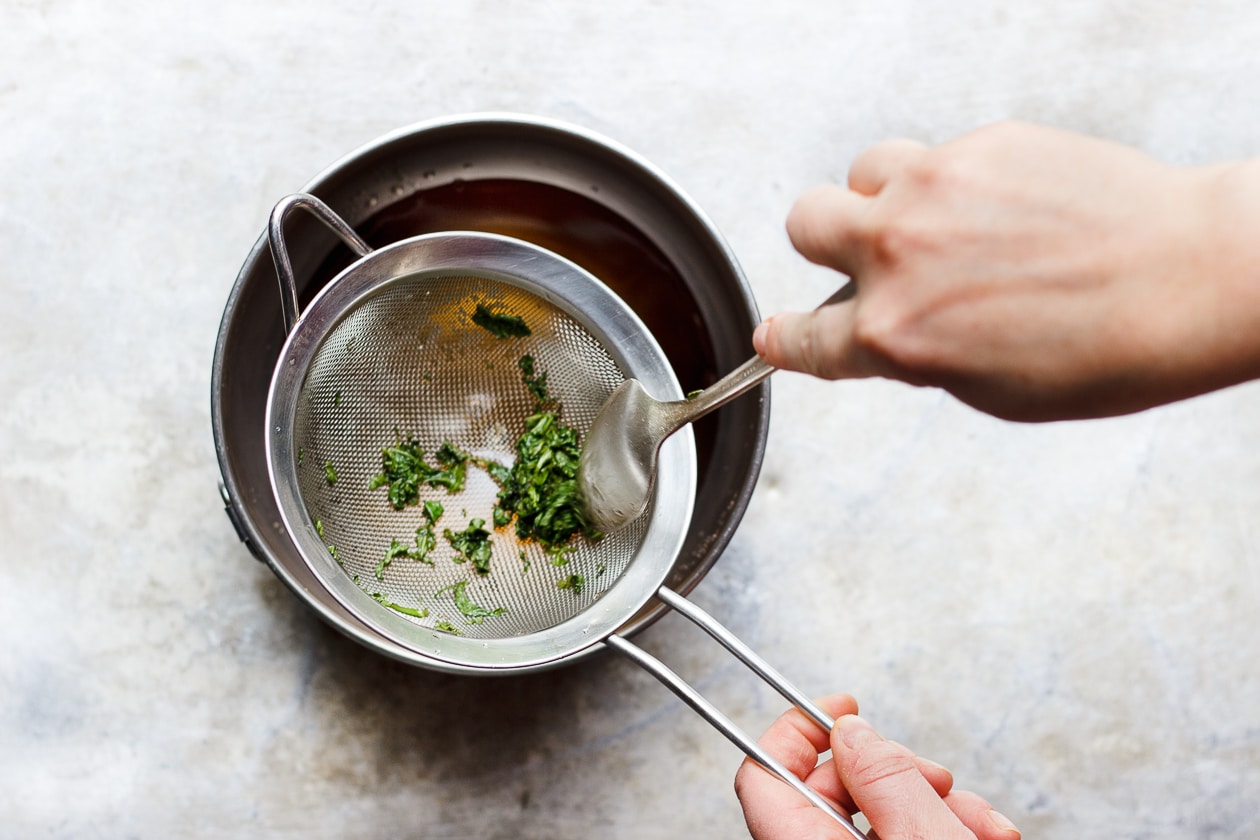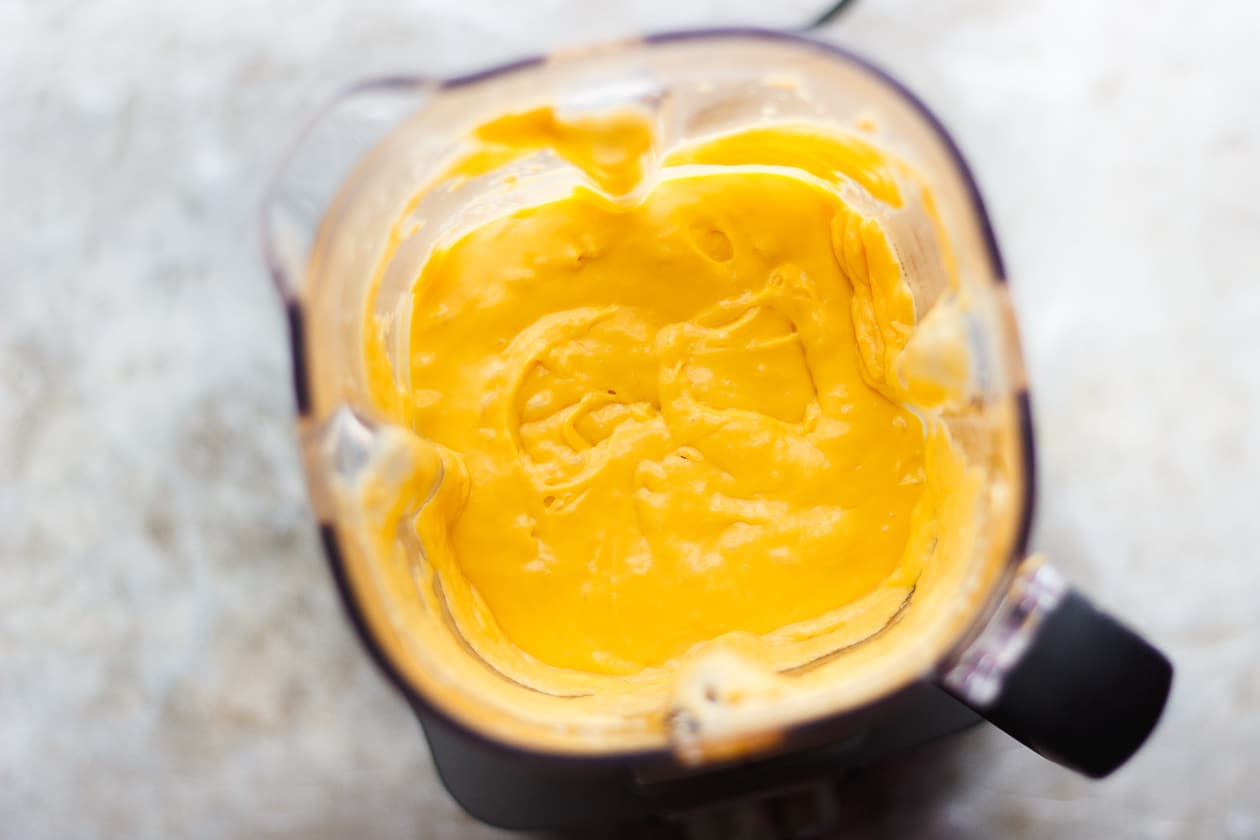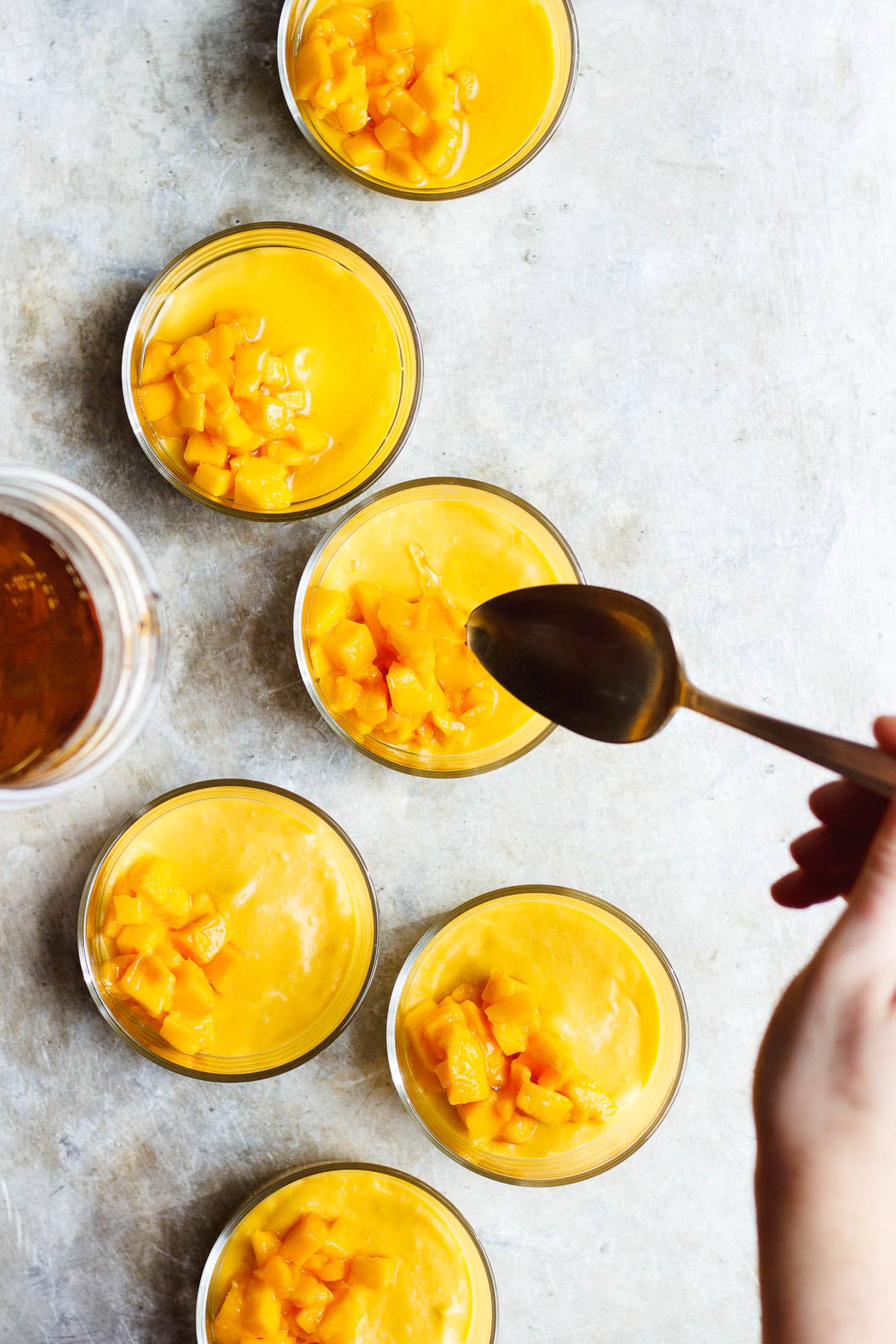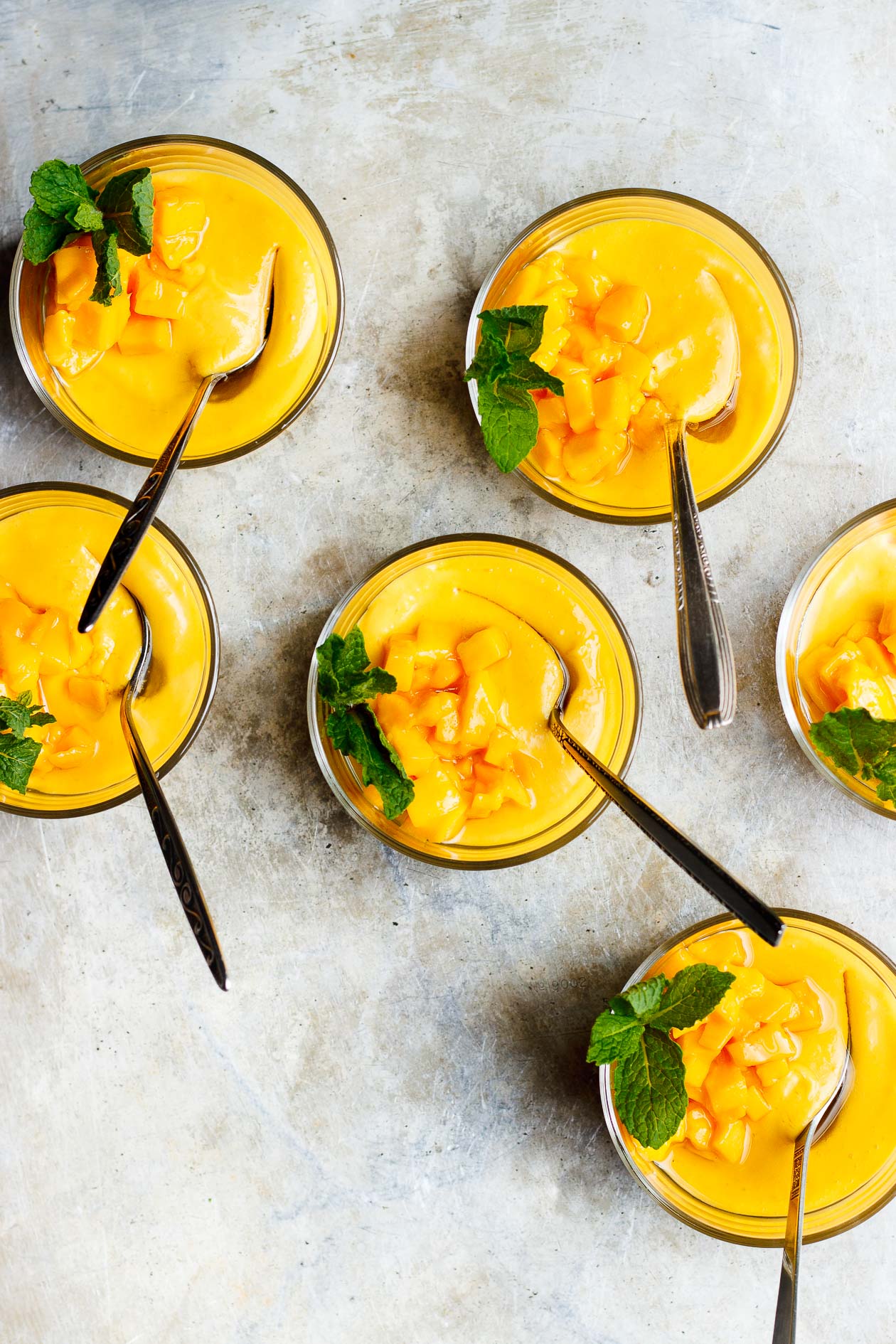 Yield: 6 - 8 servings
Mango Pudding with Mint Simple Syrup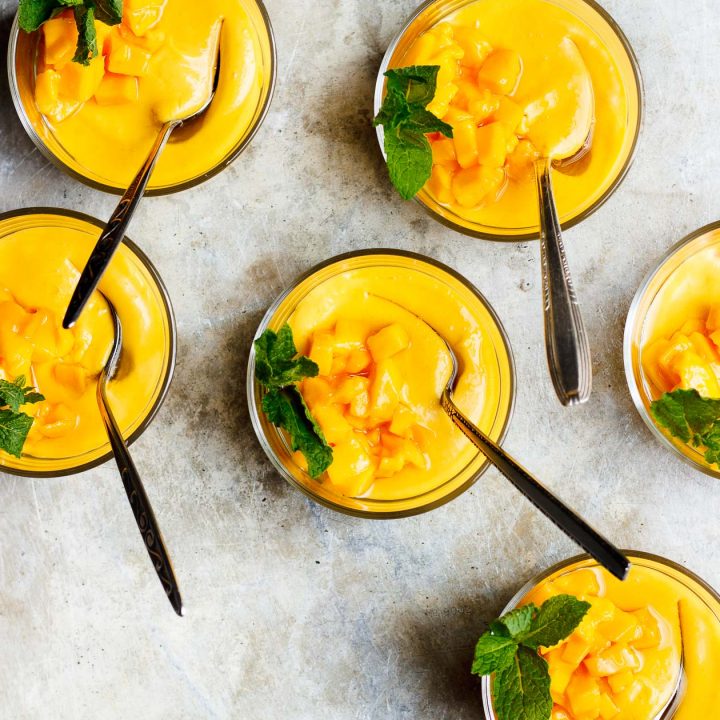 An effortless, two-ingredient mango pudding topped with an herbal mint simple syrup.
Total Time
2 hours
20 minutes
Ingredients
Pudding Ingredients
4 cups very ripe mango, cubed
(1) 13.5 ounce can full-fat coconut milk
1/4 teaspoon pink Himalayan salt
4 sprigs mint (to garnish)
1/2 cup Ataulfo mango, diced small (to garnish)
Syrup Ingredients
1/2 cup mint leaves
1 cup filtered water
1 cup cane sugar
Instructions
Combine the cubed mango, coconut milk and salt in a blender process for about 30 seconds or until very smooth.
Run the mixture through a fine sieve to remove any fibrous materials.
Discard the pulp (fibrous materials) and pour the pudding into dessert cups. Chill for at least 2 hours (continue to refrigerate until you're ready to serve).
Chop the mint leaves roughly, and add them to a small sauce pan. Then add in the water and cane sugar and stir.
Bring the mixture to a gentle simmer over medium heat. Continue simmering for 5 minutes, while stirring occasionally to fully dissolve the sugar.
Remove from the heat and cool. Strain the mixture through a sieve and discard the leaves. Store the syrup in an airtight jar in the refrigerator for up to 1 week.
Serve the mango pudding with a drizzle of mint simple syrup, diced mango and a sprig of mint.