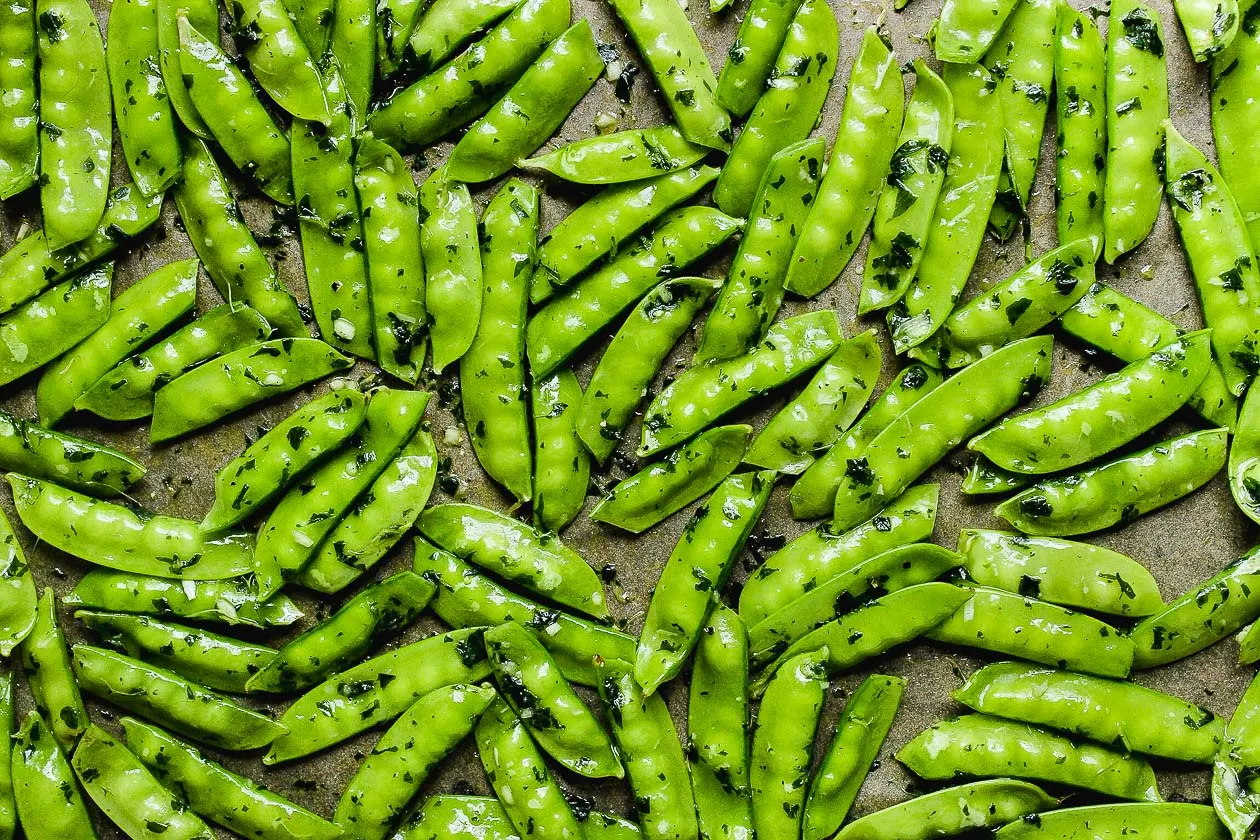 Snow peas, garden peas and sugar snap peas are some of our favorite late spring beauties. But can you tell them apart? It wasn't until my CSA kept delivering me different kinds of gorgeous heirloom peas did I do the research to really understand the different varieties.
So, let's go over it. Snow peas, are also known as a Chinese pea pod and often used in stir-fry recipes. They're the flattest variety and contain very small peas inside. Although the whole pod is edible, the edges have tough strings that can be hard to chew. These strings can be removed before you eat them to make for a more pleasant experience. Snow peas are mild in flavor and can be served raw or cooked.
Garden peas, also known as sweet peas or English peas are the round peas found inside a firm inedible pod. They're sweet, starchy and may be eaten raw or cooked. These are the common shelled peas you can find in your grocer's frozen isle.
Lastly, sugar snap peas or just snap peas, are a cross between snow peas and garden peas. The whole pod is edible, while having a crunchy yet very sweet flavor. They may be eaten raw or cooked, but this roasted version is my favorite way to eat them.
How to roast sugar snap peas.
Eating snap peas raw is common, but roasting them is even more magical. And it's also very easy to do. Here you prep the sugar snap peas by washing and drying them. Then you toss them in a quick mint sauce, and roast until lightly golden brown and crispy. Add a little more fresh mint and sea salt and eat them whole. It's an easy and simple and yet unexpected pea recipe.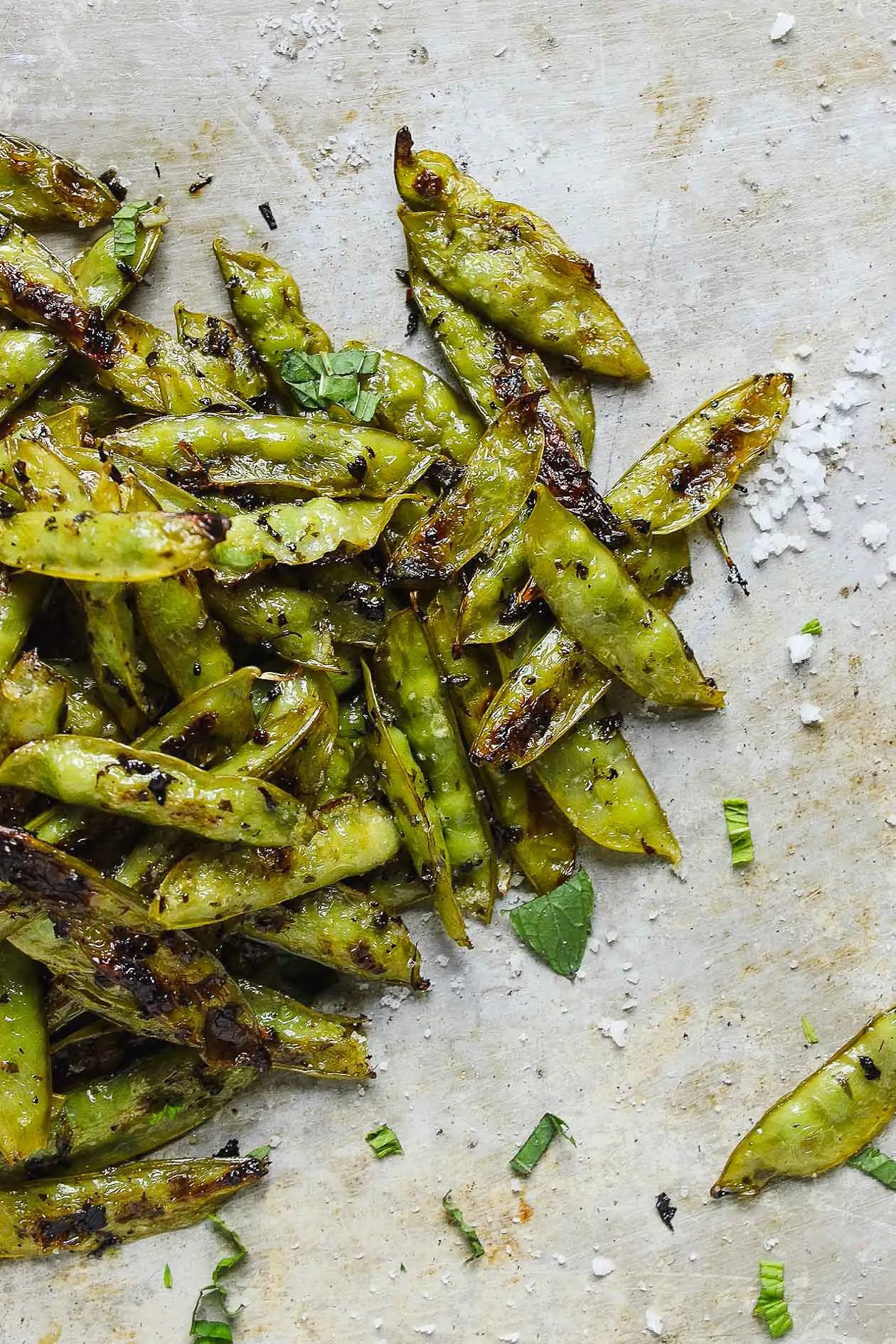 Yield: 2 - 4 servings
Roasted Sugar Snap Peas with Mint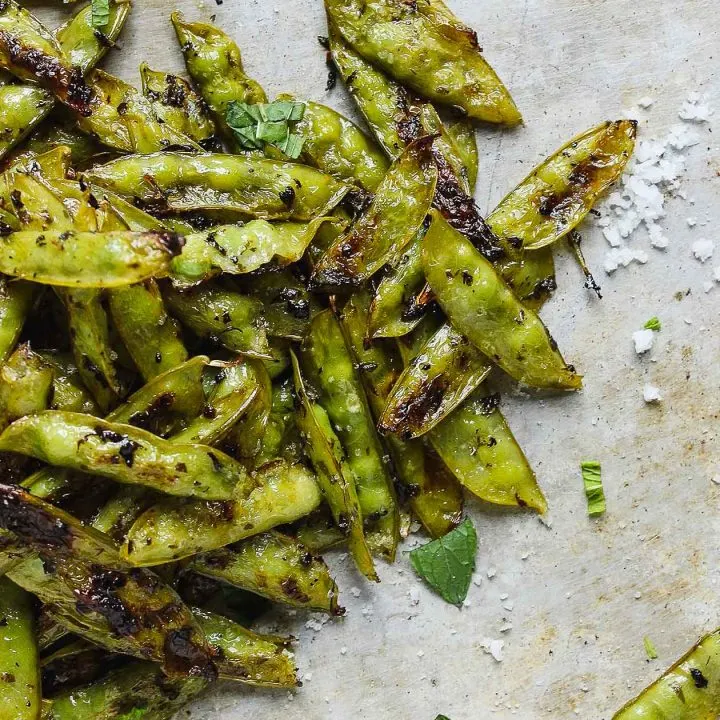 Roasted sugar snap peas with fresh mint, sea salt and a hint of lemon. An easy, simple vegan spring and summer pea recipe.

Prep Time 5 minutes

Cook Time 15 minutes

Total Time 20 minutes
Ingredients
3 cups sugar snap peas
1 cup fresh mint leaves (more to garnish)
3 tablespoons olive oil
1 clove garlic
1 tablespoon lemon juice
1/4 teaspoon sea salt (more to garnish)
1/4 teaspoon black pepper
Instructions
Preheat the oven to 450 degrees and line a sheet pan with parchment paper.
Wash the peas, pat dry and trim the ends.
In a food processor combine the mint, olive oil, garlic, lemon juice and a pinch of salt and pepper. Pulse until the mint and garlic is finely processed. Toss the sugar snap peas in the mint mixture and spread them out onto the baking sheet in a single layer.
Roast for 10 minutes, flip and roast for 10 minutes more or until brown and crispy.
Serve warm with a sprinkle of mint and salt.
Recommended Products
As an Amazon Associate and member of other affiliate programs, I may earn a small percentage from qualifying purchases.

MORE PEA RECIPES YOU'LL LOVE.
Herby Spring Pasta Salad with Lemon Vinaigrette
Broccoli Stem Slaw with Snap Peas
Lemony Fennel Radish Pea and Kale Salad