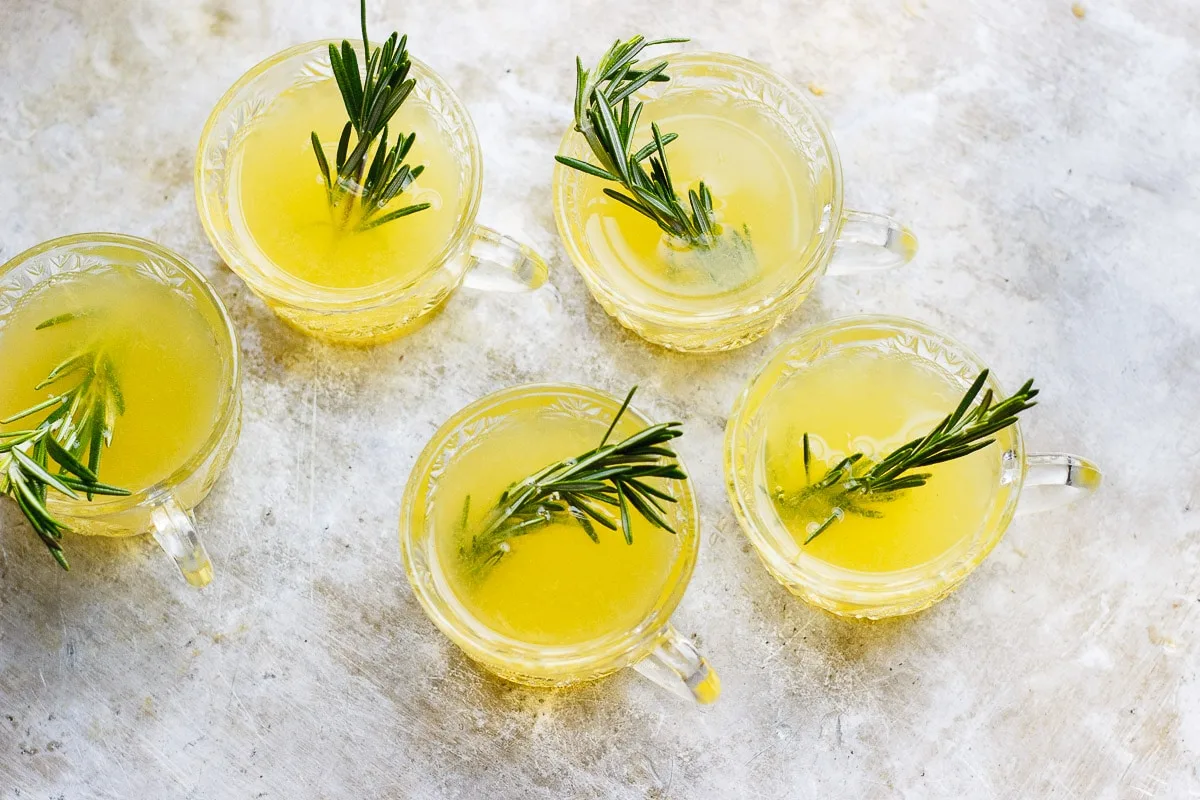 I like to call this, winter punch for the soul. Because this year was hard. And, I'm really happy to see it go. This is my last entry for 2016. It feels good for both my brain and my body. They're really craving some fresh energy. I'm so ready to ring in the New Year. How will you be celebrating the start of 2017? I'm not sure what I'll be doing yet, but whatever it is – it'll be done with a glass of this champagne punch in my hand.
This sparkling citrus and champagne punch is bright and zesty. It's sweet, but not too sweet. The rosemary simple syrup does a great job balancing out all the flavors together. It's a batch cocktail built for a winter gatherings big or small. And it's a super easy recipe to double or triple if you need to.
How to make a sparkling winter punch.
This winter punch could not be easier. It is a combine, stir and serve kind of situation. The most complicated part (not complicated at all really) is making the rosemary simple syrup. First you bring the water and the rosemary to a light boil.
Then you add in the sweetener. I like to use honey instead of cane sugar. Because I love the flavors of citrus and herbs and honey together. There's a certain depth that sugar doesn't allow here. But if you want to make this vegan or you only have cane sugar on hand, an equal swap is perfectly doable.
Lastly, you put it altogether. Combine the winter punch ingredients with the rosemary simple syrup in a big punch bowl. Liberally garnish with rosemary sprigs and citrus slices. Toss in some fun square ice cubes. And let your guests ladle the night away. If you don't own a punch bowl or can't borrow one from a friend or any pourable pitcher will work. This could also be shaken and served up in martini glasses rimmed with sugar.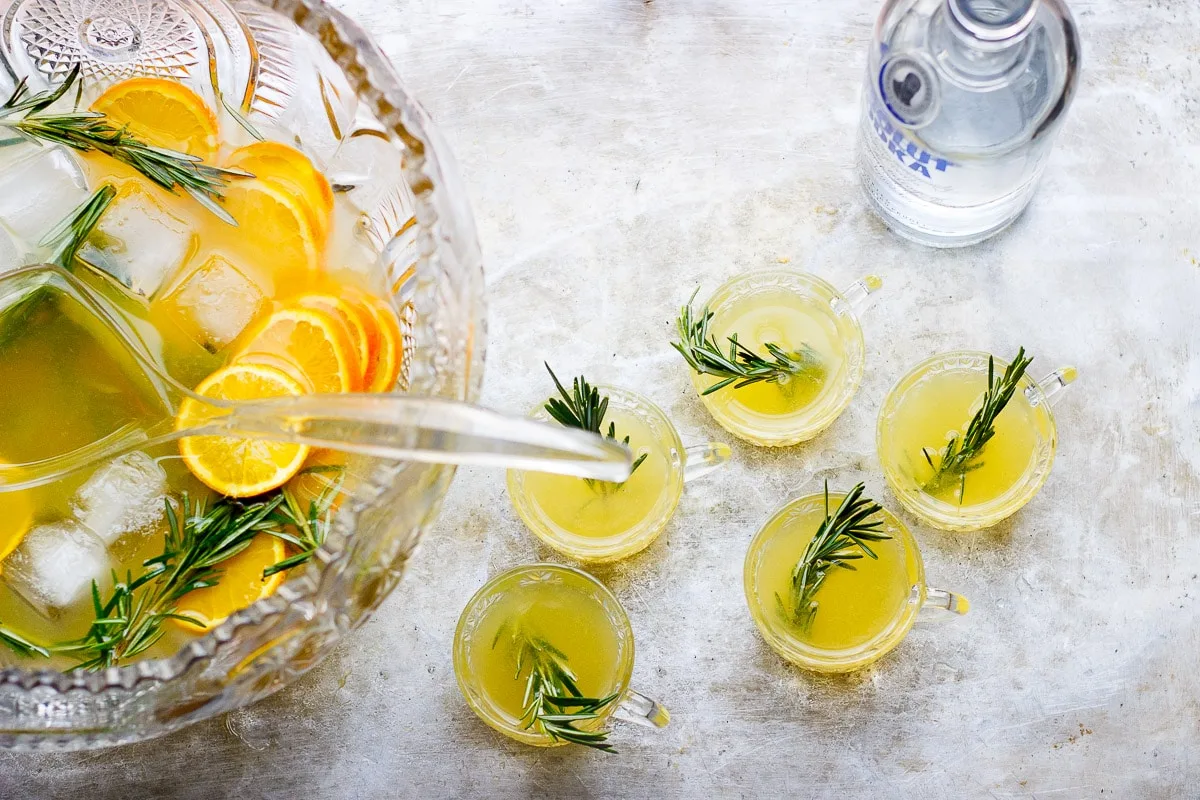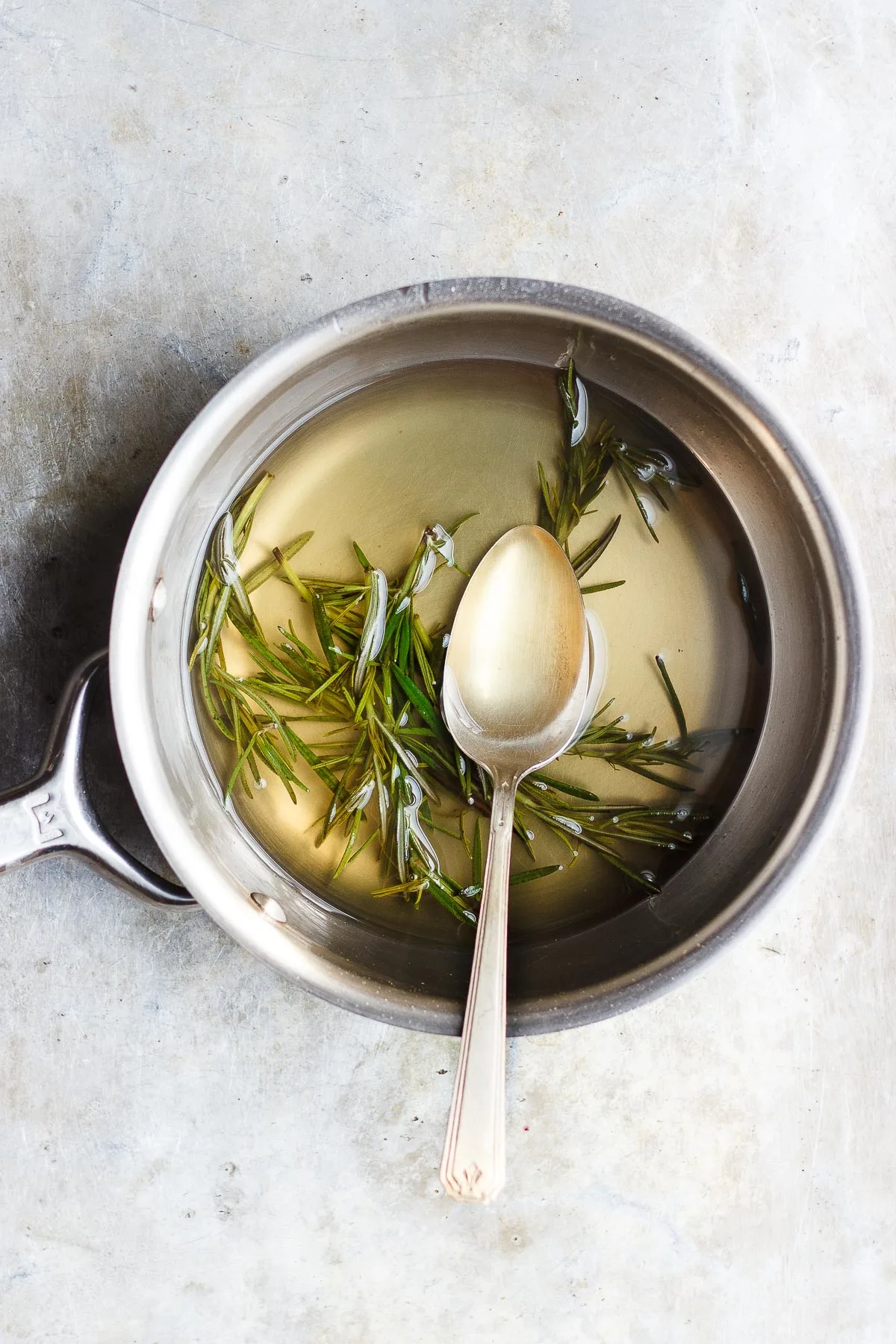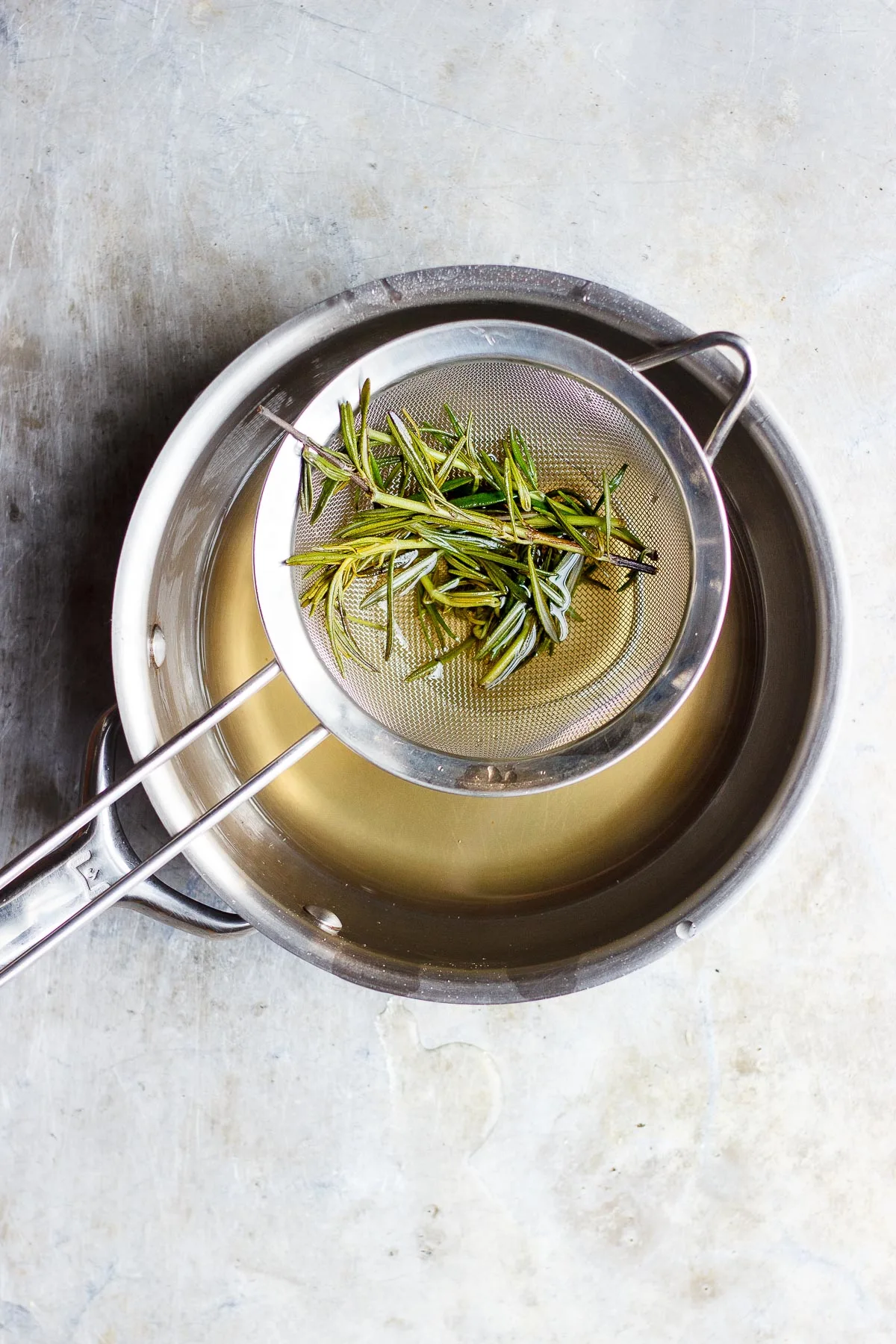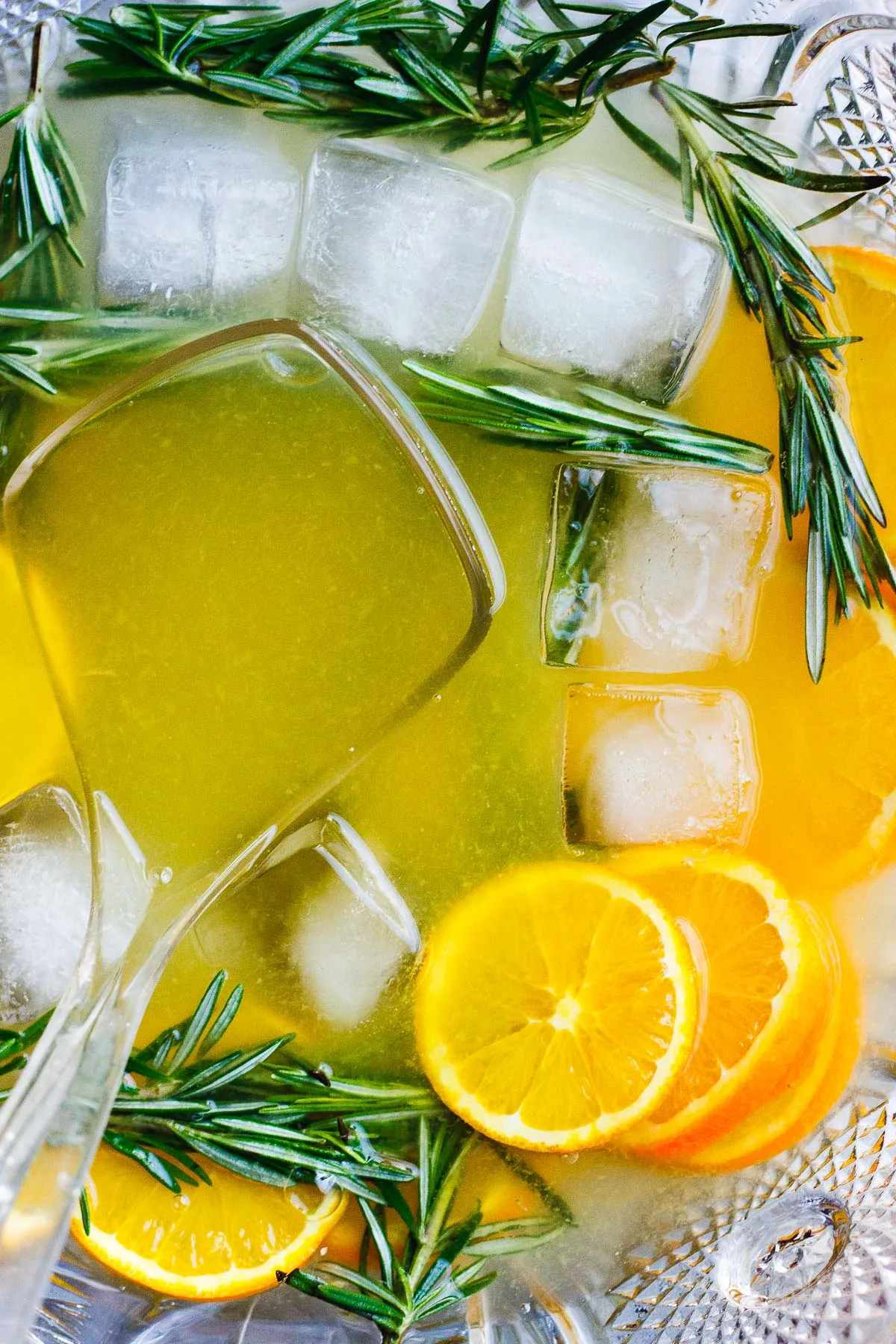 Yield: 10 servings
Sparkling Winter Punch with Rosemary Simple Syrup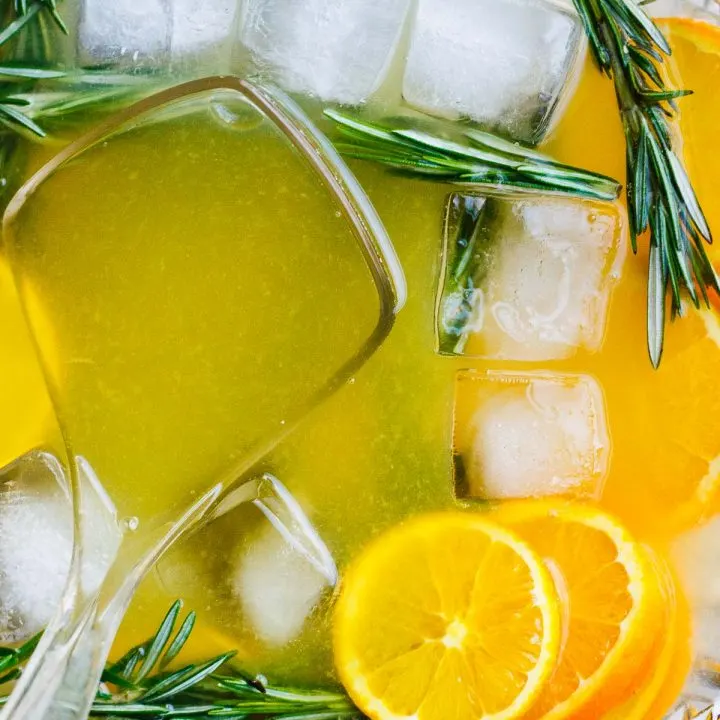 Sparkling winter punch with champagne, citrus and lightly sweetened with a honey rosemary simple syrup.
Ingredients
Syrup Ingredients
1 cup filtered water
5 sprigs rosemary
1 cup honey (or cane sugar)
Punch Ingredients
1 cup vodka
1 bottle champagne or prosecco
1 cup orange juice
orange slices (to garnish)
rosemary sprigs (to garnish)
ice (to garnish)
Instructions
In a small pan bring the water and rosemary to a boil. Remove it from the heat, add in the honey and stir until dissolved. Let the rosemary steep for 10 minutes, strain and discard the rosemary sprigs.
In a large punch bowl combine the syrup, vodka, champagne and orange juice.
Garnish by adding in orange slices, rosemary sprigs and ice.
Enjoy responsibly.
Notes
The rosemary simple syrup will stay fresh stored in the refrigerator in an airtight container for up to 7 days.