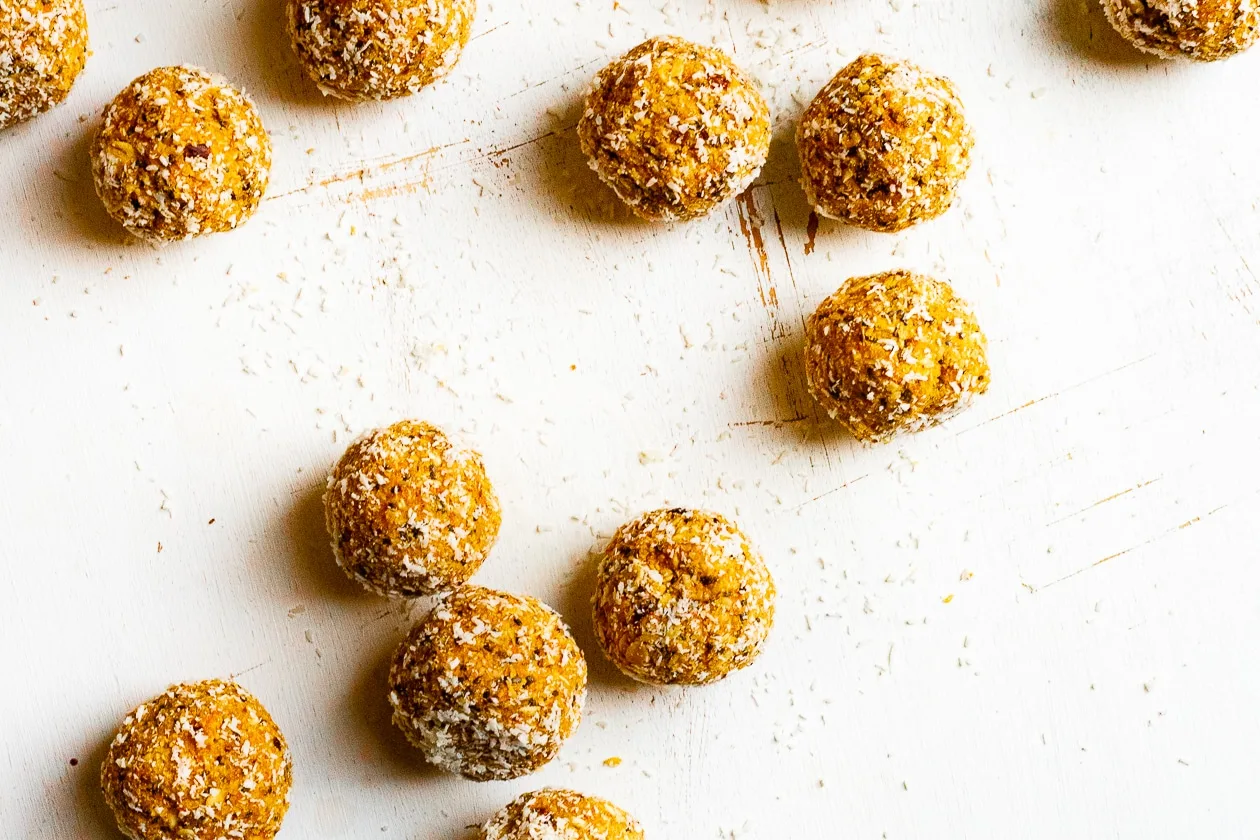 These carrot cake energy bites have the perfect texture. That's one of the main reasons I love them. They have a cake-y, dense but not dense in a bad way, bite. And raw but in a way you won't hate.
Other reasons why I love them are they're made with standard pantry items – at least in my home they're standard. They're totally free of dairy, refined sugar, nuts, gluten, soy and corn. And they're full of whole grains, healthy fat, plant-based protein and warming spices.
They also could contain CBD if you're into that. I know I am. But it is entirely optional. Adding CBD or not adding CBD doesn't do anything to change the taste or texture. So you can add it every time or none of the time.
I consume CBD every day. Sometimes I put it on my body, and sometimes I injest it. But I've found that consuming it every day in some capacity helps lower my stress and inflammation. Which allows my body to function better overall. This is the guide to my favorite CBD products. And this is the CBD I use in this recipe. I like to use this one over oil-based CBDs because it is flavorless and odorless.
How to make carrot cake energy bites.
Carrot cake energy bites are super easy to make. Minimal prep, and no cooking required. And they last up to five days in the refrigerator. So I like to make a batch of them, and have them available for snacks and easy breakfast for days.
In a food processor – pulse the carrots and dates until chopped finely. Then you add in the oats, coconut, coconut oil, chia seed, spices and raisins and continue pulsing to combine. If you're using CBD, you'd add that now (see recipe notes for dosing suggestions) and pulse briefly once more.
Greasing your hands with a little coconut oil prior to forming the bites will allow the mixture to slide off your hands easier. This is a tip my grandmother showed me when she taught me how to make meatballs. Okay, then you refrigerate the carrot cake energy bites in an airtight container for at least one hour and they're ready to enjoy.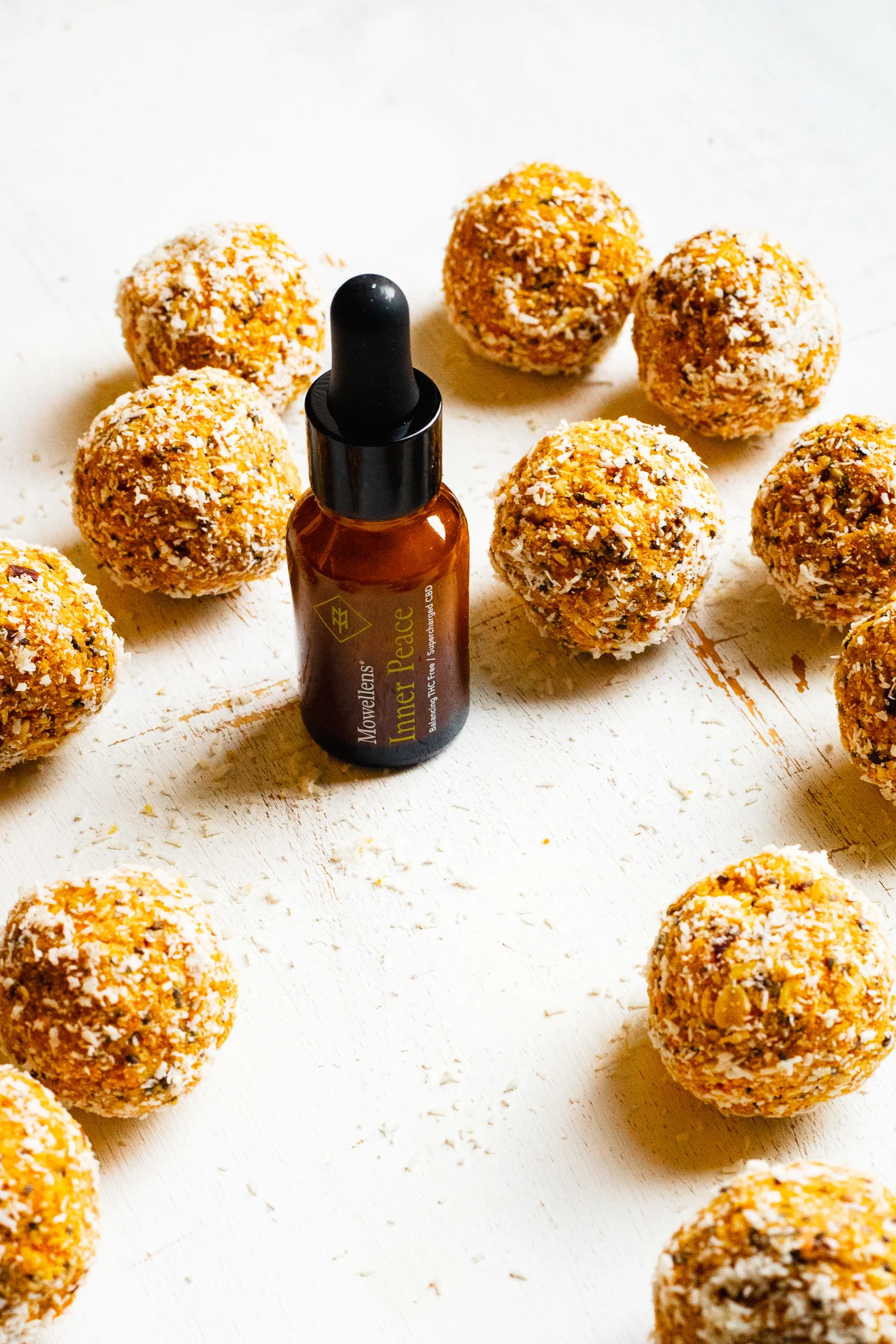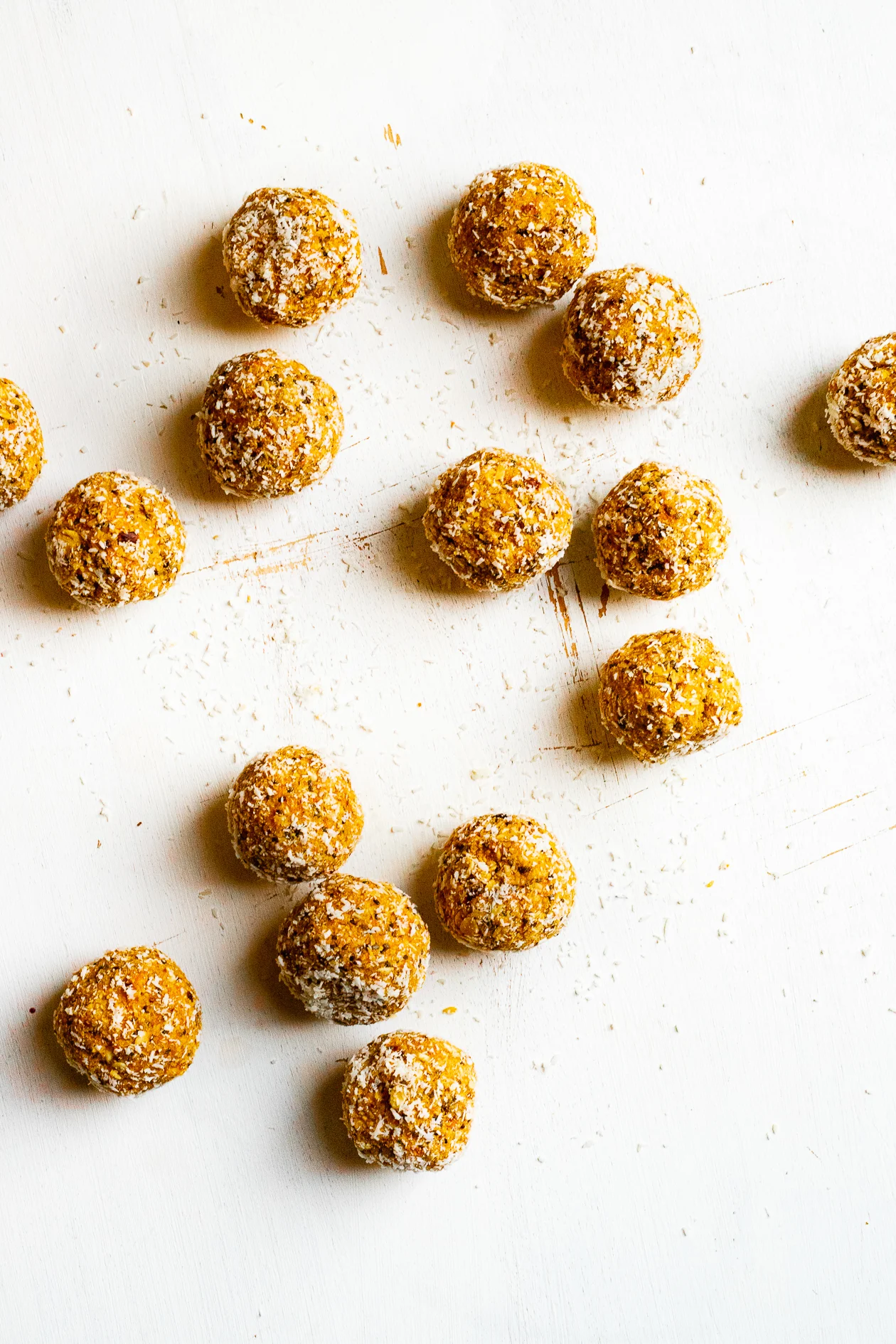 Yield: 15 bites
CARROT CAKE ENERGY BITES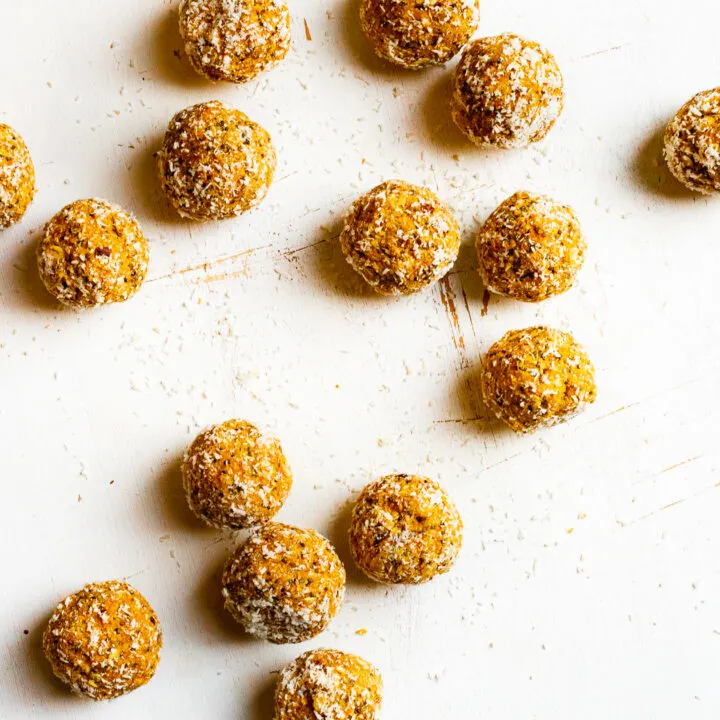 Total Time
1 hour
5 minutes
Ingredients
1 cup raw carrots, diced
1/4 fresh pitted dates
1 cup oats
1 cup shredded unsweetened coconut (more to garnish)
2 tablespoons coconut oil
2 tablespoons chia seeds
1/2 teaspoon cinnamon
1/2 teaspoon ginger
1/4 teaspoon fine sea salt
2 tablespoons raisins
CBD, optional (see notes)
Instructions
In a food processor pulse the carrots and dates until chopped finely.
Then add in the oats, coconut, coconut oil, chia seed, cinnamon, ginger, salt, raisins and pulse until well-combined.
If you're adding CBD - pulse it in now.
Grease the palms of your hands lightly with coconut oil, and then press a small amount of the mixture into your hands to compound it. Then loosely roll the mixture into a ball, and repeat until you've made 15 bites.
Roll each bite in a little more coconut just to give it a little crunch on the outside.
Refrigerate for 1 hour before enjoying, and store in an airtight container for up to five days in the refrigerator.
Notes
CBD is totally optional in this recipe. But if you are going to incorporate CBD I recommend, Mowellens Inner Peace. It is completely tasteless and odorless.
I recommend 20 milligrams of CBD per energy bite.