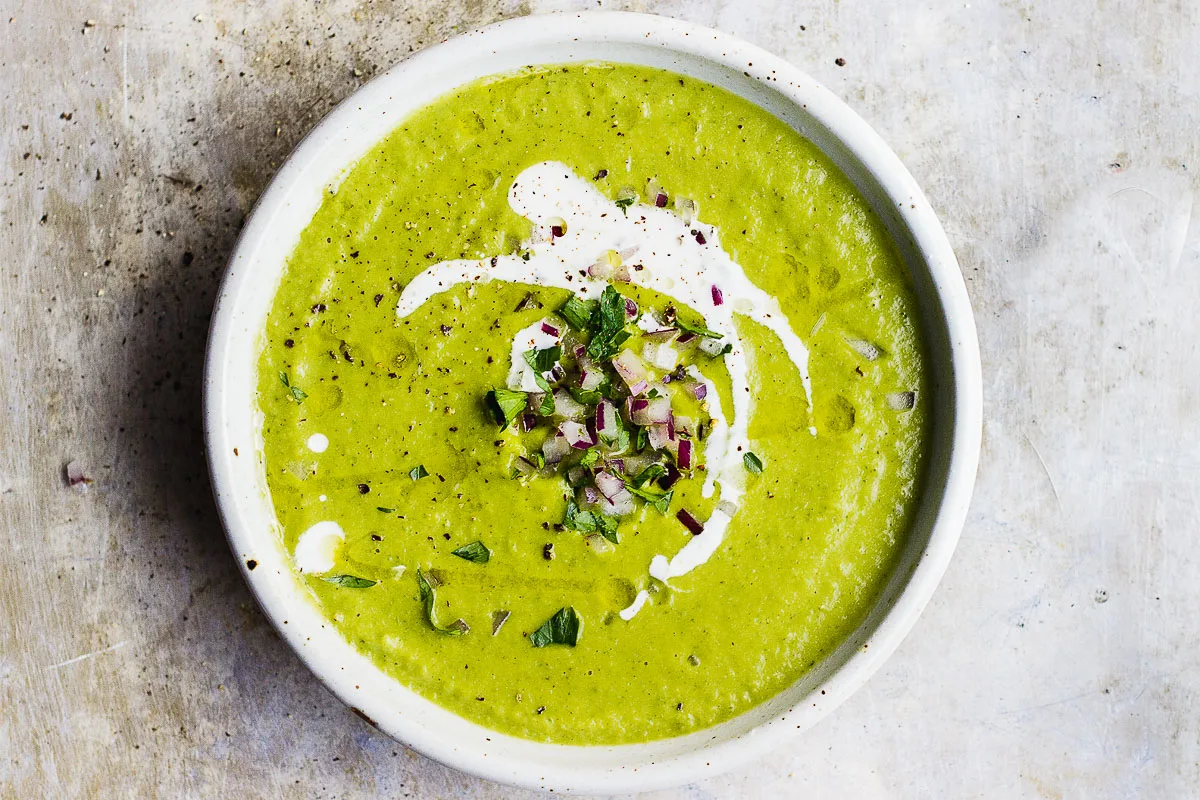 There's nothing more comforting than a bowl of soup. Especially a bright and hearty bowl of creamy broccoli and bean soup on a cold fall or winter day. And even more especially, if that bowl of soup was made from scratch in less than thirty minutes.
This broccoli and white bean soup is adapted from Martha Stewart. I've made a few adjustments to make it vegan, gluten-free and dairy-free. While simultaneously making it a more vibrant color with the addition of some greens.
When broccoli and white beans are combined they're just total pure plant magic. And they're both staple ingredients in my kitchen. With the addition of greens in this soup, it's loaded with vitamins and minerals.
Broccoli, a cruciferous vegetable, is loaded with vitamins K and C, folic acid, potassium and fiber. And beans, one my go-to plant-based protein sources, are loaded with folic acid, vitamin B1, potassium, magnesium and iron.
If this creamy broccoli and bean soup recipe calls your name I have a few other recipes I think you'll dig too. For broccoli inspiration, try this charred broccoli with peanut sauce or this crispy tofu and broccoli bowl. And for white bean inspiration try this roasted fennel and white beans or this zucchini stew.
How to make creamy broccoli and bean soup.
This soup comes together in just a few simple steps. It's a sauté, simmer and blend kind of recipe. First sauté the aromatics, and then simmer them with a little bit of acid in the form of white wine. Lastly you add in the broth, the beans, the broccoli and the greens, cover and cook. After about ten minutes the broccoli and bean soup is ready to be blended into a creamy masterpiece.
When it comes to the final step, blending, take as long as you need to do it. I have a high speed blender and it becomes smooth in less than a minute. But if your blender or food processor requires more time, allow it to work its magic.
So, a few tips to get it extra creamy. Blend it longer. It might take a few minutes to get it really creamy and that's okay. Add more broth if you think it's too thick, because this will allow it to blend a little easier. And if you want to make sure it's extra smooth, strain it through a fine sieve.
Serve the creamy broccoli and bean soup warm and with a sprinkle of diced red onions on top. Add more fresh parsley, black pepper, a drizzle of olive oil, and dollop of yogurt (dairy or non-dairy) if you desire.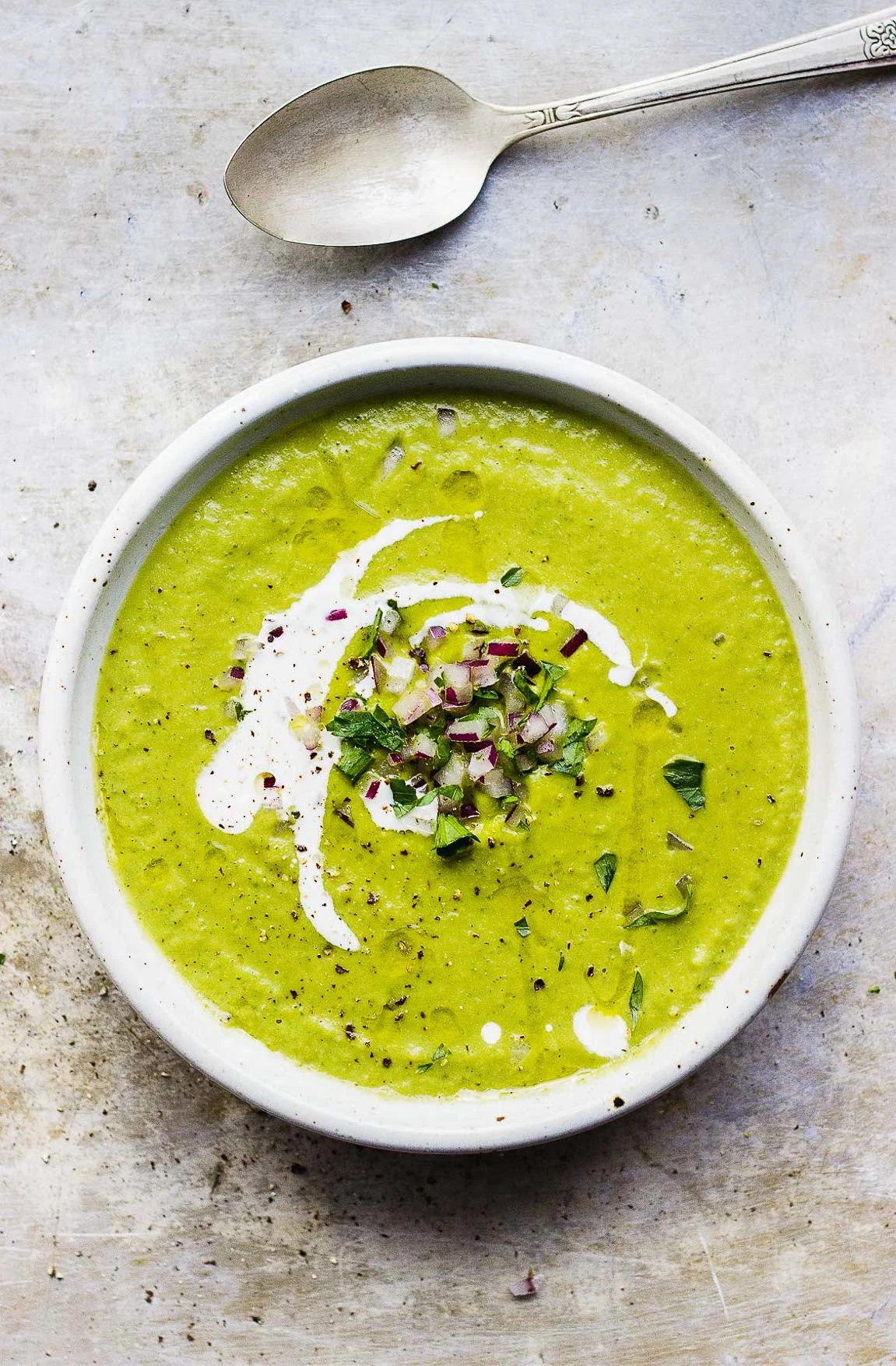 Yield: 4 bowls
Creamy Broccoli and Bean Soup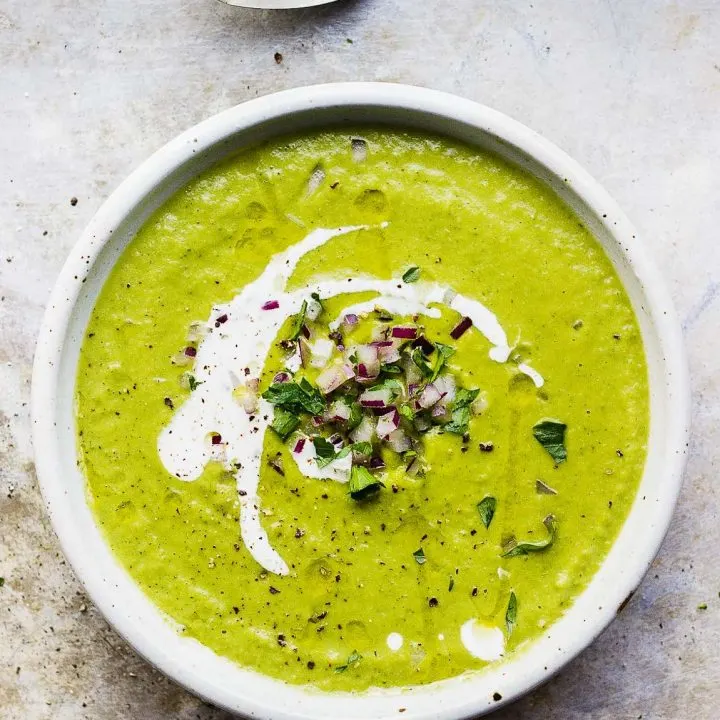 A naturally vegan, creamy broccoli and bean soup that comes together in under thirty minutes.
Ingredients
3 tablespoons olive oil
1 medium yellow onion, diced small
3 garlic cloves, minced
1/4 cup dry white wine
1 can white beans
3 cups low-sodium vegetable broth
1 pound broccoli florets
2 cups baby spinach (see notes)
1/4 cup fresh parsley
1/4 teaspoon fine sea salt
1/2 teaspoon black pepper
red onions (to garnish)
dairy or non-dairy yogurt (optional garnish)
Instructions
Heat the olive oil in a large pan over low heat, and sauté the onions for 5 minutes.
Turn the heat up to medium, and add in the garlic. Sauté for 1 minute. Then pour in the white wine, stir and cook for 1 minute. Then stir again and simmer for 2 minutes or until the wine has mostly evaporated.
Drain and rinse the beans and add to the pan. Then add in the broth, broccoli, greens, parsley, salt and pepper, and cover. Simmer for 5 minutes or until the broccoli is bright green and tender throughout.
Then transfer the cooked broccoli and bean soup into a blender and blend until completely smooth. You may need to do so in small batches.
Serve warm with a sprinkle of red onions, more parsley and black pepper, a drizzle of olive oil, and dollop of yogurt if you desire.
Notes
You can use whatever greens you prefer or have on hand. I like baby spinach, but kale, chard and collards are also good substitutions.