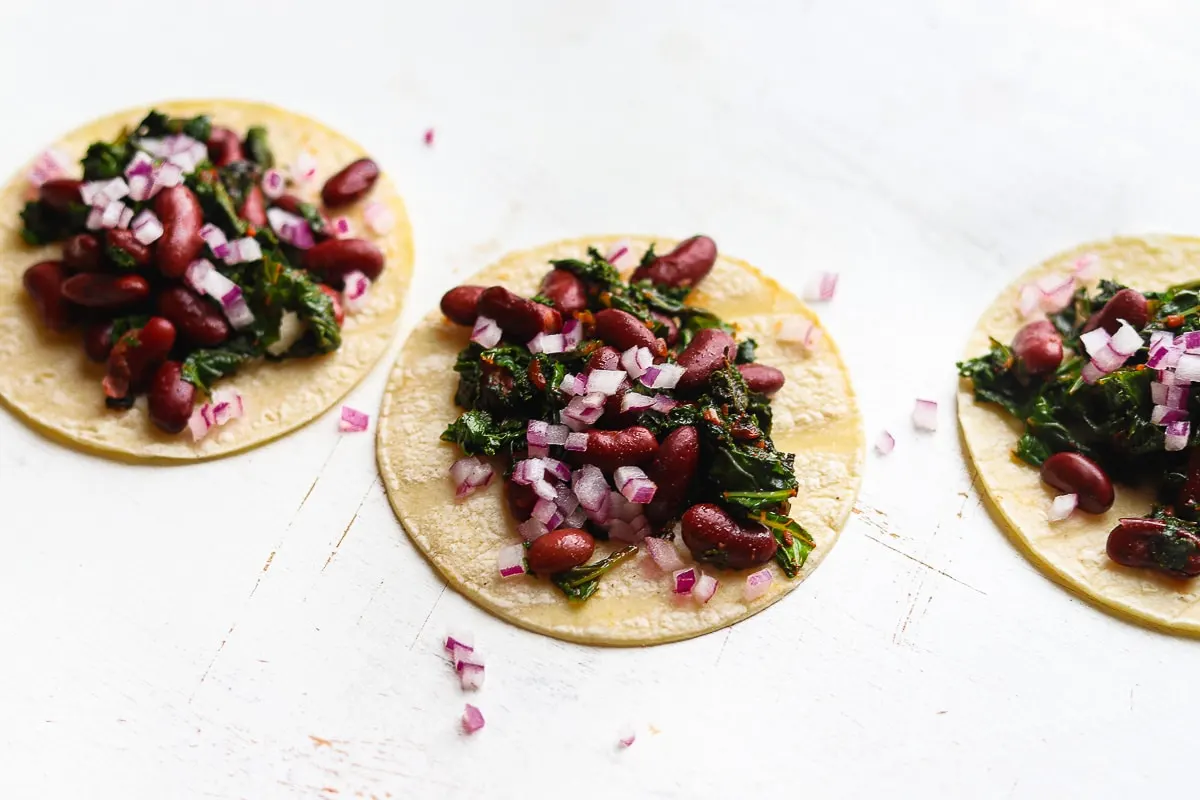 Thank you US Dry Bean Council for sponsoring this post. Join me to celebrate World Pulses Day with US Beans and kidney bean and kale tacos!
I value the US Dry Bean Council because I rely on healthy plant-based protein in the form of beans, peas, lentils and legumes (also known as pulses) to power my daily diet. And the United States is the global leader in quality, dry bean production largely in part to the council's state-of-the-art harvesting equipment, handling practices and production processes.
The States grows more than ten varieties of beans – crazy right? Varieties like pinto, navy, black, Great Northern, lima, black eye, and of course the star of my kale tacos, the red kidney. All of these varieties are renowned for their nutritional qualities and culinary influence.
And as a plant-based cook, pulses make their way into almost all of my recipes in one way or another. Which is great because consuming them can help manage sugar levels, increase energy and even help prevent certain cancers. They're delicious, affordable, and full of fiber and protein.
And lastly, but maybe most importantly, I eat beans and pulses daily because they play a critical role in sustainable food production. For example, pulses require just forty-three gallons of water per one pound of product. Versus one thousand eight hundred fifty-seven gallons of water for one pound of beef.
Pulses also utilize soil bacteria to draw nitrogen from the air. Allowing a natural process that replaces the need to add nitrogen fertilizers in pulse crops. Which means pulses use half the energy inputs of other crops.
World Pulses Day is an opportunity to share the nutritional, sustainable and affordable benefits of pulses. Its very mission is the why behind the recipes I create for you.
How to make kidney bean and kale tacos.
These tacos are a quick meal. It's one of the recipes in my repertoire that I memorized a long time ago. It takes just fifteen minutes to put together. It's inexpensive, and you might just have all of the ingredients in your pantry and refrigerator already.
First, sweat the garlic in olive oil and then bloom the spices. Next add in the kale and sauté briefly. And last add in the kidney beans and warm through. Garnish the kidney bean and kale tacos with red onions, and cilantro, yogurt, lime, and your favorite hot sauce if you please. I hope you love them as much as I do and I hope they become a family favorite like they are mine.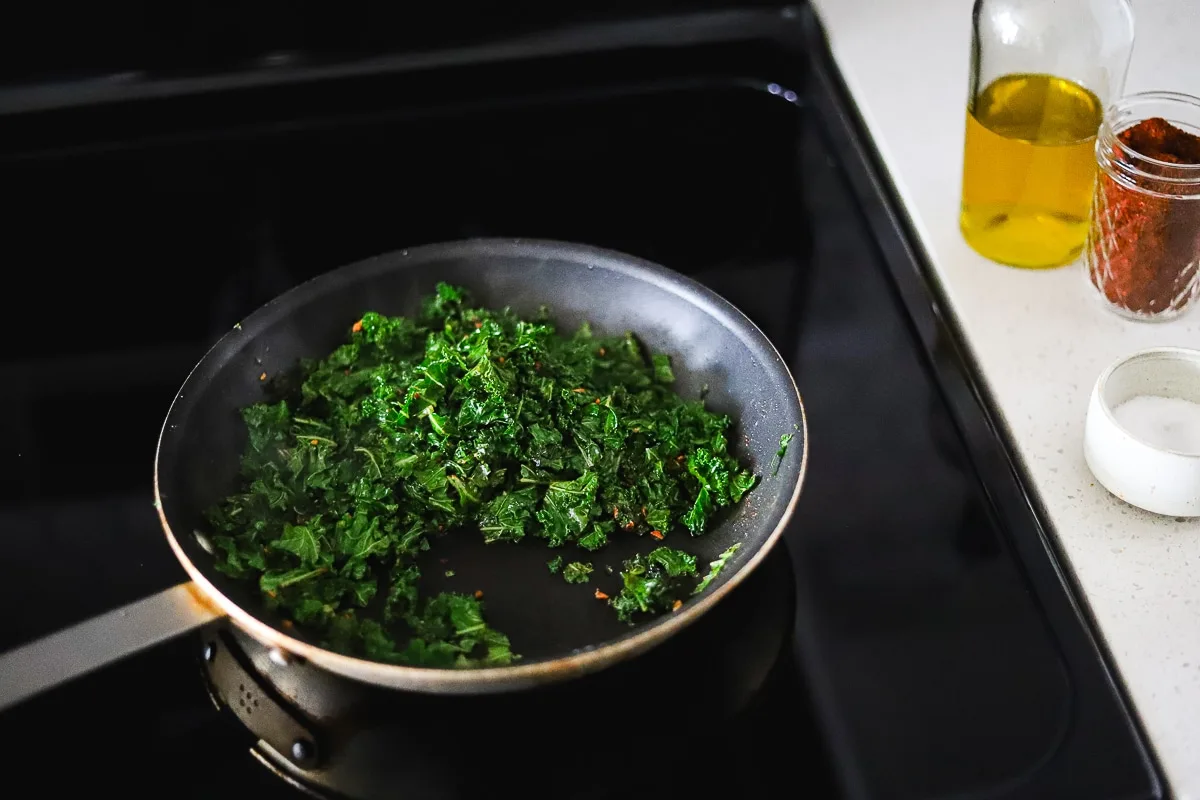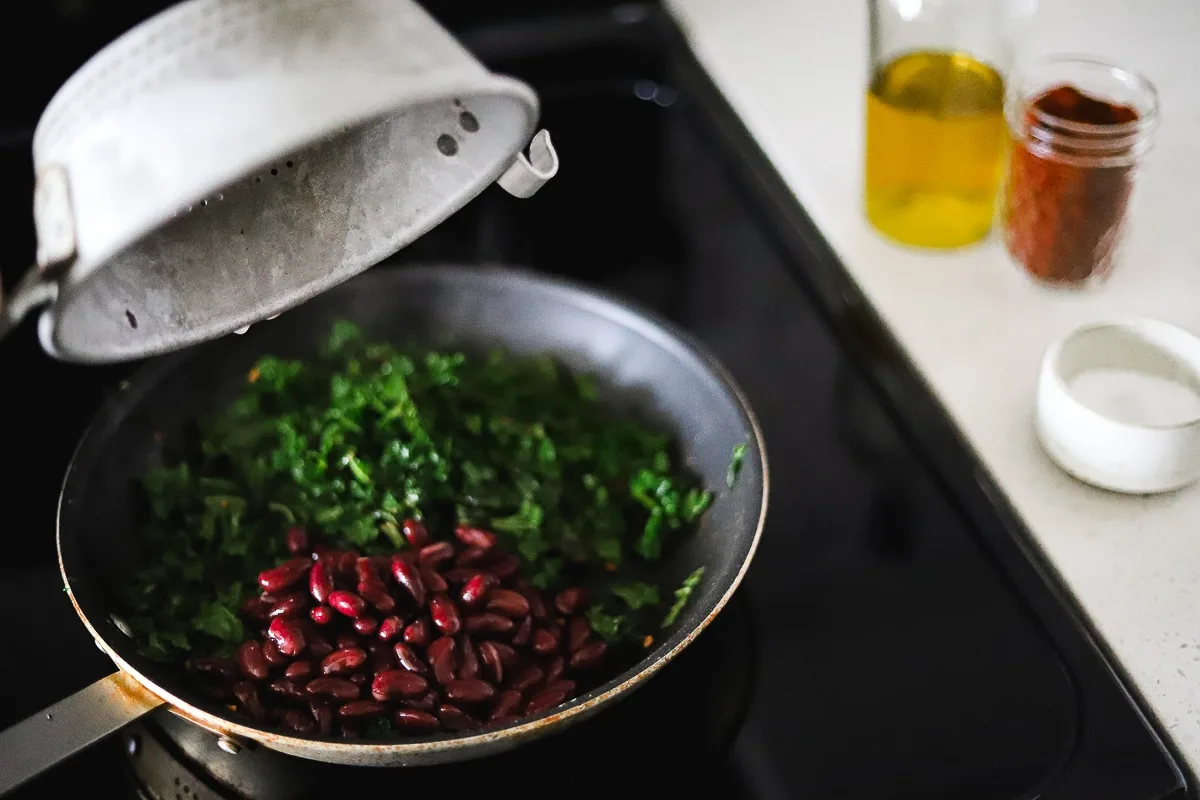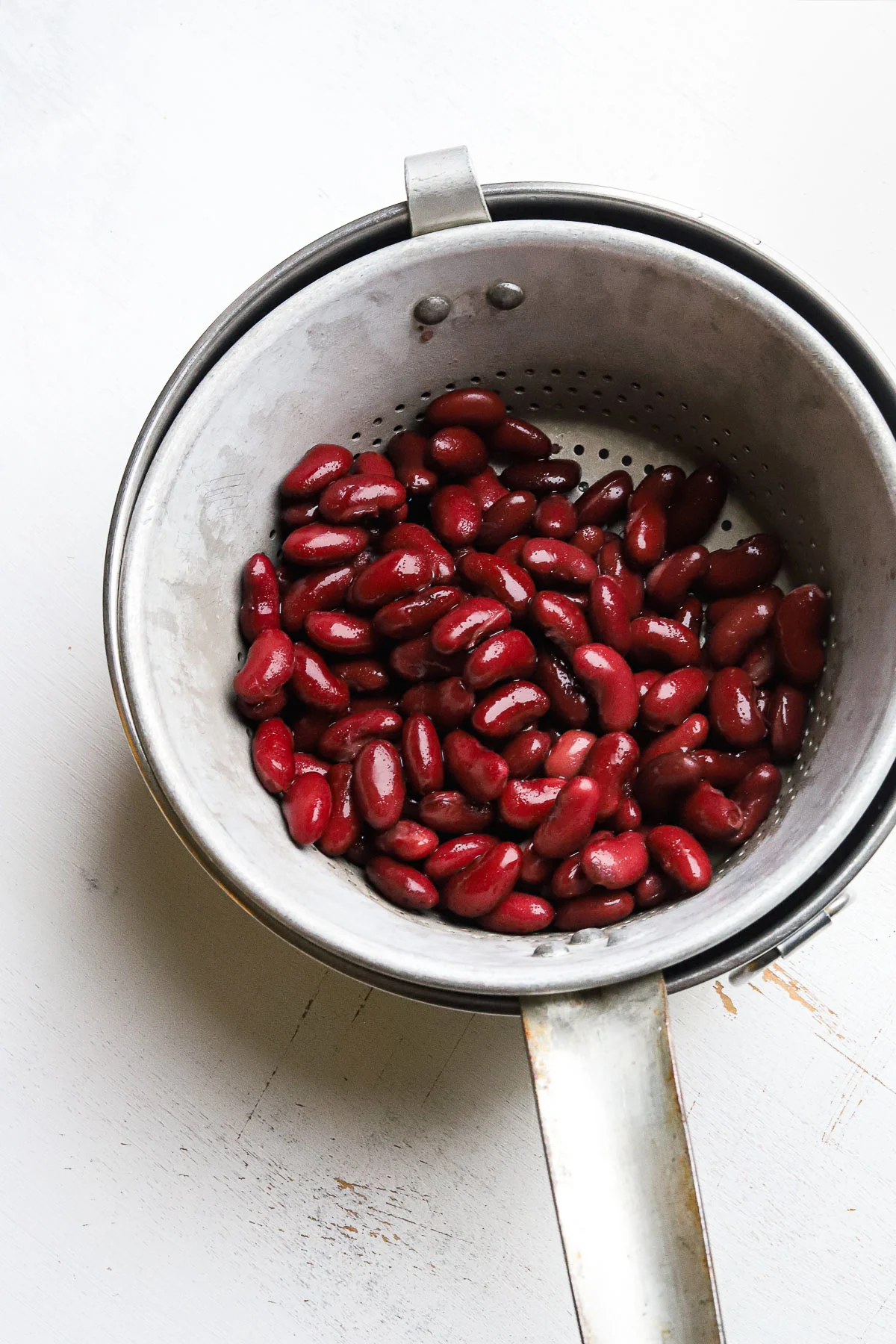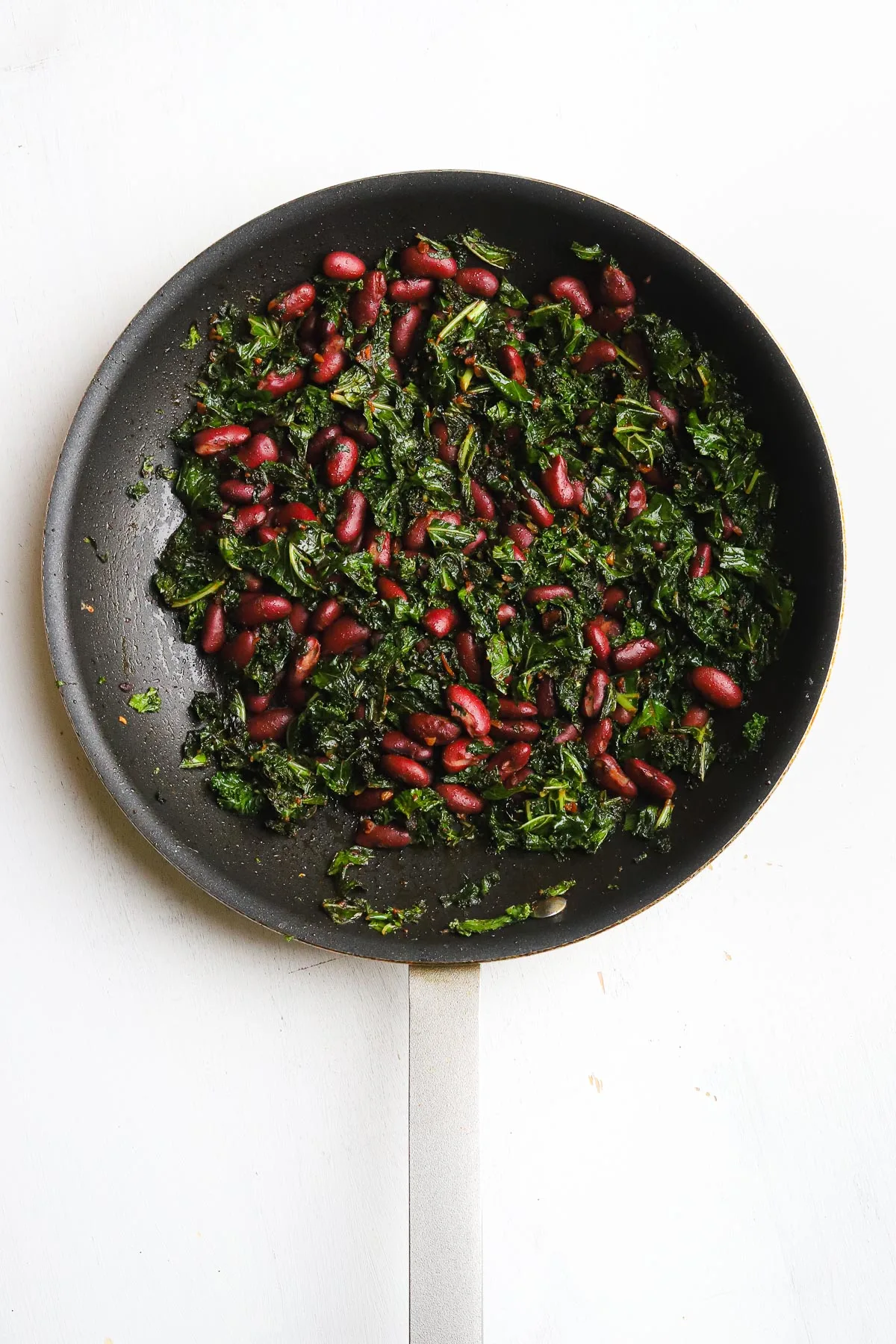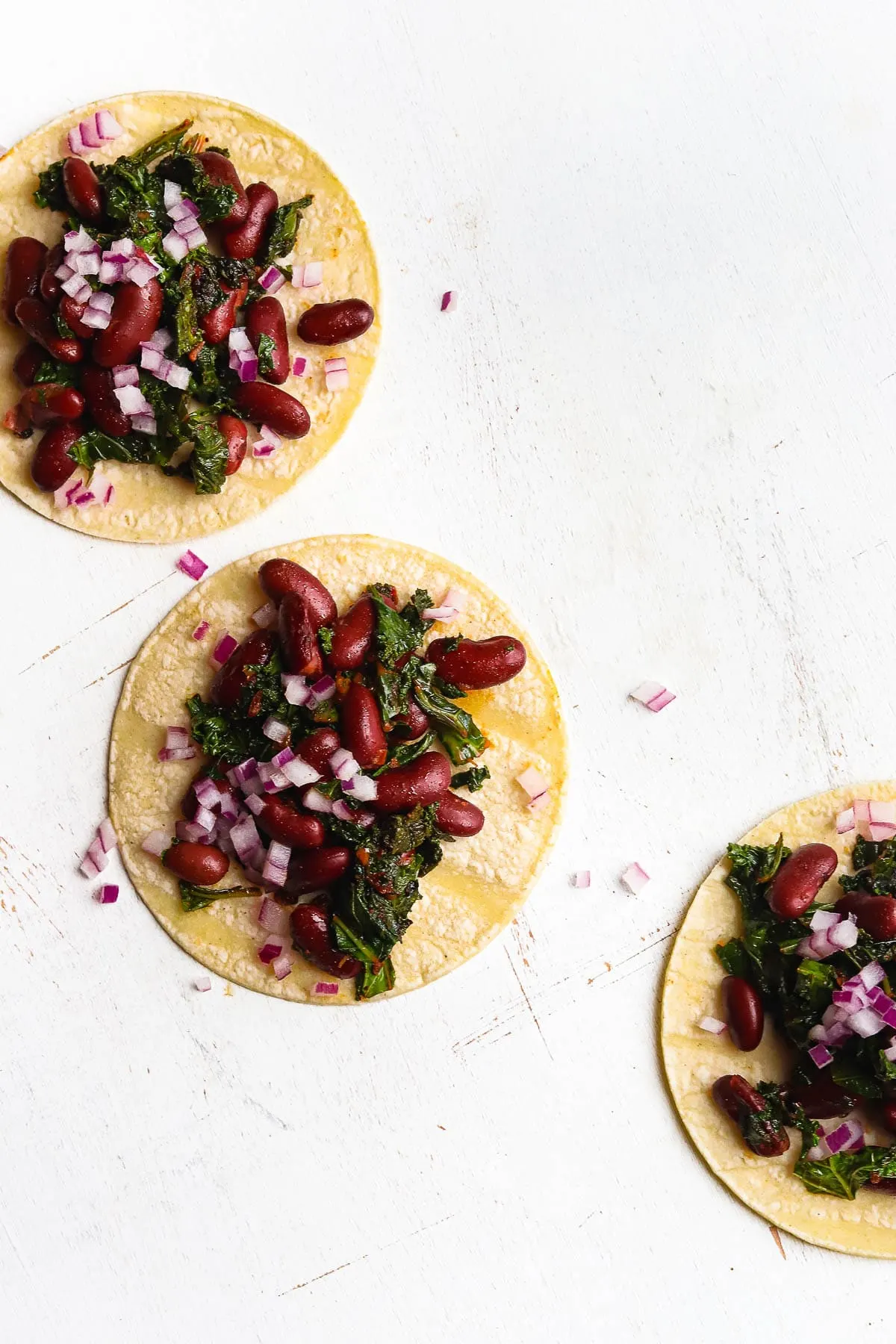 Yield: 8 tacos
Kidney Bean and Kale Tacos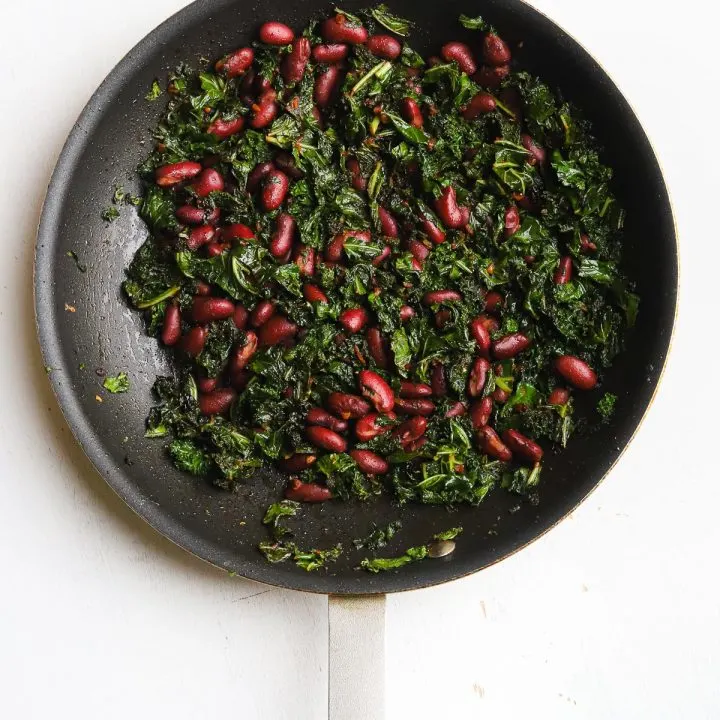 Easy, hearty, simple kidney bean and kale tacos that are naturally vegan and gluten-free.
Ingredients
3 tablespoons olive oil
1 1/2 tablespoons garlic, minced
4 cups kale, finely shredded (ribs removed)
2 cups kidney beans (cooked)
1 tablespoon chili powder
1/4 teaspoon cumin
1/4 teaspoon coriander
1/4 teaspoon fine sea salt
1/2 cup filtered water
8 corn tortillas
1/4 cup red onions, diced small (to garnish)
1/4 cup fresh cilantro (to garnish)
hot sauce (optional garnish)
Instructions
Heat the olive oil in a pan over low heat. Toss in garlic and kale, and stir briefly. Cover and simmer for 3 minutes, or until the kale becomes bright green and wilted.
Next add in the kidney beans, chili powder, cumin, coriander, salt and water. Turn the heat up to medium and simmer uncovered for 5 minutes while stirring occasionally until the moisture has mostly evaporated and the beans are soft and sizzling.
To serve: add the kidney bean and kale taco mixture to each tortilla and top with onions, cilantro and hot sauce if you desire.