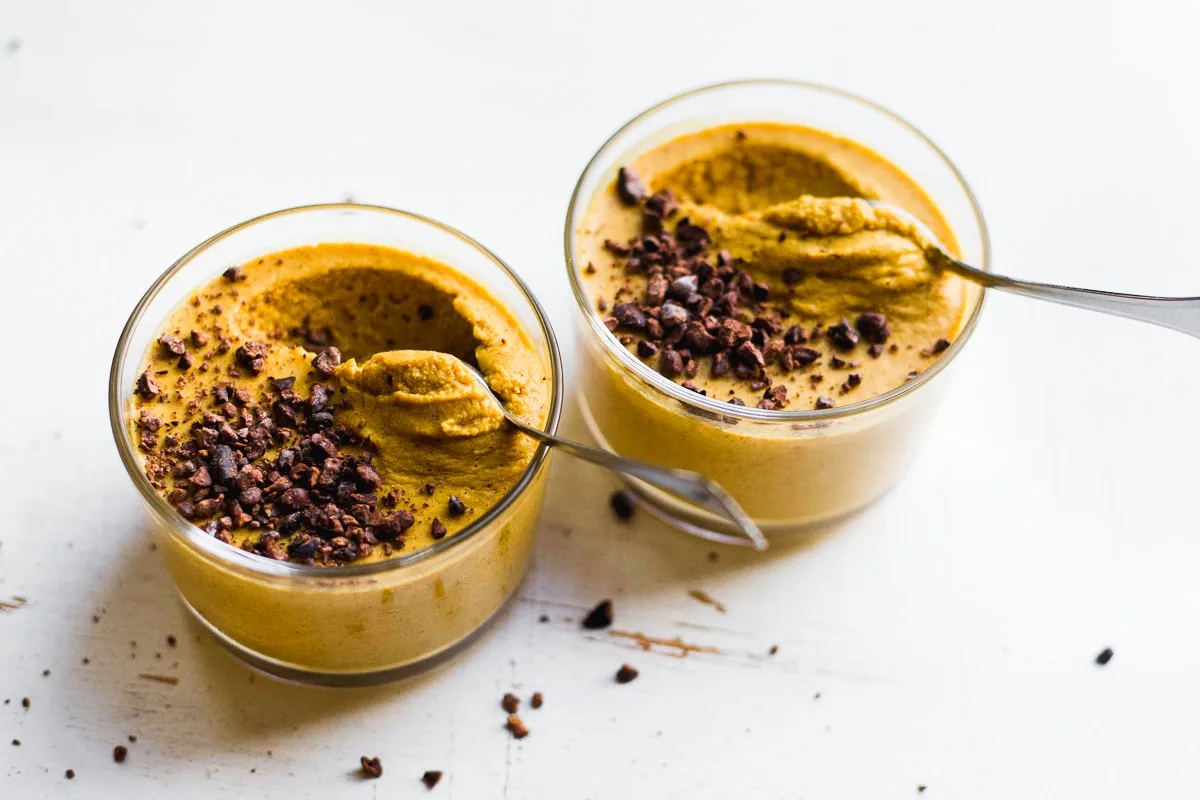 I am going to keep this short and sweet. Because that's the kind of mood I've been in lately. And I'm also willing to bet it's the mood that we've all been in lately. You know – it's that pre-holiday rush around mood that seems to swallow us up whole at times. That equal mix of excitement and stress. And I developed this pumpkin pudding with both of those things in mind.
This pumpkin pudding recipe (which is kind of like a firm pudding – almost a mousse) is based off my raw, two-ingredient mango pudding. This mango pudding is so delicious that even Oprah loves it. She loves it so much she put it in her 2019 August issue. No really. See for yourself.
How to make this easy, vegan pumpkin pudding.
How do you make this pumpkin pudding? It's super easy. Maybe the easiest. Start with a can of pumpkin puree. It actually tastes better using canned pumpkin instead of homemade pumpkin puree. I promise. A can of full-fat coconut milk, and tablespoon of coconut oil which helps the pudding take shape.
Then blend the pumpkin puree and coconut milk and coconut oil with the season's best spices. Like ground cinnamon, nutmeg, ginger and clove. And a touch of sea salt and maple syrup. I like my desserts on the less sweet side, rather the sweet side. If you find this not sweet enough you can add more maple syrup as you desire.
Lastly, chill it for four hours, and serve it with cacao nibs. The best part of this pumpkin pudding recipe is that you can make it ahead of time. And it's a really good option for all of those with dietary restrictions. No dairy or gluten-free substitutions need to be made here. Because I already made them for you.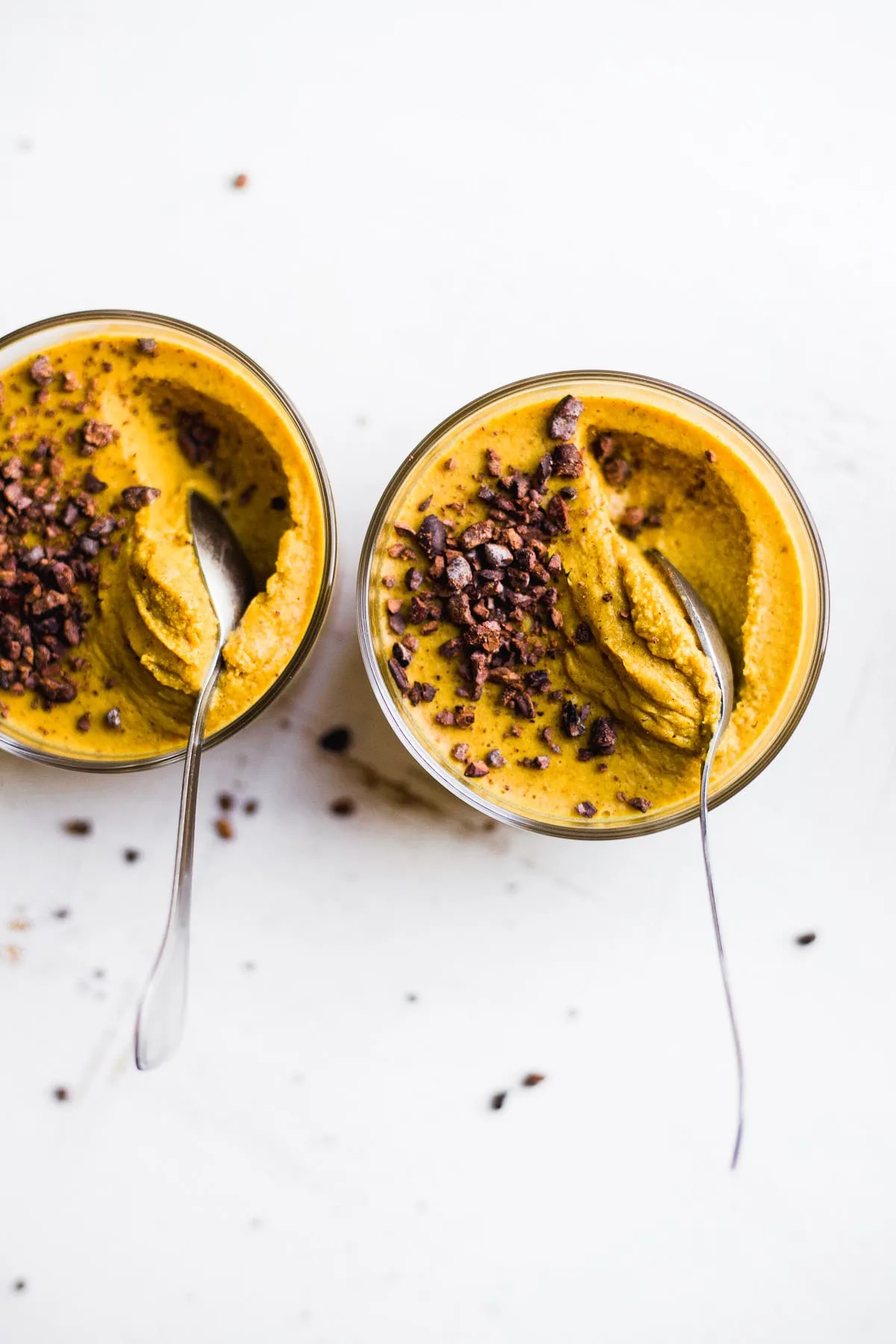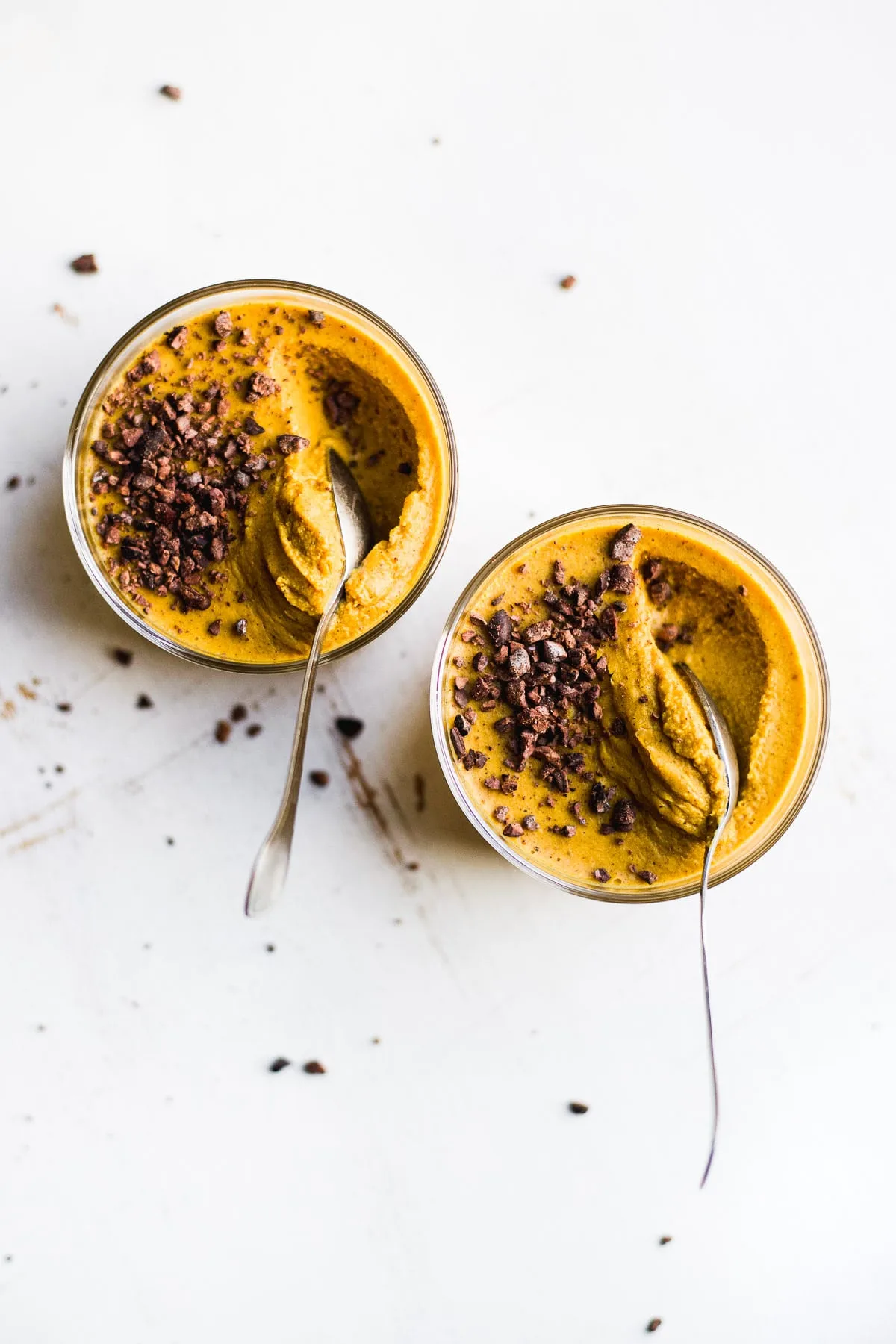 Yield: 4 cups
Pumpkin Pudding with Cacao Nibs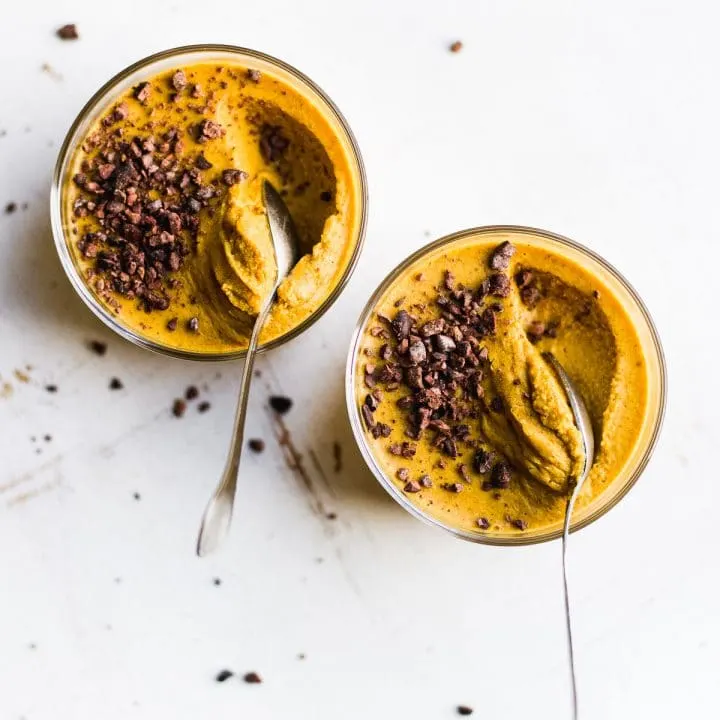 Two-ingredient pumpkin pudding that's naturally vegan and gluten-free. An easy holiday dessert that can be made ahead of time for easy entertaining.
Total Time
4 hours
5 minutes
Ingredients
(1) 14oz. can full-fat coconut milk (see notes)
(1) 15oz. can pumpkin puree
1 tablespoon refined coconut oil
3 teaspoons ground cinnamon
1 teaspoon ground nutmeg
1/2 teaspoon ground ginger
1/8 teaspoon ground clove
1/4 teaspoon fine sea salt
coconut or dairy whipped cream (optional garnish)
cacao nibs (optional garnish)
Instructions
Shake the can of coconut milk well, open and then pour the entire contents into the blender.
Then add in the pumpkin puree, coconut oil, cinnamon, nutmeg, ginger, clove and salt to the blender. Blend until smooth and well-combined.
Portion into dessert cups and refrigerate for at least 4 hours.
Serve cold as is or garnished with whipped cream and cacao nibs.
Notes
This recipe can be made with a 14oz. can of coconut cream instead of the full-fat coconut milk. Simply swap the two and leave out the coconut oil (which is used as a binder).